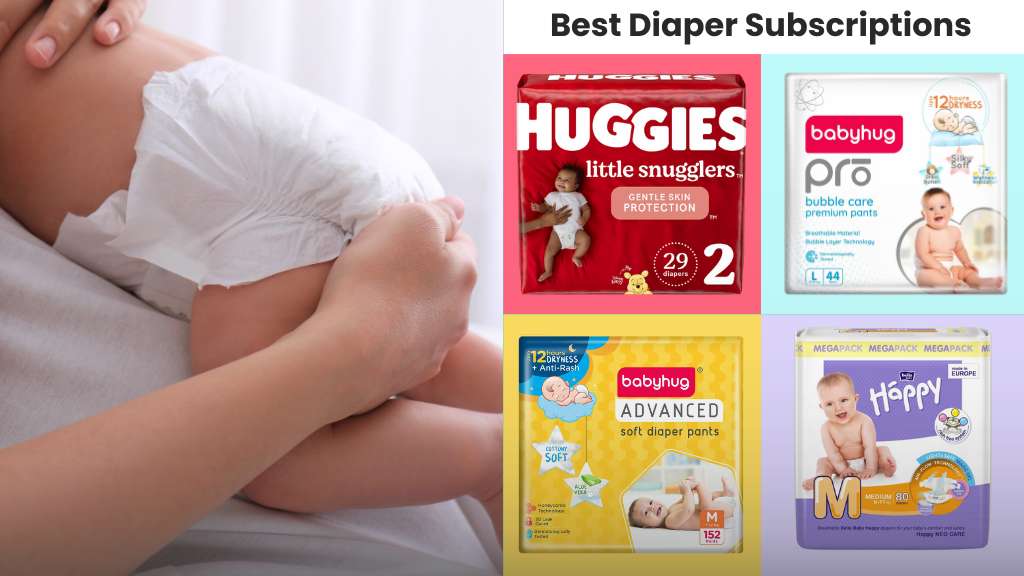 A newborn in the house means diapers are now on your essential shopping list and a regular on your baby products list. But until you become a parent, what most people don't realize is that you need to stock up on them now and then, and it's going to add up those monthly expenses. Thankfully, diaper subscriptions are offered by most baby product brands as a solution to this dilemma.
The best diaper subscription is the most cost-effective way of purchase than buying boxes of diapers individually. Not only that, but they also offer different delivery frequencies so you can create a system where you never run out of diapers during those blowouts. 
So do you just go about choosing any diaper subscription out there? Well, there are a few things you must consider before choosing a convenient one. Think of the following points when you choose:
Your baby's diaper size

Your material preference

How often do you want the shipment to arrive

Do you want add-ons with your service, etc?
More of these features of the best diaper subscription in 2022 are coming up. Read on to find out which brands offer you the best deal and why you should choose them. Here's a glance at the brand names we have discussed below:

Hello Bello

Abby & Finn

The Honest Company

Dyper

Parasol

Happy Little Camper

Made Of

Bungies

Coterie
Best Diaper Subscriptions
1. Hello Bello ($69.99 per shipment): Best Diaper Subscription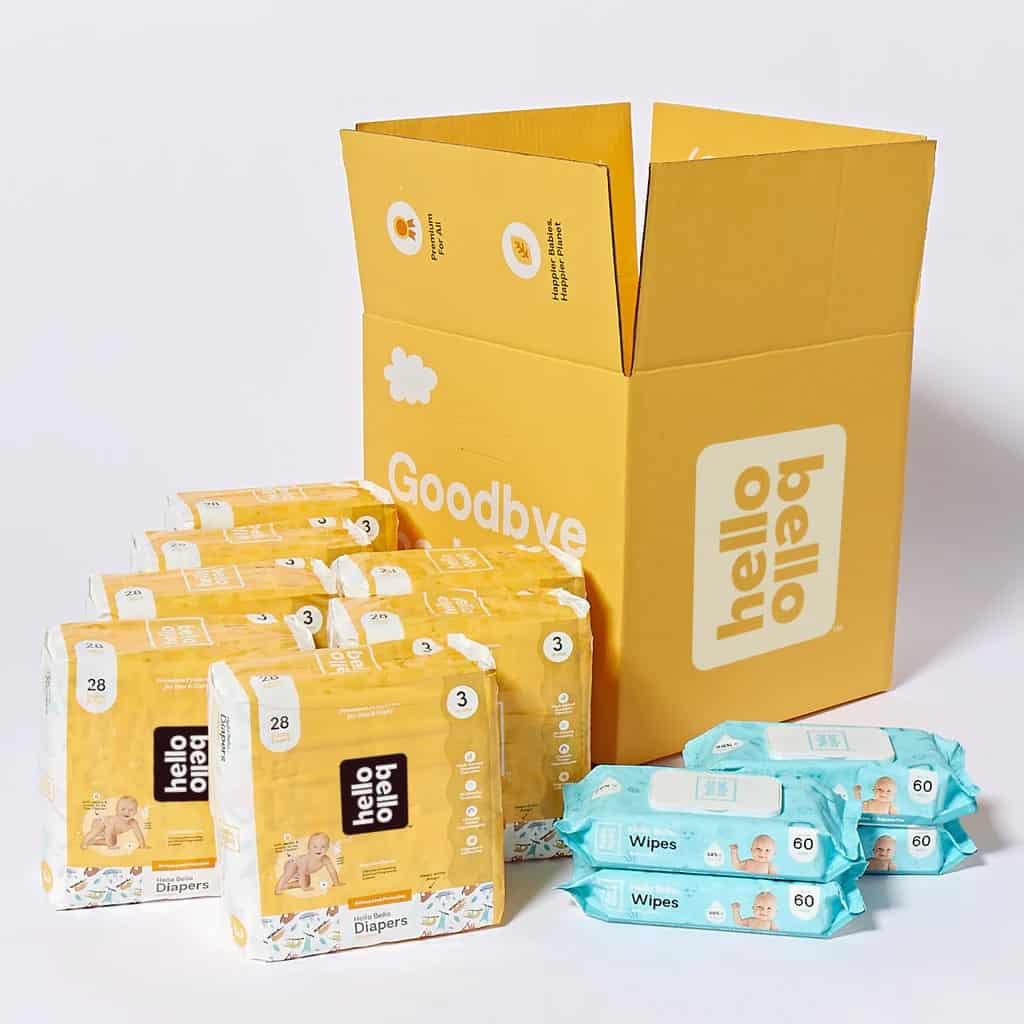 The brand is named after celebrity parents Kristen Bell and Dax Shepard. Hello Bello is the most affordable diaper subscription at just $70 and here's why they stand out:
Features :
Each subscription includes 119 to 224 diapers

All diaper subscriptions come with 4

water-based wipes

Offer more than 20 adorable designs (from winter hats to cartoon skateboards)

Includes gifts for parents (hand sanitizer, lotions, vitamins, and others)

Sizes:

Newborn through size 6

Delivery:

Every 3, 4, or 5 weeks
Pros:
High-quality

Free of phthalates, latex, and chlorine

Plant-based baby products (sustainably sourced pulp)

More products can be added to the bundle

Reasonably priced
Cons:
Not as eco-friendly as other sustainable diapers

Some have complained about its absorbency
2. Abby & Finn ($62 per shipment): Best Diaper Subscription on a Budget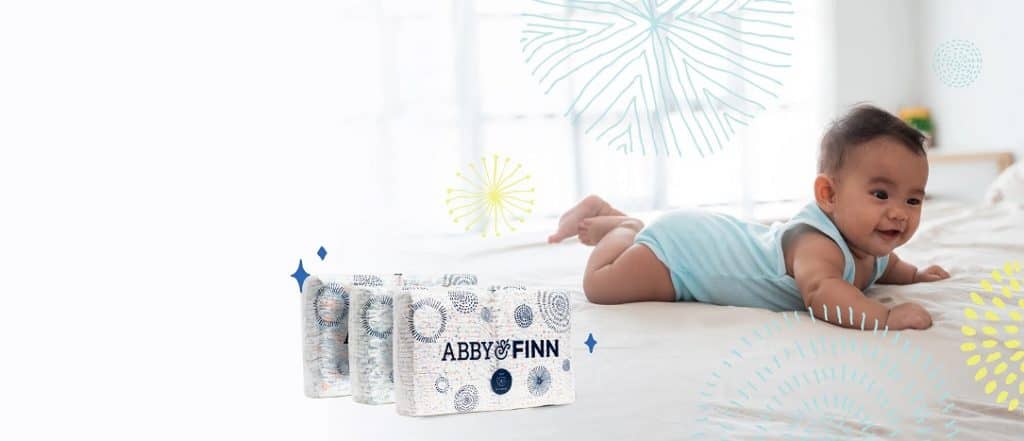 Abby & Finns brings you affordable and sustainably sourced diapers. You have the option to customize designs and sizes with every shipment. This means you are stocked with a regular supply of diapers as your kid grows into a toddler. Moreover, the company also donates roughly 30 diapers to families in the U.S. for every subscription box you order.
Features :
Comes with 3 packs of diapers

Offers discounted add-ons

Vegan and cruelty-free diapers

Chlorine-free and suitably sourced material used

Sizes:

Newborn through size 6

Delivery:

Every 2, 3, 4, or 5 weeks
Pros
You can add different sizes to each delivery

Safe material for sensitive skin

You can add additional items like

baby shampoos

,

diaper creams

,

wipes

, and more
Cons
No wetness indicator

Sometimes the sizes run narrow compared to other popular brands
3. The Honest Company ($89.99 per shipment): Best Monthly Diaper Subscription

Founded by Jessica Alba, the Honest Company has a list of 2500 chemicals and materials they refuse to add to their products. Thus, they are an eco-friendly company that hopes to keep mother Earth chemical-free.
Features :
Offer 7 packs of diapers on every shipment

Come with a thick liner and wetness indicator

Includes 4 packs of plant-based wipes

You get 15% off on add-on items

Sizes:

Newborn through size 6

Delivery:

Every 4 weeks
Pros
According to the company's website, they claim to save $250 every year on diapers.

You may donate to different charities at the checkout.

The wipes are plant-based.

The diapers are free of lotions, fragrances, latex, and chlorine.
Cons
Some say the sizes run too small

The diapers are not biodegradable

Costlier than other brands
4. Dyper ($89 per shipment): Best Eco-friendly Diaper Subscription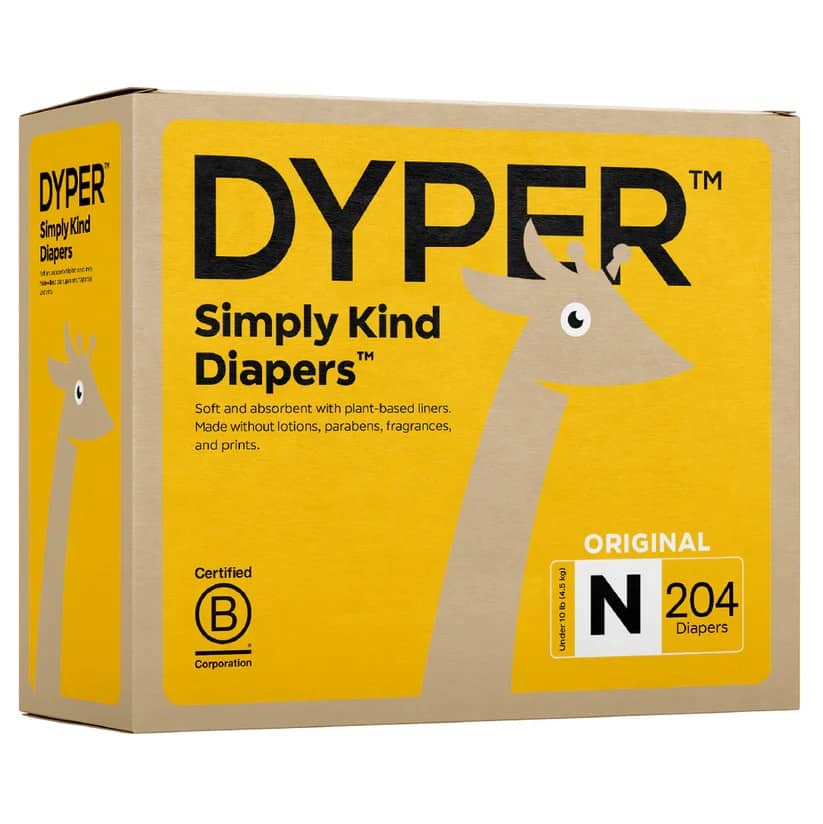 Dyper aims to give your baby the best diapers that are simultaneously good for the planet. Their packages can be made into compost and with each shipment, they purchase a carbon offset.
Features :
You can choose from 3 diaper styles

The subscription includes 2 free emergency orders every year

Sizes:

Newborn to size 6

Delivery:

Every 2 to 12 weeks
Pros
The diapers are made from sustainably sourced bamboo viscose fibers

You can reschedule your deliveries for later or earlier

You may return the wrong-sized or unused diapers

The diapers contain no fragrances or dyes

The package is recyclable (

oxo-degradable plastic

)
Cons
The wipes cost an additional $18

The diapers are bulkier and thicker
5. Parasol ($84 per shipment): Most Comfortable Diaper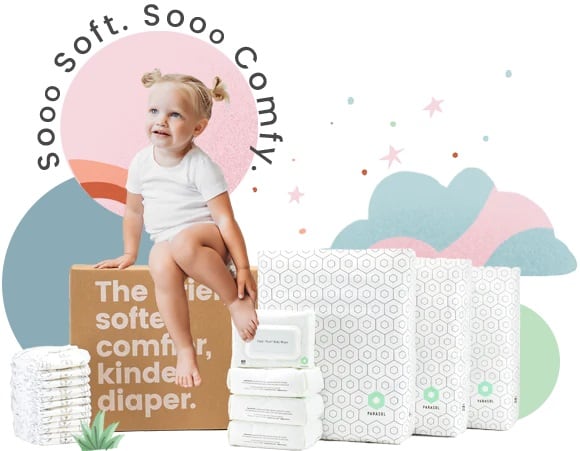 Parasol promises to deliver comfort even though the price is extensive. You will probably not get the size wrong because they offer in-depth guidelines on how to measure your baby. The company claims their diapers are the closest thing to cloth diapers with all the benefits of disposables.
Features :
The basic subscription package starts at $72 per month

The $84 shipment is available for people with a VIP membership

The diapers come with a no-rash guarantee and you get your money back if you are unsatisfied with them

Each shipment contains 240 baby

wipes

The snug diapers are made with RashSheild protection

They contain no latex, phthalates, parabens, or alcohol

Water-based inks and chlorine-free wood pulp are used to make their products

Sizes:

Newborn through size 5

Delivery:

Monthly
Pros
With the VIP membership, you make 45% savings

You get 20% discounts for added items

All their products are made with eco-friendly materials
Cons
You cannot customize and come with limited designs

Only offers monthly subscriptions

The sizes go up to only 5
6. Happy Little Camper ($85 per shipment): Best Hypoallergenic Diapers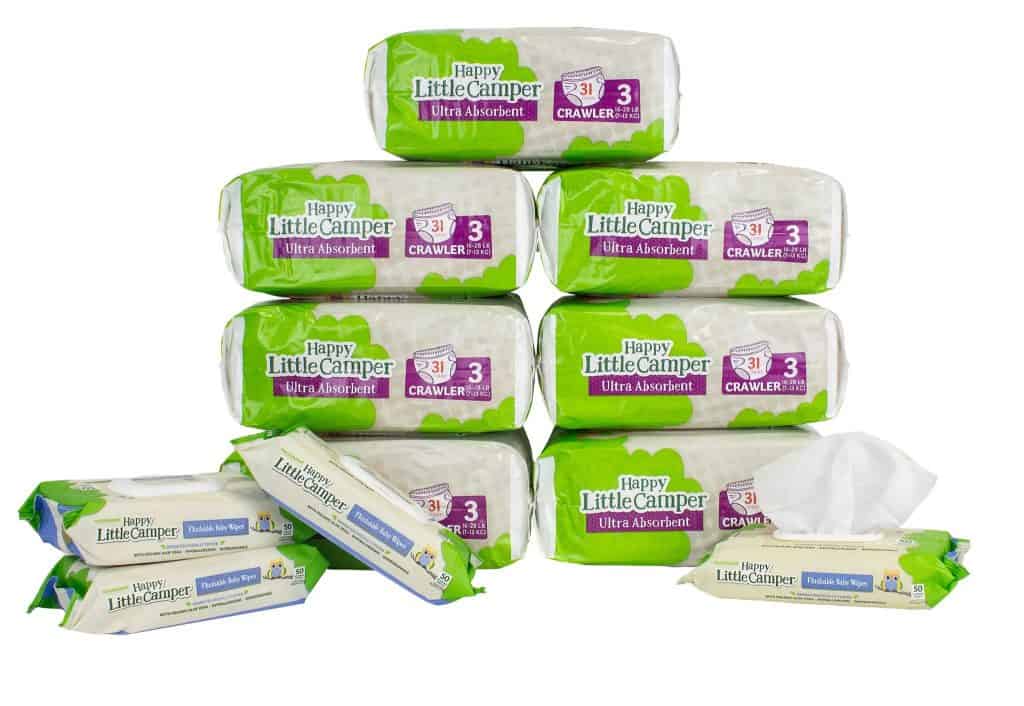 Diaper rash is inevitable for most parents but some babies have extra sensitive skin whether it's from acne or eczema. Even diaper rash creams might contain harsh ingredients that aggravate irritated skin. Or provide such a thick layer that it's impossible to wipe your baby's bum cleanly. Happy Little Campers offer the best diaper subscription of hypoallergenic diapers for such situations which helps you avoid diaper rash in the first place.
Features :
The diapers are made with soothing ingredients like aloe vera, vitamin E, and GMO-free cotton

You get to have 4 packages of their cotton wipes for just $4

The wipes are flushable and made of cotton

All their diapers are designed to avoid diaper rash

Sizes:

Newborn through size 5

Delivery:

Every 3,4, or 5 weeks
Pros
Because of its eco-friendly material, the diapers are suitable for sensitive and/or allergic skin

They do not contain any chemicals that could harm newborn skin
Cons
You can customize or choose designs

The diapers don't have a wetness indicator

These are more expensive than some other options
7. Made Of ($60 per month): Best Diaper Subscription With Certifications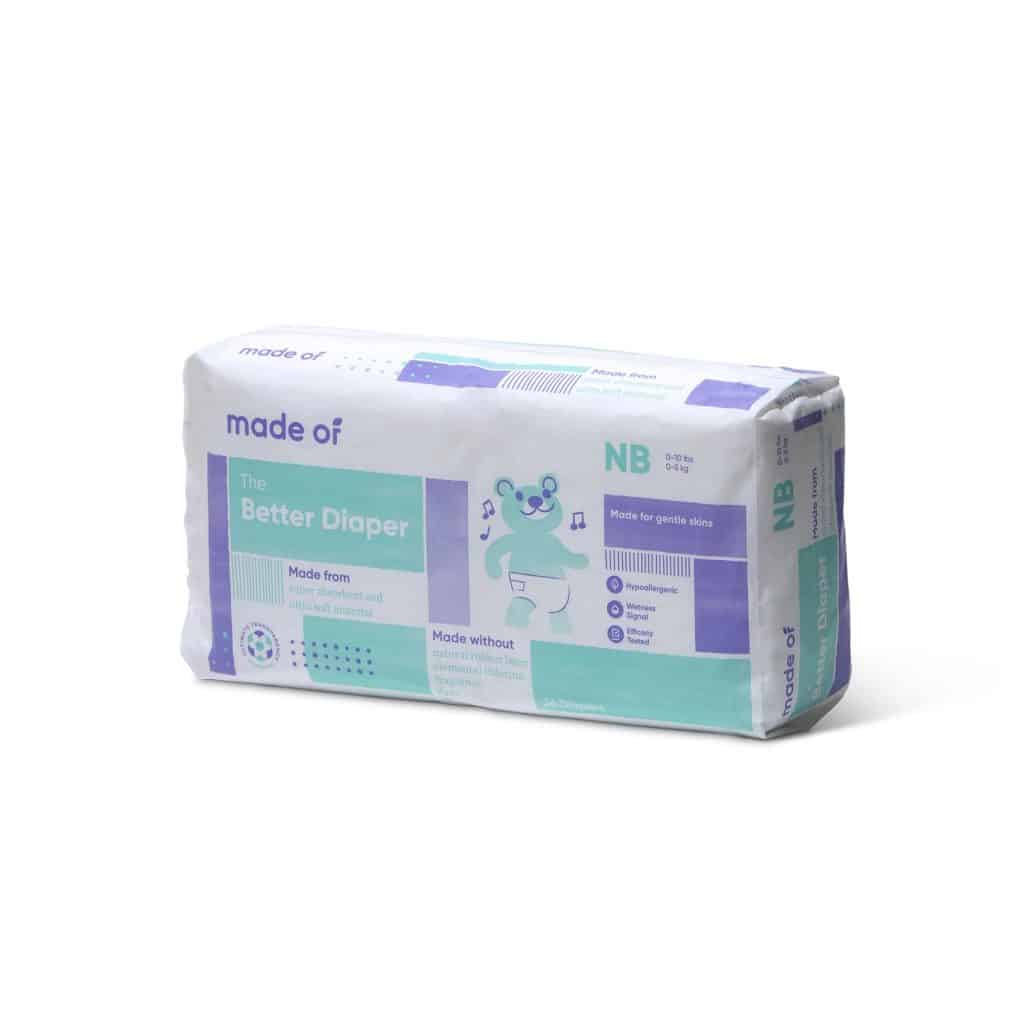 The company follows transparent business practices with certifications, partnerships, and tests to back up its claims. To verify these claims you just have to click on the "tested" icon on the description of any products.
Features :
The pricing is $60 for a diaper-only subscription

It's $80 for a diaper + wipes subscription

The diapers have a 10-hour leak-free guarantee

You may exchange the sizes of the diapers

Sizes:

Newborn through size 6

Delivery:

Every 3, 4, 5, or 6 weeks
Pros
The diaper-only subscription is budget-friendly

The diapers have been tested by dermatologists and pediatricians

The diapers meet the National Sanitation Foundation's standards for having 70% organic ingredients

The USDA Bio preferred Program and the Environmental Working Group have also certified the diapers
Cons
The diapers come only in white

Some have reviewed that they didn't like the feel of the material
8. Bungies ($20 to $30): Best Cloth Diaper Subscription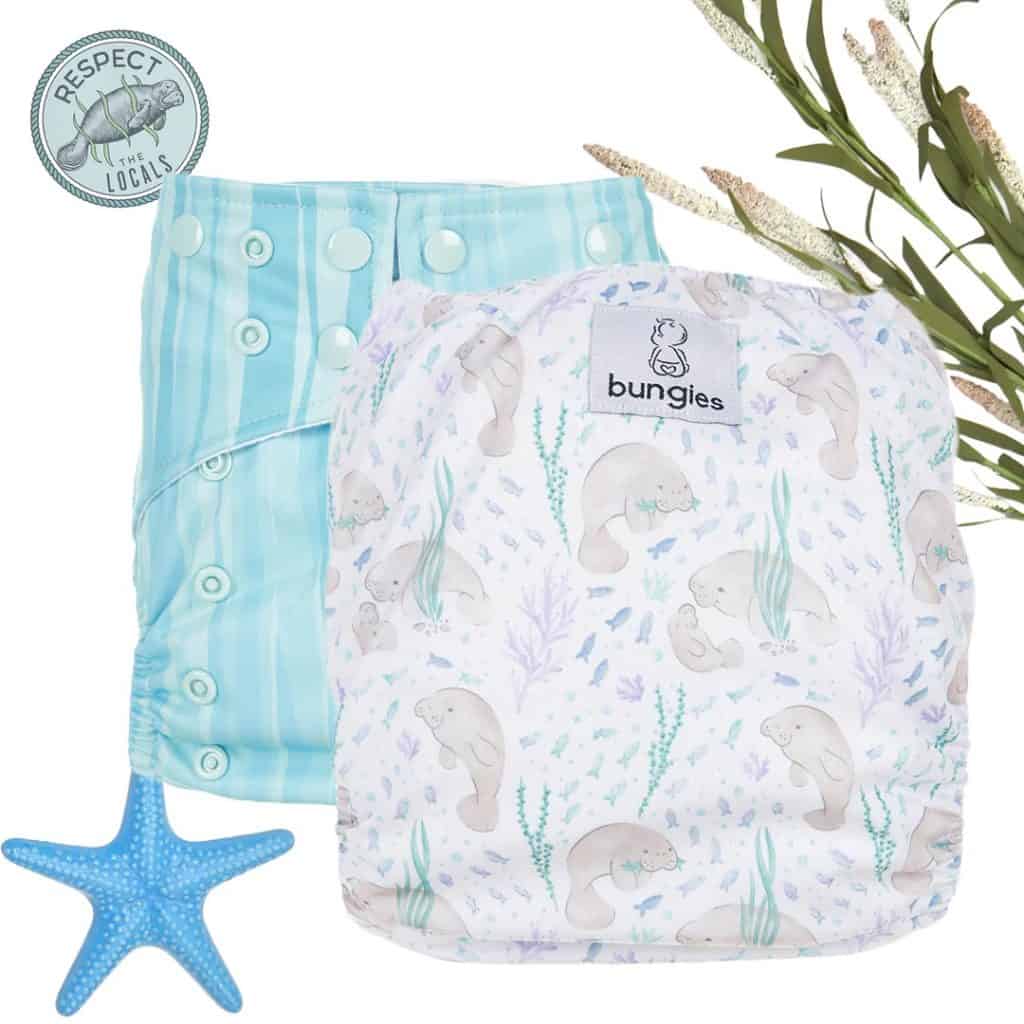 Cloth diapers often don't fit into our diapers when parents always want them for their eco-friendliness. Plus, cloth diapers also mean doing a lot of laundries but if that's not an issue for you because you are deterred by your budget, Bungies should be your ultimate choice.
Features :
You get to choose from 3 plans

You'll be sent new fiber inserts with every package

You can make the payment in full in 4 installments

The diapers are cozy and soft with many kinds of snaps that fits securely

Two of the subscription plans come with 2 cloth diapers every month

Sizes:

One size fits all

Delivery:

Monthly
Pros
They send in fresh fiber inserts and seasonal patterns with every shipment each month

Whichever plan you choose, you can choose to receive a matching wet bag or additional fiber inserts

You can swap between plans

The shipping is always free
Cons
You don't have many designs to choose from

Your baby could outgrow the "one size fits all" size

The deliveries are made per month
9. Coterie ($90): Best Overnight Diaper Subscription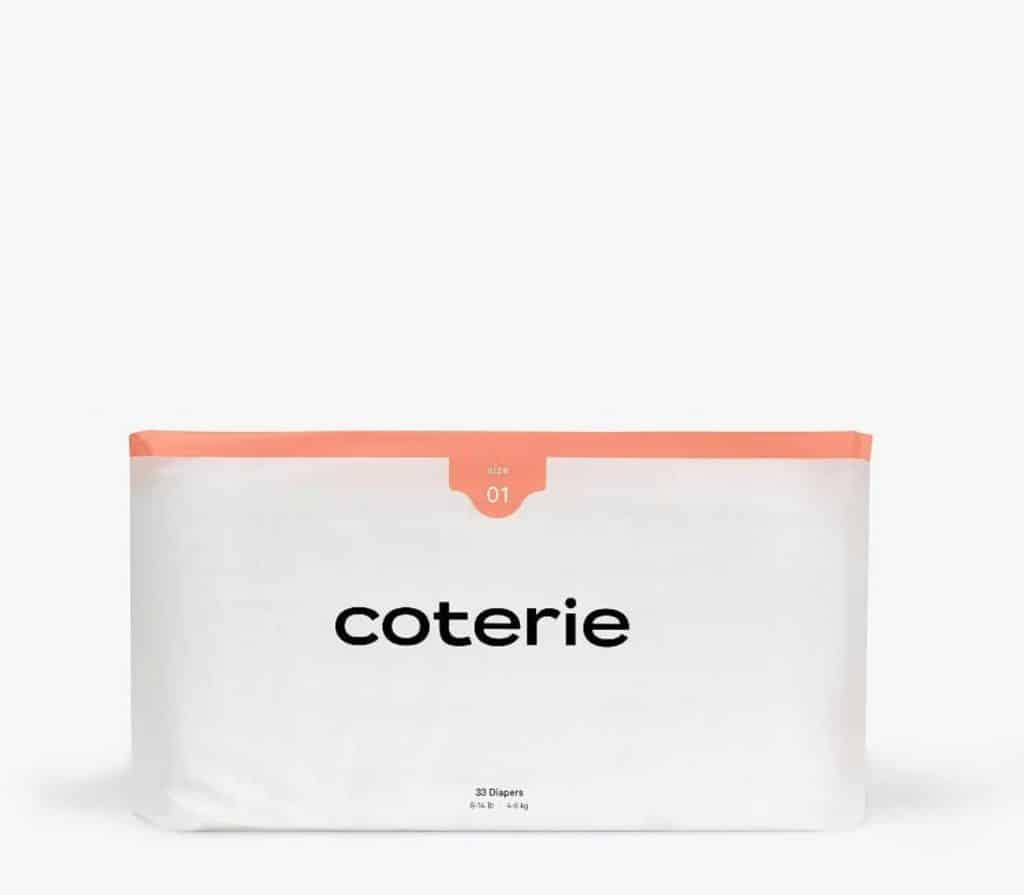 The brand boasts ultra-absorbency pull-up style diapers that last your baby overnight. While most diaper brands consider the baby's weight for their diaper sizing, Coterie considers their age making them even more reliable.
Features :
You get 168 diapers every 4 weeks

The

overnight diapers

are made of Japanese spandex which makes them stretchable (2.5 times farther than traditional training pants)

You can manage your subscription through a 24/7 texting service

The diaper is designed as a pull-up

The diapers absorb 90% more liquid

Sizes:

Newborn through size 3 through size 6 for the pants and size 6 for traditional diapers

Delivery:

Monthly
Pros
The diapers are high-quality ones

You can change, cancel, or skip delivery locations with no penalties

They are designed for the freedom of movement as soon as your baby starts to wiggle and twist

The material used is plant-based from sustainably managed forests

They are easy to change
Cons
There are no designs to choose from

It could be a bit expensive when compared to other brands
The Bottom Line: Which is The Best Monthly Diaper Subscription?
Hello Bello gets the most positive reviews from parents for its customizable bundles and high-quality products all at an affordable price. Not only does the company keep your diaper drawers stocked, but they also allow you to add essentials like laundry detergents, oils, and lotions to your shipment.
If you are an Earth-conscious individual that hopes to make a difference in your way, Dyper subscriptions are for you. They offer the lowest amount of waste as their packaging and diapers are recyclable and compostable. For the best cloth diaper subscription, the Bungies would be the best choice. Say adios to your disposable diapers with their super cute designs.
FAQs: Best Diaper Subscriptions
1. Does Walmart do diaper subscriptions?
Walmart sends their customers a new box of samples of everything your newborn will need during his first few days. From sensitive wipes to
newborn diapers
, and food samples to baby spoons, they have got you covered.
2. How can I get free diapers for my baby?
You can get free diapers from community organizations, local food banks, and diaper banks. Some retailers offer new families a free goody bag or baby box with no additional shipping charge or purchases:
Walmart
Target
BuyBuy Baby
Amazon
3. Is Hello Bello or Honest better?
Both of them are great options for your newborn and you can never go wrong with them. The choice however must boil down to personal preference, cost, and freebies. The main advantage of diapers from Hello Bello is that they are less likely to trigger allergic reactions and lead to diaper rashes. Both of these feel like cloth.
4. How many diapers do you need per month?
According to the
Detroit diaper bank
, a newborn needs about 360 diapers every month on average. It would cost you at least $450 for
wipes
and $1000 for diapers for the first year of having a newborn. It would break down to $120 per month.
5. Why are diapers so expensive?
The reason behind hiked diaper prices is that producers want to offset higher input and costs of raw materials so that their margins don't get reduced. Thanks to the high demand for products, commodity prices have been rising. Along with that surging shipping costs and supply-chain disruptions are major reasons behind expensive diapers.