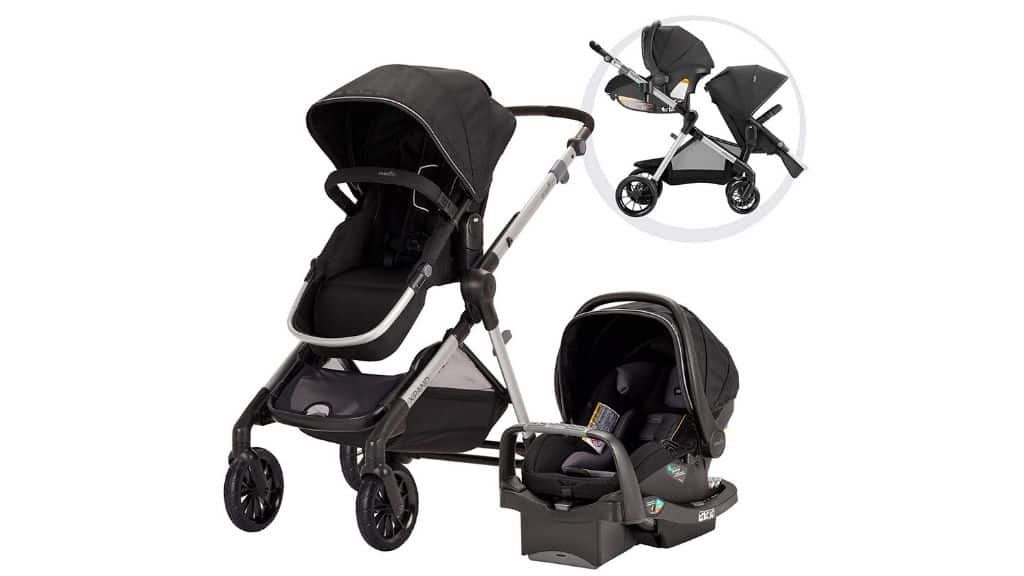 The most important purchase of new mamas is a baby stroller. You want your baby to be trusted with a safe car seat. Kids spend most of their time in their car seats and there's nothing more important than their safety. A baby stroller is also an important part of baby purchases. The right brand and the right features of these purchases will ensure that you avoid hassle and extensive cost later on.
Evenflo's pivot modular travel system is any new mom's best friend. The car seat and stroller under the Evenflo brand name are safety certified and affordable. The brand's stroller,
Matches government standards
Has an anti-rebound bar
Designed for structural integrity
Tested for side-impact collision
Certified for aircraft use
Tested for both high and low temperatures
Evenflo comes equipped with the best for your baby's safety. What more could you ask for as a new mother! The car seat has a great base and can come in and out of the base easily. It is also provided with a 5 point harness. Evenflo pivot modular travel system also includes comfort and safety features of premium quality like an upfront harness adjustment, a roll bar, a mom-friendly handle, and a cozy infant head support. It eases the hassle of transferring your baby from home to a car. Plus, a free video installation feature and extended warranty make it worth the money.
Now how to switch from a stroller to a car seat? You can easily pop the seat of the stroller to become a car seat. The seat can be fit right in with ease. The feature of a lay-flat carriage usually comes with a huge price tag but Evenflo brought this function within the affordable range.
The multifunctional seat can be switched between its mode by the simple pull of a lever located underneath the seat. A buckle is provided under the seat that helps the seat to be upright. The seat can be easily flipped to face in or out.
Another function to be mentioned is the canopy. Evenflo pivot modular travel system is equipped with a large canopy that will cover the baby completely. Also, the footmuff is an additional joy.
As experienced mothers would say kids come with craps; you would need a huge storage for all those craps. Evenflo comes equipped with huge storage space underneath the car seat. The seat is high enough to put in a large number of supplies in the storage base.
The maneuverability of the stroller is yet another feature to be highlighted. A stroller that doesn't move according to your movements is a real pain. The ideal stroller would take you seamlessly through tight spaces and abrupt turns and in any direction that you would steer it to. Evenflo pivot modular travel system is top-notch in this respect. At the least to say, it moves like a dream.
Evenflo Pivot Modular Travel System Reviews Product Details
| | |
| --- | --- |
| Brand | Evenflo |
| Color | Sandstone |
| Material | Metal, Plastic |
| Age Range | Infant |
| Maximum Weight Recommended | 35 pounds |
Features Of Evenflo Pivot Modular Travel System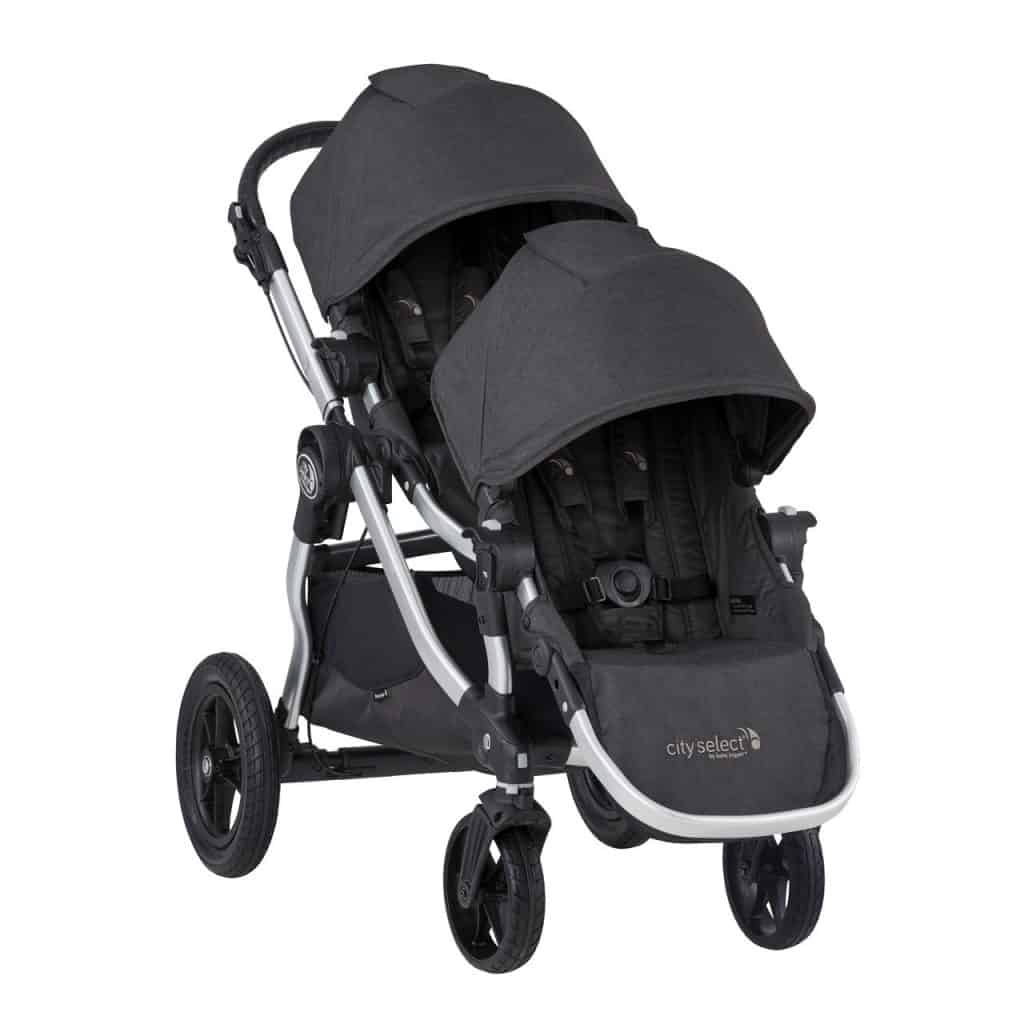 1. The Perfect Travel System
Evenflo pivot modular travel system comes with the Evenflo's Rollover SafeMax infant car seat that is tested up to government standards. A stay-in-car base is also provided alongside that can accommodate infants and children of about 4 to 35 pounds. The stroller can handle weight up to 50 pounds.
2. Working Multiple Modes
The Evenflo pivot modular travel system comes with 6 modes, such as reversible carriage mode which has two options, a frame stroller, a travel system, and a toddler stroller. The rear-facing height of the stroller is 17 to 32 inches.
The Evenflo pivot modular travel system is provided with new cruiser tires that assist in a no bumpy ride for your child. Paired with ergonomic handles, the Evenflo ride becomes almost effortless.
Evenflo travel system limits the rebound action occurring due to frontal impact making it safe for your baby from falling over.
Evenflo pivot modular travel system meets all the standards prescribed by the federal government's safety standards. Also, it exceeds the standards mentioned by Evenflo's standards of safety.
6. Robust Structural Integrity
Evenflo has been tested for structural integrity at twice the energy levels recommended by the federal crash test standards.
Evenflo pivot modular travel system can be airplane safe if used with an internal 5 point harness. This harness meets the FAA inversion requirements specifically for airplane use.
8. Passed Temperature Testing
All the Evenflo's car seats have been tested at both high and low temperatures to maintain the product's integrity.
Certifications Received By Evenflo Pivot Modular Travel System Reviews
The Evenflo pivot modular travel system has four certifications meeting the required standards.
FMVSS 213: Federal Motor Vehicle Safety Standards for Child Restraint Systems
FMVSS 302: Federal Motor Vehicle Safety Standards for Flammability of Interior Materials
CMVSS 302: Canada Motor Vehicle Safety Standards 302
CMVSS 213: Canada Motor Vehicle Safety Standards 213
Shipping: Free shipping is available for orders above 150 dollars.
Standard: Car seats are tested according to government standards.
Facing: Your baby can face you or out for that matter.
Maneuverability: It is super easy to push around even if you do it one-handedly.
Canopy: It has a full-coverage canopy securing your child from the sun.
Easy storing: It allows you to conveniently fold it into two.
Storage base: There's a large storage basket beneath for your baby's supplies.
Parent cup holder: The most flexing feature is the parent cup holder making you feel free to order a drink while strolling.
Handle: The ergonomic handle is another plus point.
Evenflo Pivot Modular Travel System Reviews Final Conclusion:
All new moms are preoccupied with their baby's needs and the least of their bothers should be how to keep their baby safe when having a stroll; the most hassle-free time that new mothers have. Keeping such situations in mind Evenflo has designed the pivot travel system to maximize the benefit of the baby and the mother. All the features that keep the baby safe in a stroller and a car seat have been added to this system at an affordable range.
Evenflo Pivot Modular Travel System Reviews FAQs
1. Is Evenflo compatible with Graco ?
Evenflo car seats do not fit in with other brands as every manufacturer makes these products with their own unique features. So them being compatible with other products of the same use is not feasible.
2. What car seat base is compatible with Evenflo?
Evenflo LiteMax infant cars can be used as a rear-facing car seat base. It is appropriate for children between 4 to 35 pounds.
3. Can you run with an Evenflo stroller?
Evenflo's stroller has a weight capacity of 50 pounds making it practical for walking and running on different terrains whilst keeping your baby safe and not ruining your day out.
4. When can I remove the body pillow from Evenflo's car seat?
There are no weight limit requirements for Evenflo's travel system. The body/head pillow can be kept as it is for as long as you want and maybe removed as per your convenience.
5. How do I clean the Evenflo bassinet?
A clean damp cloth can be used to wipe clean the bassinet frame. Make sure you do not bleach or expose it to excessive sunlight as it could fade or warp the parts. Remember to check for torn material, missing or broken parts.
6. Does Evenflo allow overhanging?
Most of Evenflo's car seats allow 20 percent of the bottom of the car seat to hang over the front of the seat of the vehicle. The rest (80 percent) of the car seat should be supported by the vehicle seat.
On behalf of the editorial team at Parenthoodbliss, we follow strict reporting guidelines and only use credible sources, along with peer-reviewed studies, academic research institutions, and highly respected health organizations. To learn about how we maintain content accurate and up-to-date by reading our medical review and editorial policy.