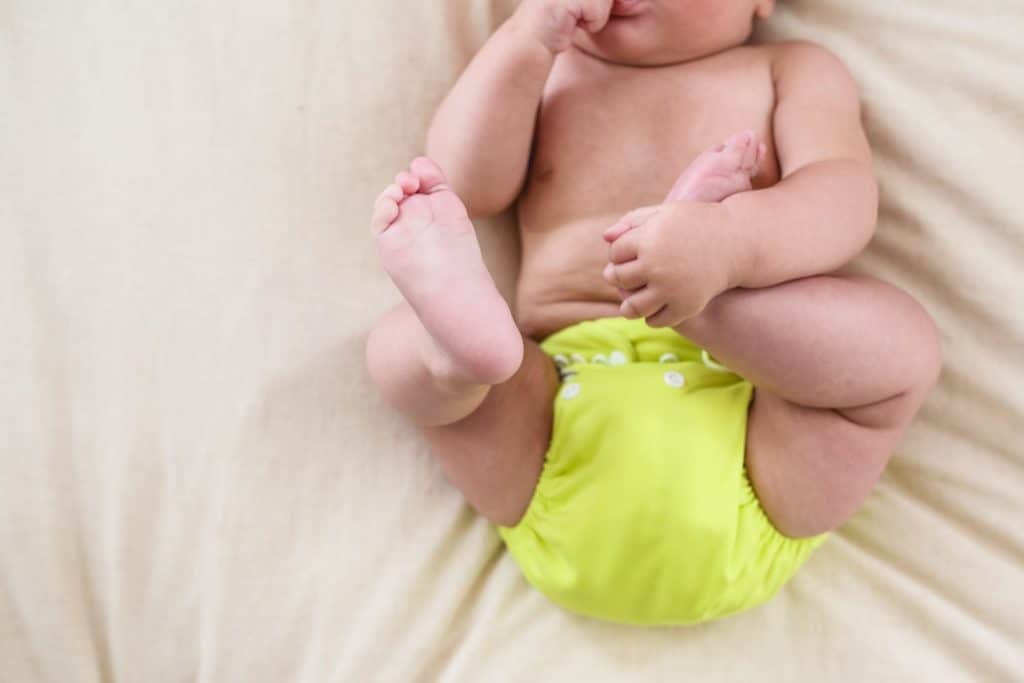 Cloth diapers: you wore them, your parents wore them and your parent's parents probably wore them too. Cloth diapers have been around for quite some time now, celebrated as the most sustainable form of eco-friendly diapers. These diapers lost popularity as disposable diapers came around but off late, owing to the elements of sustainability and environmental consciousness, cloth diapers have started gaining some popularity again.
If the words "cloth diaper" create a dirty, smelly image of difficult-to-wash cloth pieces in your mind, be ready to be blown away by how much cloth diapers have evolved over years!

Before we get to the list of the best cloth diapers to buy, let us first go through some basics that could help you make the decision easier. 

Why should you choose cloth diapers over disposable diapers?
The diaper industry has evolved and there do not only exist cloth or disposable diapers but also a third kind which is referred to as 'combination' diapers.

While the kind of diaper you want to choose for your little one remains a personal choice, here are the three primary advantages of picking a cloth diaper to help you make an informed decision-
Cloth diapers are washable, reusable, and hence, eco-friendly

The reusability and washability features also account for a lot of $$ savings over time

Cloth diapers are free of chemicals, ideal for sensitive bottoms
What are the types of cloth diapers?
You possibly might be taken aback by this question because there exist high chances you never thought cloth diapers could have 'types,' but hear, hear! Following are the five types of cloth diapers available on market-
1. Fitted Cloth Diaper
Fitted cloth diapers are available in a ready-to-wear format with elastic leg openings and snaps or Velcro tab closures for the waist. Fitted cloth diapers are typically made from absorbent fabric and offer full-coverage absorbency. However, do note that they usually require a waterproof cover to go over them. When the diaper is full, just remove the old diaper, put it for wash, and reuse the waterproof covering with a fresh diaper.
2. Flat and Pre-folded Cloth Diapers
Pre-folded cloth diapers can be considered an upgrade for the traditionally flat, big rectangular pieces of fabric. Pre-folded diapers come in the format of small pieces of fabric that are doubled over and need to be clipped and covered with a waterproof covering for use.
3. Pocket Cloth Diapers
Pocket cloth diapers come with an already existing waterproof exterior and inside pockets to place the absorbent inserts at. This essentially means that you would not require to separately purchase an additional shell like you would have to for fitted or pre-folded cloth diapers. Pocket diapers, besides, offer some great adjustability as the inserts can be manually positioned and chosen on the basis of the desired absorbency levels.
4. All-In-One Cloth Diapers
Similar to disposable diapers yet offering everything you would expect from a cloth diaper. All-in-ones are ready-to-use diapers that come with a waterproof cover shell as well as an absorbent inner cloth lining for fluid absorption.
5. Hybrid Cloth Diapers
Hybrid cloth diapers also come with a waterproof shell and an absorbent, removable inner cloth lining or insert. When it's time to change time, you just need to pull out the soiled insert and replace it with a fresh insert – no need to change the whole diaper anymore! However, this obviously is contingent on the fact that there should've been no leakage to touch the shell.
6. All-In-One Cloth Diaper
Most similar to disposable diapers, convenient all-in-ones have a waterproof cover and an inner cloth lining to absorb fluid. When you change your child's diaper, you toss the entire diaper into the dirty pile to be washed and then grab another (no folding, no inserting).
So now that we have established a base let us get straight to the juice. We have curated this list after having read through the reviews of most cloth diapers out there and funneled the top 6 for you.
Here are some of the best baby cloth diapers you can buy for your baby -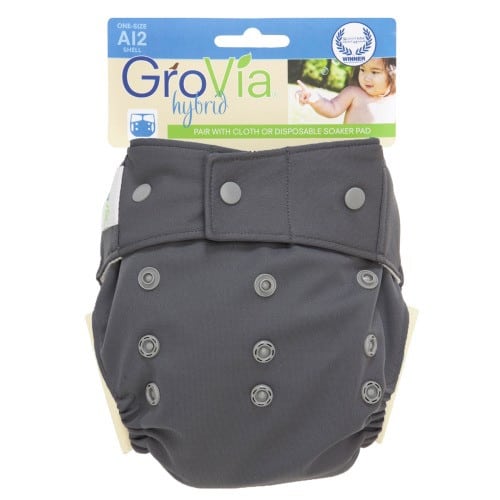 Priced at $16.95
Fits children between 8-30 lbs
A hybrid cloth diaper made in adorably cute prints and to work with a snap-in cloth insert or a biodegradable, disposable insert, this diaper lets you take care of your baby and the environment at the same time. Since the inserts/liners need to be purchased additionally, ideally, you could buy a monthly stock to save yourself the potential last-minute stress. The covers of the GroVia diapers are recommended for line drying only.
These are a great system, but too bulky on my baby until she was 11 pounds. I just prefer a slim fit. Now that she is 13 lbs they fit great
These are some of my favorites! They got constant use and still look new, and we used the shell as swim diapers as well. Such a great diaper!
For more product reviews visit Amazon
2. Bambino Mio Miosolo Cloth Diaper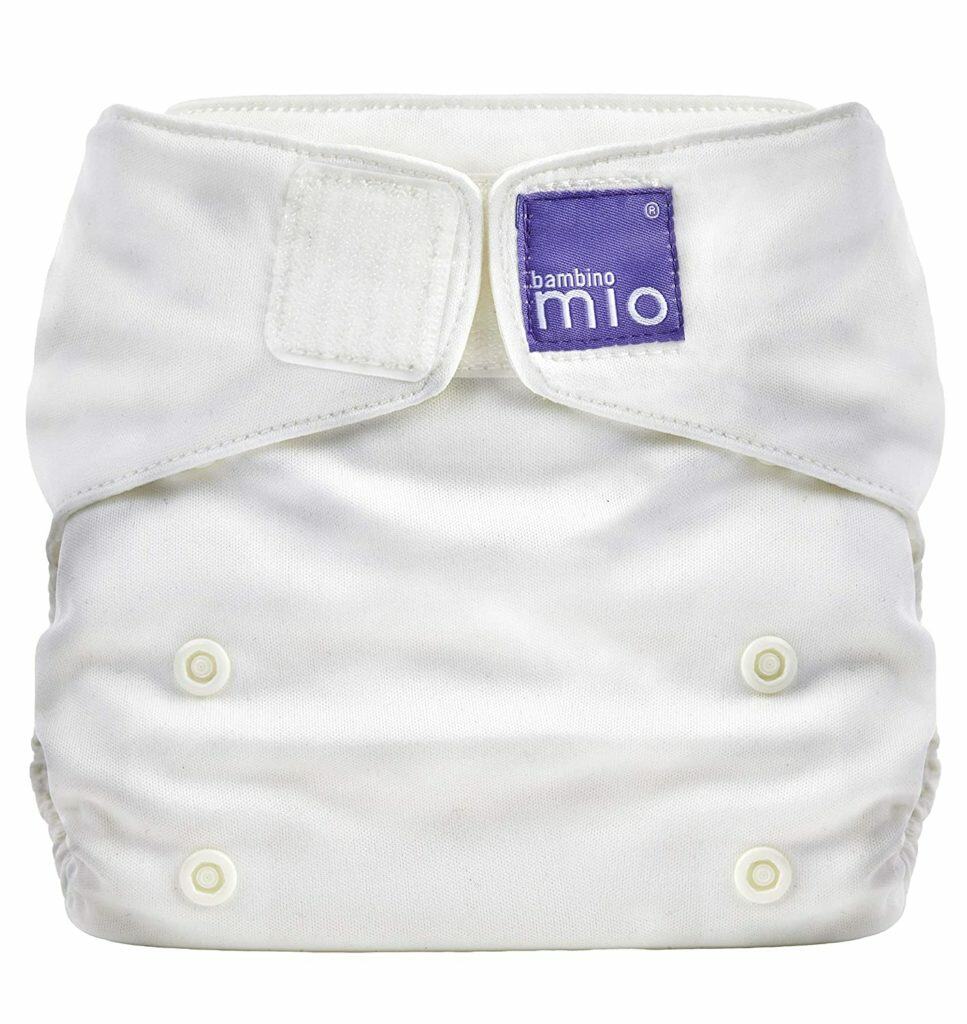 Priced at $19.25
Fits children between 8-35 lbs
An all-in-one, reusable, and unbelievably soft cloth diaper, the Bambino Mio is as easy to use as it is on a baby's sensitive skin. Equipped with an easy-to-adjust Velcro tab closure that fits around the waist and cut in a generous, spacious cut, it offers a snug fit even for babies with cuddly, chunky thighs. Worried about the 'one-size' offering? Well, you do not have to. As your little one grows, the diaper can be adjusted to fit the bigger bottoms by letting out more fabric using the resizing snaps.
Pro tip: For a shorter drying time, look for a pocket that otherwise remains attached to the diaper cover but stashes a thick removable insert. Pulling out this insert at the time of washing gives you a shorter drying time, but again, be aware that placing it back in could take time to get used to.
This one has been great for my skinny three month old at only 9 lbs. The legs and back fit better and hold better than the Alva baby snap diapers. I think I like a traditional pocket diaper with the pull out liners better for cleaning and drying, but these are a better diaper. They hold in the mess great, are very well made, and super cute. I like the sew in pocket on the liner to help push it back into the diaper after cleaning. The velcro is great quality and I expect it to hold up well.
I have several of these AIO cloth diapers in different patterns and we use them for overnights with our baby. They are the ONLY ones we can use where I'm not having to change him once or twice in the middle of the night. We also love how these diapers fit out little guy and the ease of the Velcro closure.

Only con I have is that the liner is heavily stained in each one of these diapers within about three weeks of use. We wash them every other day and none of our other diapers/liners have stained like these do. No cloth diaper funk, though! The staining isn't a huge deal to us but I know for some folk re-sell value is a consideration.
For more product reviews visit Amazon
3. Charlie Banana Cloth Diapers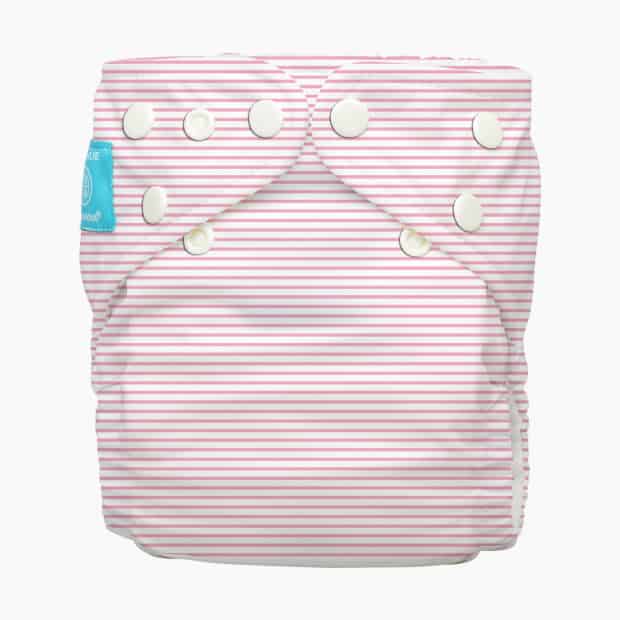 Priced at $22.88
Fits children between 6-35 lbs
Made in a hybrid format, the Charlie Banana cloth diaper comes with a  front-loading pocket that supports cloth as well as disposable liners. The front-loading is particularly a good option because it saves you the need of pulling out the liner through a poopy mess in the back. The back of the diaper is also lined with a fleece-like fabric for the most comfortable fit!
4. Esembly Cloth Diapering Try It Kit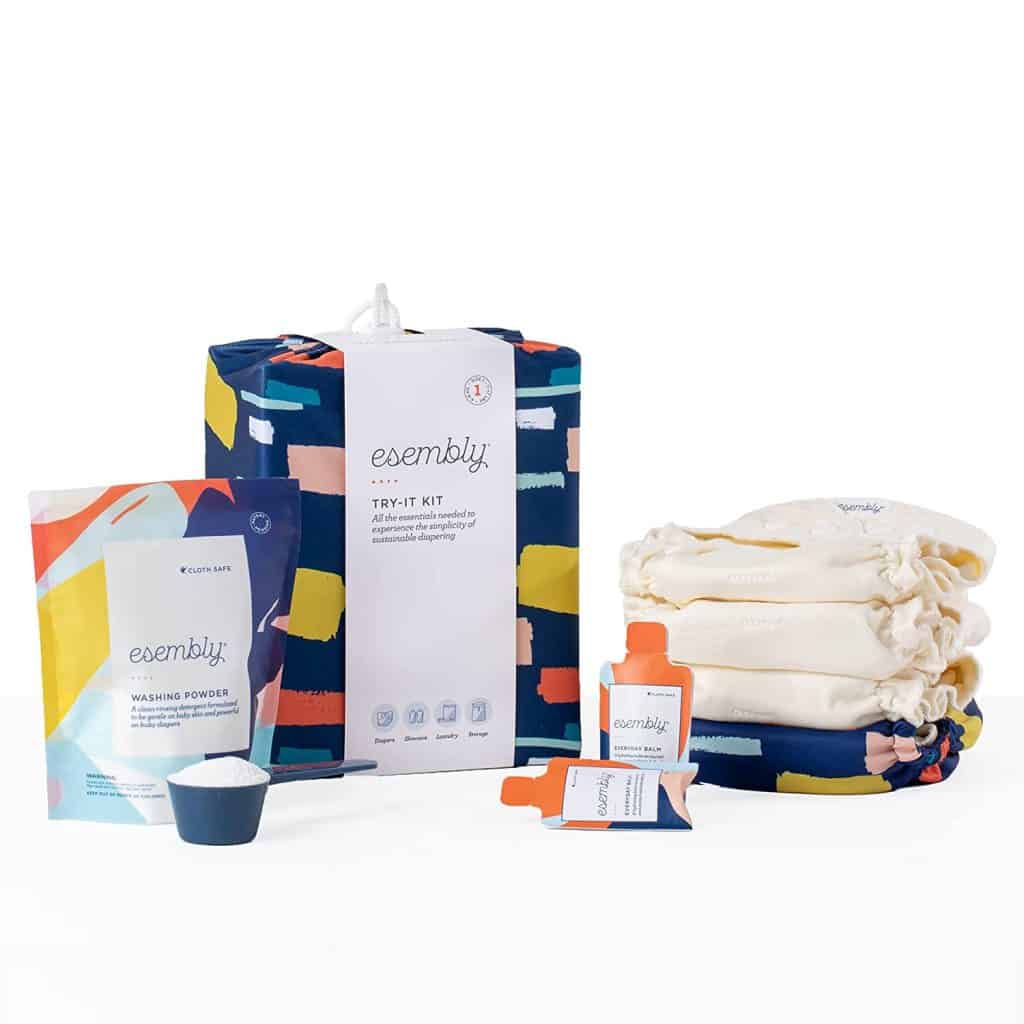 Priced at $99.50
Comes in two sizes. Size 1: 7-17 lbs; Size 2: 18-35 lbs
Made in a two-piece design, with a cotton inner and a waterproof outer, this diaper offers unbelievable protection against poopy blowouts. This diaper kit contains not only organic blowout-proof diapers but also baby-safe specially formulated detergent and eco-friendly diaper storage bags made from disposed of plastic bottles! Some parents have mentioned in their reviews how the two-piece design takes some time to get used to but you do, there will be no going back!
This product feels very quality. It is easy to use as a first time cloth diaper-er! You simply resuse the outter, as long as it is not soiled, and you replace the inner. The buttons are easy to snap and adjust. We have been using these for a week, and they're washing up great, no staining! Also, the prints are ADORABLE!
Love these works great for my chunky baby
For more product reviews visit Amazon
5. bumGenius All-in-One Cloth Diaper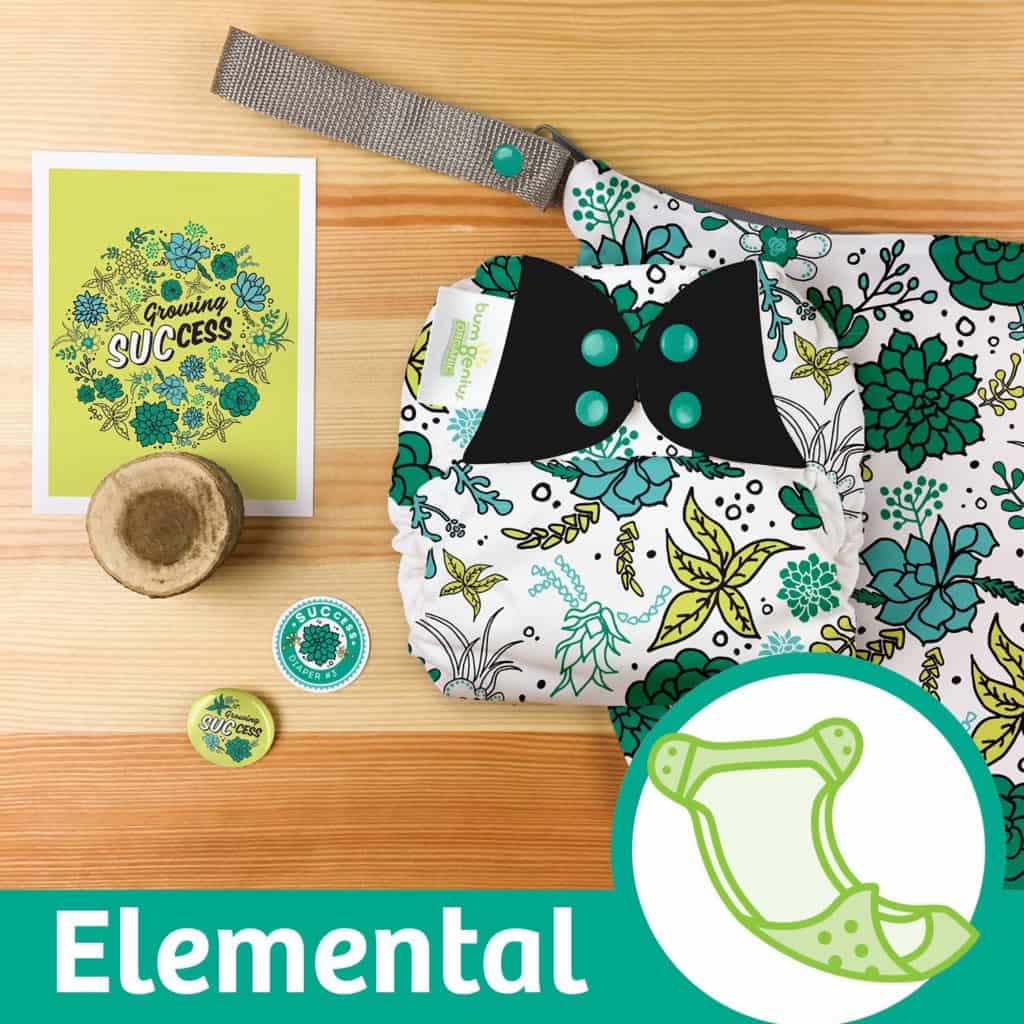 Priced at $23.95
Fits children between 8-35 lbs
Available in some really vivid, bright, and baby-positive colors, the bumGenius comes with two sew-in absorbent inner flaps and parents cannot stop raving about how easy to clean this diaper is. This one can also be resized, thanks to the simple snap system like in Bambino Mio Miosolo, so there's no worry to purchase another one as the baby grows!
Really like these, bought them thinking they were something different and ended up really liking them.
I have thirstie that I use with separate trifolds which we like, but these we love—. These fit better, and are just so easy to use.
For more product reviews visit Amazon
6. Kanga Care Rumparooz Cloth Pocket Diaper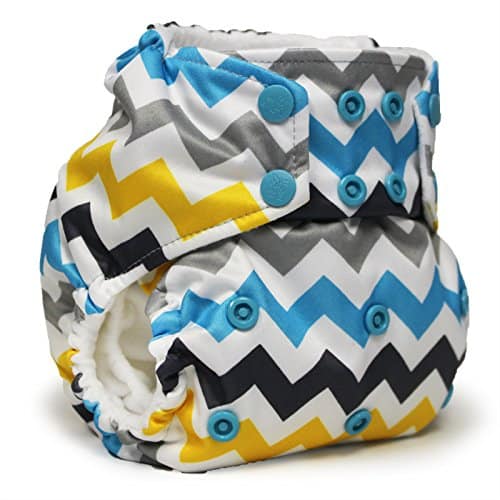 Priced at $25.95
Fits children between 6-35 lbs
The absorbency level of the Kanga Care diaper can be adjusted as per your baby's needs and it comes with two inserts that can be used together or separately, in a total of six different possible configurations. These diapers also feature an inner and outer elastic barrier at the leg opening to make leakage a thing of the past. 
These are fantastic cloth diapers compared to other brands I've been using. Nicer lining, better double gussets and double liners. They are pricey though considering you can buy about 5 for these price from other brands. Too be honest, I only have a few of these at this price point, but they are much nicer than anything else. I'm using other brands as well as flats and pre folds.
These are great for nighttime! Zero leaks! I use it with their bamboo soakers inserts instead for nighttime and they work amazingly! The only downside of these diapers is the sizing! They run very small, so if you have a big baby these won't fit your baby or they will fit for a very short period! It's a very expensive diaper so being so small is really a shame! I hope they fix this issue someday, it will make it the perfect cloth diaper!
For more product reviews visit Amazon
While there exist tons of lists on the internet, like ours, recommending the best possible cloth diapers to pick from, in the end, the best diaper for your baby could only be the one that is comfortable for both – the parents and the baby. As some last bit of practical advice, before investing your money and buying a bulk pack of any form of diapers, run some trial and error with sample pieces to truly determine what works best for you.
FAQs: Best Eco-Friendly Cloth Diapers To Buy For Your Baby
1. How many cloth diapers do newborn babies need per day ?
Newborns typically soil an average of 8 to 10 diapers a day and for that reason, buy at least 20 cloth diapers, to begin with. 20 might sound like a big number but when you also account for how quickly newborn babies grow and how you would not have a lot of time to invest in the laundry, at least after the first few weeks post-delivery, 20 should be a perfectly comfortable number.
2. What are the disadvantages of cloth diapers ?
While cloth diapers have more pros than cons, they do have certain downsides that one needs to be prepared for. These include-
Since cloth diapers are 100% free of chemicals for additional absorbency, they might get a little too stinky, and wet
Inconvenient when outdoors owing to the requirement of laundry
There's hardly any way to avoid touching the poop and pee when washing a cloth diaper
3. What is the most absorbent cloth diaper insert ?
Typically, diaper inserts made from organic cotton and hemp inserts are considered to be the most absorbent. This is because Cotton and hemp can trap much more moisture under pressure better than the microfiber or bamboo inserts, also making them great for overnight use.