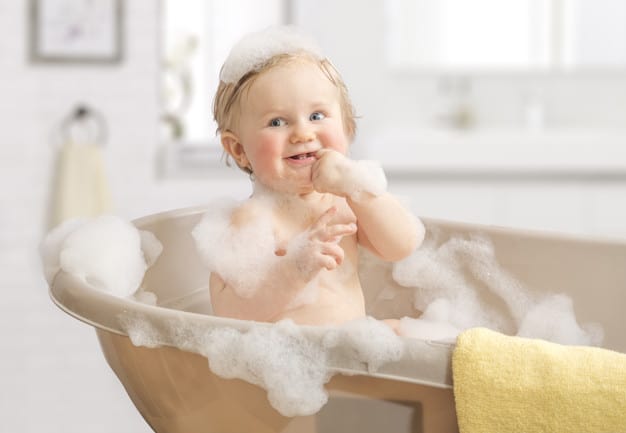 In the grown-up world best baby shampoo are relatively interchangeable — when was the last time you looked at the ingredient list on the bottles in their shower? But when it comes to babies, the rules are a little different. They have much more sensitive skin which makes their tiny bodies much more susceptible to harm from chemicals. So, it's important to know what products are being used on babies
However, even before we get to that, let's understand when to use shampoo for babies?
As babies don't stink like adults, they don't need to bathe as often. However, spit-up, diaper blowouts, and baby food messes are inevitable which leads to running for the bathtub. Plain warm water is enough to clean babies, during the early newborn weeks. Stick to sponge baths for the first week or so, until the umbilical cord stump falls off, however, do not submerge the baby in the water.
Start using a few drops of gentle baby shampoo on their hair (if they have any) and body, in around 4-6 weeks. Use a pea-sized bit — as to leave their skin's protective oils intact as much as possible.
As some babies have particularly sensitive skin which can be prone to eczema and rashes. To prevent irritation, avoid certain ingredients while looking for a baby shampoo:
1. Harsh and possibly dangerous chemicals such as parabens and phthalates are often found in adult toiletry products and plastics.
2. Formaldehyde—used in science labs.
3. A possible hormone disruptor, oxybenzone.
4. A fragrance which may irritate the skin and it sometimes includes other potentially harmful ingredients.
5. Some babies are allergic to dyes.
6. Sulfates can irritate skin and eyes.
7. Alcohol often labeled as ethanol or isopropyl alcohol dries out the skin.
Also note, As eyes are especially sensitive, keep the  shampoo out of the baby's eyes whenever possible; hence, tear-free formulas help. However, bath time will be more pleasant if you tip the baby's head back and rinse the shampoo away from their face.
And of course, never leave babies unattended in the bathtub. Try to place everything needed such as shampoo, washcloth, towel, toys, diaper, etc. within reach.
How to choose a baby shampoo?
This is where Parenthood Bliss comes as to your rescue! After conducting extensive online research related to ingredient safety, and reading reviews, here are the top 10 baby shampoos & body washes we recommend for use in 2021. (Brownie points: Some of them double up as a body wash too!)
$ = under $10
$$ = $10–$15
$$$ = over $15


1. Cetaphil Baby Wash & Shampoo: Best Baby Shampoo
Price: $
From well-known brand Cetaphil, this product claims to be tear-free and contains some nice skin-friendly ingredients such as calendula (a flower oil) and vitamins E and B5 (panthenol).

With overall great reviews from parents, it has a light scent and is gentle on baby's skin and hair. As it contains fragrance, it gets only a moderate score from the EWG. It's also not sulfate-free, so it gives a good lather but may irritate if they are extra sensitive. Despite being labeled tear-free, several parents reported that it irritated the baby's eyes.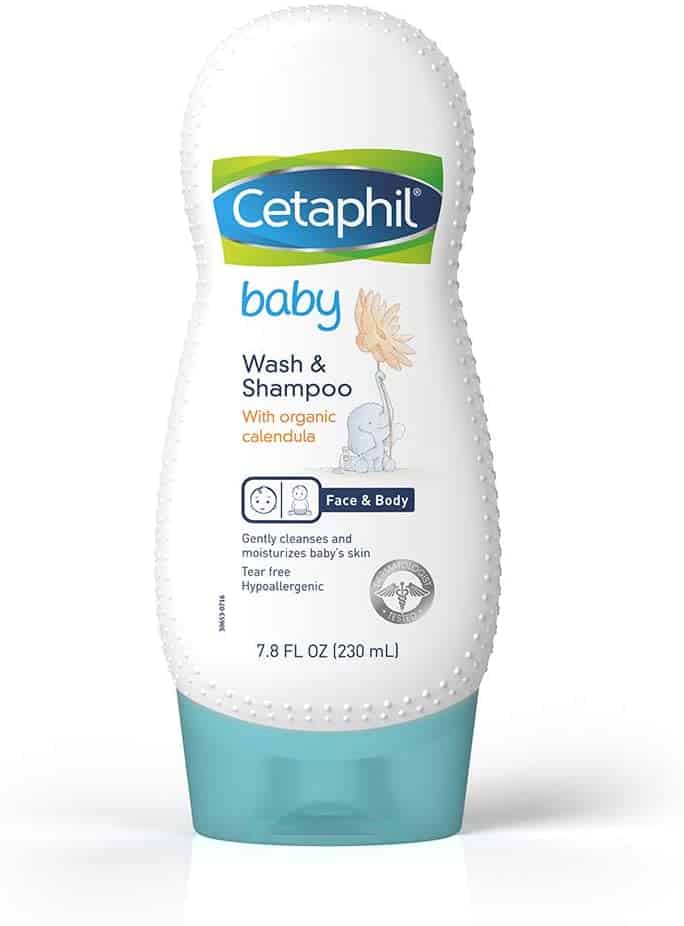 2. Attitude Natural 2-in-1 Baby Shampoo & Body Wash: Best Baby Shampoo
Price: $$
Although it's a little pricey, this product is on top of the list when it comes to ingredient safety and gentleness. It contains colloidal oatmeal, which soothes and moisturizes dry, irritated skin. It is verified by the EWG, with also a seal of approval from the National Eczema Association. So, it's a fantastic choice either way.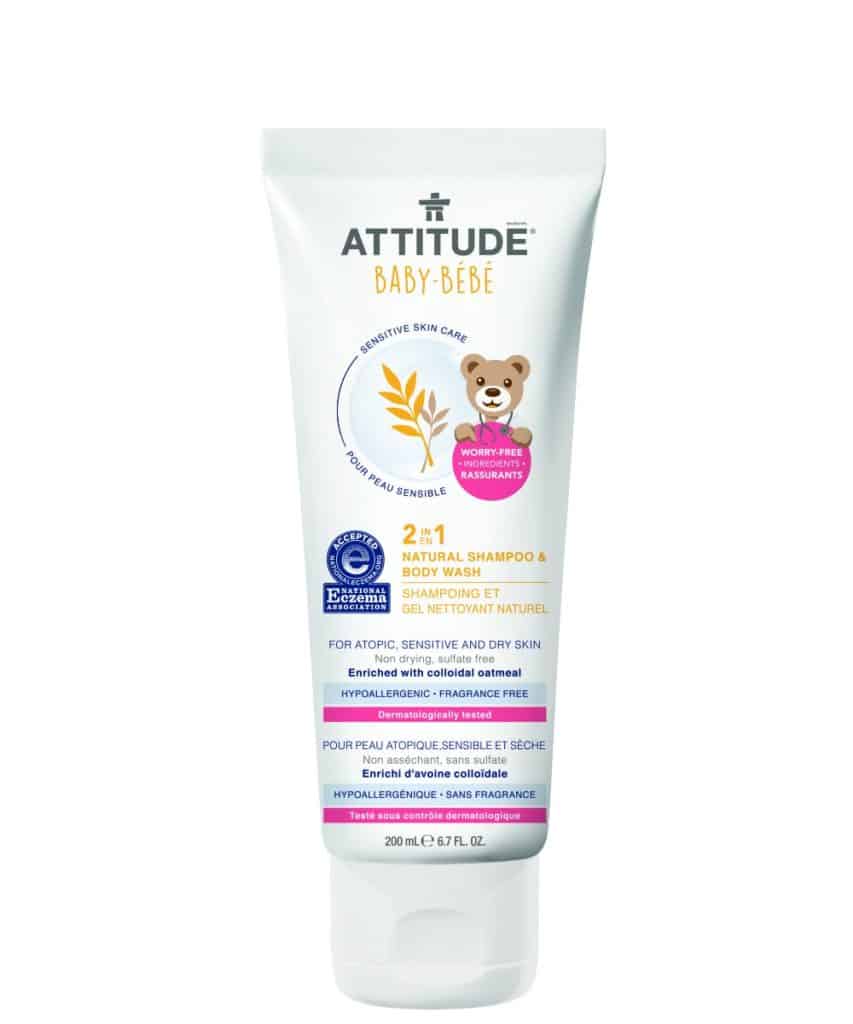 3. Pipette Baby Shampoo + Wash: Best Baby Shampoo
Price: $$
This particular shampoo/body wash combo from Pipette is EWG verified, and covers all the bases when it comes to super gentle, clean ingredients. It's also the most environmentally conscious option on the list. Although some parents said they wished it had more of an ascent while others felt it was a little pricey.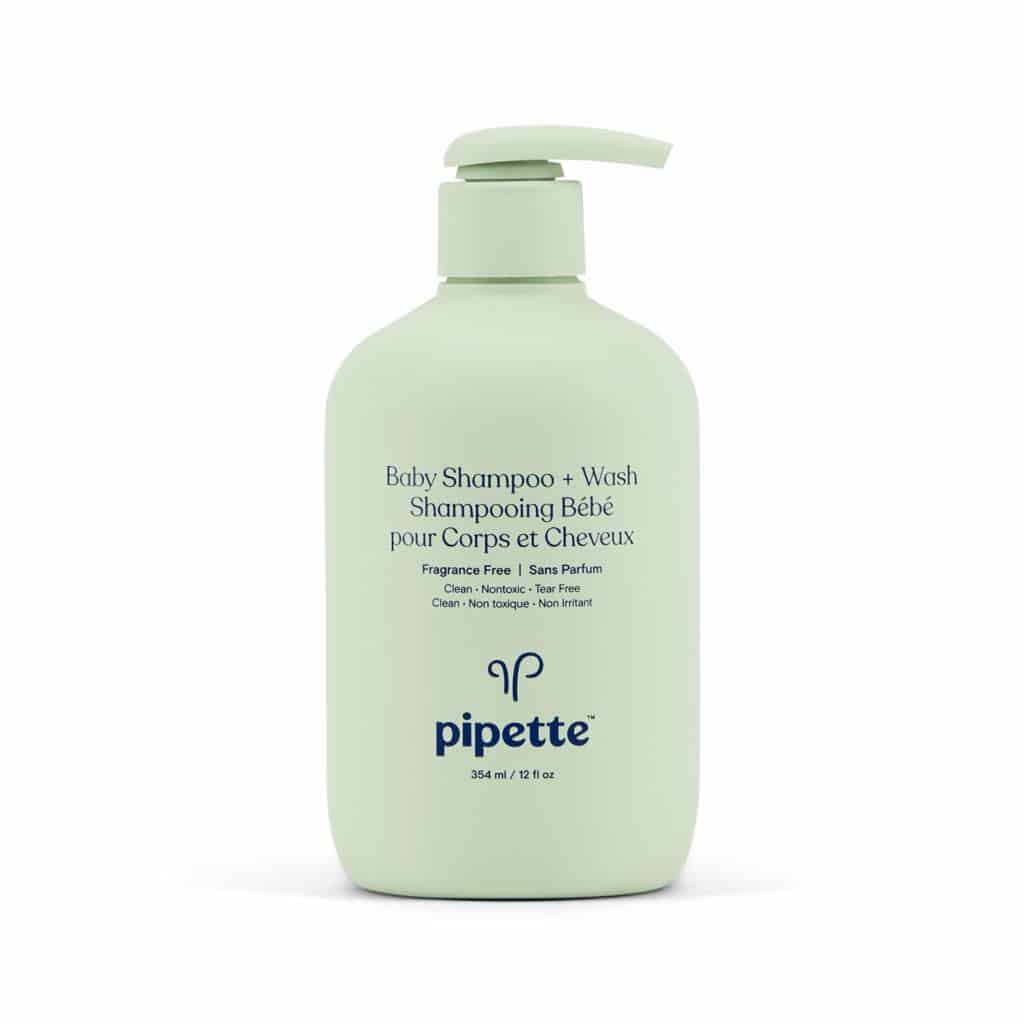 4. CeraVe Baby Wash & Shampoo: Best Baby Shampoo
Price: $
This gentle baby shampoo gets a very good score from the EWG, and also has the National Eczema Association's seal of approval. It includes a blend of vitamins and ceramides that help protect the baby's skin instead of drying it out. It gets great reviews from almost all parents. With a budget-friendly option, it still has clean ingredients.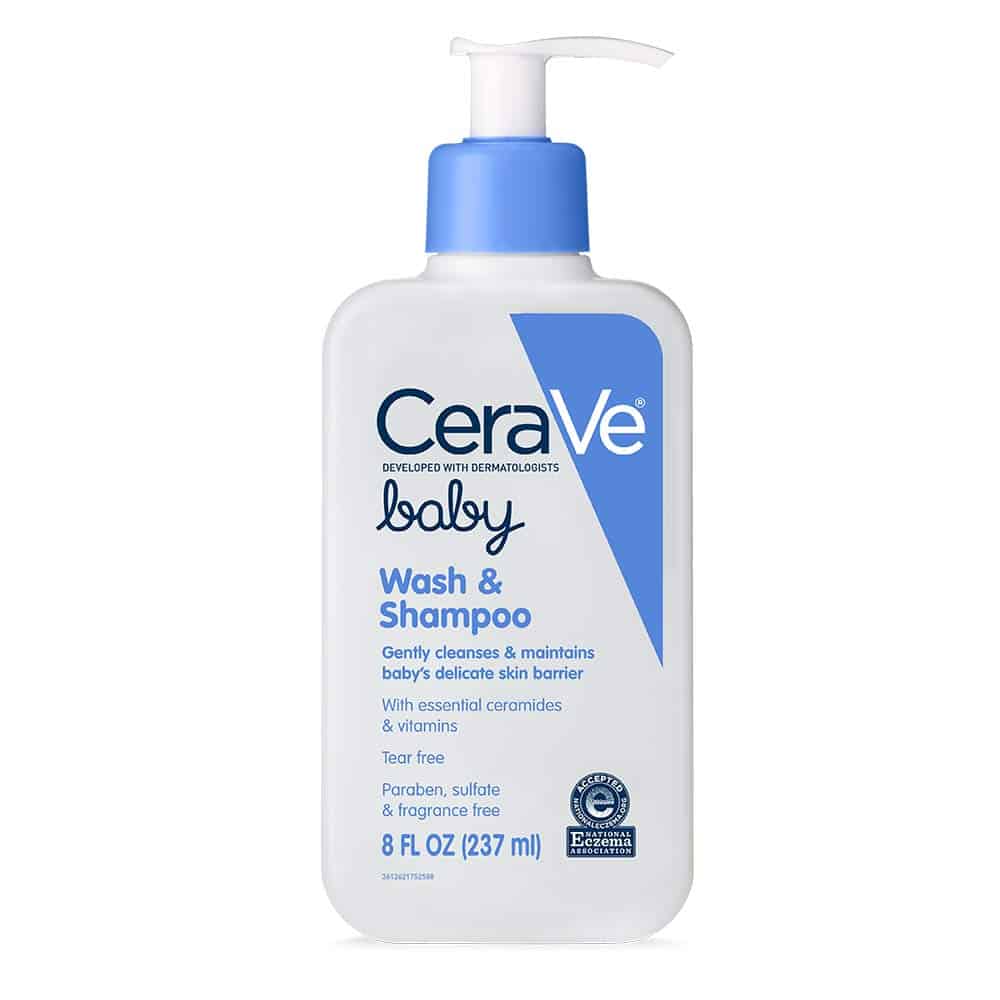 5. Cantu Care for Kids Tear-Free Nourishing Shampoo for textured hair: Best Baby Shampoo
Price: $
This tear-free shampoo from Cantu Care for Kids is a great option for babies with natural or textured hair. It has great reviews from parents for enhanced curl definition and overall soft hair. It is highly moisturizing for dry hair as it's infused with shea butter, honey, and coconut oil. It only gets a moderate rating from the EWG due to the presence of fragrance and an ingredient called methylisothiazolinone that can irritate sensitive skin.

6. Mustela Foam Shampoo for Newborns: Best Baby Shampoo
Price: $$
For those wondering what those nasty yellow scales on the baby's head are, it could be a cradle cap which is a very common newborn skin complaint that will not harm your baby. Although it is unpleasant to look at and can be oily and itchy. To restore your baby's silky smooth scalp, use a cradle cap brush, plus a medicated shampoo can easily help. This product is formulated with mostly plant-based ingredients and gets great comments from parents. It contains a tiny bit of salicylic acid (commonly found in adult treatment products), which helps clear off the scaly skin. However, it can cause some irritation on the baby's scalp, so watch for redness or rashes.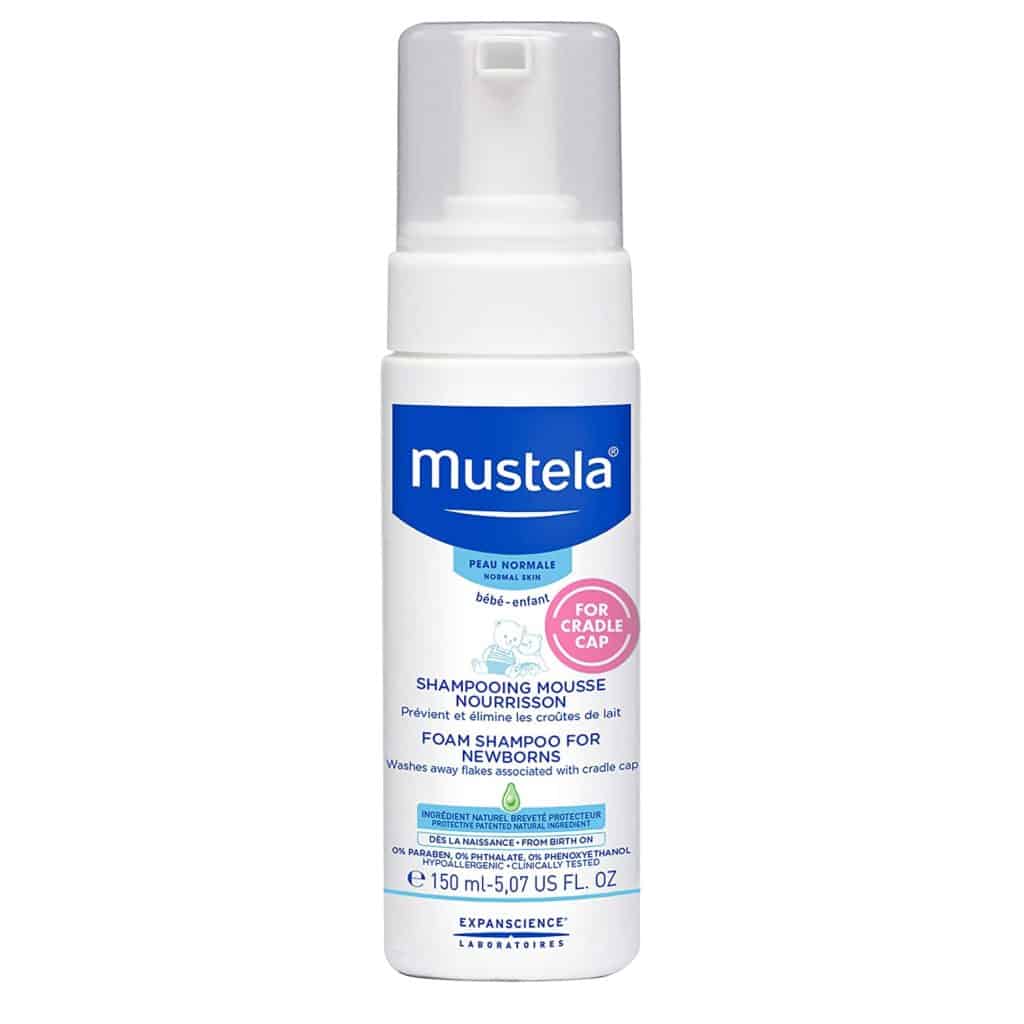 7. Baby Dove Tip to Toe Wash: Best Baby Shampoo
Price: $
This product is a favorite among parents as it's moisturizing, budget-friendly, and free of parabens and phthalates. It does contain fragrance, but there is a fragrance-free version available as well. Reviews suggest that many adults prefer to use baby shampoo for themselves as it's gentler and free of many chemicals. Adults can use this moisturizing baby shampoo on dry hair or a dry scalp.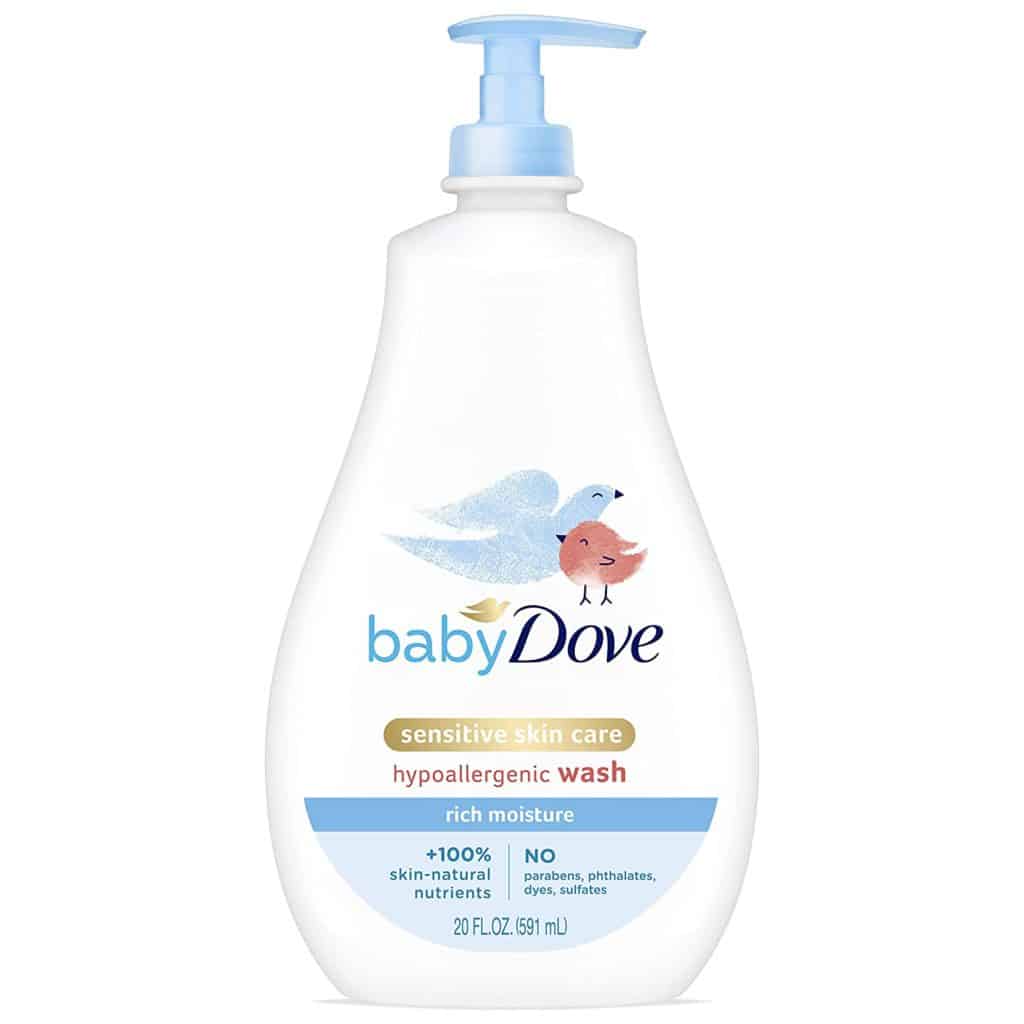 8. Babo Botanicals Calming Shampoo, Bubble Bath & Wash for bedtime: Best Baby Shampoo
Price: $$$
With a commitment to ingredient purity and safety, this sweet-smelling shampoo is highly rated by the EWG and contains many skin-loving ingredients such as shea butter and coconut oil. Additionally, it contains natural lavender flower oil, which has some calming properties that may help babies sleep better. Because of the versatility, gentleness on sensitive skin, and the pleasant smell parents rave about this shampoo.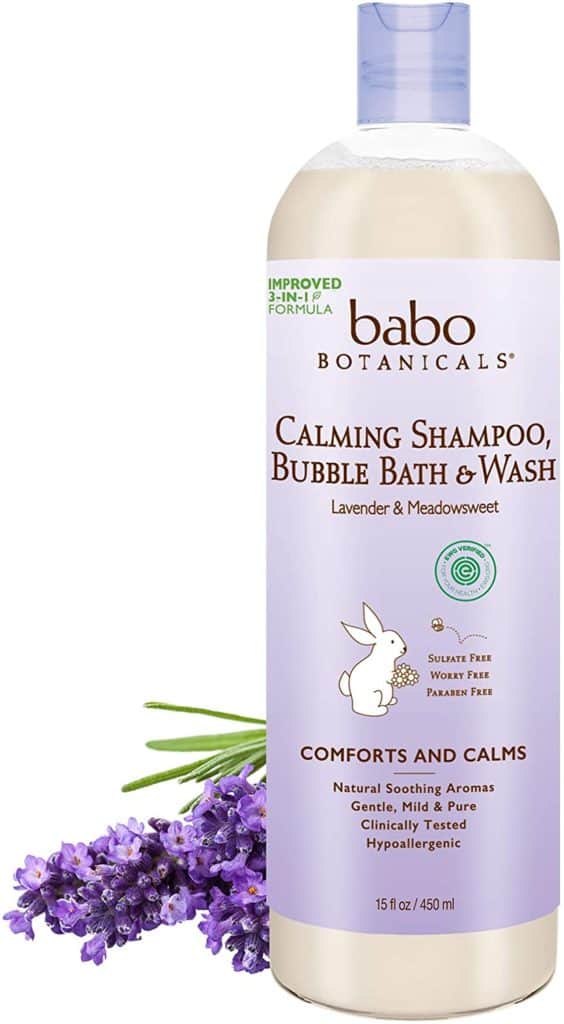 9. Mustela No-Rinse Cleansing Water: Best Baby Shampoo
Price: $
There are "shampoos" available that can clean the baby without water, for those who travel frequently, or for cleaning up on-the-go. This no-rinse micellar is one of those! The water cleanser from Mustela is a fan-favorite as the ingredients included are everything one wants. It is highly rated by the EWG. Many parents also use it as a skin treatment for baby acne.
Note: It is always advisable to try a spot test for a few days as a few parents reported rashes or worsening of baby acne.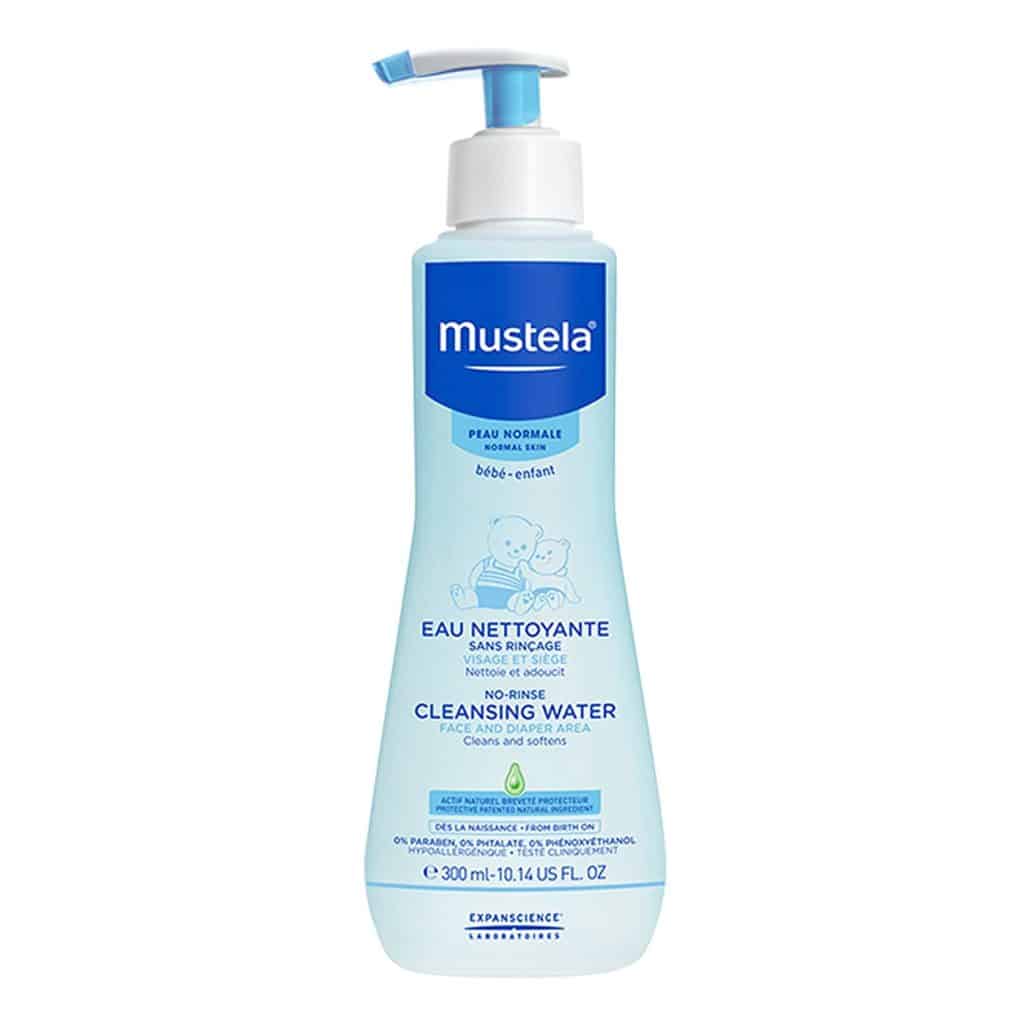 10. Johnson's Baby Shampoo: Best Baby Shampoo
Price: $
Johnson's is a classic baby shampoo that smells great and has safe ingredients and is tear-free. They have since revamped their formula to get rid of all the parabens, phthalates, sulfates, and dyes. Although, the shampoo does still contain fragrance, and may not be the best choice for a baby with super sensitive skin.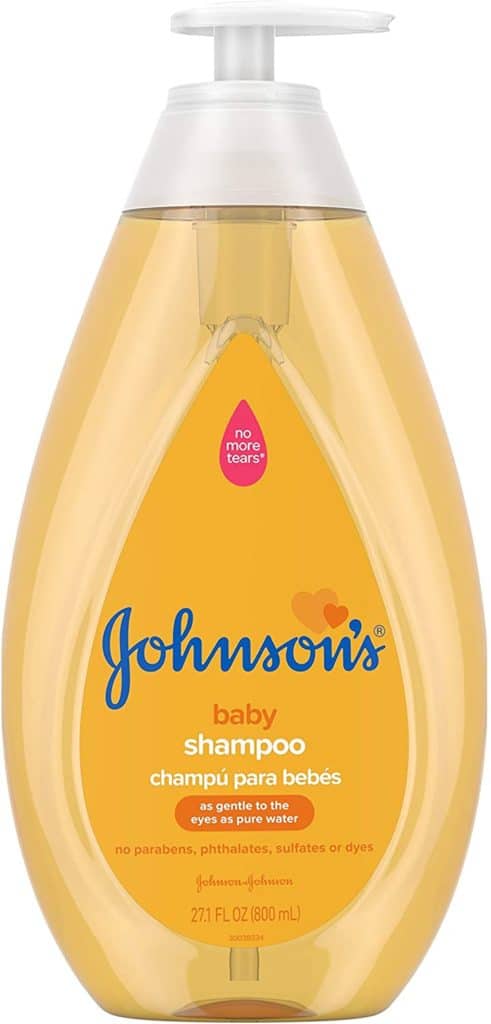 Best Baby Shampoo Final Conclusion:
Bath time is a sweet bonding experience for the parent and the baby — splashing in the water is just plain fun. Keep them clean and sweet-smelling with a safe, gentle baby shampoo made just for them. And enjoy those baby-scented cuddles!
Best Baby Shampoo FAQs:
1.Should I bathe my baby daily?
There's no need for a daily bath for newborns. Three times a week is good enough until your baby becomes mobile. Too much bathing could dry out their skin.
2.Why do babies hate baths?
Newborns are highly sensitive to change in temperature. If the water is too cold or too hot than usual they instantly get uncomfortable. 37 degrees Celsius that is the body temperature is the best temperature to bathe your baby.
3.Does baby shampoo prevent baldness?
Baby shampoo is an ideal shampoo for sensitive scalp and hair. They contain no tear formula and are naturally pH balanced. It also helps reduce hair fall as it does not contain any harmful chemicals.