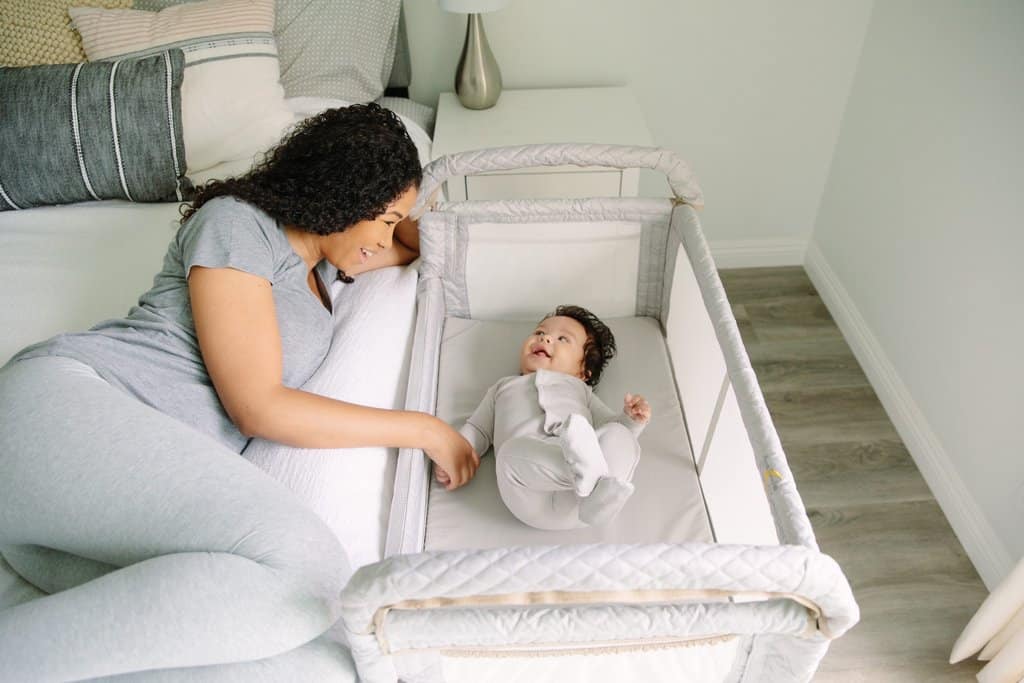 Newborn babies need an average sleep of about 16 hours per day. Now considering that this implies your baby would be spending the majority of their day sleeping, buying a comfortable and the best baby bassinet becomes very important. As a new parent, you would ideally want to do everything perfectly for your baby. However, when it comes to buying things, you might often find yourself in a fix. There are just so many options out there on the internet! Even for baby bassinets, there are tens of thousands of options available and the difference between a good bassinet and bad bassinet is directly proportional to a happy baby and a fussy, cranky baby.
Here's us, helping you tackle the confusion with a comprehensive list of 10 best baby bassinets that will help your baby sleep the most restorative and comfortable sleep they really deserve!
Why Do You Need A Baby Bassinet?
It is recommended for babies to sleep in your bedroom, in a separate sleeping space, for the initial 2 to 12 months. Having your baby with you overnight will help in breastfeeding and in attending to the baby's needs. Having said that, it is understandable that not many people may have the space to accommodate an extra cot in the bedroom. This is when a bassinet will come in handy.
Bassinets occupy less space and at the same time keep the baby close to you, throughout the day and night. These also have lockable wheels, so it is easy to move them from one room to the other multiple times a day. Immediately postpartum a bassinet can be extremely beneficial to have your baby at an arms' reach. 

Bassinets are also more affordable than full-sized cots, there are a lot of expenses and purchases before the baby arrives, hence, it can be a financial decision to choose a bassinet over a cot.
Bassinets, Mini Cribs, And Playards: What's The Difference?
You may be knowing that all three of these items work in the same way for newborn babies. But which one should you buy for your baby? The answer may differ from one family to another.
For new parents bassinets, playards and mini cribs can all come in handy for those who want to keep their babies close by.
Bassinet: You may think of a baby bassinet as an upgrade to an old-fashioned baby cradle. Since bassinets tend to be smaller in size and lightweight, they are only suitable for very young infants. Some bassinets have collapsible bases that make these easy to stash away when not in use.

Mini crib: Cribe is better for small nurseries or to keep it in the master bedroom, these mini cribs have narrower mattresses than the standard cribs. Hence larger babies may outgrow these cribs more quickly. Some mini cribs fold flat, which makes them a popular choice to keep at Grandma's house. For mini cribs the weight limit is often higher than bassinets, so they might be a good longer-term solution for room sharing even after 3 months. 

Playard: These are also known as playpens, these mesh-sided spaces work best for baby's naps,  simply playing or overnight sleep in a contained space (for example a hotel room that is not baby-proofed). Playards often fold into a compact tower, so they are quite travel-friendly, especially if you are driving, however, these might be a bit bulky for air travel. Depending on the playard you choose, you may also get additional whistles and bells such as a bassinet attachment, a changing station, music/vibration feature, diaper caddy, and nightlight.
Also, keep in mind that you must always check the height and weight limit on the item you are buying (a bassinet generally has an especially low one). Mini play yards and cribs are required to be retired if the child is nimble enough to climb out of the crib on their own, even if they haven't reached the height limit.
1. HALO Bassinet Swivel Sleeper Bassinet: Best Baby Bassinets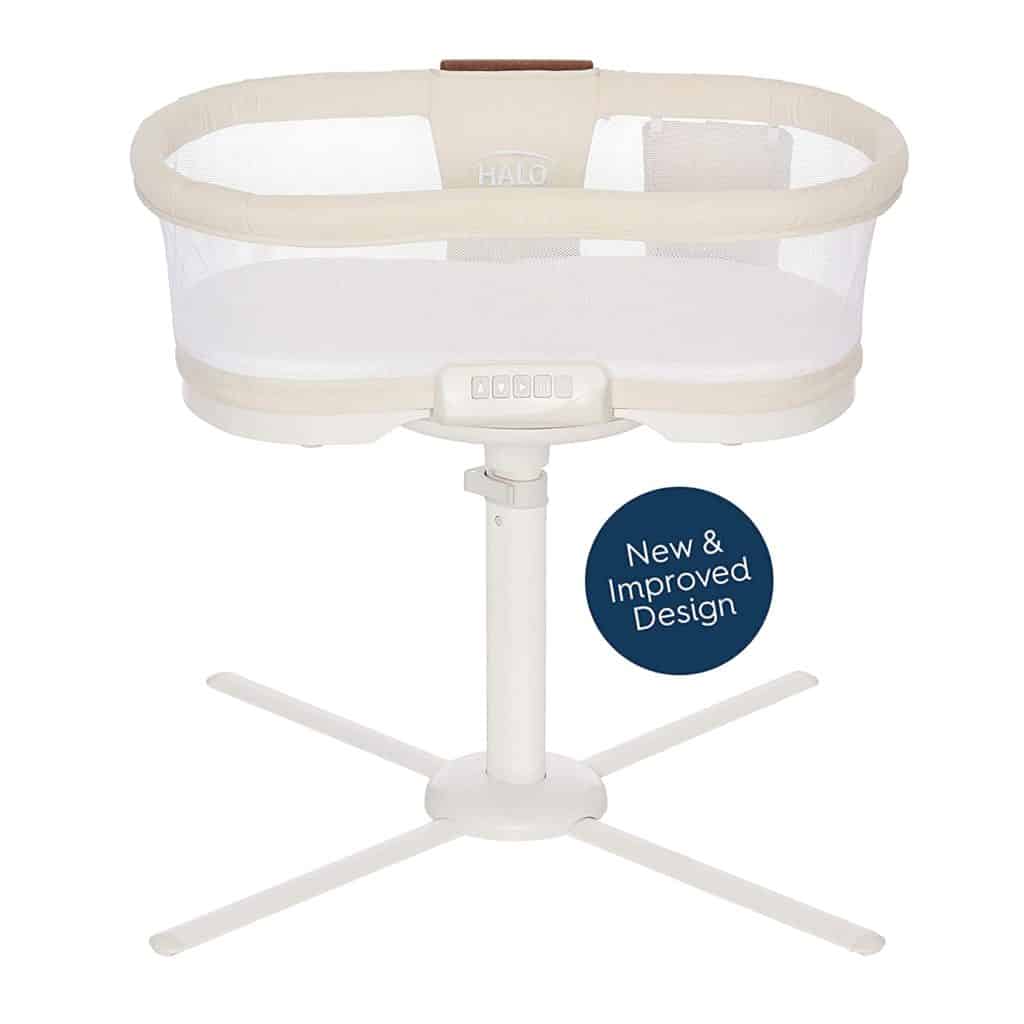 This particular baby bassinet happens to be rather expensive but take our word on this, it really is worth it. This baby bassinet does it all. It is a bassinet that can even accommodate a co-sleeper and comes with an adjustable base to fit all bed heights. The features of this modern bassinet also include a nightlight, sleep sounds, soothing vibrations, feeding timer, rotation, swivel to bring you closer to your baby, and mesh ventilating sides- all of it marvelously crafted in very high-quality materials. Certified by CJ Foundation as the "safest alternative" to bed-sharing, the sidewalls of this bassinet can also be lowered down to make your baby lie down at the same level as you. Hence, this also doubles up as a bedside bassinet.
The bassinet can be adjusted from  24″ to 34″ tall from the floor to the bottom of the bassinet mattress. The actual height, from the floor to the top of the rails is easily about 40 inches which makes this bassinet a blessing for taller parents. A little drawback, however, is that the mattress of this bassinet is not as great as one would expect given its price. The competitors, at a lower price, do sell bassinets that may not have so many (favorable) features but are equipped with more comfortable mattresses.
2. BabyBjorn Gentle Rocking Cradle Bassinet: Best Baby Bassinets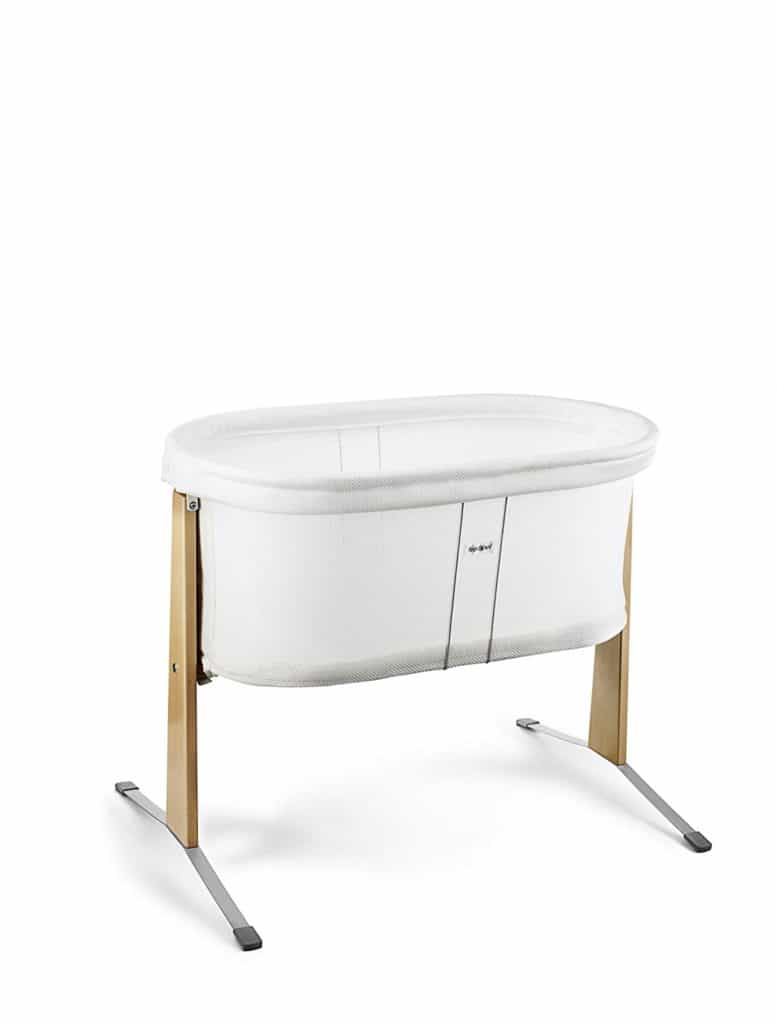 One of the most good looking baby bassinets on this list, this one, as compared to other regular bassinets, also doubles up as an exquisite piece of furniture. A rather simple bassinet to speak of, this one has no fancy features like co-sleeper, music, vibrations, or motorized rocking. Consider this one a more traditional baby bassinet equipped with a lightweight suspension system that rocks itself in response to your baby's motion. The bassinet is ideal for a snug fit along a bed that falls in the range of 20-23 inches since the top of the bassinet comes up to around 26". For a bed beyond 23 inches, this one should be a clear cut no.
Another commendable feature of this baby bassinet is its extremely comfortable mattress. The bassinet is free of any bars that could hurt your baby and it rather is made up in soft, all-fabric cushioning. The breathable, see-through mesh of the bassinet also lets you keep a check on your baby. The only negative with BabyBjorn Gentle Rocking Cradle Bassinet is its price point. 300 dollars, in our opinion, is rather too much for a baby bassinet as basic as this one.
3. Fisher Price Soothing Motions Bassinet: Best Baby Bassinets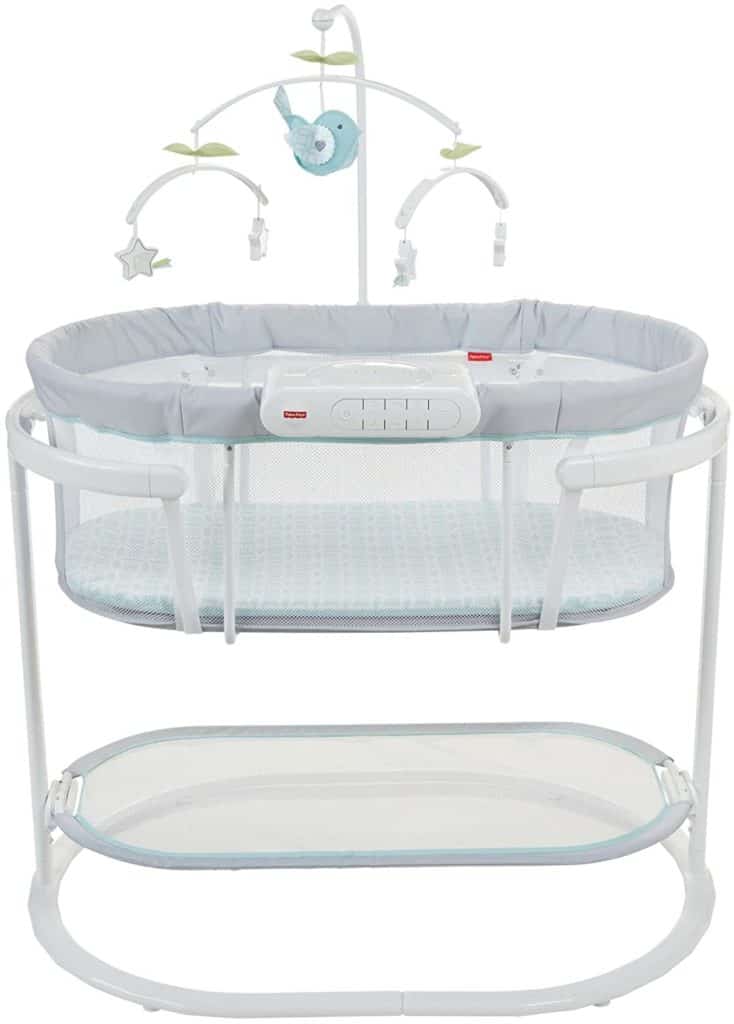 The stand-out feature of this one bassinet is the adorable mobile with hanging stars. The very look of this takes you back to the days of classic bassinets with calming vibrations, soothing lights, a nightlight, a light projector that projects stars; exquisitely clubbed with the modern-day styling and storage shelves. This sturdy baby bassinet by Fisher Price gets triggered by the baby's movements and even when rocking, does not tilt the sleeping surface. The rather generously sized mattress measures 31″ long, and 15″ wide, it has breathable mesh on the sides, and the overall bassinet size is also just the perfect baby bassinet size – not too big or too small. The problem, with this one, however, is that it is only around 28 inches from the floor! While this is a great height for a bedside bassinet, this also means that the mattress height would be only about 18 inches. This could become real pain overtime for parents when reaching in. Priced at about 150 dollars, the bassinet features an oval base and stands pretty sturdy on carpet and hardwood alike.


4. Graco Dream Suite Bassinet: Best Baby Bassinets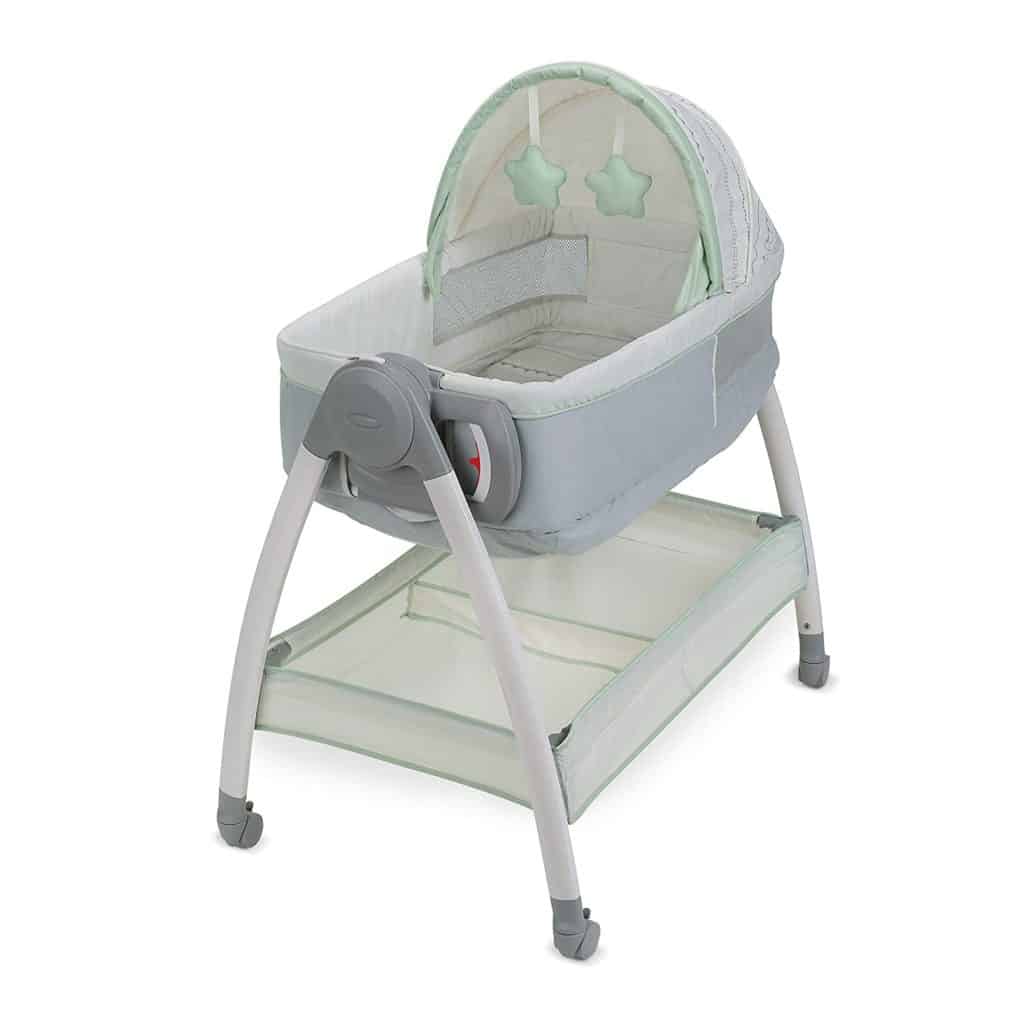 An extremely convenient and reasonably priced baby bassinet, this one actually even doubles up as a changing table! All you need to do is, grab the handle, squeeze it,  flip the entire upper bassinet over, and there you go – a changing table that can hold babies up to 30 pounds! We all know how inconvenient it is to change a diaper in the baby bassinet, so this one really is a welcome innovation. The bassinet features very soft materials, is easy to clean, is made in sturdy material, and also has two soothing vibration settings along with a cute start/flower canopy. The mesh sides offer high breathability, while the storage area and locking wheels enhance convenience and mobility. Priced at just 120 dollars, this baby bassinet comes with a single sheet, perfectly firm mattress, and takes just under ten minutes to set up!
5. Baby Delight Beside Me Dreamer Bassinet & Bedside Sleeper: Best Baby Bassinets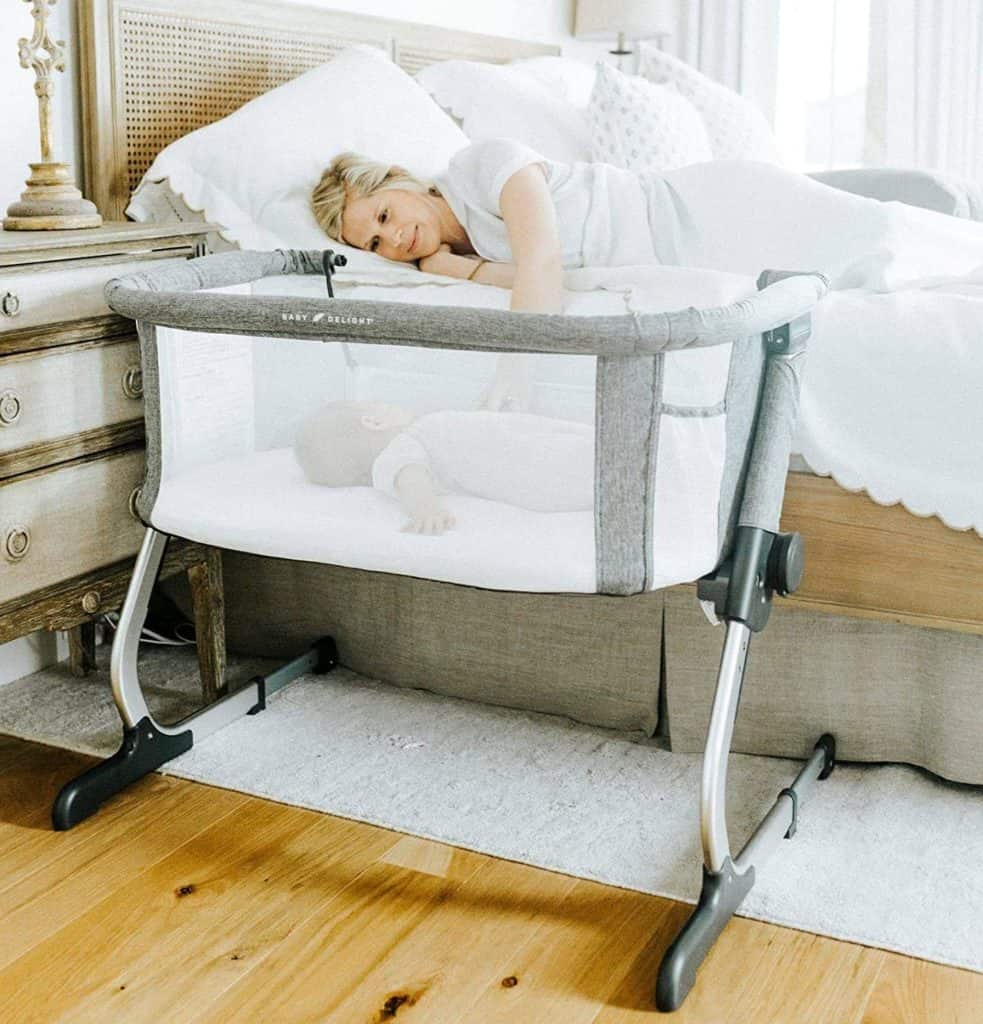 An easy to assemble baby bassinet, this one is crafted in decent quality materials and features extendable feet. A problem with this one, however, could be its mattress. There is not anything particularly wrong with the mattress per se, however, a better quality and comfort level could have been offered for the price point. However, the safety straps on the side cover-up for it as they keep it attached to the bedside and keep it flush with the side of the mattress. The bassinet offers a whooping size height adjustment options, the maximum being 18 inches, and the minimum at 13 inches. It also has a zip-down flap on the side that lets you conveniently access the baby without having to get off the bed. Pretty heavy in terms of its own weight at 30 pounds, the bassinet can hold a baby only up to 20 pounds which could be another put-off.
6. Arm's Reach Concepts Cambria Bassinet: Best Baby Bassinets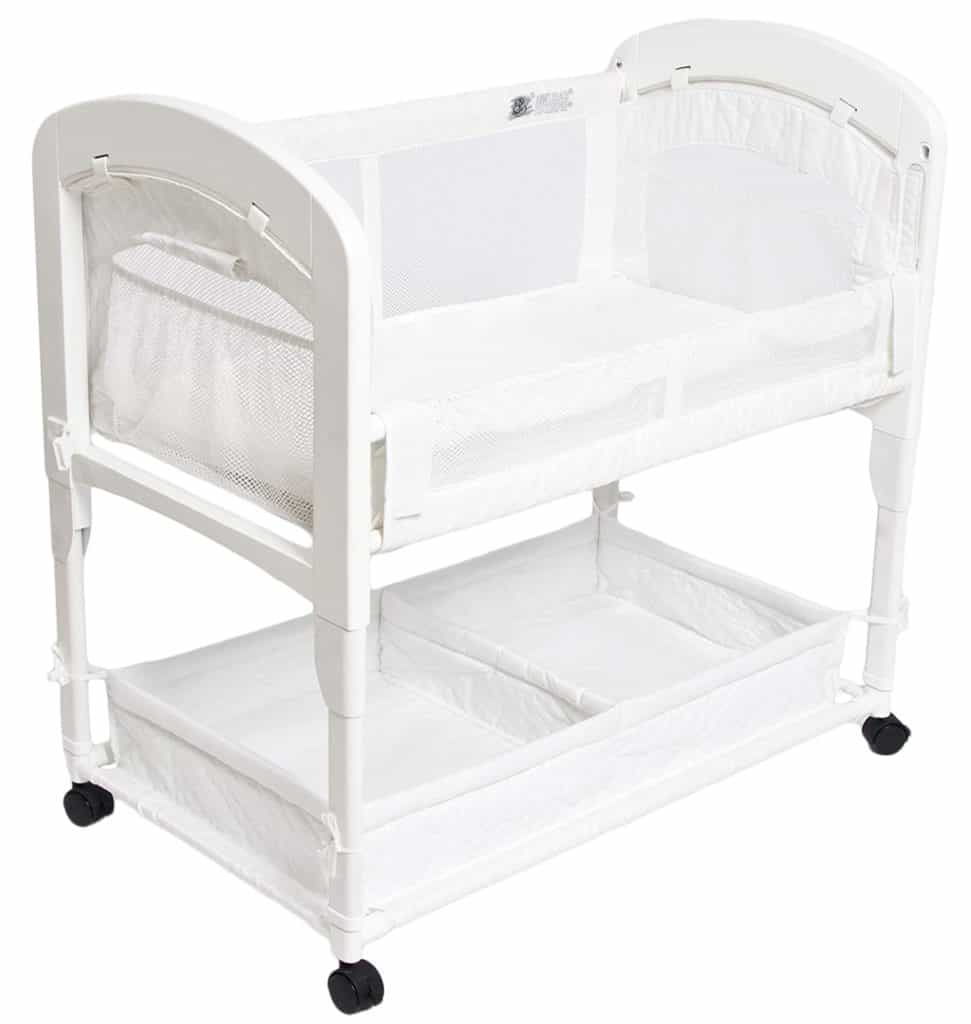 Standing up to its name, this is perhaps one of the best co-sleeper baby bassinets you will find in the market. A great choice for moms with restricted movement because of the C section, this co-sleeper works just as well as the HALO baby bassinet but comes at a much lower price point. A bassinet with very basic features, this one has multiple mesh walls on the side that greatly improve breathability and has a very thin, comfortable-for-baby mattress. A convenient pick for a co-sleeping parent, this bassinet lets you feed the baby just by pushing down the side; and can be pulled back up to the original position when done.  The Arm's Reach Concepts Cambria Bassinet has adjustable legs to fit shorter or taller beds and also a nice storage basket on the bottom. Priced at a little higher range than some other bassinets on the list, at 180 dollars, this is a very basic, no-frills baby bassinet that is out of stock very often!
7. Ingenuity Fold-Away Rocking Bassinet: Best Baby Bassinets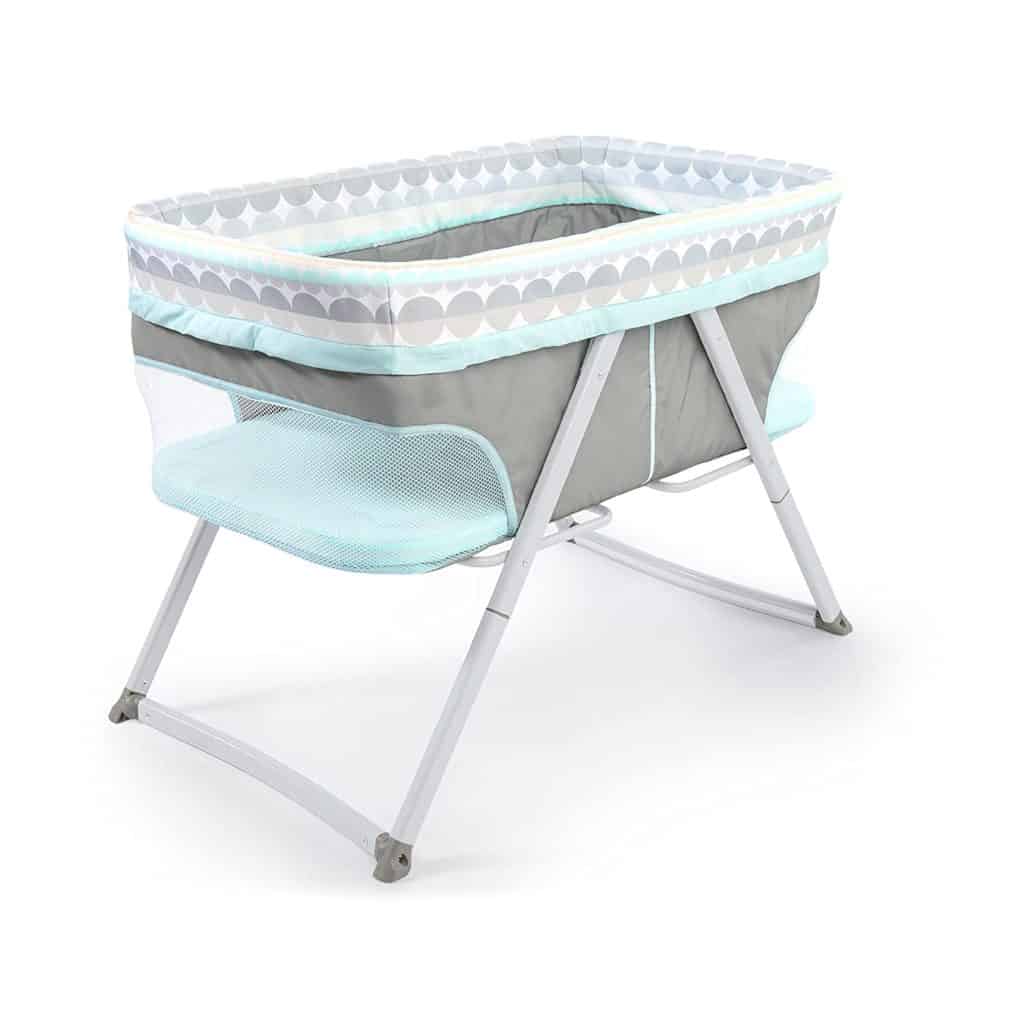 This baby bassinet is suitable and ideal for parents that love to travel with their babies and can be folded up into a compact 22" x 23" cube. However, this baby bassinet does not come with a travel bag and can only fit a large suitcase. The folding up, otherwise, works very well for storage under the bed or a closet. The mattress of this baby bassinet is rather soft, it has a breathable mesh on the sides, it is made in soft fabric and above all, it also allows you to reach over your baby from the bed and rock them to sleep by virtue of its "rocking" feature. On the negative side, however, the bassinet is very deep. Almost too deep for an easy reach-in while lying in bed, but also not deep enough to support a learning or crawling baby. Besides, it lacks any storage and there are no sheets included in the pack (the sheets also cannot be found anywhere else online). But then again, priced only at 80 dollars, with a washable mattress, this one could work wonders, especially if you are looking for a bedside bassinet.


8. Delta Children Sweet Beginnings Bassinet: Best Baby Bassinets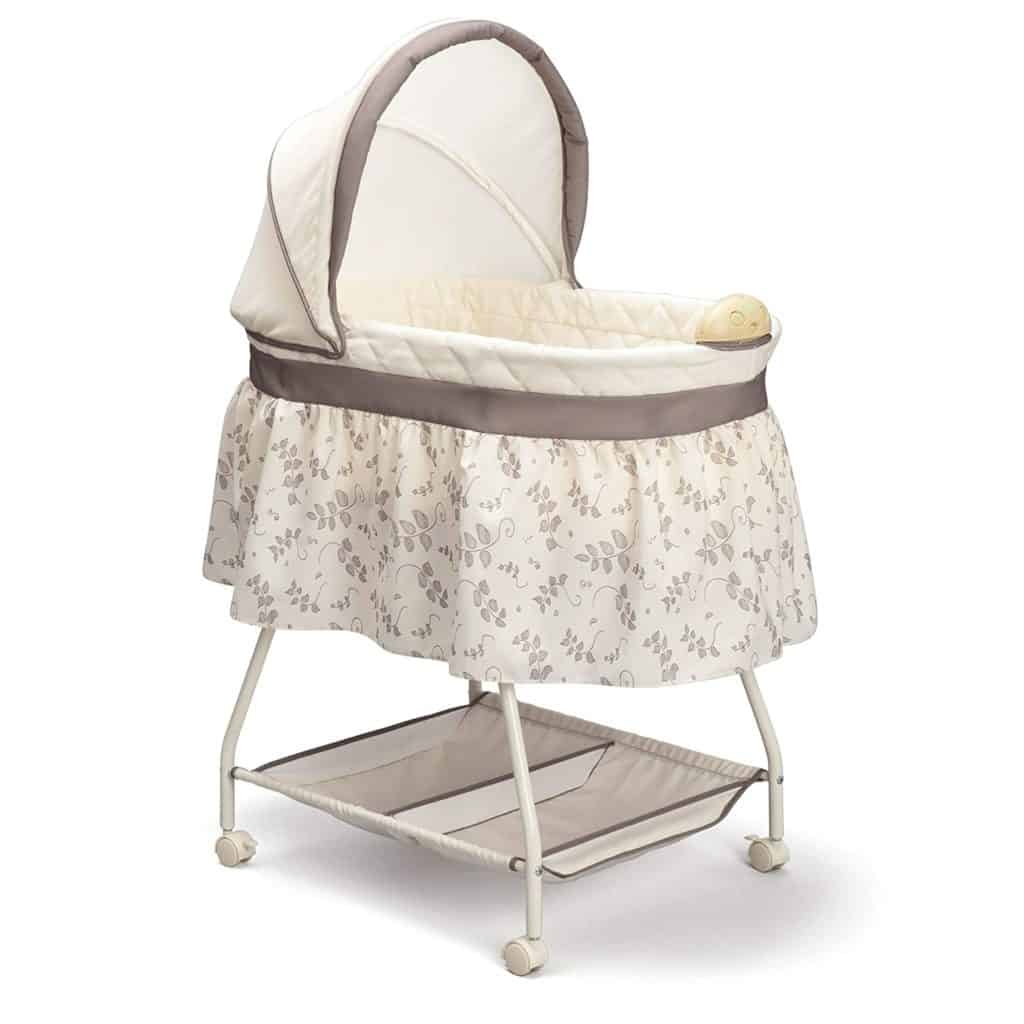 Delta Childrens has been around for quite some time now as one of the most reliable baby companies and also in terms of their extraordinary customer support.  Made in a beautiful style and look, this bassinet features a traditional badger basket or Moses basket bassinet with a subtle falling leaf design on a ruffled dust skirt, a quilted inner liner, and an adjustable canopy. The firm mattress has been quite a topic of debate on the internet as some parents found it thin but comfortable; while some others recommended finding thicker replacement mattresses and mattress pads. Delta Childrens, on the other hand, recommends not using mattresses thicker than 1 inch to avoid the risk of SIDS in young babies. The other wonderful features of the bassinet include soothing music, a nightlight, and caster wheels to help you move it around. The storage rack, on the other hand, is found to be rather flimsy and a sturdier one could have been more convenient for parents. A very basic baby bassinet, priced at just 55 dollars.
9. Green Frog Cradle Bassinet with Gentle Rocking: Best Baby Bassinets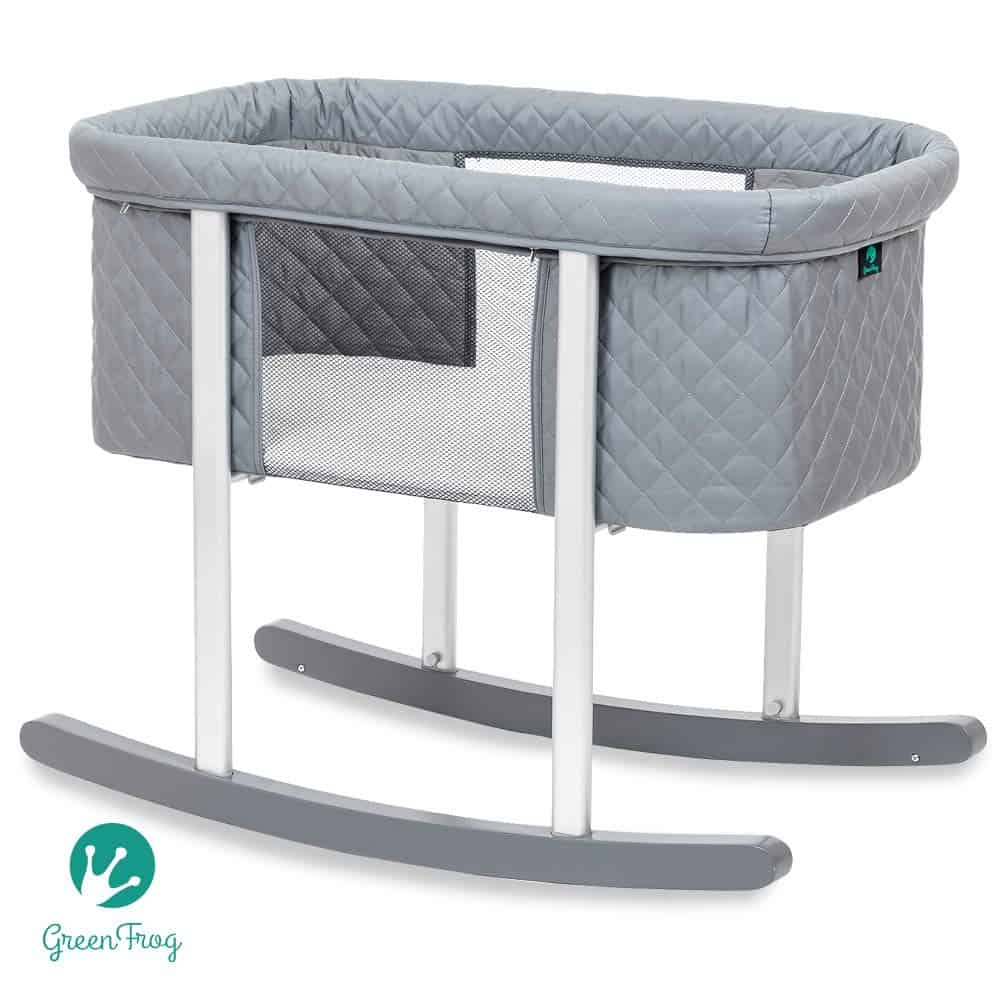 To put it in five magic words, this baby bassinet is simple, stylish, comfortable, classic, and made in really good quality! Priced at about 200 dollars, the pack of this baby bassinet includes the bassinet and mattress, two leg pieces, and two bottom rockers. The wheels come already attached to each bottom rocker, the legs simply click to fix onto the rocker, and the bassinet basket clicks onto the legs in 8 places – making its assembly as easy as a breeze, absolutely tool-free. The construction of the baby bassinet is in really soft fabrics and it even features the necessary-to-have breathable mesh along the sides. It stands about 28 inches tall on the floor and includes a sheet for the mattress. Talking of the mattress, it's the perfect balance of a mattress that is not too sturdy and not too flimsy.
The green frog baby bassinet lacks any fancy vibration, sounds, or even automated rocking which other bassinets at this price might otherwise sport. There happen to be no gaps between the mattress and the edge of the bassinet, which again, is a great feature. The rocker legs are equipped with wheels that enhance movement. For some noticeable disadvantages, the lack of a storage basket, adjustment options, and the absence of any entertainment system altogether could be pointed.
10. Simmons Bedside Sleeper Baby Bassinet: Best Baby Bassinets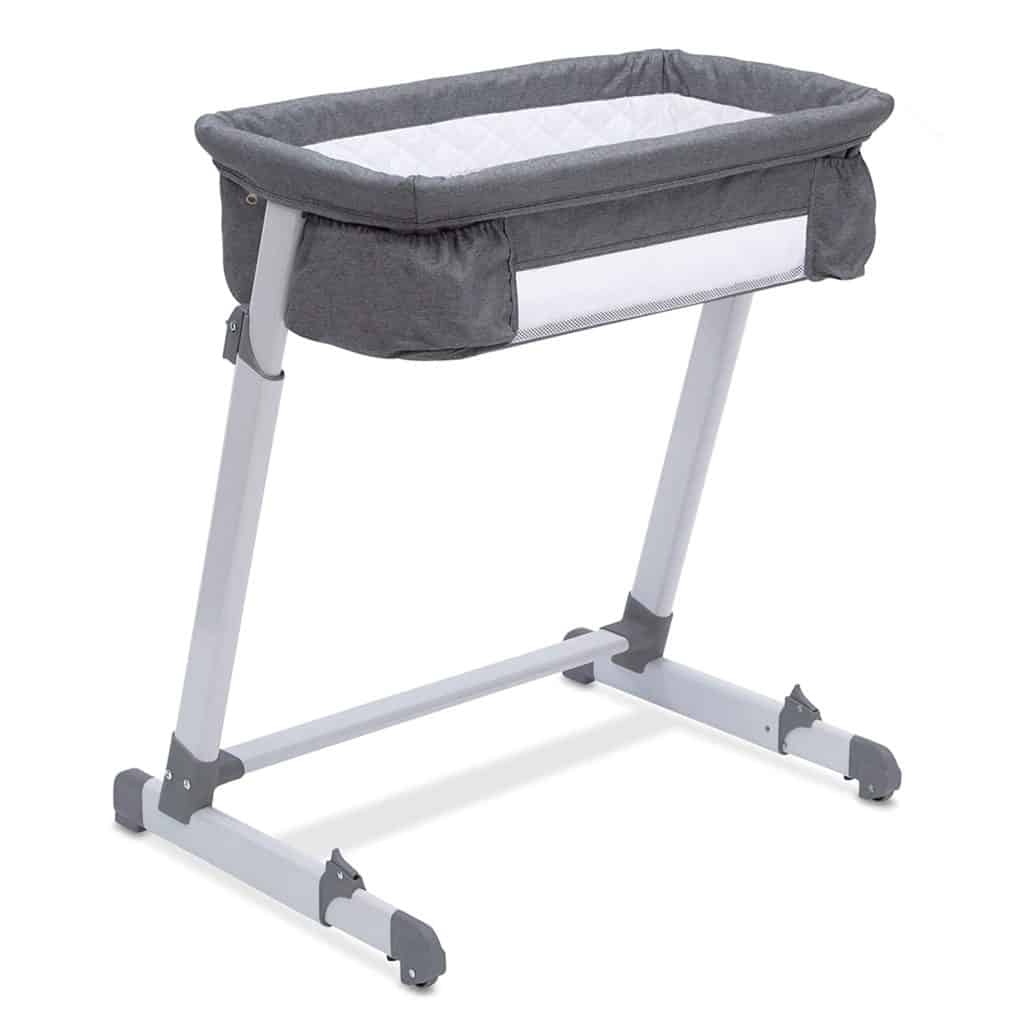 This baby bassinet almost seems like it was built keeping in mind the challenge of parents who do not want to co-sleep due to the safety risks but also want the baby right next to them. Very sturdy in built, this one lets you easily look over your baby and even hear your baby's breathing and movements. It can be slid under your bed and is adjustable in height, allowing you to further fit beds of different heights and mattresses of different thicknesses. Pretty large in size, this baby bassinet might get a little problematic for parents who do not have a huge bedroom space because it is rather too large for a typical small city apartment bedroom. The mattress of the bassinet is rather thick yet comfortable. It also has a translucent mesh and is designed in the quilted fabric on the inside and a jersey-style fabric on the outside. As for storage, there happen to be some small pockets but in all honesty, you, as a parent, might prefer the big baskets like those on other models, given the paraphernalia that goes behind raising a baby. For some mention-worthy downsides, it is heavy by virtue of its large size which might make it difficult to move by some parents. Lastly, there are no
no wheels on the bottom and its feet do not slide; this could be celebrated as a safety feature but can also be called out as an inconvenience.
All said and done, we hope that we have been able to help make the decision of buying a baby bassinet for your little bundle of joy! Baby bassinets have come a long way from what they were perhaps a couple of decades ago – make the most of it and let your baby and yourself find the most relaxed and restoring sleep that there is!
Best Baby Bassinets Final Thoughts
All said and done, we hope that we have been able to help make the decision of buying the best baby bassinet for your little bundle of joy! The best Baby bassinets 2021 have come a long way from what they were perhaps a couple of decades ago – make the most of it and let yourself and your baby find the most restoring and relaxed sleep that there is! 
Best Baby Bassinets FAQs
1) Are bassinets safe for newborns?
Bassinets are quite safe for newborn babies, however, you must make sure that the mechanics of the bassinet is appropriate and it abides by the safety guidelines.
2) What should I look for in the best baby bassinets?
The bassinet must have a sturdy bottom, stable base, with folding mechanisms. Also, ensure that the mattress is smooth and extra firm.
3) How long can bassinets be used for babies?
Most of the bassinets are designed for babies up to six months of age; as the baby grows it can be difficult for them to fit in it.
4) Are baby bassinets safe for sleeping?
Bassinets are pretty safe for the baby to sleep in, and if your baby cannot roll over or sit up, you can let them stay in the bassinet for a long time too.
5) Is bassinet a necessity?
In order to provide a safe and comfortable sleep to your baby, a bassinet is necessary. These have various features like music, night light, vibration, lullabies, and above all provide comfort.