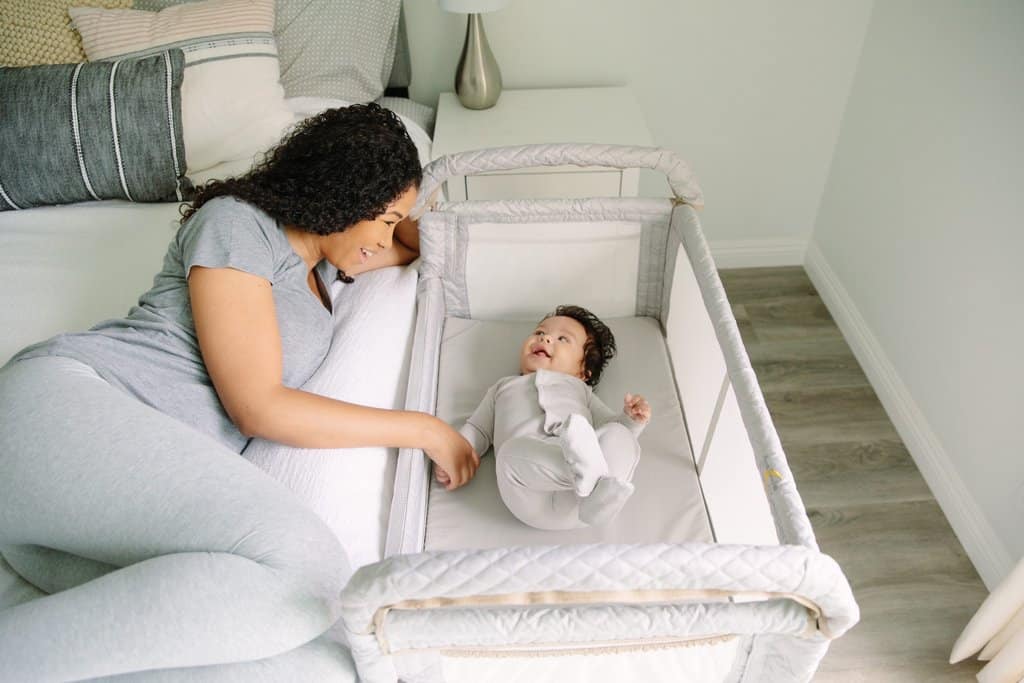 Parenthoodbliss selects the best products based on real-life testing conducted by our staff, members of our user community, the contributors, as well as through research and feedback by experts; here's more about our product review process. The details and prices are accurate as per the publishing date and we may earn commissions through the shopping links on this blog.
Newborn babies need to sleep almost 16 hours every day and that implies your little one will be spending most of their day sleeping. So buying a comfortable and safe baby bassinet becomes very significant and as new parents, you must want everything perfect for your baby.
But, What is a Baby Bassinet?
Bassinets are sleeping beds that are smaller than cribs. They are designed for newborns and young babies up to 6 months of age. You can place a bassinet next to you in your bedroom and even move it around the house.
However, whenever it comes to buying baby essentials, you will often find yourself indecisive. There are so many options for you on the internet! Even for baby bassinets, there are uncountable options available even under the same brand name. Choosing the best bassinet for babies might become a task but we are here with a tip: Identifying a good bassinet from a bad one is directly proportional to a happy and less fussy baby.
Here's us, helping you tackle the confusion with a comprehensive list of the top 10 baby bassinets that will help your baby sleep the most restorative and comfortable sleep they serve!
Why Do You Need a Baby Bassinet?
It is recommended for babies to sleep in your bedroom, in a separate sleeping space, for the initial 2 to 12 months. Having your baby with you overnight will help in breastfeeding and in attending to the baby's needs. Having said that, it is understandable that not many people may have the space to accommodate an extra cot in the bedroom. This is when a bassinet will come in handy.
Compact: Bassinets occupy less space and at the same time keep the baby close to you, throughout the day and night. These also have lockable wheels, so it is easy to move them from one room to the other multiple times a day. Immediately postpartum a bassinet can be extremely beneficial to have your baby at arms' reach.
Affordable: Bassinets are also more affordable than full-sized cots, there are a lot of expenses and purchases before the baby arrives, hence, it can be a financial decision to choose a bassinet over a cot.
Bassinets, Mini Cribs, and Playards: What's The Difference?
You may be knowing that all three of these items work in the same way for newborn babies. But which one should you buy for your baby? The answer may differ from one family to another. For new parents bassinets, playards and mini cribs can all come in handy for those who want to keep their babies close by.
Bassinet: Bassinets tend to be smaller in size and lightweight. They are only suitable for very young infants (newborns to 6-month-old babies). Some bassinets have collapsible bases that make these easy to stash away when not in use.
Mini crib: The crib is better for the master bedroom or small nursery. The difference between a standard crib and a mini crib is that the latter has narrower mattresses. Hence older babies may outgrow them more quickly. Some mini cribs can be folded flat making them a popular choice. The weight limit for these mini cribs is often higher than bassinets, so they might be a good longer-term solution for room sharing even after 3 months.
Playard: Also known as playpens, playards are mesh-sided spaces that work best for baby's naps, simply playing, or overnight sleep in a contained space (for example a hotel room that is not baby-proofed). Playards often fold into a compact tower, so they are quite travel-friendly, especially if you are driving, however, these might be a bit bulky for air travel. Depending on the playard you choose, you may also get additional whistles and bells such as a bassinet attachment, a changing station, a music/vibration feature, a diaper caddy, and a nightlight.
Also, keep in mind that you must always check the height and weight limit on the item you are buying (a bassinet generally has an especially low one). Mini play yards and cribs are required to be retired if the child is nimble enough to climb out of the crib on their own, even if they haven't reached the height limit. Wondering which is better for your child, bassinets or cribs? Check out the difference here!
Let's Find The Best Baby Bassinet for Your Little One!
1. HALO BassiNest Swivel Bassinet ($219.99): Best Bassinets For A Baby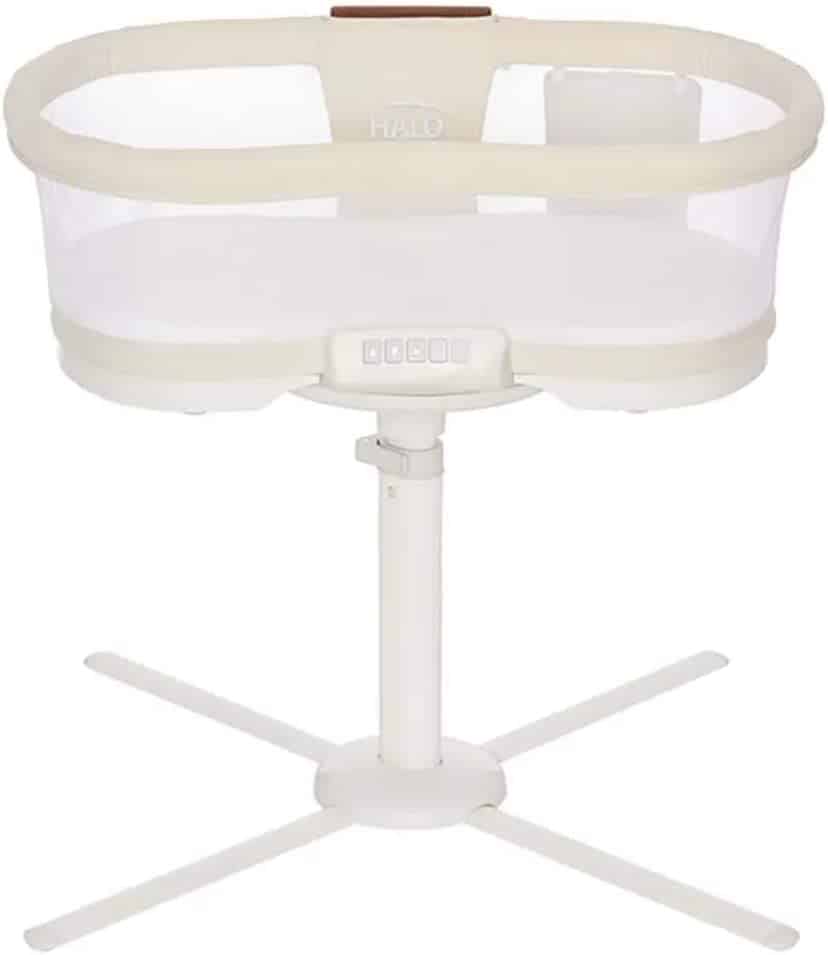 This particular baby bassinet happens to be rather expensive but take our word on this, it's one of the best baby bassinets out there. It even accommodates a co-sleeper and comes with an adjustable base to suit all bed heights. The features of this contemporary bassinet also include
●        a nightlight
●        soothing vibrations
●        a feeding timer
●        sleep sounds
●        a rotation swivel
●        mesh ventilated sides
All of these are marvelously crafted with high-quality materials.
Certified by CJ Foundation because the "safest alternative" to bed-sharing, the bassinet's sidewalls can even be lowered right down to make the baby lie at an equivalent level as you.
The bassinet can also be adjusted from 24″ to 34″ tall which is, from the floor to the bottom of the bassinet mattress.
The actual height of the bassinet, from the ground to the highest of the rails is almost about 40 inches which makes the bassinet a blessing for taller parents.
Cons: A little drawback, however, is that the mattress of this bassinet isn't as great as one would expect given its price. The competitors, at a cheaper cost, do sell bassinets that may not have numerous (favorable) features but are equipped with easier mattresses.
2. BabyBjorn Rocking Cradle Bassinet ($349.99): Best Bassinets For A Baby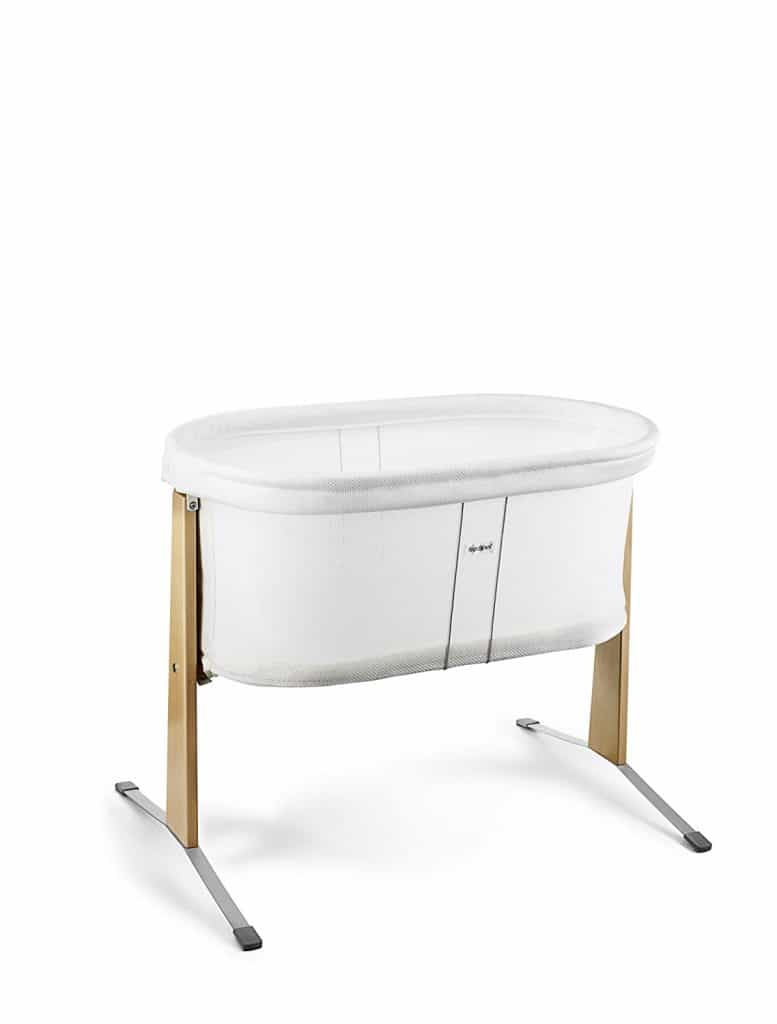 One of the foremost good-looking baby bassinets on this list, this one, as compared to other regular bassinets, also doubles up as an exquisite piece of furniture. A rather simple bassinet to talk of, this one has no fancy features like co-sleeper, music, vibrations, or motorized rocking.
So why is this on this list? Let's find out:
This bassinet is a more traditional baby bassinet featuring a lightweight suspension system that will rock itself in response to the baby's motion.
The bassinet is right along a bed that falls within the range of 20-23 inches since the highest of the bassinet comes up to around 26". For a bed beyond 23 inches, this bassinet will be a clear-cut no.
Another amazing feature of this baby bassinet is the comfortable mattress.
The bassinet is free of any bars that could hurt your baby and it rather is made up of soft, all-fabric cushioning.
The breathable, see-through mesh of the bassinet also allows you to keep a check on your baby.
Cons: The only negative of the BabyBjorn Gentle Rocking Cradle Bassinet is the price point. 350 dollars, in our opinion, can be quite an excessive amount for a baby bassinet as basic as this one.
3. Fisher-Price Soothing Motions Baby Bassinet ($279.99): Best Bedside Bassinet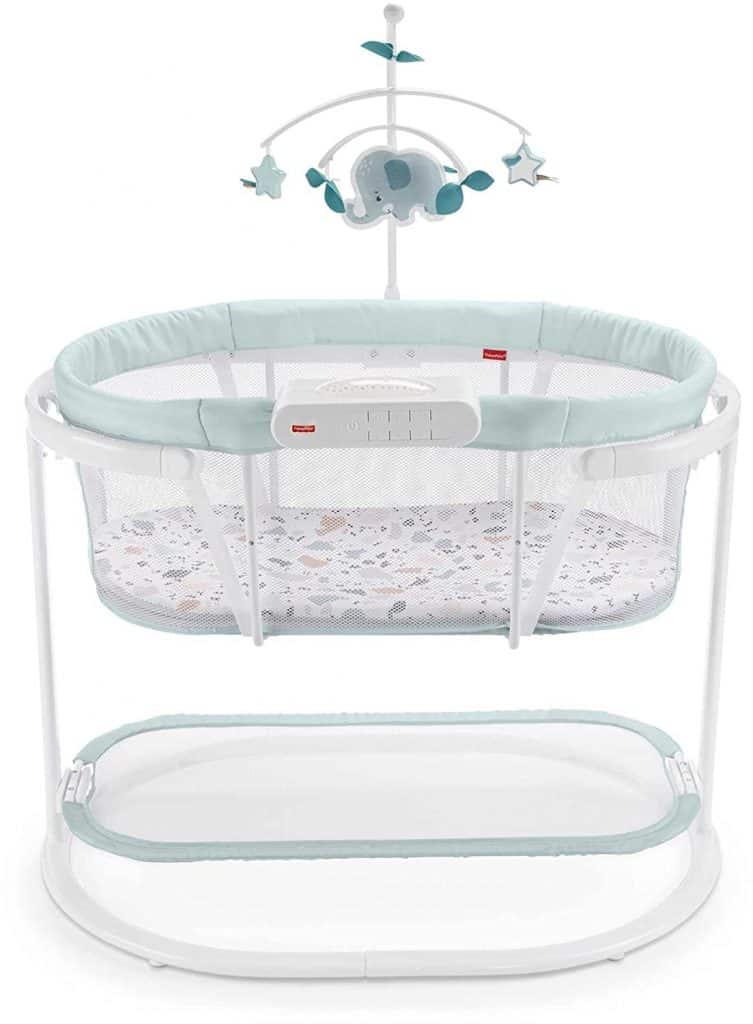 The stand-out feature of this bassinet is the adorable hanging stars. The very look of this takes you back to the times of classic bassinets with
calming vibrations
soothing lights
a nightlight
a lightweight projector that projects stars
exquisitely clubbed with modern-day styling
storage shelves
Here are the highlights of this motion baby bassinet:
This sturdy bassinet by Fisher-Price will get triggered by the movements of the baby and even while rocking and it does not tilt the sleeping surface.
The rather well-sized mattress measures 31″ long, and 15″ wide, with breathable mesh on the edges. Therefore the overall bassinet size is additionally just the right baby bassinet size which is neither too big nor too small.
The baby bassinet has an oval base that stands pretty sturdy on carpet and hardwood alike.
Cons: The problem, with this one, however, is that it's only around 28 inches from the floor! While this is a great height when looking for  the best bassinet for your baby on your bedside, this also means that the mattress height would be only about 18 inches. This could become real pain over time for parents when reaching in.
4. Graco Dream Suite Baby Bassinet ($189.99): Best Convertible Bassinet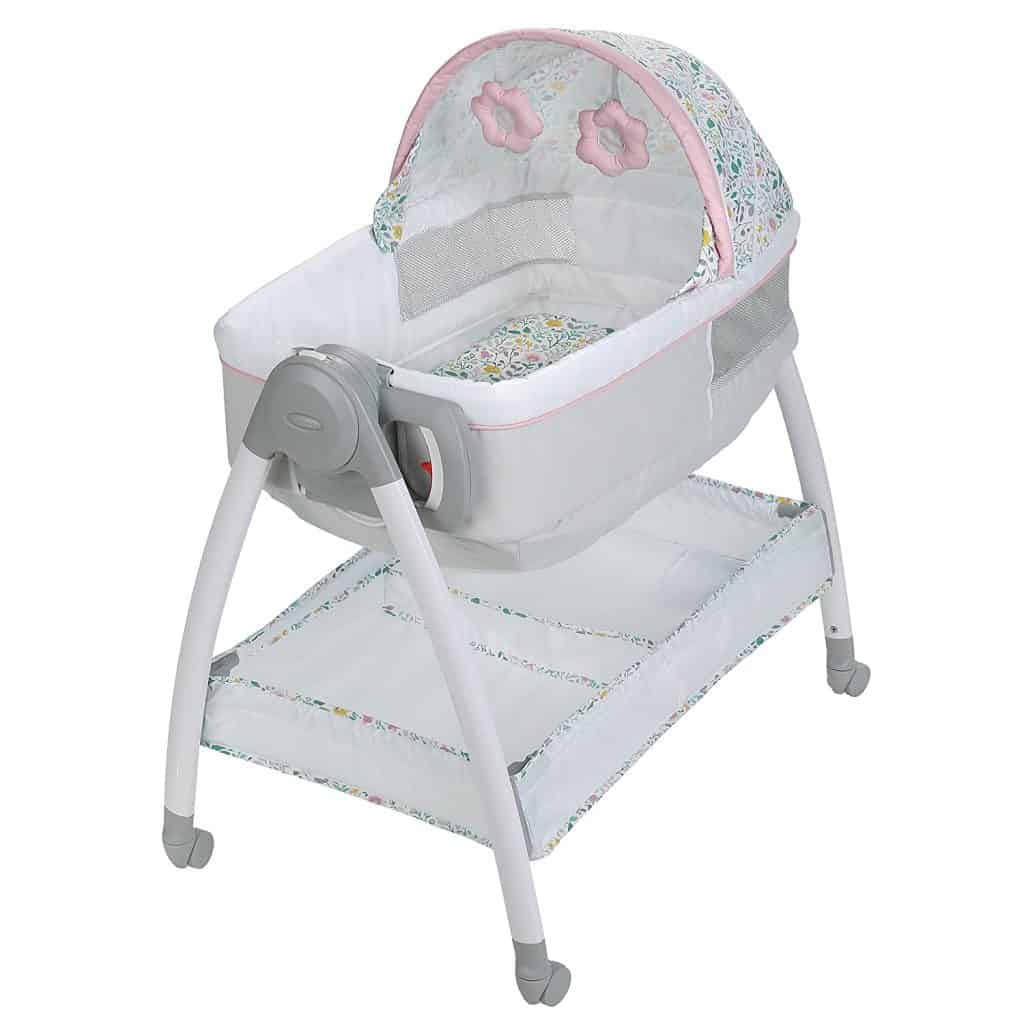 An extremely convenient and fairly priced baby bassinet, this one can even double up as a changing table! We all have the inconvenience of carrying a diaper within the baby bassinet, so this one really may be a welcome innovation. Let's check out its features:
To change it into a changing table, all you need to do is grab the handle, squeeze it, flip the entire upper bassinet over, and there you go – a changing table that can hold babies up to 30 pounds!
The bassinet features very soft materials, is straightforward to wash, and is formed of sturdy material.
It also has two soothing vibration settings alongside a cute start/flower canopy.
The mesh sides offer high breathability, while the cargo area and locking wheels enhance mobility and convenience.
This baby bassinet comes with one sheet and a perfectly firm mattress that takes just about ten minutes to line up!
Cons: Some parents have reviewed that the bassinet's bed can be uneven and that the whole assembly could be a nightmare.
5. Baby Delight Beside Me Dreamer Bassinet & Bedside Sleeper ($199.99): Best Easy-to-assemble Baby Bassinet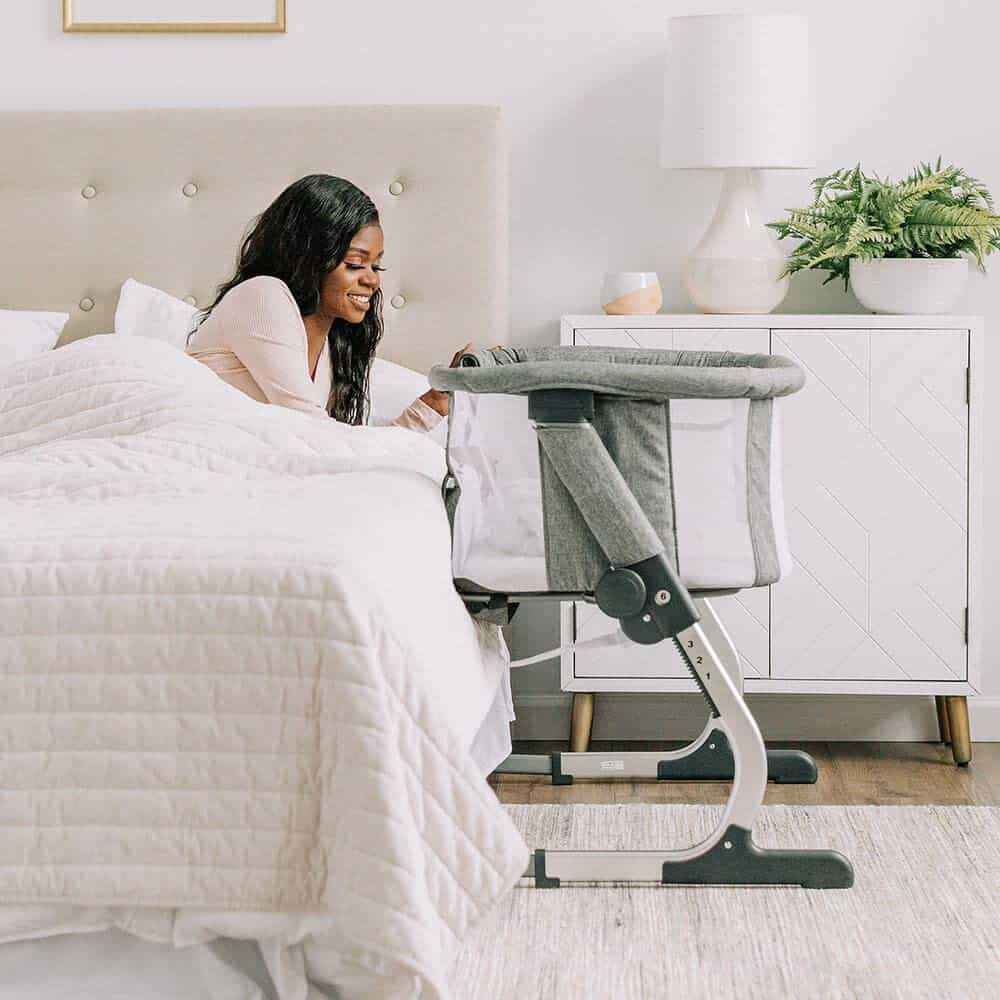 With Baby Delight baby bassinets, you can be sure that your baby is comfortable and safe. Here's why your munchkin will have a good night's sleep:
An easy-to-assemble and one that always shows up on the list of the best bedside bassinets, this one is crafted in high-quality materials.
It also features extendable feet.
The bassinet even offers whooping size height adjustment options, the maximum being 18 inches and the minimum at 13 inches.
It also features a zip-down flap on the side that allows you to conveniently access the baby without having to urge off the bed.
Pretty heavy in terms of the weight of the bassinet at 30 pounds so it can only hold a baby up to 20 pounds which can be another put-off.
Cons: One problem with this bassinet, however, might be its mattress. There is nothing particularly wrong with the mattress intrinsically, however, far better quality and luxury level could be offered for the worth point. However, the security straps on the side cover help to keep it attached to the bedside and also flush with the side of the mattress.
6. Arm's Reach Concepts Cambria Baby Bassinet ($270): Best Co-sleeper Bassinet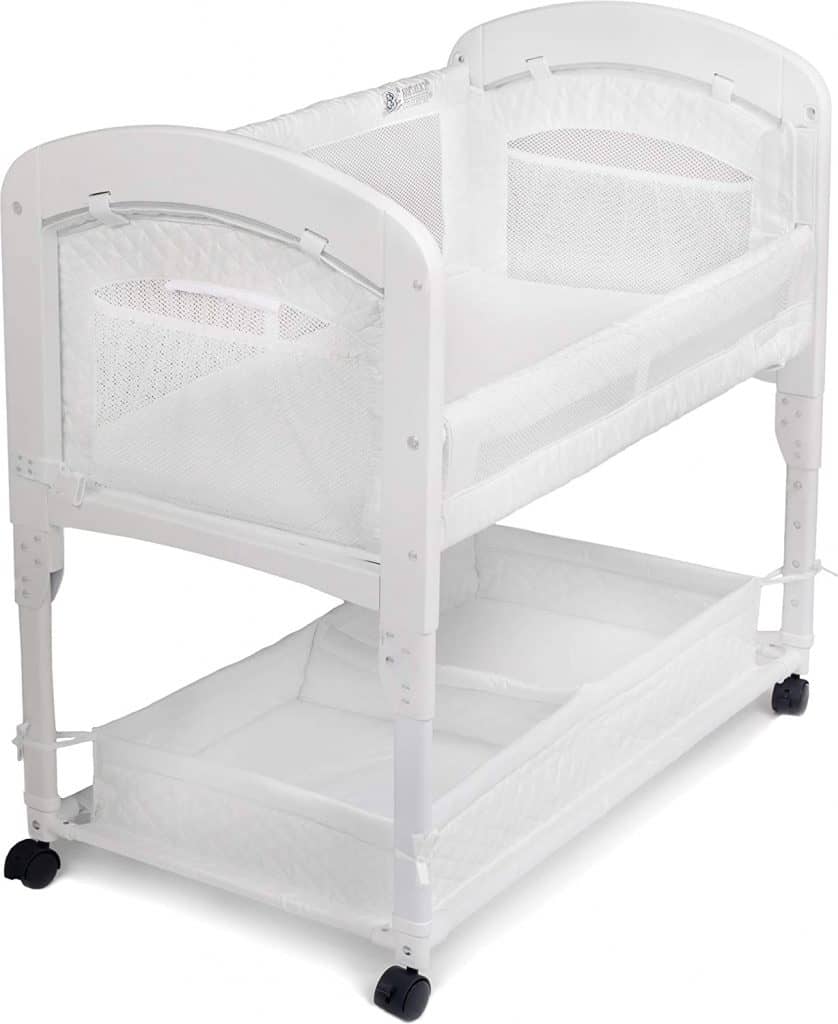 Standing up to its name, this could be one of the simplest co-sleeper baby bassinets you'll find on the market. A great choice for moms with restricted movement due to the C-section, this co-sleeper works even as well as the HALO baby bassinet but comes at a way lower price point. This is often a basic, no-frills baby bassinet that's out of stock very often!
A bassinet with very basic features, this one has multiple meshes on its sides that greatly improve breathability and features a very thin, comfortable-for-baby mattress.
A convenient pick for a co-sleeping parent, this bassinet allows you to feed the baby just by pushing down the side and maybe pulling the copy to the first position when done.
This Bassinet has legs that can be adjusted to suit taller or shorter beds and also a pleasant storage basket on rock bottom.
It includes a nylon attachment plate and straps with a fitted sheet.
Cons: The co-sleeping and the bassinet modes of Arm's Reach Cambria are only for 5 months old infants (a kid who can push up on their knees and hands).
7. Ingenuity Kids2 Foldaway Rocking Baby Bassinet ($99.99): Best Baby Bassinet for Small Spaces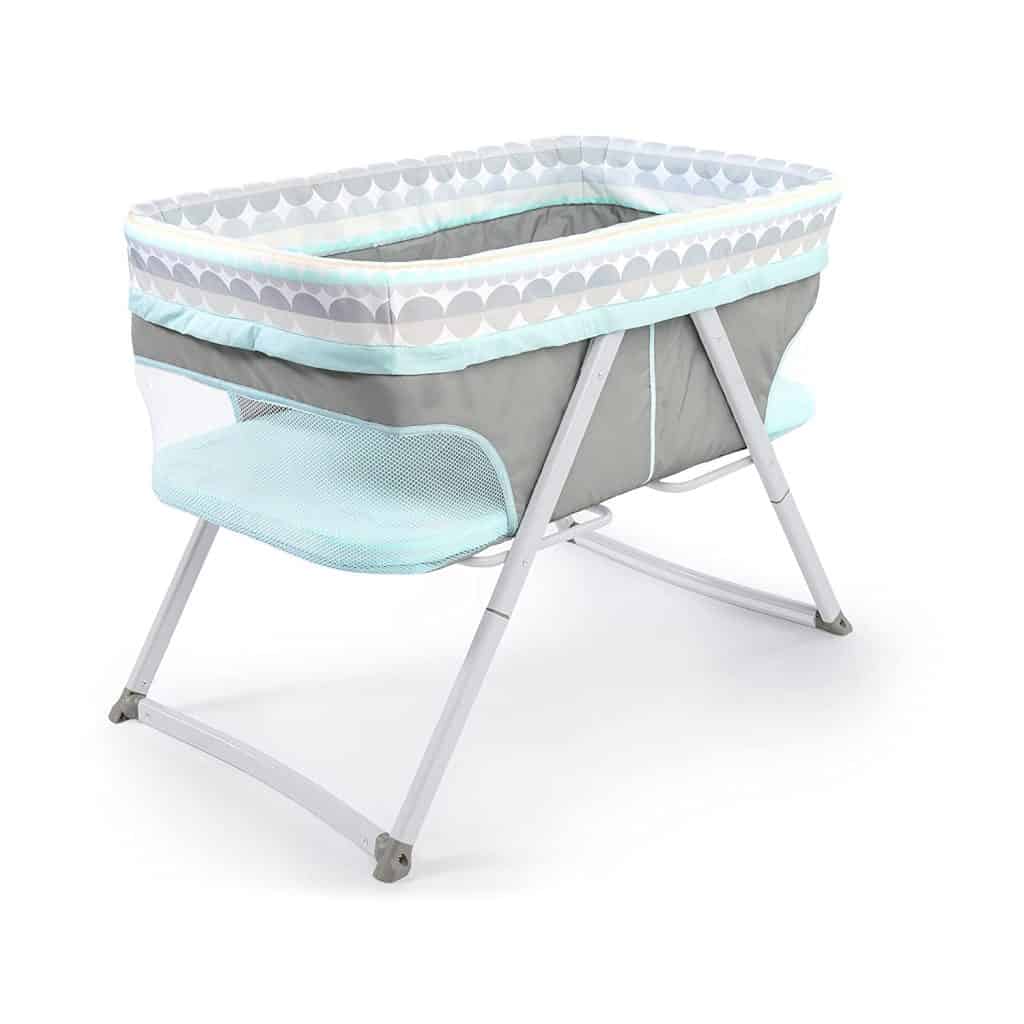 From naptime to nighttime, this baby bassinet is a dream for babies and parents with its unique features and smart design. Check out why it could be the  best bassinet for babies on this list:
This baby bassinet is ideal and suitable for parents who love to travel with their babies as this one can be folded up into a compact 22" x 23" cube. However, this baby bassinet doesn't accompany a travel bag and may only fit an outsized suitcase.
The folding up, otherwise, works alright for storage under the bed or a closet.
The mattress of the baby bassinet is quite soft and features a breathable mesh on the sides.
It is made of soft fabric and above all, it also allows you to reach over your baby from the bed and rock them to sleep under its "rocking" feature.
Cons: On the negative side, however, the bassinet is extremely deep. Almost too deep for a simple reach-in while lying in bed, but also not deep enough to support a learning or crawling baby. Besides, it lacks any storage and there are not any sheets included within the pack (the sheets also can't be found anywhere else online).
8. Delta Children Sweet Beginnings Baby Bassinet ($79.99): Best Baby Bassinet With a Canopy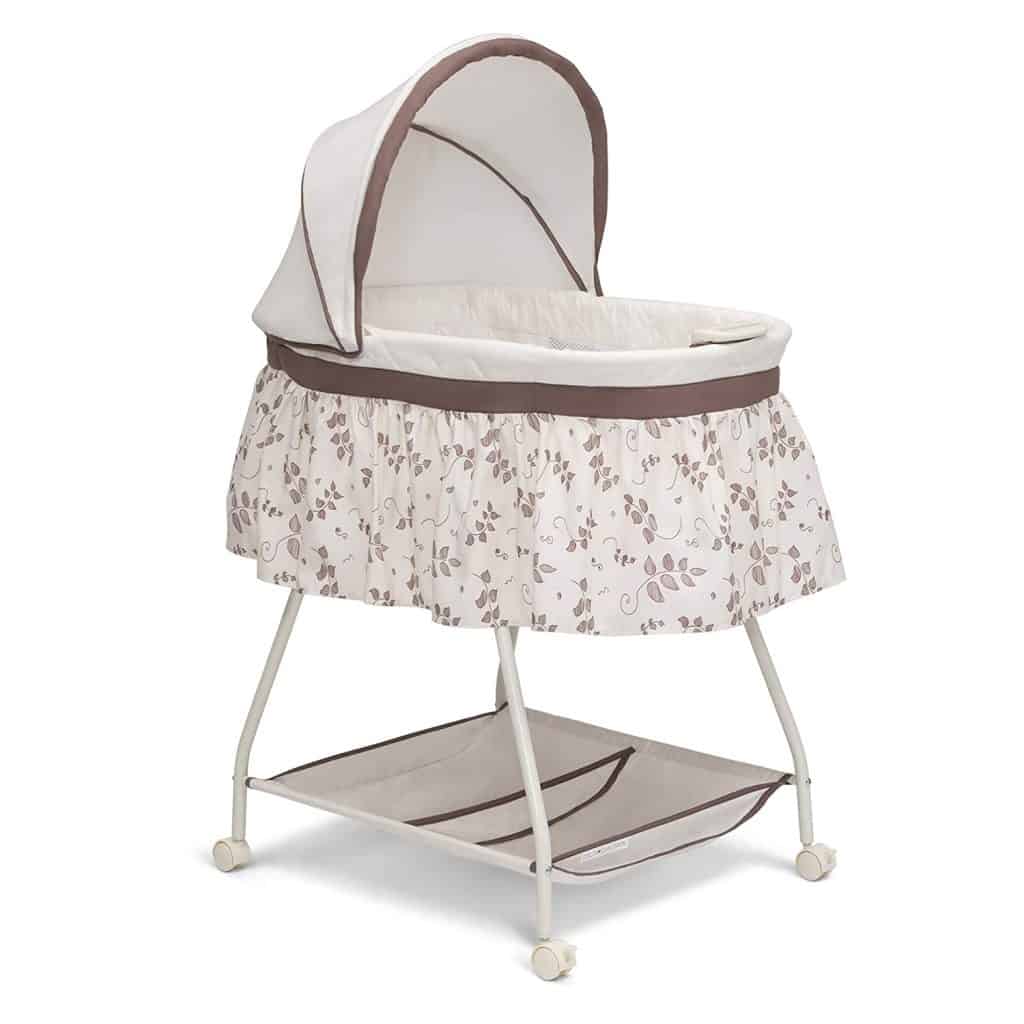 Delta Children's has been around for quite some time now as one of the most reliable baby companies in terms of their extraordinary customer support. Made with a beautiful style and appearance, this bassinet features
a standard badger basket or Moses basket bassinet with a subtle falling leaf design on a ruffled dust skirt
a quilted inner lining
an adjustable canopy
The firm mattress has been quite a topic of debate on the web as some parents found it thin but comfortable; while others recommended finding thicker replacement mattresses and mattress pads. Delta Children, on the opposite hand, recommends not using mattresses thicker than 1 inch to avoid the risk of SIDS in young babies. The other wonderful features of the bassinet include
soothing music
a nightlight
caster wheels to move it around
Cons: The storage rack is rather flimsy and a sturdier one could be more convenient for folks. It is a very basic baby bassinet, priced at just 80 dollars.
9. Green Frog Cradle Baby Bassinet with Gentle Rocking ($249.99): Best Bassinet For a Baby With Wheels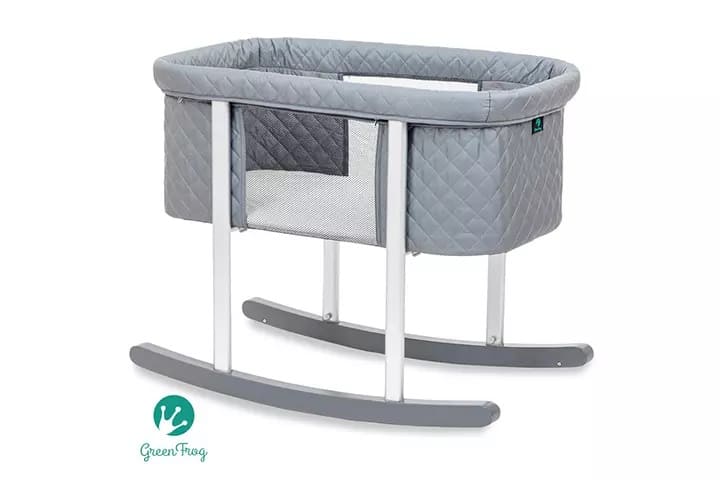 To put it in five magic words, this baby bassinet is straightforward, stylish, comfortable, classic, and made in specialized quality! Priced at about 250 dollars, this baby bassinet's pack includes the
Bassinet
A mattress
2 bottom rockers
2 leg pieces
Here are the highlights of the Green Frog baby bassinets:
The wheels are attached to every bottom rocker.
It has tool-free assembly which is as easy as a breeze because the legs simply click to attach to the rocker in 8 different places.
The baby bassinet has soft fabrics so that your baby is in comfortable hands.
It even features the must-have breathable mesh along its edges.
It stands about 28 inches tall on the ground and includes a sheet for the mattress.
Talking of its bed, it is not too sturdy nor too flimsy but just a perfect balance.
There are no gaps between the bassinet and the mattress, which is again a commendable feature.
The rocker's legs are well-equipped with wheels that enhance movement.
Cons: The spring frog baby bassinet lacks fancy vibration, sounds, or automated rocking which other bassinets at this price might otherwise sport. Some noticeable disadvantages, the lack of a storage basket, adjustment options, and the absence of any entertainment system altogether could be pointed out.
10. Simmons Kids By The Bed City Sleeper Baby Bassinet ($119.99): Best Bassinet For a Baby Near Tall Beds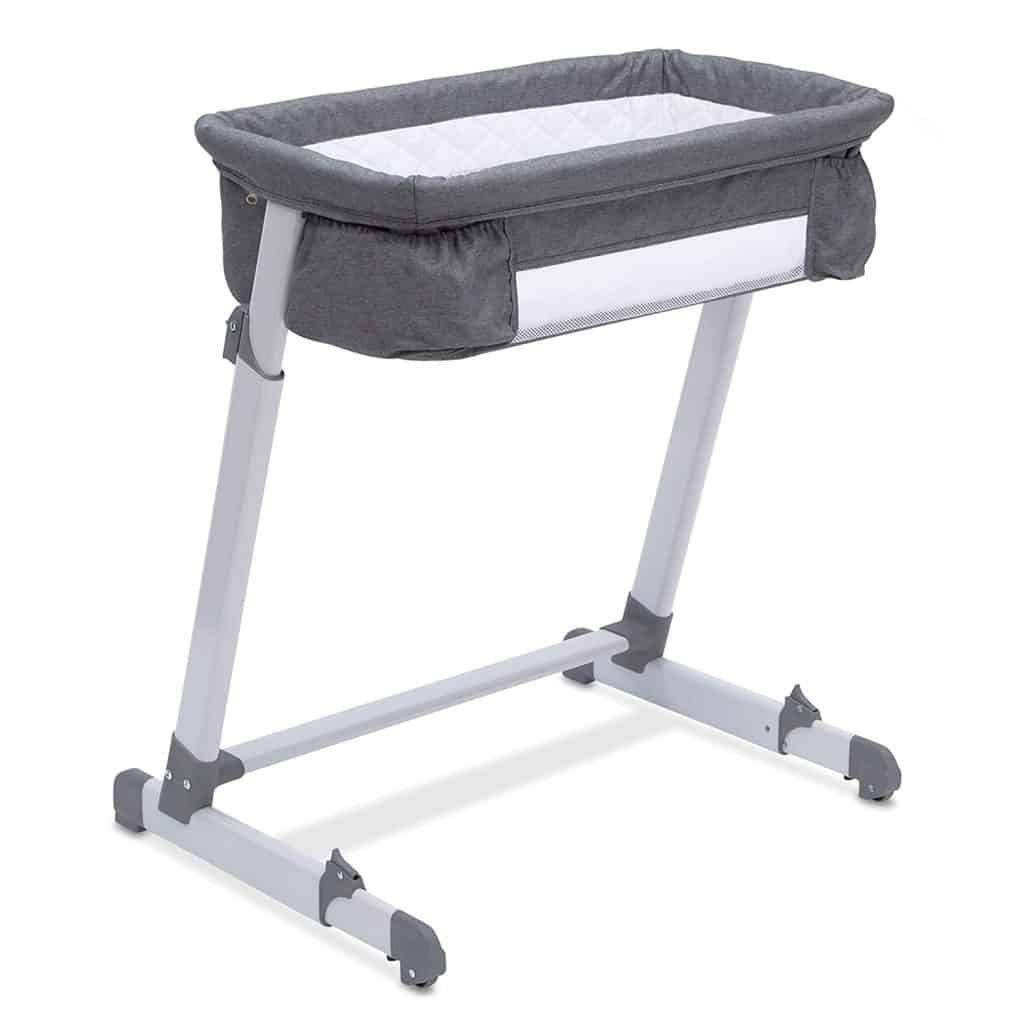 This baby bassinet is for parents who do not want to sleep with their kids but also like the baby right next to them. It has a sturdy inbuilt and is one of the best bassinets for a baby. It allows you to easily look over the baby and even hear the baby's movements and breathing.
It is often slid under your chair, bed, or sofa.

It has 5 adjustable heights allowing you to further fit mattresses of various thicknesses and beds of various heights.

The mattress of the bassinet is rather thick yet comfortable.

It also features a translucent mesh.

The insides of the bassinet have quilted fabric with the surface covered with jersey-style fabric.

As for storage, there are small pockets (but in all honesty, you may prefer the large baskets).
Cons: For some mention-worthy downsides, it's heavy under its large size which could make it difficult to maneuver for some parents. Lastly, there are no wheels on its bottom so the bassinet's feet cannot slide. This baby bassinet is pretty large and might get a little problematic for parents who don't have enough bedroom space.
My baby slept in this for 4-5months and then it was too small of an area for her but i loved the different heights it could go as sometimes i need to be on the couch and she could nap next to me in the bassinet or move it back into the bedroom and raise height to the bed. Also can make one side higher and one side lower to elevate baby when baby is not feeling good or congested.
–  Kayla.M
This just arrived and was easy to put together. It came in 4 parts and even at 9 months pregnant I easily had it done in under 10 minutes. I had trouble telling the front from the back with assembly with the basket part but realized if you unzip the sides you'll find an "R" sticker that lines up with the "R" sticker on the coordinating leg. Adjusting the height is a bit clumsy but once you know where you want it set it seems to lock in place well.

SHEETS: this comes with 1 thin fitted and not very soft white sheet. I scoured the reviews and questions for what size/shape sheets to get and didn't find much that was helpful. I was given standard oval bassinet sheets already from Target (Cloud Island brand with dimensions of 32.75 x 17) and they do fit fine even though the shape of this mattress is rectangular. With some tucking underneath they totally work. Hope this helps someone else!
– shelbsy
11. Happiest Baby SNOO Smart Sleeper Bassinet ($1695): Best Smart Baby Bassinet
It is evident that parents can do everything, but if you want your baby to get the best sleep possible, why not get some assistance? This automated bassinet with an integrated swaddle that responds to your baby's cries was developed by Dr. Harvey Karp, the author of The Happiest Baby on the Block book and video series.
The SNOO monitors and soothes with just the right amount of white noise.

Its self-rocking sound helps you sleep well and avoid nighttime tantrums.

The bassinet has 3 hip-safe swaddles to give your baby the best safe sleep.

You can log naptimes and sleep times with their smart app and even adjust the cry sensitivity, motion, and sound of the bassinet.

The weaning option and preemie mode is a life-saver.
Cons: There's no way to avoid the way that the SNOO is truly costly. There is now a rental option available if you don't want to invest. That is a sleep solution that we can certainly support at $159 per month (roughly $5 per day) and with only a one-month minimum rental commitment. You may use the SNOO baby bassinet from the time your baby is born until about six months old when they are able to stand on their hands and knees, or until they reach a maximum weight of 25 pounds.
After a month of sleepless nights with a newborn, we caved and bought the SNOO at 12:28 AM and it is hands-own the best middle-of-the-night purchase I've EVER made. We were starting with a baby that woke every 2-3 hours and was IMPOSSIBLE to get back to sleep after feedings.

The first night with the SNOO our little man slept 5.5 hours, woke for a feeding (went RIGHT back to sleep) and then slept 5 MORE HOURS. We felt like new people! And it wasn't beginners luck! The next night, he slept 4 hours, woke for feeding, then slept for another 5 hours. By the third night, his longest stretch of sleep was 7 HOURS! We continued on like this (waking once for feeding) for a month and a half until last night..

..our sweet baby slept for 10 HOURS! The whole night – all thanks to the SNOO. This is 100% a necessary purchase for those having a baby! I know it's expensive but it is SO WORTH THE MONEY. Sleep is priceless and if you're looking for the ABSOLUTE BEST BABY SHOWER GIFT ON THE PLANET, buy this.
Run, don't walk.
And if you're having a baby or trying for a baby, save up, do what you gotta do, and look for when it goes on sale because honestly, this bassinet is more necessary than pacifiers, diapers bags, and basically every baby item besides diapers tbh.
The snoo is a godsend. We've been using it for a month with our 4 week old. He was sleeping for long stretches immediately in it. Just last night he slept for a total of 9 hours overnight. The white noise function is great.

I believe that the snoo is well worth the money because after a few sleepless nights, I would have been ready to pay the price just for a little bit of sleep. My babe responds well to the rocking function, but I also like that you can lock it to a low level rock or just turn that function off. The app is very easy to use and it was so easy to set up.

We like the bassinet enough that we are taking it with us when we go camping in a travel trailer. It comes with a sheet and 3 sleep sacks, one in each size, so my only complaint is that there weren't more sheets included.

Other than that it is a 10/10 for me.
For more product reviews visit Amazon
12. 4moms mamaRoo Baby Bassinet: ($437.49): Best Affordable Baby Bassinet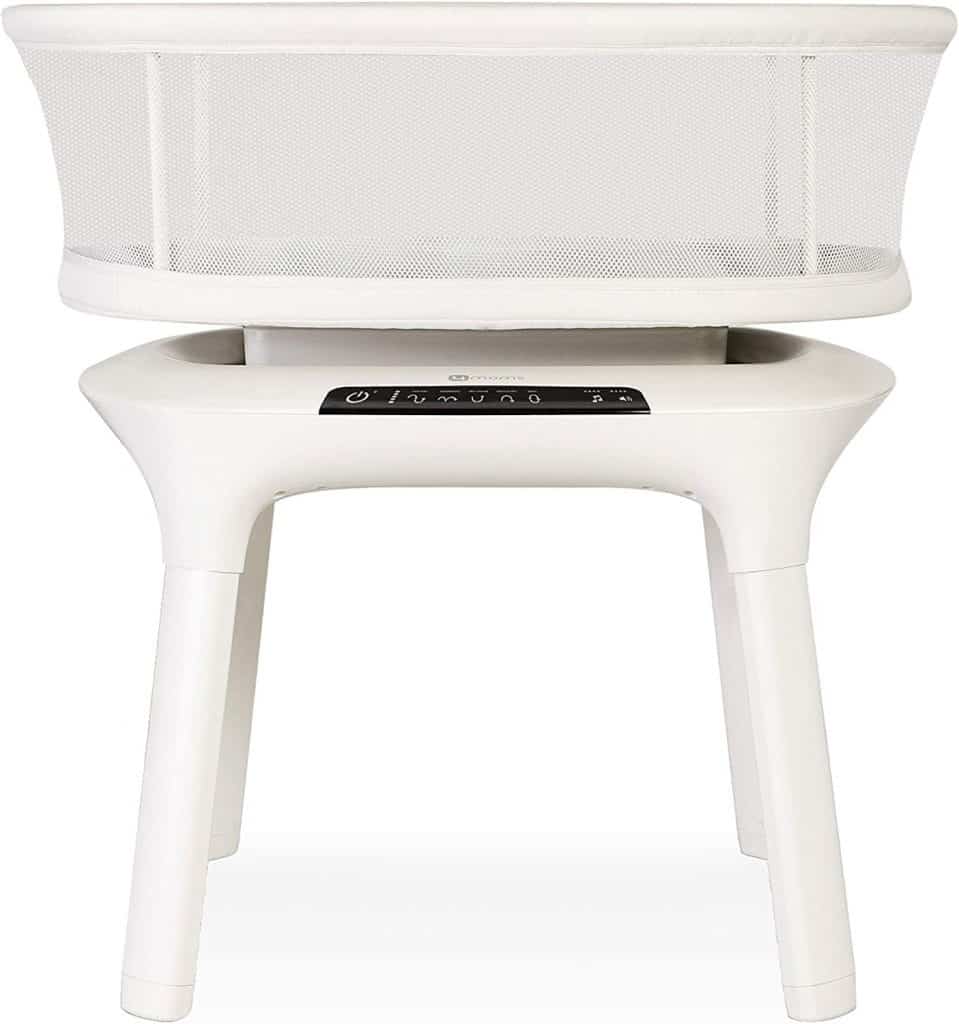 Are you searching for a more reasonable choice for the SNOO, the mamaRoo Baby Sleep Bassinet from 4moms — a brand we love for their creative child gear — is a gear you'll need to consider. Even though this bassinet does not automatically respond to your baby's cries as the SNOO does, it still has a lot of smart, technologically advanced features that you and your baby will enjoy.
The mamaRoo bassinet is the

best bassinet for a baby

that comes at a more reasonable cost.

It can mimic 5 unique motions of human movements:
Rock-a-bye

Car ride

Wave

Kangaroo

Tree swing
The 4 white noises built into the bassinet can put your baby to sleep in minutes.

You can control the motions of the bassinet through the 4moms app or even manually.

The bassinet includes a sheet, a firm, flat, and water-resistant mattress, as well as mesh sides for ventilation and visibility.

The app lets you set a timer, but the maximum run time for motion is four hours.
Cons: When the bassinet is turned off or switched between motions, there is also a noticeable jerky motion. For most babies, it is not a big deal, but for others who sleep less well, it might be a problem.
This was definitely a late night desperation purchase. Our newborn has colic and would not sleep on any flat surface, only my wife and my arms. We would then both stay awake all night so we wouldn't risk the baby's safety. We have had the bassinet for over three weeks now and she sleeps in it 4-6 hours during the day and a few hours at night. The shush sound and car ride settings are her favorite. This bassinet won't soothe our newborn to sleep but if we put her in carefully while asleep, it keeps her asleep for hours. My wife and I can finally get some much needed rest. I definitely recommend this bassinet for any new parents searching for a solution for a fussy newborn.
This was a game changer!!! My newborn would wake up every time I put her down so I was getting zero sleep. We tried everything….and our last resort was the MamaRoo. I honestly wish it would've been my first thought because my LO hasn't slept better!! She goes to sleep right after putting her down and stays asleep for hours. When she starts moving around and getting restless at night I use the "Shh" sound and it lulls her back to sleep.

The only con is the lights on the little dashboard stay lit but I just cover it with a towel at night, and the app is bright white and I wish it had an option for night view or something because it's very bright in a dark room when I open it to add time to the timer throughout the night. That's also just a minor con and something to note, but honestly as a new mom this saved my sanity, it's THAT good. I highly recommend it.
For more product reviews visit Amazon
A Final Word on The Best Bassinet For a Baby
All said and done, we hope that we have been able to help decide between buying the best bassinet for your little bundle of joy! The best baby bassinets in 2023 have come a long way from what they were perhaps a couple of decades ago – make the most of it and let yourself and your baby find the most restoring and relaxed sleep that there is! 
FAQs: The Best Bassinet For a Baby
1. What bassinets are best?
You need to get your baby the best products and bassinets are just one of those unavoidable necessities. So here's a list of the best bassinets for a baby:
Best bassinet for tall beds: Simmons Kids By The Bed City Sleeper Bassinet
Best Bassinet for Compact Spaces: Ingenuity Kids2 Foldaway Rocking Baby Bassinet
Best Bedside Bassinet: Fisher-Price Soothing Motions Baby Bassinet
Best Bassinet Overall: HALO BassiNest Swivel Baby Bassinet
Best Rocking Bassinet: BabyBjorn Rocking Cradle Baby Bassinet
Best Co-sleeper Bassinet: Arm's Reach Concepts Cambria Baby Bassinet
2. What age should the baby be in the bassinet?
Bassinets are small beds with multiple features varying with respect to their manufacturers. Typically, bassinets are for babies less than 6 months of age. The best baby bassinets are movable around the room with ease.
3. How do you choose a baby bassinet?
Well, shopping for bassinets can be overwhelming because the options are never-ending. So here are some shopping tips:
Check for the JPMA seal
Look for the ones with a wide base and sturdy bottom
Choose the ones with folding mechanisms
The mattress must be extra firm, smooth, and snug
Size up the cradle or bassinet sizes.
4. Can a baby sleep in a bassinet overnight?
A bassinet can be a great place for newborns to sleep until they are 4 months old (or 6 months at max). These beds are typically transportable so you can move wherever you want. Follow the safe sleep guidelines and your baby is as happy as a lark.
5. How do you know when a baby has outgrown the bassinet?
After 6 months, babies will outgrow the bassinet but how do you know it's time? Check out these signs that show it's time to transition to a crib:
They start rolling over
They have surpassed their weight limit
They are getting taller
They wake up feeling uncomfortable
They keep moving around too much
They can sit upright with no support
They feel out of room in the bassinet