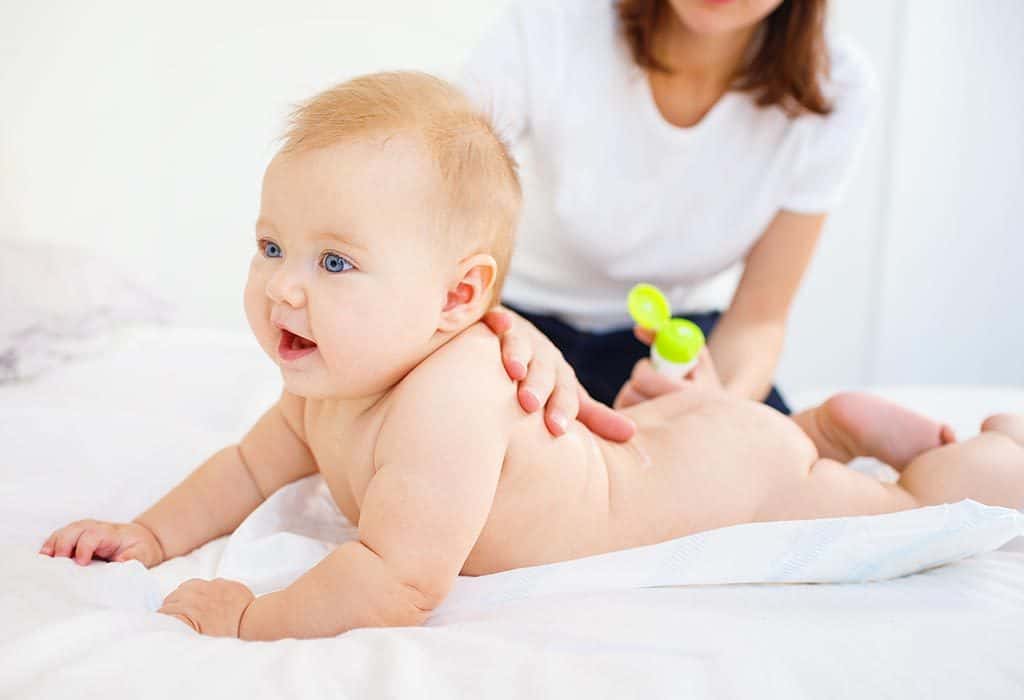 We'd all agree, that sensitive baby skin needs special attention and has to be moisturized at all times. But, what lotion to use? With the cold weather kicking in, skin sensitivities seem to hit high, prone to dryness resulting in irritation.
Do we then need a lotion that smells good, dyes with harsh chemicals, or, one that soothes and assures care made with gentle ingredients? While purchasing a lotion for the baby, it is recommended to avoid products with fragrances, preservatives, parabens, sulfates, and alcohol.
Therefore, selecting natural-based, non-harmful, and beneficiary lotions would work the best. Like what you ask? Don't worry, we've got you!
Top 8 Best Lotions for Babies:
1. 14 OZ, Aquaphor baby healing ointment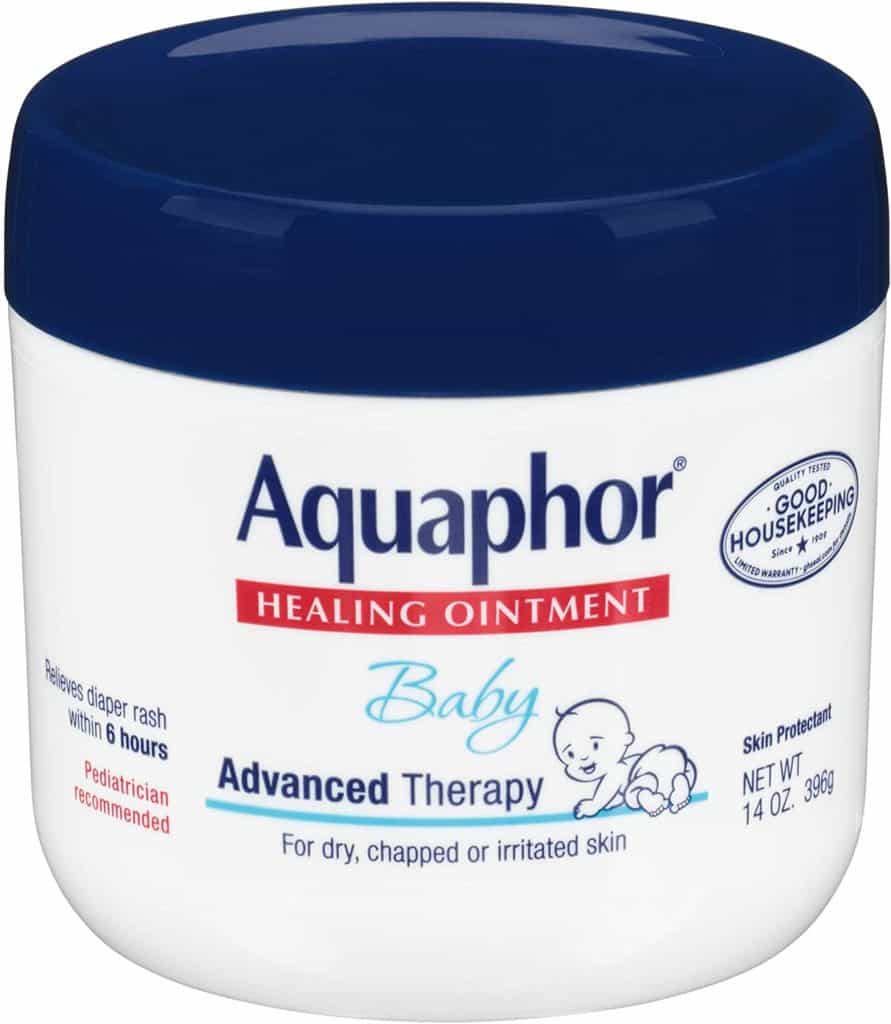 It is a multipurpose clear ointment, especially used for irritated skin, dry patches, minor cuts, diaper rashes, chapped lips, and rosy cheeks. This Aquaphor is a great pal for winters, has no preservatives, and is fragrance-free, protecting the baby's gentle skin.
Used it for nappy rash and any other scrapes and small injuries. My babies are 4 now and this is one staple we never lack in the house.
I have sensitive skin and I put it in every night. My face breaks out less, and this is perfect for dry winter when your skin cracks.
For more product reviews visit Amazon
2. Aveeno baby eczema therapy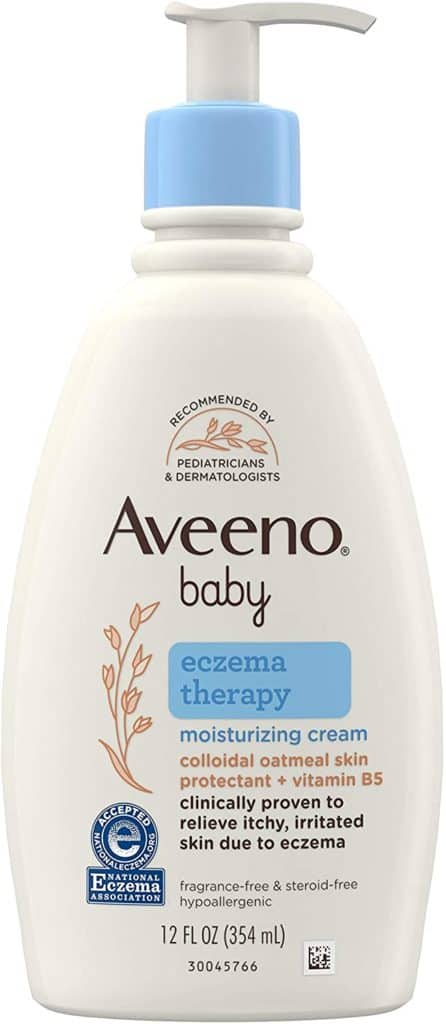 The Aveeno baby lotion has oatmeal as its key ingredient, that helps get rid of dry skin caused by eczema, maintains the pH balance, and prevents dryness. When applied on the baby, you'll notice the lotion to dry fast, is non-greasy, and fragrance-free working 24/7.
I don't like the smell of any cream or any lotion. So I never used any. If you want an odor free lotion.. this is the only product. I love this and this is a must.
This is the best lotion! I started using this for my two youngest boys ages 2 and 1 and finished the bottle with my Husband and myself. It's amazing non-greasy and it soaked into the skin instead of just sitting on top of it, but it doesn't soak in to the point where you have to reapply because it feels like you didn't even use any lotion. Yea none of that just perfect!
For more product reviews visit Amazon
3. Organic all-purpose balm - Honest company

It includes organic and plant-based ingredients, such as organic sunflower, olive, and coconut oil that treats the skin with the ultimate soothing salve. The balm has no presence of petroleum jelly, mineral oil, lanolin, parabens, dyes, and synthetic fragrances, making it applicable to all skin types.
Used this balm with my first born 6 years ago when she had eczema on her legs as a baby as an alternative to vaseline and it worked wonders. When we were getting ready for our second child, I made sure I had a couple of tubes on hand. Just as I thought, my second child had eczema too and it was all over her body. After each bath, I lathered this on all over except her face (which was a mistake), any especially dry areas, I lather them up again at bedtime. A week later, her cheeks got a flare up, i started using the balm on the flare up but it was too late at that point so we had to treat it with hydrocortisone. As soon as the flare up started clearing up, i used this balm on her cheeks twice a day until it went away. Now at the first sign of redness, i put some of this balm on, and it goes away, body, face, diaper area.. It's a miracle balm.

I know some people complain of the smell and consistency, but this is not meant to be a lotion, it's a thick and greasy balm, just what you need for extra dry skin. This beats the medical grade steroid creams and vaseline the pediatrician wanted us to put on our 2 month old, which was a last resort in my book and thankful we didnt have to use them all thanks to this balm.

The ingredients are a bit different from the previous packaging, attaching a picture, I dont think anything alarmingly different after checking EWG but Amazon should update listing with the new ingredient list.
Has no scent really ,just a light natural smell. feels good using it on dry patches and did try it as a fly away control and seems pretty good. Love that the ingredients are all natural.
For more product reviews visit Amazon
4. Earth mama baby lotion

The fragrance of Earth mama is enhanced by the presence of sweet oranges, which is the cherry on the cake, also available in lavender and naturally unscented. The lotion is made with organic herbs and oils blended with natural ingredients making the delicate baby skin more gentle and is free of petroleum, parabens, artificial fragrance, and preservatives.
Used for momma and baby. We both love it.
My eldest is almost 9yo. I now have four kiddos, the youngest being a couple of months old. This is one of the only brands that I feel 100% safe using on my babies – including their bath soap. The orange vanilla scent is my absolute fav. It's completely worth the price for what we're using on our kids, especially at a time when we're bombarded with artificial (TOXIC) fragrances and ingredients in just about everything, even "organic" items. Earth Mama (previously Earth Mama, Angel Baby) and MotherLove are two brands that I almost exclusively use for skin (I prefer MotherLove diaper balm over EM).

This lotion (and the soap) is the ONLY lotion (and soap) I've used on all my babies and will continue to do so. No it's not tear free, but you can be careful not to put it in their eyes. And the tear free stuff is usually tear free because of chemicals!

Don't hesitate to grab this!!!!
For more product reviews visit Amazon
5. Cetaphil daily baby lotion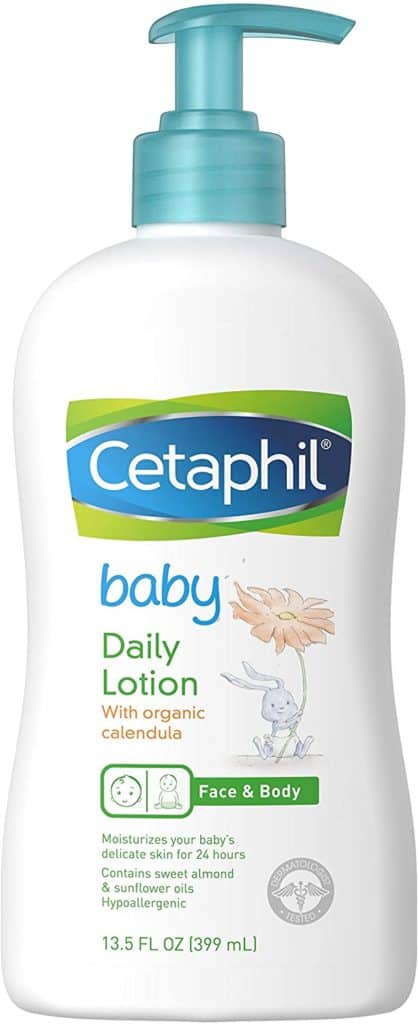 Made with the calendula flower extract (a natural anti-inflammatory and calming agent), known to be gentle on all skin types. Its sweet almond and sunflower oil version smells amazing and makes the lotion perfect to avoid dry skin that could lead to eczema. 
Smell Was good
Let me start by saying, yes, this lotion is a different consistency from what you are used to with other lotions. It is not a big deal, just a little thinner, and a small amount does go a long way. This lotion is a light yellowish color and has a pleasant, mild scent. I am really sensitive to strong scents, as we do not use any scented detergents or perfumes in our home. That being said, I love something that naturally smells nice and is not overpowering, which is a perfect description of this lotion. I was slightly worried about that after reading some reviews, but it was a non-issue.
Living in the brutal Michigan winters, my son's skin would get easily irritated and dry from bathing, and just generally existing in the cold, dry air. He had sort of these irritated bumps on his upper back because of that, so I was very happy when it cleared up after using this lotion for a couple of weeks. We have now been using this every other day after bath for at least a year and love the results. His skin is soft and moisturized, but this lotion is not too heavy to be used in the summer as well. In that time frame, I have only gone through maybe 2 containers of this, and I would have used that in a few months with most other lotions.
For more product reviews visit Amazon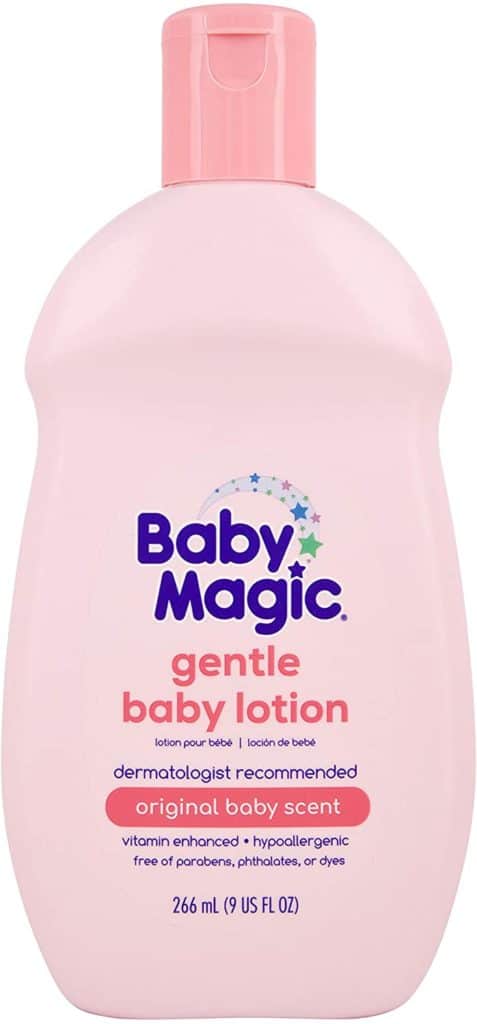 This classic lotion loved by parents has a sweet, nostalgic scent. Over the generation, the scent hasn't changed but their ingredients have, like shea butter and marshmallow root, eliminating sulfates, mineral oil, dyes, parabens, phthalates, talc, and lanolin.
Fragrance is sooooo baby soft
Such a wonderful scent – just makes you want to cuddle!
For more product reviews visit Amazon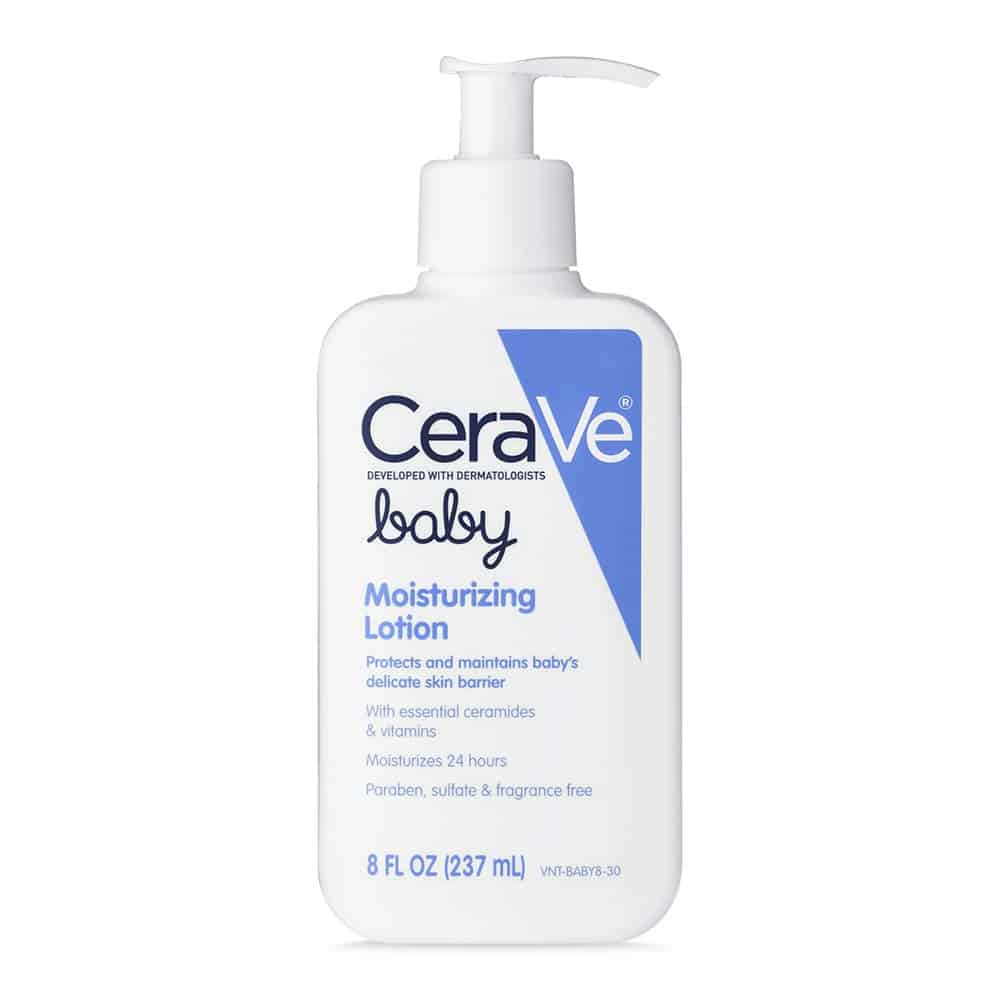 This CeraVe lotion has ceramide, an oil found naturally preventing itchiness and dryness and keeping the barrier strong. These ceramide-plus vitamins work wonders on the baby's skin as it doesn't have parabens, phthalates, or any fragrance.
If you're looking for lotion with no dyes, scent, not sticky and is moisturizing, this is the lotion to get, it feels great on the skin.
I have a 4-month-old baby, I started using another brand. And I had a sample of this one and fell in love! It's absorbed into her skin and stills left a soft dry touch that I love. Also, the scent is almost imperceptible allowing her scent to flourish
For more product reviews visit Amazon
8. 5 Ounce - Eucerin baby eczema relief body creme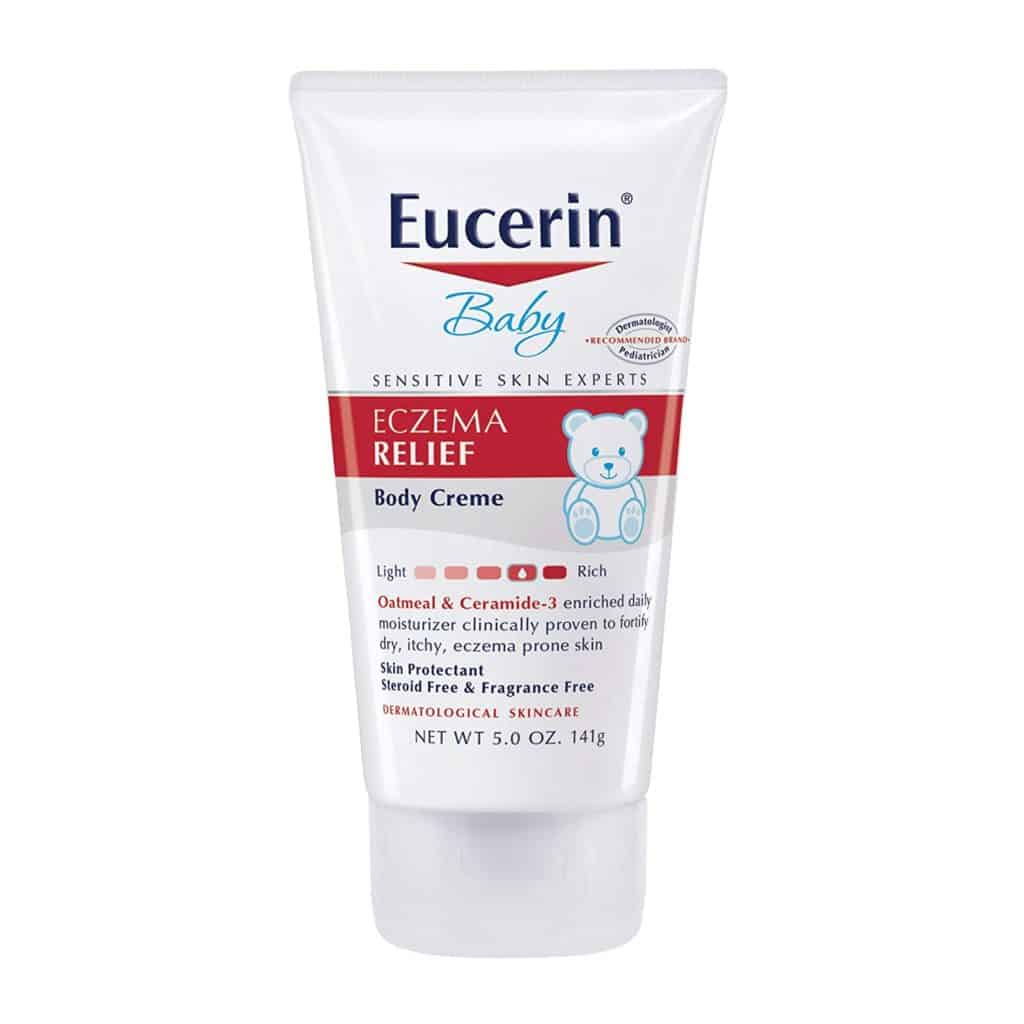 This baby lotion helps improve and clear the red itchy dry skin that could be a sign of eczema. Its ingredients have soothing natural oatmeal that minimizes the discomfort faced by the baby and is fragrance, dye, and steroid-free. However, make sure to use this lotion only for kids above 3 months.
My 5yo has had horrid eczema on his skin this winter and nothing was helping beyond temporary relief. Lots of things we tried made his hands get red and stinging and itchy. His hands were cracked and bleeding past his wrists. We've been using this lotion nightly with a pair of cotton gloves and his skin is healed of all cracks and bleeding and the roughness is almost all gone. There is no stinging or itching even when used on cracked skin. I used some on my very sensitive skin and had no adverse reaction. Also it soaks in really well and doesn't feel sticky or greasy like a lot of eczema lotions do. I wish I had taken before and after pictures because it's pretty amazing.
My son had some bad eczema, so much so that his doctor prescribed a cream for it. The prescription did nothing for his skin but this lotion worked wonders. I put the lotion on after his bath and before bed and when he woke up in the morning, his skin was so much better. Highly recommend.
For more product reviews visit Amazon
Picking the best baby lotion could be quite focused on parents as there are a lot available in the market. However, we must choose the lotion that has nature-based ingredients and suits the skin of the baby. Also, be assured that the lotions above are tested and researched.
8 Best Baby Lotions FAQs
1. Should a baby be applied to additional lotions ?
Initially, the newborns do not need an additional lotion applied to their skin. However, if you seem to notice dryness and splits around the ankles and hands, apply olive oil, vaseline, or an A‑D ointment for relief.
2. How many times must you apply lotion to the baby ?
Experts recommend using lotions daily for the baby to avoid dryness that might result in eczema. However, if the skin of the baby is too dry, you may apply the lotion twice a day. Apply them when the skin is still moist post the bath.
3. What is better? Baby oil or lotion ?
Post the little one's bath, the skin absorbs the water, therefore the oils are best to seal the hydration. On the other hand, lotions help to penetrate the skin better as they are partly water-based,and made with ingredients that improve the skin's moisture.