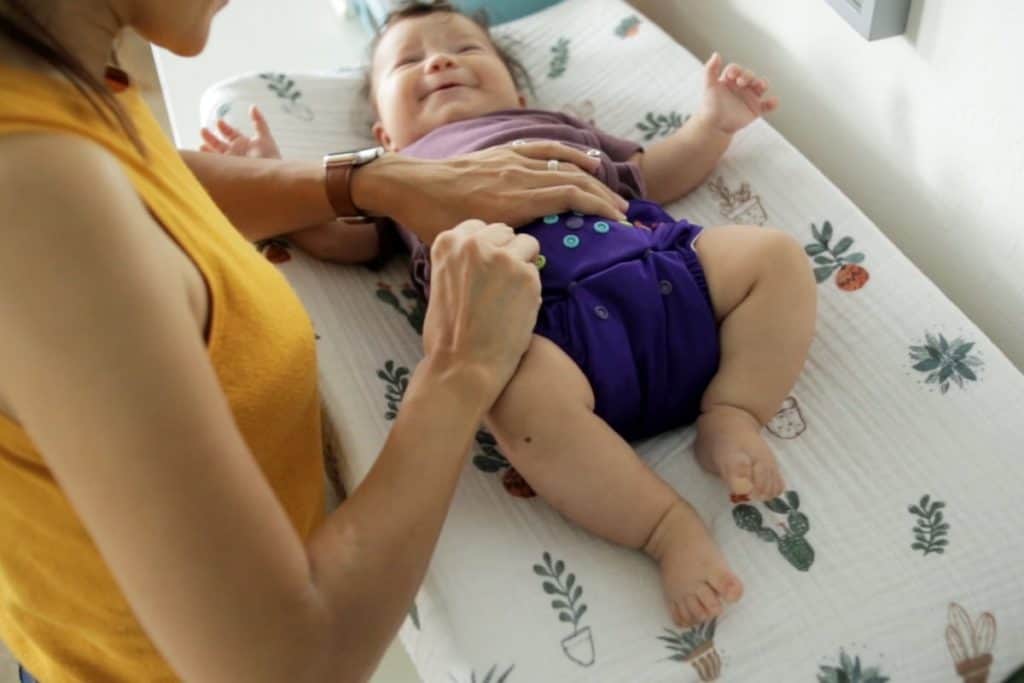 Given the fact that babies, on average, poop as many as 3 times and pee as many as 6 times a day, it is a brainer that you will be spending a lot of money on baby diapers. On further calculation, you would find that your baby will go through as many as 700 diapers in the first three months!
Parents tend to give a lot of thought to how their baby's crib should look and what color should the nursery be; only to realize eventually that diapers have instead been the most fruitful element of baby shopping. As a baby grows, for the good part, their bladder grows and so, their demand per day for diapers reduces.
But How Many Diapers Do You Need for Your Baby in The First Year?
A baby can use up as many as 2,200 diapers just in their first year alone! It would be recommended that you, as a smart parent, take this figure seriously and keep a chunk of your salaries aside for diapers. It would also be a win-win if you could add them to your baby registry, either by adding boxes or creating a diaper fund.
But The Baby Grows Big and Bigger Over The Months. How to Stock Diapers in Advance?
You will definitely need a different diaper size month on month which can make the planning a tad bit confusing. A point to always remember is that the number and the size of diapers a baby would potentially use depends a lot on the baby's weight.
Here's a chart on the number of diapers an average newborn baby would require for the first year of their life to help you stock at once-
| | | | | |
| --- | --- | --- | --- | --- |
| Size | Age | Per Day | Per Week | Total |
|     Newborn | Birth-6 weeks | 10 | 70 | 420 |
| Size 1 | 7-16 weeks | 7-10 | 50-70 | 637 |
| Size 2 | 17-30 weeks | 5-7 | 35-50 | 595 |
| Size 3 | 31 weeks-1 year | 5 | 35 | 805 |
As per the diaper planner, a newborn baby, weighing an average of 5.8-8.8 pounds, will need at least 70 diapers in a week and will wear this size for a minimum of 6 weeks. This will result in the requirement for a total of 420 'newborn' sized diapers.
On average, 49-70 diaper changes are required per week between the 7th and the 16th week of a baby. This calculation is also on the assumption that the baby in question weighed between the average of 5.8- 8.8 pounds at birth.
At size 2, your baby is between ages 17-30 weeks. This is the time when the baby finally starts to grow their bladder and diaper usage dips down. At this point, expect yourself to use between 35 to 49 diapers per week in size 2. Considering size 2 will last up until week 30th, you will need a total of 595 sizes 2 diapers.
805 sure is the biggest number but also considering that you will need size 3 for about six months of the entire first year, this number should make sense. Between 17-30 weeks of age, you will be changing approx 35 diapers a week.
A Final Word: How Many Cloth Diapers Would a Parent Need for The First Year of The Baby?
While the above chart helps you calculate an optimal stock for disposable diapers, we do understand there also can be parents who'd instead want to use cloth diapers for various reasons.
With cloth diapers, the catch is, the total number really depends and varies a lot on how often you'd want to do the laundry. Since cloth diapers are washable and reusable, you will need a way lower number, as per Diaper Junction, the number could be as low as just 18-24 cloth diapers per year!
After the first year, the number would further go down to just 12 diapers a year as you will need fewer changes and would also start the infamous potty training.  Having said that, regardless of the kind of diapers you want to use, it is recommended to stock up on the requirement much in advance not only to keep your baby clean but also for your own long-term peace of mind.
FAQs: Newborn Diapers Need
1. Do boys and girls have different diaper size requirements ?
While stocking up the diapers, always remember that average-sized boys will move to size 1 diapers at around 4 weeks of age and size 2 at around the third or the fourth month. An average girl, however, transitions to size 1 only around the 6th week and to diaper size 2 at around the fourth or the fifth month.
2. Is it better to buy boxes of diapers or bags of diapers ?
Diaper bags have a lesser number of diaper pieces as compared to diaper boxes. Bags of diapers are ideal for parents who are worried about over-ordering the wrong size. A box, however, is more ideal if you are sure of the baby size as the per-diaper cost is much lesser. For example, a bag of Size 3 Pampers Swaddlers (27 pieces) costs $.34 per diaper whereas, a box of Size 3 Pampers Swaddlers (124 pieces) costs $.29 a diaper.
3. Can babies wear the same diapers for an entire day ?
A baby should never be left in the same diaper for an entire day. This will not only be unhygienic but will also cause rashes on the baby's sensitive skin, causing them pain, and having them become cranky and uncomfortable. This builds up diaper rashes also. Change every 6 hours or when soiled.
On behalf of the editorial team at Parenthoodbliss, we follow strict reporting guidelines and only use credible sources, along with peer-reviewed studies, academic research institutions, and highly respected health organizations. To learn about how we maintain content accurate and up-to-date by reading our medical review and editorial policy.