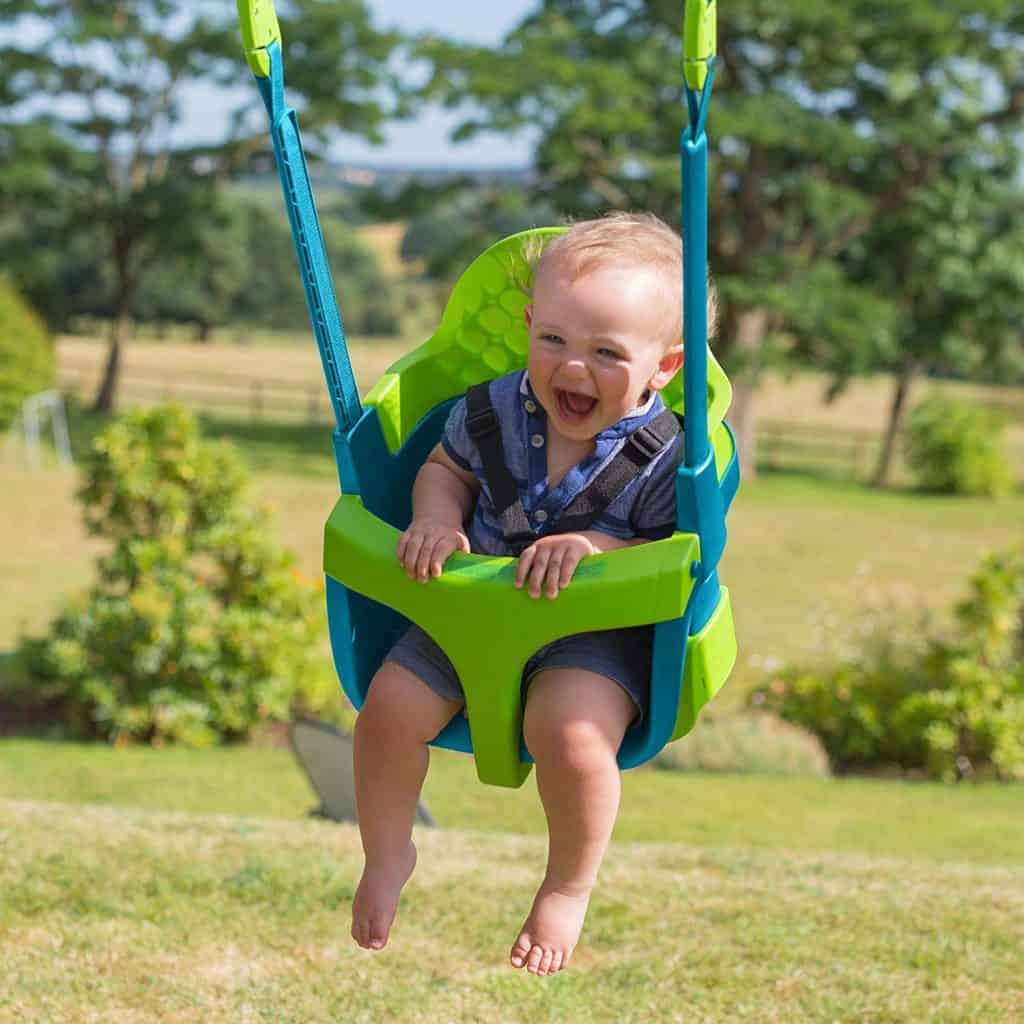 Cramming your toddler who is bursting with energy inside your apartment can be detrimental to their health! Children need to interact with the outside world, but how to do so without putting them in harm's way? Well, we have come up with the awesome idea of suggesting you 10 best baby swings for the outdoor activities.
Before we jump right into a product review let us give you some background information. Toddlers can have outdoor swings of different types, it is not the case where "one-size fits all"! Hence let us take a look into how the swings are categorized and then you can pick the ideal one for your precious one.
How swings are categorized
1: Toddler Bucket Swing →
A bucket swing is one that is engineered for ultimate safety! These swings come with four side protection. As a bonus, these swings have four leg holes meaning your baby can sit full 180 degrees opposite on the swing without detaching it and reattaching.
2: Nursery Bucket Swing →
This is one of those swings which offers a high seating position, plus it comes with a safety harness that keeps your toddler out of harm's way. Thus it is a bundle package of both safety and comfort.
 3: Hammock Swing →
One of the most versatile choices on the market, these swings enables you to have your toddler swing sitting up or laying down whatever your preference is. However, their design makes them suitable for gentle swings only.
4: Horse Glider Swings →
Horse Glider Swings A.K.A back-to-back swings are a choice that is possible only for older children. This swing requires that the baby hold on to it, making it unsuitable for younger children.
5: Sling Swing →
The most common type found in parks and the most beneficial swing when it comes to mental and physical well being of your toddler. However, there is a catch, your toddler needs to be old enough to hold on to the swing.
Now let us dive into a range of the best outdoor baby swings to add to your cart!
10 Best Outdoor Baby Swings
1: Eastern Jungle Gym Full Bucket Toddler Swing →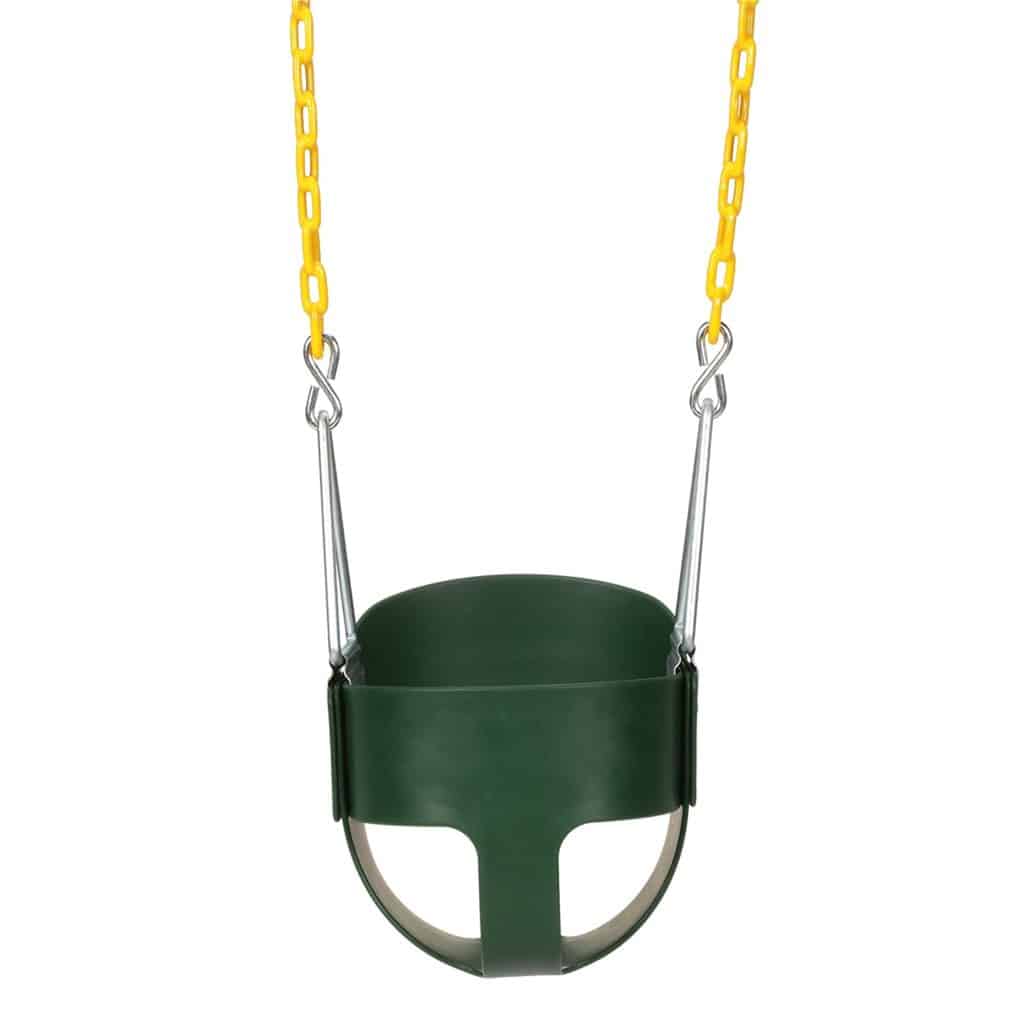 This awesome outdoor swing is from a company well renowned for its quality and durability. Made out of a baby-friendly co-polymer plastic this is a swing ideally designed for residential purposes and is dustproof and waterproof.
As this swing comes fully assembled, the convenience offered here is immense. Speaking of convenience your baby won't have to compromise his/her's as the bottom 30-inch length of the swing chain is coated with plastisol which makes the handles soft and comfortable while adding grip and safety.
With high back support and harness like bucket seating position, this swing makes no compromise in the comfort and safety department. As this swing has four leg holes rather than two, a toddler can sit both ways without the need for untying the swing.
Moving on the final and an important part of the swing, the hanging chains, they are made up entirely of galvanized steel and has a length of 66-inches.
Let us sum up
High quality and durability.
Made out of baby-friendly co-polymer plastic.
Comfortable handles with soft plastisol.
Dustproof and Waterproof.
Comes fully assembled.
High back support with four leg holes for both directions and harness like seating for added protection.
Strong galvanized steel chains of 66-inches that lasts long.
2: Squirrel Products High Back Full Bucket Toddler Swing→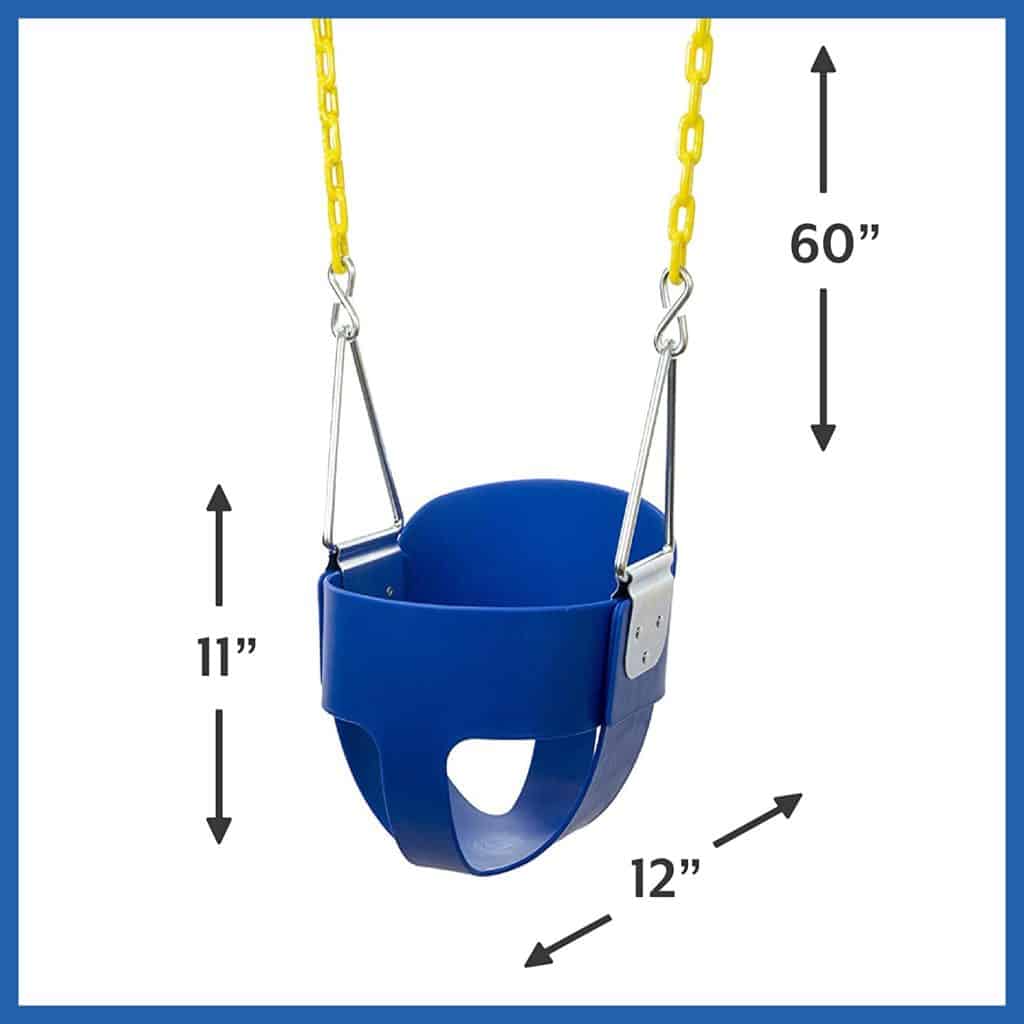 This swing is aimed at toddlers ranging from 6 months to 4 years old. The intention of this swing's design is to build the core strength of the baby to later have a better experience on traditional swings.
Being a high-back swing with a harness like support, your baby is perfectly safe in this awesome little workout machine of his/her's.
This swings sturdy and 60-inch long chain is heavy duty and can handle a weight of 150lbs. Baby hands are soft and this swing is "baby-hands friendly" a soft plastic coating is given from the base of the handle up to 30-inches.
However, this swing doesn't come pre-assembled, you have to manually assemble the whole thing with the guidance of the easy to read manual.
 Let us sum up          
Ideal for 6 months to 4 years old children.
It helps to build core strength of the child.
High-back swing with a harness like support.
Sturdy 60-inch chain, with 30-inch covered in soft plastic at the base for grip and soft holding.
It doesn't come assembled but has a manual.
3: Little Tikes 2 -in- 1 Snug 'n Secure Grow With Me Swing→

If you are a picky customer when it comes to products manufactured by US companies, this is the right choice for you. This cute swing is ideal for every toddler who is fond of swinging.
Safety and comfort take a wonderful blend in this beautiful little swing. This swing has to be given an "A" on its safety features, and hence it offers parents a stress-free swinging activity.
What makes this swing such a safe place to be is the "T-bar", it is a bar, shaped like the English alphabet T and acts as a harness. Combine this with the baby-friendly shoulder straps, and your child is secure while swinging.
As your baby grows you arrive at a point where he/she is independent enough to swing without the need for a harness like a safety feature, usually it is times like these that you start browsing for a new swing, well not if you have already bought Little Tikes 2-in-1 Snug 'n Secure Grow With Me swing. The harness like "T" is hinged to the swing and can be easily removed and reattached.
This swing is sturdy enough to support a 50lb toddler or less.
Let us sum up
Exclusive US manufacturer.
Ideal for a wide age group.
Very safe and comfortable by design.
A removable harness like apparatus in the shape of a "T", can be rotated, removed and reattached, hence it technically grows with your baby for future use!
4: Step 2 Infant to the toddler swing seat→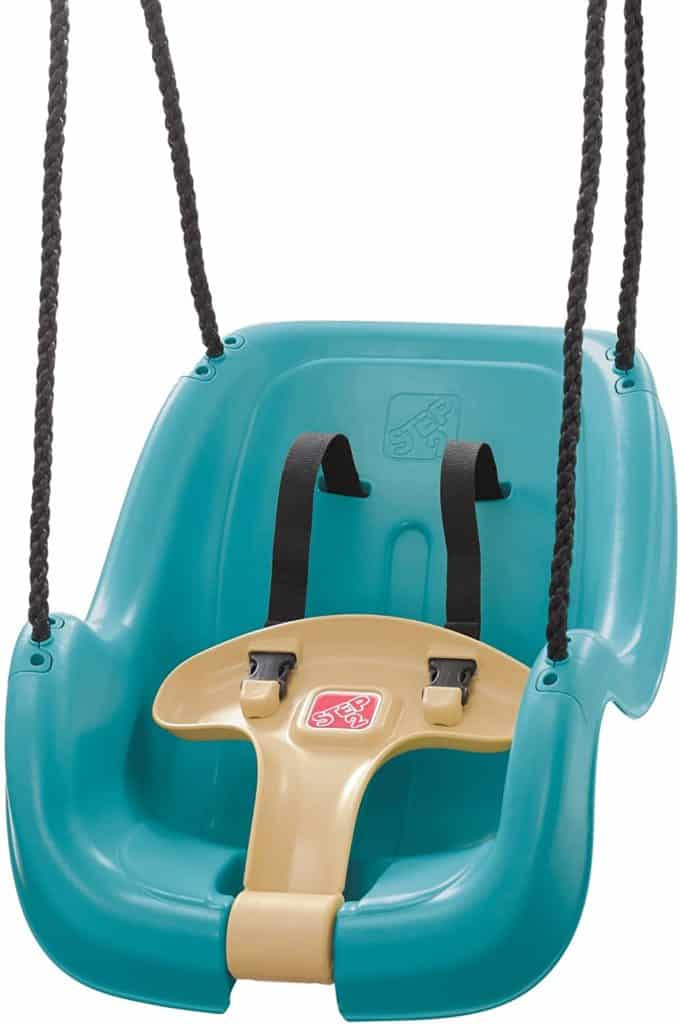 When we lay sight on this swing, we can be sure of the following things,
Comfortable swinging experience for the toddler and parents as they push the swing for their baby.
Enables toddlers to build motor skills from the first day of use.
As a parent, you will be rewarded with a relaxed, happy, and smiling toddler.
As we progress with this swing, we cannot deny the fact that it is one of the ideal swings for your toddler. Not only is this thing affordable but is worth every penny you spent on this item.
You don't need to worry about the quality just because it is an affordable swing, the make is durable and lasts long. There is no compromise in safety aspects.
When we look into the advantages of this swing, we cannot miss the facts that,
Only minimal adult interference is needed for assembling the swing.
You can be 100% stress-free as the safety features are more than adequate.
This swing is extremely climate resistant and lasts for a long time even if you live in some of the harsh climate conditions.
It is lightweight durable and easy to maintain.
5: Sportspower My First Toddler Indoor/Outdoor Swing→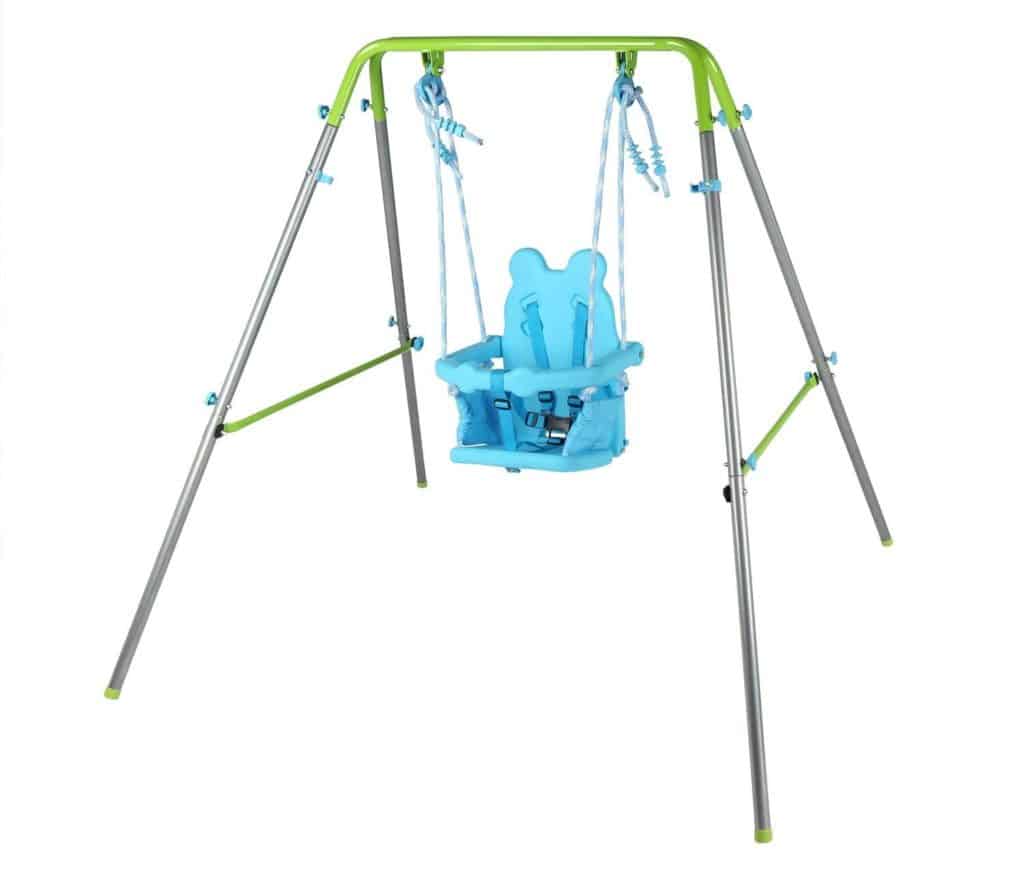 With a legacy spanning over 25 years, Sportspower has dedicated their services to making quality toys and outdoor play products. An awesome feature that makes this company stand apart is the way they price their products. Being able to deliver top quality products at an affordable rate Sportspower is a big name among toy manufacturers.
The company's strongest point is definitely the uniqueness and innovation in their product lineup. Their outdoor swings aren't for mere physical development, they have carefully synced fun and exercise for toddlers in a wonderful package.
The outdoor swing from Sportspower is a multipurpose set as it can be used both in and out of your house. This swing is no slouch when it comes to safety and comfort, the entire swing is made out of heavy-duty powder-coated steel.
A major advantage that parents are going to love is that this swing can be folded into a compact form and being lightweight it is easy to carry around.
Let us sum up→
Reputed company.
Unique, innovative, and affordable swing.
Fun and exercise in one package.
Multipurpose as usable indoors and outdoors.
Made of heavy-duty powder-coated steel.
Safe and Comfortable
Lightweight and foldable is hence very convenient.
6: SAFARI SWINGS High Back Full Bucket Kids Swing Seat→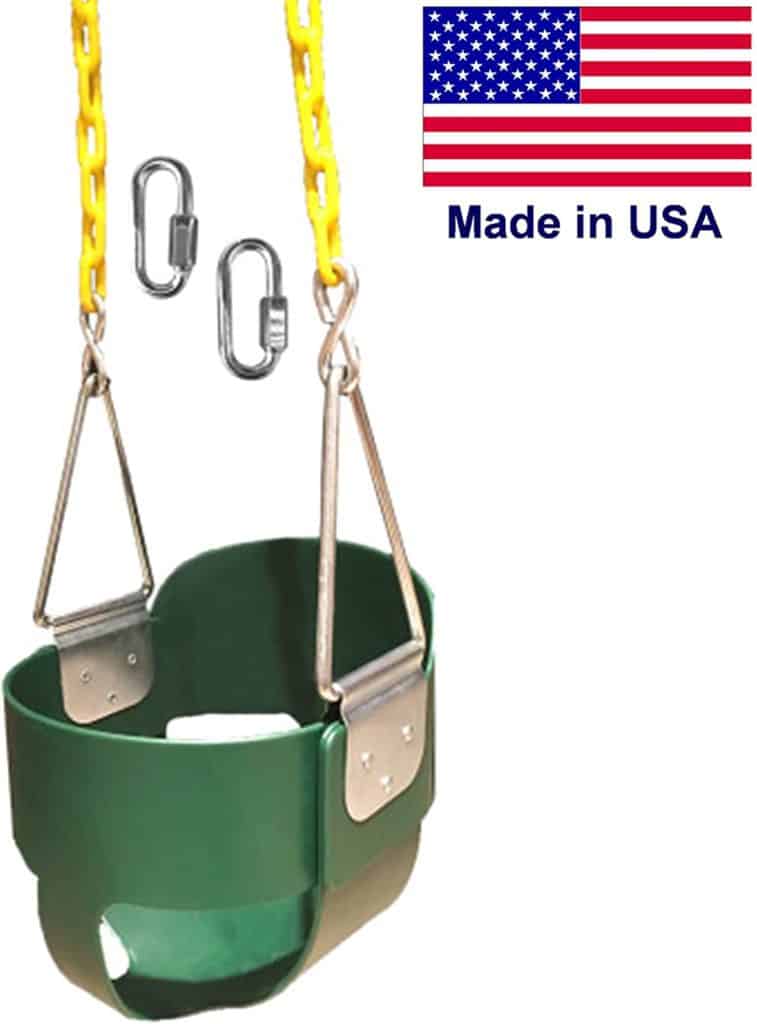 Yet another US manufacturer who offers,
A durable yet lightweight swing.
high-quality durable plastic blended with improved stainless steel hardware.
All materials used are of premium quality.
The stainless-steel inputs make this swing a tough one to crack, with such a long life the product is well worth the money invested. The soft-touch plastic-coated galvanized-steel handles are both tough and comfortable for your precious one!
The design of this swing offers maximum back support and the harness like safety every toddler needs.
All-in-all this is a wonderful product which falls in a very attractive price range!
7: Ecotribe Wooden Horse Toddler Swing Set – Baby Swing Outdoor & Indoor→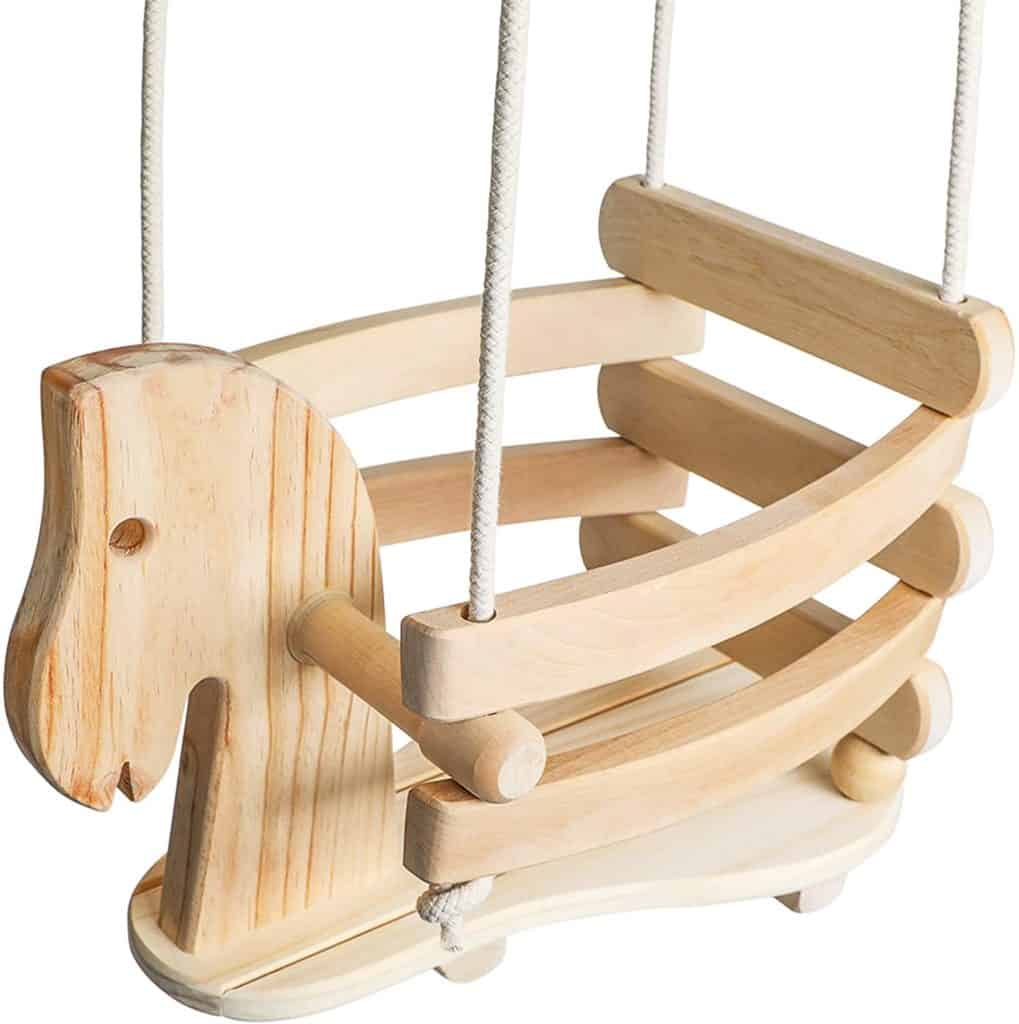 When you have a baby it is obvious that some of you might want to live a mindful life, a perfect blend with your ecosystem. Then your choice of an outdoor swing is none other than, Ecotribe Wooden Horse Toddler Swing Set – Baby Swing Outdoor & Indoor.
The swing is 100% eco-friendly as it is made out of wood. The replacement of plastic which is a danger to our ecosystem and the use of wood which is both eco-friendly and has more premium aesthetics to it makes this swing a bargain for its money.
As a sustainably designed and developed product, this swing becomes ideal for toddlers and adults.
Just because this swing is chemical-free which is a big leap forward in ecosystem protection, doesn't mean that it has gone light on the safety side, this swing is 100% safe for the toddler as the design is approved by the US children product certification.
When it comes to this swing, elegance is poured upon it, a handcrafted horse-shaped swing from birch wood will definitely spread a smile on your toddler's face.
The rope of the swing is made from quality cotton and doesn't compromise on safety, additionally, they are soft on your angel's hands. This swing offers a "pony-riding" like feel for your baby and is an ideal choice as an outdoor as well as indoor swing.
Let us sum up→
Built with eco-friendly materials.
The elegance of wooden furniture.
Chemical-free manufacturing.
Sturdy and approved by US children protection certification.
The feel of a pony-ride.
It can be used indoor and outdoor.
8: TP Quadpod Adjustable 4-in-1 Swing Seat – 6 Months to 8 Years→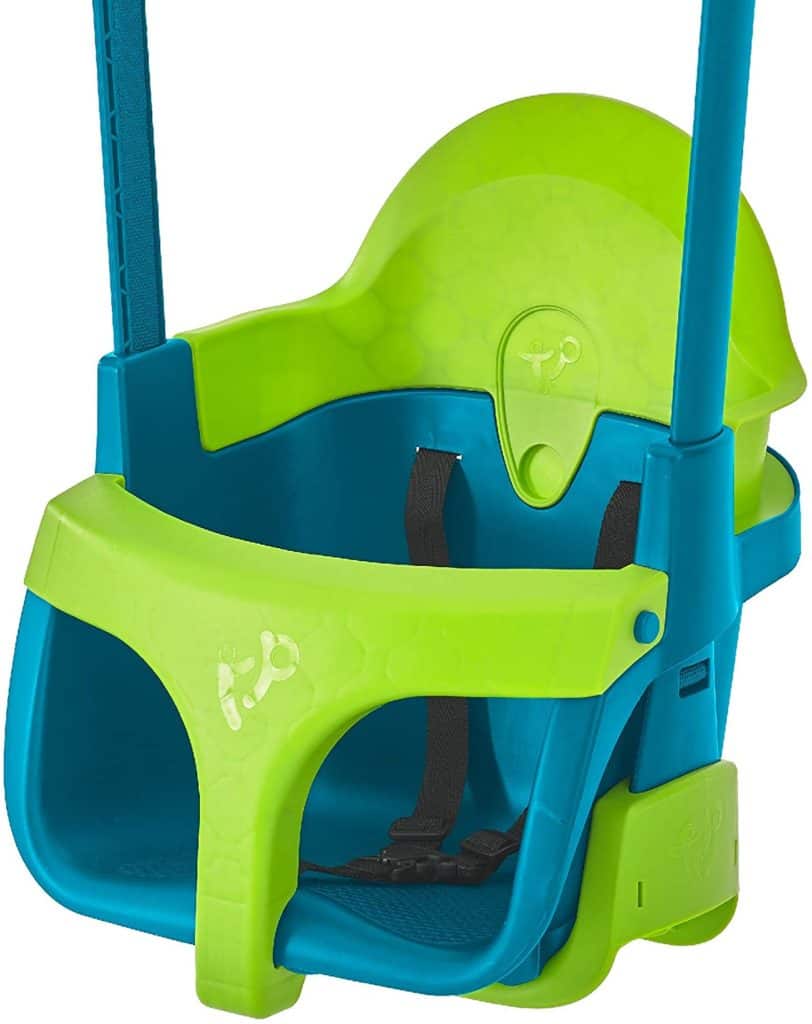 If you are in the market for something that can serve you for an extended period, this is the right swing for you. With a wide age range acceptance of 6 months to 8 years, this swing is adjustable for every age group to suit their needs.
Basically the swing grows with your child. An easily adjustable configuration enables you to quickly change the seat settings to suit your child's age.
The age group and the likely configuration is divided into modes and mode-1 provides excellent neck support and safety is assured with 5 safety harnesses on board.
As your baby grows and the neck and head are steady and strong, it is time for mode-2 where you can remove the headrest. In mode-3 you can remove the T-bar and by mode-4 the final mode you can remove the base seat by sliding it away and you get a comfortable swing seat for your child.
Let us sum up→
A wide age range compatible swing.
Babies from 6 months to children of 8 years can use this swing.
4 different modes.
4 easily adjustable custom configurations.
This swing comes with universal fasteners that fit both low and full-height frames.
9: Take Me Away High Back Full Bucket Toddler Swing Seat→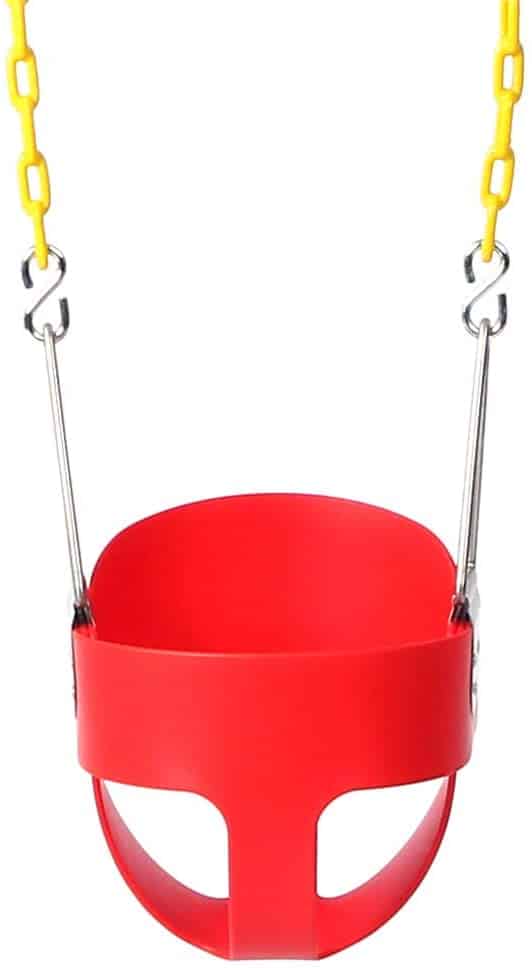 This swing is the ideal choice for every toddler who is in the process of learning to swing and has a relatively lower skill in swinging.
This swing helps children to build the essential strength and balance required to shift to a free swing as they grow up and in the process make them excellent at swinging without any restraints.
The best thing about this swing is undoubtedly its quality and feel. Made out of highly durable materials, safety is always at top priority. The seat of this swing is made out of a premium quality plastic and the parts are zinc plated to extend the swings life.
With a 60-inch adjustable chain, this swing gives parents the freedom to hang it at different heights, also the swing is well equipped to handle weight and harsh weather.
Let us sum up→
Best for toddlers learning to swing.
Builds their core strength and good balance.
Very high quality build.
Zinc plated premium plastic components that can withstand weight and harsh weather.
60-inch adjustable chain for maximum freedom.
10: Secure Canvas Hanging Swing Seat Indoor Outdoor Hammock Toy for Toddler→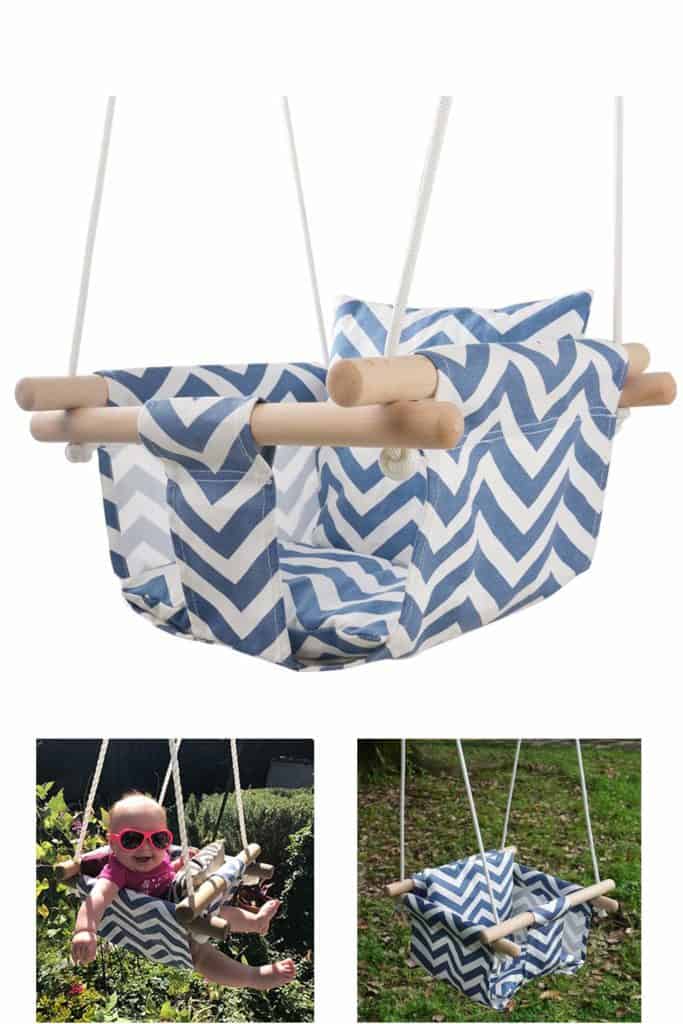 From among these 10 swings, the only hammock type of swing is brought to you by Secure Canvas.
This swing is multipurpose as an outdoor and indoor swing. Couple that with the beautiful design, comfort, and safety offered, you are bound to fall in love with this swing.
Comfort is never compromised as this swing comes with a soft cushion where you can seat your baby, however, that doesn't mean you are compromising on quality as the wood and canvas used in the design are extremely durable.
It can be hanged from the ceiling or even a tree. With this swing, you are gifting your baby with the opening lessons on balance and physical coordination.
Let us sum up→
Hammock type swing.
Multipurpose, outdoor and indoor swing that can be hanged from a tree or a ceiling.
Beautiful design, comfort, and safety features.
Ideal for learning balance and physical coordination.
So that's it, we have given you an awesome choice of 10 different outdoor swings. So what are you waiting for, grab your perfect gift right now!