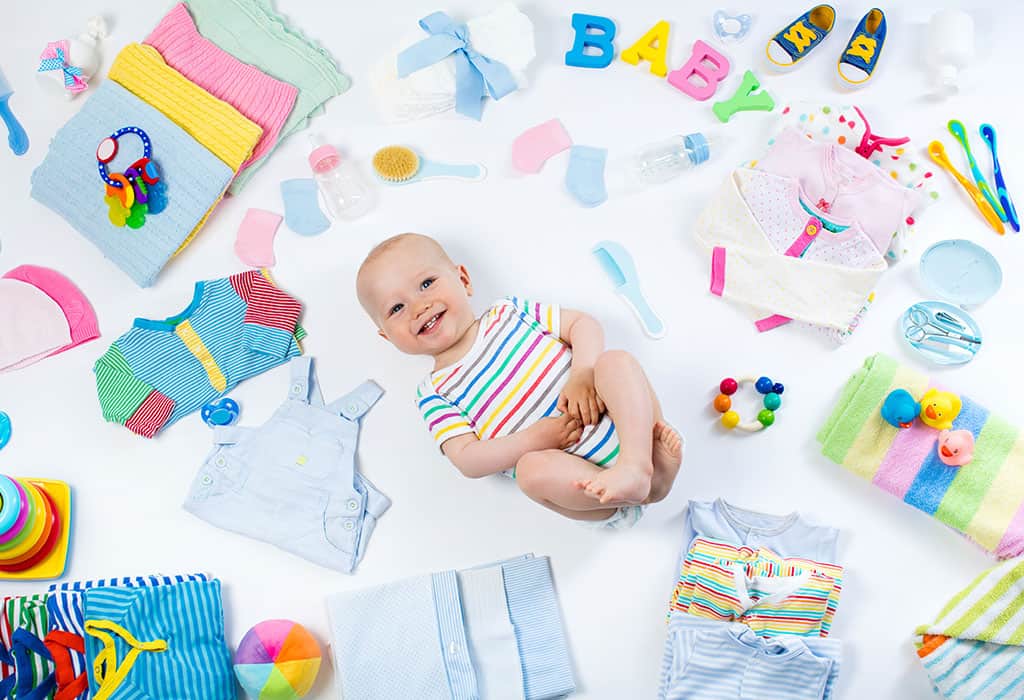 Once parents-to-be get the news that they're expecting, they start thinking about all the best baby essentials they'll need in the forthcoming months. You need to buy some obvious things, such as clothing, a crib, diapers. However, it's very easy to overlook other baby essentials.
Hence why we've created the ultimate first-year shopping list! This list has everything you'll need to buy for your little one. Once you are done with this list, you can put your mind at ease and focus on more important things, such as preparing your baby's room and picking a name! Without further ado, let's take a look at all the best newborn baby essentials!
Which Items Can Be Considered As The Best Baby Essential?
It's hard to know which baby items you need to buy because they are essential and which ones you can ignore for now. Does your newborn baby need clothing from a well-known brand? No! What about a hooded towel or a humidifier or nail clippers? The line between what's necessary and what's just nice to have sometimes seems blurry. Truth be told, some baby essentials aren't exactly essential. For thousands of years, human beings have survived without things like pacifiers or breast pumps, or baby monitors. So, we don't need all of these things to take care of our babies. On the other hand, we are living in the 21st century, not the Stone Age. Life in the 21st century requires a few extra items. Although, if you prefer a minimalist approach or you're looking to save money on baby essentials, here is a list of things you will need to care for your little one:
These are some of the bare necessities of life. Having said that, if you and your partner are looking to make life easier, here are some baby essentials that will make caring for your child a bit easier!
Here Are The Baby Baby Essentials You'll Need
1. Clothing: Baby Baby Essential
For the first year, this is more or less the only clothing item that you'll need. Look for onesies that can snap between the legs because they are easy to put on and take off your baby.
On cold months and crispy days, your baby can wear pants over their onesie and keep their small legs warm.
Make sure your baby's feet are warm and protected whenever you leave your home. Babies don't necessarily need shoes, but socks are required at any age.
Keep your baby's head cozy with a hat or beanie. Buy your baby a hat according to the season.
You don't want your precious little one getting cold so buy them a good coat. You need to protect your baby's skin during the winter because their skins are extremely sensitive. In addition to a coat, it's also good to have some sweaters or light jackets.
Dress your baby in soft pajamas or sleepers to ensure that they are sleeping soundly and comfortably. If they have eczema-prone skin, opt for skin soothing pajamas because they can reduce itching and deliver skin-soothing moisture throughout the night.
Keep a dress-up outfit for an important event, holiday, or family photos.
2. Furniture: Baby Baby Essential
Your baby needs a place to sleep. You can either go for a crib or a bassinet. Bassinets allow your baby to sleep in the same room as you. Bassinets or mini cribs are great for tiny nurseries. However, if you have the room opt for a standard crib. Either way, you'll need somewhere for your little one to rest.
Although a sturdy changing station  might not be considered essential, it will make your life much easier!
Playpen lets your baby have a special place to play.
Swing, Walker, or Baby Bouncer 
Babies love to wander around the house with support from a baby walker, swing gently, or play in a baby bouncer.
Sooner or later, your baby will be on the move and they are curious about everything, so it's time to babyproof your home! Look around your house and figure out what supplies you would need for baby proofing. For instance, you'll need outlet covers , baby gates for the stairs and doorways, and cabinet and drawer latches .'
3. Linens: Baby Baby Essential
Buying a good swaddling cloth is important because babies love the warmth and comfort of being swaddled.
After bath time, you'll need soft towels to dry your little one. You could go for hooded towels, they are cute and keep your baby warm after coming out of the bath.
Your baby's mattress pad needs some soft sheets that fit snugly.
These come in handy because you can avoid staining your clothes.
4. Bedtime Items: Baby Baby Essential
Buy a firm mattress pad that fits your baby's co-sleeper or crib.
If your baby's diaper leaks or if they spit up during the night, this will prevent the mattress pad from getting dirty.
Once your baby begins teething, pacifiers come in handy.
5. Skincare Products: Baby Baby Essential
Babies have really sensitive and dry skin, so try to keep their skin soft and smooth.
Baby oil can be used before bedtime to moisturize your little one's skin and also helps them relax.
You need to keep your baby's skin protected from the sun with some high-quality sunscreen .
6. Changing Supplies: Baby Baby Essential
You could either go for cloth diapers  or disposable diapers,  but both have their advantages. Diapers are essential, no matter which one you choose. You'll need to keep plenty of them on hand and make sure you're changing your baby's diapers the right way!
Every time you change your little one's diaper, you'll need to properly clean their bottom, too. Go for Diaper Wipes that are free of paraben and are specially formulated for a newborn's delicate skin.
Diaper Rash Cream will keep your baby's bottom soft and it also protects them against diaper rash.
It helps to have a diaper pail or a trashcan within reach when you've got a stinky diaper on your hands.
7. Feeding: Baby Baby Essential
Feeding bottles and nipples are baby essentials, for both breastfeeding or formula.
When it's time to clean baby bottles (which is after every use), wash them thoroughly with a cleaning brush or put them in the dishwasher or you can use bottle sterilizers .
If you can't or choose not to breastfeed, make sure to go for good organic baby formula.
Breast pumps make breastfeeding extremely convenient because it allows you to always have a bottle of milk on hand for when your baby gets hungry.
Some essentials to make breastfeeding as comfortable as possible include nursing bras , breast pads, and nipple cream .
When your baby is around six months old, you can start mixing baby food into their diet.
No matter how careful you are, spills are bound to happen! So, put a bib on your little one to avoid an outfit change after eating.
8. Bathtime Supplies: Baby Baby Essential
Bath-time can either be a fun-time or an absolute nightmare. But, having a baby bathtub can help, you can buy one to place in the traditional bathtub or the kitchen/bathroom sink.
Your baby's extra soft and sensitive skin needs a gentle, baby-specific washcloth.
Your newborn's daily washing routine should include gentle cleansing gel and a foam tear-less shampoo.
9. Travel Items: Baby Baby Essential
If you are taking trips to places where you'll be doing a lot of walking, having a good stroller can be helpful.
Car seats  are a newborn baby essential and you need to make sure that you have a car seat installed well before your due date.
Using a baby carrier  can make traveling easy! Your baby will also enjoy being held close to you or your partner.
When you're out and about with your baby, you will need lots of things so use a diaper bag to hold those things.
10. First-Aid Supplies: Baby Baby Essential
You can find a lot of different types of baby thermometers. They come in handy for when you think your little one might be sick.
You need to consult your pediatrician about what baby medicines you should keep on hand. Also, remember to check expiration dates and restock as needed!
Baby nail clippers will help to keep your baby's tiny fingernails in check. However, if you prefer, you can go with nail scissors or a nail file.
11. Nursery Room Essentials: Baby Baby Essential
If your little one isn't sleeping in the same room as you are, you will need a baby monitor. These video monitors are quite affordable and can be an effective way to keep an eye on your little one during the night.
It can be comforting for newborn babies and it can also help you find your way around the nursery in the middle of the night.
When you put your baby to bed before the sun goes down, you can hang blackout curtains to make the nursery dark.
Your little one's room should have plenty of moisture in the air because it helps them breathe and rest easier.
It is essential to have toys (such as rattles, shakers, musical toys, stuffed animals) and books to stimulate your baby's senses.
Although babies are small they produce a lot of laundries! Keep a laundry basket or clothes hamper in their nursery so you can conveniently toss their dirty clothes.
Pick a comfy rocking chair or glider because between storytime, feeding your baby, and late-night rocking, you'll spend a lot of time in it.
It might feel a bit overwhelming but once they are here you'll forget all about it. The joy and fulfillment of giving birth and bonding with your baby make you forget about every trouble you had. If it feels too much, you always start with the basics like the crib, diapers, cleansing wipes, and gentle cleansing gel. Then go from there! After you are done with this baby shopping list, you'll have everything you need for your little one's arrival!
Newborn Baby Essentials FAQs
1) Is buying baby stuff early bad luck?
There are a lot of myths about pregnancy. In some cultures, shopping for baby stuff before getting pregnant is considered bad luck. The truth is that preparing for your baby early will not cause any harm to the child.
2) What is the best time to buy baby stuff?
You can start buying baby stuff between 13 to 20 weeks of pregnancy. It also depends on whether you are finding out your baby's gender and if you are having a baby shower. You can start buying diapers from 20 to 32 weeks into your pregnancy.
3) What baby needs the first 3 months?
Here are baby diapering essentials your baby will need for the first 3 months:
Diaper pail
Diapers
Wipes
Diaper rash cream