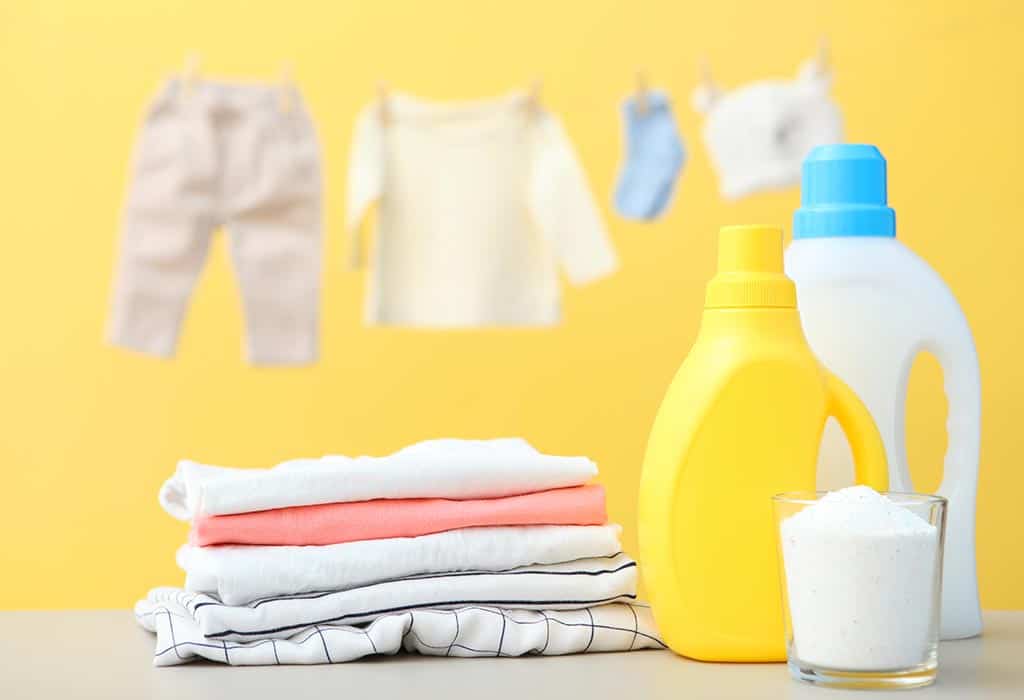 Choosing a baby laundry detergent could perhaps be quite a tricky task for most parents, as choosing the best baby detergents that could keep a check on the baby's sensitive skin, as well as, their clothes to be well sanitized is as crucial as it is to keep the health of the baby in check. Also, their sensitive skin could be prone to cradle cap and eczema, therefore, it is always a safer choice to test the baby detergent and pick the one that is well researched on.
Don't worry. We at Parenthood Bliss understand the hassle you are in right now, so to help our parents we have curated a list that covers the basic needs of the baby via the best cleaning powder. These range from different prices, fragrances, free of dyes and baby stains, liquid detergents, etc in the list of the baby detergents below. So, to help yourself from the wide options available, read on to choose the best laundry detergent baby-safe detergents!
Why Does a Baby Need the Best Baby Detergent?
While it is no big deal to find parents simply using the detergents they have for the baby's clothes too, it is also essential to understand the sensitive skin of the little one. Laundry detergents are seen as the best cleaning powders for the little ones as then the parents wouldn't need to worry about the rashes, itchiness, or other concerns with the baby's skin due to the clothes. This is because, as per research-based in the United States, there are about at least 10 percent of children who end up with eczema, and with a third of the cases that are said to be moderate to severe. So, as said it is better to be safe than to be sorry, and to have a good and safe baby detergent for the little one's safety, and to be free from dyes, fragrances, and other chemicals.
But, How Have We Chosen These Best Baby Detergent Powders?
While going through the various baby laundry detergent options we accumulated them into the list considering the following list of necessities:
The ingredients, fragrance, dyes, additives used in the baby laundry

The price of the laundry detergents, where $ = under $6, $$ = $6–$10, $$$ = $10–$15, and $$$$ = over $15

The doctor's suggestion and recommendation

The baby's safety

The reviews left by the customers
What Is The Best Laundry Detergent For Babies?
Keeping the Top List As Our Guide, We Have Curated a List of the Best Baby Laundry Detergents of 2023!
Best Baby Laundry Detergent For Eczema Or Sensitive Skin:
Tip – You could also add an extra rinse in addition to using the laundry detergents for the baby's clothes to the current cycle to get more baby detergent out of their clothes.
1) Dreft Stage 1 Liquid Baby Wash - Best Baby Laundry Detergents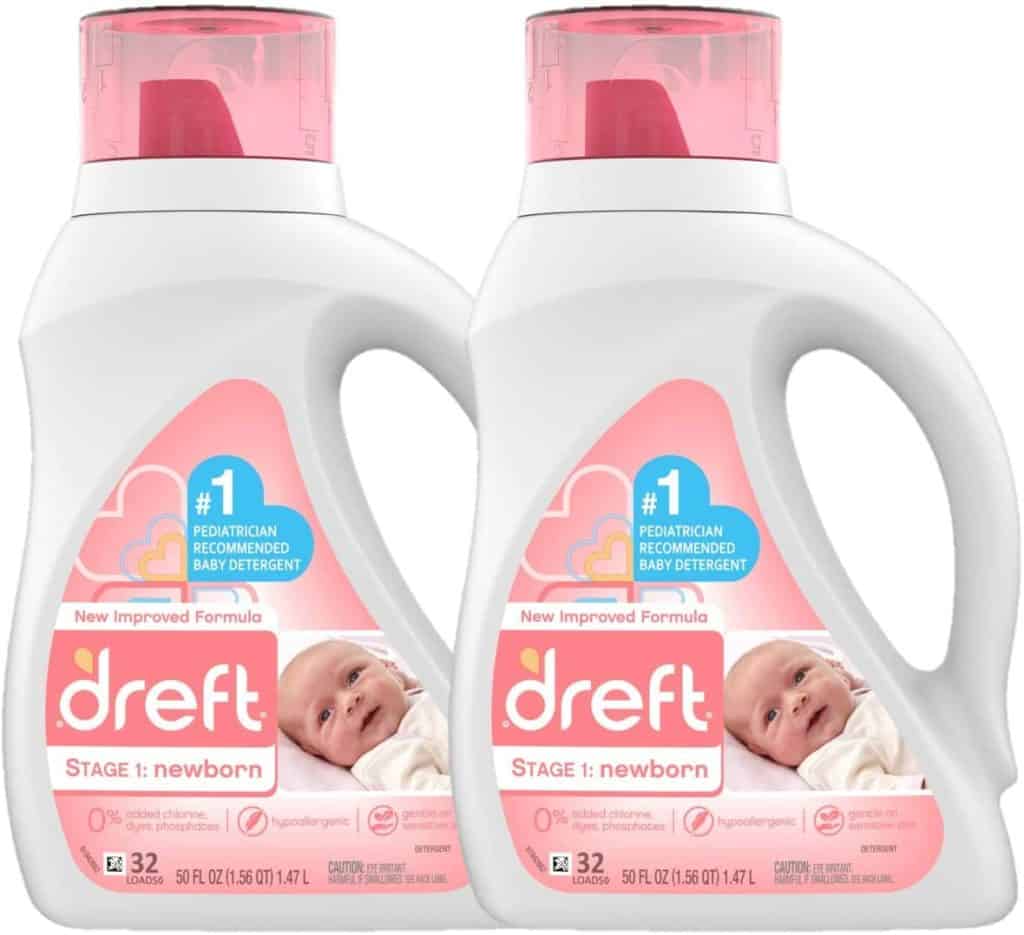 With a price range of $$$, this Dreft stage 1 liquid laundry detergent for babies is also a part of the P&G (Procter and Gamble Company) brand family). It offers to be the best baby detergent that is specially designed for the baby across different stages, that is, from newborn through active baby, and then to the "family-friendly" helping in the prevention of the extra laundry sorting.
Not only that, this liquid laundry detergent is claimed by the pediatricians as the Dreft Stage 1 newborn detergent labeled to be hypoallergenic, a perfect match for the sensitive skin of the baby. However, irrespective of it all, the only downside of this detergent if it has an overwhelming amount of fragrance as mentioned by the parents.
This soap is really nice for sensitive skin, smells great and easy to dispense. Clothes keeps the smell after drying too. My daughter is 3 months and we are still using it. Definitely will be using stage 2. 10/10 definitely would recommend!!! BEST ON THE MARKET
I am a chronic over user of laundry detergent. A more is more type, don't you judge me. This box lasted forever, and soon as I thought it was finally empty, it still wasn't. I ripped the box open and gave the bag a squeeze and still got a few weeks worth of detergent. Also, can we talk about how much more convenient a narrow box is to store than a giant jug. If you lack laundry shelf space, like most of us, this is where it's at!
For more product reviews visit Amazon
2) Rockin' Green Unscented - Best Baby Laundry Detergents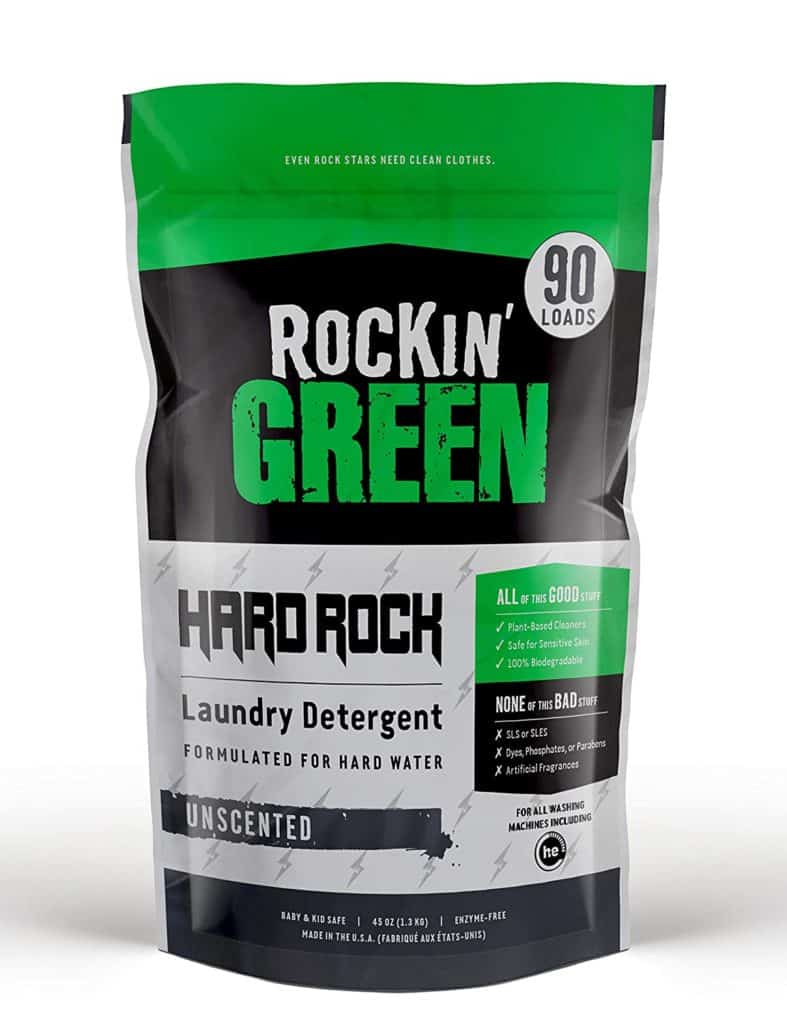 This detergent for babies is expensive with a price range of $$ and is safe as it is free of dyes, fragrances, and chemicals. This makes it an especially good fit for babies with eczema.
Interestingly, the brand also has products that have uniquely named baby products like "dirty diaper," used to remove the funky baby odors from the cloth diapers with a treatment of pre-soaking that includes "ammonia bouncer".
It is best to use this detergent for the baby for washing or even soaking the cloth diapers. However, the downside is that it takes an extra rinse cycle for the detergent to get out of the baby clothes.
I use this for my everyday laundry soap as well as laundry stripper. In the photos, I put two scoops in a bathtub full of hot water and put in my husbands CLEAN workout clothes. He was complaining that they still smelled even after he washed them. I saw this advertised on Instagram and thought I would try and boy was I pleasantly surprised. I use this to deep clean everything now, including towels and pillows. I have recommended it to everyone I know and everyone that has used it has had nothing but good things to say. I bought this in August (it is now March and I still have about half a bag left. We have two adults in the house so it will last longer or shorter depending how many people you have in your home and how often you do laundry.) I use one scoop when I do a load of laundry and they come out completely clean and stain free.
I had an issue with my long and short sleeve T shirts getting a sour pit smell even when they were clean. I got this stuff and put my CLEAN shirts in there to soak for a little over an hour, I squeezed the water out and then washed like normal. The only thing is, as I squeezed my colored shirts I did notice that some color was coming out as well which is why the water was so dark. But overall, today I wore one of the shirts which used to give off a distinct sour smell and now it's gone! The shirts are smell free. Definitely gonna do a clothes detox again.
For more product reviews visit Amazon
Best Baby Laundry Detergent That Is Unscented
Most detergents for a baby would be free clear of any type of smell, these unscented detergents are types are free of added fragrance and perfumes and provide the clothes with a noticeably pleasant scent.
3) Seventh Generation Free Clear - Best Baby Laundry Detergents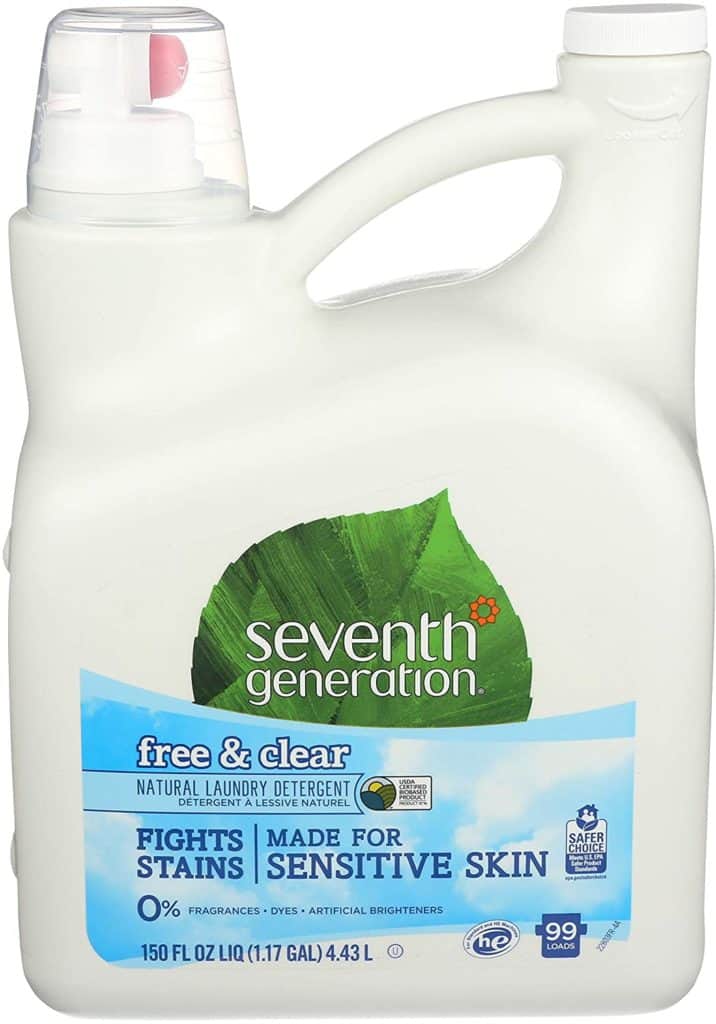 It has a price range of $$ made with 97 % plant-based ingredients. This natural laundry detergent has good reviews attached from parents for it as a good stain-removing property, removing even the grossest and toughest stains of a baby.
Left my clothes looking and feeling clean and soft with no scent! Perfect for my babies clothes too.
For more product reviews visit Amazon
4) Arm and Hammer Sensitive Skin Free Clear - Best Baby Laundry Detergents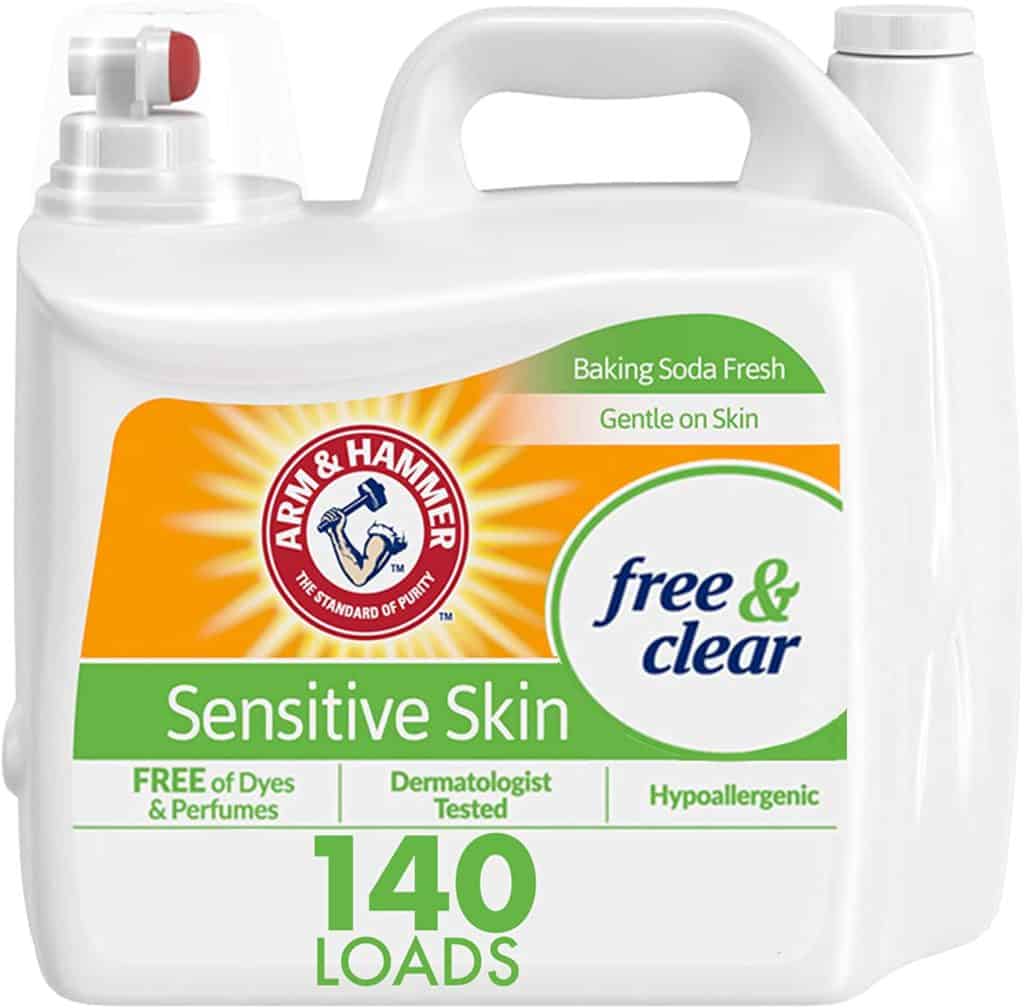 This free and clear baby detergent has a price range of $ and is best known to remove stains, deodorize the diaper pail, and keep the little one smell fresh. It has a natural odor eliminator with baking soda as its key ingredient and is labeled hypoallergenic for the sensitive skin of the baby.
Adequate cleaner with no adverse reactions.
I bought these because I have eczema.

* It doesn't have a scent that I can detect at all.
* It makes everything super soft and cozy.
*I haven't noticed my skin being any worse.
*The container is nice and big.

I use this on bedding and large loads just because I like those things to be absolutely clean and as soft as possible. I will definitely buy this again. This pairs up beautifully with ALL dryer sheets.
For more product reviews visit Amazon
Best Baby Laundry Detergent That Is Hypoallergenic
You might come across most baby laundry detergents that have a label of being hypoallergenic in nature, however, it is not necessary for it to be so. Therefore, it is best to read the whole list of ingredients instead of the label.
5) All Free Clear Liquid - Best Baby Laundry Detergents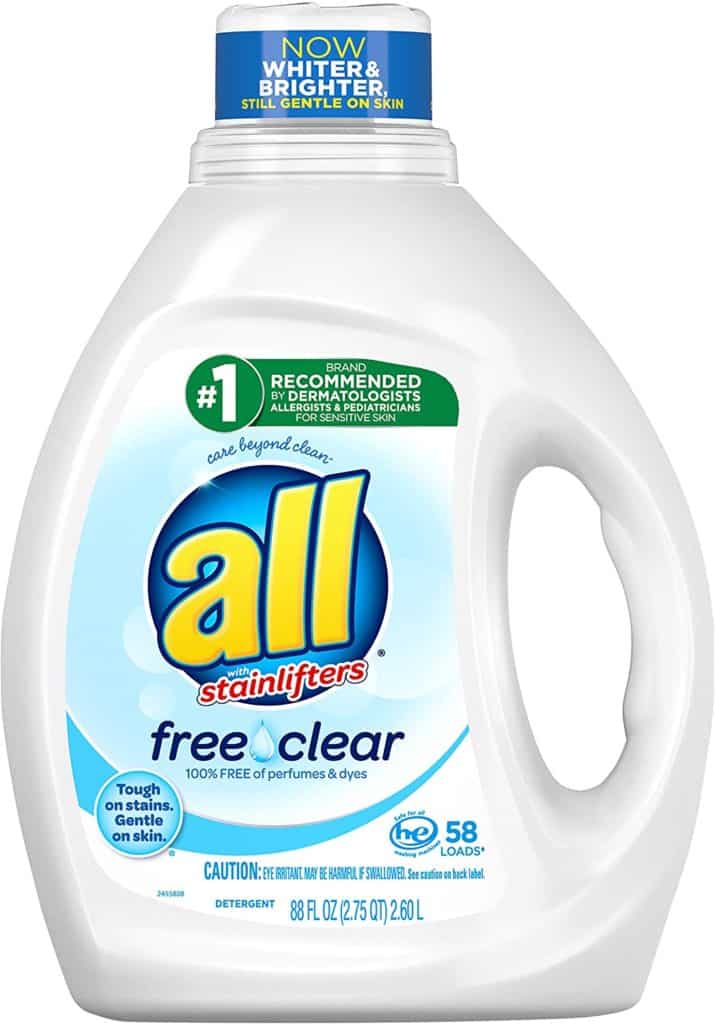 This laundry detergent is priced $$ and is baby safe as it removes 99 percent of the common allergens on clothes. Along with its cleaning power, it is a good option for babies with sensitive skin preventing them from rashes.
Pro tip – Always check the ingredient list out to be away from any ingredient that could be a cause of the irritant in the babies.
it works and I love it but I have to buy this from Sams as it is always out of stock on amazon, I had this on auto-order but it would never ship….
For sensitive skin only! I love that this don't drown out my scense of smell, but gets my clothes clean! Always use the proper amount of detergent and all will be well!
For more product reviews visit Amazon
6) Tide Free and Gentle Liquid - Best Baby Laundry Detergents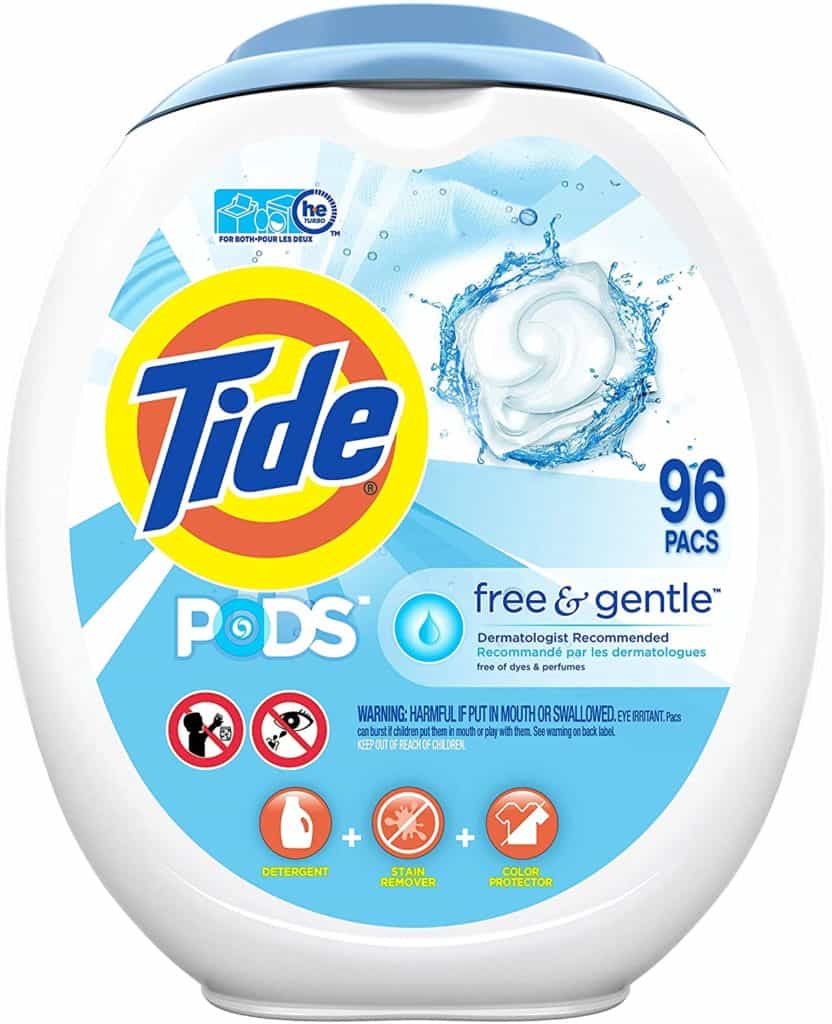 This liquid detergent has a price range of $$$ that is hypoallergenic, free of dye, and fragrance. It is also recognized by the National Psoriasis Foundation as a baby-safe detergent for their sensitive skin.
According to the reviews, the liquid detergent is free and gentle and works great for everyone.
What's not to like? Works as expected without the added perfume and dye.
The tide pods have a incredible scent and leaves clothes looking clean
For more product reviews visit Amazon
Best Baby Laundry Detergent That Is Budget-Friendly
First things first, choosing or looking for a detergent that is cheap doesn't indicate bad parenting. It is understandable that having a baby to take care of is not a cheaper cup of tea and also they require a lot of washing, therefore, budget-sensitive options definitely do the trick.
7) Purex Baby Liquid - Best Baby Laundry Detergents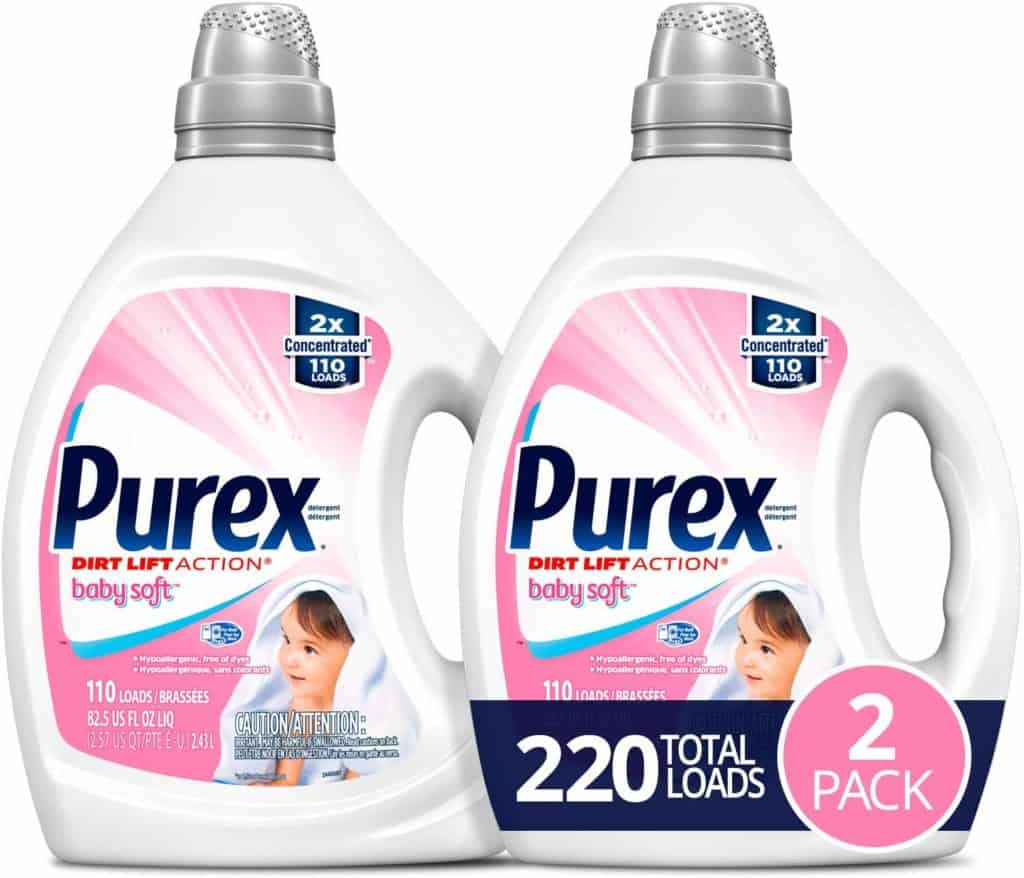 This liquid laundry detergent is a cheaper option with a price range of $, that is only $ .07 per load with being hypoallergenic and dye-free. Not only that it also works wonders with babies that are sensitive to fragrance due to its fine as a sensitive formula.
My daughter is so sensitive and this works great.. she has eczema and sensitive skin.. This works just as good as baby dreft. They both have a similar scent and works the same.. This one is just more affordable for me.
This detergent is by far the best baby detergent ever made!! Perfect detergent for anyone with Sensitive Skin. Works great on stains and the scent is absolutely AMAZING!! The price however used to be affordable but over the last couple years it's gotten to be ridiculous! I'm not sure why it's become so expensive.
For more product reviews visit Amazon
8) Up&Up Free and Clear Laundry - Best Baby Laundry Detergents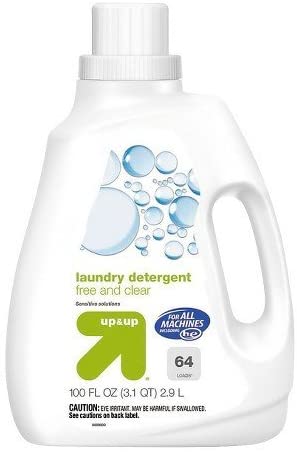 This baby laundry detergent is cheap with happy customers that enjoy more than just the price tag.  It is fragrance-free with being free of dyes too.
However, there were reviewers that were skeptical about the cleaning of the powder, but on an overall basis, this unscented detergent is fairly good compared to the other laundry detergents for the baby clothes with fairly good baby product reviews.
All-Natural Laundry Detergents
If you are parents that are fond of being earth lovers and are extremely concerned about it, even the best baby laundry detergent wouldn't fulfill the expectations. Therefore, choosing a plant-based formula that is natural would be the best pick for the little one by the environment-mama. These options below are laundry detergents for babies that take extra steps for the environment.
9) Puracy Natural - Best Baby Laundry Detergents

This detergent is a little expensive with a price range of $$$ but offers eco-friendliness, a plant-based detergent that is also relatively gentle on the wallet.
It is made from organic ingredients that work wonders not just for the baby's skin but also for the environment, with a rating of 'A' from the Environmental Working Group (EWG).
However, via the content measurement audience insights, the detergent has a good cleaning power despite its small size.
I absolutely LOVE this laundry soap! It leaves the clothes so soft and is unscented… It's the best laundry soap I've ever tried! And I will definitely order it again!!
I couldn't believe how well this product works. First I tried their laundry stain remover and it got out a stain that I had worked on several times and even had it steam cleaned. finally I came across this product and it got out this set in stain miraculously. So next I tried the laundry detergent and it is awesome as well. I'm going to try their whole product line since I have sensitive skin. Love it!
For more product reviews visit Amazon
10) Thieves Laundry Soap - Best Baby Laundry Detergents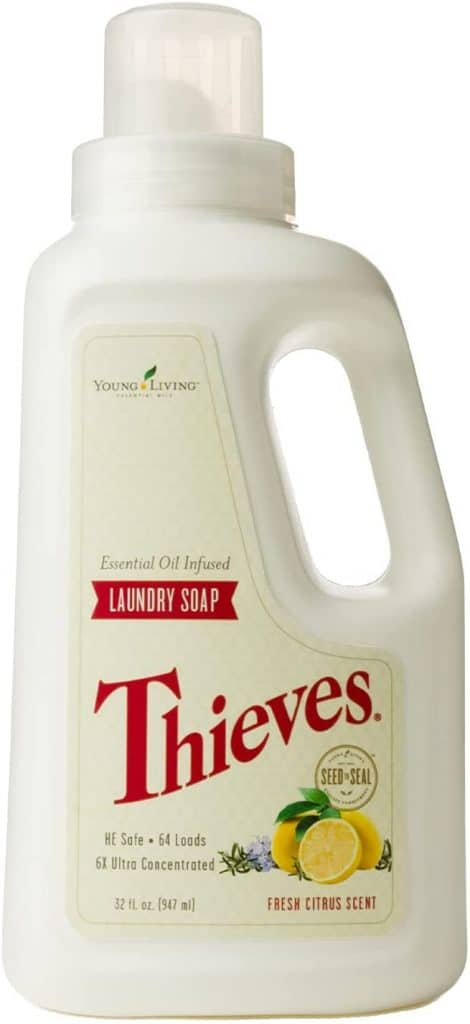 This baby laundry detergent is expensive with a price range of $$$$ and is known for its essential oils with a citrusy scent also keeping the baby's clothes and baby(s) skin free, clear, and safe. It is plant-based and free from dyes, formaldehyde, phosphates, petrochemicals, synthetic perfume, and optical brighteners.
This natural laundry is safe to use in a washing machine too!
A really nice product that also keeps our washing machine smelling great.
I was skeptical given the size and price but wow! My clothes are so clean, this is my new favorite product!
For more product reviews visit Amazon
11) Mamaearth's Liquid Plant-Based Detergent - Best Baby Laundry Detergents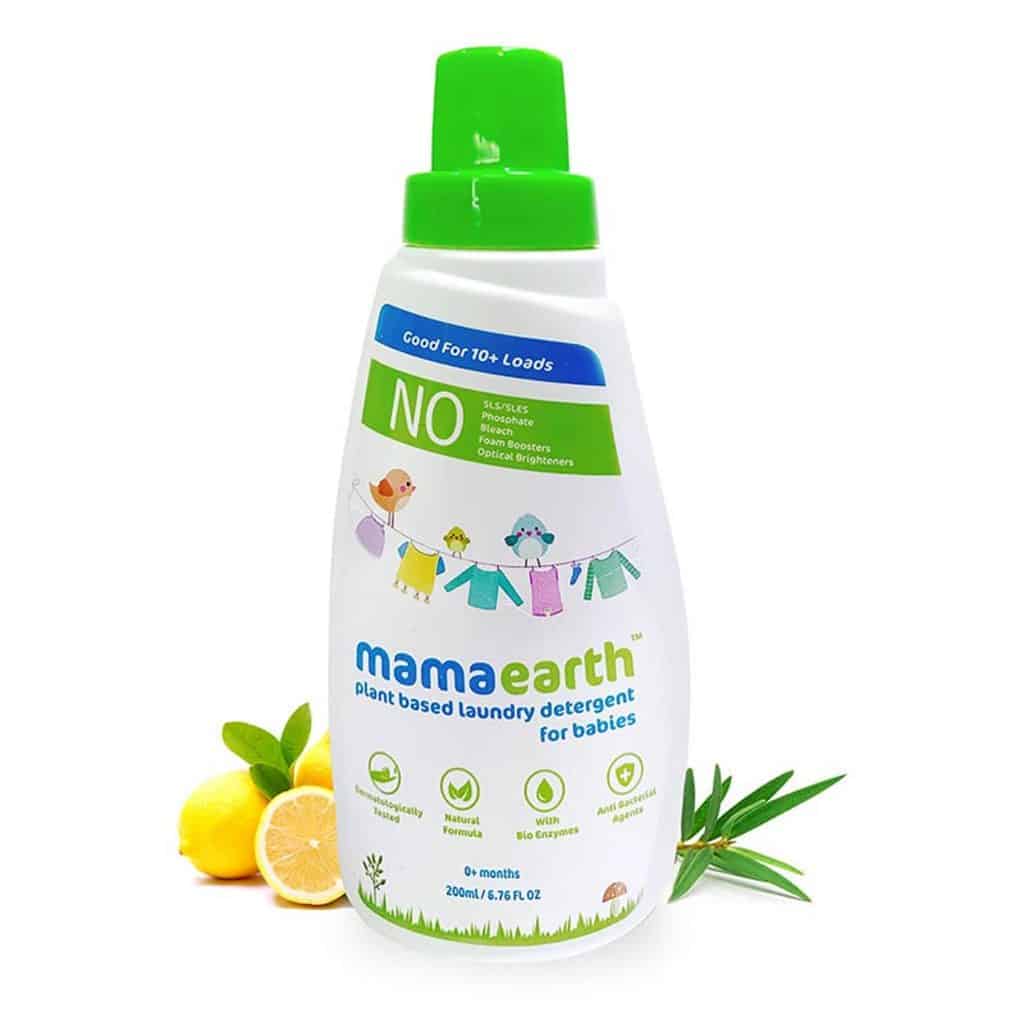 This baby liquid detergent helps maintain cotton, fiber, linen, and synthetic materials baby clothes soft and clean. Dermatologically tested, Mamaearth's liquid detergent is free from harmful chemicals, is plant-based, includes neem extract (antibacterial) and citrus extract (natural agent for bleach), both gentle on the baby's skin. The oil and dirt are broken down through the bio-enzymes and plant surfactants, removing stubborn stains, and is ideal for both; machine and hand wash.
12) LuvLap Baby Laundry Detergent - Best Baby Laundry Detergents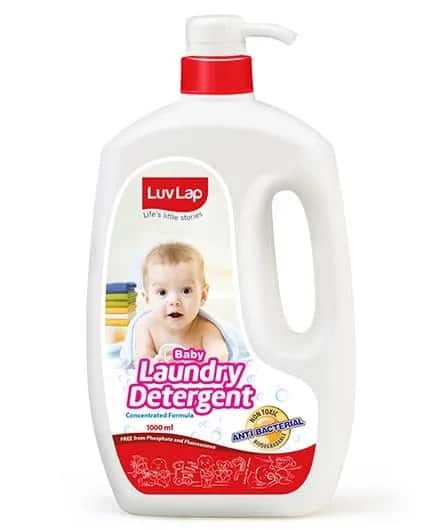 LuvLap baby detergent is quite effective when it comes to removing dirt deposits, tough stains, and food residues. It comes with a cleanser that has an 'Advance Cationic Softening' factor that helps keep the tiny clothes soft, fresh, and clean. It has antibacterial properties, and no phosphates, artificial color, and fluorescence. Adding to this, it is pH-balanced, is environmentally friendly, and mild on the skin of the baby.
13) Mee Mee Mild Infant Laundry Detergent - Best Baby Laundry Detergents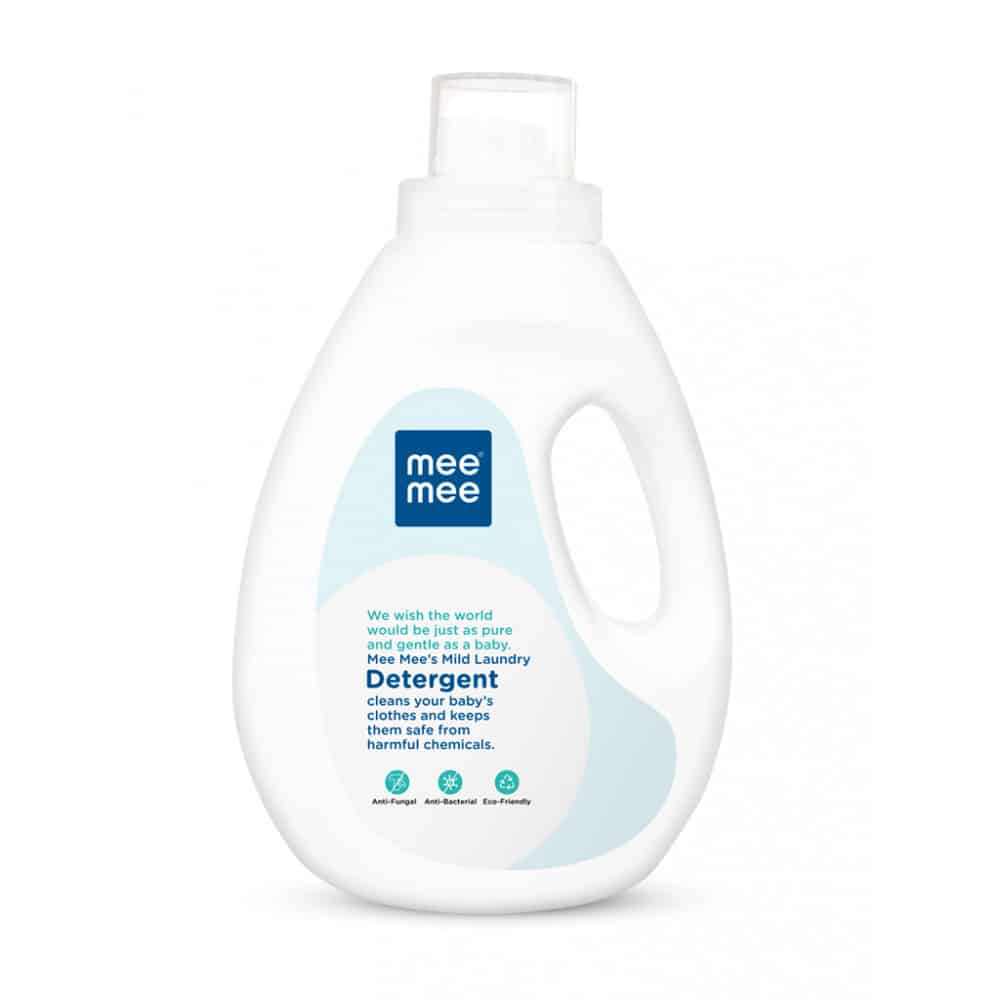 Mee Mee mild baby detergent comes with antibacterial properties and advanced triple enzyme formula that can easily remove the tough stains on the baby's clothes. It eliminates dirt, food particles, is environmentally friendly, and comes with a whitening effect that keeps the clothes clean and fresh. It has no artificial colorants, chemicals, and is absolutely safe on soft fabrics and the delicate skin of the baby
14) Himalaya Gentle Laundry Wash - Best Baby Laundry Detergents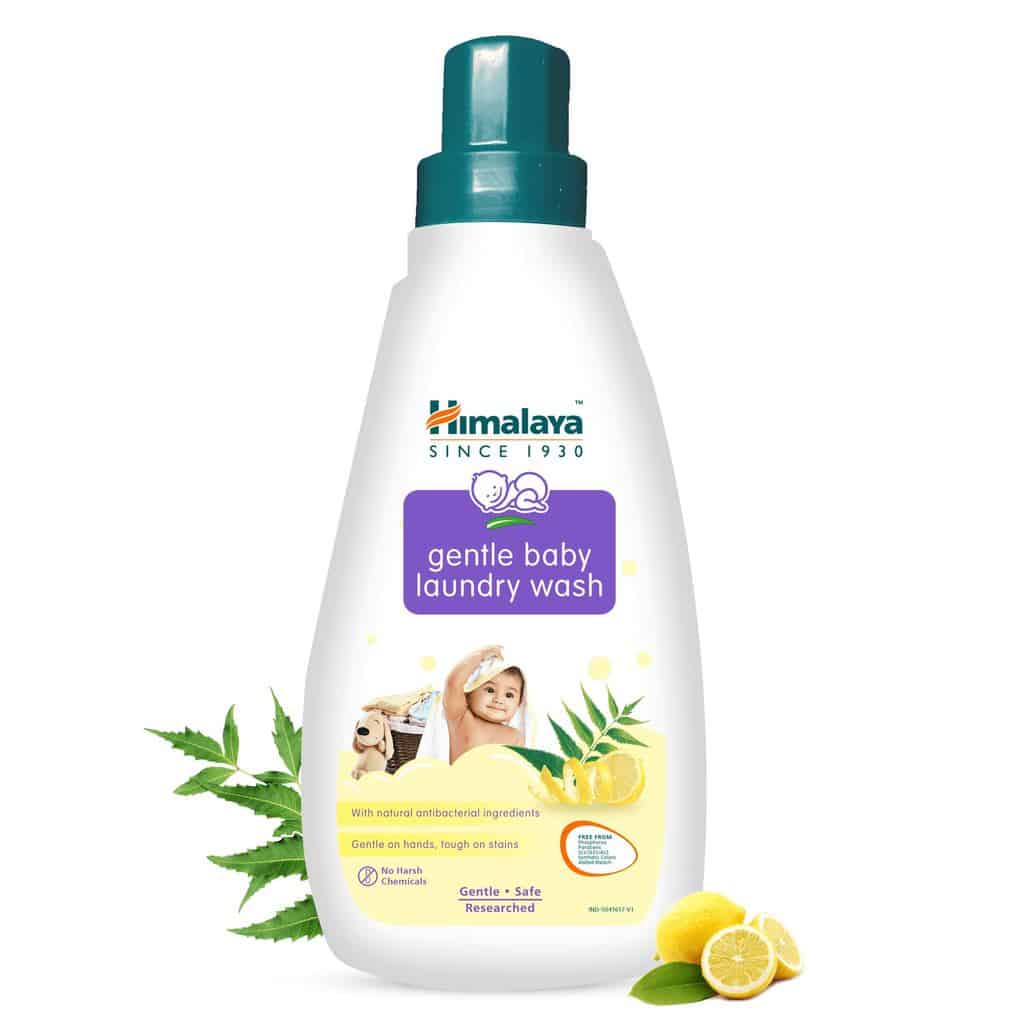 Himalaya gentle baby wash features to be environmentally friendly, contains a biodegradable and natural plant-based formula, herbal ingredients, all smooth on the skin of the baby but tough on the clothes. This laundry baby wash is rich in soapnut extract, is excellent stain removal, has antibacterial properties, can eliminate bad odor from soft garments, and leaves no residue behind. Adding on, it has no silicones, bleach, harmful chemicals, and synthetic colors added to its formula.
15) Tiffy & Toffee Baby Laundry Wash - Best Baby Laundry Detergents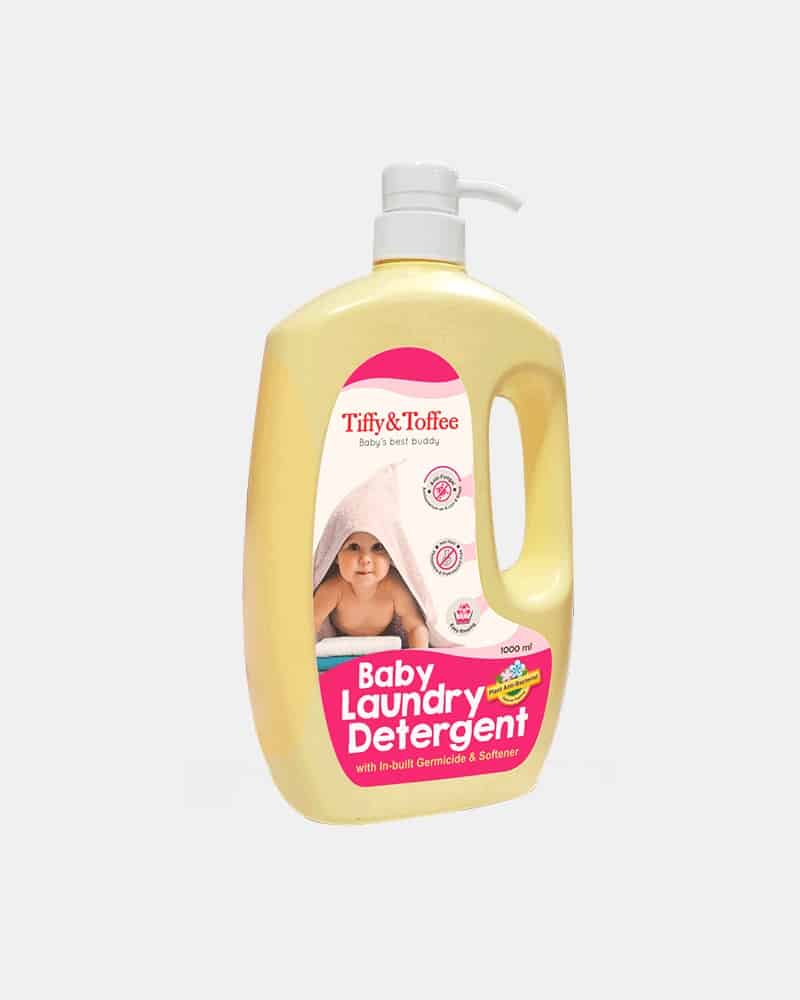 Last on the list, but definitely not the least, Tiffy & Toffee is a mild baby laundry detergent that is formulated for delicate baby clothes. It features a non-toxic formula, is plant-based, comes with antifungal and antibacterial properties, and kills germs that form due to sweat or residual foods on the garments. It has no phosphates and fluorescence, forms less foam, is super easy to rinse, and leaves no residue behind, offering a pleasant aroma.
Here folks! These were the top 15 picks of cleaning powders for the little one. However, are you also looking for and are in a need of the best baby shampoo and baby body wash of 2022? Don't worry! Click and explore the list curated by Parenthood Bliss.
In order to get the best baby laundry detergents that suits the baby's clothes to be washed safely, preventing any skin irritation, choose one that is safe, free of dye, scent, and chemicals too! Also, make sure to run a wash for newly purchased clothes in order to remove irritating substances keeping it baby safe. We hope the baby detergents mentioned above to be your safe pick and serve the needs of the family's budget, as well as the lifestyle. Have a safe and sensitive wash!
FAQs: Best Baby Laundry Detergents
1) Do babies really need special baby detergent powders?
A special detergent is the need of the hour when your baby is prone to skin sensitivities or allergies caused by the scent. However, even to be on the safer side it is recommended to use baby detergents that are safe, natural, plant-based, free of chemicals, etc.
2) Is it ok to use a normal detergent for baby clothes?
Of course! It is ok to use regular detergents in order to wash the baby's clothes. However, look for a liquid detergent as they are good to help rinse the clothes more thoroughly, especially in situations of 'hard water.'
3) Is it recommended to wash baby clothes separately?
Partially yes! It is always a good option to wash the baby clothes separately as they are to be washed delicately and with natural baby detergents. Also as they have fewer residues causing less skin irritation. Always sun them post washing. In case of visible dirt try to soak them in detergent separately.