Welcome to the Parenthoodbliss blog. We do the research to find the best baby foods made for you to easily choose from the top baby food brands.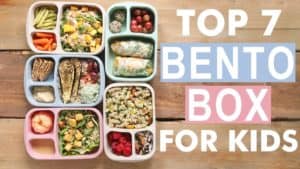 Table of Contents The best bento box for kids, you might already know, is the kind of a lunch box with dedicated compartments for various
How To Choose The Best Baby Foods?
Here are a few checks and tips that every parent must make before picking the best baby food for their munchkin:
Start with a portion of simple, one-ingredient baby food, that is if choosing the commercially prepared baby food

Make sure to check the commercial baby food labeled stage, that is 1, 2, or 3, based on the texture and number of ingredients

Pick the right staged baby food as per the weight and age of your little one. For example, stage 1 baby food is known to be of the smoothest texture and is prepared using one ingredient, like puréed pears. These are best suited for kids of around 4- to 6-month-old.

Always make sure to not overwhelm your baby with multiple tastes and start with one food at a time. This will help you monitor the adverse reactions or food allergies if caused. It is recommended by the American Academy of Allergy, Asthma & Immunology (AAAAI) to monitor the food for 3-5 days to know if it fits best.

If parents feel comfortable introducing different baby foods, you can choose infant cereal, meat purées like chicken or turkey, or the single-ingredient purées of fruits or veggies.
FAQs
1. What is good baby food to start with?
Here are a few good baby foods that parents can start with: Baby cereal like oatmeal, rice, barley
Sweet potato
Banana
Avocado
Apples
Pears
Green beans
Butternut squash
2. What are the stages of baby food?
Stage 1 - This stage is best for babies that are 4 to 6 months old. The baby foods at this stage are watery puree of a single ingredient
Stage 2 - For babies of 6 to 9 months of age, the foods for them are those with a thicker texture, strained or mashed
Stage 3 - Stage 3 baby foods are for babies from the age of 10 to 12 months. Parents can feed them mush foods that have soft, chewable, small chunks
Stage 4 - At stage 4, make sure your baby is 12+ months old. You can now feed your baby finger foods that are soft and chewable.
3. Are carrots a good first baby food?
Absolutely! With their sweet taste and smooth consistency, pureed carrots are known to be the most well-accepted first baby foods, that is, for babies between 4–6 months of age. Carrots are high in beta-carotene that turns into vitamin A in the body and also is quite healthy for the eyes.
4. What vegetables should the baby eat first?
When starting with solids, make sure that the babies are around 6 months+ Here are the top 6 best vegetables that babies can eat:
Carrots
Spinach
Pumpkin
Avocados
Sweet potatoes
Peas
5. Which fruit is best for a baby?
Bananas
Avocados are rich in nutrition such as vitamin C, vitamin K, and folate
Apples
Mangoes
Cantaloupes
6. How to start a baby on solids?
You can try to mix cereals with mashed cooked grains and breast milk, formula, or even water to help make it smooth and easy to swallow for the baby. Make sure that you mash or puree the vegetables/fruits well to avoid any choking hazard.
7. Are potatoes good for babies?
Yes, potatoes are good for the baby. They are known to be the energy powerhouse for growing kids, with essential nutrients such as folate, iron, vitamin B6, and zinc.