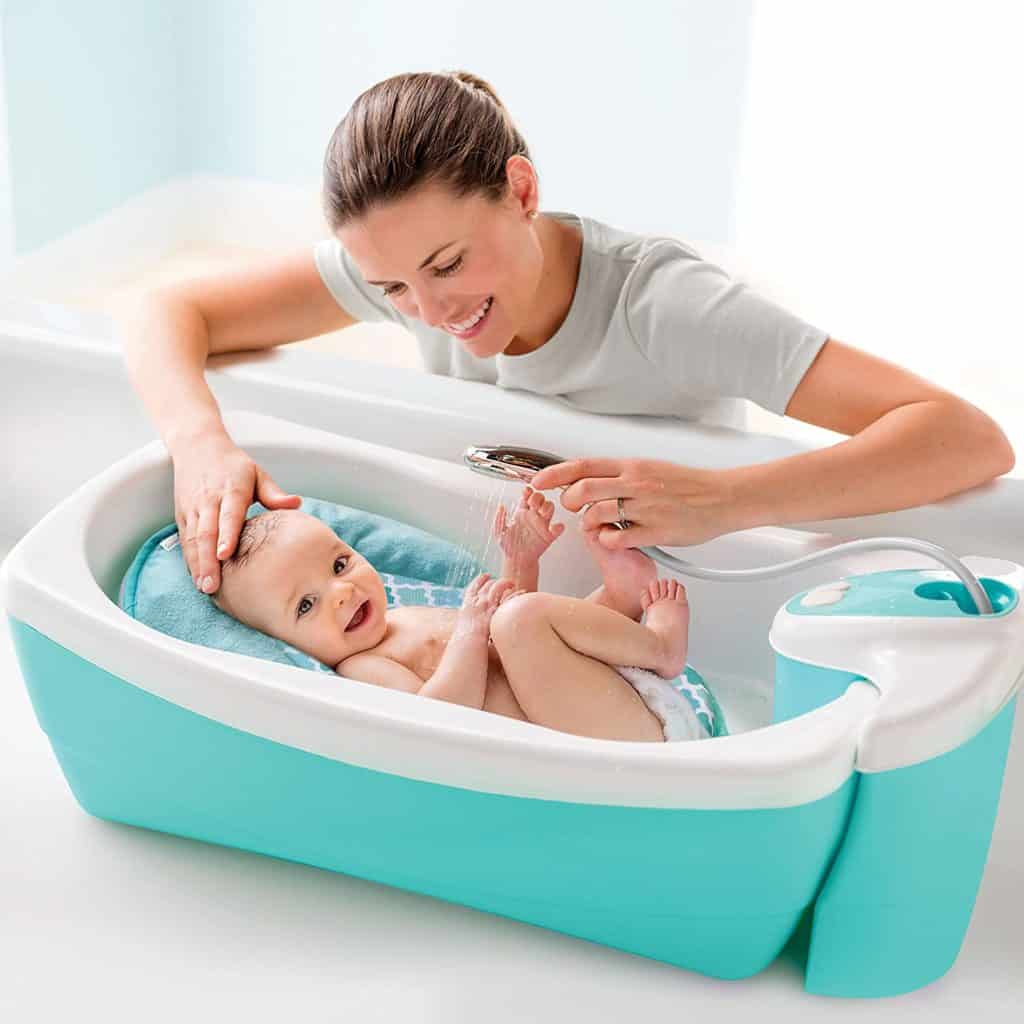 Bathing in the best baby bathtubs your baby can be a fun exercise or a total nightmare depending on your baby's likeness towards getting bathed. Whether or not they like it, the bath is an integral daily routine and shouldn't be missed or postponed as it can lead to serious problems.
The problem arises when your baby develops a hatred for bathing. Here we have collected for you the 10 best baby bathtubs that can make your life easier while bathing your baby.
Like we said earlier bath is very essential for your baby's skin maintenance, and a regular bath routine can help to maintain even skin tone and keep your baby hydrated during hot seasons.
Moving on to the safety side of the whole process of bathing; we have to understand that a baby in a bathtub can be very unpredictable. Sudden movements due to the feel of water on their body can cause slippage and can lead to injury. So parents must choose wisely when shopping for baby bathtubs.
Some parents prefer to bathe their babies without a bathtub, this is not recommended as the above-said risk factors triple in the absence of a baby bathtub.
Baby bathtubs not only add safety, but they also help in calming your baby while taking a bath and make life easier for you. The best baby bathtub should be number one on your bucket list.
Here are some of the best bath toys for your little one!
What to Consider When Buying The Best Baby Bath Tub?
Here are a few things to keep in mind when considering a baby bathtub:
1. Safety
Make sure that the baby bathtub has an anti-slip surface with support to avoid any slips. Also, try to not leave your baby unattended in the bath, since even if it's just an inch of water, there could be a risk of drowning, therefore, be with them at all times!
2. Comfort
Having the best baby bathtub makes the lives of the parents a little easier in terms of comfort and safety. These tubs are designed to easily fit in the kitchen sink, which allows the parents to bathe the baby while standing, rather than sitting uncomfortably on the bathroom floor tubside.
3. Convenience
If you bathe the little one without a baby bath seat or tub, you can expect to spend more time cleaning and prepping the space for the bath, and not bathing the little one. Bathtubs help eliminate the extra effort.
4 Types of Baby Bath Tubs
An important factor that needs your attention while choosing a baby bathtub is that they belong to several different categories based on their design and application. We will make a brief overview of the different types of bathtubs we have shortlisted for you in this article.
The best baby bathtub will provide optimum comfort for your baby and even more convenience for you. So let's dive right in.
Type 1: Convertible Bathtubs
You may already be aware of the two bathtub designs,
Bucket-style bathtub

Traditional standard-styled bathtubs
A convertible bathtub is simply a combination of both and can be used either as a bucket-style bathtub or a traditional standard-styled bathtub. Besides keeping your baby calm while his/her bath you can give your baby a new bathing experience.
Type 2: Inflatable Bathtubs
Inflatable bathtubs play their trump card when it comes to the ease of storage and transportation. As the name suggests an inflatable bathtub can obviously be deflated and stored away.
Additionally, this type of bathtub offers great comfort and convenience. The comfort provided by this bathtub is courtesy of the cushioning caused by the air inside the bathtub.
Type 3: Bucket-styled Bathtubs
Made of high-quality plastic in a shape resembling a bucket this bathtub tends to catch the attention of parents who like to provide their baby with a proper posture while bathing. This is a very common category of bathtub available in the market. A wide range of colors, designs, and models are available to choose from.
Type:4 Cushion-type Bathtubs
A comfortable bath will ensure that your baby is kept safe. A comfortable bath will give you a much less cranky toddler after a bath as well. These cushion-type bathtubs offer just that level of comfort and convenience.
Cushioning is required at specific positions on a baby's body, at places like the neck bottom, and at the toes, cushion type bathtubs offer just this sort of comfort and convenience. Also, these bathtubs reduce the chances of your baby hurting himself/herself.
This type of bathtub is very comfortable, safe, and durable at the same time. So we have given an overview of the types of bathtubs that are most popular and discussed here mostly. You may find more types of bathtubs in the market but these are the most commonly purchased and used by parents all over the world.
Also, have you heard of a milk bath baby? Tap here to find out!
What to Look for in a Baby Bath Tub?
Must have nonskid surfaces on the bottom, inside, and outside

Round smooth edges 

Can support the head and shoulders of the baby

Is not too congested

Is portable

Easy to clean

Avoid inflatable ones
So we have given an overview of the types of bathtubs that are most popular and discussed here mostly. You may find more types of bathtubs in the market but these are the most commonly purchased and used by parents all over the world.
1. Summer Infant My Bath Seat: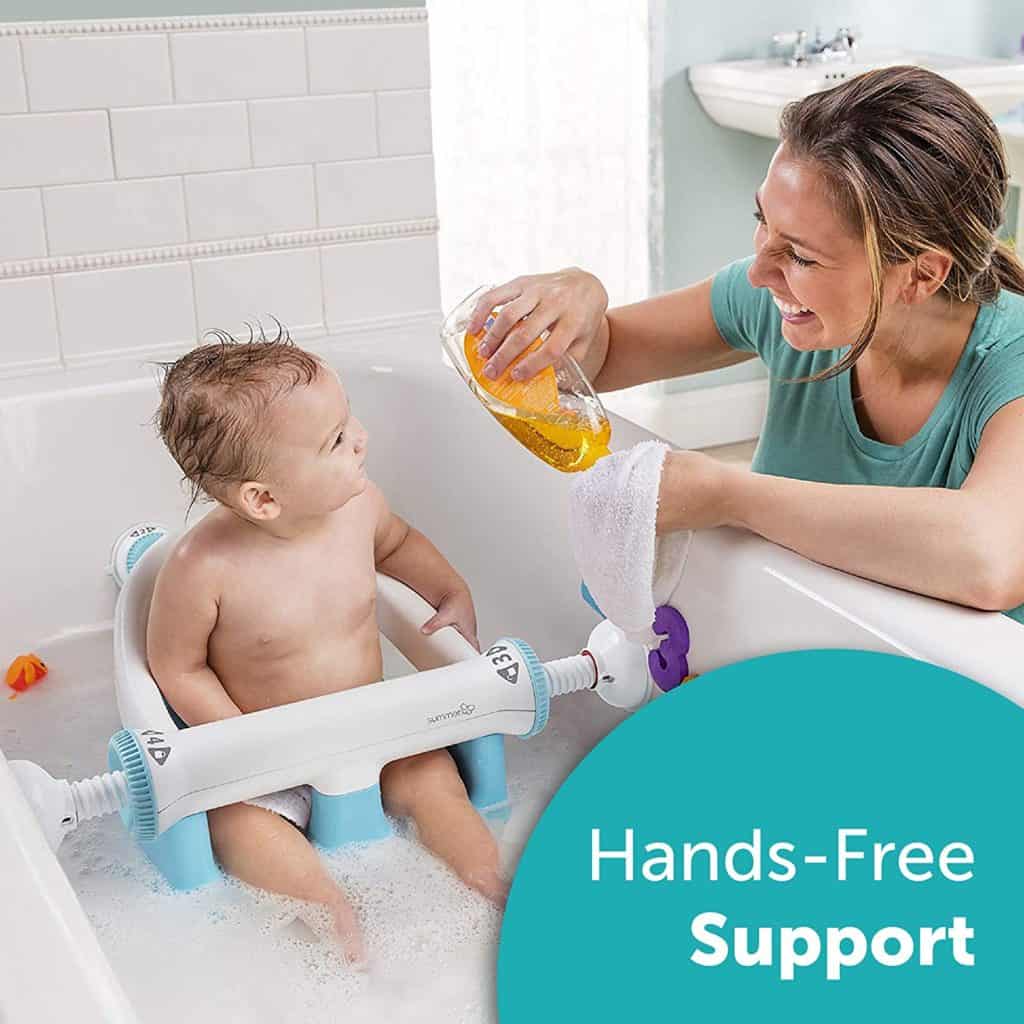 This bathtub is durable, reliable, and easy to bathe your baby. Even though it might seem awkward to talk to a baby in our language it is scientifically proven that communicating with your child has a huge positive impact on their development.
For parents who like to maintain constant visual contact with their babies while bathing them, this is undoubtedly the best choice that you can have.
The upright seating position offers maximum comfort and convenience to your baby while keeping him/her 100% safe from slipping and falling.

An important part of this bathtub is the three suction cups placed in an ergonomic position which will keep this bathtub fit snugly into a conventional adult bathtub.

Being able to assemble this bathtub easily, this product is one among many where your bath time requires very little preparation of the bathtub.

Also, the suction cups ensure a quick fit and easy release.  You don't need to worry about the grip offered by the suction cups as they are more than capable of keeping your baby safe in place, even if he/she tries to move around.

To ensure correct usage of this bathtub, it offers markings and indications that guide a parent to fit this bathtub in a regular bathtub.

There is an age restriction to this bathtub, this product is aimed at children aged under 10 months. Even though it seems like this bathtub will be rendered useless after 10 months, it is very important to state here that the first 10 months of your baby's development require vital care for their body's overall safety.
In that interpretation, this bathtub is a worthy purchase. Looking for the best bubble bath for kids? Here's a list you don't want to miss!
I got this for my daughter when she turned about 5 months old, basically when she started being able to sit with support. This has been great, we had the anglecare bathseat before and I didn't like how it moved so easily, and she could lift her butt out of it. This seat stays in place, the suction is so strong, and it's so easy to take out of and put back in the tub. She loves sitting up and playing with her bath toys.
This thing changed our bath time routine for the better! The three suction cups are still nice and powerful even almost a year later! This gives baby freedom to feel independent but, takes the worry out of the parent with them being seated. Overall, super easy to clean and this also fixes that horrible backache of reaching over the side of the tub holding baby in an upright position. We started using this when baby was about 5-7 months. This is our go to at every bath now!
For more product reviews visit Amazon
2. Angelcare Baby Bath Support: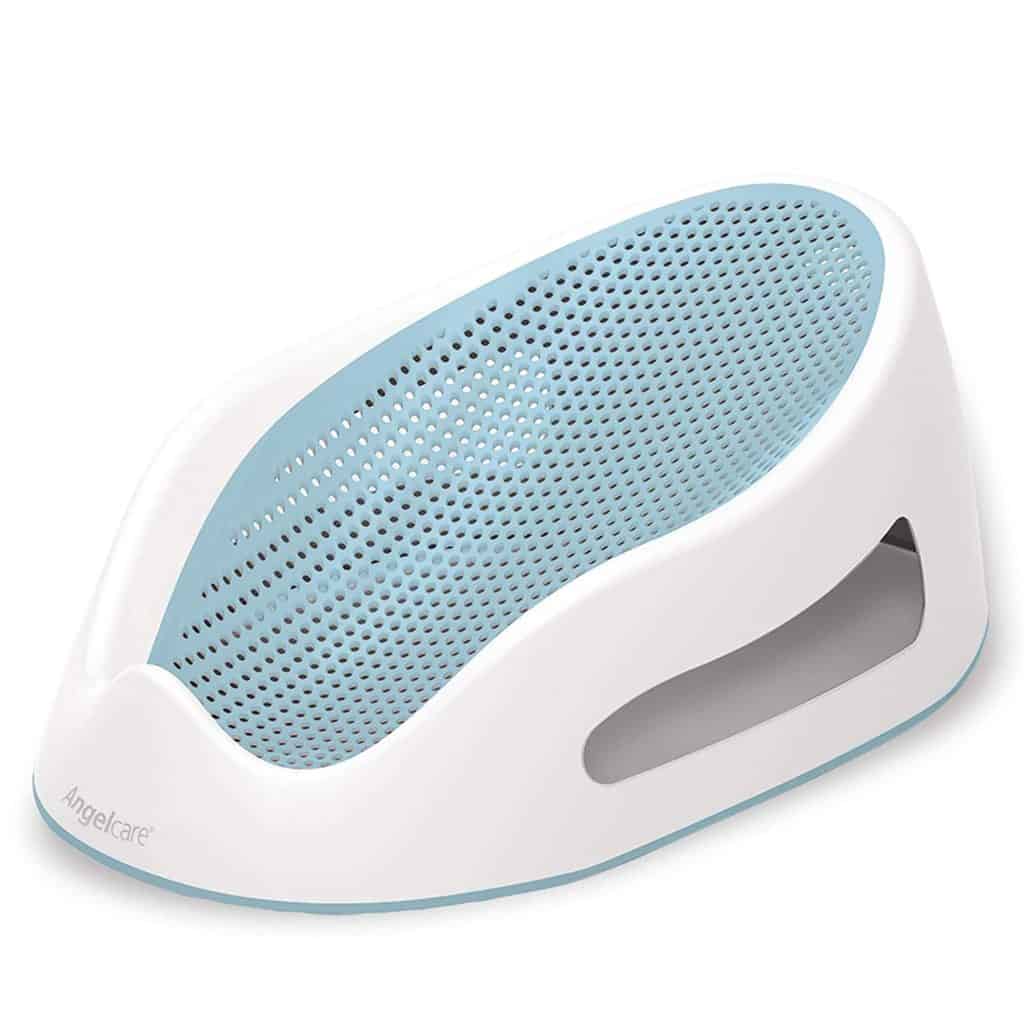 This bathtub is extremely durable, comfortable, convenient, and safe. This is yet another bathtub that is aimed at newborns. The high safety rating is courtesy of the durable plastic make and hygienic design.
A soft-touch material at the bottom provides the utmost comfort for your precious one.

This bathtub is a single piece meaning that you do not have to assemble the product, this is one of the bathtubs which can be used straight out of the package.

Cleaning up after your baby's bath can be tiresome work, especially when you have a bathtub with a complicated design with unreachable nooks and corners. However, Angelcare Baby Bath Support has a removable top which makes cleaning this bathtub a piece of cake.

Bacteria and mildew growth due to excess water retaining on the bathtub parts can be a headache and unsafe for your baby. Angelcare Baby Bath Support comes with a mesh-type material on the top that doesn't allow water to be retained anywhere on the bathtub after a bath and wash.

This is a lightweight, durable, and easy-to-store bathtub offering maximum convenience.

That makes this bathtub extremely travel-friendly and convenient.
Learn some tips on how to bathe your newborn baby!
We brought our preemie home and I was worried sick about putting her in anything. This seemed sturdy and safe – and it is! Love how water pools into the bottom so you can get the important bits without having to maneuver the baby too much. My little one just sinks into that pool and her legs hang out. She seems to LOVE it, and I like that she's safe and secure. The loop on top of the item is nice so you can hang it to dry/avoid mold, then hang it for the next time it's in use. Very nice product.
– Vasta22
I had purchased something else at first and the first tub I had purchased was not baby safe to me and I'm so glad I returned it and found this tub. This makes me feel safer to put my baby in and not have to worry about the sling breaking.
For more product reviews visit Amazon
3. Summer Infant Comfort Height Bath Tub: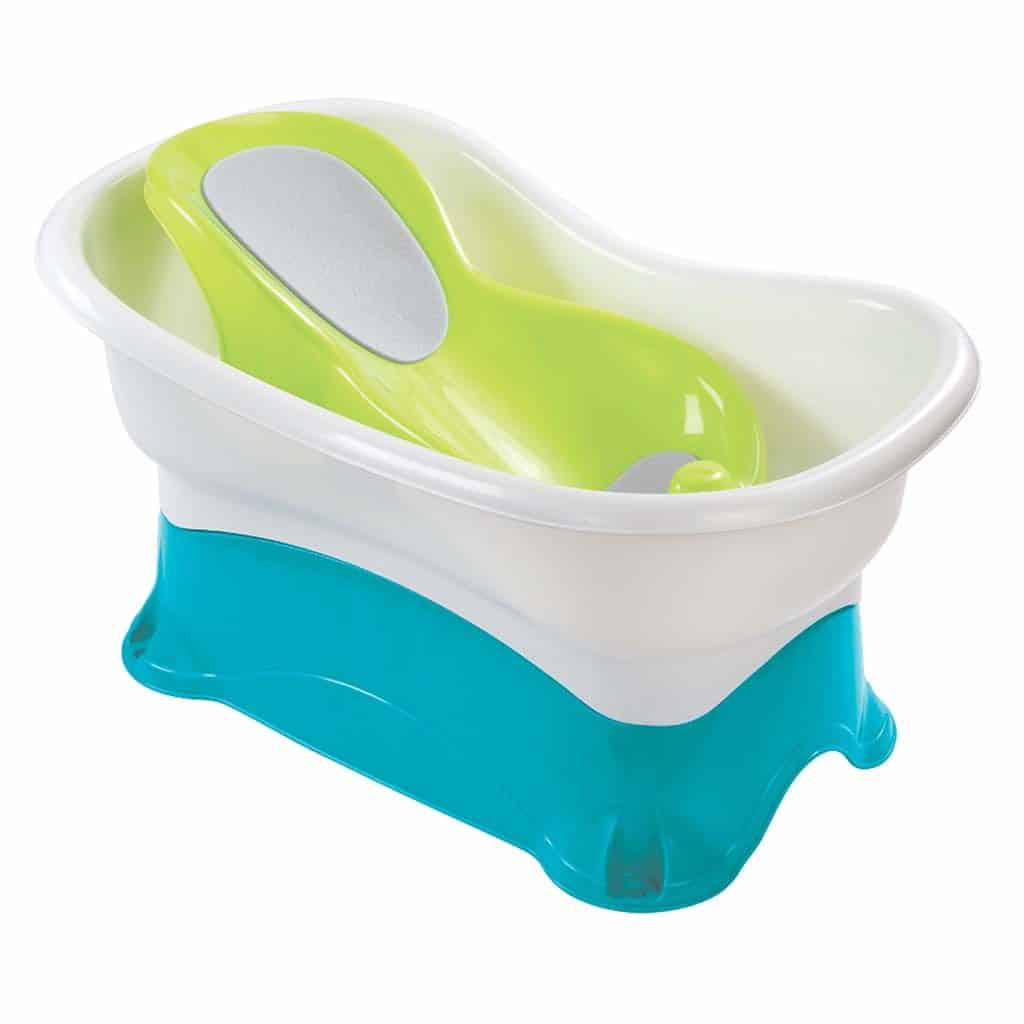 For parents who are conscious about their comfort while keeping their baby safe and comfortable during a bath, Summer Infant Comfort Height Bath Tub is the ideal bathtub for you. Bath time must be a friendly exercise between you and your baby. This can only be possible if you are as comfortable as your baby.
It is the height of this bathtub that makes it so convenient and comfortable for both the parent and the toddler.

Another positive aspect of the added height of this bathtub is that your baby is safe from the water level inside the regular adult bathtub.

Bathing your baby requires you to shift your baby's position very often to reach the whole body, this normally in a conventional bathtub requires a lot of moving around, and this is not so feasible. But with Summer Infant Comfort Height Bath Tub the slant position in which your baby is laid out and the ease of reaching all points with minimal movement ensures added safety and convenience.

Another attractive aspect of this bathtub is that it has a wide age-range restriction, this bathtub can be used by babies up to 2 years of growth. So this bathtub is indeed a money saver and a long-term investment.

Often badly designed bathtubs slip and this can cause injuries to your baby. Summer Infant Comfort Height Bath Tub has a very grippy set of legs that ensures the tub is slip-proof.
Ordered this for my daughter's spa type tub and she was killing her back bending over and we saw this on Amazon and decided to order it. It is a great tub and alot higher for her to bath her girls. She will be using this for quite sometime, ever after they grow out of the insert.
– Mary
Very well sized and convenient bath. What I like is it is very spacious and easy to use on a kitchen countertop
For more product reviews visit Amazon
4. Fisher-Price Whale of a Tub Bathtub: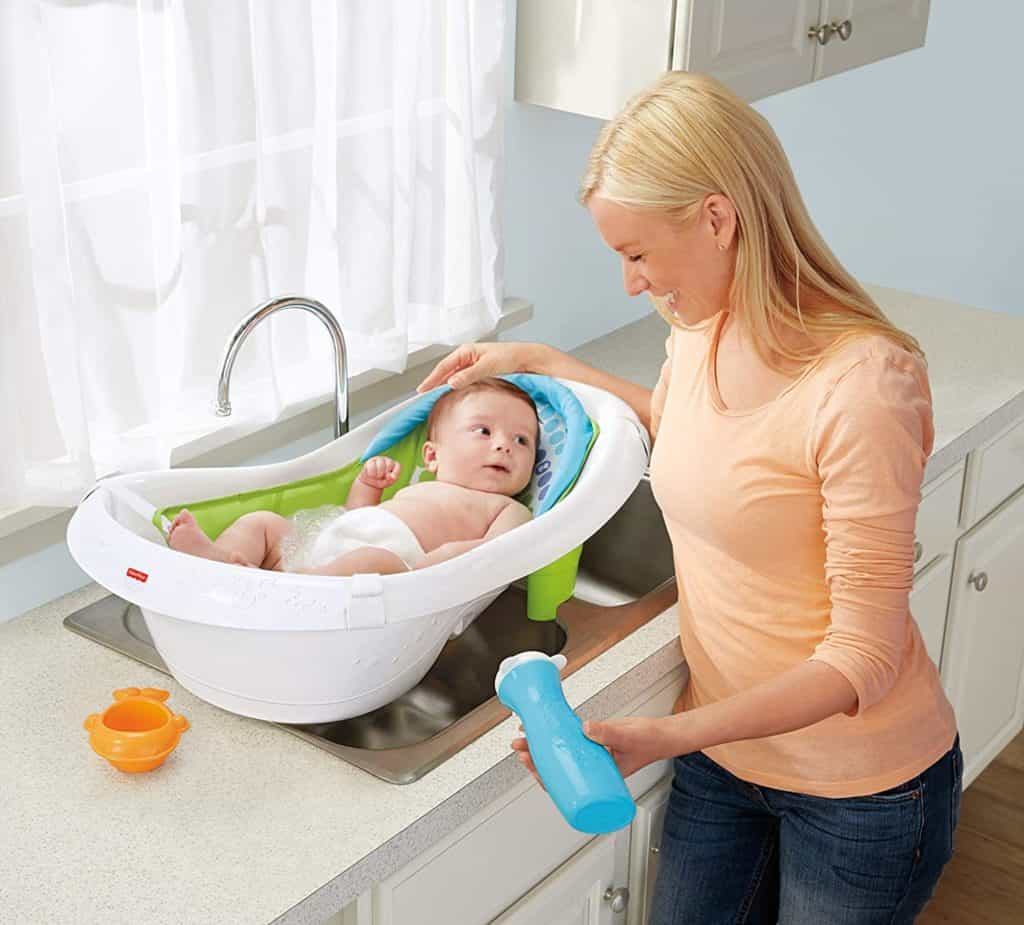 Perfect size coupled with usability and baby-friendly cuteness, Fisher-Price Whale of a Tub Bathtub is indeed a great buy for your baby. The design isn't all focused on cuteness, it is every bit comfortable, durable, and convenient too.
The padded slant seat offers great comfort to the baby while keeping them in place for parents to bathe them easily.

This bathtub is a very snug fit even in a sink, which is very useful especially when you don't have to use a regular bathtub for bathing your baby. You can rather have the entire process done in the convenience of your kitchen.

There is a drain plug that can remove all the dirty soap water keeping your baby's hygiene on top priority.
This is one such bathtub where innovative design and convenience blend in perfectly.
It's cute, sturdy, perfect for my 16 years old baby.
For more product reviews visit Amazon
5. Blooming Bath Lotus – Baby Bath: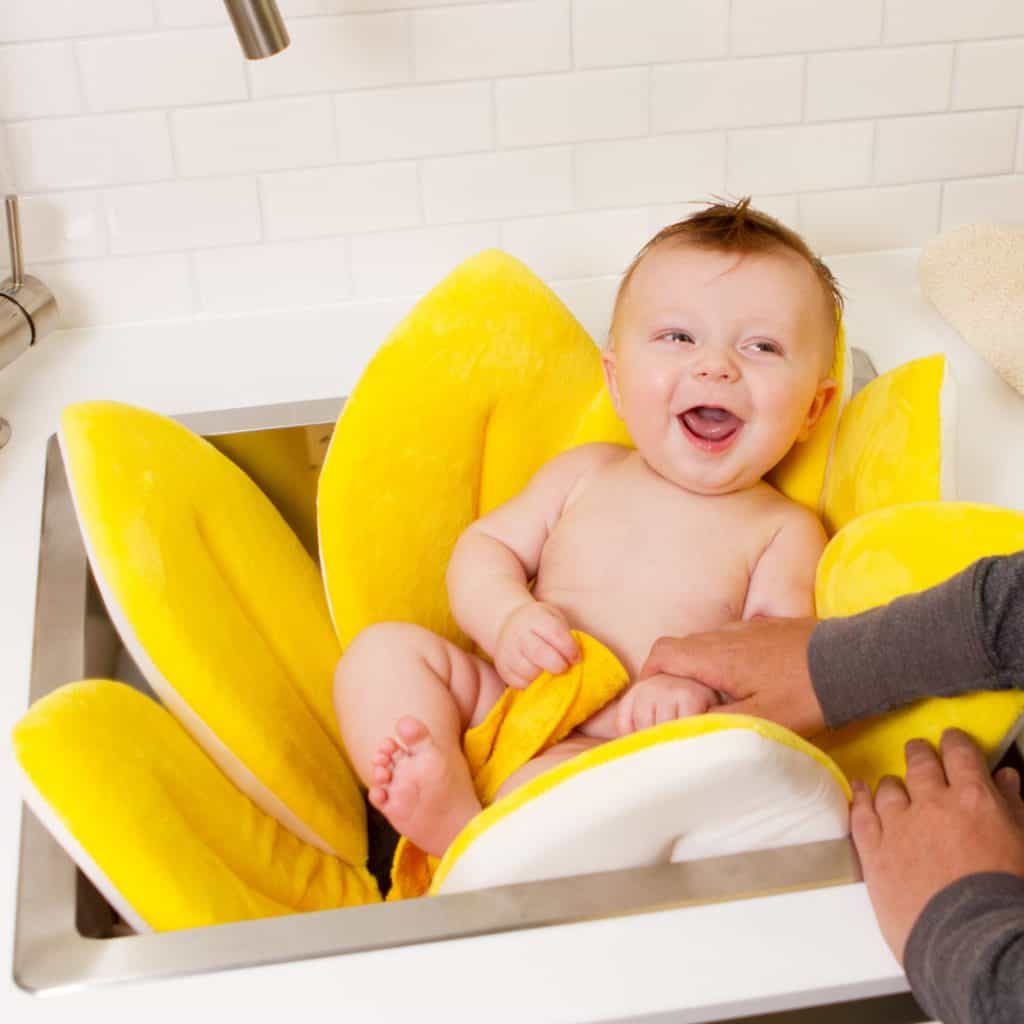 If your aesthetic sense requires that every piece of product in your home should look awesome, Blooming Bath Lotus – Baby Bath is your obvious choice. This good-looking, practical, and comfortable bathtub with its unique design makes it a bestseller in its class.
This bathtub fits snugly in a bathroom sink and doesn't necessarily need a regular bathtub.

The bathtub is petal-shaped and cushioned to give your baby a sense of safety and comfort while bathing.
The design concept of this bathtub is something that stands apart from conventional bathtubs.
I absolutely love this purchase! It fits perfect in my bathroom sink and provides comfort for baby.

Standard tubs were hard especially in the newborn stage because baby kept slipping to the sides. This is perfect provides cushion for baby and protects from falling to the sides.

Only negative is that you have to remove the water otherwise it will get a nasty smell. But you can always pop it in the washer and dryer.
I bought this to bathe my newborn in after my 4th c-section. I wish I had this for all my children! It would have made life so much easier during bath time. Because of the material my new baby stayed put and didn't slip and slide all over the place. Also she was very calm and comfortable and seemed to enjoy the bathing experience, as the material is thick and soft, almost like a little sofa for her. It was perfect. I can't say enough great things about it. After the bath you just press out the water and either hang the flower to dry or throw it in the dryer. I truly feel sad that I did not have this for my other kids. It was so much nicer and more comfortable for me to stand at the sink than it was to lean over a hard, wet and slippery bathtub after surgery.
– Nadia
For more product reviews visit Amazon
6. Skip Hop Moby Baby Bath Tub 3 in 1 Smart Sling: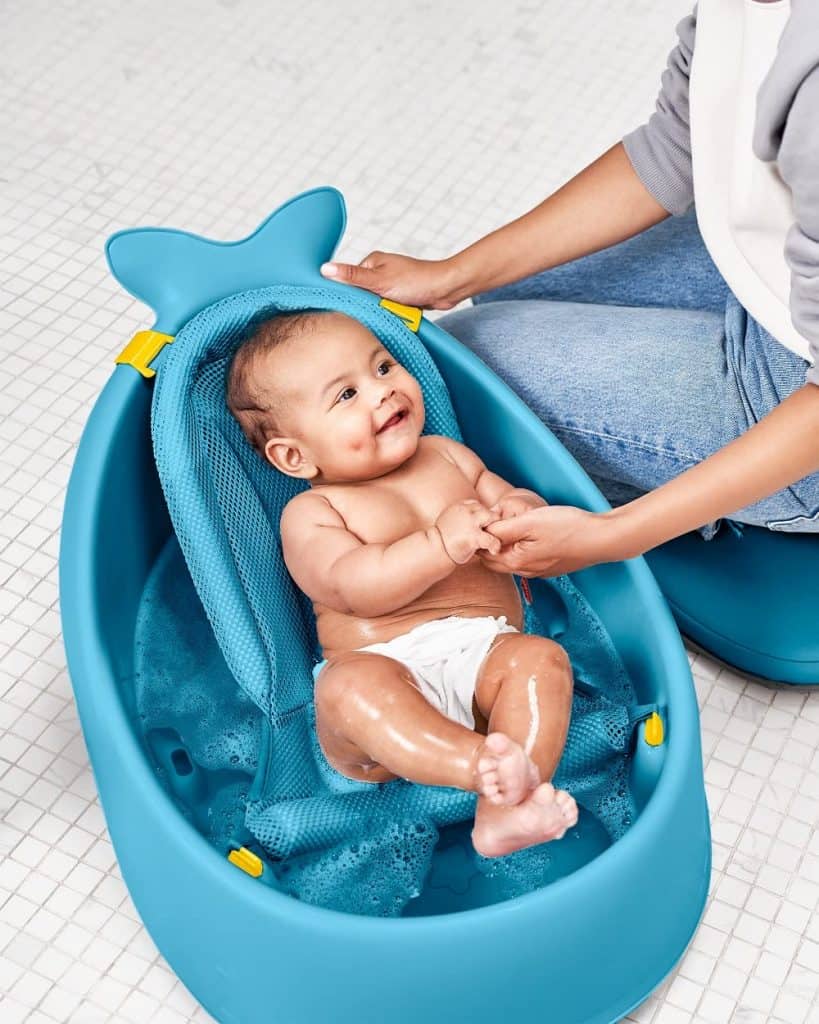 The amazing design and durable build make Skip Hop Moby Baby Bath Tub with a 3-in-1 Smart Sling a long-lasting product and hence a worthy investment.
This bathtub is very flexible according to the age of your baby, you can adjust this bathtub pretty easily for newborns, infants, and toddlers.

This bathtub can support a weight of up to 25 lbs.  What this translates to is that this is a product that lasts over time and grows with your baby.

Padding is given all around the bathtub ensuring the safety of babies from any possible injuries.
I was looking for a baby bath for my baby and this one works great for my baby , he feels safe and I as a mom feel also safe to give him a bath, I recommend buying this ! Totally worth !
– Debbie
This tub seems to be super comfortable for my 2 month old. He is able to feel the water without being submerged, he can lay back comfortably and he doesn't cry at all — which other tubs he has. Great value for the product
For more product reviews visit Amazon
7. Mommy's Helper Inflatable Bath Tub Froggie Collection: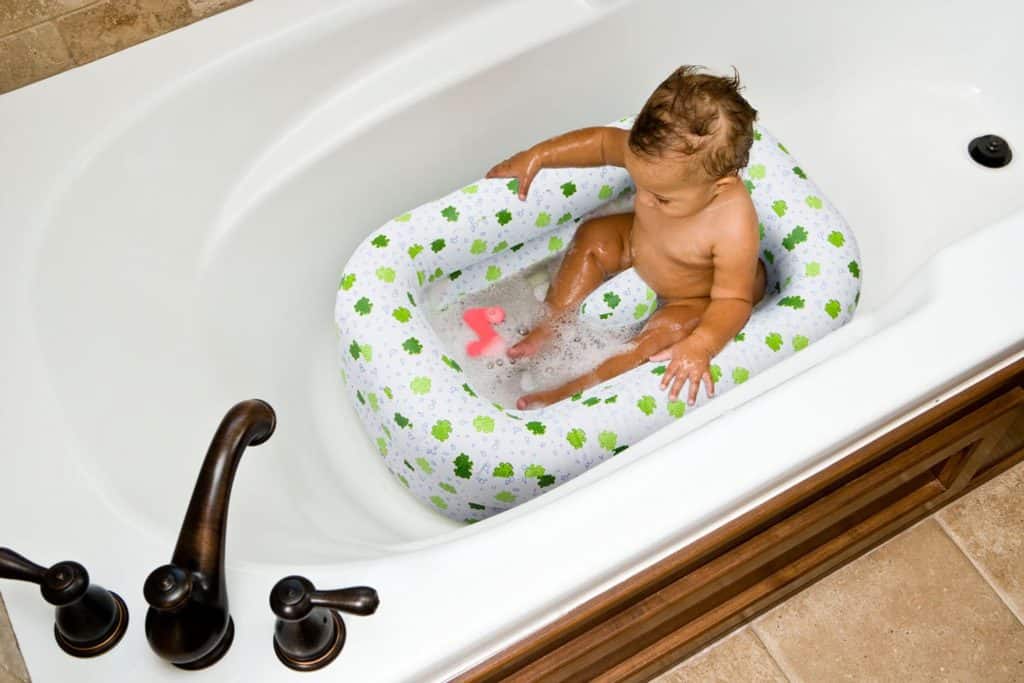 This best baby bathtub is the ultimate when it comes to comfort, it is nearly as comfortable as a mother's lap. And what that translates to is that your baby will love his/her bath time. It is a feast for the eye and can be used on the bathroom floor or in the bathtub making it very convenient.
Babies love to thrash and move around while bathing and this can be dangerous in a bathtub that is not secured properly, Mommy's Helper Inflatable Bath Tub Froggie Collection offers a good grip and padding all around the bathtub ensuring 100% safety.

This bathtub is ideal for babies 6 months to 2 years old courtesy of its size.

Being inflatable, this bathtub increases its convenience to another level because it can be stored and transported fairly easily.
We bought this inflatable tub for our 4 months old baby to use during a trip. It is so easy to inflate and is very compact and easy to transport. The only issue that we had is that every time we came back from a trip baby just got fussy and refused to use the Fischer price bath tub so we stopped using the other and just use this one now lol!!
– Manuela
Honestly, I don't write any reviews usually, BUT this is the BEST tub Ever !!! I got it because we travel a fair bit and it's Great for parents who like to travel – and I now even use it at home. He loves it even more at 18 months. I highly Highly recommend it to any parent.
For more product reviews visit Amazon
8. Munchkin White Hot Inflatable Duck Tub: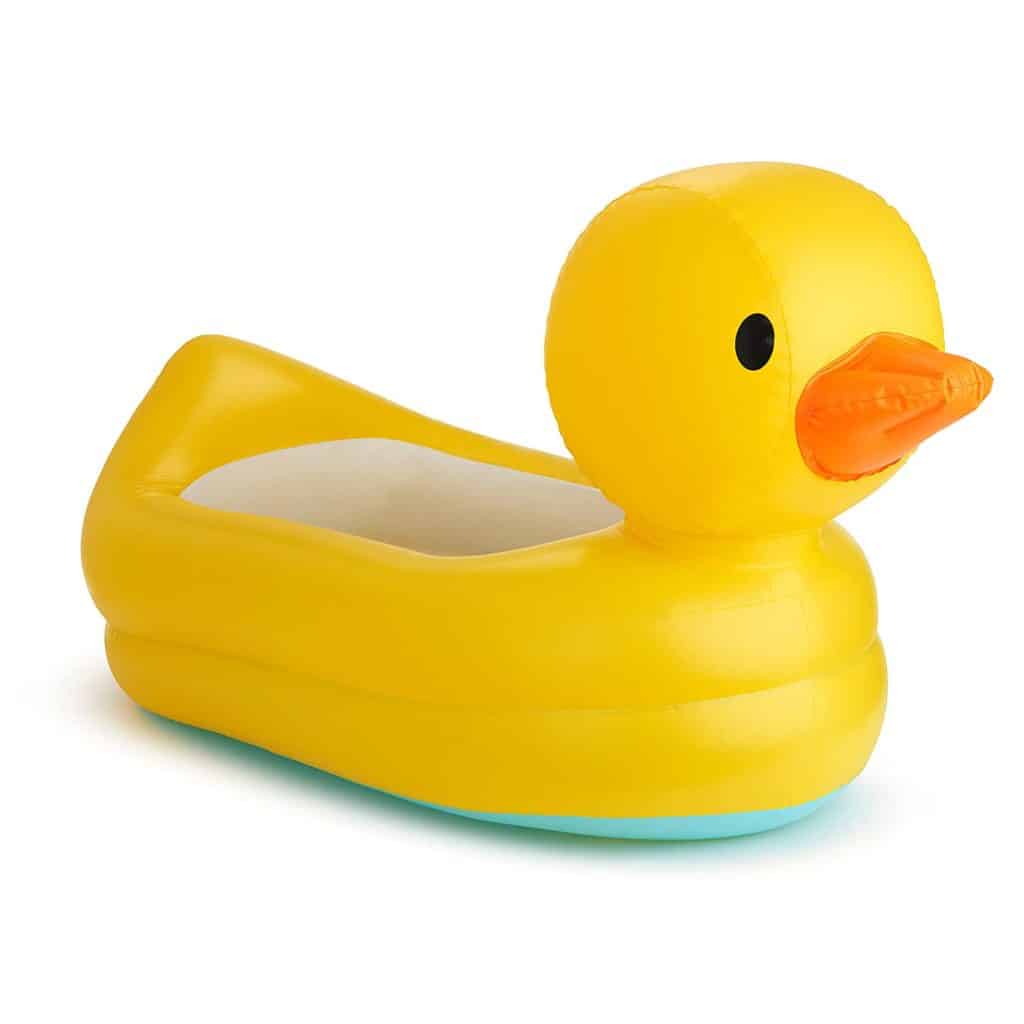 Munchkin White Hot Inflatable Duck Tub is an ideal product for babies who hate bath time. It will be a handful if your baby is wailing and thrashing at the very prospect of a bath. So what you need is undoubtedly Munchkin White Hot Inflatable Duck Tub.
Thanks to its duck-shaped design, the babies find this bathtub fascinating, and encourages them to love their bath time.

The cushioning in this

best baby bathtub

thanks to the inflatable design offers great comfort and safety to your baby.

The textured base of this tub makes it skid-proof and safe to a great extent.

The bottom of this tub contains a safety disk that turns completely while the water becomes hotter than necessary.
All in all this product is one which is carefully designed and is very comfortable, safe, and durable while being extremely convenient.
I have bought 2 of these in the past 5 years good quality, long lasting the only reason I have bought another is for my new grandchild.
– Shaunna
I have used several hard plastic tubs for my infant son and they were all terrible and he hated them. This tub is awesome as it's soft and at 5 months old he still needed a little support but this tub was perfect. His still using this at 6 months (his the length of a 12 month old), so we will continue to use this bathtub for as long as he fits. Excellent purchase. It does take up a little space as we keep it inflated, but that's a trade off as he is calm in the bath and loves it, he leans back and allows the bath to happen!
For more product reviews visit Amazon
9. Shnuggle Baby Bath Tub – Compact Support Seat: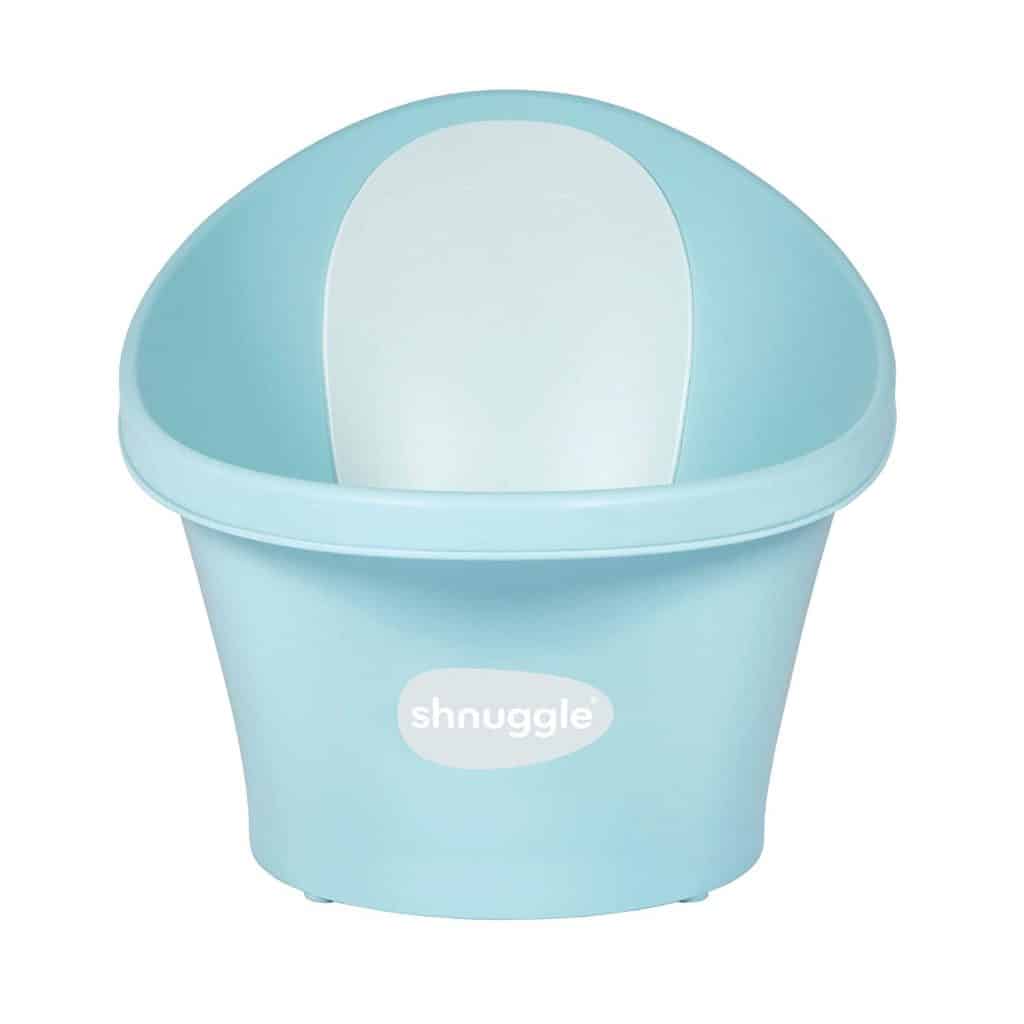 The key takeaways of this bathtub are,
stable and durable
safe, and easy to use
durability to last for a longer period
Shnuggle Baby Bath Tub – Compact Support Seat is the obvious choice. This bathtub is designed to keep the baby sit upright and this offers high levels of comfort for the baby and convenience for the parent in cleaning the baby properly.
This durable baby bathtub is very durable yet easy to be transported and stored. So if you are in the market for a product that is durable with adequate cushioning and anti-skid bottom you need not look further.
This tub is definitely for after the baby can keep his/her head up by his/herself. But it is a deep tub compared to my first tub so it was super helpful during the cooler months when baby wants to stay in the tub longer and play with all the toys in the tub.
Needed to get a bigger tub and this is perfect! It's such a great design. Baby fits and sits really comfortable making bath time super easy. Designed well and made with quality materials. Easy to clean. Highly recommend!!
– NDG
For more product reviews visit Amazon
10. Disney Princess Inflatable Safety Bathtub: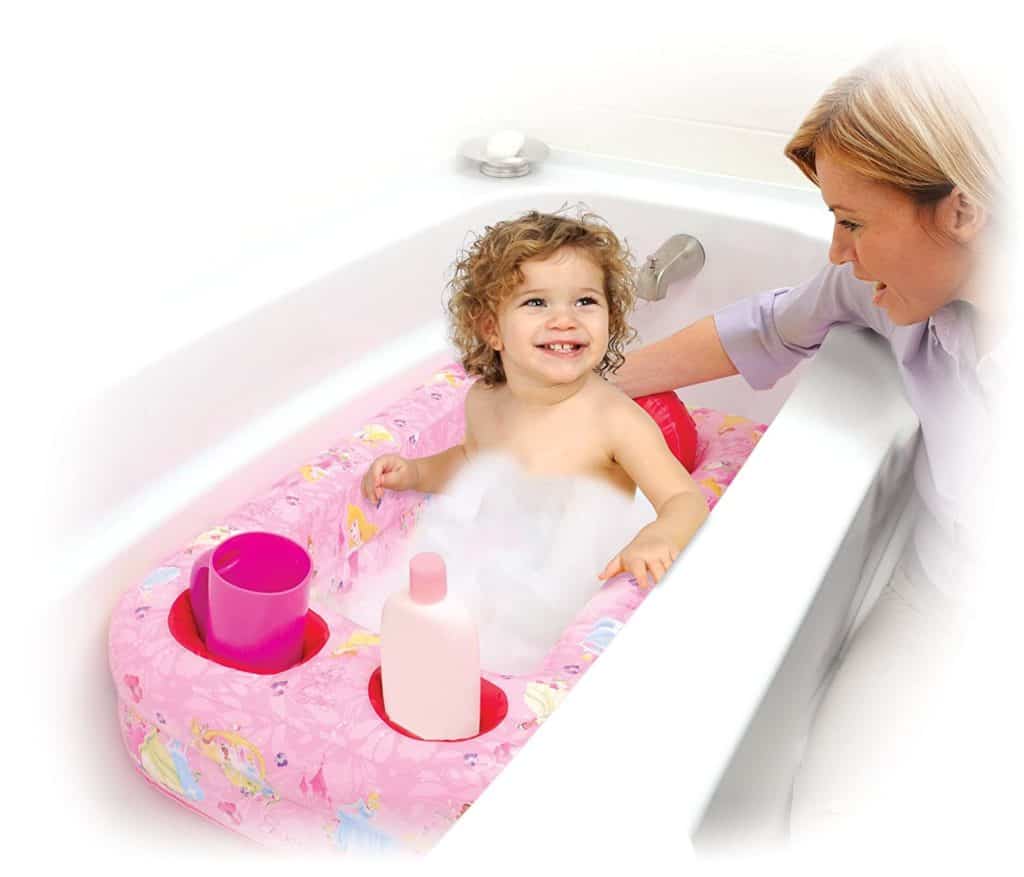 Cartoons have a very magical and mesmerizing effect on your baby, so why not try to put this idea into a bath product? Disney Princess Inflatable Safety Bathtub is one such bathtub where the design is focused on the child's comfort and the parent's convenience.
There are tweaks like boxes to keep the soaps and other bath accessories.

Other goodies on the list include a textured surface, adequate cushioning, a grippy base, and a water temperature display.
All of these features make this product absolutely value for money.
FAQs: Best Baby Bathtubs
1) How can parents make the little one's bath more enjoyable?
Parents make sure that the baby before their bath is well fed and rested to avoid them from crying and rather enjoy.
Make use of a bath pillow.
Make the transition to the baby tub slow.
If the baby is not comfortable with the tub, let them sometimes.
Distract the baby by playing their favorite track and have conversations.
Make sure the temperature and the air are not extreme.
Try to bathe the baby with a shower.
Stick to a routine and bring no immediate change.
2) Why do babies cry when they bathe?
There are many reasons for the baby to cry.
Are they fed enough?
Did they sleep well?
Are they comfortable?
Is there any pain?
3) How to use a baby bathtub?
First and foremost, be prepared!
Make sure the water is not too hot nor too cold keeping in mind the sensitive skin of the baby.
Fill only up to two inches of water.
Dedicate one hand to support while the baby is having a bath.
Wash their face and scalp first leading to the body and bottom.
Once done, wrap the baby safely in a towel and pat them until dry.
You're smiling and your sunshine is ready to be tucked into their
best baby clothes