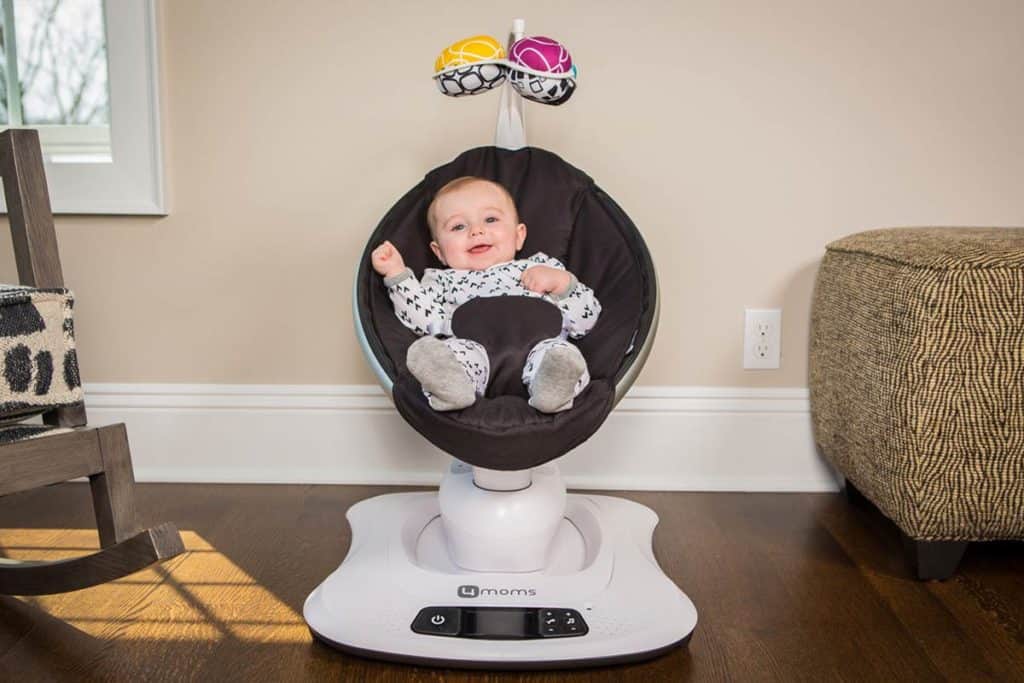 A calm and happy baby is peace of mind, and to ensure that your "little one" stays so we have come up with the best baby swings for you to choose from.
Gone are the days when you had a limited choice for baby swings, now the baby-products market is teeming with multiple brands to choose from and within them many new products.
However, any new baby goodie may come and go, but one thing that always keeps your little angels happy and calm is the baby swing. It has proven its efficiency as a pacifier and has evolved into new and more ergonomic designs.
This leaves all of you moms and dads in a dilemma as to choosing which one for your baby! Well, we are here to the rescue, we have reviewed several baby swings and have arrived on a top–5 list that is all value for money.
We have taken into consideration,
Price

Size

Convenience

Tech

Design
And the usual and most important thing: QUALITY!
Before we dive into the best baby swings of 2023, let's take a look at the different types of baby swings out in the market:
The best baby swing is usually one of the following types. These are simple gadgets that help you rock a baby to sleep or calm a fussy baby.
1. Full-Sized Baby Swings
These are large swings that can accommodate a baby up to 30 pounds. They typically have a wide base and can swing back and forth or side to side. Full-sized swings often come with multiple speed settings, music, and toy bars to keep the baby entertained.
2. Portable Baby Swings
These are smaller swings that are designed to be easily transportable. They can be folded up and taken with you on the go. Portable swings are usually battery-operated and have fewer features than full-sized swings, but they are great for small spaces or for families who travel frequently.
3. 3-In-1 Baby Swings
These are versatile swings that can be converted into a rocker or a stationary seat. They are a great option for parents who want to get more use out of their baby gear. 3-in-1 swings usually have a higher weight limit than other types of swings and can be used for infants up to 40 pounds.
4. Bouncers
These are manual baby swings where you have to manually rock them with your foot or hand. Even though they need someone to operate them, it can still be a great tool for calming down your little one and keeping them engaged.
Choose The Best Baby Swing From Here!
Choosing the right baby swing can depend on a few different factors, such as your budget, space constraints, and your baby's preferences. Here are some tips to help you choose the right baby swing for your family:
1. Consider your budget: Baby swings can vary in price, so it's important to set a budget before you start shopping. Decide how much you're willing to spend before you start looking at different models.
2. Think about your space: Consider the size of your home and where you plan to use the swing. If you have limited space, a full-sized swing may not be the best option. A portable or 3-in-1 swing may be a better fit.
3. Look for safety features: Make sure the swing has a secure harness system and sturdy construction. Look for swings that meet safety standards set by organizations such as the Consumer Product Safety Commission (CPSC).
4. Check the weight limit: Consider the weight limit of the swing and make sure it can accommodate your baby's weight. Some swings are designed for infants only, while others can be used up to 40 pounds.
5. Consider the swing's features: Think about what features are important to you and your baby. Some swings have multiple speed settings, music, and toys, while others have fewer features. Consider what will keep your baby entertained and comfortable.
6. Read reviews: Look for reviews from other parents who have used the swing to see what they liked and didn't like about it. This can give you a better idea of how well the swing will work for your family.
1. The Best Baby Swing That Fits Your Budget: the Ingenuity ConvertMe Swing-2-Seat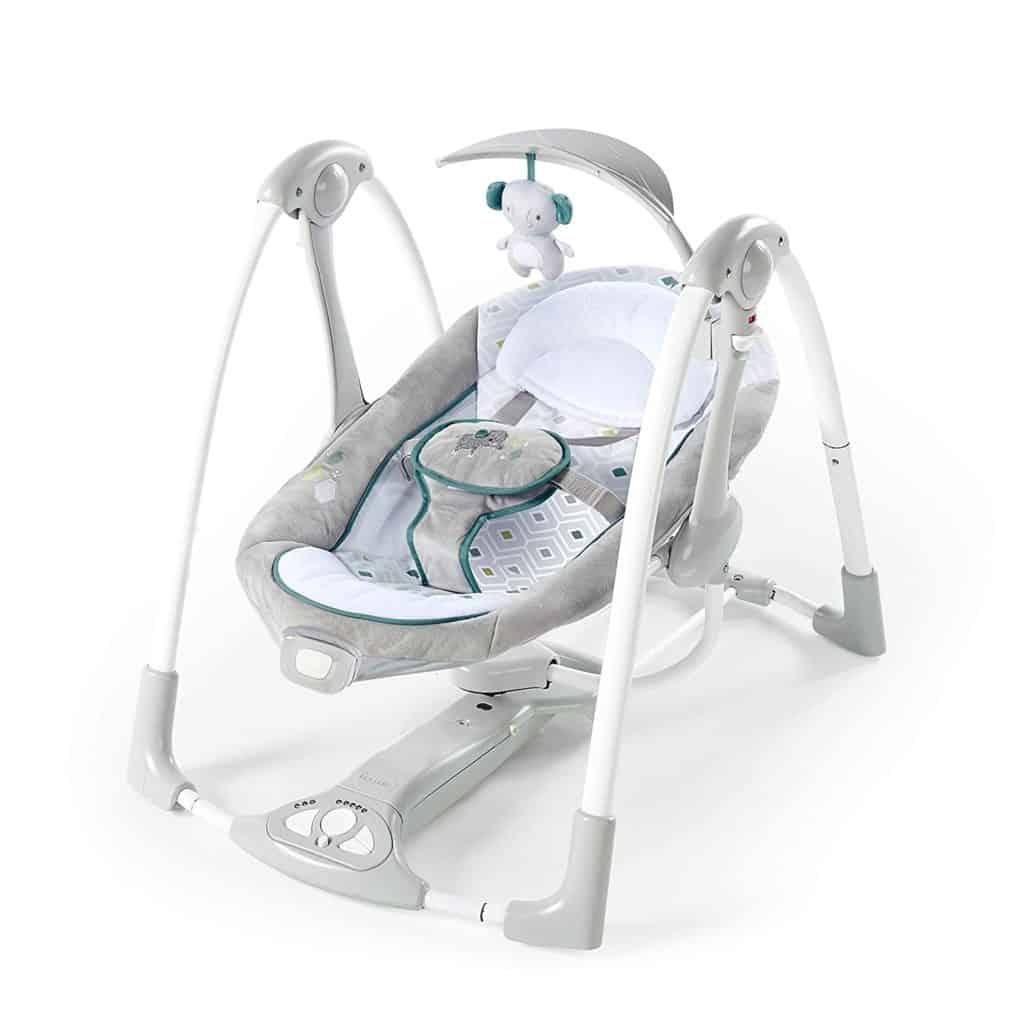 If you are unsure about choosing an expensive item as your baby swing, you no longer need to worry about quality. 
Often cheap baby swings tend to be fragile and inconvenient for your little one, but now we are here for you and we have found you the perfect baby swing that totally fits your budget without any compromise in quality.
The Ingenuity ConvertMe Swing-2-Seat has,
five different speeds
eight melody options
An adorable nature-inspired mobile
Three hours of battery life
Folds up when you want to keep it away
This arrived tonight after 3.5 month old baby woke up 2 hours randomly after her bedtime, staying up for 2 hours. She went from happy to playful to upset etc, and wouldn't take milk or anything. This arrived and I literally put it together while holding her in one arm, setting her down only toward the end. I then put her in it, turned the speed allll the way up, and she fell asleep immediately. I let her stay in for about 30 min and now she's in bed.

World's easiest assembly instructions.

I'll add more if anything changes once I've had it a few months.
This swing is wonderful for my 2 month old. It was really easy to assemble and I like how is both battery and plug in operated.
2. The Best Baby Swing Among Small Baby Swings: the Graco Glider LX Baby Swing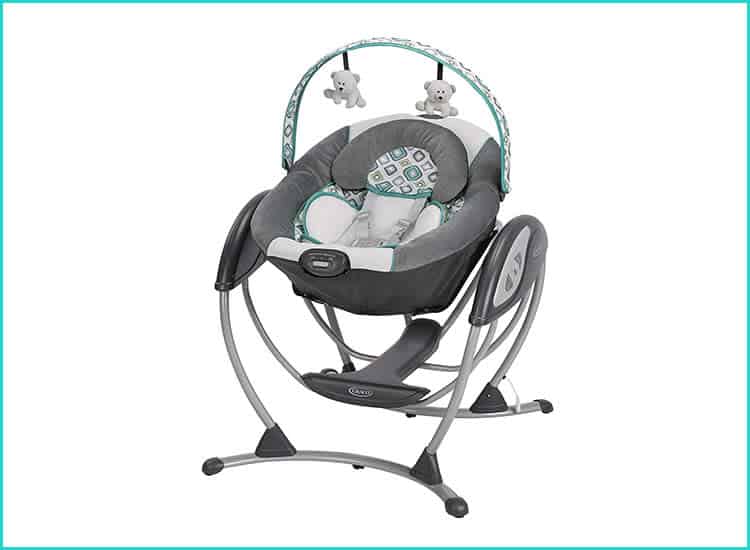 A good swing doesn't necessarily be ginormous. It is a lot like babies themselves, "happiness comes in small packages". When we are in the market for a baby swing size isn't the primary priority, it is comfort and convenience that matters most!
At around 2 feet by 3 feet, the Graco Glider LX is a small yet very convenient and the best choice for constricted spaces. Do not be let down by its size as this baby swing comes feature packed!
You name it they have it!
Two vibration settings
6 gliding speeds
10 song melodies
Five nature sounds
A plug-in or battery option
5-point harness to keep your baby safe
An adjustable toy bar
The Graco Glider LX is indeed a bundle of joy in a small package as it takes 40% less space than a conventional baby swing, which makes it ideal for even the smallest apartments.
I first tried this baby swing when a friend told me it calmed her granddaughter when nothing else would. Well, I had a granddaughter who was driving my daughter crazy with crying so I bought one and INSTANT baby was put in swing she stopped crying. Totally true! Have bought one as baby gift for all friends and they all tell the same story! Amazing swing!
This has been my favorite swing. Wish I bought it with my first two babies. It has different white noise settings that my baby loves & different speed settings also.
3. The Most Convenient Sleeper Baby Swing: Graco DuoGlider, Percy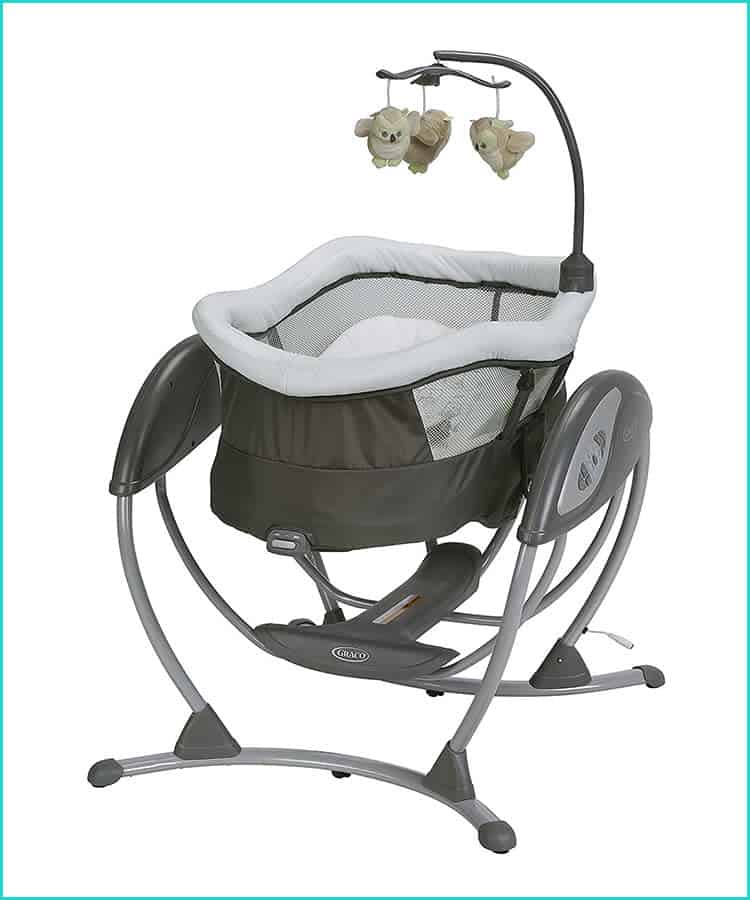 Most of you might have come across the dilemma where you have to shift a sleeping baby from his/her swing to the crib. This can be very tricky because if they wake up during the shift, you will have to pacify a sad little angel again, and besides why make them sad when you have the splendid option of leaving your baby a happy sleeping baby on his/her swing itself?
Yes, it is possible with the Graco DreamGlider Gliding Swing & Sleeper Baby Swing.
With this you get,
A recliner seat that can be transformed into a flat bassinet.

100% safe for the baby to sleep through an entire night.
My baby loved to swing back and forth and sometimes couldn't lay flat after feeding so we would put him in here if we needed to put him down after feeding and he would get quiet immediately. Tried this after NOTHING worked. I would buy it all over again if I needed to!
– Taryn
Baby didn't like this swing for the first few weeks but by the time he was 6 weeks old he loved it. He prefers it over a conventional swing and we use all three seat positions. He loves all three. I don't love the music but the nature sounds are nice. Overall this was a great purchase.
4. The Best Baby Swing Packed With New Tech: the Graco Sense2Soothe Swing with Cry Detection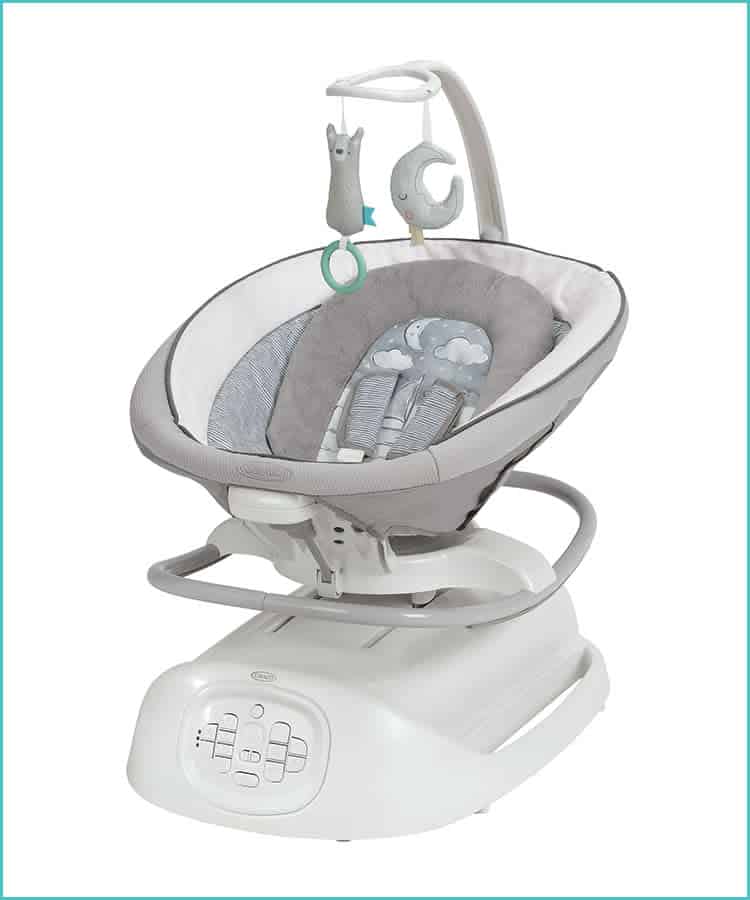 If you love to shower your loved one with only high-tech stuff then you don't have to do otherwise with a baby swing. For you we have found the Graco Sense2Soothe Swing with Cry Detection Technology that is the best in its class.
This is a very technologically advanced swing that has a cry-detection mechanism and an automated response to a baby's cry. The tech isn't a simple "swing when it hears a cry" it is rather innovative because this swing detects a baby at unrest and adapts to the best setting to pacify him/her.
With this swing you get,
An automated cry detection and smart response system
Eight different motion options
Three Swing speeds
Fifteen songs and sounds
A memory function that can save your baby's favourite setting for easy access the next time
5. The Best Baby Swing For Art-Loving Parents: Nuna LEAF Curv Baby Seat Cinder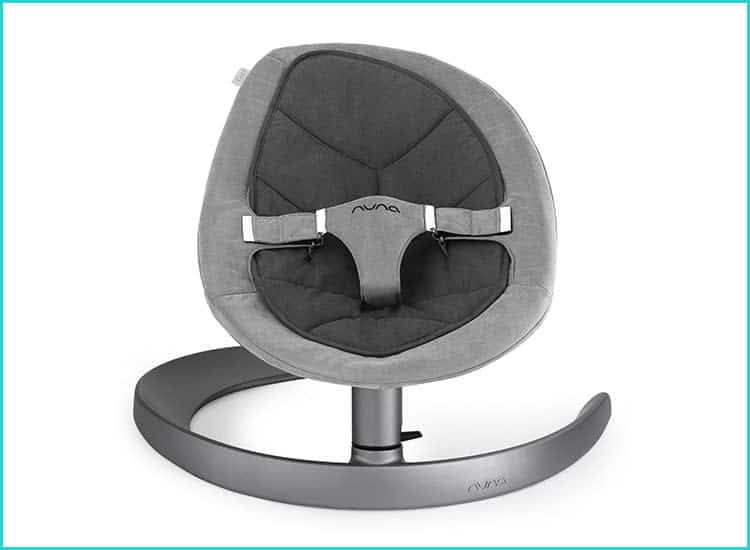 Rather interestingly we have covered a swing that is stunningly beautiful to look at. It is absolutely sure to accent your beautiful baby's looks when you are out in public.
Why not have your baby on a swing that looks almost as good as your baby, that is what Nuna LEAF Curv has in mind.
This swing is rather different from the conventional electronic swings out there. Surprisingly for a swing of its price Nuna LEAF Curv is not automatic, but wait before you scroll down it comes with its perks though!
A gentle nudge from you will set the swing in a very soothing and convenient motion which is much better than the rather intense swing mechanism found in conventional electronic swings.
What do you get with Nuna LEAF Curv,
An intelligent swing mechanism that allows a small nudge to last nearly two minutes as a swing.

An automation option with six-speed settings as an additional accessory that can operate without a battery.

Sleek and elegant design that syncs perfectly with your home decor.

More value for money as it can be transformed into a seat as your baby grows up.
Received this as a gift when my son was 4 weeks old and it has been so helpful. He has reflux so he needs to be elevated after eating, which is most of the time. With this, he is napping longer and I can finally get stuff done. Love the gentle swaying motion and it's super quiet. Also love that it is designed to hold up to 135 lbs so my toddler can sit in and read books too.
Stong will never have to buy a nother seat
6. 4Moms MamaRoo Multi-Motion Baby Swing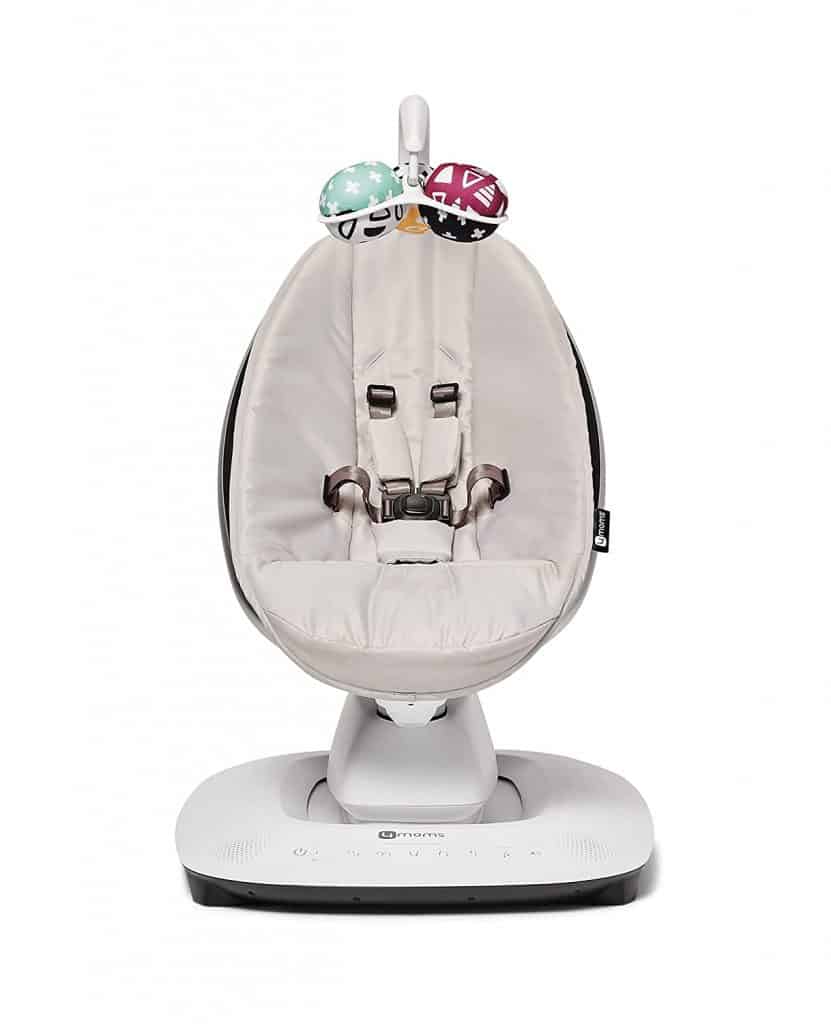 This is the luxury model of the baby swings and therefore, it is a bit pricey, but it offers a lot of features that other baby swings don't have.
For starters, it has some unconventional swing movements. Instead of going back and forth, it has various swing modes such as car ride, kangaroo, tree swing, rock-a-bye, and wave. 

There are also four built-in sounds and five-speed settings that you can customize as per your baby.

On top of that, it has Bluetooth connectivity that allows you to sync up a playlist that your baby loves.

And while you are playing your baby's songs on your phone, you can control the swing from the app, which lets you control the speed, motion, volume, and music. 

The swing has three toys such as a rattle, a mirror, and a crinkle ball to keep the baby busy. It isn't very loud either. Whenever it moves, you'll hear a somewhat pleasing and choosing sound.
The latest version of the Mamaroo Swing comes with Google Home, Amazon Alexa, and better Bluetooth functionality. It also has a touch-sensitive control panel and a machine-washable seat, making it the best baby swing ever.
Here are highlights of this swing:
Five-speed settings

Four built-in sounds

Bluetooth Connectivity

Google Home and Amazon Alexa

App to control the swing
We don't let our baby sleep in it, but it's perfect for when I just wanna put him down with something to look at above his head. He is obsessed with one of the toys and we think it's bc the shapes look like smiles. The fabric wasn't as easy to attach bc you have to pull it really hard to clasp the buttons in place on the bottom
I have used this twice and it is already worth the money spent! My baby loves to be held and loves motion. Sometimes I just need a few minutes to do something without holding a baby – like going to the bathroom or making a meal. Or sometimes I need a break from rocking him. When he's in this swing, he has fallen asleep so quickly and given me a much needed break. Definitely recommend!
For more product reviews visit Amazon
7. Munchkin Bluetooth-enabled Lightweight Baby Swing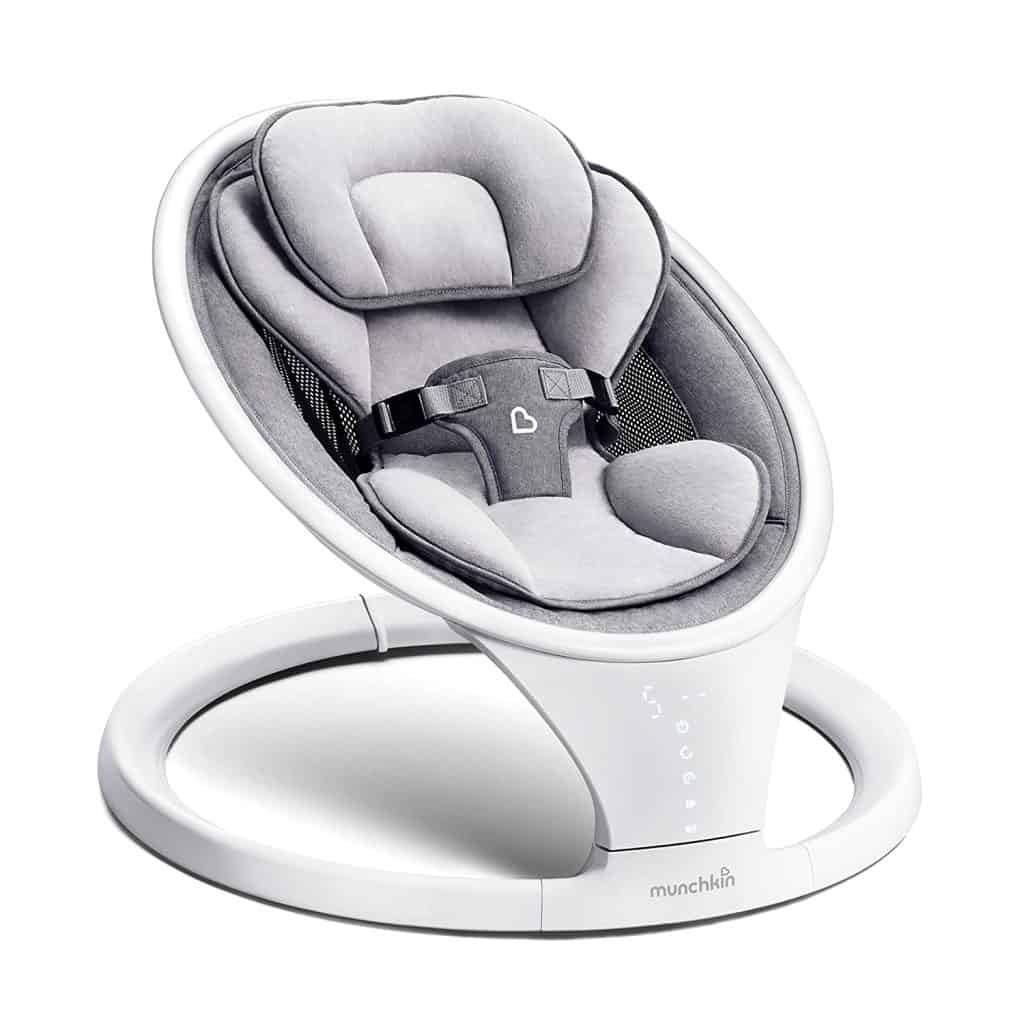 If you don't have the budget for the fancy Mamaroo swing, the Munchkin baby swing is the option for you. It is Bluetooth-enabled and swings only side by side, but it is just as soothing for a lot of babies. 
It has a super plush seat suspended at the right angle, making it comfortable for the baby.

You can control the swing with Bluetooth on your phone or the remote control.

You can adjust the speed and change the music from across the room. 

However, the unique selling point of this swing is the one-push fold feature. With just one simple push of the button, the swing folds flat.

By pressing the hinge and pulling the seat of the base, the swing is in two pieces and easily transportable. 
Here are the highlights of this swing:
Bluetooth connectivity

Folds flat

Budget-friendly
Sent this "swinger" to my god daughter for her very first baby. She loves it and the new baby loves it even more. Goodbye to old school cradles, this is the dream team of cradles. Purchase without doubts!
After only 4 month of having it – 2 months of use due to our twin's being under weight – our swing just quit working. I was warned about this from a friend of mine but figured it was just a flaw with theirs. We truly loved this swing but not if it's going to just quit working. It is turning on but the sway mode doesn't work anymore. Neither does the Bluetooth.
For more product reviews visit Amazon
8. Baby Jogger City Sway 2-in-1 Rocker and Bouncer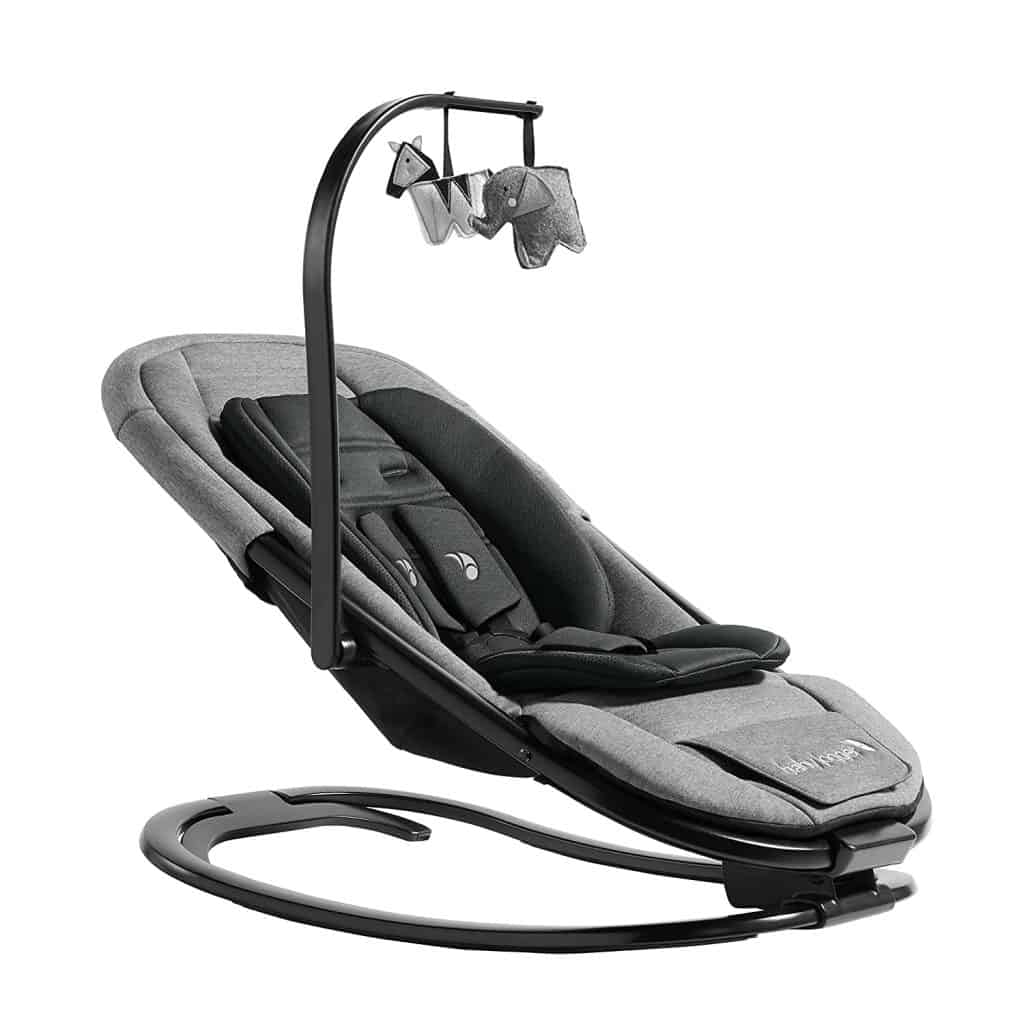 It is the best baby swing for parents who love to travel or go out often. This swing has both a bouncer and a rocker that fold flat and can be stored in a bad, making traveling super easy. It is ultra-lightweight and this is why it is easy to move around the house. The Baby Jogger City Sway comes with three adjustable reclining positions, a removable toy bar, and fabric rattling toys. 
Here are the features of this swing:
Lightweight 

Three reclining positions 

Compact and ideal for traveling 
I got it on sale for 126, so definitely worth it. For the full price, knowing that my daughter uses and likes it, still worth it. I would be hesitant to buy it for the full price only because I wouldn't be sure she liked it and would use it, but she definitely loves it when I rock her in it. She'll even hang out there for a bit while I do stuff.

The only thing I don't like is the arm that can be removed, it will fall off by itself eventually. It could potentially hit her, but it hasn't and usually falls on her lap. I don't think it would do any actual harm if it fell on her (face), but I don't actually know.

Also, the button to lower and sit up the rocker could be more solid. I feel like sometimes I need to press it really hard or something in order to adjust the height.

This is almost the same price as the popular Baby Bjorn, except this has the rocker part, which is why I got it. Overall, for the sale price, I feel like I got a great deal. For the full price, I would still buy it knowing my daughter will actually use it. Also, I like it for when she's done eating, it allows her to sit up for a bit.
My grand baby loves this seat & so do her parents! It's so light Sturdy & folds easily for storage. Let's mommy make her breakfast while baby watches happily in her Baby Jogger City Sway Rocker!
For more product reviews visit Amazon
As a final piece of advice, let us help moms wondering "But how do I choose the best baby swing?" Typically, you'd need to focus on three main areas in a baby swing when it comes to choosing from a list. Look for-
Features
If you're a first-time parent who has never paid attention to baby products in the past, get ready to be blown away! Baby swings offer tons of features like bells, whistles, music, speed moderation, and even Bluetooth compatibility! The best way to filter out is to set a budget range and compare features in baby swings falling under that group to pick the most suitable swing for your little one.
Size
Baby swings are available in various sizes; though a full-size swing might look very appealing to the eyes, consider picking a swing that fits in easily with the rest of the furniture of your house. You most likely will also have to carry it from the yard to the nursery and then to the park- hence, a portable and light version would be most suitable.
Noise Levels
Some swings might make a lot of creaky noise going back and forth, which, over time, could become a cause of irritation and headaches. Hence, always try to look for a demo of the swing to make sure that your pick is not noisy. 
That's it folks there you have it, the five best baby swings in 2023 that belong to 5 different classes. Looking particularly for outdoor swings? We have a list for them too! Choose yours now let's get your baby the perfect swing they deserve.
FAQs: The Best Baby Swings of 2023
1. Are baby swings safe for my baby?
Yes they are if used properly. Baby swings aren't a replacement for the usual crib for your baby's sleep. Long periods of sleep in a baby swing should never be allowed, a baby swing is ideal for small naps for your baby when you need one too.
2. Can these baby swings put my baby to sleep?
Baby swings are a very comfortable place to be for babies, thus they are good for baby naps, most babies love to nap while swinging, add to this the modern features like a nap supporting lullaby played within the swing, your baby is definitely going to be pacified in a baby swing
3. Can baby swing be used for sleeping?
No! Baby swings are designed for naps not sleep. By design a baby swing is intended to function as a short term pacifier and a convenient resting place for a baby, sitting upright in a baby swing can cause babies to have difficulty in breathing properly.
4. How to choose a baby swing age accordingly?
There are swings available for a wide age range, from babies to toddlers. You can choose them based on their size mostly, a standard baby swing for a baby shall function adequately up to 6 months of growth.
5. Will any of these baby swings cause Shaken Baby Syndrome in my baby?
Shaken Baby Syndrome or SBS results from babies experiencing a violent shake from an adult. In a baby swing natural conditions will never cause such a violent shake leading to SBS.
6. Can my baby sleep in his/her swing?
Most definitely not! For an older baby it is okay for taking naps in a swing. In any other case a baby should be moved to his/her crib immediately after falling asleep in the swing. However, there are new swings which double as a flat bassinet and a swing, however, you must read the product guidelines properly before using them as a crib substitute.