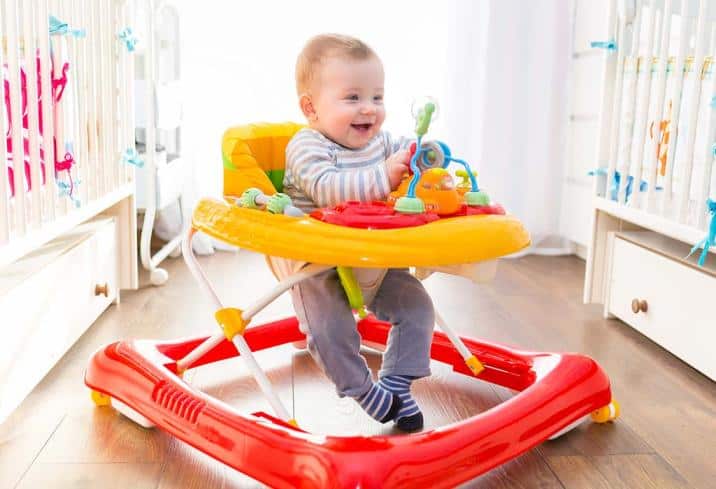 While we all earnestly want our babies to start walking so we can pick up the camera and record that memorable event, it might often be tricky to even get the baby there. The baby walker is a device that is used during times of transitional development of the baby. It essentially supports the transition from standing to walking, while getting your baby ready for independent walking. Best Baby Walkers come in two basic types of style, the classic sit-in walker that is half exersaucer, half walker; and the push-walker that a baby can hold onto and push around to walk with.
Best Baby walkers are a great activity for the hyper little ones and not only do they help them learn, but they also act as full-time entertainment. With the variety of baby walkers available on the market today, it is a rather difficult task to pick the best walker for your baby. However, here we are to your rescue! We have come down to these recommendations on the basis of the walker's stability, durability, looks, style, and ease of use in terms of storage and portability.
The list features the best baby walkers, both, sit-in and push-behind types. Consider this your cheat list to the best baby walkers for your little ones –
10 Best Baby Walker to Choose From in 2022!
1. Joovy Spoon Best Baby Walker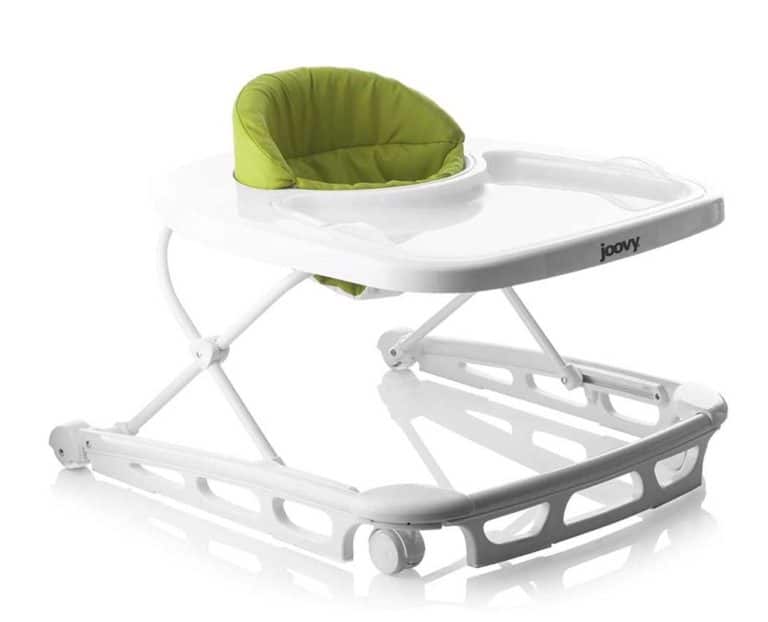 Priced at about 80 dollars, this baby walker is a traditional, sit-in baby walker but made in extraordinary, not-very-traditional features and style. Available in a bunch of colors, the baby walker is packed in a frustration-free packaging and is very easy to unpack and open up for use. This baby walker comes in simple colors and has a large tray that is wrapped around the size of the baby. This feature enhances baby-safety as it makes it hard for the baby to reach things around. The baby seat is made in a plush, comfortable, soft, high-quality fabric that can be wiped clean or machine-washed without the risk of shrinkage or color bleeding. The seat has three height adjustments and can hold baby's up to 30 pounds. The wheels glide effortlessly on tile, linoleum floors, Berber carpets, thin-line plugs but could be a little difficult on thick carpets.
Pros-
Extremely light-weight; weighs about 12 pounds
Folds up into a compact walker, can even be stored under a standard bed
Features a removable tray that can be detached for easy cleaning and can even be washed in a dishwasher (obviously depending on the capacity of the dishwasher)
Has non-slip stair pads that stop the walker from toppling off of the staircases
Cons-
The wheels of the baby walker don't lock which becomes inconvenient, especially for outdoor use
Even the tallest height setting might not be enough if your baby has a tall genetic makeup. A tall baby could ideally outgrow the walker which could become a safety issue.
2. Classic Radio Flyer Best Baby Walker Wagon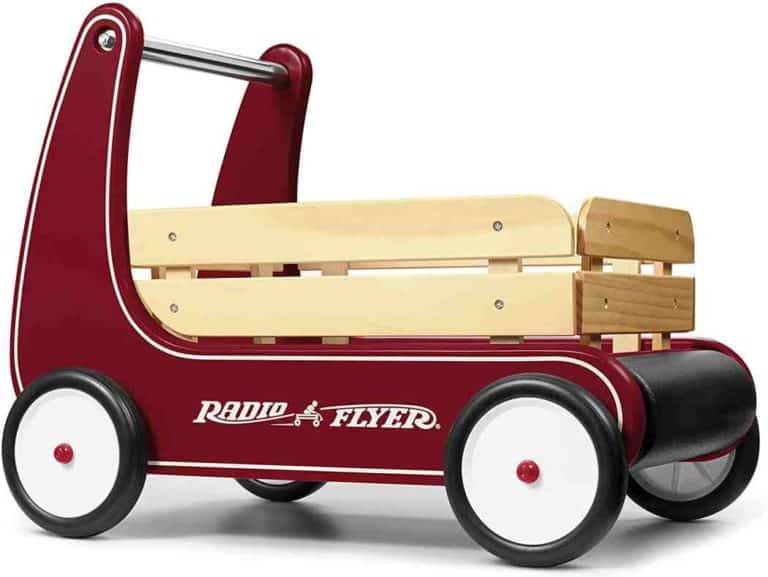 Price at about 80 dollars just like  Joovy Spoon Baby Walker, this one has enhanced looks to talk about. Radio Flyer Walker Wagon has the classic red Radio Flyer paint which makes it as nostalgic to look at as durable it is when putting to use. The wheels of this wagon come with a tensioning system that makes the wheels resistant when rolling, making this one a safe choice for a toddler just learning to walk. This baby walker also comes with a padded front bumper that avoids cracks and marks on the walls and furniture. It's wooden side panels are removable in nature and the wheels are made of plastic but filled with foam and have a good grip that prevents slippage. The handlebar of the toddler is decent for kids and lets them play around, however since it is non-adjustable, it will not be as convenient for when your child reaches the age of 2-3.


Pros-
High-quality, durable, priced competitively
Safe for baby use
Tensioning system for wheel resistance
Cons-
Has an annoying clicking noise of the tensioner, but can be disabled by removing the tensioner
Arrives in 15 pieces which are easy to assemble under 30 minutes, but could get a little challenging if you lack the patience and time
Lacks adjustable handlebars
3. VTech Sit-to-Stand Baby Walker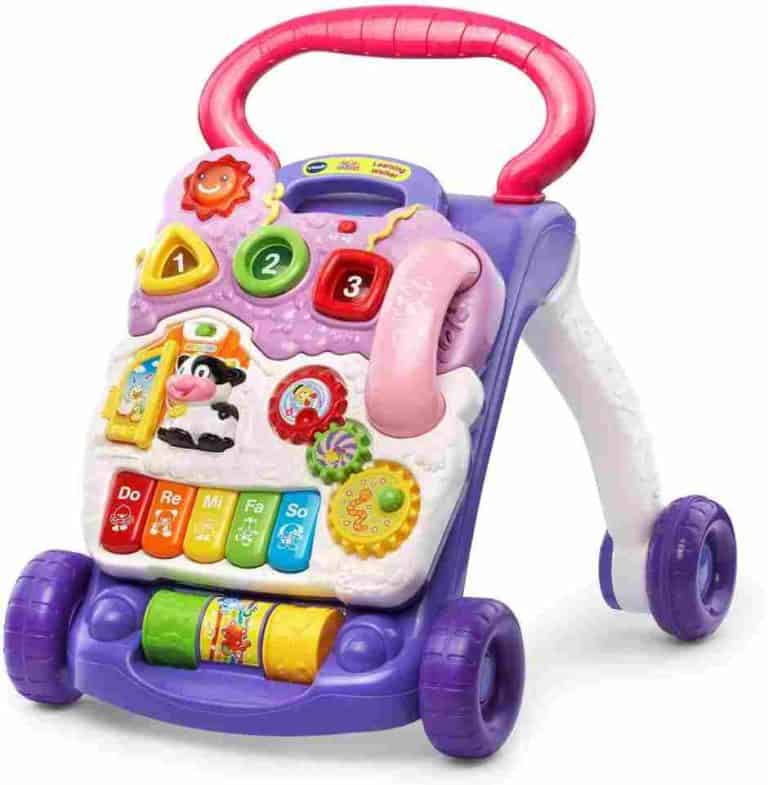 Priced at just about 35 dollars, the VTech Sit to Stand stood out as a solution when the dangers of sit-in baby walkers were on top of every parent's and media's mind. This particular walker is a little different in terms of use. It is meant for babies who have already learned to pull themselves up but haven't learned to walk independently. Available in colors
pinks and purples or oranges and greens, this sit-in baby walker works for any baby with head/neck control.  VTechcalls this walker "Sit-to-Stand" because it can be used as a two-in-one by removing the play portion. You can keep the play portion on the floor and have your baby sit down next to it to play or just move around. The play portion can later be placed back and used as a push-around baby walker, fulfilling the "stand" part. The walker works on two AA batteries (included) to fire up the lights and music and is ideal for babies around 9-10 months old as they are usually ready to venture into walking with support. The walker also has adjustable resistance settings that can help you control the speed of the wheels.
Pros-
Inexpensive, stable, durable with fun, kid-friendly gadgets included
Adjustable speed feature on the wheels
Two-In-One; works as a baby walker as well as a play toy
Cons-
Lack of an adjustable handle height for growing babies
Friction caused by the tires on wood and tiles could be improved as it slides the walker sideways at times. However, this is also a pro as it allows the walker to turn without having to pop the front wheels
Not helpful as a push walker until the baby pulls to stand
4. Disney Baby Minnie Mouse Baby Walker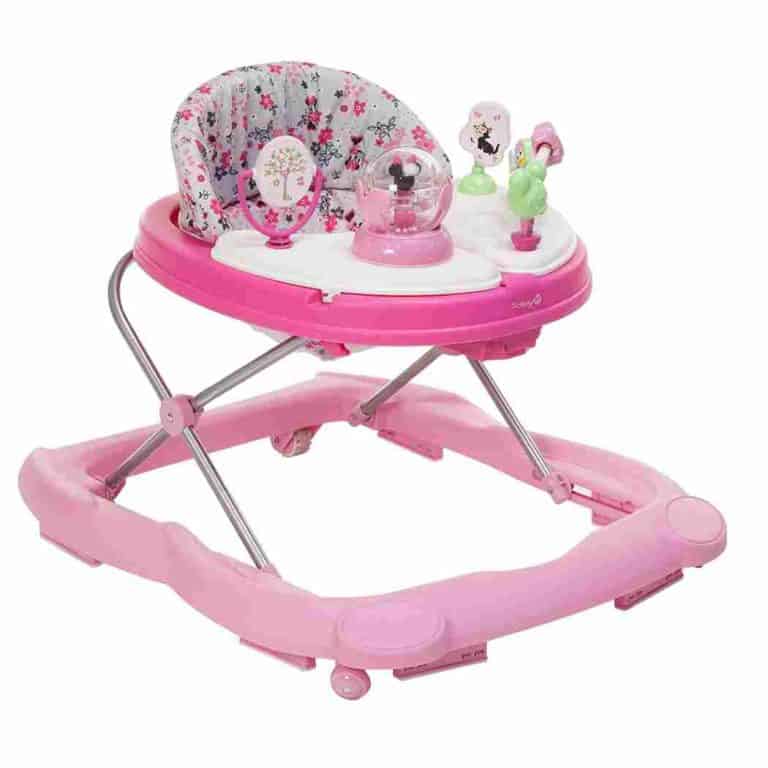 At about 60 dollars, this baby walker that looks like it's right out of a Disney world is equipped with some smart features difficult to find in other baby walkers. The Minnie Mouse baby walker has a broad and super stable base that offers three height adjustment settings. With a built-in musical system, it helps your baby walk while learning the walking steps. It also features Minnie Mouse themed toys and plays 12 different songs via its music module. The sturdy wheels work perfectly on all floors and carpet while the grip strips offer great control. Easy to clean, this baby walker is foldable for enhanced storage and portability utility.
Pros-
Machine washable pads and easy to wipe snack tray
The sturdy base and extra grip offer high control and movability, enhancing the overall safety
Cons-
Expensive by virtue of the exclusive Minnie Mouse theme. You can find better walkers at this price range
5. Hape Wooden Wonder Best Baby Walker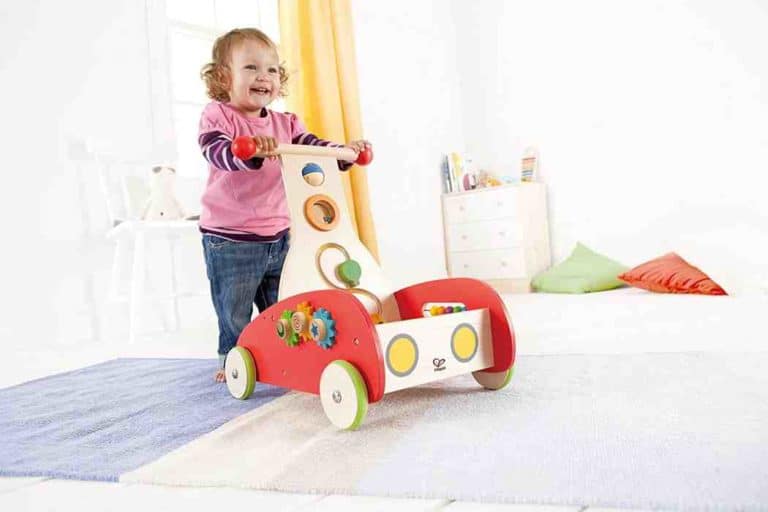 Sold at about 75 dollars, this baby walker is a piece of craftsmanship, made with non-toxic paint colors. The baby walker is sold with minimal toys that do not overwhelm the little ones and rather keeps them interested more than the push-button electronic toys on other walkers. A stable baby walker, this one assembles very easily, is sturdy, and is mostly going to be the go-to toy for your babies for years to come by virtue of its durability.
Pros-
Impossible to tip over, be it forward, backward or sideways
Made in premium quality and is loved by children for the toys
Cons-
Hard to turn as it is made of wood and heavy in weight
The wheels are grippy which might have babies go in a straight line unless stopped by an object or a force by an adult human
Wooden wheels could get a little fast on hard surfaces but work great on carpeted floors
6. Safety 1st Sounds 'n Lights Discovery Best Baby Walker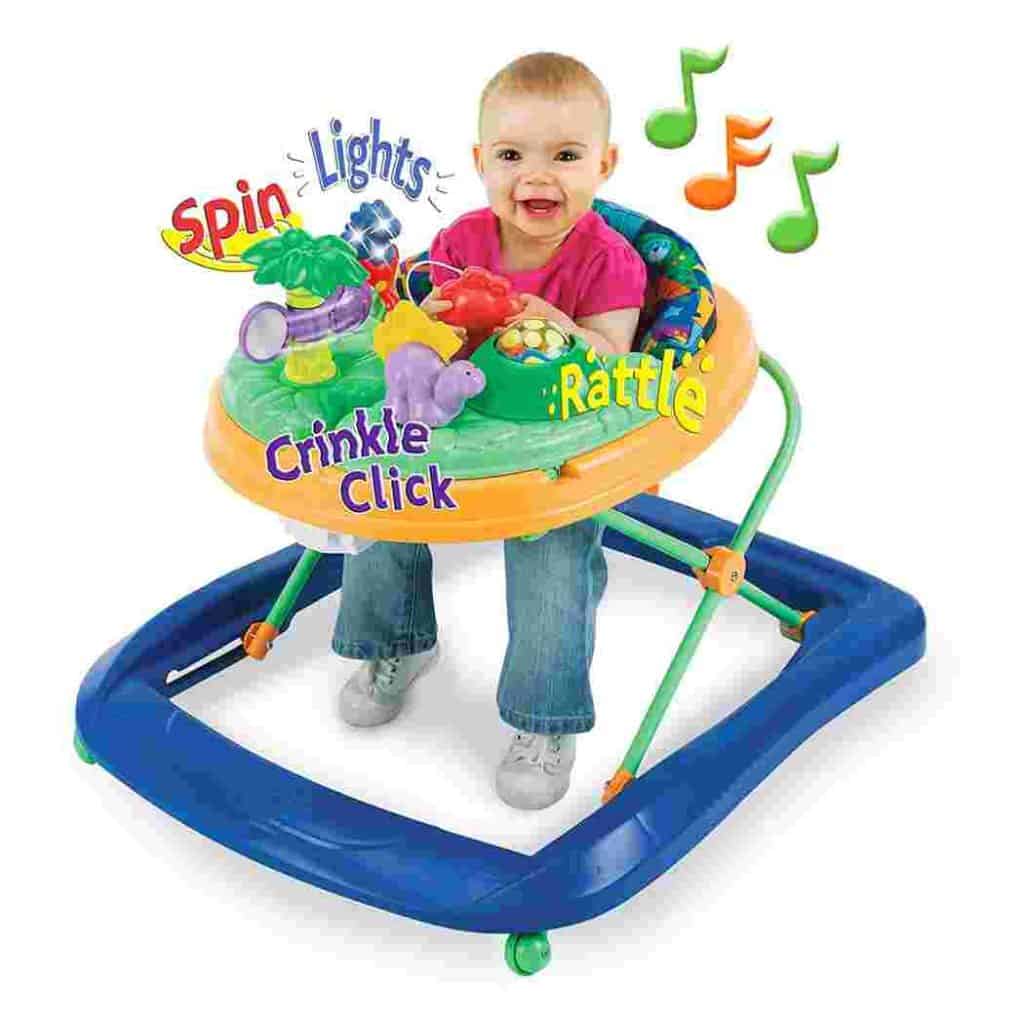 At a medium range of 50 dollars, his baby walker is traditional in terms of style as well as in terms of its accessories like that of bells, whistles, bright colors, and noisy toys. Made in a compact size that can be pushed under a bed for concealed storage, this one has three adjustable height settings to take care of a growing baby's needs. The baby walker has a 31-pound weight limit and includes non-skid safety catches on the bottom to reduce the chances of rolling down the stairs. The walkers seem durable and rolls really well even on hard floors and rugs,
In our opinion, the 'Safety 1st Ready Set Walk Baby Walker' is similar to this one. However, the Safety 1st 'Disney Music and Lights Baby Walker' could be a better choice as it has a fancy pink Disney theme and also replaceable batteries!
Pros-
This baby walker comes with a lot of toys that babies absolutely love!
The toys can also be swiveled to the side to expose and utilize the snack tray
The washable tray is of a decent-size, ideal for snacking
The seat cover is removable and washable
Cons-
No information disclosed on the type of batteries the toys use, where are they placed or if they are even replaceable
The snack tray is not washable and not big enough for meals
7. Bright Starts Walk-a-bout Best Baby Walker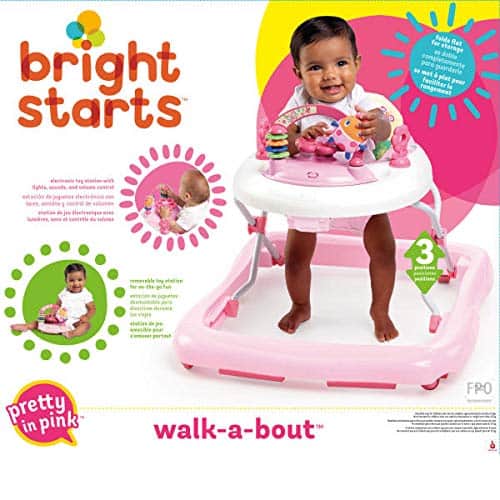 Also medium-ranged at 45 dollars, this baby walker has too many nice things to not talk about. With an impressive, tall seat back height, this baby walker is an excellent pick for supporting the shoulders and heads of young babies. Similar to the Safety 1st Baby Walker models, this baby walker has 3 adjustable height options that supports babies of all ages from 6 months through 12 months and 15 pounds through 26 pounds. The walker works great even for a little older babies but is not very advisable as that means pushing the weight limits beyond advised. From the bottom of the seat, up to the floor, it measures 6 inches at the lowest height and 9 inches at the highest height. Featuring an attractive and cute safari-themed steering wheel and activity center, this also has adjustable volume control for music besides the bling lights that work all the babies!
Pros-
Volume Control option for the music that protects the tiny one's ears
The pointy leaf design does not hurt the babies
Taller seatbacks than most other walkers in general
Cons-
The leg holes are narrow which makes it hard for chubby babies to move in and out
The seat is not very comfortable as it is made of thin fabric
The high seat makes it impossible to fold it for compact storage
A little challenging to assemble
8. Caterpillar & Friends Discovery Best Baby Walker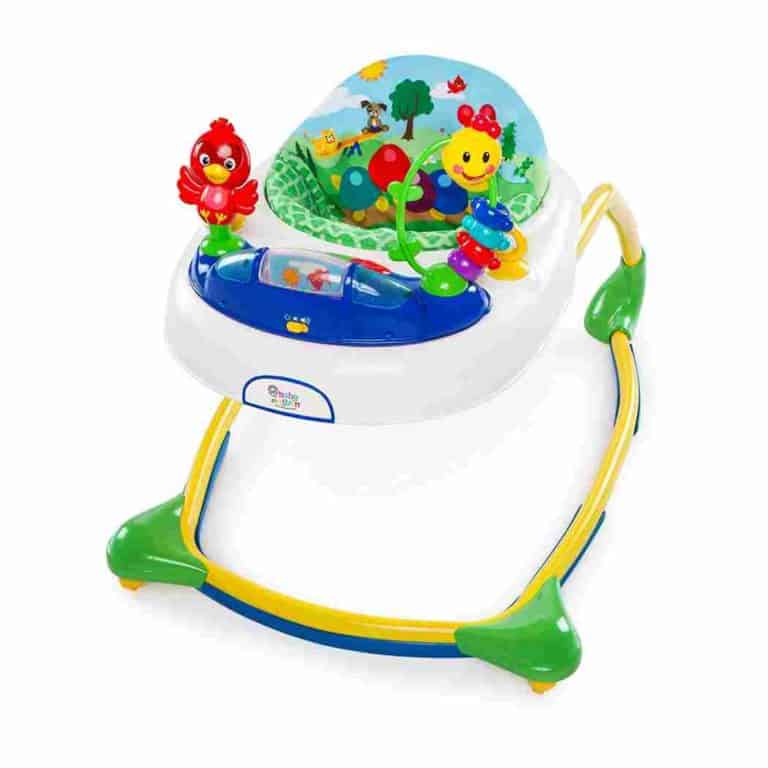 Ranged at 70 dollars, the baby walker designed as a caterpillar knows no compromise on looks as it does not on its performance! Crafted in premium features like that of the impressive design and adventure-seeking spirit devising methods, this baby walker helps your baby step onto and reach the walking steps. The oval shape and frame of the baby walker is as sturdy as eye-appealing. The seat pads of the walker are very soft and can be washed in the machine. The weight recommendation for this baby walker is at 26.5 pounds.
Pros-
The activity station can be removed when needed for floor play
The seat pads are as easy to clean as they are to assemble
Comes with three adjustable height positions for excellent back support
Cons-
Sideways movement is rather restricted
Other baby walkers at this range could offer you more features
9. Cossy Classic Wooden Best Baby Walker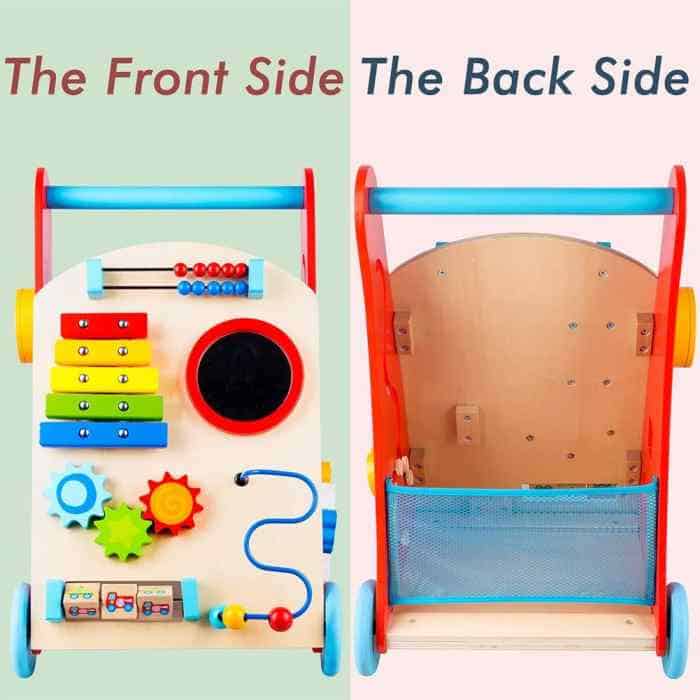 Sold at about 75 dollars, this one is made for any parent that is drawn to well-crafted wooden toys that are also durable to speak of. Constructed out of wood in bright, non-toxic paints, this baby walker is great for babies around 12-18 months of age. This baby walker offers a rubber trim on the wooden wheels that keeps it from sliding sideways and also protects the surface of the floors. The wooden wheels of the baby walker do not come with preset adjustments like VTech, however, you can tighten or loosen the screws to your likeability. The toys of the baby walker are very well thought of and would keep the baby engaged, especially the xylophone toy for making music. Made in an elaborate design, this one lets you wind cars and a stop sign around on a road-like track on the sides. At the front, there are balls on rails that your baby can slide around. An excellent walker in features, style, design, and even the included toys!
Pros-
Demands only minor assembly, up and ready under 5 minutes
Features a storage basket on the back for accessories like the included xylophone stick
The wooden shape blocks that come with the walker can also be fit into the slots on the side that enhances compact storage and avoids misplacement of toys
Rubber Trim on the tires
Cons-
The wheels are hard to bring to equal tightness which loosens them up over time, spinning faster than asked for. This issue can be solved by installing some Teflon washers that can help change the friction
10. Jeep Wrangler 3-in-1 Grow with Me Best Baby Walker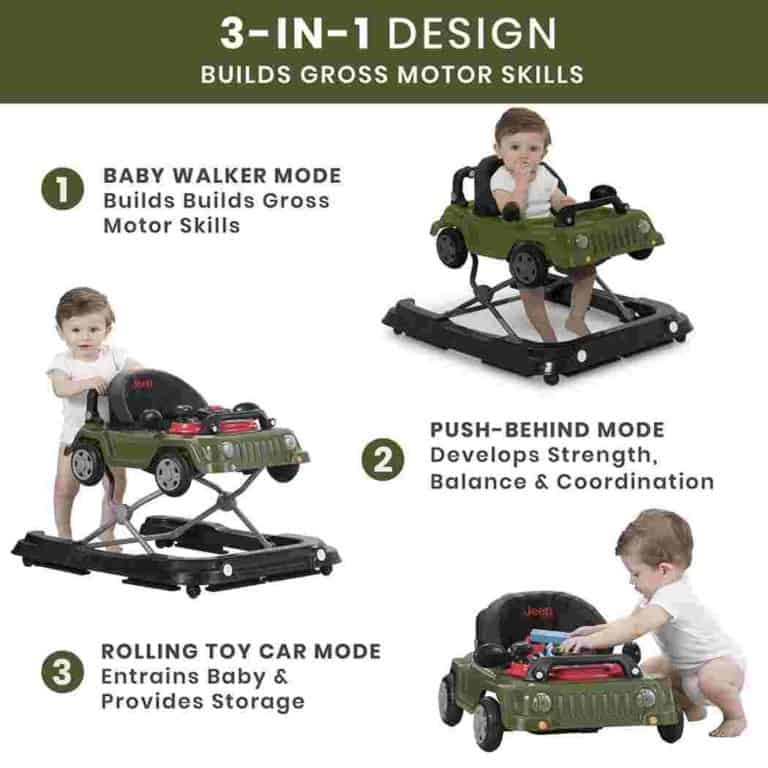 Alo at 75 dollars, this classic Jeep Wrangler, with trademarks grille and headlights to the flared fenders and the vintage green color is nothing but absolutely iconic! Sold as a highly functional 3-in-1 baby walker, this one is designed to convert from a traditional bucket-seat style baby walker to a walk-behind baby walker, and also a rolling toy car mode. The second walk-behind mode is the same as the walker mode but works well because of the well-positioned grab handle on the back. The bottom of the seat is about 7″ above the floor at the lowest setting, and it supports kids up to 25 pounds or 30 inches tall. Great for hardwood, tile, or linoleum, this baby walker does only okay on low pile Berber carpet, and is an absolute fail on any thicker carpet. With pivoted front but non-pivoted rear wheels, it is free to move around, however, a little limiting in terms of directions. The con that can be overruled here is the fact that albeit its big size, the walker is foldable for storage. The other pointable feature is the fact that though quality could be questioned because of plastic attachments and connection, it is also light in weight because of such construction. Pre usage, we recommend you to remove the stickers on the rear-view mirrors, keep ready a screwdriver for the battery door, and two AA batteries to make the turn signals and sounds work.
Pros-
Very easy to assemble
Unlike other sit-in walkers that are equipped with empty trays, this one comes with intriguing horns, dashboards, and blinkers
The walker equipped with adjustable straps that lets you raise it up (about an inch or two) as the baby starts to grow
Cons-
Though foldable for storage, it takes a lot of floor space
Not as great in quality and as long as you are not a Jeep fanatic, you can get a better baby walker at this price point.
Whichever baby walker you pick, you should be aware that traditional sit-in roll-around baby walkers are slightly dangerous in nature. The sit-in infant walkers were also banned at a time in Canada. It is so because the sit-in walkers enable the babies to reach higher heights and dangerous things around them. However, any infant or baby walker that you choose, regardless of the type, if you do not pay close attention to babies around walkers, great accidents can take place. Also, do not forget to check out the baby baby walking shoes, most ideal for mamma-baby bonding walks!
Take precautions but let the babies roll!
Best Baby Walker FAQs
1) What are the best baby walker options in 2022?
Here are the top 10 best baby walker options to choose from:

Joovy Spoon Best Baby Walker
Radio Flyer Classic Best Baby Walker Wagon
Sit-to-Stand VTech Best Baby Walker
Disney Baby Minnie Mouse Best Baby Walker
Hape Wooden Wonder Best Baby Walker
Safety 1st Sounds 'n Lights Discovery Best Baby Walker
Bright Starts Walk-a-bout Best Baby Walker
Caterpillar & Friends Discovery Best Baby Walker
Cossy Classic Wooden Best Baby Walker
Jeep Wrangler 3-in-1 Grow with Me Best Baby Walker
Refer to the article above for more information on these best baby walker picks!
2) When should I buy a baby walker for my little munchkin?
Infant walkers are seats that hang from their frames, allowing the baby to sit upright with their feet touching the floor. Adding on, these come with a tray in front and wheels on the base to help the baby to move around the house.As per studies and research, it is best to buy baby walkers when they are between the ages of 4 and 5 months, up until about 10 months old.
3)What are the advantages and disadvantages of a baby walker?
Just like any other baby product, a baby walker has its own advantages and disadvantages. To highlight them: Pros
They help to keep the baby well engaged
It helps stimulate the cognitive growth of the baby
It encourages them to start walking
Cons
Could be difficult to use
Not ideal if there are mobility issues
Can take up a lot of space
4) How to encourage your baby to walk?
Try to praise them for little achievements, even if it's them holding an object
In case the baby falls when trying to walk, make sure to comfort them and let them know that it's absolutely normal
Enable challenges in the right manner
Always be comforting by extending a helping hand