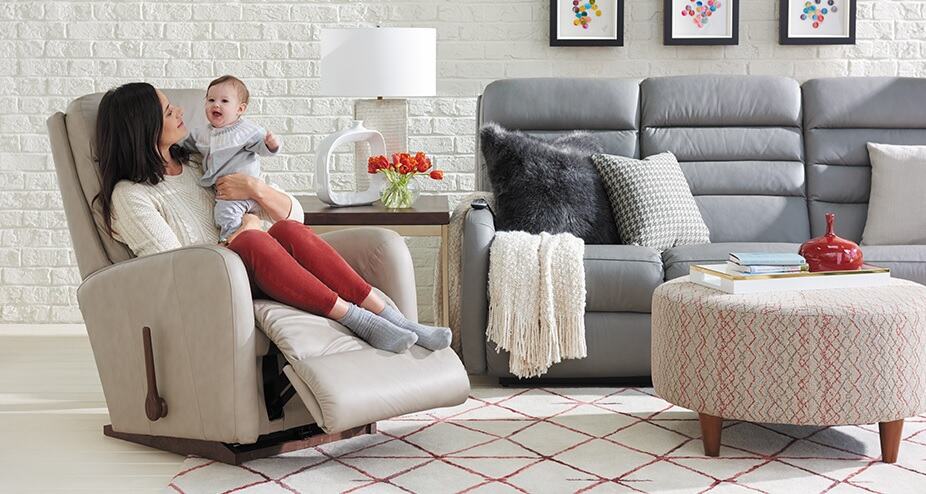 Are you an expecting mother who is trying to get everything on the registry before your baby's arrival? Also, are you still wondering what kind of chair you would need in the nursery? Nowadays, there are so many different types of chairs that you can choose from and every chair has something else to offer. It's all about finding that perfect chair so that you can enjoy every minute while nursing your little bundle of joy. This article will help you buy the best glider or rocker for your nursery. So, keep on reading!
How To Choose The Best Nursery Glider ?
As new parents, you need to understand that a nursery chair is going to be a decent investment. So, make sure it has several qualities and it's not just there for visual appeal. Your nursing chair should be:
It should be supportive and comfortable. Also, for better late-night feedings, get a chair that is high enough for you to rest your head-on.
Make sure the chair is well-constructed and that there are no visible moving parts.
Parents know that babies are mess-machines, so make sure the chair can be easily cleaned. Some chairs have a removable, washable chair cover.
Read the reviews if you are buying a chair online. These reviews will help you figure out if the said chair is good enough or not because chances are the people leaving the reviews probably wanted similar features to the ones you want.
Create a budget before buying a nursery glider or rocker because it can range from affordable to just downright crazy in price and limit your search to ones within your budget.
Make sure that your chair is durable enough to stick around for the long run.
Make sure the chair is easy to get in and out of. You wouldn't want to struggle to get up out of a chair and startle your baby.
8. Accommodating Arm Rests
Get a chair with well-padded armrests or even wide arms because your arms are going to need all the comfort they can get when it comes to holding and supporting your baby.
When rocking, some chairs tend to have a loud sound. So, opt for a chair that does not squeak or is a silent rocker.
Top 10+ Best Nursery Glider List and Rockers of 2022
1) The Comfortable: Baby Mikayla Relax Swivel: Best Nursery Glider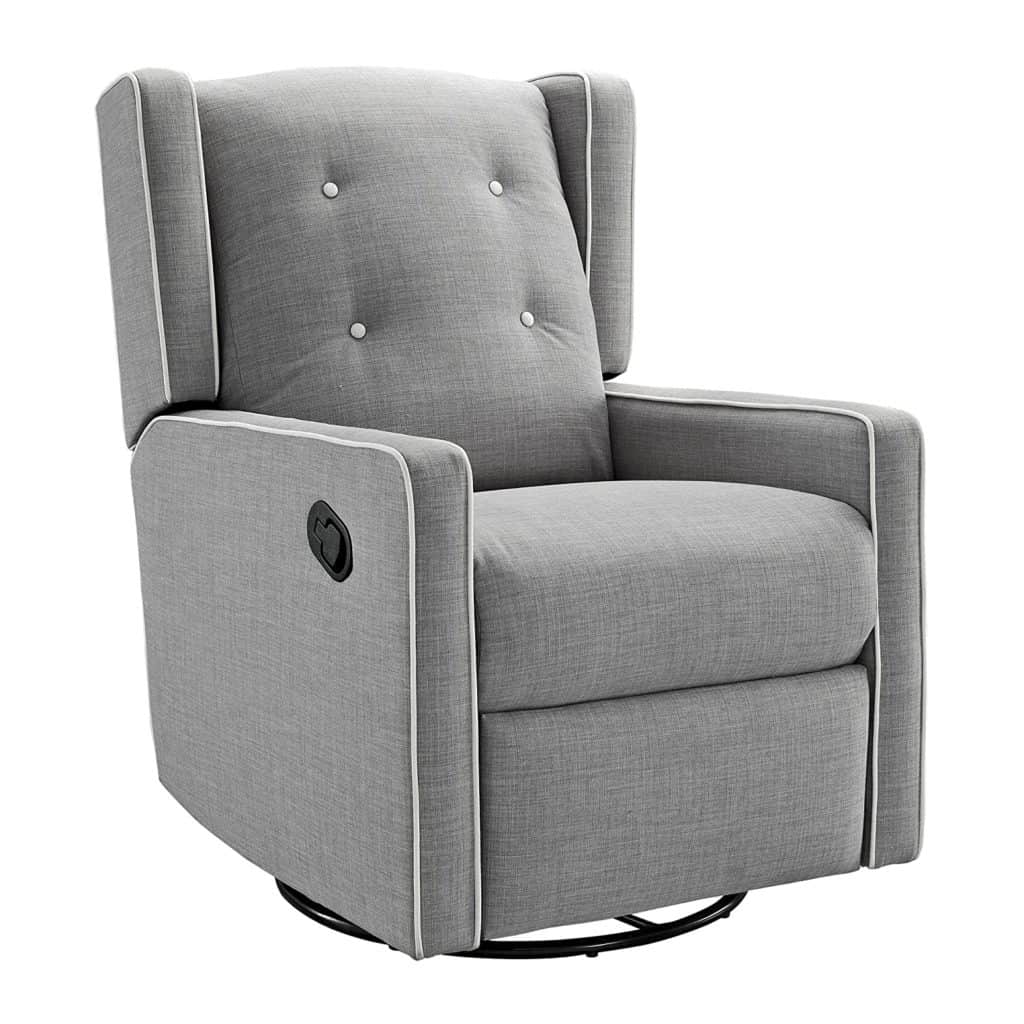 This universal nursing chair has almost everything a nursery chair could offer. It has swivel 360 degrees, has seamless gliding capabilities, and also reclines. This glider is perfect for parents who are looking for a chair that can accommodate any comfort level and any time of day.
It has a supportive spring core foam-filled seat that is comfortable and supported. It has intricate designs on the backrest making it a fashionable addition to any nursery. If you are still unsure about what features you want in your nursery chair, then this is a great solution because it has the options of swiveling, gliding, or reclining.
Pros
It is very easy to assemble.
The chair has an elegant and intricate design.
You can recline and swivel it for maximum comfort.
It has a sturdy construction.
Plus, it is reasonably priced.
Cons
There's no protective cover.
You do not get a lumbar support pillow.
Also, it has a maximum weight capacity of 225 pounds.
2) Best Value for Money: Windsor Ottoman and Best Nursery Glider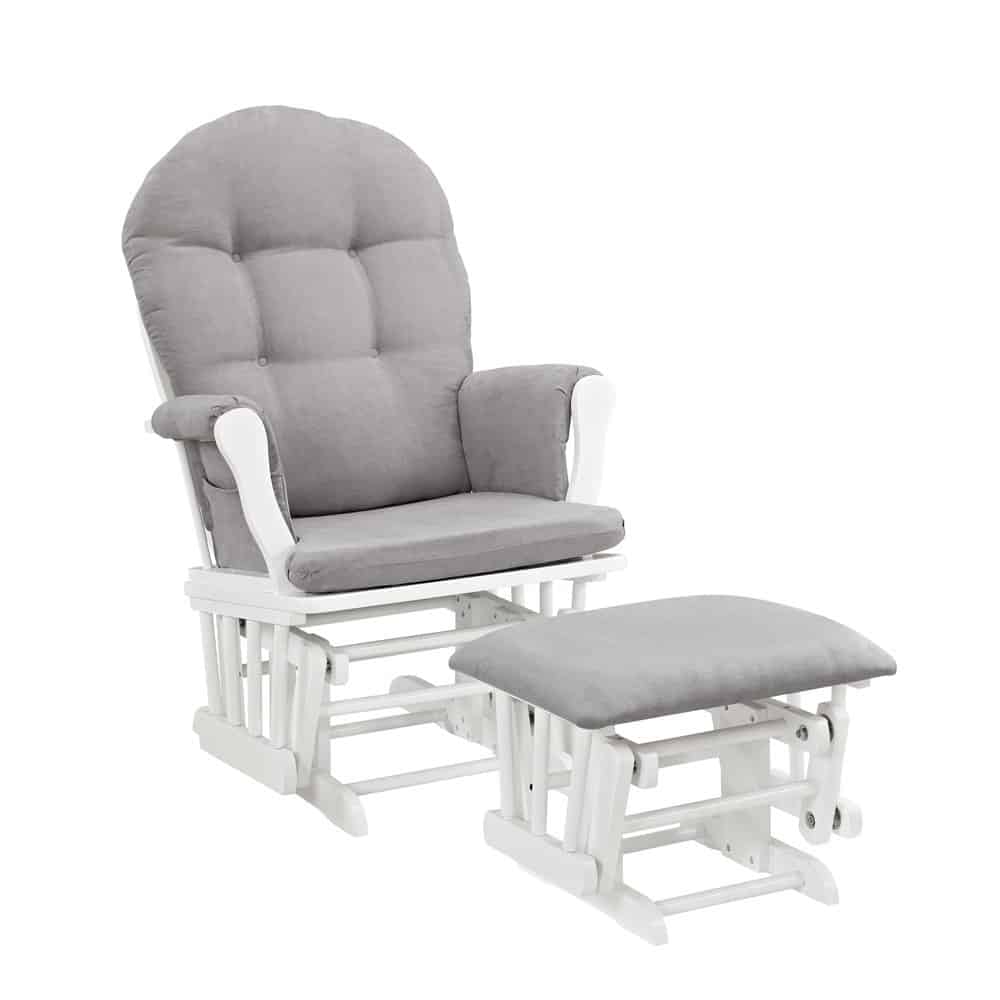 This budget-friendly glider is not only affordable, but it also looks the part. This comfortable stylish glider comes with extensive cushioning all along with the chair.
To make sure that your arms are comfortable while rocking your baby, it has additional padding in the armrests. It has enclosed metal bearings that allow smooth gliding and this will help you soothe your baby to sleep.
The glider and ottoman pieces are made out of solid wood frames to optimize stability. The additional ottoman will help you take some stress off your back. Also, you don't have to disrupt your rocking because it also rocks with your chair. You have several color options to choose from.
Pros
It is affordable.
The chair comes with padded arms and storage pockets.
You can spot clean the material, but you can't machine wash it.
Cons
Some buyers questioned its durability and noted that it squeaks when rocking.
Also, there's no protective cover included.
3) Easiest to Assemble: Naomi Home Swivel Rocker Recliner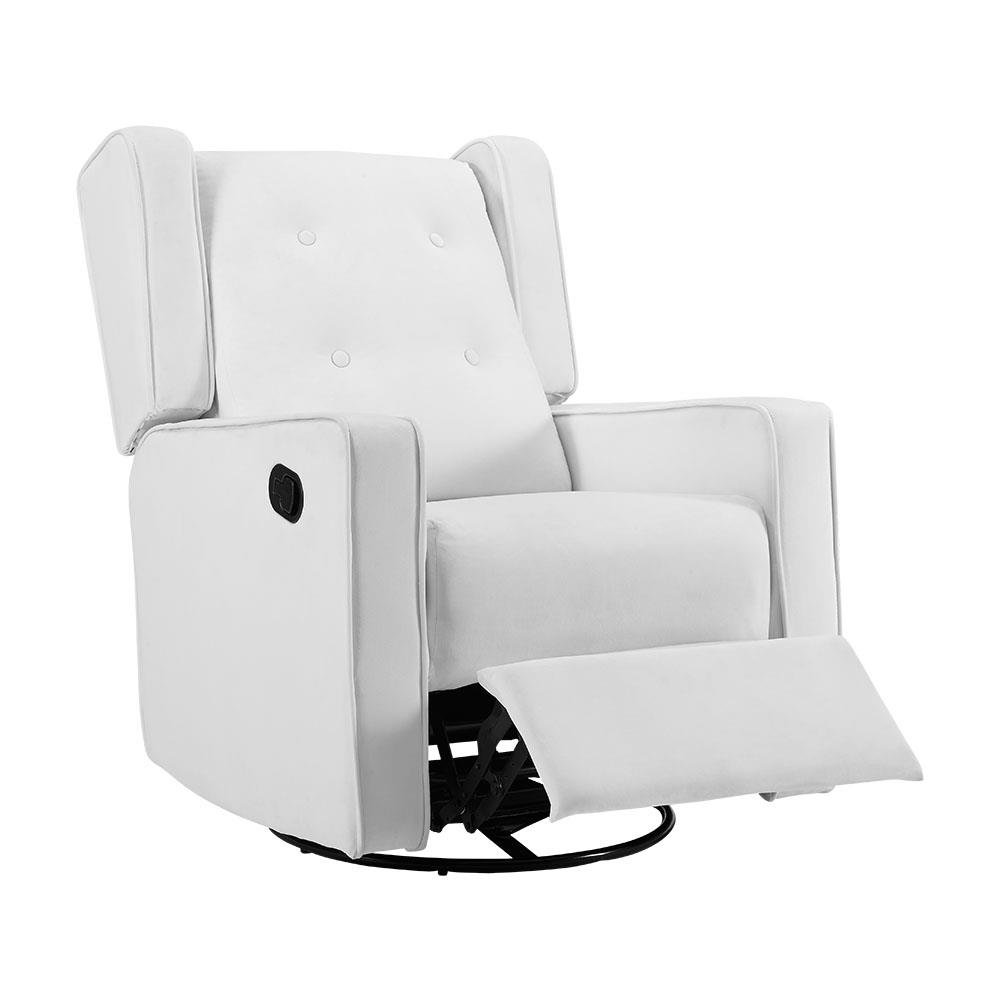 Preparing for your little one's arrival is tiring, so why not make life just a little bit easier with this easy-to-assemble rocker? This chair comes in 3 simple, large pieces, the seat, the seatback, and the sides, and to assemble it simply slide the parts in place. All you need is a few minutes. Moreover, it can be done by a single person, even a pregnant mom (only if you're comfortable with lifting a few things).
After assembling it, you can swivel it in a 360-degree motion and gently recline where a footrest will pop up, it provides extra support.
It is made out of a smooth, yet plush fabric and the large square design will look beautiful in any nursery. It's so large that both moms and dads, no matter their size, can comfortably relax in it. This durable comfortable rocker is easy to assemble and a good choice for every parent.
Pros
An easy assembly which will take just a few minutes.
This chair's large, square design is comfortable for moms and dads of any size.
Also, it swivels and reclines for a full range of motion.
Cons
Sometimes the color of the chair isn't the same as the pictures.
4) Best Nursing Glider: Graco Parker Glider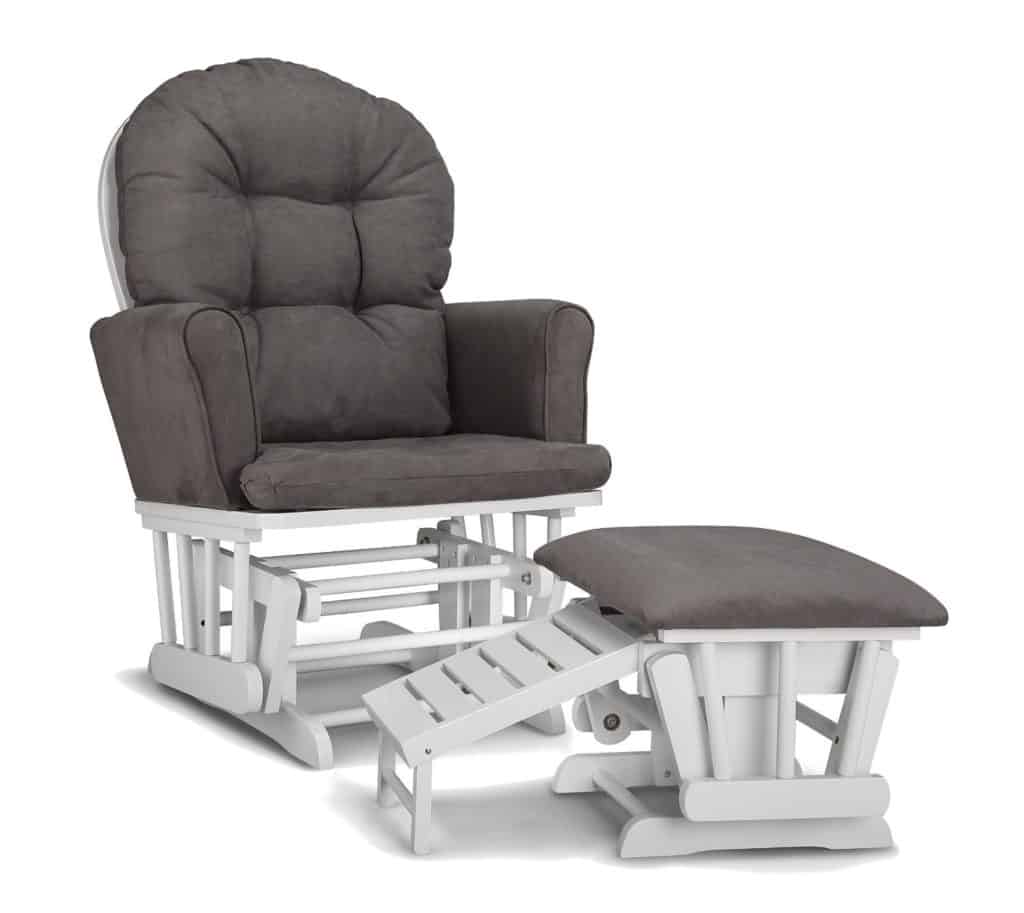 You need a comfortable place to breastfeed your little one. This glider is designed for mothers who are planning to breastfeed.
It comes with a pull-out nursing stool which will help enhance your breastfeeding journey and once you're done, the nursing stool will fold right under the ottoman for easy access.
The fully padded armrests are higher than usual and it helps you rest your arms comfortably while nursing your little one. Now, late-night feedings can become just a bit more comfortable. Your breastfeeding journey will run a little smoother with this chair. If you aren't breastfeeding, it is still useful because the higher armrests help support your baby when rocking or bottle feeding.
Pros
The chair is made out of ultra-plush microfiber cushions which allows maximum comfort.
For some additional support, the nursing stool will help you nurse your baby to sleep.
You can spot clean the cushions.
Also, it will perfectly coordinate with any other Graco or other branded cribs.
Cons
This chair has a lower weight capacity than others at 250 pounds.
Also, there's no protective cover.
5) Best Glider for Small Spaces: Delta Children Nursery Glider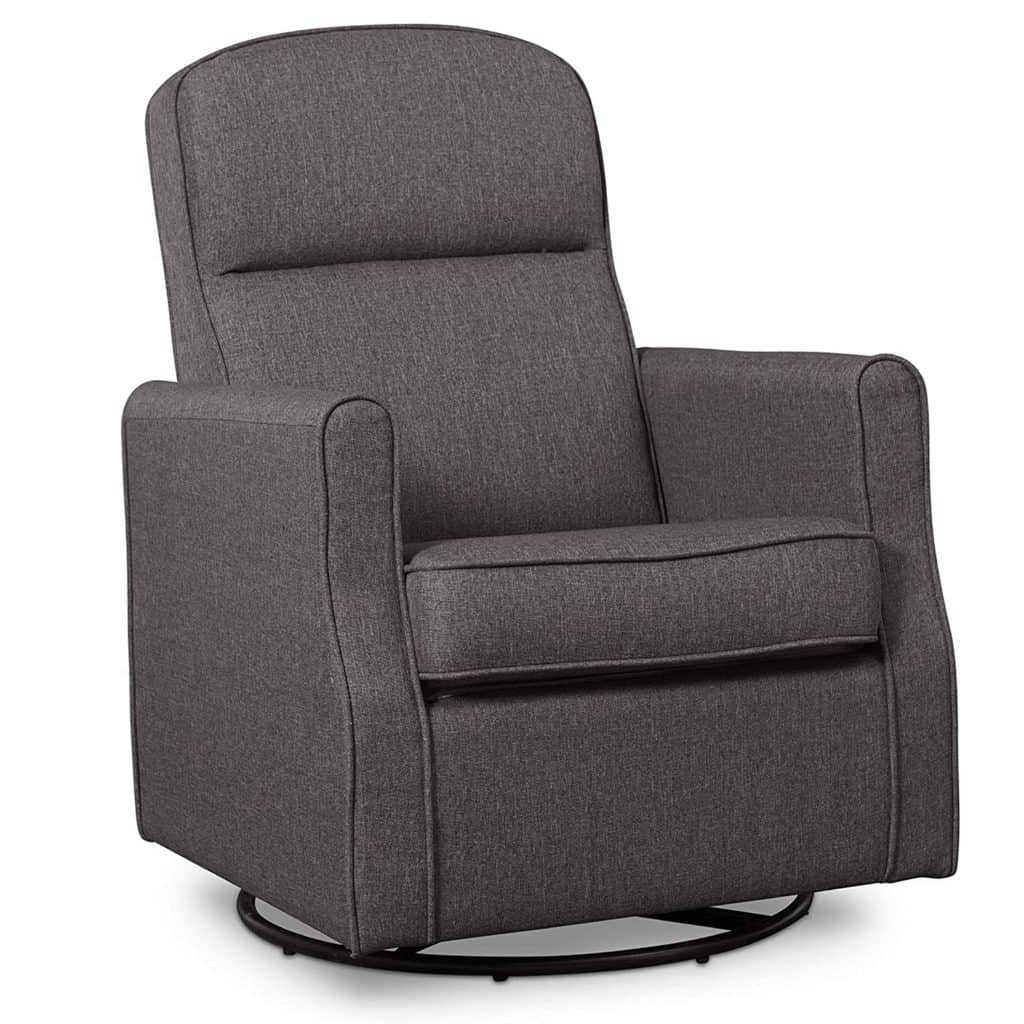 This glider is perfect for anyone who doesn't have a lot of room in their nursery. Although it's designed for smaller spaces, it is big on versatility and function.
It comes with a 360-degree swivel which allows you to turn in any direction.
You have 3 color options to choose from. It has a sturdy composition, it's long-lasting and durable. Also, it's lightweight and easy to move for relocation. For enhanced comfort, the chair has a curved silhouette and thickly padded cushions. Additionally, if you love a good footrest, there is a matching ottoman available for purchase, too.
Pros
The chair has durable steel mechanisms to ensure quiet movements and it has whisper quiet gentle glide motion.
The armrests are thickly padded.
You can remove the cushion for easy cleaning.
As mentioned, it is perfect for small spaces.
Cons
However, this chair has a 225-pound weight limit.
The material was not very durable.
6) Best All-Round: DaVinci Swivel Nursery Glider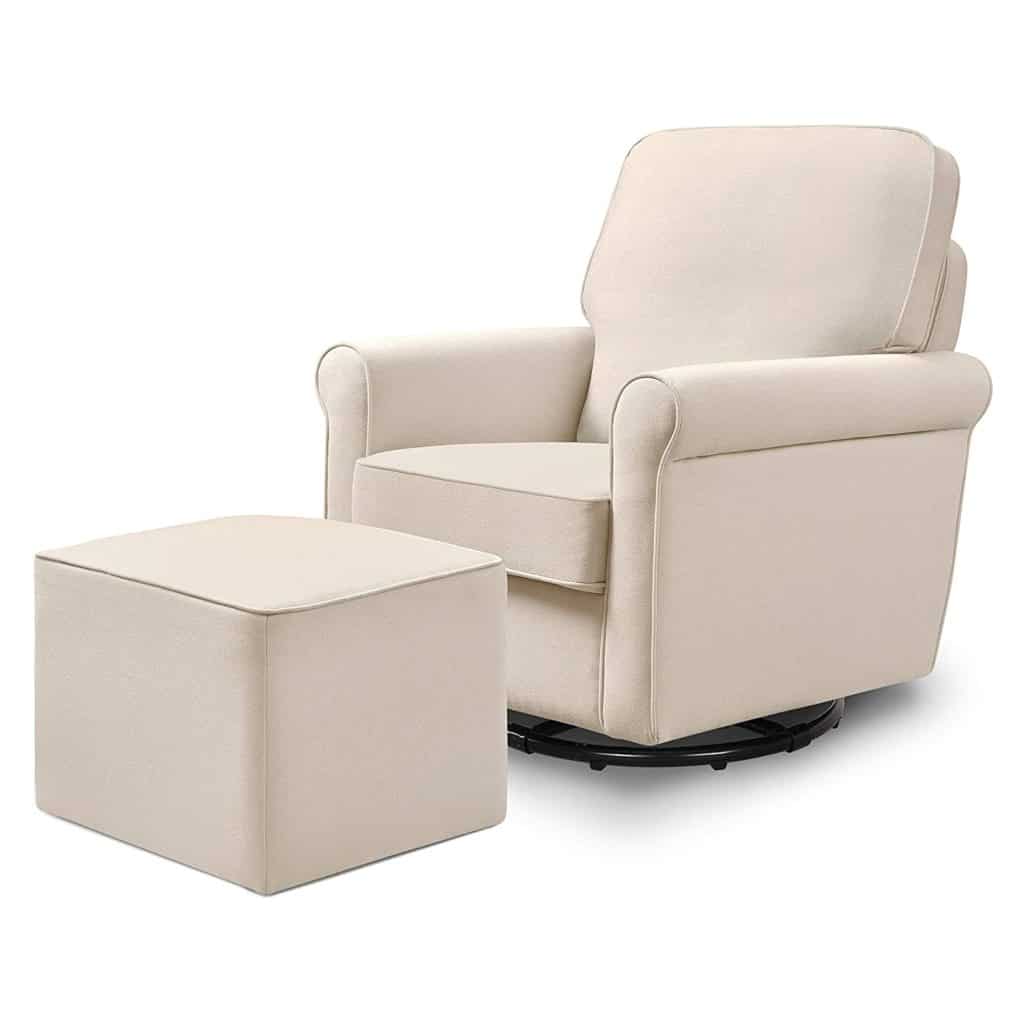 This glider is a perfect option for shorter moms who are looking for a chair with great support. This chair has a supportive lumbar section and sits lower to the ground which ensures maximum support. If you need to turn to get something in the nursery or if you need an object which will help you stand up out of the seat, you can do it because this glider has swivels.
The swivel design is safe for all fingers, as the majority of its construction is hidden underneath the chair and it's not accessible by kids. This already assembled chair is a great last-minute addition to the nursery.
It is made out of materials that are free of chemical flame retardants and formaldehyde. This thoughtfully designed chair meets all the needs of mom and baby during feeding time.
Pros
This chair can swivel smoothly at 360 degrees.
It comes with lumbar and head/neck support.
Pre-assembled.
Additionally, you get an ottoman.
You have multiple colors to choose from.
Cons
There were reports that the chairs began making noises with each rock.
Also, it doesn't have any protective cover.
7) Pottery Barn Wingback Swivel Best Nursery Glider and Recliner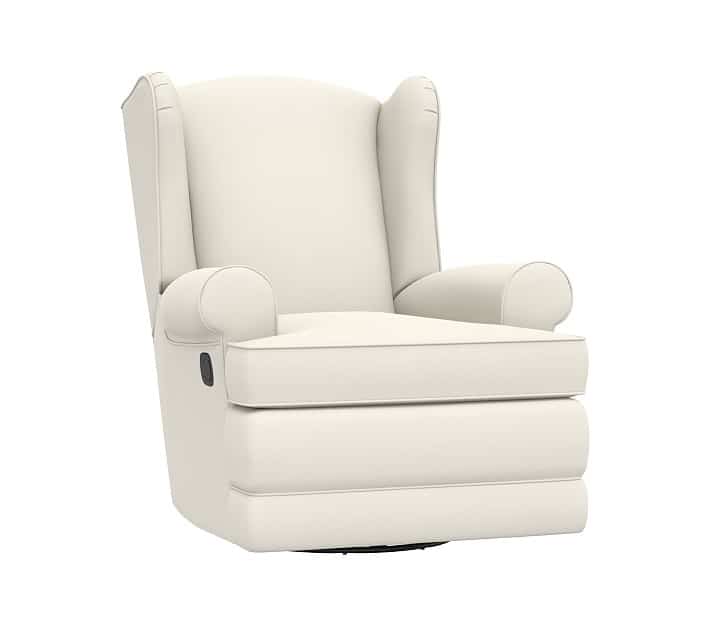 By choosing the Pottery Barn no parent can ever go wrong in terms of their pick. This nursery glider and recliner features a high-quality made product and is attractive enough, allowing you to spend ample amounts of time in it.
The glider is super comfortable that you might not even mind falling asleep in, can recline all the way, is easy-to-use, and is available in a lot of options to choose from in terms of its fabrics/color/automatic/manual feature.
Pros
Is super comfortable
Is available in a wide range of fabrics
Parents can choose between its automatic and manual feature
High-quality
Cons
Comes with a little needy manual to follow
8) Paxton Best Nursery Glider, Recliner, and Rocker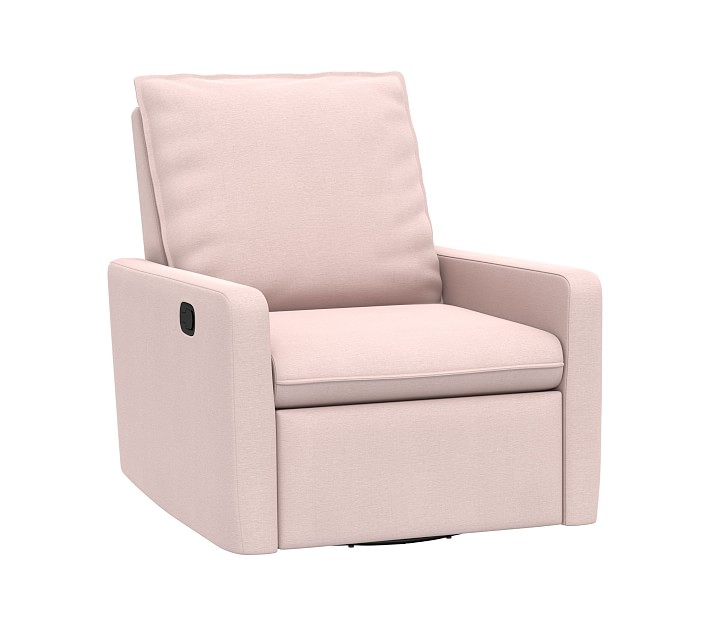 The Paxton nursery glider is multifunctional as it can be used as a rocker and a recliner. It features to be super adorable, is modern, looks attractive and adorable, and is well-constructed. Plus, it is also certified from the GREENGUARD Gold, meaning it meets or exceeds the chemical emissions standards.
Pros
It can swivel a full 360 degrees
Is multifunctional
Durable in nature
Cons
Would need a little practice to understand its functionality
9) Nurture - Best Nursery Glider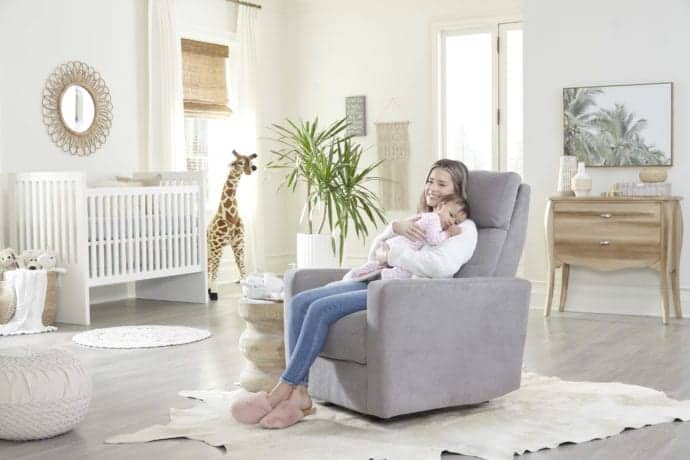 Nurture's glider features a luxurious experience and provides comfort and a sleek style. It comes with a birchwood frame, extra padded cushions to support your little one, and has a fully adaptable power that allows you to easily adjust your leg, head, and back, all at the push of a button.
Adding on, Nurture provides the best experience and comes in Ivory, Navy Blue, and Gray color that can fit in any nursery seamlessly.
Pros
Comes with a stain-resistant fabric
Is durable
Has extra padded cushions
Is comfortable and sleek
Cons
Doesn't have many options to choose from
10) Aisley's Mack and Milo Reclining Best Nursery Glider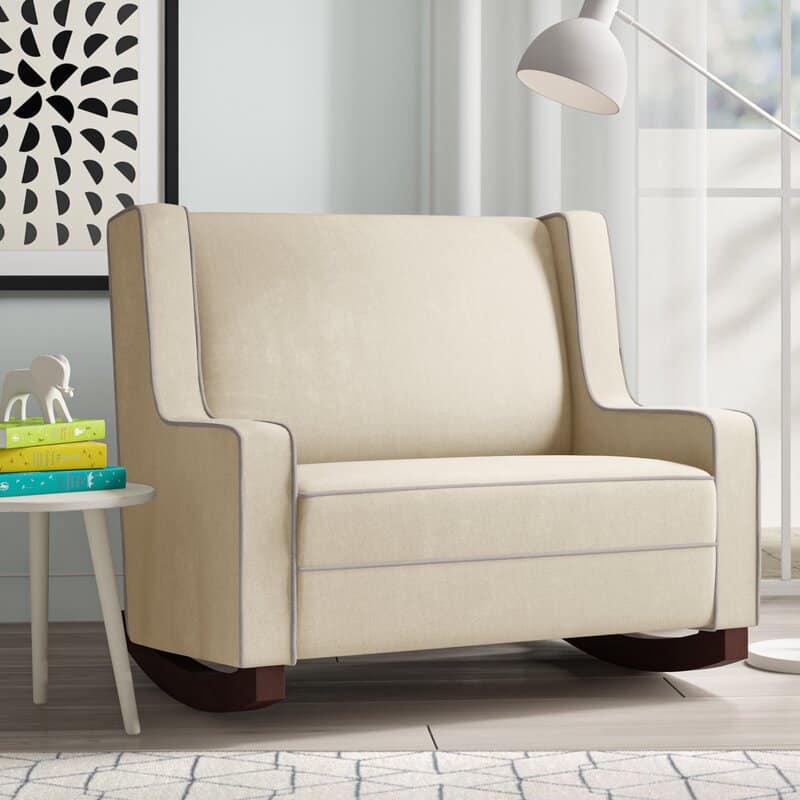 This nursery glider from Mack and Milo has been in the market for some time, but it's reclining feature is new and most adored with over 4,000 reviews and 4 1/2 stars.
It features to be 63″ long, is super soft with no edges that could hurt the little one, and is supportive. Nevertheless, if you are looking for a combination of a rocking and a reclining glider then you might have to skip this one as it does not come with the rocking option.
Pros
Comes in an attractive color and style
Is a perfect blend of traditional or modern nursery
Is 63" long
Has good reviews for its reclining feature
Cons
Doesn't have a rocking option
11) Project 62 Esters Rocking Best Nursery Glider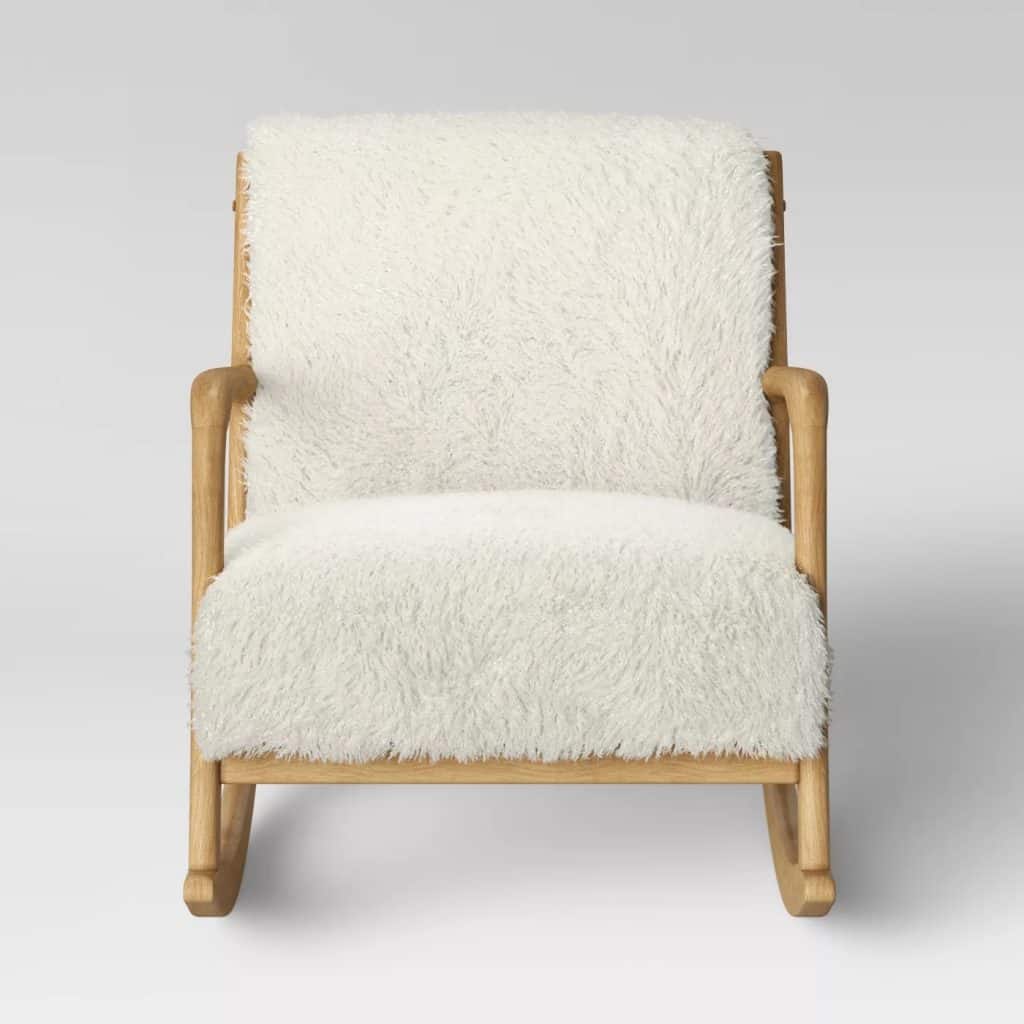 This Project nursery glider is made from fuzzy sherpa and is the cutest rocking chair on the list. It features the best and soft texture, is super fun, is easy to use, and is pocket-friendly.
If you choose this nursery glider, be assured that it mixes well with your other nursery furniture in the nursery, is super comfortable, and can also be used flawlessly in any corner of the house once your babies are grown.
Pros
Is easy-to-use
Comfortable
Pocket-friendly
Durable in nature
Cons
Can have a packing smell when opened
12) Da Vinci Piper all-purpose Best Nursery Glider Recliner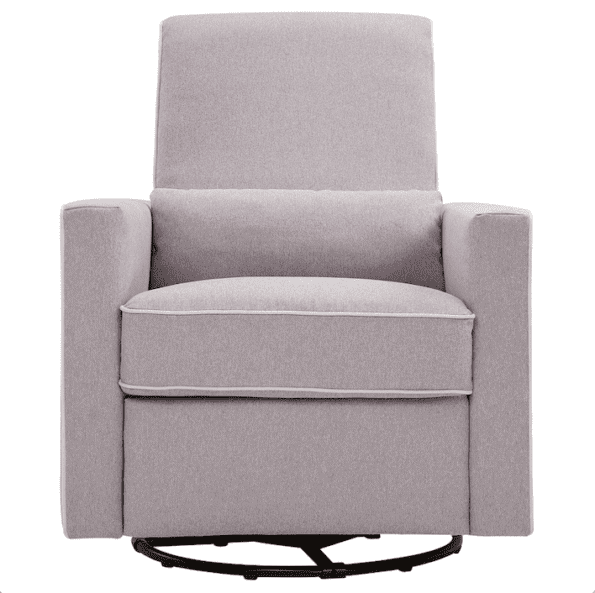 This nursery glider doubles as a recliner making it the best nursery glider recliner combination in the market of gliders. As the title says, it is multipurpose, can lie back flat, is super comfortable, and also has a footrest to relax your feet after a long day.
The best part yet, it can be easily fitted into small places, has a super soft fabric, and is the best glider to relax on, you can count on it!
Pros
Can fit smaller spaces
Is made using soft fabric
Is multi-purposed
Can lie flat
Cons
Its small size could be of an advantage, as well as, a disadvantage
13) Crate and Barrel Bakersfield Best Nursery Rocking Chair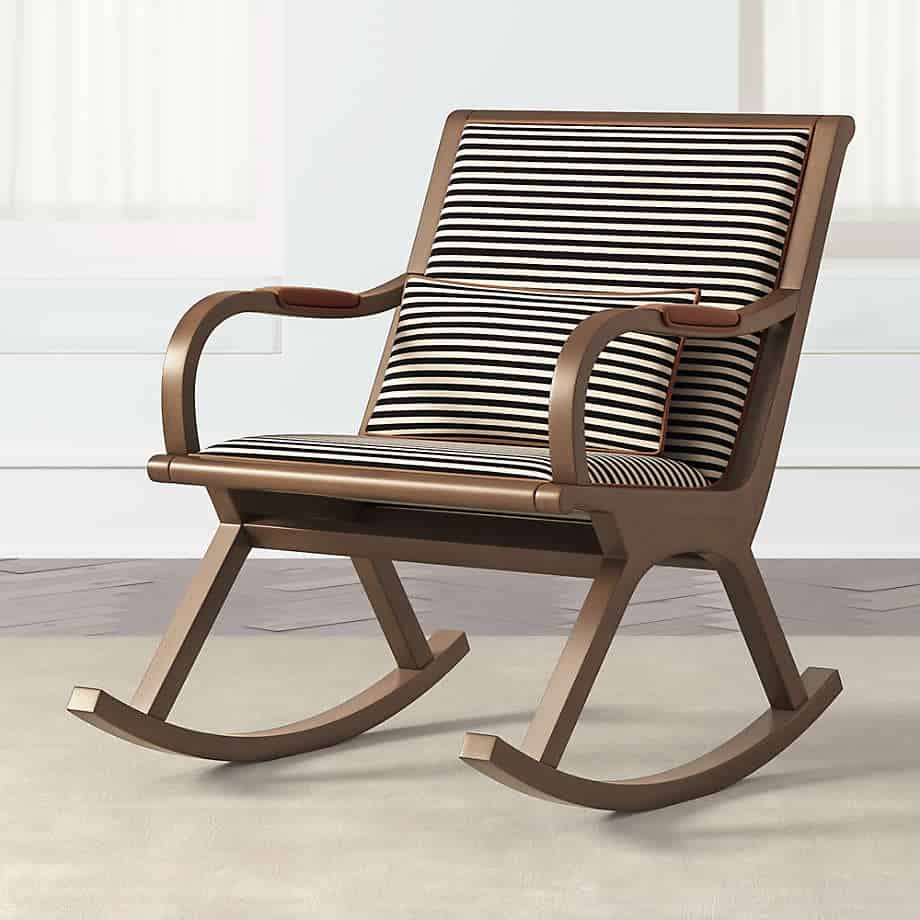 Although it's not a glider, it makes a perfect rocking chair for those whose preference is to have a rocking chair instead of a glider. Its design is the best balance between vintage and modern.
It features a wooden make with chic white and black striped cushions, perfectly reclines to help the breastfeeding moms to nurse and cuddle the baby in, and can be of the best match to be placed anywhere in the house and not just the nursery.
Pros
Is the best rocking chair on the list
Is a good balance between the vintage and modern
Reclines with ease
Fits perfectly in any corner of the house
14) Babyletto Tuba Swivel Best Nursery Glider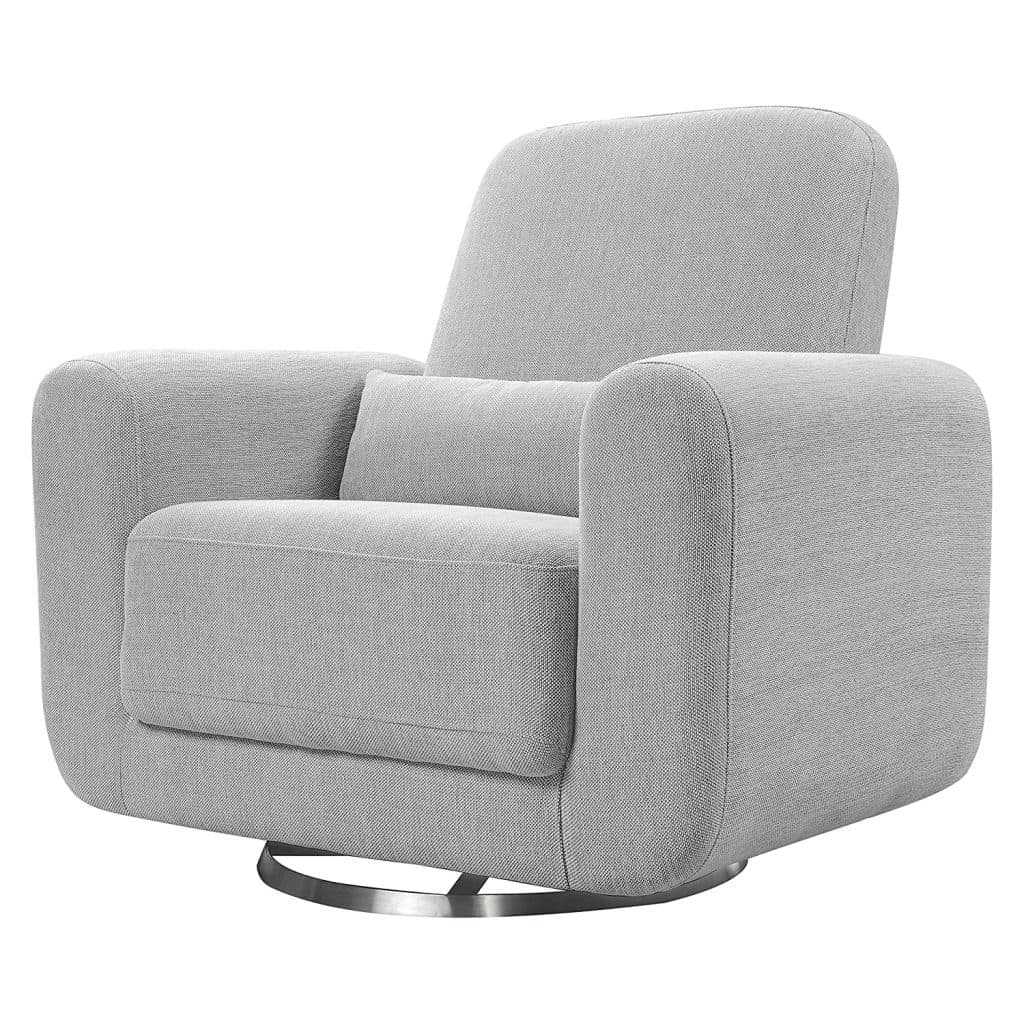 Babyletto features the best in terms of the looks of a baby glider in 2022! It's the most trendy glider chair, makes the prettiest accessories for your nursery, is extra wide, and comes with thick cushions.
In addition to this, this baby glider chair also comes with a handy lumbar pillow, is made using sleek metal, and a matching ottoman. Nevertheless, on the downside, it's a little expensive but worth the investment!
Pros
Is trendy
Looks the best of all gliders on the list
Is made using sleek metal
Has a handy lumbar pillow
15) Angel Line Windsor Best Nursery Glider and Ottoman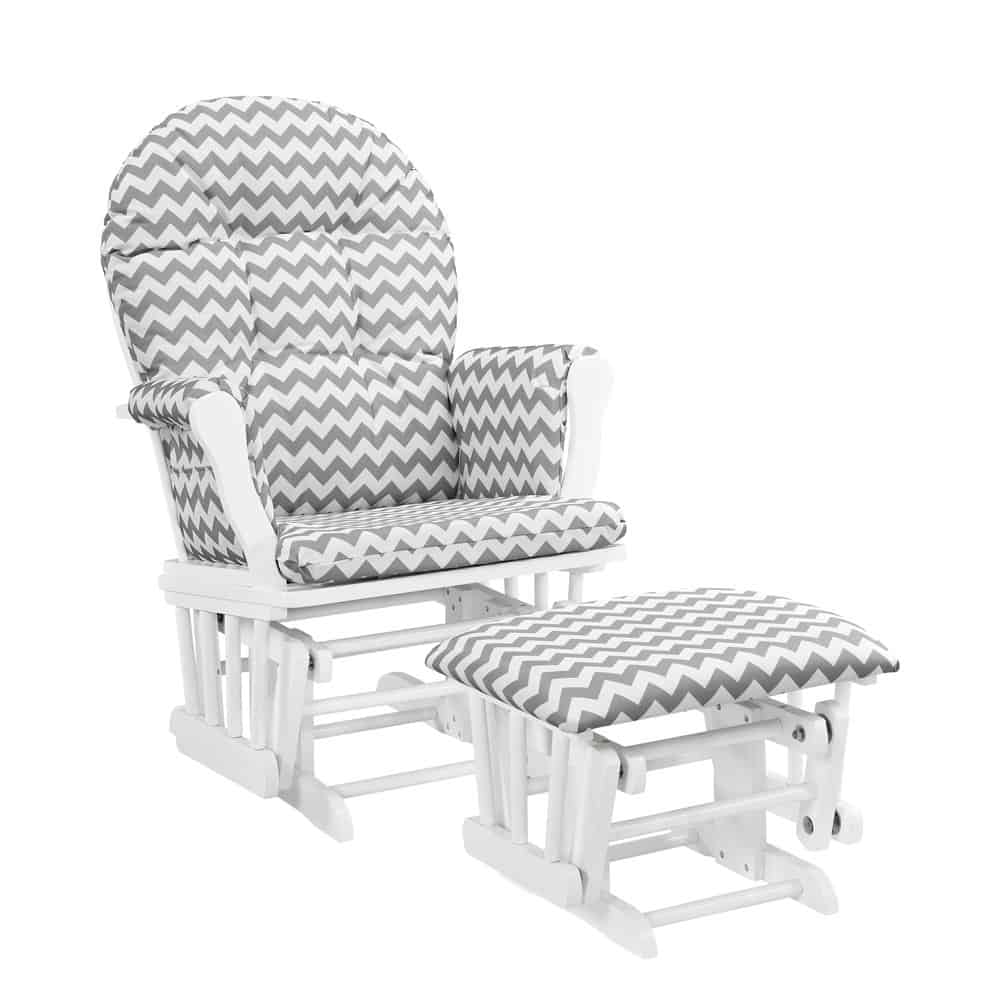 This Angel Line Windsor baby glider has an old-fashioned look, is multifunctional as a rocking chair, and has extra soft padding that makes you sink in. It also comes with handy pockets that are built-in and can be used to store extras and anything that the baby might need.
Pros
Is easy to assemble
Easy to clean
Is multifunctional
Has storing pockets
Cons
Does not recline as most on the list
16) West ELM Graham Best Nursery Glider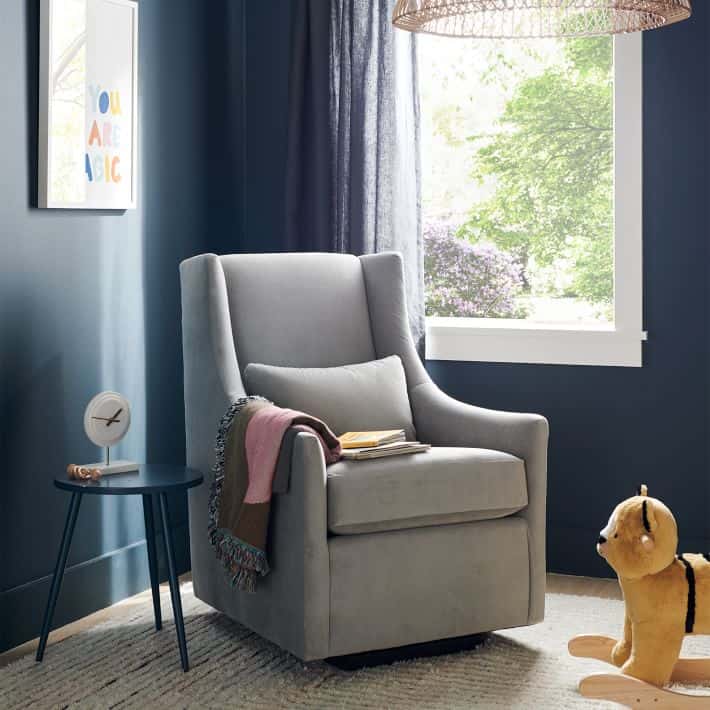 This nursery glider features a luxurious experience for both the mama bear and the little munchkin. It features a comfortable chair, has a gliding mechanism, is available in a wide range of colors and fabrics to choose from, and is super smooth.
Pros
Is luxurious
Is easy to use
Has a gliding mechanism
Is available in a wide range of options to choose from
Cons
Does not have a rocking option as most gliders on the list
Make sure that the glider has well-structured frames and ensure that it's well put together.
Keep an eye on any moving parts that are visible and which can be easily accessed by little fingers (you don't want your little one to get injured on the nursery chair).
These chairs are made out of different materials but remember that some might be harsher than others. So, go for chairs that are made from materials that are free of all chemical retardants.
Before purchasing a chair, always browse through the product recalls by the US Consumer Product Safety Commission. Make sure that yours is not on the list.
Gliders or rockers are designed to keep moms and their baby's comfortable. Make sure you are buying a chair that is made out of super-soft materials and it should have firm padding. It should have a 360 degrees swivel. The chair should include lumbar support to keep mom free of any other additional aches and pains that parenthood might cause.
Best Nursery Glider FAQs
1) Do you need a glider for nursing?
Gliders aren't a must-have item but they do come in handy. They let you rock back and forth, and this gentle movement will soothe the baby to sleep.
2) Should I get a glider or recliner for the nursery?
Parenting is tiring and overwhelming. The late-night feedings drain you out. Having a nursing glider or rocker can make breastfeeding time a little easier.
3) Are recliners good for nursing?
A good adjustable or reclining chair will offer enough support to allow you to stand up easily after nursing without disturbing your little one. They make nursing a little comfort too.