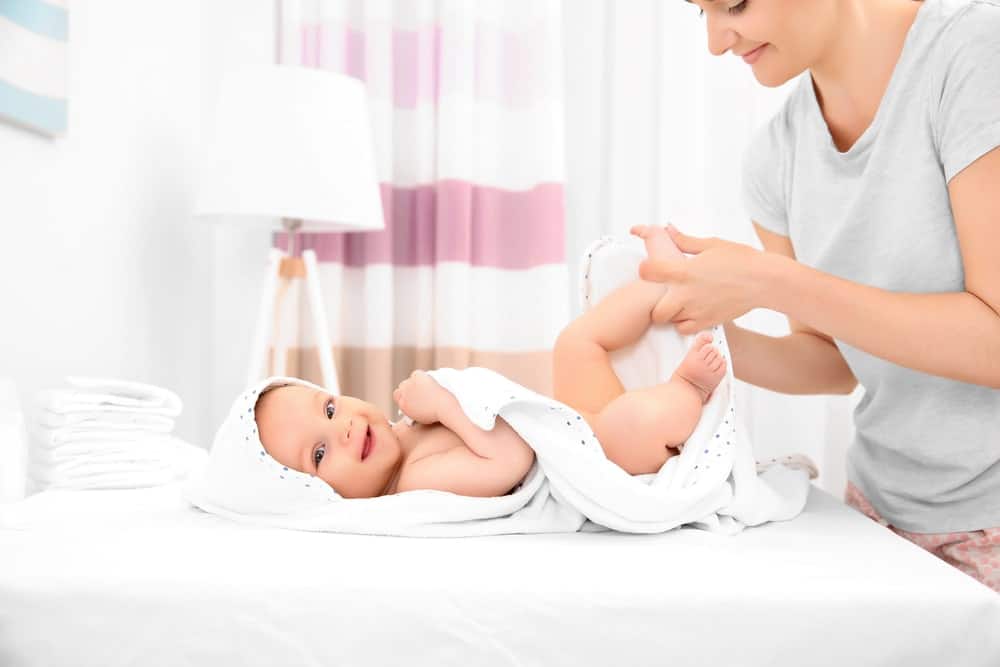 By your little one's first birthday, you'll change more than 2,400 diapers. So, isn't it better to have a comfortable and safe spot to do it? Whether that's on a dresser with a changing pad, or a freestanding changing table, or something else. Don't you worry! Because we have a list of best changing tables and best baby changing pads. Keep on reading to know all about the best baby changing tables and pads available in the market.
What Is A Baby Changing Table?
It is an elevated table that brings your baby up to your level and makes changing their diapers easy. Usually, it provides storage for diapers, wipes, and other supplies that you'll need. Some parents use a supportive changing pad on a dresser, a do-it-yourself changing station on a bed or floor, or a play yard with a removable changing table.
How To Find The Best Baby Changing Table?
Here are some things to think about while you're choosing the best changing table for your baby:
Experts recommend that a changing table should have railings on all four sides. They should be at least 2 inches tall. Although, keep an eye on your baby when they're on an elevated surface.
A well-made changing table should be stable and sturdy. It shouldn't be rickety when you shake it. Also, you can anchor your changing table or changing dresser to the wall.
Your changing table or pad should come with a safety strap that goes around your baby's midsection. Even though it's a great aid, it shouldn't be considered as a substitute for hands-on supervision. Like we mentioned before, never leave your baby unattended on a changing table or any elevated surface.
Opt for a changing table or pad that has a place to store all the baby supplies. It'll be easier if everything you want is within reach, so you don't have to bend, twist, or move away from your baby.
Choose a changing table or dresser that will lift your baby to a convenient height for your body. This will save your back and shoulders.
Every new parent would appreciate a changing dresser or table that can be useful long past the diaper-changing days. 
What Are The Different Types of Baby Changing Pads Available?
You should research the various types of changing available pads. Then decide which one will work best for you, your baby, and your lifestyle. Here are some types you could go for:
Standard Changing Table Pad
Disposable Diaper Changing Pad
Portable Changing Pad
Diaper Changing Kit
Your little newborns can usually use any type of changing pad but keep in mind that different types of baby changing pads will work better at different ages. Let's get on with our amazing list!
9 Best Changing Table Pad
1. Best Smart Changing Pad: Hatch Grow Smart Changing Pad And Scale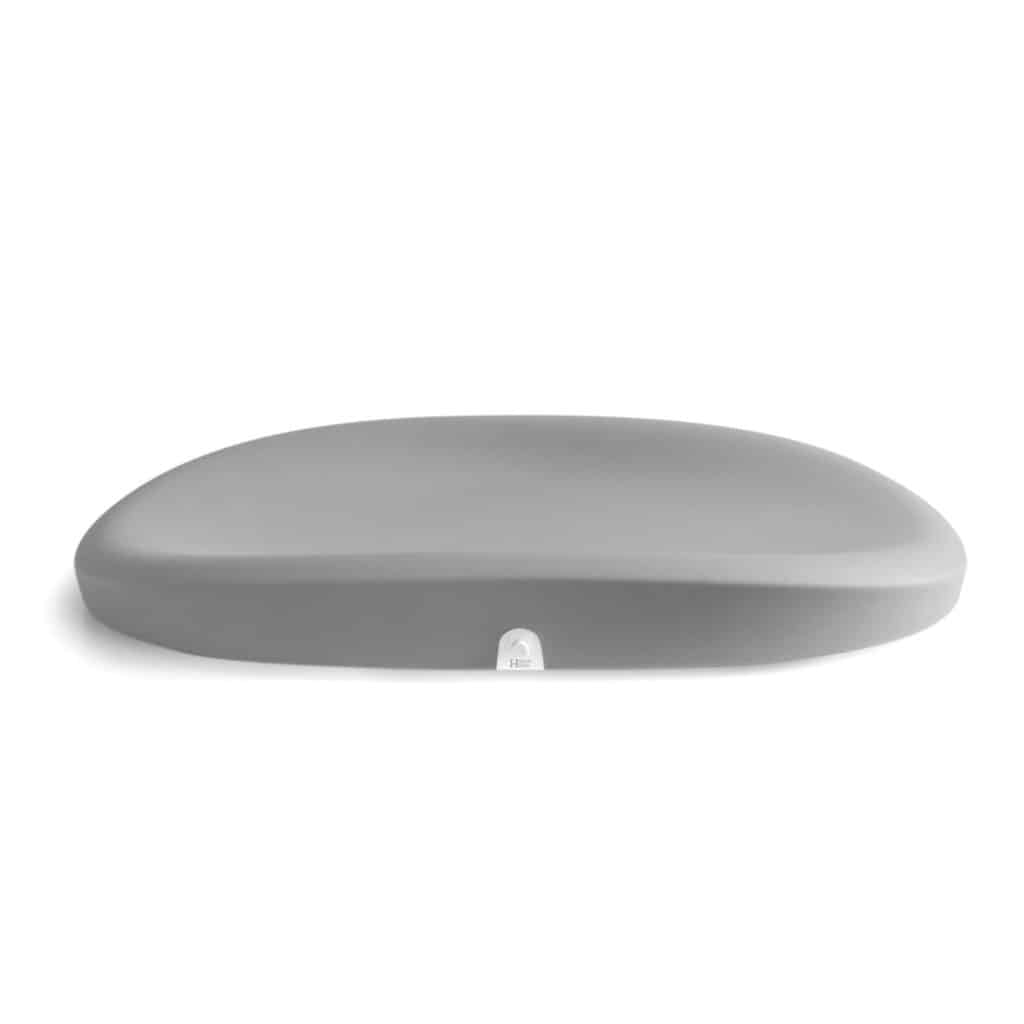 Features
2 X 17.3 X 4.7 inches
For children up to 44 pounds
Uses three AAA batteries (included)
Can be wiped clean
This is a second-generation smart changing pad. It is designed to give new parents peace of mind about how well their babies are growing and eating. The changing pad has a built-in, wireless scale that can measure how much your baby is drinking at every feeding and weight. Additionally, it automatically syncs to the Hatch Baby App where you can easily record their feeding sessions, sleep, and diaper changes. You can secure it to a dresser or a freestanding changing table.
However
Parents have said that if your baby is moving it's hard to get an accurate weight. Also, some parents mentioned how constantly weighing their baby's weight made them feel more anxious about their well-being.
2. Best Changing Table Dresser: Delta Children Sutton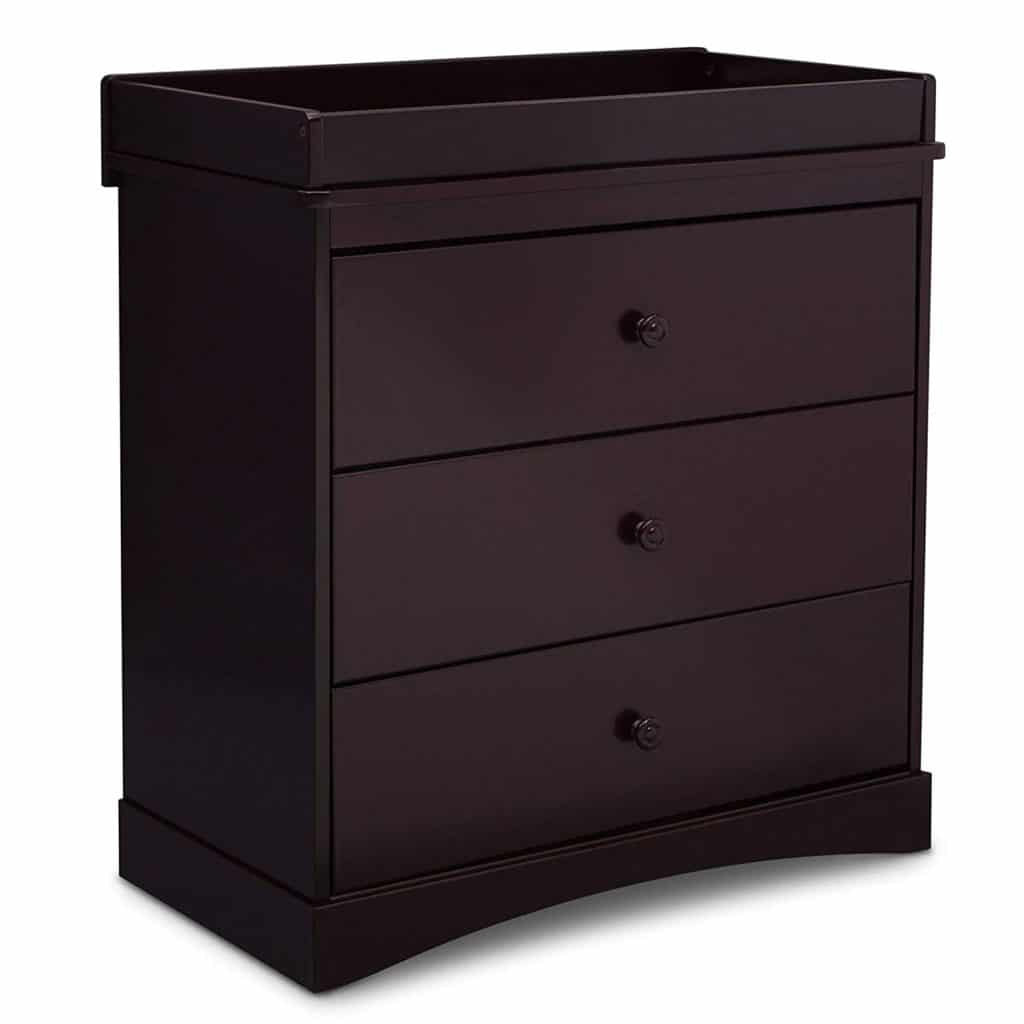 Features
75 X 17.5 X 37 inches
Assembly required
Changing topper is included
This pretty, minimalist changing table dresser, comes with three deep drawers where you can store all your baby's supplies and clothes. You can remove the changing table topper so the dresser will work in your growing child's room for years.
However
It doesn't include a changing pad. You need to buy one separately or use a towel or blanket with the topper. Additionally, some parents mentioned how it was tedious to assemble.
3. Best Playard With Changing Table: Graco Pack 'n Play Snuggle Suite LX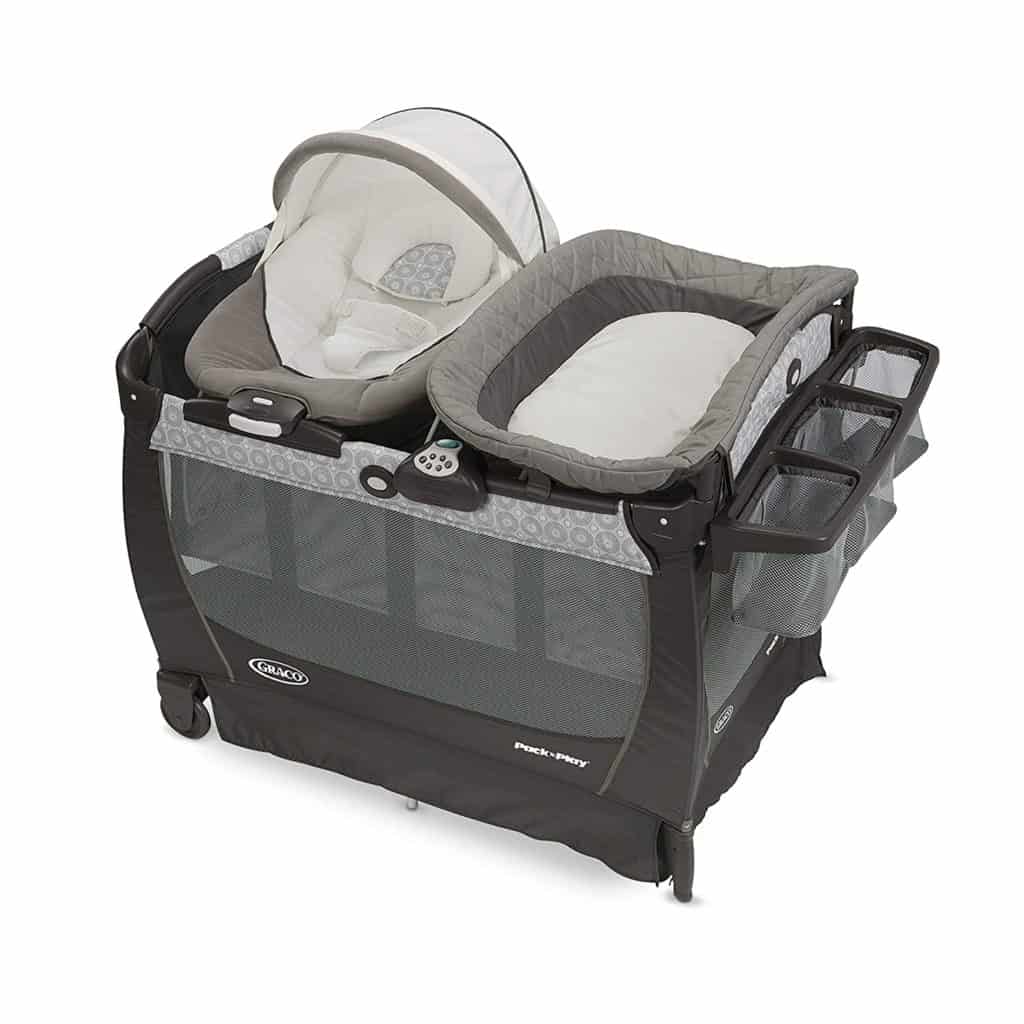 Features
25 X 28.5 X 40 inches
For children up to 30 pounds
Changing pad not required
Some assembly required
This changing table is a safe play space, napping space, and changing space, all combined in one. Also, this Graco play yard comes with a removable infant seat/bouncer that vibrates. You can wipe the changing station clean and it also has an organizer where you can keep wipes, diapers, and other baby supplies. The changing station is sturdy and holds up well.
However
Some parents have mentioned that the play yard is difficult to assemble but once you've got it set up it is easy to use.
4. Best Corner Changing Table: Badger Basket Diaper Corner Baby Changing Table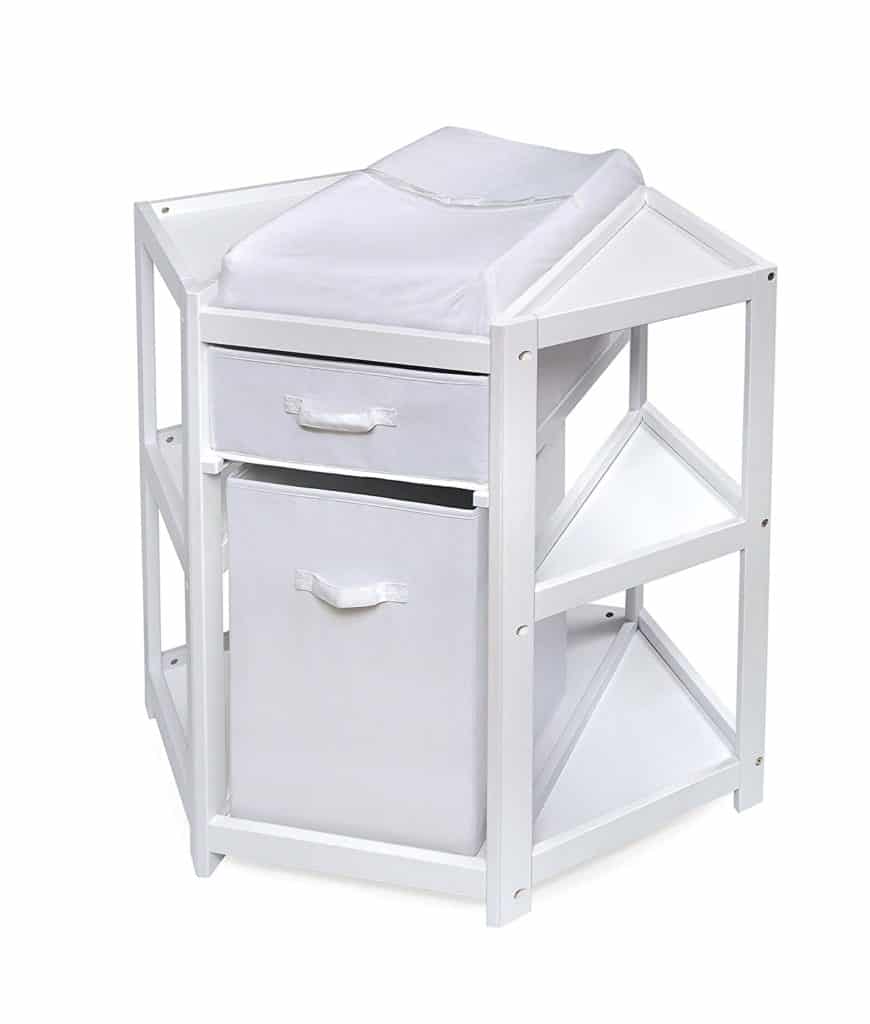 Features
35 X 28.75 X 40.25 inches
For children up to 30 pounds
Changing pad included
Assembly required
If you are looking to save some space, then you should go for this changing table. It has a unique design that allows you to easily tuck the changing table away into a corner. It comes with open shelves that can hold baby extras, a laundry hamper, and a storage basket for diapers and supplies. This table puts you in the ideal spot to handle messes because your baby's feet are pointing toward you rather than off to the side. It also includes a changing pad, which can be cleaned.
5. Best Portable Changing Table: Forstart Baby Changing Table with Wheels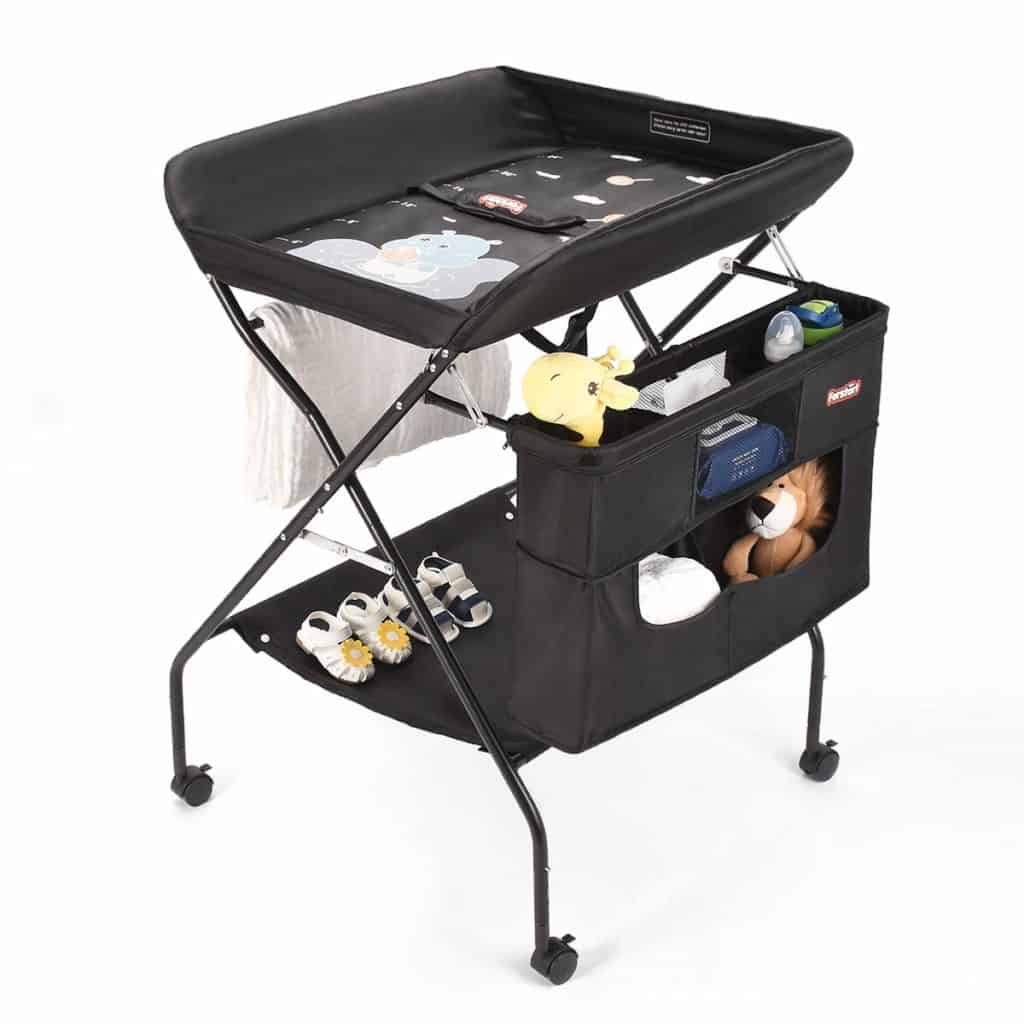 Features
28 X 24.5 X 37.8 inches
Assembly required
This is a portable changing table that has lockable wheels that can be folded up in a snap. You can use this table on the go or as an extra changing spot in your home. It has a sturdy base and the top is made from waterproof oxford cloth, which is easy to clean and non-toxic. You can find a basket on the side where you can put all your diapering essentials. Additionally, it comes with a strap and safety panels on the side which keep your little one from falling. Also, it has a ruler to measure your baby's height.
However
The changing pad, which is included, is too thin. Also, some received this with a few pieces missing.
6. Best Bargain Changing Pad: Summer 2-in-1 Convertible Changing Pad & Mat
Features
32 X 16 X 3.5 inches
Made of foam with a quilted vinyl cover
This simple, inexpensive changing pad can be used with a changing table or on the bed or floor. This waterproof changing pad comes with contoured walls, a non-skid bottom to keep it in place, and a quick-release safety belt. You can also find a security strap underneath to attach it to furniture.
However
To use this changing pad you'll need to buy a cover or two. You'll find super cute options for about $7 to $10.
7. Best Wipe-Clean Changing Pad: Skip Hop Wipe-Clean Changing Pad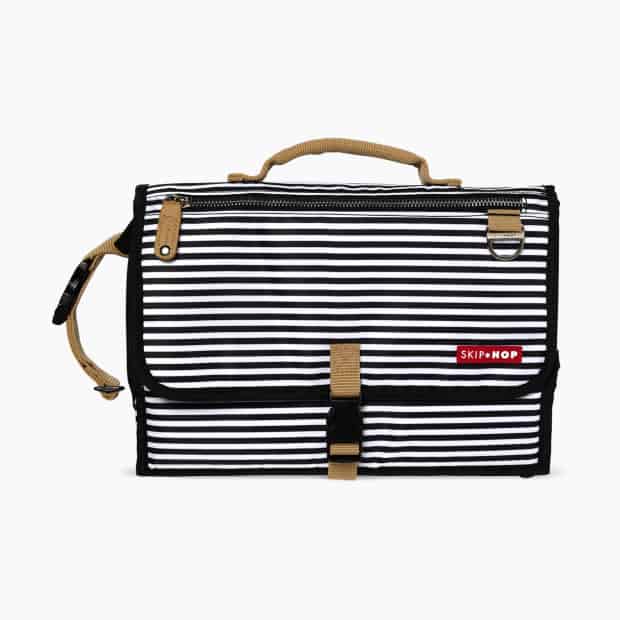 Features
5 X 18.2 X 2.6 inches
For children up to 30 pounds
No assembly required
This modern curvy-shaped changing pad is easy to clean which means less laundry for you! Also, it won't absorb any liquids or smells. It has a tuck-away toy bar with a baby-safe mirror that will keep your baby entertained. It comes with a non-skid base that has a tabletop attachment and a built-in safety belt which will make sure your baby is safe.
However
Check dimensions before buying because this changing pad doesn't fit on all changing tables. Additionally, some mentioned that the foam isn't that soft, so you might want to use a towel or baby blanket underneath for extra cushioning.
8. Best Portable Changing Pad: MoBaby Portable Changing Pad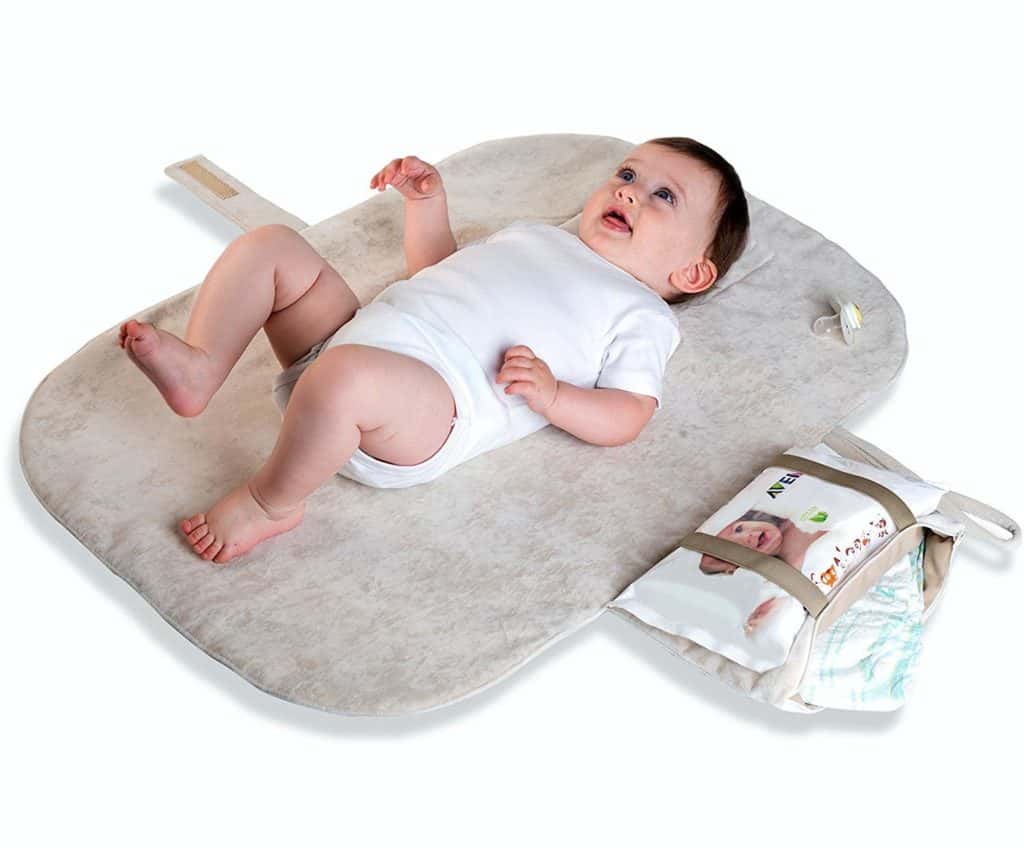 Features
5 X 1.5 X 7 inches
Padded headrest
Easy, foldable design
This portable changing pad might be perfect for you if you have issues with space or if you prefer to keep it simple. This changing pad will fold up for easy storage, comes with a padded headrest for your baby, and has a zippered pouch for all your diaper changing supplies. It is made out of a fabric called Impala, which is soft, durable, and machine washable.
However
Parents have mentioned how it is thinner than they expected.
9. Best Changing Table Overall: Graco Changing Table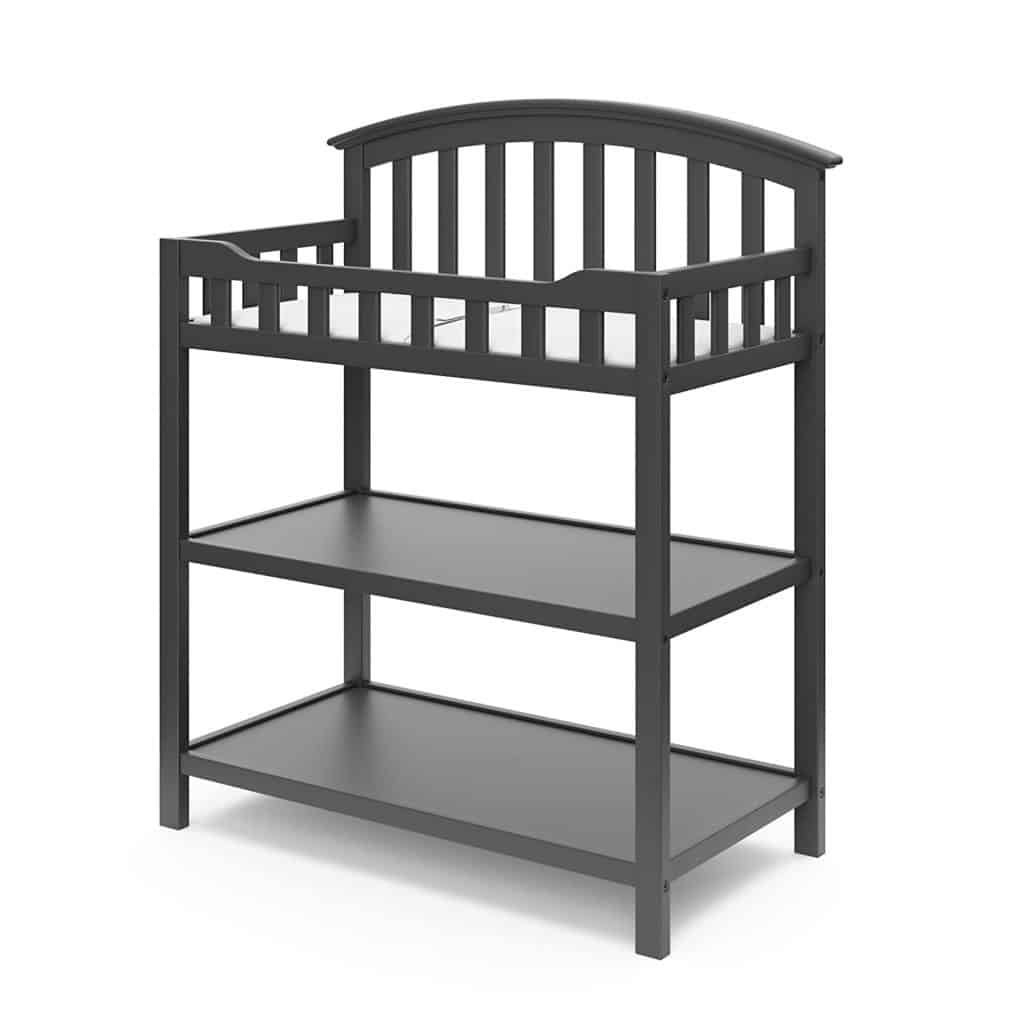 Features
37 X 19.5 X 44 inches
JPMA certified
For children up to 30 pounds
Changing pad included
Assembly required
This classic baby changing table checks all the boxes, it has simple, clean lines that usually coordinate well with most cribs. It comes with added safety features including a water-resistant changing pad with safety straps and an extra-deep table with a railing. In addition to that, it has 2 open shelves that give you extra storage space for diapers, wipes, blankets, toys, and other supplies. You can assemble it easily and it's priced reasonably, too.
However
The changing pad, which is included, is on the thin side.
Best Changing Tables Final Conclusion
It makes no difference to your baby if you choose to go all out with a changing table + dresser combo or choose a blanket or a mat to use for changing sessions on the floor. What matters is that it should be a safe spot. You need to choose what's best for you and your little one. Remember that making sure that your baby is clean and comfy is really what matters the most!
Best Changing Tables FAQs
1) What age do you use a changing table until?
You can stop using your changing table when your baby reaches the age weight limit or age recommended by the manufacturer. Typically, you can use a changing table when your baby is around 2 years old or 30 pounds (13,607 grams).
2) Do you need a diaper changing table?
You don't necessarily need a formal changing table! However, they make changing the diapers a little easier. Also, you can choose the best changing table that matches your crib or nursery style, or you can get one that comes with drawers or shelves which you can use long after your baby has outgrown diapers.
3) How do you disinfect a changing pad?
You can wipe down the surface with soap and water. Try not to use any harsh chemicals. Make sure you focus on the areas where your baby will sit. This way the pad will be completely sanitized for the next diaper change.