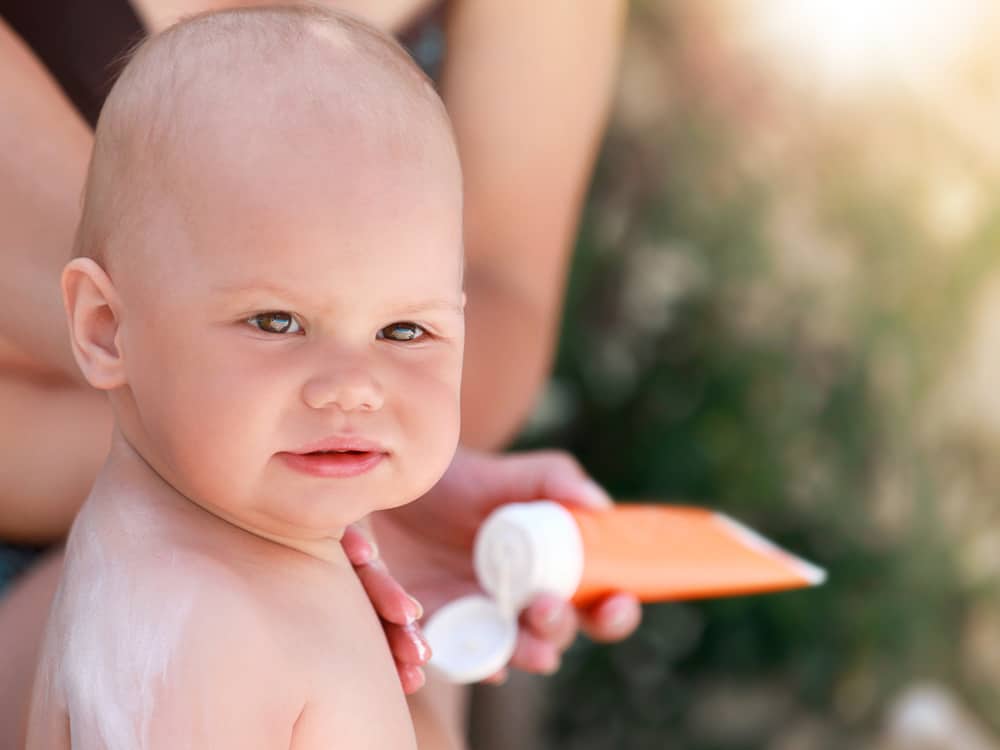 Getting your baby a little sun is for sure no harm. But, when you are assured to be out for a longer period, it is recommended to use the best baby sunscreen to protect the little one from the harmful effects of the sun.  Too much of anything could be harmful, as this vitamin D could then cause sunburns, damage the skin, skin cancer, which could be harmful to the tender skin.
Can babies use sunscreen ?
Babies who are under six months are not recommended to use sunscreen. On the other hand, they can use sun hats, long breathable sleeves, long pants, or clothes with sun protection of UPF 30, instead. Nevertheless, there is always an alternative to plan your outing post or prior 10 a.m. and 2 p.m, since the rays of the sun are at its peak.
Haven said that, if your baby is older than 6 months, using sunscreen is a good choice. Remember to apply the sunscreen 30 mins before you go out to help it work its magic.
How To Choose The Best Baby Sunscreen?
1. Its spectrum coverage
As opposed to the UVB ( that causes sunburns), UVA ( prematurely aged skin leading towards melanoma), the broad-spectrum sunscreen works perfectly for both rays.
2. Natural ingredients
Natural ingredients work as natural blockers for the sun, such as zinc oxide and titanium dioxide. They reflect both the UVA and UVB rays, unlike other chemicals like oxybenzone and octisalate. They also sink into the skin, absorb and defer the UV rays, resulting in an irritated skin.
3. Water-resistant
These help you stand up against sweat and water. Nevertheless, the only downside of it is that one needs to reapply it every 40-80 minutes, depending on what the label has to say.
4. SPF 15
The acceptable minimum amount for sunscreen is at least SPF 30 and helps avoid the sun rays, and protects against burns and cancer-causing rays.
5. A cream sunscreen
These are observed to be the best as opposed to other sunblocks like sticks, and sprays. For instance, a spray would require the parents to rub it in that always ends with a missing spot, which might later cause a sunburn. Whereas creams, although take more time, assures a coat all over the baby's skin.
Top 10 Best Baby Sunscreen To Choose From
1. Thinkbaby sunscreen: Best Baby Sunscreen

Thinkbaby sunscreen comes with a tropical papaya smell with 20% zinc oxide. It is smooth and clear on the skin, isn't greasy, easy to apply, and is water-resistant for up to 80 minutes.
I've been using this product for 3 months now, and I like it a lot. I bought it because I have sensitive skin and the ingredients are non-irritating. It has a pleasant smell to it, like mango or pineapple, which I wasn't expecting but I like.
Since this is a mineral sunscreen, it's very thick and starts out entirely ghost-white, and can leave a visible white cast if it is not diluted with anything. In addition to the cast, the zinc oxide can be a little drying in the winter, so I usually use a very small amount of tea tree and coconut oil to lower the pH and make it more moisturizing. This has worked very well for me, and the cast isn't noticeable at all, although this may be because I have pale skin.
For people with darker skin, this white cast may not be ideal, so I would recommend diluting it with moisturizer or your favorite oil. Or, if that's too much trouble, think about going with another sunscreen. 🙂
– J. Brick
My baby can only use hypoallergenic products because he has very sensitive skin. This product didn't give him any rash or allergy. I highly recommend
For more product reviews visit Amazon
2. Aveeno baby continuous protection zinc oxide mineral sunscreen: Best Baby Sunscreen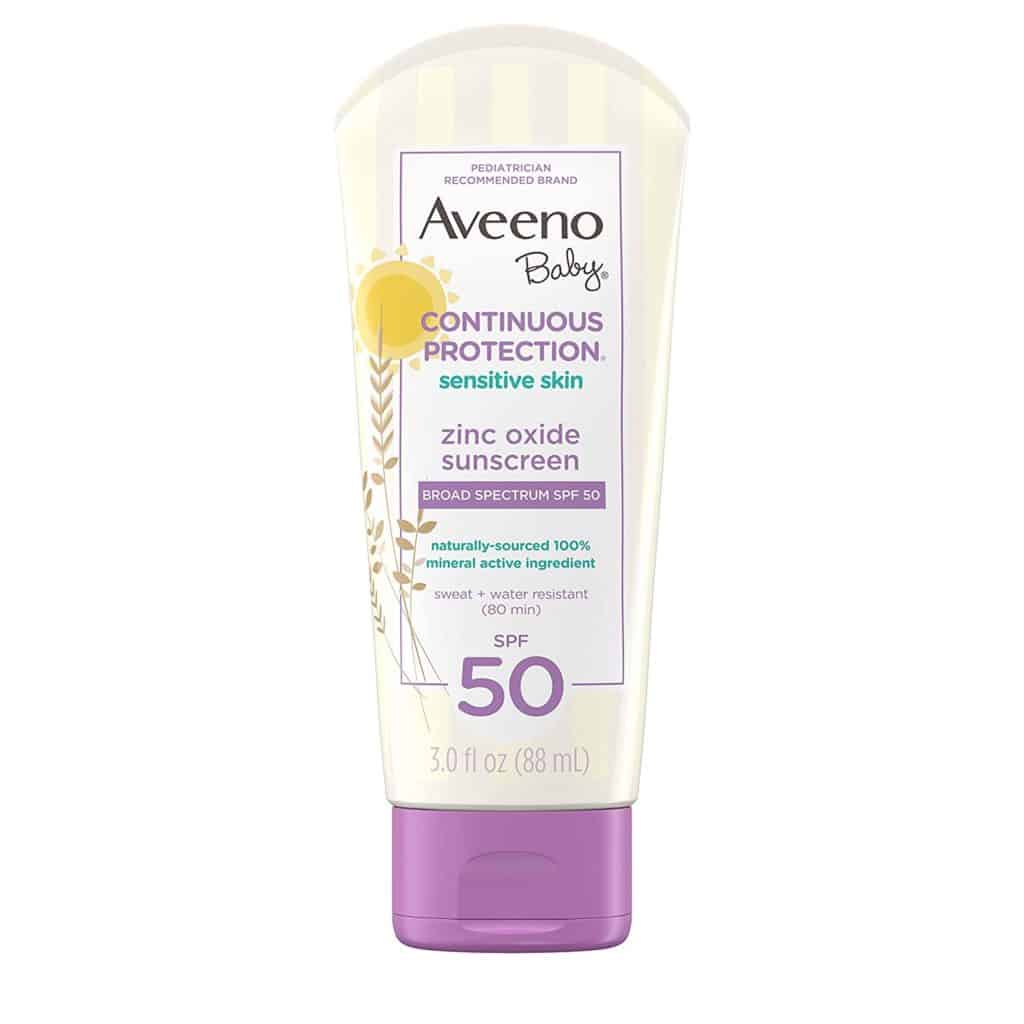 This sunscreen has zinc oxide and works best on dry or sensitive skin. It is a mineral sunscreen that contains zinc oxide that is naturally sourced protecting the baby from both UVA and UVB rays and is free of fragrances, parabens, and phthalates. It is water-resistant for up to 80 minutes and also contains oatmeal that is great for the sensitive skin of the baby, keeping it moisturized.
However, it is a little hard to apply and difficult to remove, as it is thick.
Our entire extended family gets burned easily from being out enjoying life. We live in San Diego so it's a constant struggle. Even through our diligence in protecting our skin while being active outside. With a toddler it's always a struggle but have found this product to cover her better than others.
Was kind of apprehensive about buying this because of the price, and worried I would spent the money for it, and it making my two year old with very sensitive skin. I've tired other name brands that didn't cost as much, and claimed to be for sensitive skin, but as soon as I put it on her she would start itching and having welts . She's had it in for about an hour now, and she's hasn't itched once!!! Her skin is not breaking out, and it feels really soft. I'm not a huge fan of the smell, but it's not a strong smell, and if keeps her from getting a sunburn and from having an eczema break out while wearing it, I'll gladly put it on!! It might be more expensive than other brands, but it's definitely worth it!!!
– Kaaaaaa
For more product reviews visit Amazon
3. Earth Mama Uber-Sensitive Mineral Sunscreen SPF 40: Best Baby Sunscreen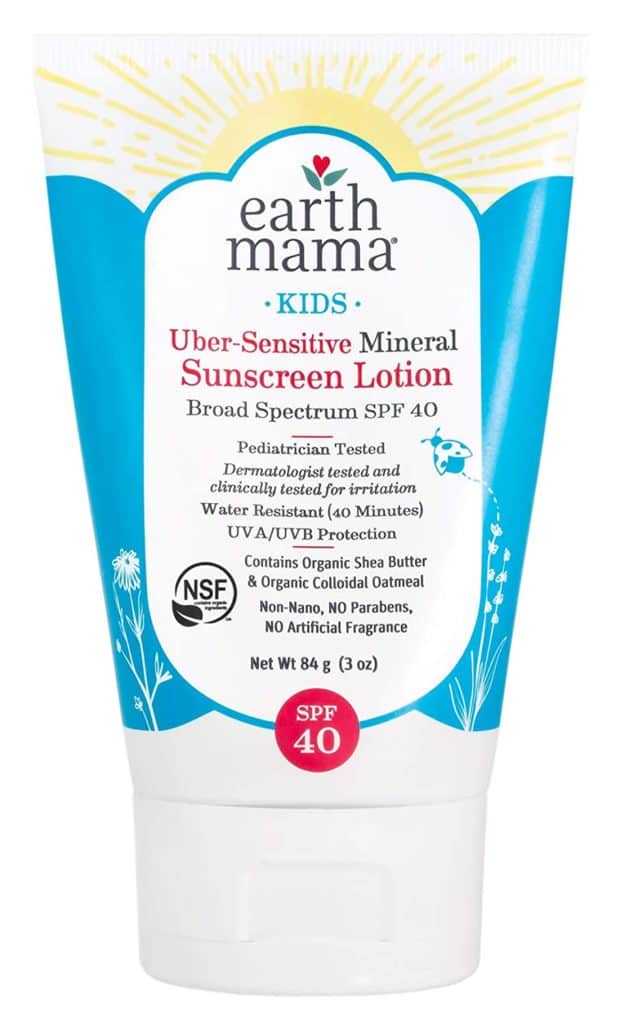 This sunscreen works great on the baby's sensitive skin as it contains organic colloidal oatmeal and shea butter for ultimate moisture. Earth Mama mineral sunscreen lotion is reef-friendly, water-resistant for up to 80 mins, is fragrance-free, and has about 12% titanium dioxide that helps protect the skin from sunburn.
However, it only lasts 40 minutes even in water, which means, you'll need to re-apply.
I like this suncreen uses fewer ingredients than other companies. I don't understand why sunscreen products need to contain so many different ingredients, they only add junk to your face.

I like sunscreen leaves a little white cast on my face, so I know that I've cover my face with it and my face is well protected.

The only complain is that it's hard to squeeze it out of the tube.
– Matt
This is a great product. Biodegradable so worked for our visit to Mexico. Did not affect my daughters super sensitive skin. She has eczema. Highly recommend!
– KarenA
For more product reviews visit Amazon
4. Badger Active kids sunscreen cream: Best Baby Sunscreen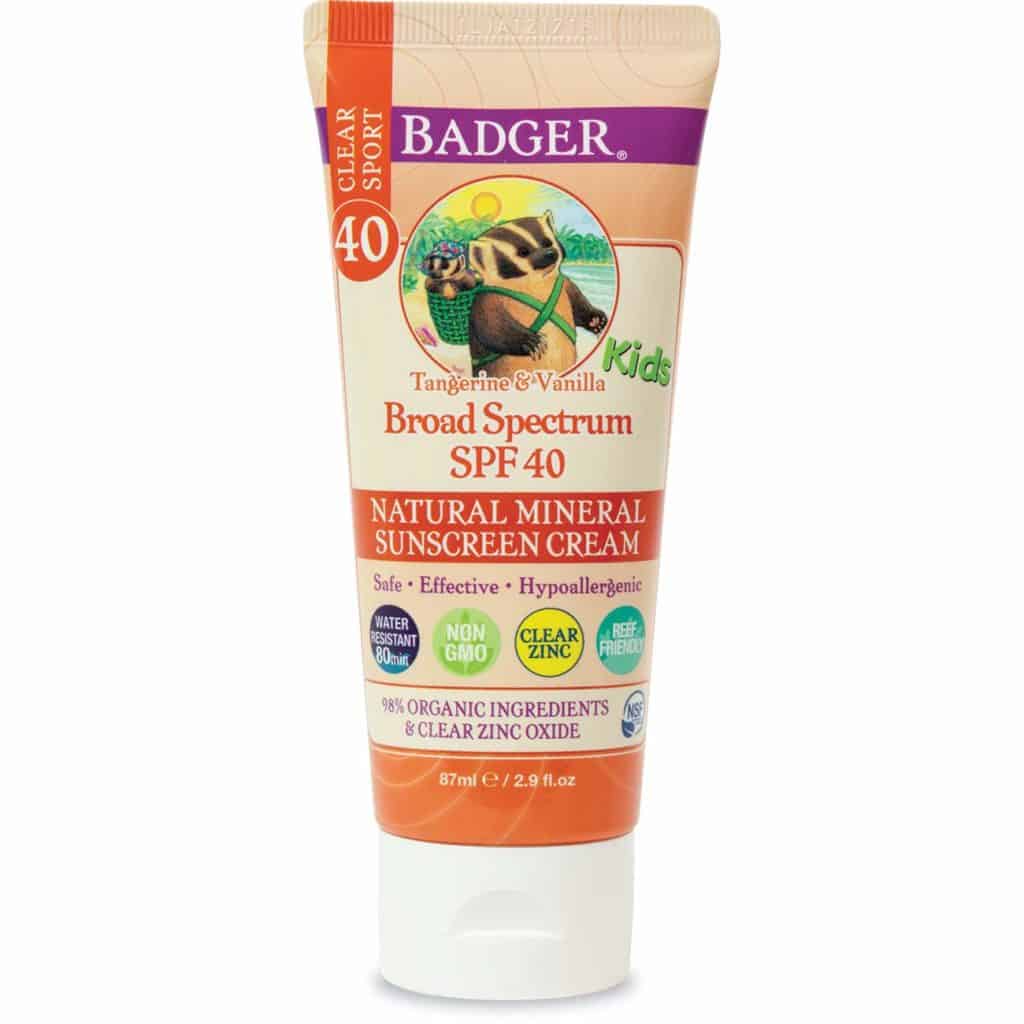 Badger Active kids sunscreen cream is a top-rated EWG sunscreen that is made with 98% organic ingredients making it natural and free from chemicals, has a tangerine-and-vanilla scent, and is water-resistant. The sunscreen has zinc oxide, which includes sunflower oil, beeswax, and vitamin E for moisturizing, and is biodegradable and coral-reef safe.
However, like Earth Mama, this sunscreen also works for only 40 minutes. 
5. Adorable Baby by Loving Naturals all-natural sunscreen: Best Baby Sunscreen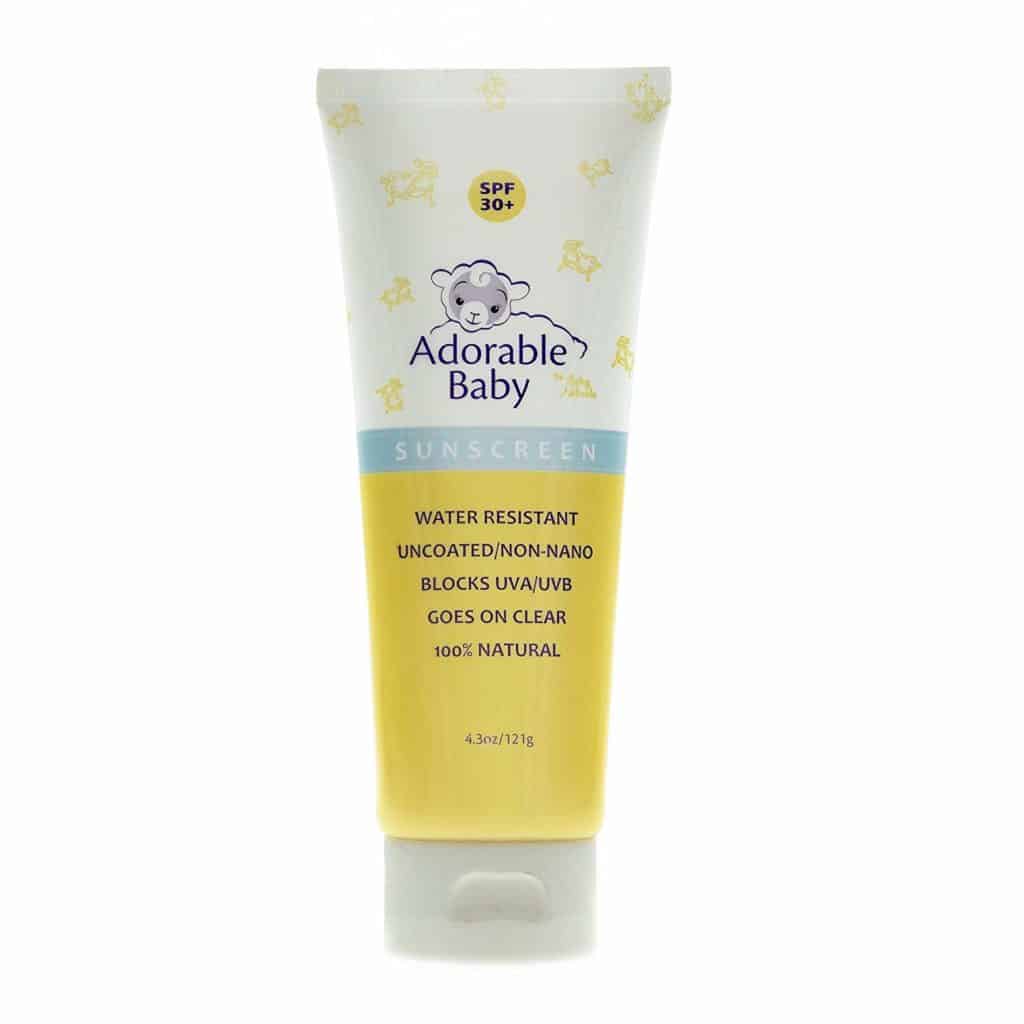 It has 24% zinc oxide and is clear on the skin. The sunscreen is made from all-natural ingredients like shea butter, cocoa butter, and grape seed oil that are all moisturizing.
Also, 40 minutes water-resistant
I cannot say enough good things about this sunscreen. I looked on the EWG (environmental working group I think?) To find a sunscreen that wasn't bad for you. I've tried a couple now and this is my favorite. It's mostly clear, it smells amazing, not too strong (I am picky) it moisturizes my skin and it does NOT cause breakouts. This stuff works so well…I accidentally used it on one side of a tank top strap and not on the other side (I got burned where I didn't use it) and when you remove the tank top strap you cannot tell the difference from where the tank top was and where the sunscreen was. Zero tanline. Never seen that before. So impressed!
Badger is always well-rated for safety by the EWG Cosmetics Safety database. We like this sunscreen– yes it makes you glow white, but it works. Sometimes I mix it with tinted sunscreen if I don't want to glow too much. For long days at the beach or the lake it works great! Love the smell too!
– Matthew
For more product reviews  visit Amazon
6. Babyganics Pure Mineral Sunscreen Stick 50+ SPF: Best Baby Sunscreen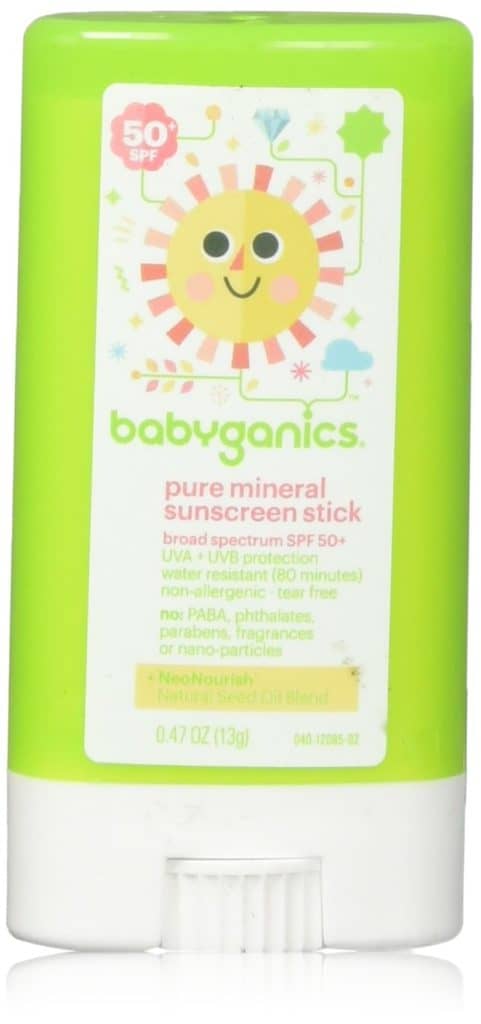 This stick sunscreen is water-resistant for up to 80 minutes and helps cover the whole skin of the baby, keeping them safe from the harmful rays of the sun. It is easy to apply, all you need to do is, swipe the sunscreen stick up and apply it all over the tiny ears, lips, or across little noses. Made without phthalates or fragrances, it is also tear-free and is compact for a long time post applying.
the perfect sun lotion for the face of a wiggly 5 yo ginger! It is thick ( like stick deodorant for reference) goes on white and stays white until it soaks in. He liked the zombie look. I have a 5 yo ginger who is very patient with sunlotion applications because he has to wear sunlotion all.the.time. . This was ideal to get really close to his eyes without getting in his eyes like liquid sun lotions do. It also did not run into his eyes when it gets wet or he sweats. It is dry feeling on the skin vs greasy like zinc. It is a winner!
This sunscreen stick works great against UV rays and is easy to apply. I prefer to use it for smaller areas since it is a little difficult to rub in. It's great to stick in a purse or stroller compartment for on the go.
– Jamie
For more product reviews visit Amazon
7. Erbaviva Organic Baby Sunscreen SPF 30: Best Baby Sunscreen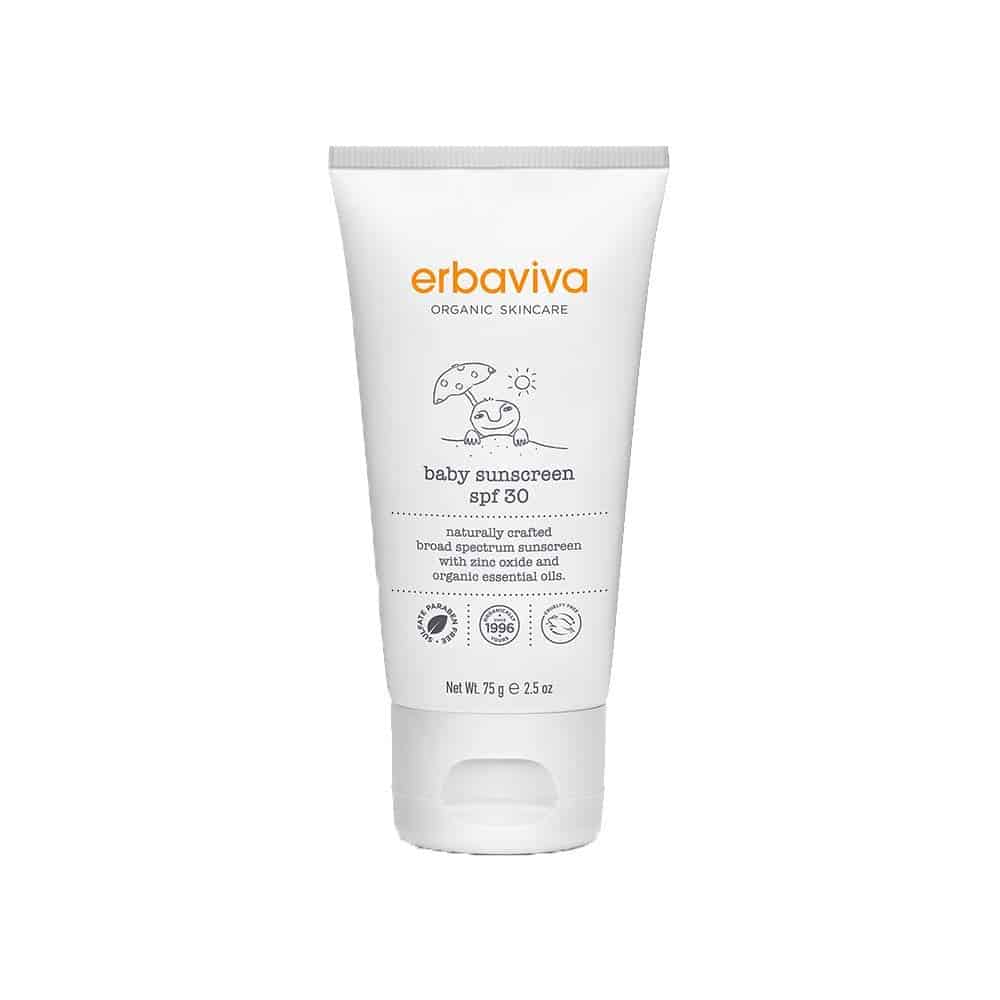 This sunscreen earns a top rating from the EWG. Naturally crafted with zinc oxide, aloe, sunflower, olive, and jojoba oils, Erbaviava's best baby sunscreen is infused with organic essential oils like chamomile and lavender. Adding on, it's a light sunblock, leaves no white residue on the skin, and is water-resistant for up to 80 minutes.
Great product! Sightly small for the price but I would buy again. It is easy to spread and it smells great. Doesn't feel tacky after application either.
– Scampi
I bought this sunscreen for my daughter to wear at her preschool, which spends a lot of time outside. We live in Hawaii so I take sun exposure very seriously. This sunscreen does an excellent job and smells nice too. It is easy to apply and although it still leaves the skin with a whitish tint, it is not overly greasy like the one i use when we go to the beach. I will be buying this again for sure!
For more product reviews visit Amazon
8. Two Peas Organics Mineral Sunscreen SPF 50: Best Baby Sunscreen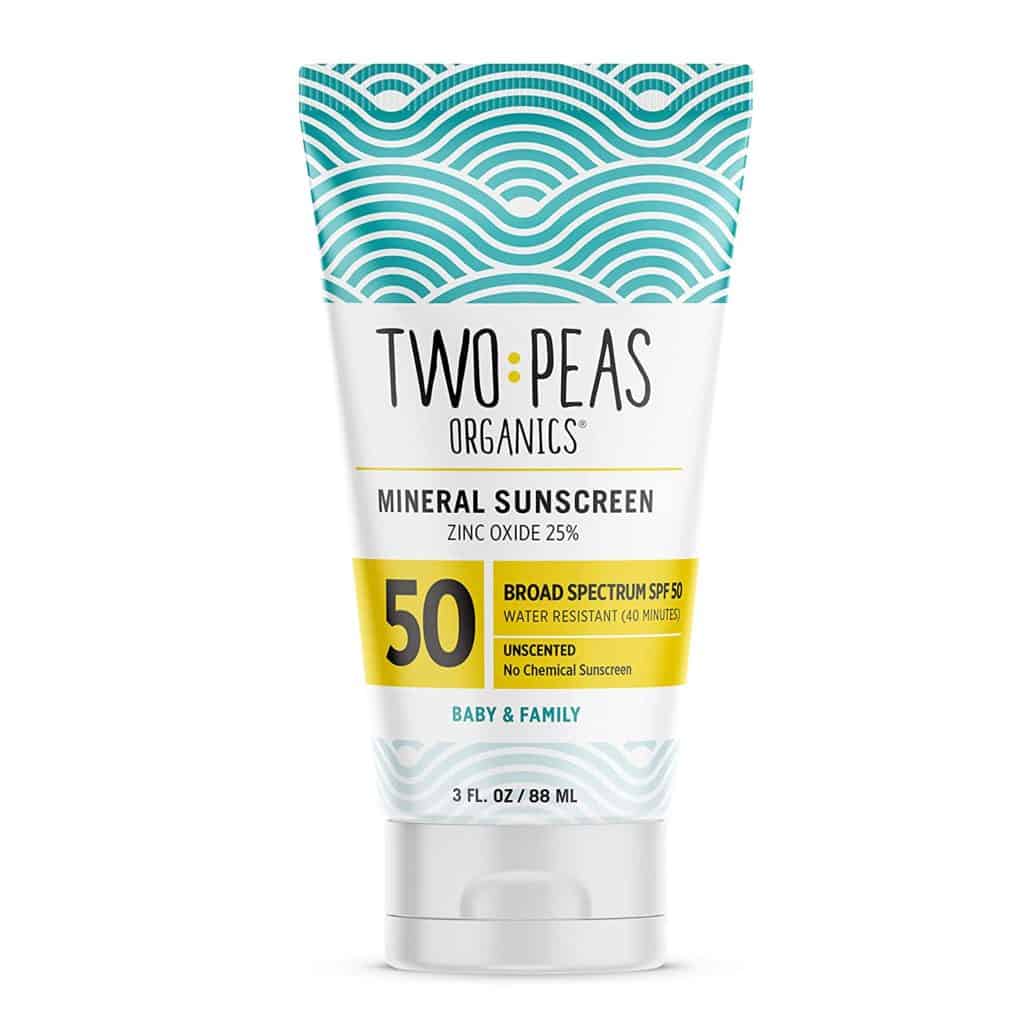 Two Peas baby sunscreen is certified amongst the best organic options for babies. With being an SPF of 50, the formula relies on 25 percent zinc oxide, preventing any painful burns from the sun. Not only for the babies, but the sunscreen is also powerful enough to protect adults and comes with a fragrance-free formula that is reef safe.
I have sensitive skin and spend a lot of time out in the sun. For a long time I chose to avoid sunscreen and keep my skin protected with clothing due to harsh chemicals present in most sunscreens. Of course that is not always possible, especially when spending time out in the water and keeping UV rays off my face! The clean ingredients and organic formula make Two Peas the perfect solution for our family. I usually put the sunscreen on thickly on my face and nose so I know it's there, my son likes it rubbed in. The zinc oxide provides awesome protection and lets you know where you applied it as you are rubbing it in. It also requires very little product to achieve confident protection from harmful UV rays. I find I can re-apply sparingly and easily have protection all day when I apply a thick layer.
Purchased this for a trip to Hawaii. It did what it claimed. I was well protected from the sun. It is very thick and takes time to put on but if you don't want to burn this is the product for you.
– Patty
For more product reviews visit Amazon
9. Attitude Baby Moisturizer Sunscreen SPF 30: Best Baby Sunscreen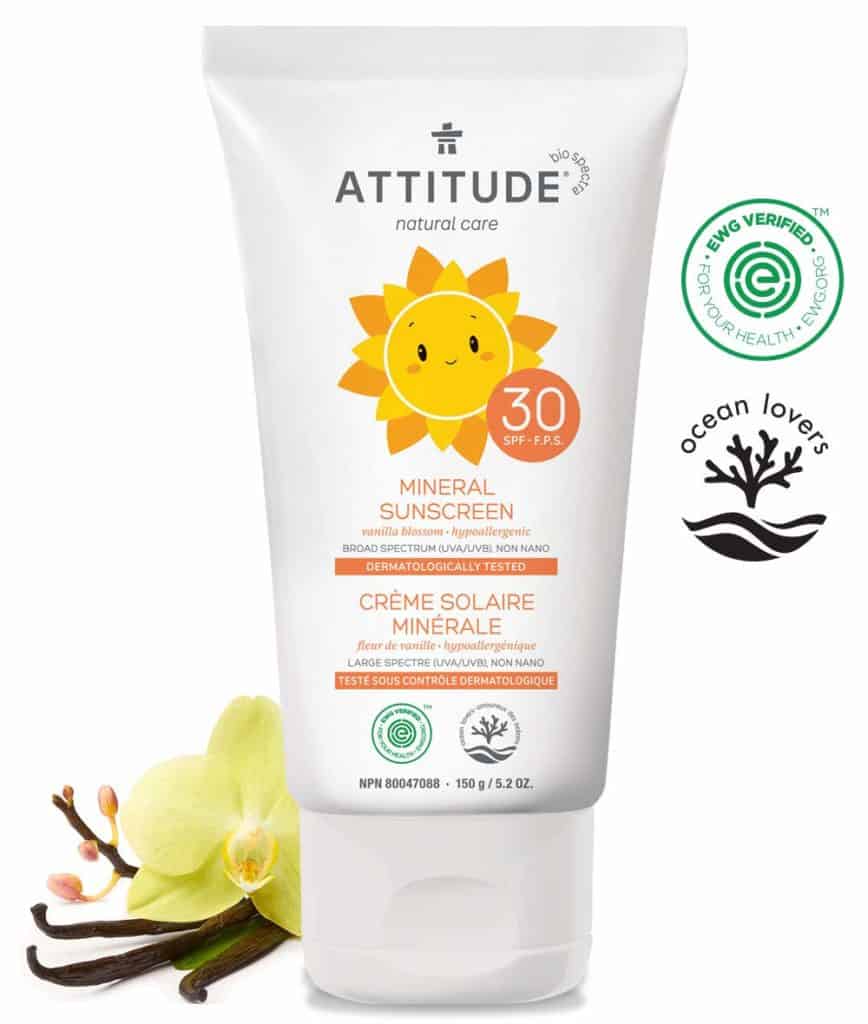 Attitude baby moisturizer is a PETA-certified, vegan, and cruelty-free sunblock that also earns a top rating from the EWG. It contains a non-nano zinc oxide that forms a protective barrier against the UVA and UVB rays of the sun.
10. Neutrogena Pure & Free Baby Mineral Sunscreen SPF 50: Best Baby Sunscreen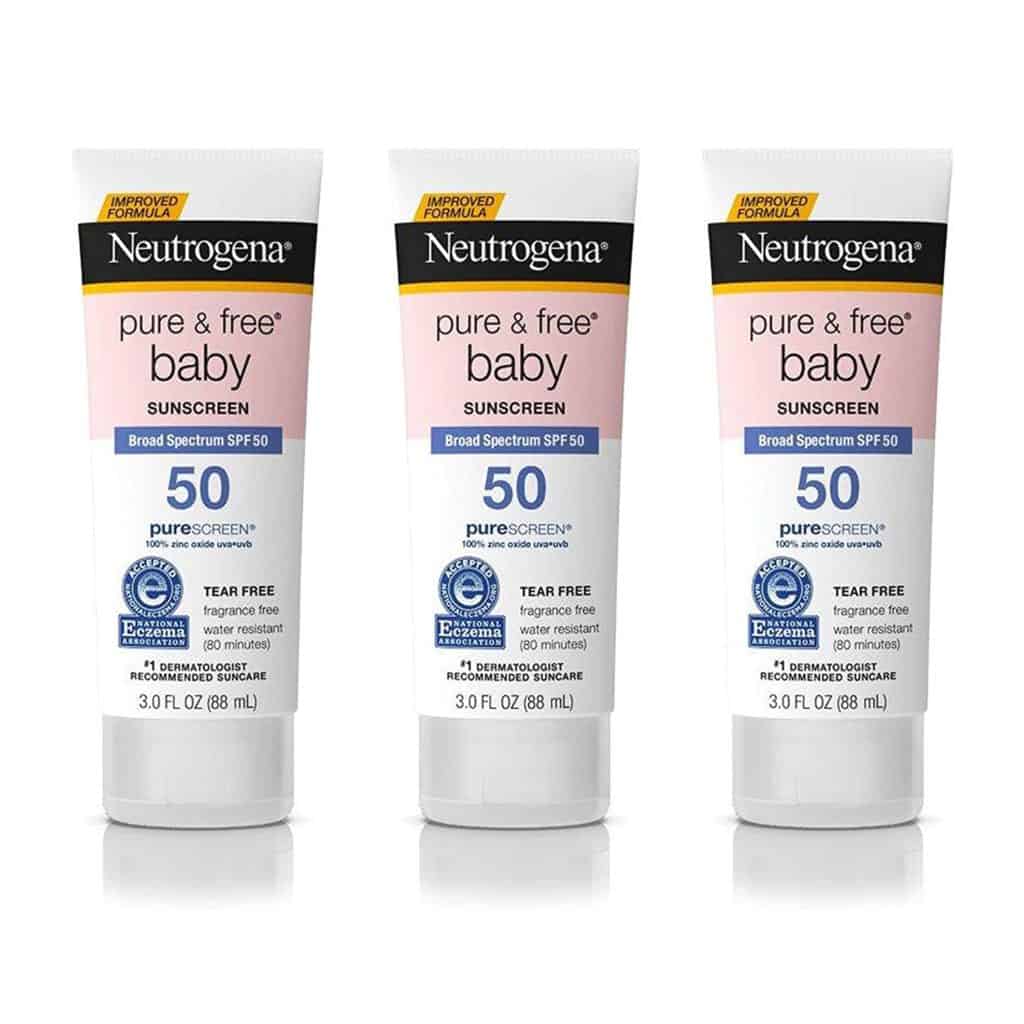 This baby sunscreen is best for those with eczema and is naturally sourced with mineral ingredients that shield the babies from UVA and UVB rays. They do not leave a heavy, greasy residue behind, are hypoallergenic, fragrance-free, and water-resistant for up to 80 minutes.
It does work. We used up all 3 bottles on our cruise to the Caribbean. No one got burned. Not even slightly. We did have that white zinc pasty look, but didn't care. Totally water proof.
It steams me at the price gouging, though. Paid $23 for 3 bottles of this in Jan 2022 (knew we were going on a cruise.) It is now July 2022 and want more but it is $53 now. I can't believe it! I won't pay it. going to get it from an actual local store.
– Amanda W
Both my girls have extremely sensitive skin. Most popular name-brand lotions break them out. This is one of the few that offers amazing, full protection, but is gentle on the skin. Best when paired with UV protective bathing suits/clothing.
– Amy A.
For more product reviews visit Amazon
Best Baby Sunscreen Final Conclusion
Best Baby sunscreen creams are made to protect the baby from the sun rays that might get too much, affecting their skin and health. However, this doesn't mean that the baby must avoid the warmth of the sun and get some vitamin D. In fact, it's necessary to build a healthy life. So, if you know you are going to be out for a much longer period with the little one, we recommend a layer of sunscreen that suits both you and the baby well.
Best Baby Sunscreen FAQs
1. Can I put sunscreen on a 4-month-old baby ?
No, we recommend no sunscreen for babies younger than 6 months of age as their skin is too thin and delicate. However, you could use other forms of sun protection for the little one, like keep them in the shade, dress the baby in protective clothes including little hats, breathable full sleeve tops, sunglasses etcetera.
2. When can you take the baby out in the sun ?
According to studies, when the UV levels reach 3 or more, babies under 12 months must be kept away from direct sunlight. As when the levels drop down below 3, direct UV exposure is considered safe and healthy for the babies. Also, avoid the time between 10-2 p.m as the rays are at their peak in those hours.
3. How can a parent know if the baby has a sunburn ?
Listed here are a few signs that may indicate sunburn in a baby:
Redness in a few parts of their skin
There would be some swelling
They might experience pain
Visible blisters on the skin
Dryness
Itchy skin
4. Why is it not safe for babies to wear sunscreen until 6 months ?
The reason behind why babies can't wear sunscreen until 6 months is because they are at greater risk of side effects like a rash. According to the FDA and the American Academy of Pediatrics (AAP), parents must keep their newborns away from direct sunlight until 6 months.