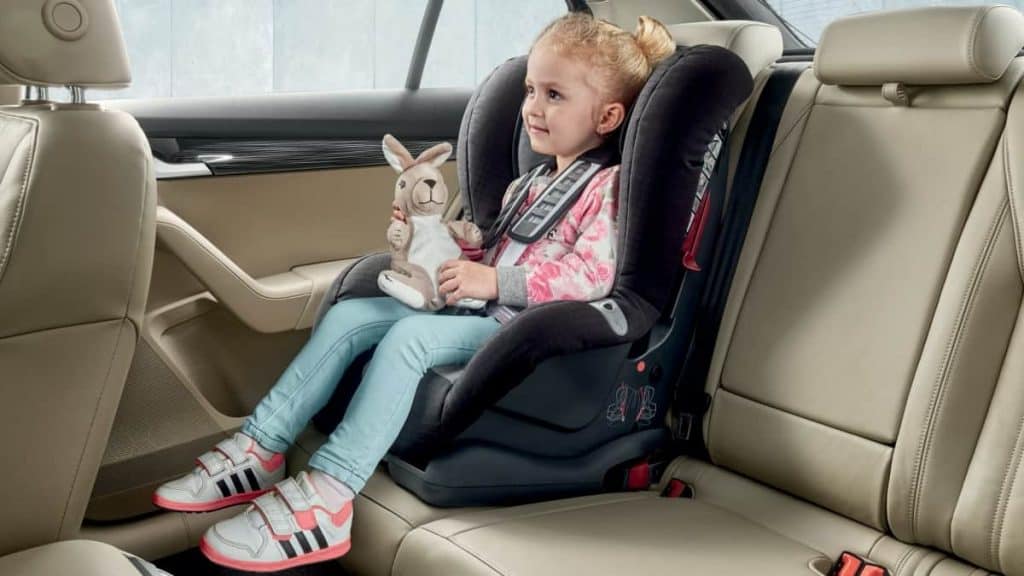 Parenthoodbliss selects the best products based on real-life testing conducted by our staff, members of our user community, the contributors, as well as through research and feedback by experts; here's more about our product review process. The details and prices are accurate as per the publishing date and we may earn commissions through the shopping links on this blog.
Not sure about the best convertible car seat for your child? Here are the solutions. Concluding with the right choice is a big process when it comes to your baby. This is even more intense with the baby car seats that you keep your child in. Surely, these baby seats have a good life span and capability, therefore the decision is supposed to be perfect and worth the money that we spend on them.
Here is the list of some highly recommended best convertible car seats you would love to buy. But before that let us take a look at some basic points to keep in mind while buying a convertible car seat.
When Should I Buy A Convertible Car Seat?
The best convertible car seat can adapt to the needs of your growing baby. You can install it as a rear-facing seat for newborns through age 2 (or longer, if they have not reached the height and weight limit). You can even turn it around when the toddler is big enough to face forward.
There is a catch to this. To pack in all that flexibility, the best convertible car seats will be heavier and larger than an infant car seat, which means you are likely to not take it in and out of the car. This is applicable even when your little one is sleeping soundly after a drive. Still, the lack of portability may be worth it to you and your kid for the value and convenience you will get in return.
Why is a Car Seat Important?
Car seats have been shown to save lives by reducing the risk of injury, subsequent hospitalization, and death. The percentage of lives saved by car seats stands at 70% when compared with no restraint or seat belts. It's true that car seats are effective only for kids under a certain age and weight but that only means children's car seats need to improve. While judging the importance of a car seat, we must take into consideration any illnesses a child must have, the weather of the location, the brand of the car seat, the child's weight and height, and more. Studies have found that a percentage of people are still not using a car seat and even if they are it's the incorrect method. So make sure you devotedly follow the instructions of any car seat you choose.
Convertible Car Seat Vs. An Infant Car Seat
If you are not sure whether you should invest in a convertible car seat or choose an infant car seat, both can be used for newborns and bigger toddlers. A convertible car seat could be right for your family if:
You own a car and park at your home, or in general, do not mind having a car seat that can't be easily popped in and out of the car.
Your baby prefers to ride only in your car, versus, say, a babysitter or a parent who drives them around regularly.
The long-term stroller that you have chosen is suitable from birth.
You are fine with the idea of not upgrading your car seat during the haze which means the first year of parenting.
10 Best Convertible Car Seats: Which is Your Pick?
1. Britax Boulevard ClickTight Convertible Car Seat ($324.99)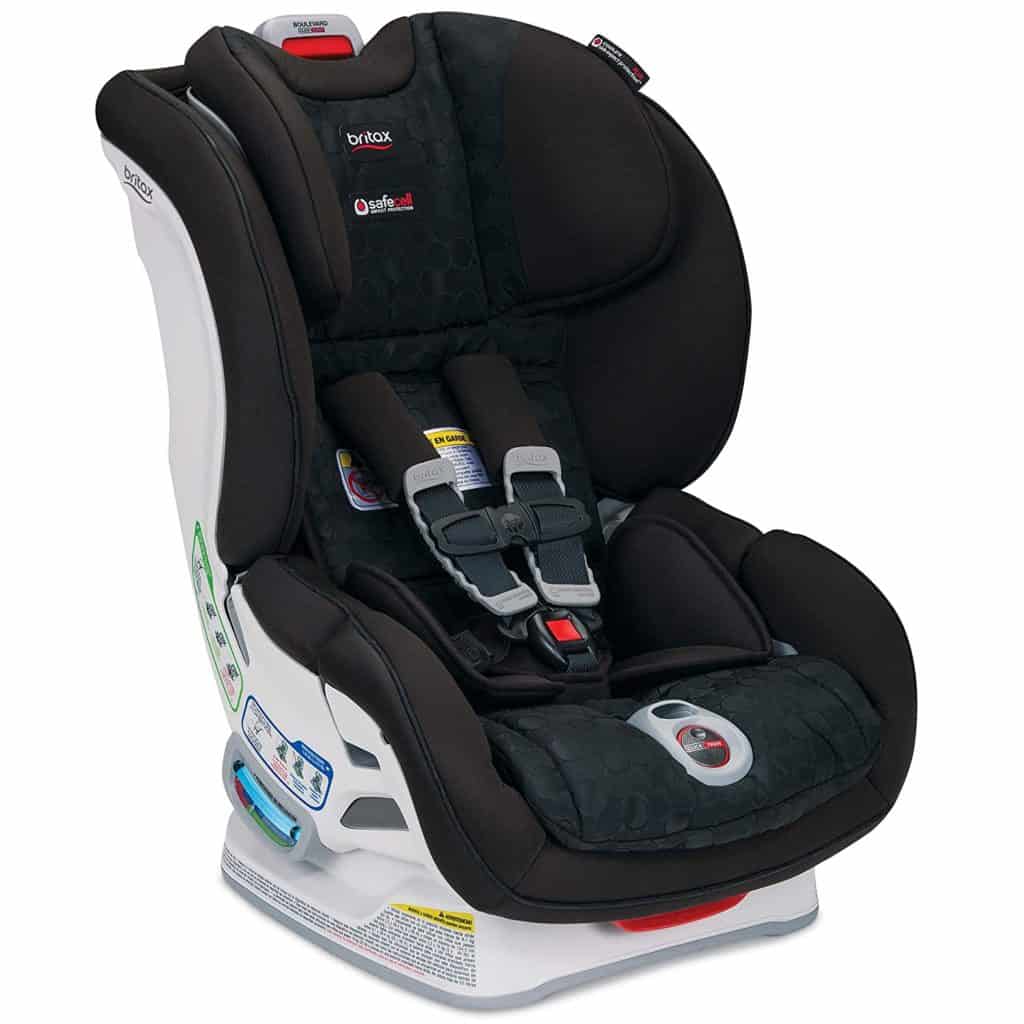 Britax is the first and foremost synonym of safety when it comes to car seats. The total security system of this one is different as it provides full support to the kid with high-quality protection from the sudden force of the crash. The long-lasting steel frame is yet another remarkable feature. Britax is smooth to install so that it won't even disturb your baby's sleep. You can also make them feel comfortable in 10 different positions making it the best convertible car seat for travel.
Product Specifications:
5-40 Ibs: Rear-facing
20-65 Ibs: Forward-facing and a height of up to 49"
Weight: 4 pounds
Seat dimension: 5 ✕ 23.5 inches
I am so happy I got this for my son!
He LOVES it! Very comfortable padding and very easy to install! Wish I had this for my daughters when they were younger!
– Beverly
I am a car seat weirdo so I did a lot of research prior to purchasing. I've had Graco, Diono, and older Britax models before for my older kids. I really love the design and comfort of this seat. It also is extremely safe which is both apparent in its steel frame and its published information. There are however, some cons. It is very heavy so it's not a seat I would recommend if you need to transition between cars frequently. I knew this before purchasing and that's not an issue for us as I just keep it in my car at all times. It also does not have the option for LATCH. This isn't a big deal and most people probably buy it due to the click tight capability, but I like to use the latch system so that my older kids don't mistakenly unbuckle this seat when they unbuckle their own boosters. Again, this is all in the information provided by the manufacturer, I just didn't think about it until after it was installed. The other thing I wasn't crazy about was the stability of the reverb bar. It doesn't click in or anything, so I couldn't really tell if it was secure or if I had it attached properly. It just kind of sits in place and that makes it a little bit hard to install, but it can be installed without the bar so that's not a huge deal. I just liked the additional safety component of the bar. Those really are my only "complaints." Otherwise I love this car seat and I feel my daughter is secure and very comfortable in it.
– Lw13
For more product reviews visit Amazon
2. Graco 4ever DLX 4-in-1 Convertible Car Seat ($269.99)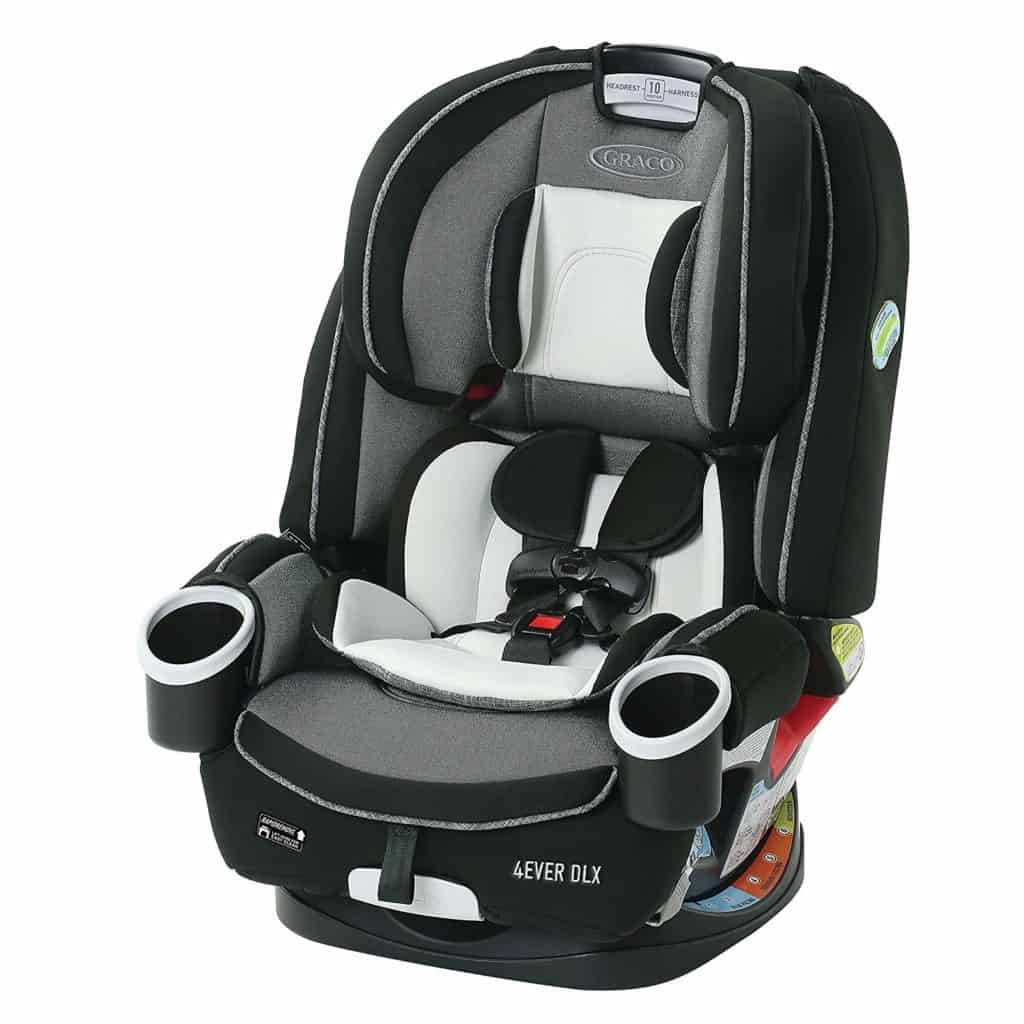 If you opt for a single car seat for your child from the beginning towards his/her school age, The Graco 4Ever is the right one. It helps you to have a different approach towards car seats because of its ability to be there for your child's journey from the very beginning as a rear-facing seat and switch to a forward-facing one to match weight from 22 to 120 pounds accordingly. They have additional cup holders for your little one. There are also 6 best sitting positions also added to the list.
Product Specifications:
4-40Ibs; Rear-facing 40-100Ibs; Highback booster
22-65Ibs; forward facing 40-120Ibs; backless booster
After two kids and buying seats for two vehicles and the grandparents vehicles, this is the best one. Easy to install. Easy to clean. It has had it's share of gross messes. The entire cover comes off and goes through the wash. Wish I could say the same for my car's fabric seats. I've used others and this is better. Easy in and out. Very easy to adjust even with a wiggling child in the seat if needed. Great purchase.
I have 3 of these car seats all in different colors for my sons and daughter easiest thing to take apart , wash and even put back together. I love that they can grow with it because buying several different car seats after they gain so much weight was not something I wanted to do. Highly recommend these!
– Cassey
For more product reviews visit Amazon
3. Chicco NextFit Zip Max Convertible Car Seat ($369.99)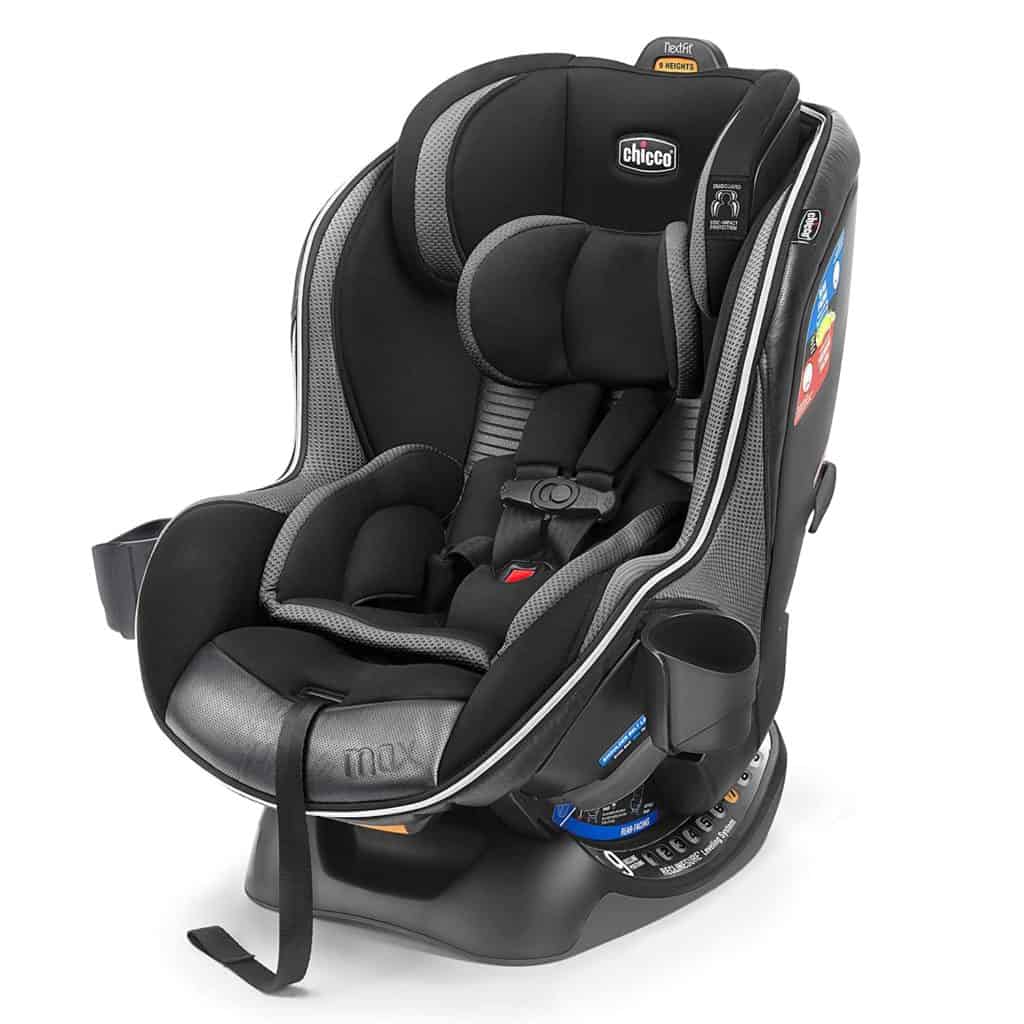 Chicco seats go for the long-lasting rear-facing apart from others. The "Super Cinch " strap is yet another feature of NetFix Max that eases the installation and uninstalling with the LATCH system. There are special Bubble level indicators to inform the accuracy of the seat angle that you have chosen. As mentioned earlier, this one is the best travel convertible car seat as it can easily be cleaned by removing the seat pad.
Product Specifications:
4-50 Ibs: rear-facing
22-65 Ibs: forward-facing
We switched to ClearTex when we learned of the toxins on car seats. My sons skin used to be irritated and he used to cry in his other convertible car seat. Switching has definitely contributed to the health of his skin – we've eliminated the scratch sleeves!!

I also love the leg room! Our little guy is tall! He was 30 inches last we checked and he has plenty of room to stretch out. THE BEST PART about this seat is that there are 8 settings! So with my LO being tall and still rear facing, I can recline him back much further than our old Graco. No more hanging head when he falls asleep. We LOVE this seat!
Bought the carseat for my grandbaby to use when he is with me. Easy to install and adjust the straps to his height. First time using the seat he got car sick. I was able to take the cover off and wash it. Straps wiped clean pretty easy. I was able to get it back together without any problems. Being able to keep the seat clean was the selling point and the safety ratings on CR. The seat is a little on the heavy side but manageable. I haven't used the seat forward facing yet but I am sure I will still love the seat.
For more product reviews visit Amazon
4. Nuna RAVA Convertible Car Seat ($449.95)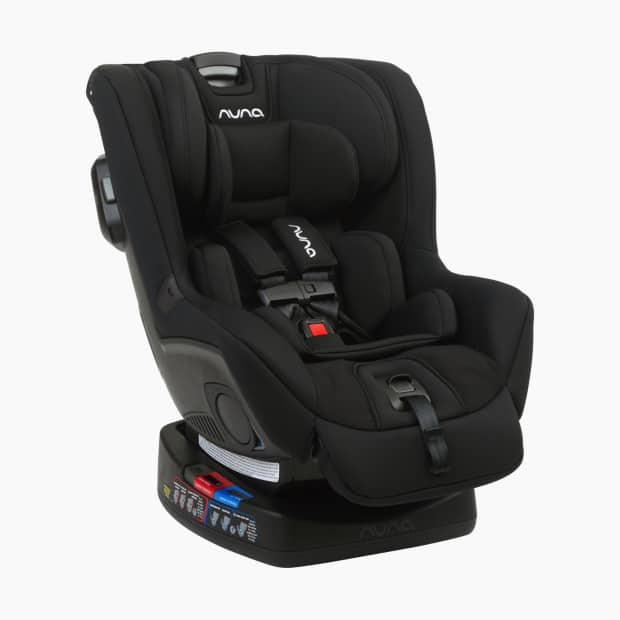 Probably your choice would be right if you are planning to get a secure as well a 'hot' seat for your little one. Here we have the premium level safety and the best features that would enable the easy mode for a fitting. You can add some extra comfort to your kid, with advanced leg rest giving extra support to the calf area. Moreover, Nuna RAVA has a rear-face limit of 50 pounds. Two cup holders and easy flow with the car seat belt are notable features. The materials used are baby-friendly.
Product Specifications:
5-50Ibs; rear-facing
25-65Ibs; forward-facing
5. Graco-Extend2Fit Convertible Car Seat ($179.00)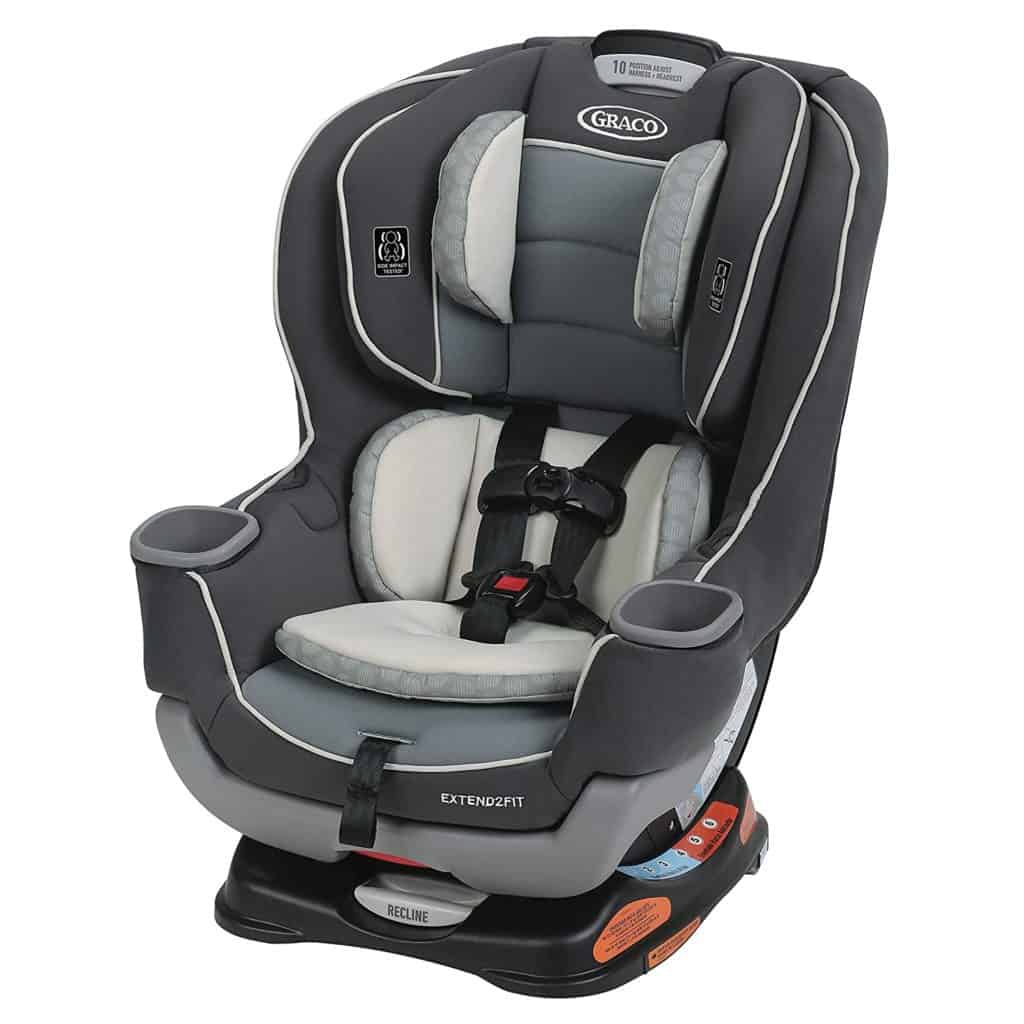 This is some stuff that is going to take care of your kid's journey without giving too much stress on expenditure. This affordable piece keeps your child safe and at the same time, it has all the capacity to support a weight limit of 50-pounds. Without making any trouble, they fit easily inside almost all the cars making them the best convertible car seat for small cars. Your little ones would enjoy their rear-face journey to the best with Extend2Fit. Moreover, they provide extra legroom for your kiddos, giving a relaxed journey for both the kid and the parent.
Product Specifications:
4-50 Ibs: rear-facing
22-25 Ibs: forward-facing
Weight: 19 pounds
Seat dimension:5 ✕ 23.7 inches
I really like this carseat. It was easy to install once I watch a video how to and we decided on the seatbelt option of installation. The added cushion for when their little is nice. Easy to read instructions and says it can be used for a while- especially for rear facing longer which I was looking for. I also like the little slots on the side of the carseat to store the buckles in to keep the straps to the side while putting your kid in. Definitely approve thus far.
And my babe seems nice and safe in it.
– Kayla A.
My toddler was using her sister's contender 65 model that expired this month, she loved it. We had purchased another brand for her last year for our primary car which worked until this summer. She does not fight tooth and nail and scream her head off getting into this seat vs the other brand. We have been using this for the last 6 weeks and decided to spend the extra money in this economy for the better fit in our suvs, and the better/safer positioning of our child on a second seat.
For more product reviews visit Amazon
6. Clek Foonf Convertible Car Seats ($469.99)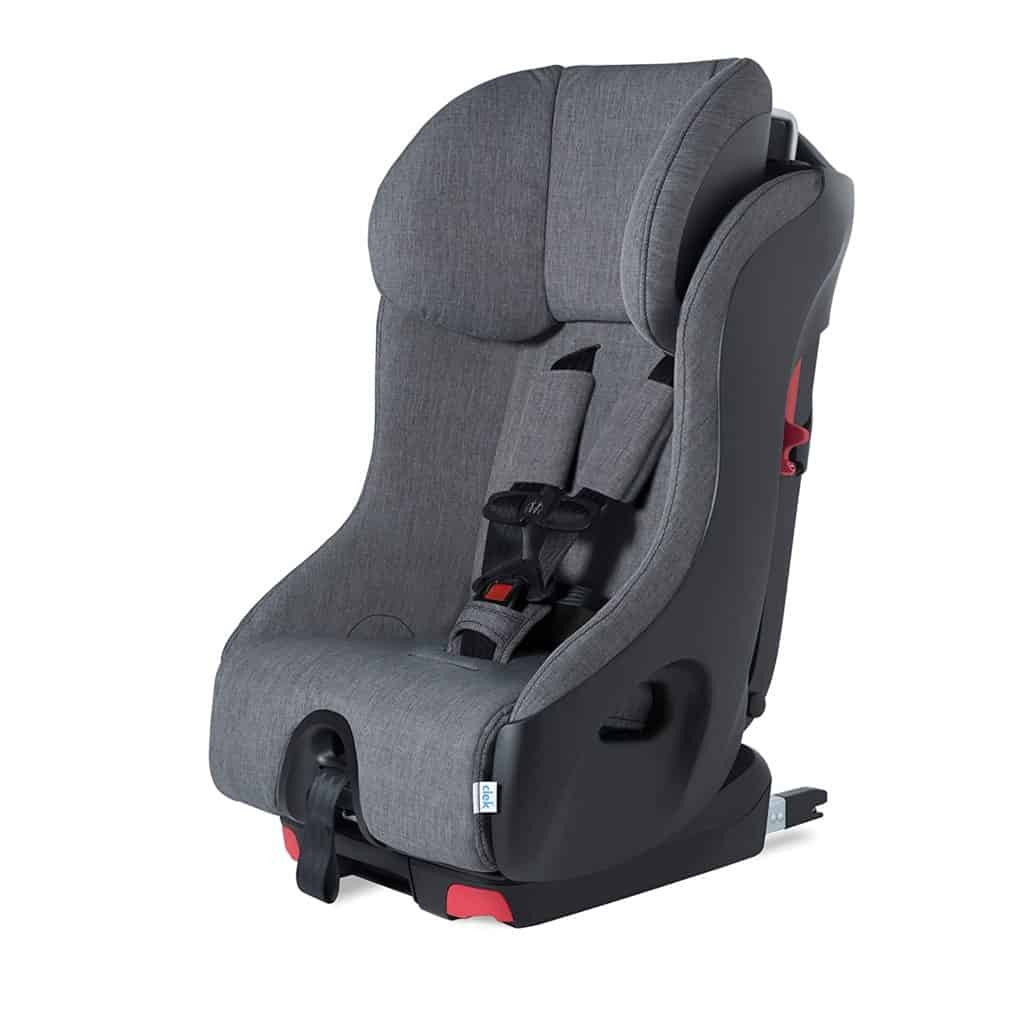 With a lifespan of over 9 years, Foonf is the most popular choice when it comes to the theory of baby seat safety. What do parents love about Foonf? 'like a tank' is the tagline given to this one by the parents. It is pretty clear if we evaluate the safety measures taken by this seat. Tons of safety features such as steel structure, double-coated energy absorber aluminum crumple zone for full side protection during a sudden crash. Its slim structure makes it easy to install and clip with the help of a LATCH or seat belt.
Product Specifications:
14-50 Ibs: rear face
25-43 Ibs: forward face
Weight: 33 pounds
Seat dimension: 13 ✕ 17 inches
We need to fit three car seats across the back or our SUV, and this car seat lets us do that without sacrificing safety or kid comfort. Our daughter loves the seat and naps in there happily during long drives.
it's heavy but fits well in my chevy traverse. purchased two as i have toddlers but works great after they are installed.
For more product reviews visit Amazon
7. Safety 1st Grow and Go 3-in-1 Convertible Car Seats ($159.99)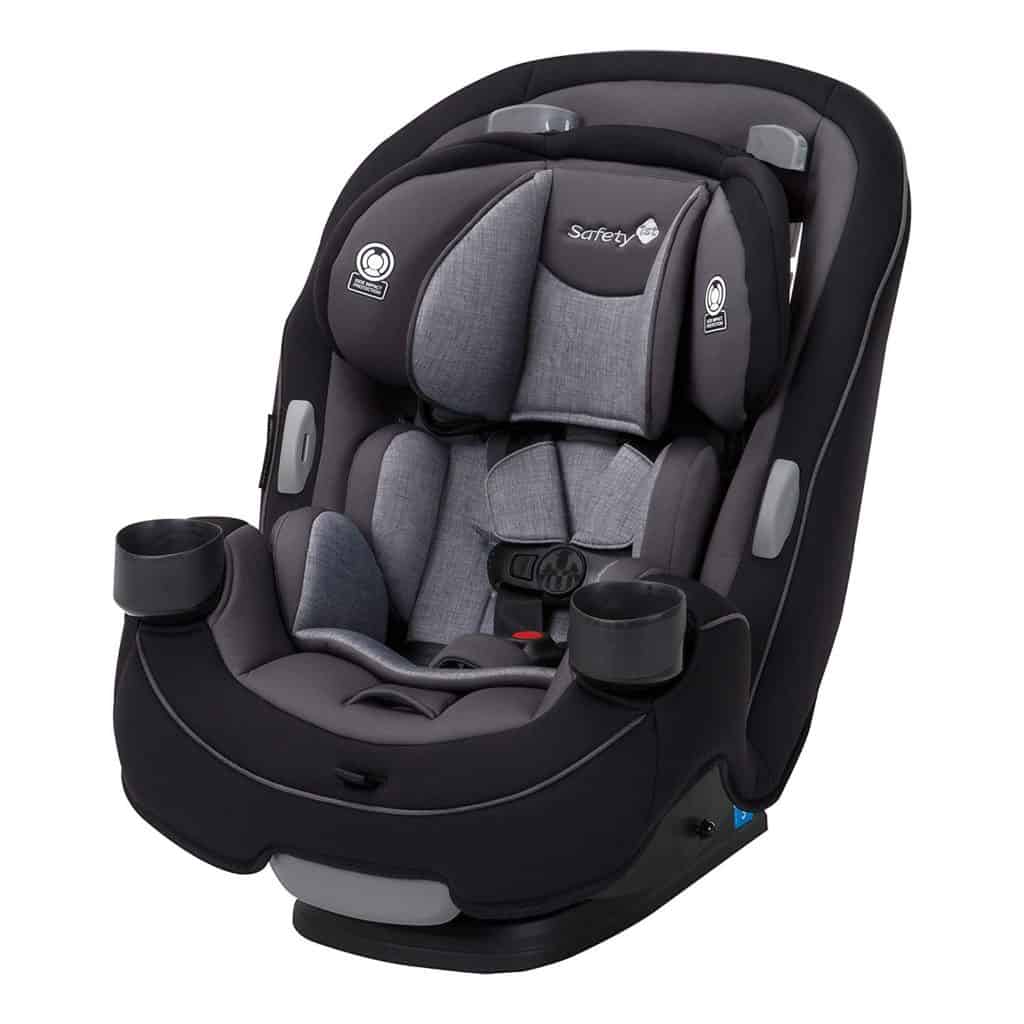 It is possible to buy a perfect baby seat for your little one at an affordable price at 1st Grow at the travel mantra for your kids with high-quality safety that provides the greatest experience for both rear face and forward face. Many of the parents opt for this one because it is wallet-friendly and its additional features such as cup holders, no disturbing straps anywhere, comfy pads, easily washable material make it unique.
Product Specifications:
5-40Ibs; rear-facing 19-20Ibs; forward-facing
22-65Ibs; belt positioning
I've purchased a second one of these for our vehicles. I'm thrilled to have found a safe, easy-to-install, comfortable car seat for my kiddos that I don't have to pay an arm and a leg for! My son (4) says this is his favorite of our seats, and we've used Graco 4Ever and Chicco NextFit Zip.
I really enjoy this car seat. It was a great choice. I am not at all worried about this lasting me a few years.
For more product reviews visit Amazon
8. Diono Radian 3 RXT All-in-one Convertible Car Seats ($329.99)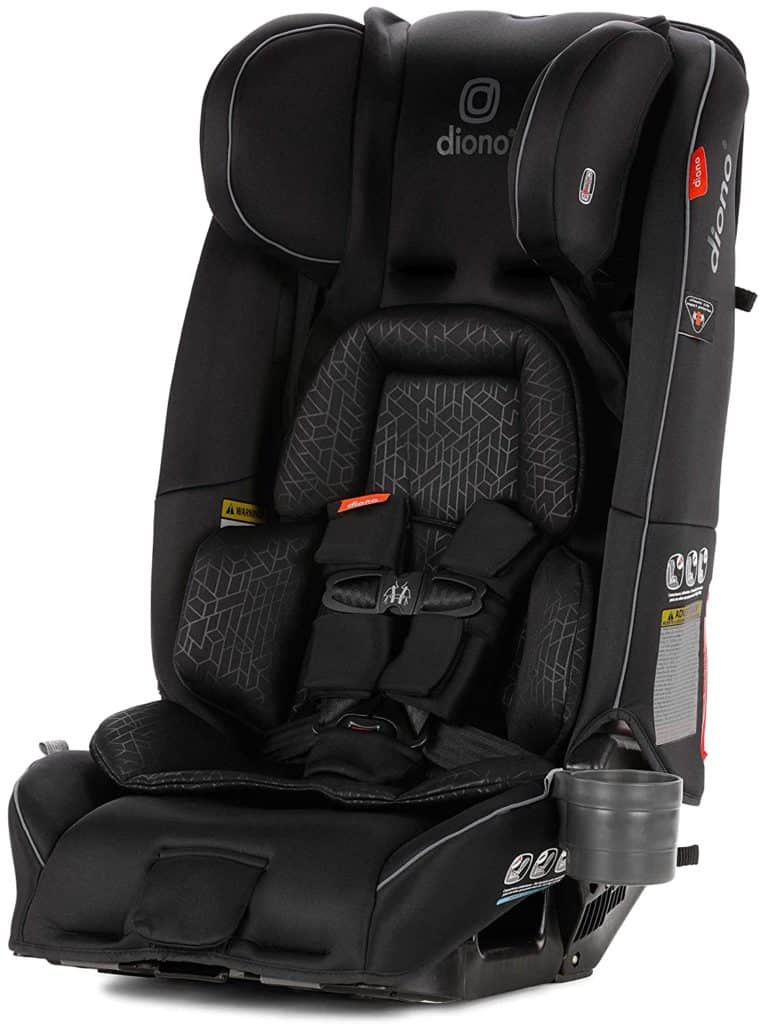 This is something that comforts your child in 12 different positions. Such a defined and perfect slim look, suitable for any car's back seat is a huge benefit from the beginning towards the phase till your kid is a big bear. Steel frames, Aluminium sidewalls, head supporters are a total highlight to the child seat. 
Product Specifications:
5-45Ibs; rear-facing 20-65Ibs; forward-facing
50-120Ibs; Converts to Booster
I am so excited that this seat fits that I had to write a review the same day I installed it. I was down to the wire choosing between this seat and a Safety 1st seat. Both Diono and Safety 1st put their seats through European standards of safety, which includes rating their safety in the event your car should roll. To me, that's a big deal! And you'd be surprised how many of the "safest" brands state-side don't uphold to European standards. Both Diono and Safety 1st performed well across the board in the US and in Europe for safety tests. At first, we went with Safety 1st because other reviewers had said it was wide but that the height would fit in a Toyota Camry and allow for legroom for the front seat. No such luck for us. I am 6′ and my husband is 6'4″. We need all the legroom we can get! This seat is more narrow than safety 1st but almost exactly the same height dimension. So was I a total shmuck in ordering the same height dimension and expecting a different result? Was I out of my mind delusional thinking that our too-tall child could have a tall car seat to grow with him/her and allow him/her to stay facing the back longer and more safely?? NO! The Diono fits!! I can move BOTH front seats all the way back in the Camry for optimal legroom AND the car seat isn't crushed or compromised in the middle back! ORDER THE ANGLE ADJUSTER! It really did give another 2-3″ which allowed me to move the seats all the way back. $10 for a seat adjuster is worth every penny in legroom and in not having to buy a new car or worry about replacing a car seat at a later date. I have installed many a seat in my day, even though this is our first child. This is not a pull it out of the box and pop it in your car kind of seat. The instruction book is bare-bones at best, but YouTube University has lots of car seat inspector videos to help you on your way. I was able to install the seat safely at 38 weeks pregnant, so if I can do it with big belly and pregnancy brain, then so can you!
– Laurence
We were dreading having to get a convertible car seat that takes up a ton of room in our compact 2015 Kia Soul. My research pointed to the Diono Radian 3RXT or the Graco Slimfit as the best choices. I chose this one for its slick and simple design, removable cover, and narrow width.

Our 29″ tall one year old seems quite comfortable in it. It gives me enough room to sit by her side as well. In its rear facing position, the seat does take up a lot of room front to back. The $10 angle adjuster is a must. When we first installed it without, it would definitely poke into the back of the front seats even more. With the adjuster, it definitely touches the shoulder of the front seats. I don't know if there are better options out there for rear facing depth but if you have a smaller car, I would not recommend this seat. As a forward facing seat, it takes up very minimal room and I would highly recommend for any sized car.

During our first outing in this seat, my 1 year old got car sick and vomited, so we had to remove the cover to wash and set it up all over. The cover did not change its shape and fit right back on without a problem. Putting it back together was also pretty self explanatory, though there are some videos online you could watch for help. The headrest adjuster is a little tough to move up and down. While the mechanism is quite simple, you really have to push it to move.

This seat is quite heavy at around 28 lbs, so I would not recommend this for anyone who has to shuttle this back and forth between two cars. This seat is FAA approved as well, though it may be too heavy to lug around the airport. I plan on purchasing a used FAA approved travel car seat for future flights.
– Sven5000
For more product reviews visit Amazon
9. Cybex Sirona S Infant Car Seat with SensorSafe ($499.99)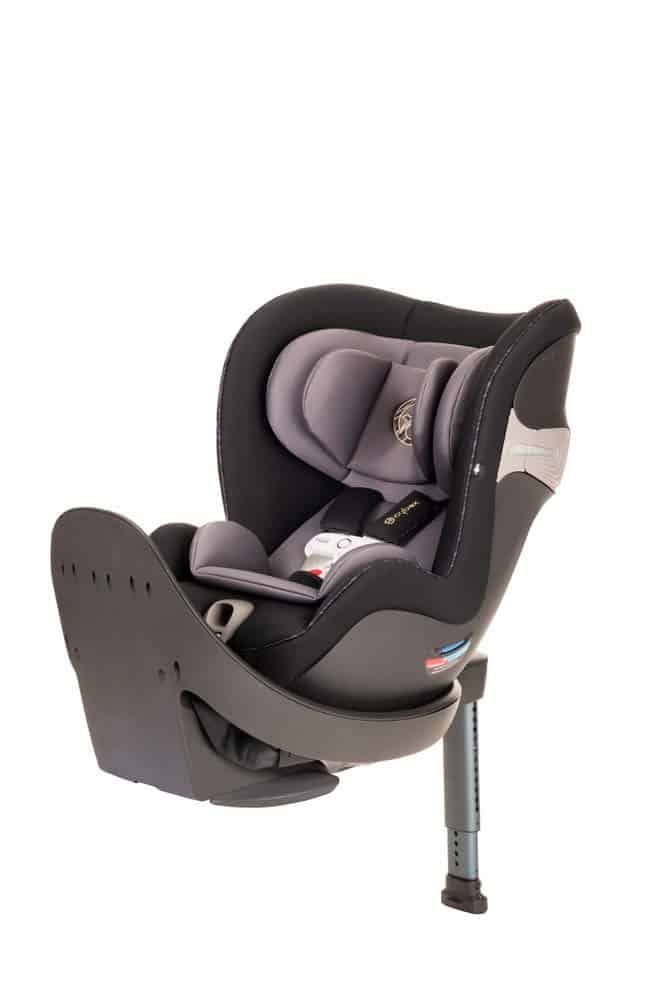 Here we have the most popular and highlighted feature among child car seats. It is really easy to switch positions with the push of a button. The US is now celebrating the emergence of this new feature which is quite common in Europe. Your kid will experience the best journey ever with Cybex both in the beginning and at the end because this one avoids the rush while picking them up and placing them in. In addition, a clever innovation that always keeps your child safe, yes, 'the buckle alert'.It will keep an eye on your child if the temperature is not right too. 
Product Specifications:
4-50Ibs; rear-facing
22-65Ibs; forward-facing
I can't imagine now a car seat that doesn't spin around for ease of use. I am so spoiled now that I struggle to put my son in other car seats that stay rear facing. I love love love how easily this seat spins to put a little in.

I also have noticed how very comfortable he is in his seat. His last car seat he would cry and arch his back to get out of it. This seat he will sit down in and even start trying to buckle himself into because he is so comfortable.

And if you have a smaller car this seat makes it possible for someone to still sit in the front seat when the car seat is in use. Plus if your child is not currently in the seat you can swivel turn the seat sideways and anyone sitting in the front seat can move their seat all the way back comfortably. We have a 2008 Mazda 3 hatchback so this is crucial.
My little one is 11 months old and when I say I wish I'd bought this seat sooner… I WISH I HAD BOUGHT THIS SEAT SOONER. This thing is wonderful. If you're not sure if you should buy it go ahead and buy. 100% would recommend and buy again!
For more product reviews visit Amazon
10. Maxi-Cosi Pria Max 3-in-1 Convertible Car Seat ($349.99)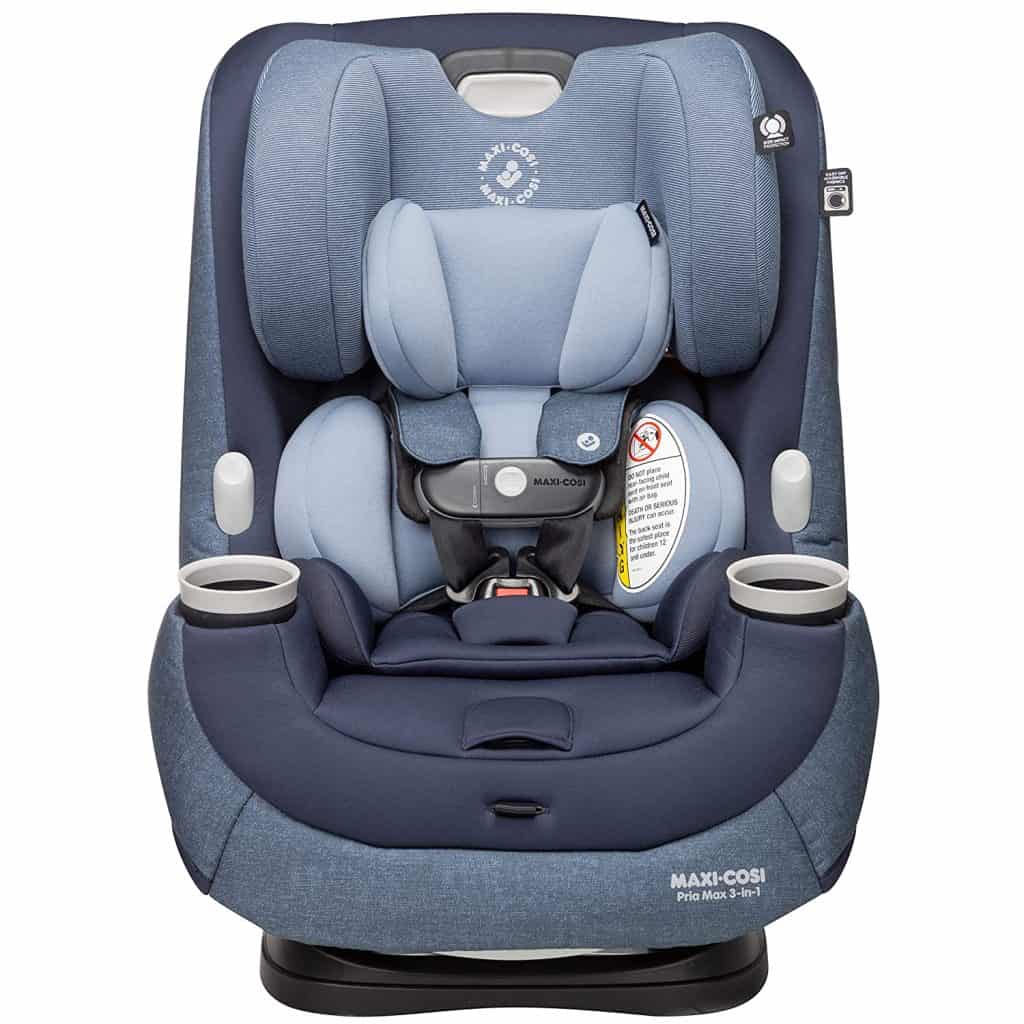 The convertible car seat from Maxi-Cosi is the best convertible car seat for fussy riders. Long rides in the best car seats made for travel may even not be enough for your little one. This car seat has a soft well-padded seat with 2 cup holders, an extra headrest, with sides that are reinforced with plush foam – making it even more comfortable for tired riders. The latest version of Pria includes a headrest, a harness, and a magnetic chest clip. One downside of the convertible car seat is that it is quite bulky so won't fit in small cars.
Product Specifications:
●        40 pounds: rear-facing
65 pounds: forward-facing
100 pounds: high-back booster
Seat width: 25 inches
Weight 23: pounds
Closing Thoughts: Best Convertible Car Seats for Babies
 After choosing your best convertible car seat, it is time to evaluate to make sure whether you have gone for the right decision. For that, install the seat properly to check if you want to apply unnecessary pressure on the straps, and sufficient legroom space in the front. Finally check within yourself, whether you are confident with your choice. If you find any trouble while preparing the car seat, you can easily get it exchanged before it's too late for you and your baby.
Let the little traveler enjoy it to the fullest and let you drive peacefully without having to look back frequently. Your baby matters. Hope we have been able to help you make a viable decision. Using a better baby car seat which is not on the list? We would love to hear your thoughts in the comments section below!
Best Convertible Car Seats - FAQs
1. Which convertible car seat is the safest?
Safety is the foremost thing when it comes to infant car seats or convertible car seats. The safest and best convertible car seats in 2022 are● Cybex Sirona S Infant Car Seat ● Diono Radian 3 RXT All-in-one ● Safety 1st Grow and Go 3-in-1 ● Clek Foonf Convertible ● Graco-Extend2Fit Convertible ● Nuna RAVA Convertible ● Chicco NextFit Zip Max Convertible ● Graco 4ever DLX 4-in-1 Convertible ● Britax Boulevard ClickTight Convertible
2. Are Nuna car seats worth it?
Nuna convertible car seats have been unanimously given good ratings for ease of use and quality. It is costly but parent testers have felt that it's worth the spend because of its lightweight, quality, comfort, and ease of use and installation.
3. When should I buy a convertible car seat?
Parents using infant car seats have to switch to convertible ones once their kids are over 9 months old. Depending on the kid's size, they can opt to transition sooner or later as long as the seat is safe for the child's weight and height.
4. How long is a Graco 4-in-1 car seat good for?
Graco car seats will last you for 10 years which means even your younger child can use it. It has been upgraded with additional features in their 4Evere edition such as ● Rapid remover cover ● Rubberized fuss-free harness storage ● Integrated belt lock-off for easy installation
5. Are all-in-one car seats worth it?
The biggest advantage of all-in-one car seats is convenience and cost. Depending on the model you choose, it is often more economical to buy an all-in-one car seat than 3 or 4 separate seats over 10 years.