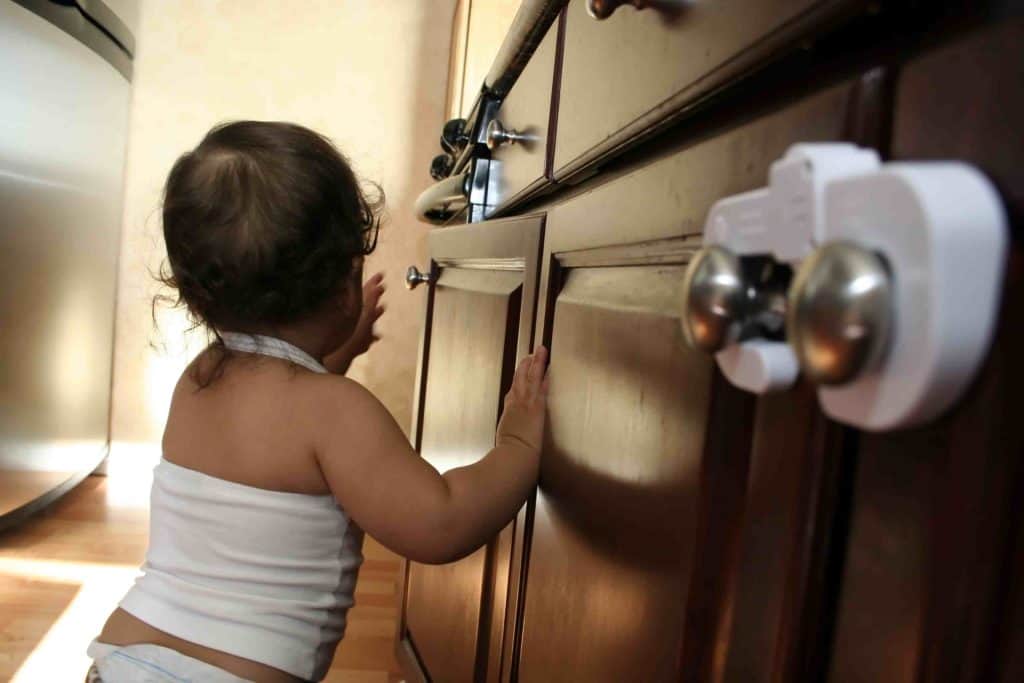 Younger babies or toddlers are quite curious as they grow bigger and this could lead to both, wondrous discoveries and those that turn out to be disastrous. Therefore, the best way to deal with it all is to step forwards with safety 1st and baby-proofing the whole house by using easy to install child safety for the curious little crawling toddlers.
Make sure to prioritize the places that you find most dangerous or those cabinets in which you store the household cleaners, silverware and knives, insect repellents and pesticides, toiletries, and medicine. Therefore, to help you pick the best and safe childproof cabinet locks, we at Parenthood Bliss have listed the top 5 best Drawer and Cabinet Locks for you to choose from.  Read on to know more!
But, before we get into the top picks, let us first understand what to keep in mind while purchasing the safety locks and what are the different kinds available.
How to Choose the Best Baby Safety Drawer Locks?
While you are purchasing the best baby cabinet locks either online or offline, you will notice that there are a lot of cheap options available with multiple features. However, make sure to keep the following in mind to pick the best child safety locks:
Magnetic locks: These have safety latches installed with powerful magnets that keep them shut. It can be opened using a "key" only.
Adhesive strap locks: This heavy-duty but removable lock can be used for many cabinets and drawers to appliances.
Spring-action locks: This is a traditional childproofing lock that has latches installed inside the cabinets. They release when you hold the cabinet slightly ajar while simultaneously pressing the latch down.
Slide locks: This lock is designed for double-door cabinets that fit around the adjacent knobs. To release you'll need to push the two surfaces together.
5 Best baby cabinet locks that are easy to install
Here are the top 5 best picks for baby cabinet locks that are easy to install:
1) Munchkin Xtraguard Dual Action Multi Use Latches Baby Cabinet lock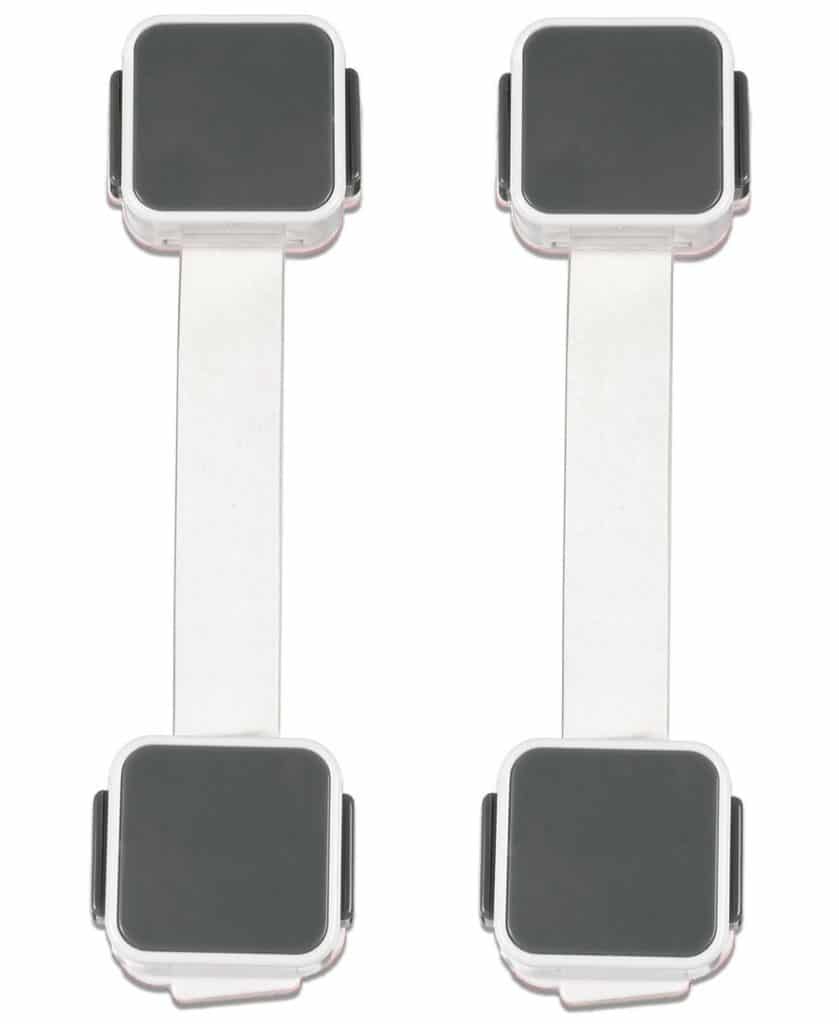 This best baby cabinet safety lock is multi-purpose that has latches to help secure appliances like microwaves, toilet seats, drawers, and cabinet doors from the reach of the toddlers. The latches require dual buttons to release which would be difficult for the child.
They feature a flexible strap that can be used around the corners and inside of your cabinet. As far as the installation is concerned, it is easy and comes with a kit that does not damage the cabinets and comes off clean once done using the locks.
Pros:
Affordabble
Can be used around corners and is multiple purposes.
Easy to install and remove.
Cons:
Due to their adhesive nature, they can be pulled off accidentally.
If left for a while, it can damage the cabinetry. So you may need to change them often
Is visible to everyone.
2) Jambini Magnetic Cabinet Locks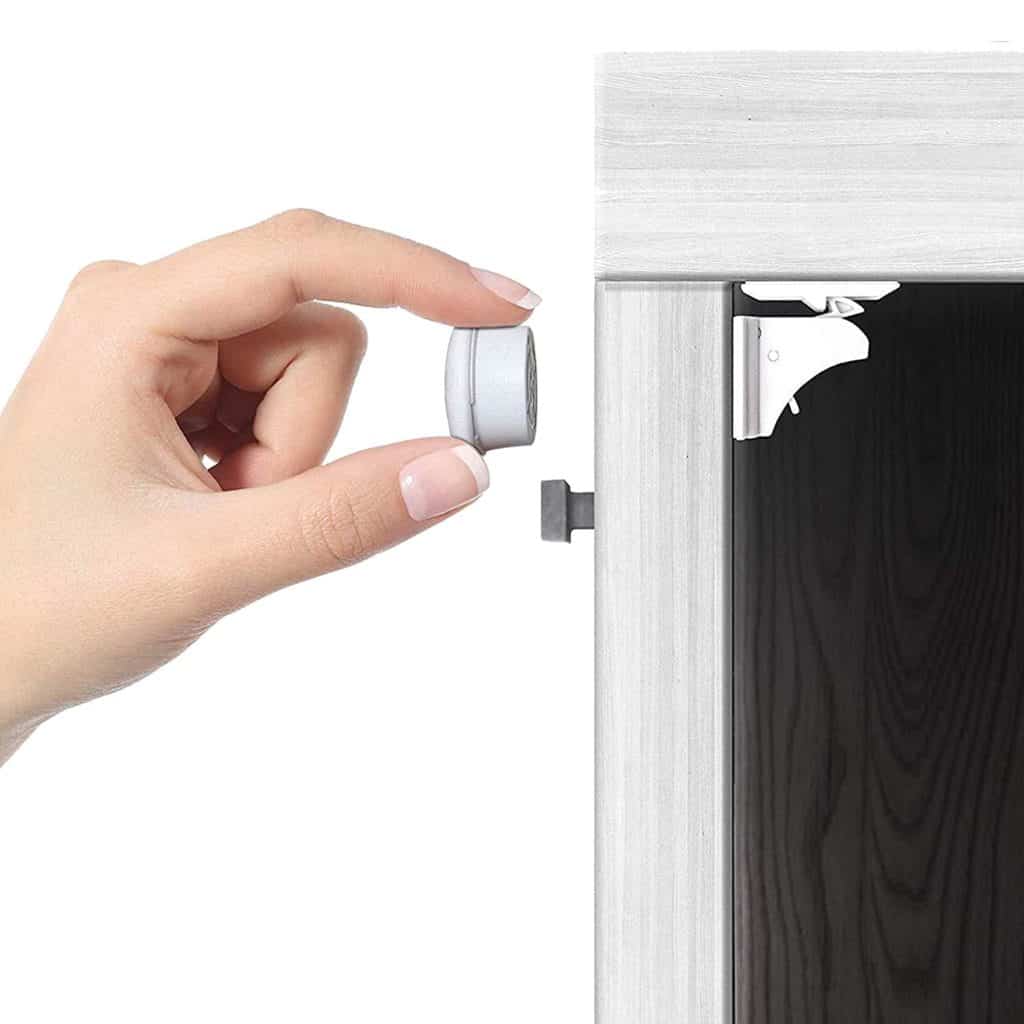 These magnetic locks help keep your kitchen neat and look uncluttered. The Jambini Magnetic Cabinet Locks are installed inside the cabinets and have a clean look and are not visible to everyone from the outside of the cabinets.
This baby-proofing safety cabinet safety lock needs no tool to install and can be done by making use of the included 3M adhesive tape for each lock and in under three minutes. They feature to fit in any cabinets and drawers and open using a magnetic key.
Pros:
Is not visible outside
The safety cabinet lock can be disengaged when children are not around
No tools needed for installation
Easy to use
Does not damage the cabinetry
Cons:
Has four locks and one key
The magnetic does not work on thick cabinet doors
The child safety lock will need to be changed after some time as they might wear out in the drawers of the cabinet.
3. Secure Home by Jessa Leona Baby Safety Cabinet Locks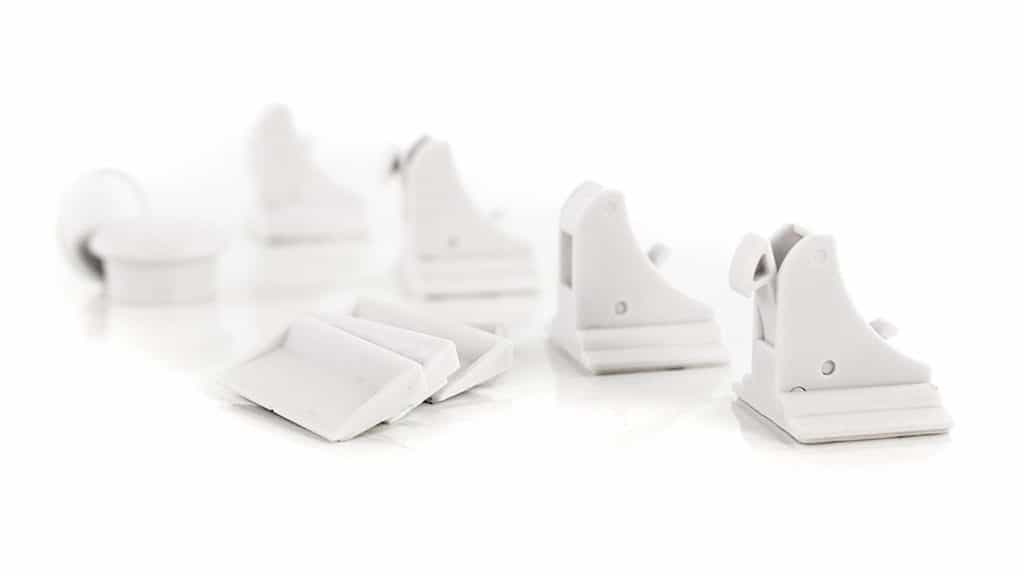 This baby-proof lock for cabinet or drawer is for multiple purposes use and can secure cabinets drawers appliances like microwaves and toilet seats. You can also customize the size of this flexible latch with the types of cabinets and is easy for adults.
The lock system features to be 3M adhesive and can be installed in minutes with no tools required. To remove the drawer locks without damage, use the heat from the blow dryer to slowly peel away. It has a 100 percent money-back guarantee within the first 90 days and comes in white or black color in packs of two or six.
Pros:
Can customize the length as per the types of cabinet
Can go around corners
Has multiple purposes
Easy to install and remove
Comes with a 100 percent money-back guarantee.
Cons:
Isn't strong enough and can be opened by older kids
The cabinetry can be stain when removed
The latch can break if you open the cabinet too often
4. Adoric Sliding Cabinet Locks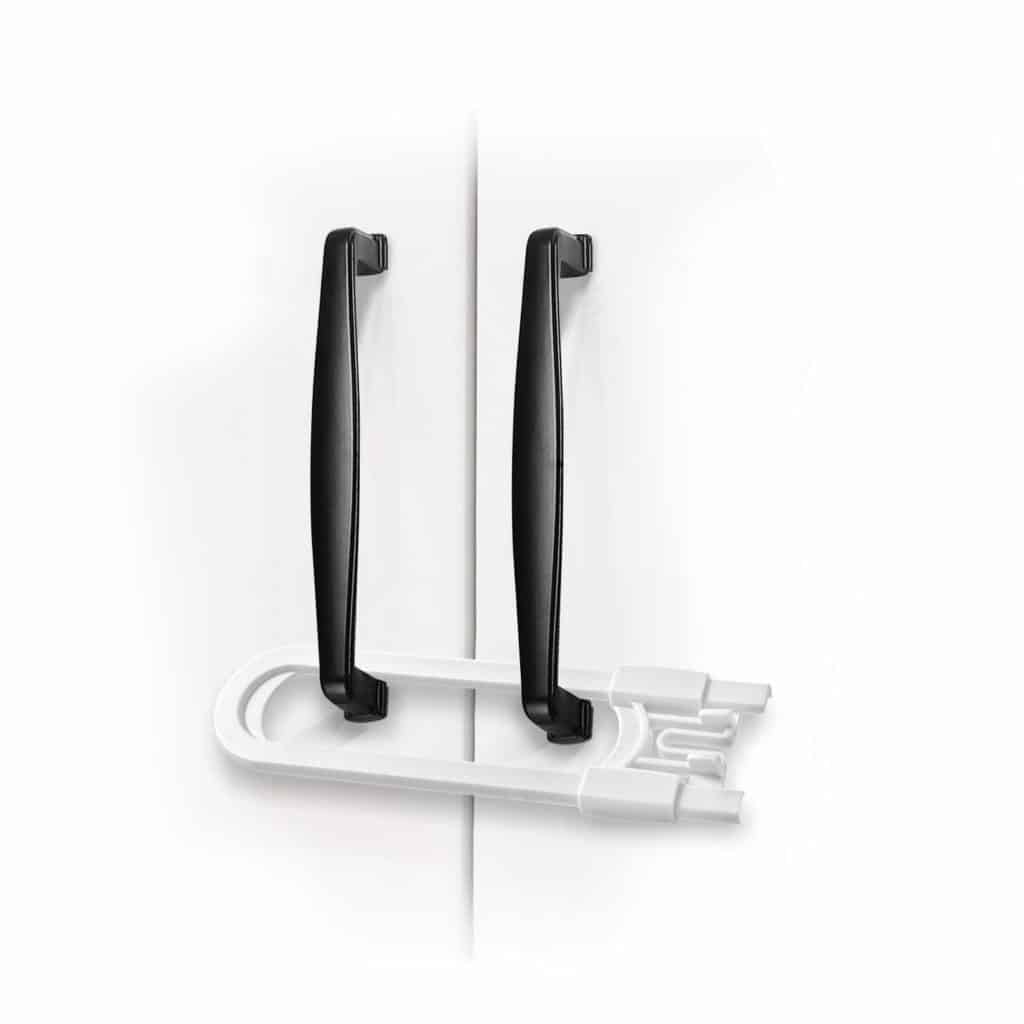 This cabinet lock is traditional and has a long U-shaped latch attached that fits up to five inches in a wide variety of cabinet door handles. It has a year's replacement and refund warranty and does not require any tools to install or remove.
Adoric sliding cabinet locks leave no marks behind on the cabinet and can be released by pressing two keys at the same time, which is hard for babies and toddlers. They work great with sliding and side-by-side knobs for the handle on cabinets, refrigerators, cupboards, etc, and comes with four U-shaped white sliding cabinet locks that can be used on multiple doors.
Pros:
Affordable
Easy to use
Are reusable and can be moved from one set of cabinets to the other, therefore, long term
Doesn't require any tools
Leaves no marks
Cons:
Is an external lock
The cabinet lock can slip off the round handles
Not strong enough as the part you squeeze to release breaks
5. Eco Baby Child Proof Cabinet and Drawers Magnetic Safety Locks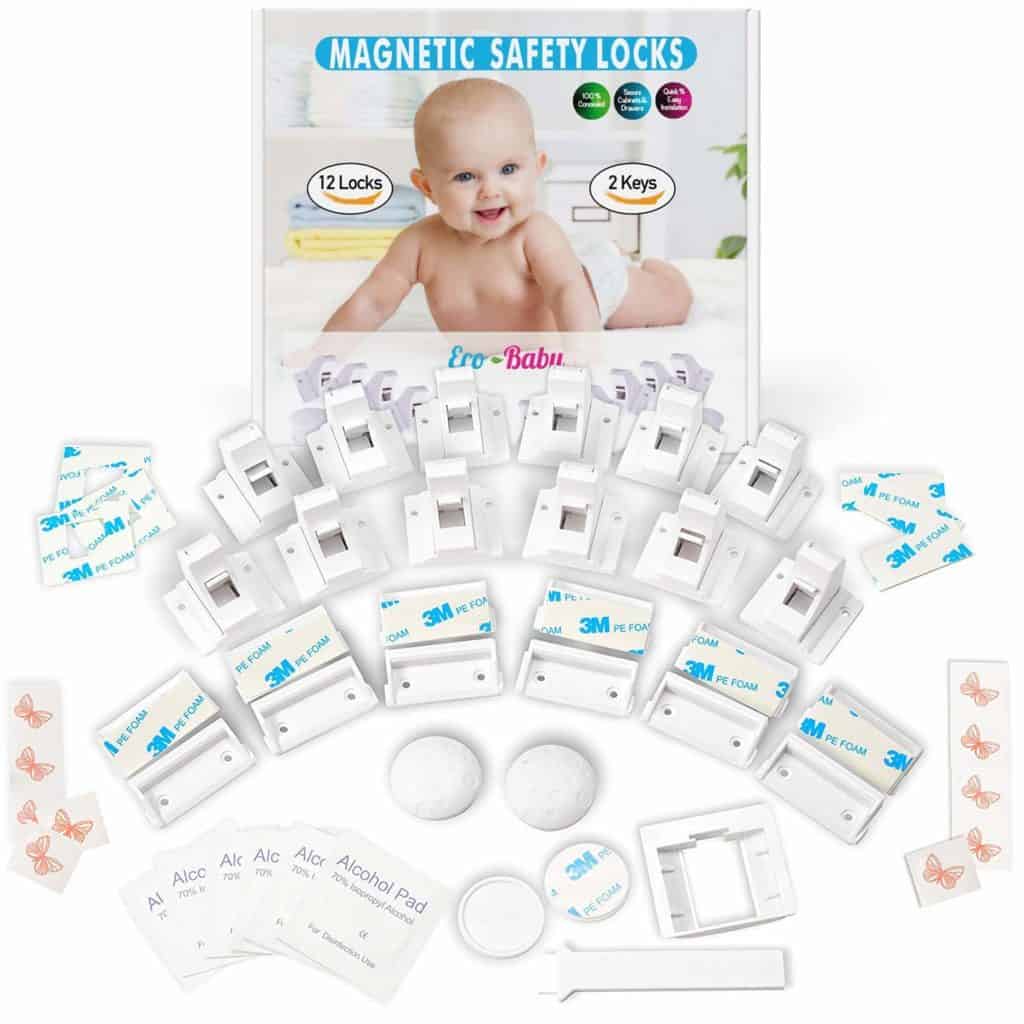 If you are looking for a baby-proof cabinet lock that is streamlined and has a clean look, then Eco Baby Child Proof Cabinet and Drawer Magnetic Safety Locks might work well. These safety locks are installed inside the cabinet drawer and are not visible from the outside.
They feature improved magnetic locks that work well with doors that are up to 1.75 inches apart, and you can install these locks on the top, bottom, or side too, thanks to their long and flat fit. It includes a 3M Adhesive Tape, which means to do not need to use any drills and is easy to remove.
This Eco Baby child-proof cabinet and drawer safety lock has a 100 percent 18-month warranty and once installed, they are easy to open with just a one-click magnet knob. It has five locks and plates and one key or has 12 locks and plates with two keys, all in white.
Pros:
Can be used on cabinet doors up to 1.75 inches thick and keeps away the cleaning products away from the crawler.
Uses a 3M Tape and no drilling or tools
Comes with a 100 percent 18-month warranty
Can disengage the cabinet lock mode when the little one is not around
Are not visible
Cons:
Will require a change after sometimes they may wear out
The key of the magnet as installed inside can become a choking hazard
As and when the baby grows and starts to venture out, these child safety locks come more useful as they help keep the little ones away from the toiletries, washing powders, bleach, and other appliances inside of the cabinet. Therefore, you need to make sure to choose the baby safety locks that are best and safe. Also, here are some baby gates for doorways and baby gates for stairs.
FAQs:: Top 5 Best Cabinet and Drawer Locks Of 2022
1) How do you baby-proof a drawer?
The most popular and recommended way to baby-proof drawers is to use magnetic locks. Magnetic locks usually come in a pack that consists of one magnetic key and numerous locks.
2) How do you remove baby proofing adhesive?
There are some methods that you can use to remove child safety cabinet locks, which include heat, razor blade, WD40, alcohol or hand sanitizer, and 3 M adhesive remover.
3) When can you remove baby proofing?
You can remove the visible gates and locks when your little one is around two or three years old. Especially, if they have reached the age where you can trust them to stay away to use something unsupervised.