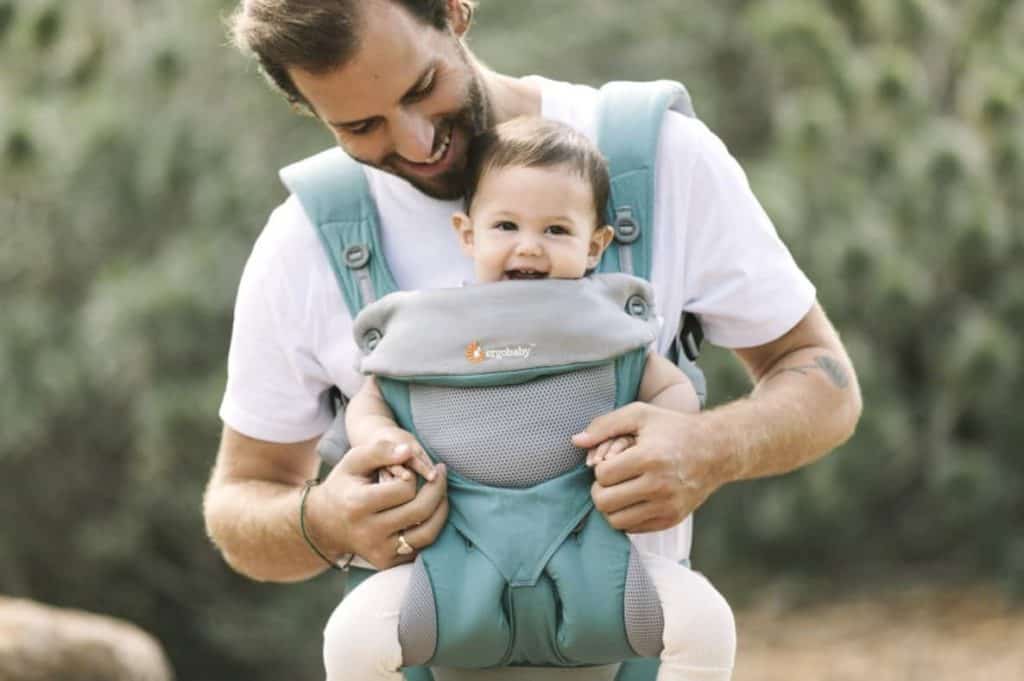 Parenthoodbliss selects the best products based on real-life testing conducted by our staff, members of our user community, the contributors, as well as through research and feedback by experts; here's more about our product review process. The details and prices are accurate as per the publishing date and we may earn commissions through the shopping links on this blog.
If we were to rank baby products, it would be no wonder that baby carriers would come on top of every parent's bucket list. Why so, one might ask? Well, the reason for a baby carrier to receive so much love is its user-friendliness, feeling, and utility.
There are baby products out there to hold your baby, some examples are baby swings, rockers, wraps, ring slings, etc. However, babies love to be around their parents or loved ones, they crave closeness and being dynamic rather than static. The best way to give your baby this experience is to hold them in your hands, however, to do this without you having to tire out your arms or keep your work pending is to use a "baby carrier!"
Regardless of the brand they use, parents are often heard saying they love their baby carrier. As a baby carrier enables you to keep your baby close to you all time, you can be tension-free and don't need to check on them frequently and can hence avoid a million trips from the kitchen to your bedroom.
These baby carriers need to be purchased according to your usage policy. Some parents like to use the baby carrier from infancy through 6 months old. Then some parents use the baby carrier well after this and until the baby becomes a toddler. In our opinion, the ideal time to ditch the baby carrier is when your baby actively starts walking, even then this product can come in handy at airports and other crowded areas. The products mentioned here being of very high quality can enable you to use them even after your baby learns to walk, or if they gain a few healthy pounds.
What are The Different Types of Baby Carriers?
If you are still musing over all the wide options and brands, try breaking them down by their type. Maybe a certain type of carrier will suit you the best. Your preferences might even change as your little one grows older. We have curated a list of all the types of carriers out there to help you out:
Soft wrap: This is a long piece of stretchy cloth that you can tie around your body with your baby in it.
Woven wrap: This is a non-stretchy piece of cloth that works in a similar fashion as the soft wrap.
Ring sling: It's basically a wrap but with a ring that allows you to adjust the tightness of the wrap easily.
Mei Tai or meh dai: This is an Asian-inspired baby carrier made of a panel of fabric around the baby. Its two padded, wide straps go around your waist while the other two go around your shoulders.
Soft structured carrier: This carrier comes with adjustable belts and padded shoulder straps that can be used for infants as well as toddlers.
Structured carrier: This is a baby carrier with an aluminum frame (suitable for long trips or hikes).
That covers almost all the essentials about baby carriers, now let us move on to the fantastic list that we have compiled for you.
1. Solly Baby Babylist + Solly Baby Collaboration Wrap ($69): Best Baby Wrap Carrier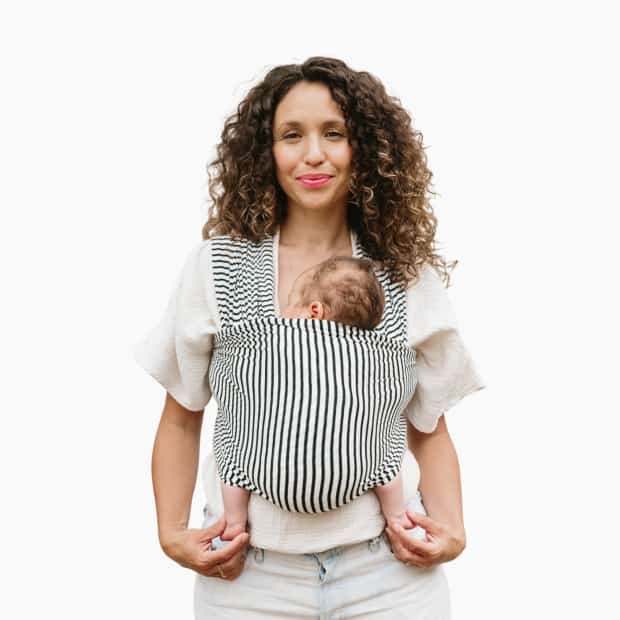 This is a wrap type baby carrier. What makes this baby carrier so comfortable you might ask, well it has a design which fits all parents quite comfortably indeed with a soft sustainable fabric. Additionally, it makes it a very lightweight option for a baby carrier.
There is no compromise in its make and material as it is a product from the USA and the material is sourced from Austrian Beechwood Trees. To give this best baby carrier its colors, very environment and human-friendly dyes are used. All-in-all this is a product that has been designed and manufactured while keeping in mind every aspect of health, comfort, and safety while upholding the commitment to our environment.
The awesome feature of this product, however, is the compact nature it offers, thanks to its fabric make. This baby carrier can be easily folded and carried around in your diaper bag. Whenever you feel like using the baby carrier, simply unfold it and wrap it around you and put your little angel close to you.
This product comes with a single carry option of front-inward. This is a sturdy product that can easily manage up to 25 pounds, however, most parents like to use this product while their babies are quite young, as the babies grow, the parents like to switch to a more supportive baby carrier with more weight-bearing capacity.
 Product Specifications:
Suitable for newborns to babies up to 25 pounds.
A single position of front-inward.
Grace – The idea is great but after trying consistently (20+ times), this is not comfortable and either it's not tight enough so baby's back isn't flat, or when it's tight enough it's super uncomfortable. Contacted the company to ask for help and they basically told me to watch the video (which I have quite a few times). When I asked additional questions there was no response. The idea is cool, the tying steps are easy to follow, and I love wearing my baby but this just doesn't work right and customer service wasn't great.
2. WildBird Wildbird x Babylist Linen Ring Sling ($89.95): Best Baby Carrier Ring Sling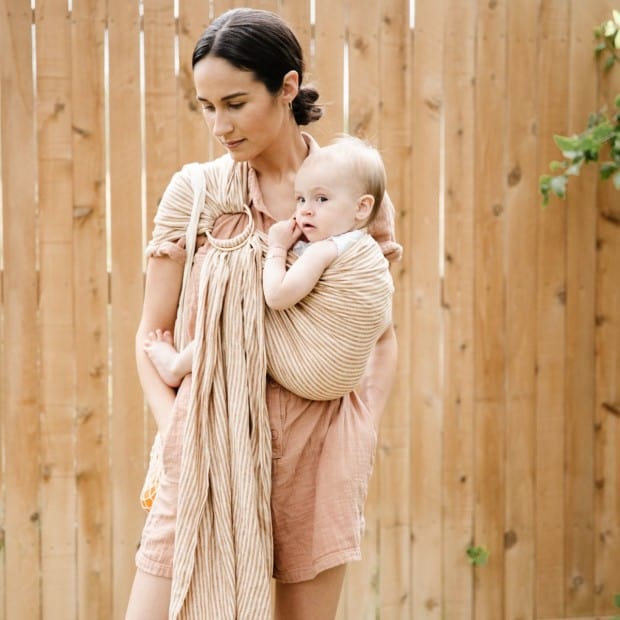 WildBird Wildbird x Babylist Linen Ring Sling as its name suggests is a ring sling-type baby carrier. This best baby carrier offers form and function in a beautiful package. This is one stylish baby carrier that is certainly an eye-catcher.
The linen-fabric which is hand-sewn is of heirloom quality. The design of this baby carrier enables it to be adjusted in several ways making it a very versatile product.
Ring sling-type baby carriers are a popular choice among parents thanks to its design which makes it very much adjustable, easy to use on any body shape, and comfortable. The WildBird Wildbird x Babylist Linen Ring Sling is really stylish as well.
Moving on to the make and material of this product, we can see how premium quality Belgian linen is used with low-impact, all-natural environmentally friendly dyes. This is a baby carrier that gets softer after each wash.
This baby carrier comes in 2 sizes with 4 wearable configurations. The standard size which is 74 inches is plenty for most parents, the long size which is 90 inches is ideal for plus-size wearers or parents over 6' tall.
While opting for a ring sling baby carrier like the WildBird Wildbird x Babylist Linen Ring Sling there is a need for familiarising with its wearing mechanism, however, this is no problem as Wildbird offers a lot of tutorial videos on each style of wearing.
Product Specifications:
This product has a weight limit which allows newborns to 35 pounds.
Available positions include a front, hip, or back
Jenna a. – I use this with our son nonstop. We have the solly baby and ergo baby too, but this is the one I always throw in the diaper bag to have with me just in case. Comfortable and supportive for walking around, too! I like the solly baby for around the house but it's not the most supportive for baby when you're out and about. Watched all the tutorial videos on their website to get started and now it's second nature, baby and I both love it.
3. Boba Wrap Classic Baby Carrier ($39.95): Best Baby Wrap Carrier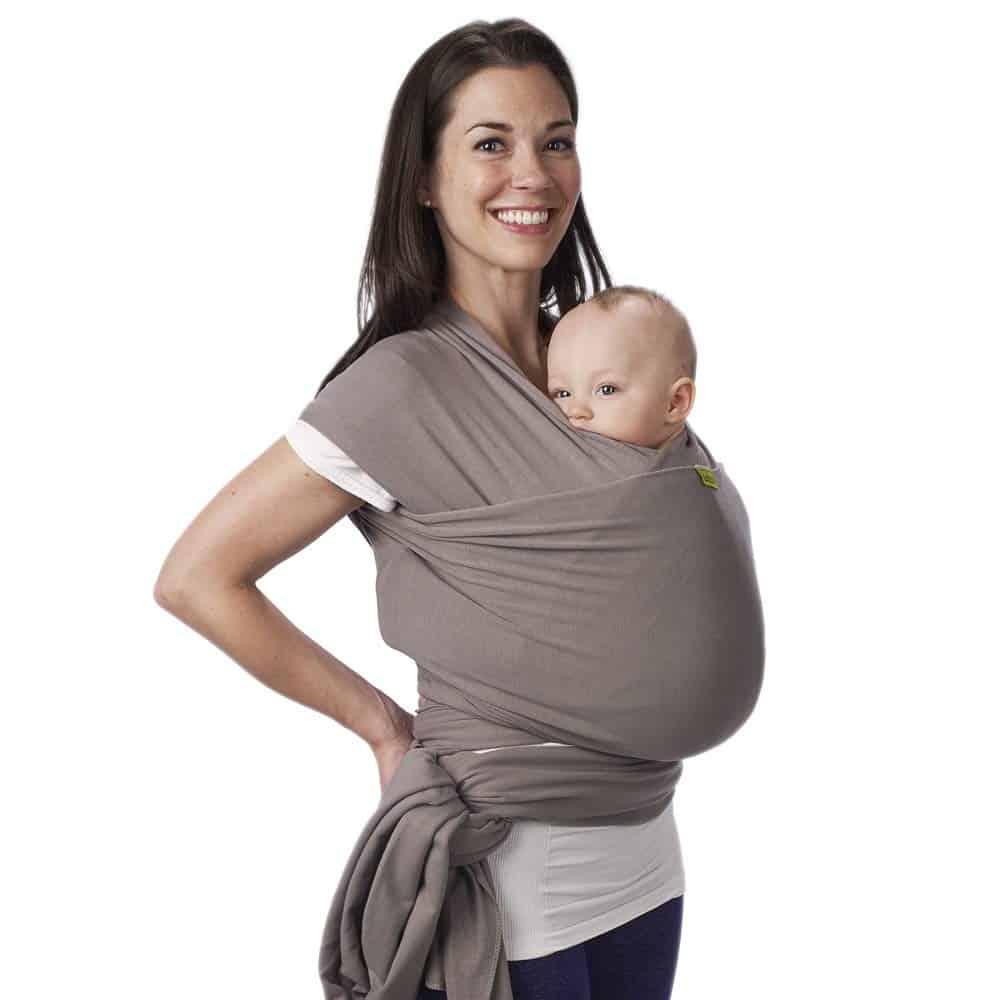 It is made out of a single large fabric piece and the material used being 5% spandex provides your baby with a snug and secure feeling. However, this best baby carrier comes only in one usable position, and that is front-inward. The spandex makes this baby carrier a very comfy place for newborns as they love skin-to-skin contact. Do not even for a moment think that the fabric made of this baby carrier leaves it feeble, this baby carrier can grow with your baby until your baby is 35 pounds.
One-piece fabrics have a problem of getting warm really quickly and that can be a discomfort for your baby in warmer climates. Also, wearing this type of single-fabric wrap-style baby carrier can be quite tricky, a video tutorial might come in handy in situations like this. 
Product Specifications:
Can easily hold newborns and babies up to 35 pounds.
Only available in a single position of front-inward.
I have tried 3 carriers, one being the lilly baby. This carrier is fantastic. It is stretchie, breathable, and lightweight. My 3 month old wants to be held and carried around when she's awake. This carrier makes that so much easier. I have 2 older children and having my hands free to do things for them makes everything easier. Today I put it on and put her in it and she did not fuss. It was easy to figure out from watching the tutorials. I am on the larger size body and breast. I am a good 60 inch in the chest and maybe more now that I'm breastfeeding and I had plenty of wrap. My weight last I checked was 230 and I wear a size 3x. I reccomend this product for anyone that needs it.
– MomBoss
To start out, the wrap we bought from Amazon did not make it to our house. The box was sent, not in an Amazon box, but in the product box itself and it was not taped shut. The wrap must have fallen out in transit and Amazon did refund us and I bought it at a physical store. I still want to leave a review as the wrap has been SO helpful.

Once my baby turned 6 months, he became a Velcro baby. The other wrap we bought had gone through the wash and shrunk and it was no longer usable. We had bought a more structured but still soft carrier by Bobby that worked great when he was 2-3 months but because of the structure, it was not comfortable and felt very tight. A friend who has a BIG baby was using the Boba so I gave it a try.

SUPER comfy and the right about of stretch and support. I do not feel hot while wearing it, which is a bonus as I live in the very hot south. My baby was 32in and 25lbs at 8 months and I felt like he was safe and supported as well as I was comfortable and my back wasn't killing me at all.

This was perfect for those fussy times where I couldn't put baby down and he needed comfort.
For more product reviews visit Amazon
4. Baby K'Tan Baby Carrier ($55.95): Best Baby Pre-wrap Carrier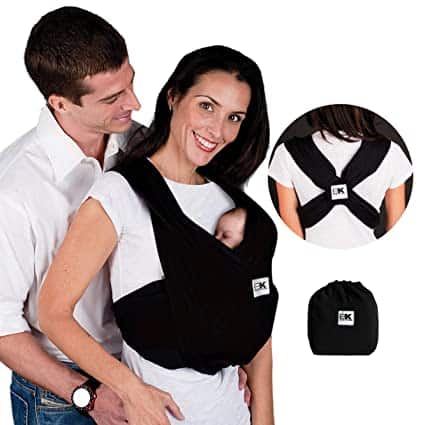 Want all the benefits of a wrap-type baby carrier without any of the hassles? Your obvious choice is Baby K'Tan Baby Carrier. This best baby carrier is made out of 100% cotton with a bit of stretch added to it. Whatever the carrying position maybe, the double-loop design evenly distributes weight across your shoulders and back takes the uneven weight off your body, and spreads it evenly across your shoulders and around your back. Even though this is a wrap-style baby carrier, this product can be easily worn like a t-shirt in 3 simple steps. A sash is included as an extra on this baby carrier and it doubles out as a storage space.
The size range product is from 0-24, which means you will definitely find a product that suits your body style. However, the material is known to stretch a little bit after use, however, it retracts to its original size after a wash, so if you want that snug fit, the best advice is to go one size down from your regular size. The snug fit according to one's size comes with a downside that your caregiver unless having your exact body size and shape cannot use this product easily.
Product Specifications:
Comes with a weight limit of 35 pounds.
3 available positions to hold the baby, front-inward, front-outward, hip-carry.
5. Babybjörn Baby Carrier Mini ($99.99): Best Baby Carrier for Newborn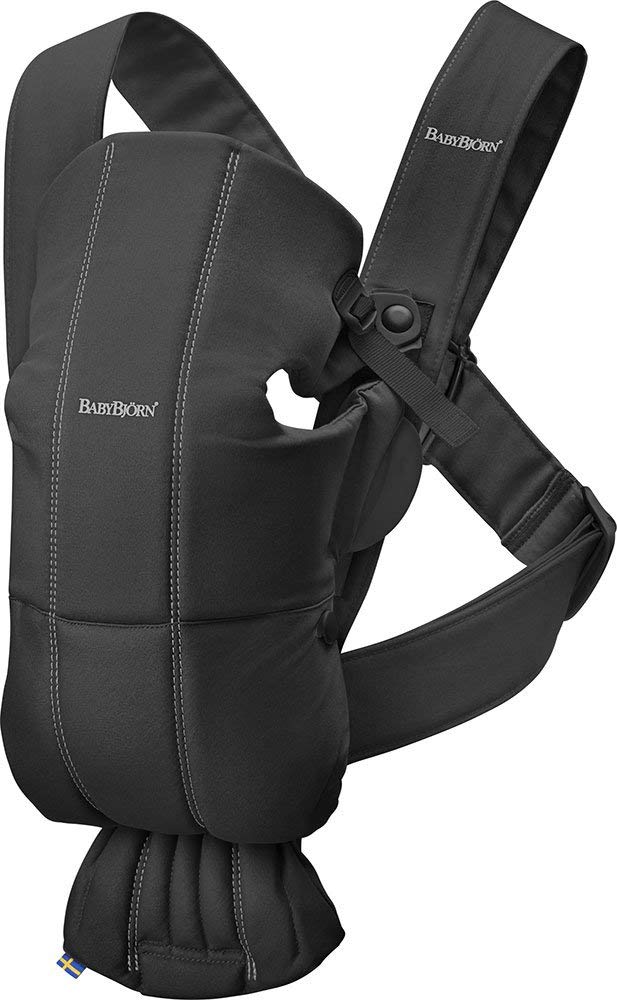 If you are looking for a rather simple, easy-to-use, quick-to-assemble, and comfortable option as your baby carrier, then Babybjörn Baby Carrier Mini is your obvious choice. It is the ease of use that makes Babybjörn Baby Carrier Mini stand apart. This is the best baby carrier for newborns; you just need to buckle up and you are set for your outing. The product is so easy and comfortable that you can take output in or put a sleeping baby into the baby's carrier without waking him/her. Once you are done with your baby carrier, Babybjörn Baby Carrier Mini is easy to store in your diaper bag, backpack, or stroller basket.
The shelf life of Babybjörn Baby Carrier Mini will disappoint you as your baby will outgrow Babybjörn Baby Carrier Mini soon rendering the product not fit to use comfortably anymore. Also, the missing waistband can cause stress on the shoulders and back if used for longer periods.
Product Specifications:
6. Happy! Original Baby Carrier ($155): Best Travel Baby Carrier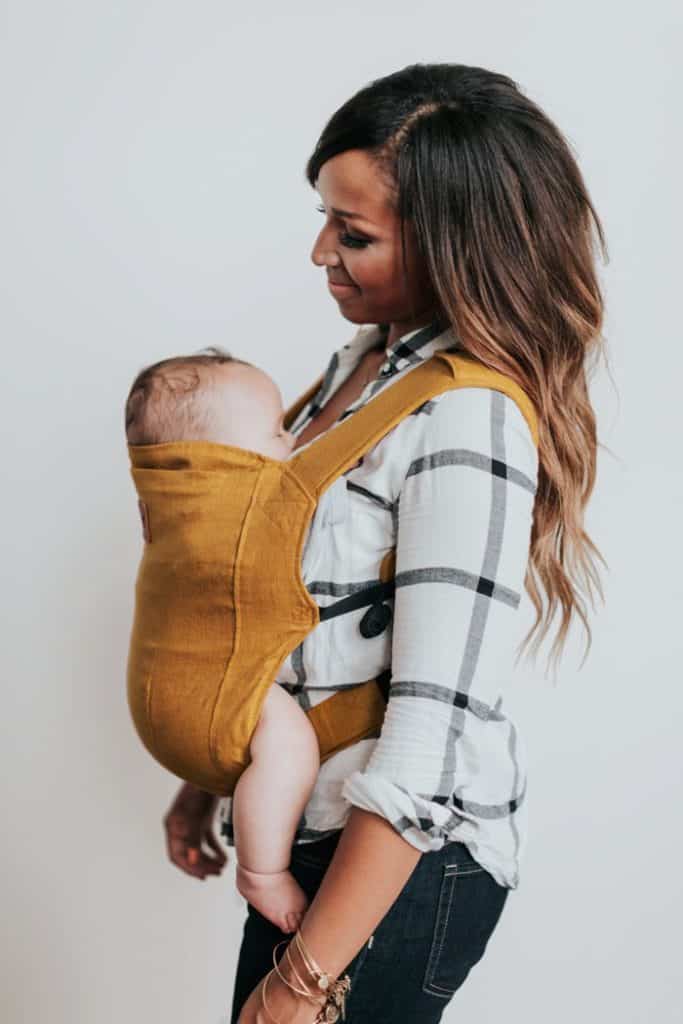 In for a lightweight and environment-friendly option for a baby carrier, well this product is your obvious choice then. Being made out of linen this product compared to the competition weighs around 30-35% lighter. There are many fewer issues in the heating department no matter how easily you sweat all thanks to the linen make. This product is easy to adjust and fit and is really comfortable. However, a reported downside to this baby carrier is that holding heavier babies can become tiresome in this particular product. 
Product Specifications:
Weight limit of 45 pounds.
Front-inward and back positions are available to use.
7. Ergobaby Omni 360 Baby Carrier ($149): Best Long-lasting Baby Carrier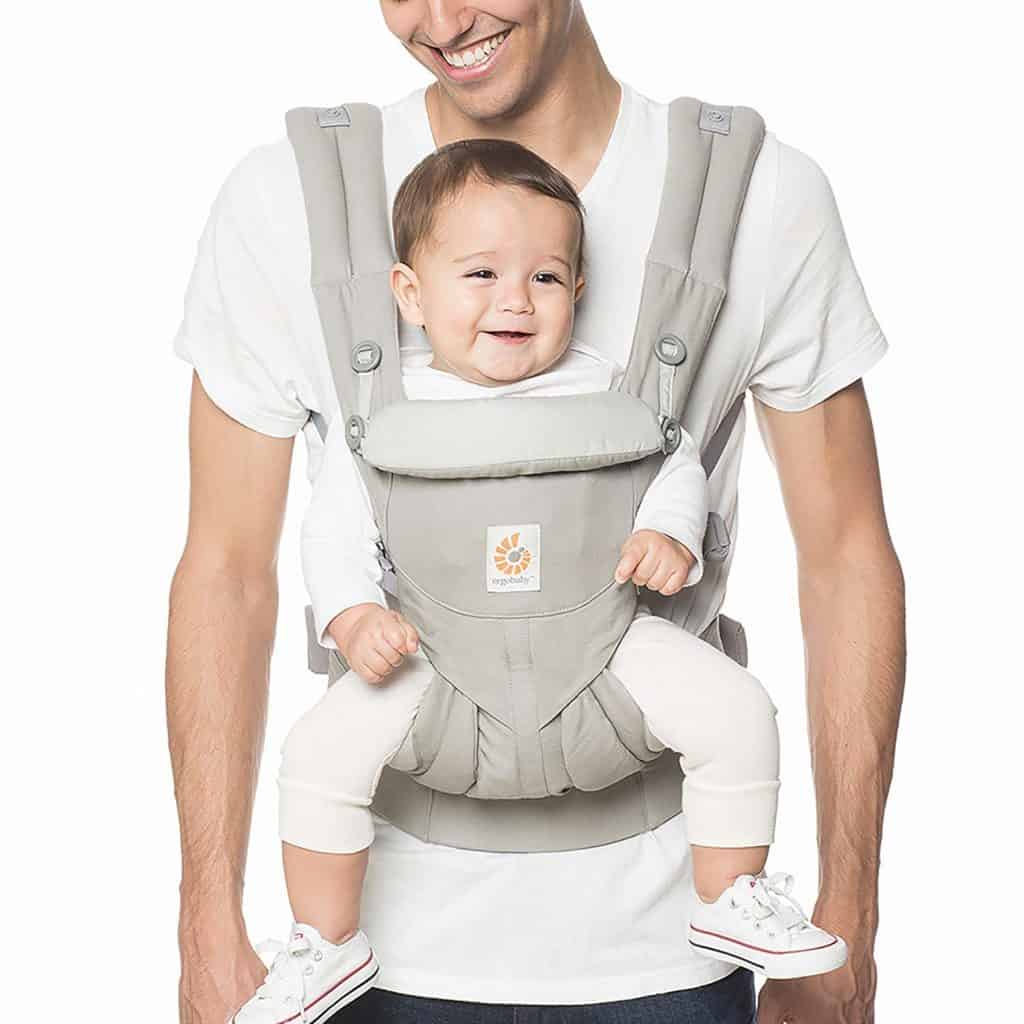 If you are ready to settle for a heavier but more versatile and comfortable baby carrier, this is the choice for you. The main advantage of this baby carrier is its shelf life that will last till your baby's toddler age. Padding and available adjustments are in plenty and you can hold your sweet one in 4 different ways. 
Product Specifications:
Can carry newborns to babies weighing 25 pounds.
Front-inward, front-outward, hip, and back are the 4 positions that you can hold your baby in.
8. Infantino 4-in-1 Flip Convertible Carrier ($32.98): Best Baby Backpack Carrier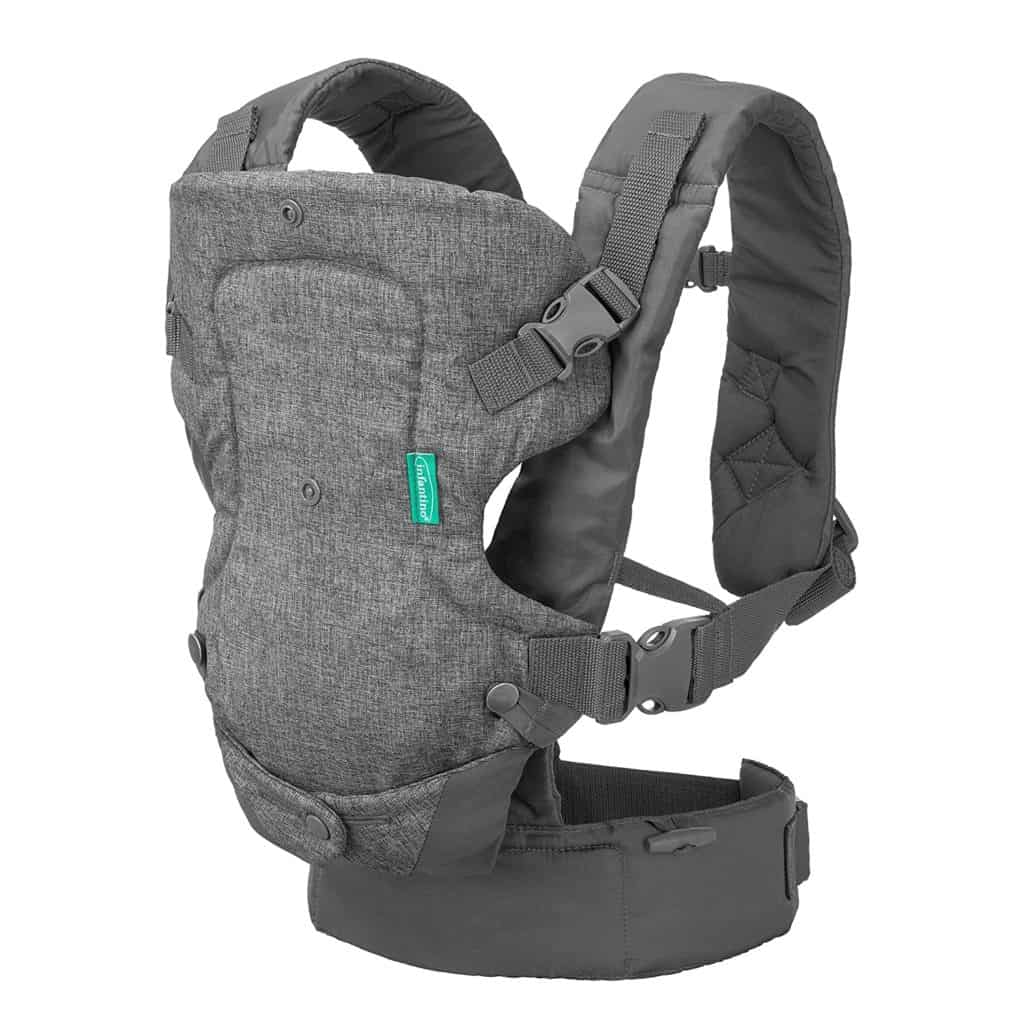 Price is the biggest factor that helped this product make its way into our list. When you see that less than $30 price tag does not think that this product is low in quality or compromises safety. With numerous points for strap and buckle adjustment, this product fits snug on parents and babies of different sizes. It is both lightweight and breathable meaning two big issues have already been solved, heating and pain.
Product Specifications:
Can easily manage babies of up to 35 pounds.
3 carry positions available. Front-inward, front-outward, back carry.
I have seen a lot of wraps for babies but I felt they were too complicated for me. I bought this and I love it, my husband loves it, and most importantly, my son loves it. He didn't like facing me but once he could hold his head up and face out, he was content. I've used it at the grocery store, while doing housework, in airport security, and on vacation. It's so nice! It takes a few uses to really get the hang of, but once you know how to use it, it's super easy and super convenient
– Sydney
Feels very safe to carry child. I like the different carry options. There are many straps and buttons to figure out – but they are also what make the carrier safe. Wide shoulder straps help with comfort. Leg position is a little wider than what I'd like, but it doesn't seem to be bothersome for my little one. It is a little difficult to put on – but it can be done solo.
For more product reviews visit amazon
9. LILLEbaby Complete Airflow Six Position Baby Carrier ($99.99): Best Baby Carrier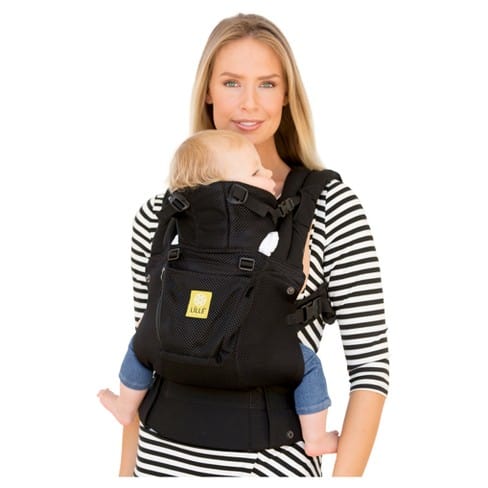 This airflow baby carrier has 6 ergonomic carry positions for 360-degree babywearing, and the breathable mesh on the front allows you to manage your baby's temperature.Featuring two-way straps for front or backpack carrying, a big storage pocket, a removable sleeping hood, and an extensible torso, this baby carrier gives comfort and support for the baby and the parent. 
This baby carrier is BPA-free, phthalate-free, latex-free, and lead-free. It has Adjustable side panels that widen and narrow the seat for comfortable hip positioning.
Product Specifications:
Six wearing positions

Large storage pockets

Comfortable for the parent and baby
10. Boppy ComfyFit Hybrid Baby Carrier ($42.99): Best Washable Baby Carrier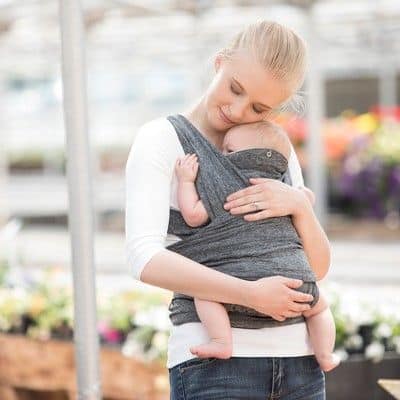 The ComfyFit Hybrid Baby Carrier is composed of soft, breathable cotton and is available in a single size, making it simple to distribute among caretakers. The padded waist belt and broad shoulder straps on this baby carrier assist to appropriately distribute the weight of the baby. 
This baby carrier is machine washable and is made of 88% polyester and 12% spandex. Carrying your baby is simple in three steps with this baby carrier: Click the belt, strap it, and tie it and you're ready to carry your baby anywhere. 
Product Specifications
It is of a hybrid fit

It is forward and outward-facing

It has a head support
I believe I have 5 carriers at this point and this one is by far my favorite! So easy to throw on and love that it feels like your wearing a wrap. I wear it around the house a lot but have also taken a ton of walks in it and find it extremely comfortable!
We had asked for a Moby wrap s as recommended by friends, but we really didn't like how complicated it was to get into it. We didn't want to spend an arm and a leg on the kinds of harness that clip together though. Somebody recommended this item and it is the PERFECT hybrid. Easy to get into, comfortable and supportive for the baby. Ours also has to wear a Pavlik harness for hip dysplasia, and it supports her legs perfectly. All for a great price! Highly recommended.
For more product reviews visit Amazon
11. ClevrPlus Cross Country Baby Backpack Hiking Child Carrier ($132.99): Best Baby Carrier for Hiking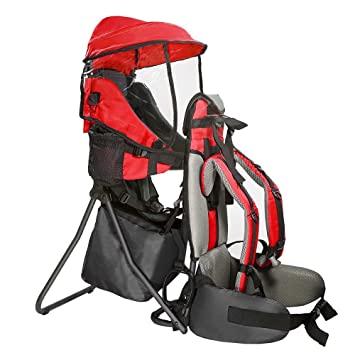 This lightweight baby carrier weighs just 5.5 pounds but is strong enough to keep both baby and adult relaxed for hours. The hip belt and straps are cushioned for comfort, and the carrier has energy-absorbing lumbar cushioning to keep you cool and secure. 
This baby carrier comes with a sun canopy and rain cover that will keep your baby safe, cool, and dry in all weather. The safety belts and foot straps keep your baby safe and comfortable, allowing the baby to fall asleep. 
The baby may rest their face against something soft and clean with the washable drool pad. This baby carrier is designed for children aged 9 to 48 months, allowing you to use it for many years as your baby grows.
Product Specifications
It has

multiple pockets including two water bottle pockets.

The canopy can be easily removed or folded back out of the way.

Easy to store
We went on a trip to Peru with my 23 month old son who weighs almost 28 pounds and it was the best investment. It is comfortable and of good quality. My son really enjoyed it because he was comfortable and could see everything. Even when he fell asleep it was comfortable but only for a short time. His dad who was carrying him told me that the support for his back is comfortable. We went to Machu Pichu and many other attractions where there was a lot of walking and this was a life saver. I highly recommend it.
Love this baby carrier! I use it for a lot! Hiking, camping, grocery shopping, work around the house and yard, etc.
For more product reviews visit Amazon
Trend or no trend, baby carriers are here to stay and it's a win-win situation. Your baby gets all the snuggles and cuddles while your hands are free to get your chores or work done. So if toting your baby around sounds hectic, consider the best baby carriers listed above and be ready to change your mind. You might not find the right fit at first but in time these baby carriers will make your life a wee bit easy. So how do you check if the baby carrier is the right fit? Follow the acronym TICKS to know if you are carrying your baby safely. Here's what it stands for:
T – Tight: Your kid must be snug against your body with no slouching or loose fabric.
I – In view: You should be able to see your baby's mouth or face easily with no obstruction.
C – Close enough: You should be able to reach the baby's head easily by bending your chin.
K – Keep off the chest: Your baby's head must not be tucked onto their chest as it may restrict their breathing.
S – Supported back: Your baby must be able to maintain their natural spinal position.
And with that, we have come to the end of our awesome top 11 best baby carriers for the year 2022. Hope we have been able to help you make a viable decision. Using a better baby carrier that is not on the list? We would love to hear your thoughts in the comments section below!
Best Baby Carriers - FAQs
1. Is it worth the money to buy a baby carrier ?
Holding a baby is absolutely "free!" All you need are your arms, however, holding a baby in your arms will hold all your work and will tire out your arms, so it is a wise option to switch to a baby carrier that you can use comfortably.
2. Is it true that baby carriers hurt baby hips ?
There are some low-quality baby carriers in the market that can hurt your baby's hips. The list that we have compiled above is free of such low-quality products.
3. How long can I put my baby in a baby carrier ?
As long as it is comfortable for you and the baby! However, if you notice your baby being fussy do take care to give them some time off the baby carrier. Another important thing to note is the weight limit. Be sure you are not carrying your baby in the baby carrier once he/she crosses the weight limit.