Having doubts about the safety of your baby's bottle? Don't give up on germ-killing sterilizers that can kill 99.9 percent of bacteria in as little as ten minutes. When your baby has a tendency to put everything they see in their mouth, letting them enjoy something germ-free is a great way to relax. This sense of security can be yours with the use of a sterilizer. Let's not make things worse by not cleaning up after our children, who have been exposed to infection-prone situations.
Are you making the right choice?
A normal method of cleaning your baby's bottle is to use soap and hot water to wash it, but most parents prefer to sterilize their baby's bottle every week as a mark of their extra care. Using a sterilizer or boiling them for a few minutes is all that is required. You can sterilize using one of two methods. One option is to boil the bottle for a few minutes in hot water. The second option is to sterilize with a sterilizer, which can be either a microwave or an electric model. Steam sterilizers are an option, but parents can choose not to use them. For this purpose, we asked a group of parents and here we are with the top baby sterilizers in town.
6 Best Baby Bottle Sterilizers
1. Baby Brezza One Step Sterilizer Dryer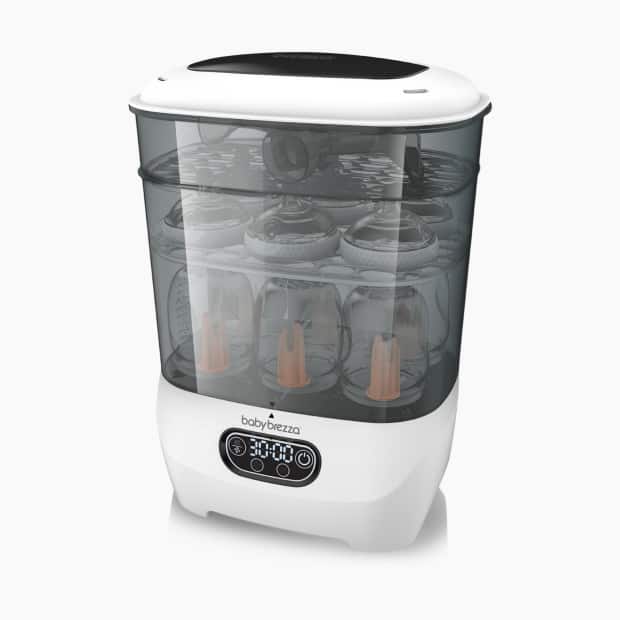 This one is unique as it sterilizes as well as dries the bottle without allowing a single drop of water to remain.No artificial products are used by this electric, two-in-one sterilizer to make the steam and 6 bottles can be held at a time. Brezza automatically cleans and dries the bottle all at once or you can do it separately according to your need.
2. Dr.Brown's Electric Steam Sterilizer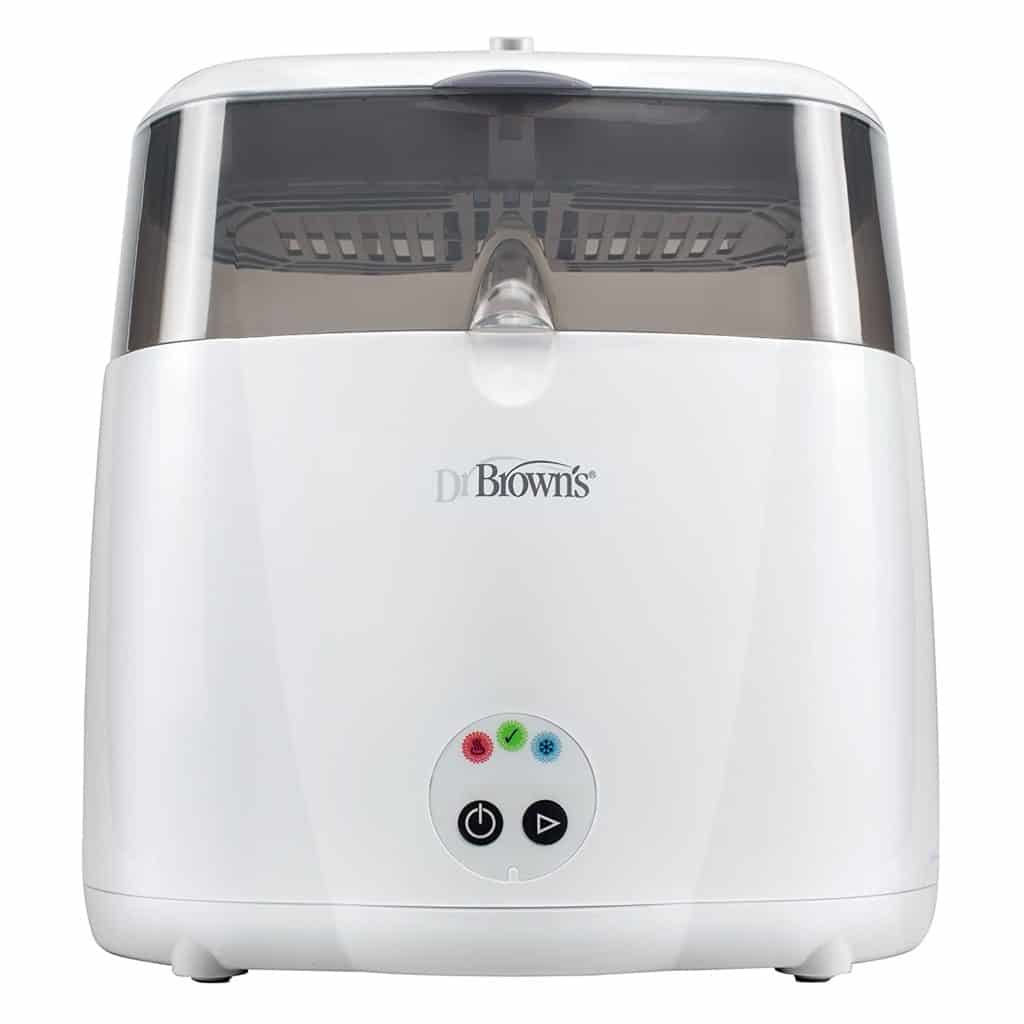 This one is easy to use and provides extra space in a lower tray to keep bottle accessories. The most attractive features of Dr.Brown include automatic shut off once the process is completed, only 12 minutes for the whole process, a double-decker storage facility for 6 bottles and accessories, and finally tongs to make sure that your hands are safe while handling hot bottles. Ensure to use distilled water to avoid mineral deposits on the heating unit.
3. Philips Avent Microwave Steam Sterilizer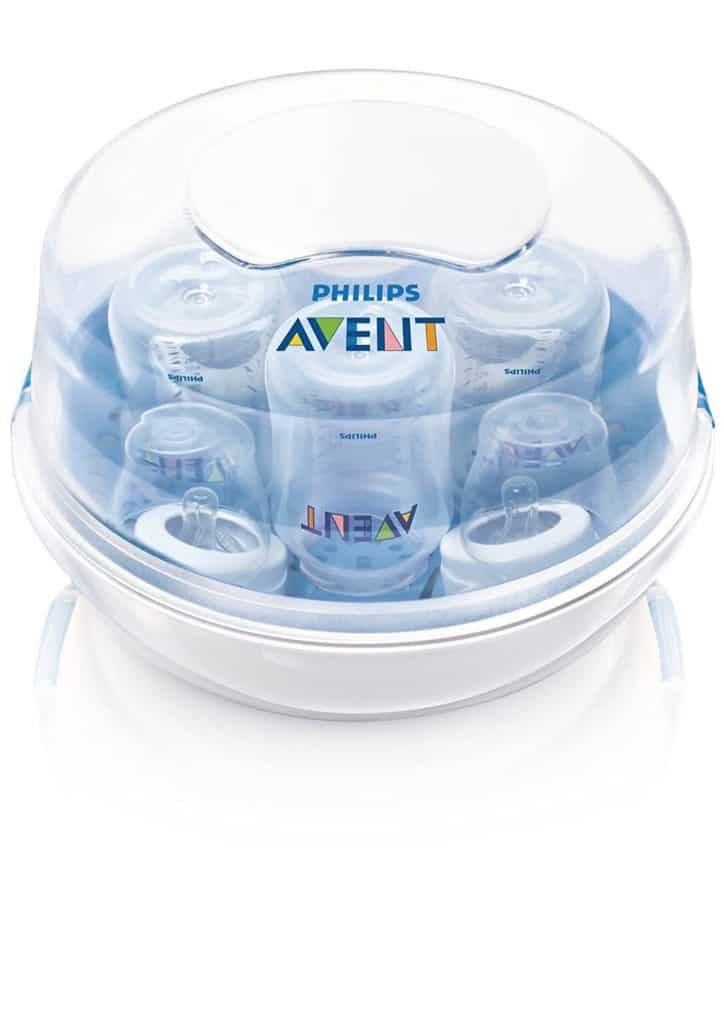 Something that is easy to use and spacious at an affordable price is always attractive. Here they provide the facility to hold 9-ounce bottles with enough space to accommodate both wide and normal necked. It also provides 24 hours of germ protection if the latches are closed.
4. Munchkin Steam Microwave Sterilizer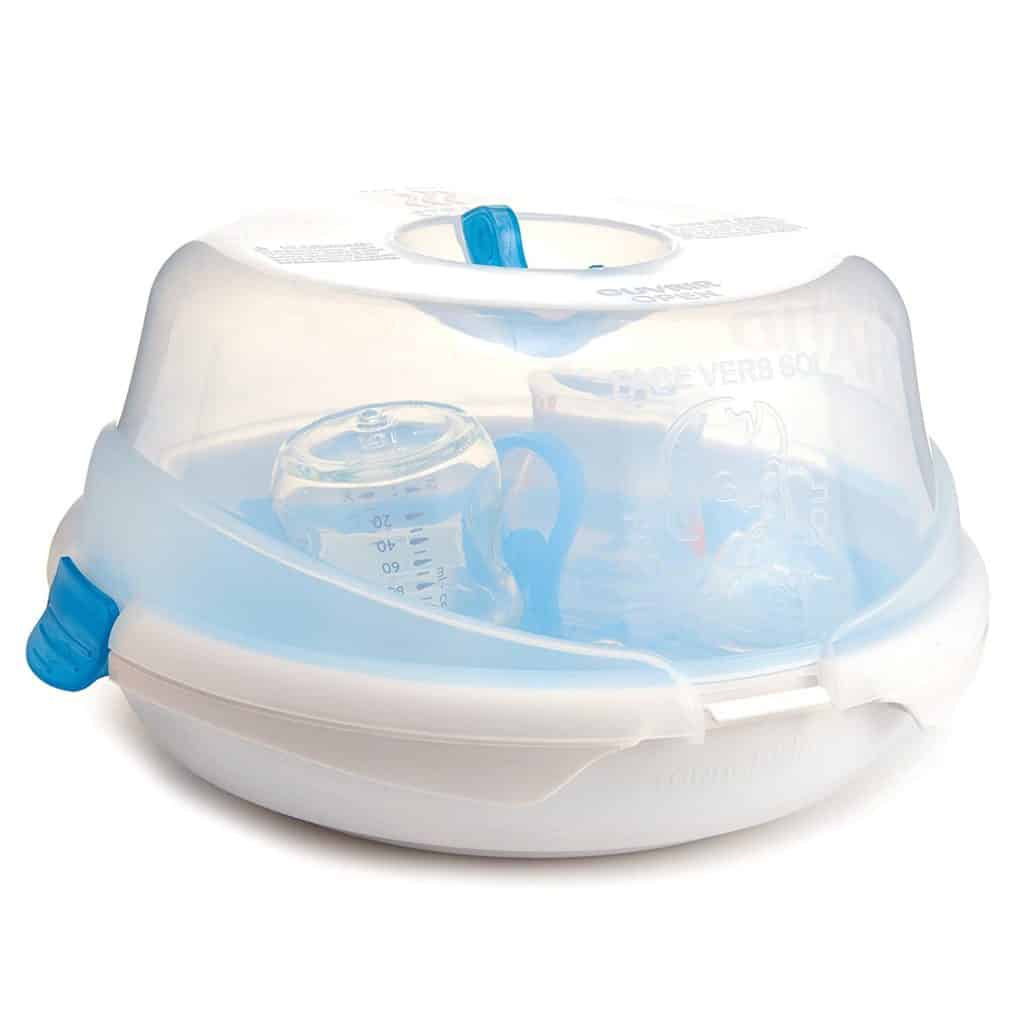 A Sterilizer that you can use on a daily basis, with the capacity to store four standard and wide-necked bottles. Another important feature is how it prevents burns from heat when you are in a hurry. You can also sterilize breast pumps too along with the bottles. So, it once again makes sure that only a microwave is enough to secure your baby's food journey. Easiness in usage has made them popular.


5. Tommee Tippee Steri-Steam Electric Steam Baby Bottle Sterilizer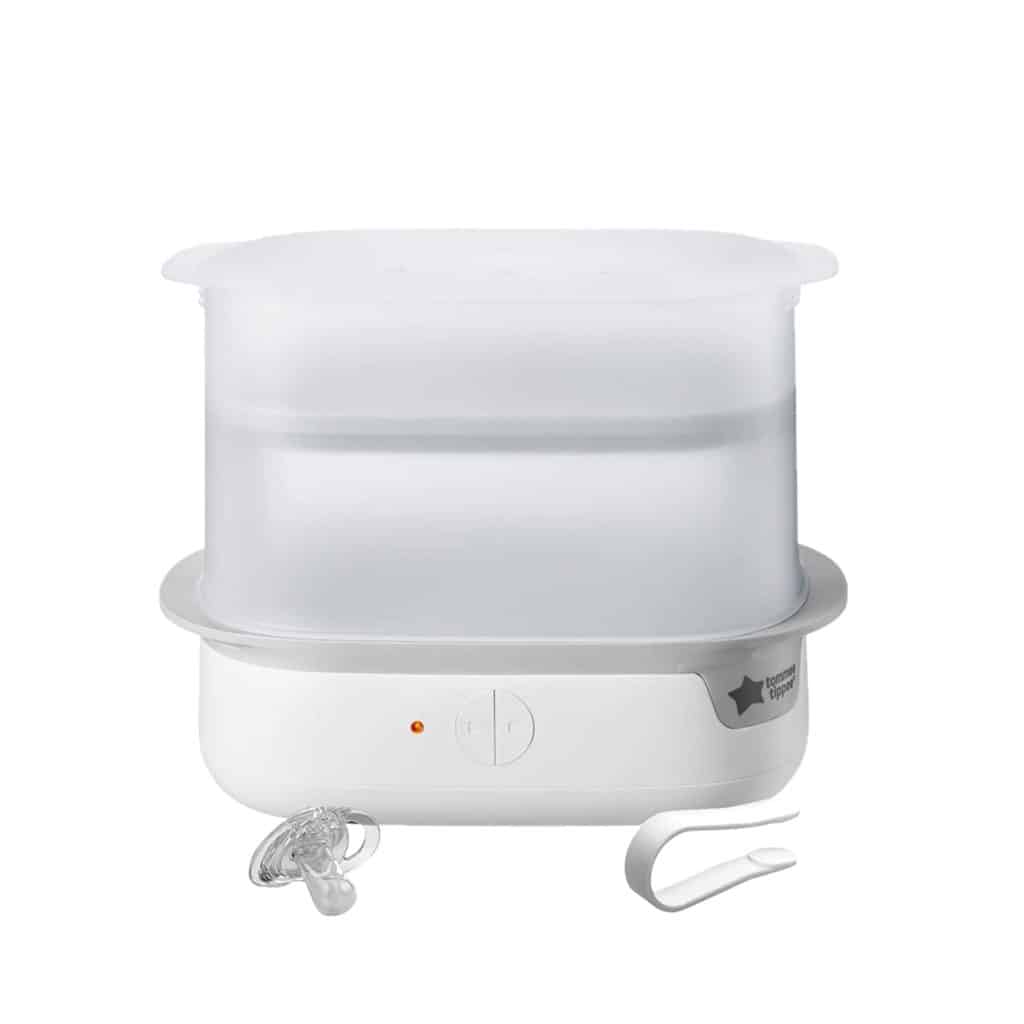 Who wouldn't go for a stylish looking, efficient, and huge sterilizer for your little one? Of course, it has enough space to accommodate all your baby materials and it takes only five minutes to complete the whole process. A total of five bottles can be placed at the same time and an amazing feature is that even if it is huge, the pro-design will not occupy your home space unwantedly. It is suggested to use the top rack for nipples for easy access.
6. Medela Quick Clean Micro-Steam Bags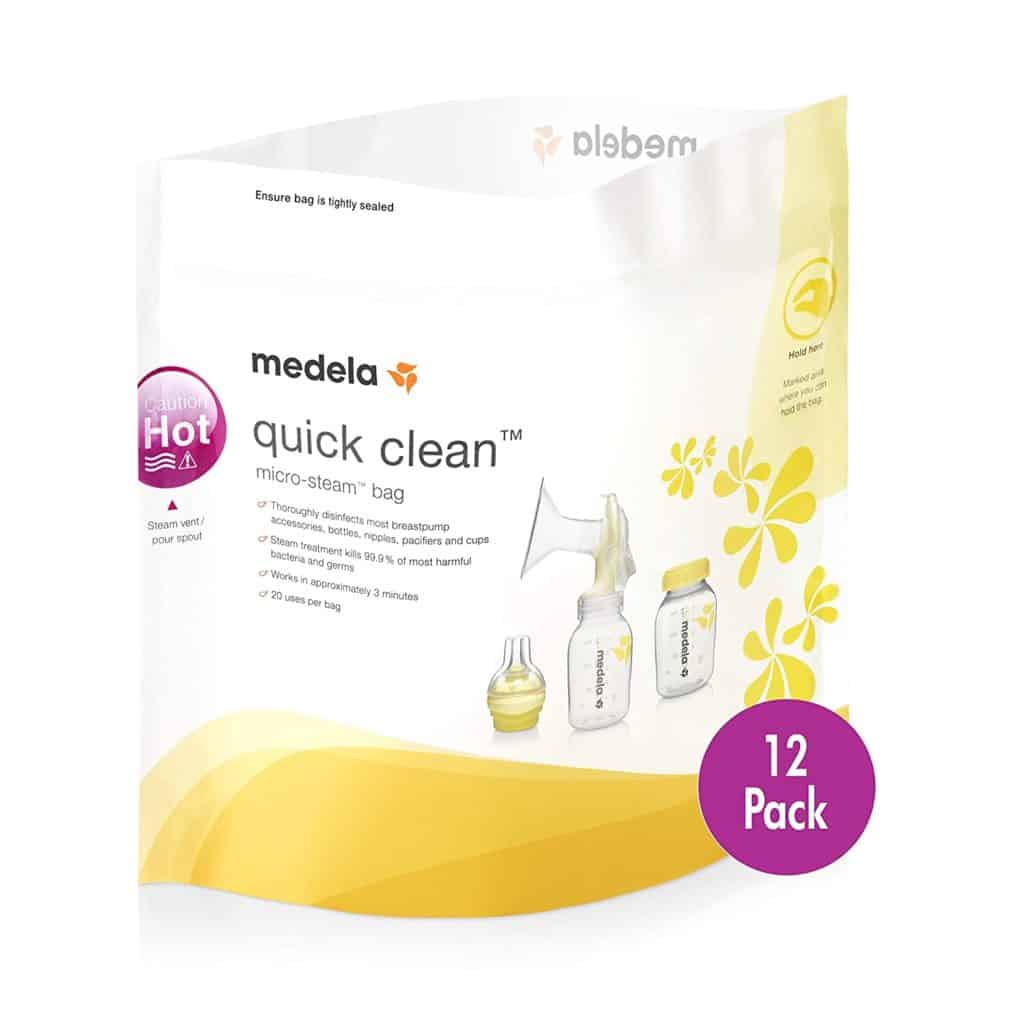 Are you a parent who travels constantly? Here is a peace pill for you. Medela Quick Clean has become the choice of many because of its affordability and portability. It is so easy to carry that it even fits inside your purse. If you look at the way it works, it is as simple as placing the bottle and accessories with water in the bag and placing it inside the microwave. Now you can see the world with your baby without compromising their health.
How to choose the best baby bottle sterilizer?
Choosing the right sterilizer for your baby isn't a big deal because all of them work efficiently. Prevent disease transmission with the best sterilizers available. We think we've come up with a great list. We hope you like it as well!
FAQs on best baby bottle sterilizer
1. How safe are Microwave sterilizers ?
Microwave sterilizers are safe enough and the use of steam for cleaning is remarkably effective. But what many of the parents forget to care about is, placing the bottle and accessories directly into the microwave, which results in serious damage to your baby's kit.
2. How often do we have to use the Sterilizers ?
It is not mandatory to sterilize the bottle after every single use but once a week is necessary until they reach twelve months to keep them safe. The duration needed to sterilize them perfectly is a minimum of fifteen minutes if you are doing it in a conventional way, otherwise, it may take only five to ten minutes.
3. What if you don't use sterilizers for your baby ?
First of all, one should understand the fact that your baby should reach at least a year to manage himself from being prone to catching diseases. If you don't sterilize your little one's feeding kit at least once a week, you are really going to end up in some serious trouble because the germs have got week-long life on the surfaces.
4. When is the right time to stop sterilizing the bottles ?
It is a better practice to keep your baby bottles sterilized at all times. However, if you plan on stopping sterilizing the baby bottle, you must wait until your baby is 12 months old. In any other case, a germ-filled bottle can cause serious health issues to your baby.
5. How long will an empty bottle remain sterile ?
The prescribed time for which a sterilized empty bottle will remain sterile is 6 hours.