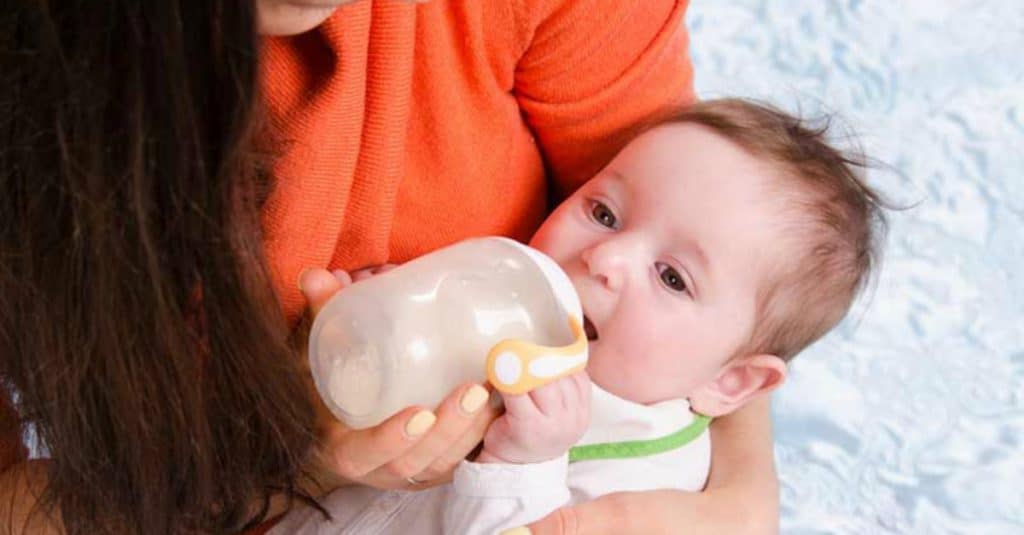 Picking the best baby formula makers is of utmost importance in order to prepare the best baby formula. Be it organic, for gassy babies, or otherwise. A good scoop of powder with some warm water and mixing makes a bottle of formula.
However, this easy mixing at times turns out to be the most annoying factor as it sometimes ends up with dry clumps of powder or lots of foam that float in the baby bottle, and these air bubbles become a problem if your baby is prone to be a colicky baby or gassy baby.
Therefore, with the help of a baby formula dispenser, all these problems are observed to vanish in thin air and they make creamy and smooth bottles of formula with no air bubbles. However, why is a formula dispenser so important? How do they make a good baby bottle? Where can you find these baby feeding formula preparation machines? What is the amount of formula needed? If you have either or all of these questions in mind, you are in the right place as Parenthood Bliss has prepared this article in retrospect of all the related articles, the top 5 best baby formula maker(s). But first…
Do You Really Need a Baby Formula Dispenser?
There is no hard and fast rule for a parent to have a formula dispenser handy, as shaking the baby bottles of a formula by hand is always an option and is known to work just fine, especially in the case of those who repeat it occasionally. However, for those who need to mix up several bottles of formula in a day or even in the middle of the night or a daycare, the dispenser does eliminate some of the hassles.
How Many Types of Formula Makers are available?
Broadly, there are two types of baby formula makers available for you to choose from: a simple mixer and the all-in-one system that load with formula and water and dispense a warm bottle at just a push of a button.
Here are the details of these machines:
The Baby formula mixer: These are mixers that simply produce a smoother consistency formula when shaking by hand, and with the help of the mixing pitchers, the batch of the formula can be stored in the fridge and poured out into the bottles throughout the day for up to 24 hours. However, these do not warm the bottles and are generally less expensive and easier to clean.
Baby formula all-in-one system: Using this mixer is comparatively hard to argue against the convenience. You will require to fill them both with the right amount of water and formula, choose the bottle size and simply press a button for a perfectly measured, mixed, and warm bottle of formula. On the downside, it is comparatively more expensive, takes up space, and is a little harder to clean.
Please note – In case you face the problem of hot spots irrespective of the temperature you put the bottle in, or fear them in the microwave, make use of a bottle warmer as it is far easier and more affordable.
Best 5 picks of Baby Formula dispensers
Listed below are our best picks for a baby formula maker in 2022 that avoids lumps and froth, and helps in the perfect bottle of baby formula.
1) Baby Brezza Formula Pro Advanced Formula Dispenser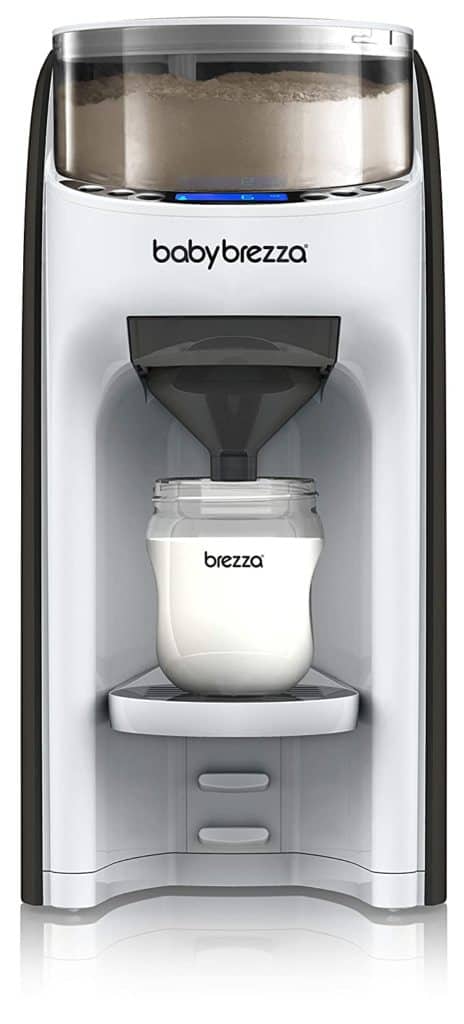 By purchasing this dispenser you may earn a fortune as it is a life-saving appliance and are of great help to the new parents. With the Baby Brezza Formula Pro, parents can now load enough water and formula to make 20 eight-ounce food bottles that are ready to pour, warm, and mix at the press of a button. You get to choose between three bottle temperatures and the formula amount, which is from 2 to 12 ounces across all bottle brands and sizes, as well as types of formula.
Pros:
Advanced design mixing system
Works with all bottle brands and sizes
Compatible with all formula types
Is dishwasher-safe
Has a removable water tank
Includes an adjustable bottle holder
Can dispense both, the formula and water or just the water
2) Dr. Brown's Formula Mixing Pitcher Formula Dispenser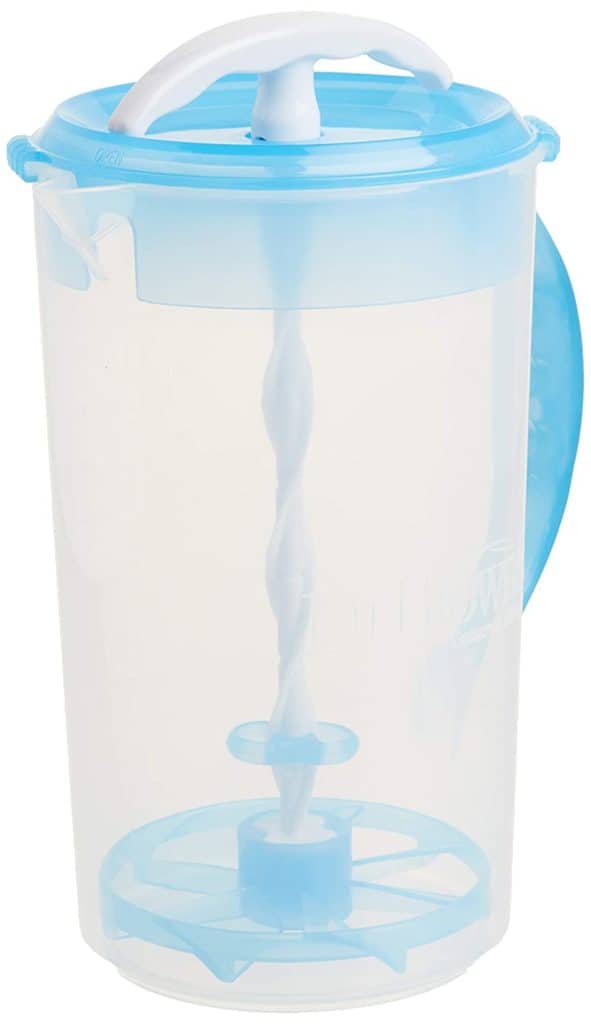 This machine comes in handy when you are preparing a big batch of formula, be it for the day-care or for the week. All you'll need to do is pump the handle at the top to rotate the blade that will cut the lumps and stir the formula into a silky smooth texture. This will prepare a bottle of formula with no air and the small pitcher parts are safe to be tossed in the dishwasher as well.
Pros:
The maximum formula it can prepare in one time is up to 32 oz. of formula
The mixing blade works swiftly and prepares smooth formula without clumps
It has a locking lid feature that prevents the formula from spilling
Has a soft-grip handle for convenient hold
Easy to clean
Dishwasher safe
BPA-free
Cons:
Might not be quite sturdy and durable as per a few reviews
3) Baby Brezza One Step Formula Mixer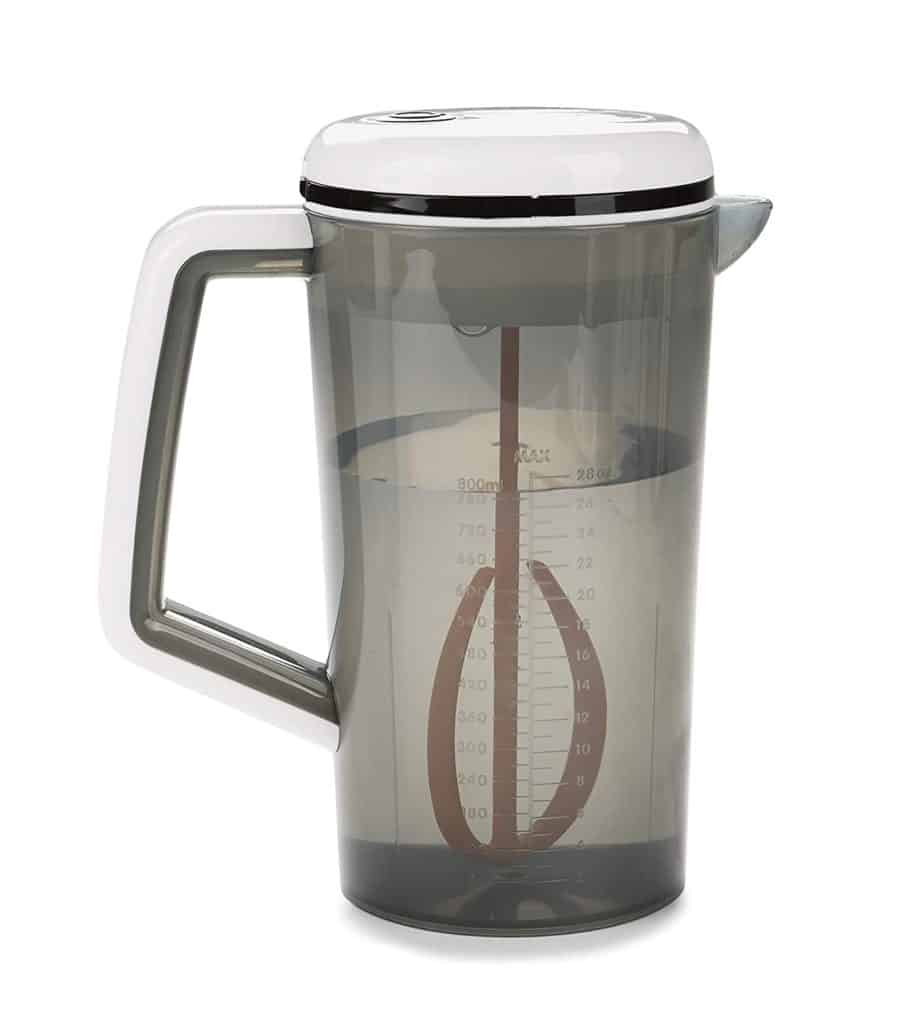 Baby Brezza works on battery and needs just one push of the button for the motorized blade to spin and blend with zero effort. However, unlike the blade of other products, it prevents the entry of the air into the formula. Also, irrespective of the formula being dishwasher safe, the lid will need to be cleaned by hand.
Pros:
Allows to be refrigerated
Has features like a spill-free locking lid and a no-drop spout
Is easy to clean
Dishwasher-safe
Is operated by 3AA batteries
The handle has a better grip
BPA-free
Is free from toxic chemicals
Cons:
The lid is a little hard to clean due to its battery compartment
Does not come with a battery
4) Joovy Boob Formula Dispenser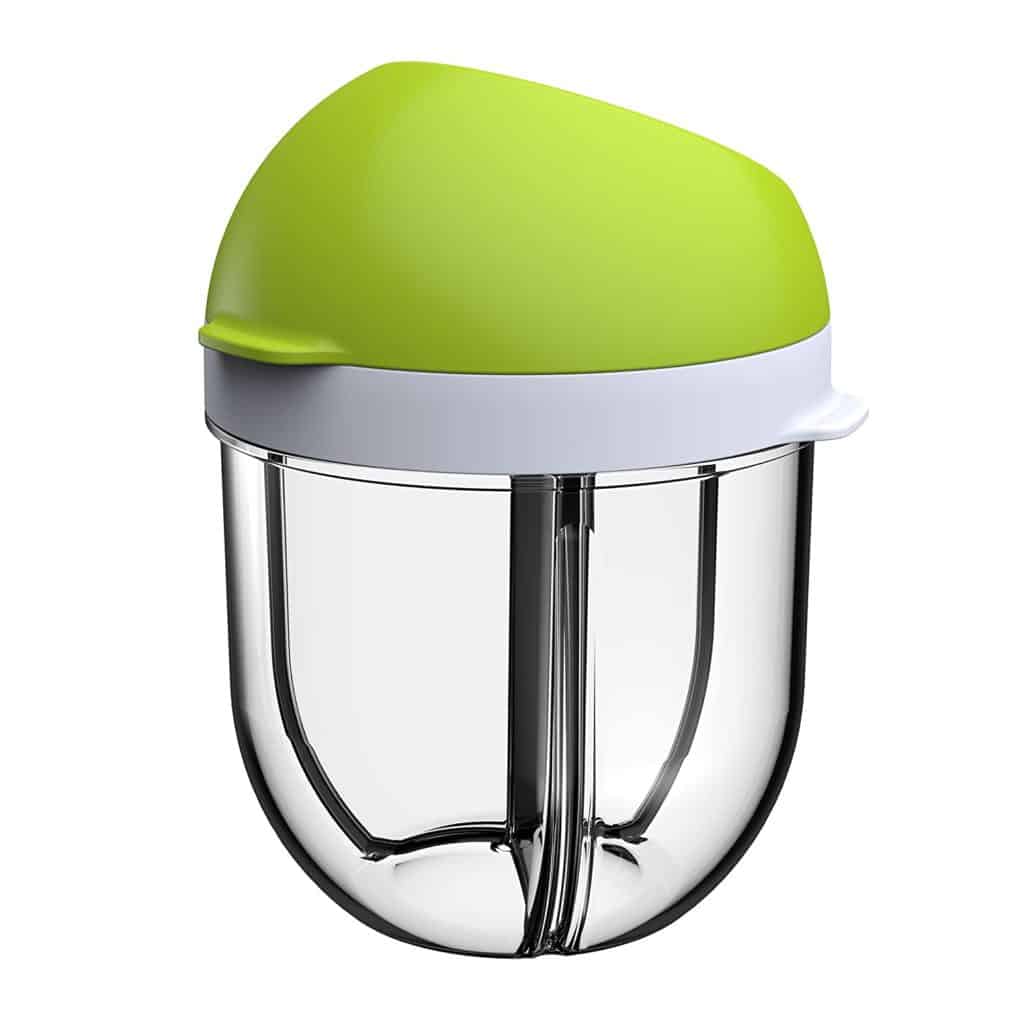 The Joovy Boob dispenser features three compartments that have enough space to help hold enough formula for an 8-ounce bottle. Also, the pouring spout attached to the dispenser helps prevent the formula from spilling which makes it ideal to whip the bottles when away from home.
Pros:
Is easy to use
Has three compartments
Has a spill preventing spout
Cons:
It is quite hard to open the lid
5) Prince Lionheart Versa Formula Mixer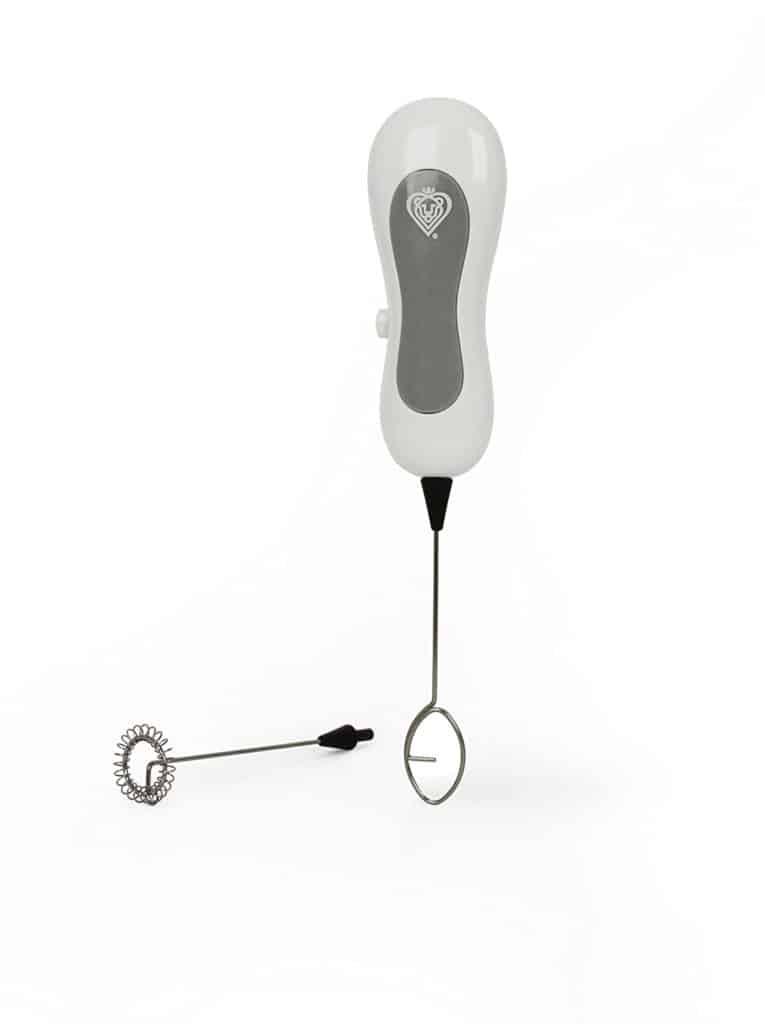 It is lightweight, compact, and is a travel-friendly product. Prince Lionheart features to be easy to use, has a dual purpose tool included made from high-quality materials making it a quite durable product.
Pros:
Is battery operated needing 2 AAA batteries
Includes 2 Interchangeable attachments for the baby formula and the milk frothing wands
The wand works faster and helps remove lumps
Compatible for all bottle sizes
Has no lead
Cons:
Includes no batteries
The measurements need to be done manually
A baby formula maker helps in preparing a good and healthy bottle for the baby that is lump, air bubbles, and hotspots-free. However, when a formula maker it is extremely important to look for one that works best for you as they are available in a wide range in the markets. Also, for a better understanding, you can make use of the best picks listed in the article above. However, in case you are caught with a few questions, do not shy away from contacting us.
Best Baby Formula Makers FAQs:
1) How long can you keep the formula in the dispenser ?
Once you prepare the formula, you must refrigerate them for later feedings. This will help prevent the batteries from entering and growing. Also, make it a point to throw away the mixed formula post 24 hours of the make if kept standing.
2) Do you have to boil water for formula ?
Yes, it is. Irrespective of the dispenser doing its part to keep the formula healthy, you must make sure to always boil the water prior to using it for the formula. This is necessary as the powdered infant formula milk is not sterile, the packets are kept sealed and there is a possibility of it containing bacteria. Using hot water helps prevent growth and sustain health levels.
3) How do I know if Formula isn't agreeing with the baby ?
Here are a few signs of formula intolerance:
Diarrhea
Blood or mucus in the baby's bowel movements
Vomiting
Abdominal pain
Colic
Trouble in gaining weight, or loss