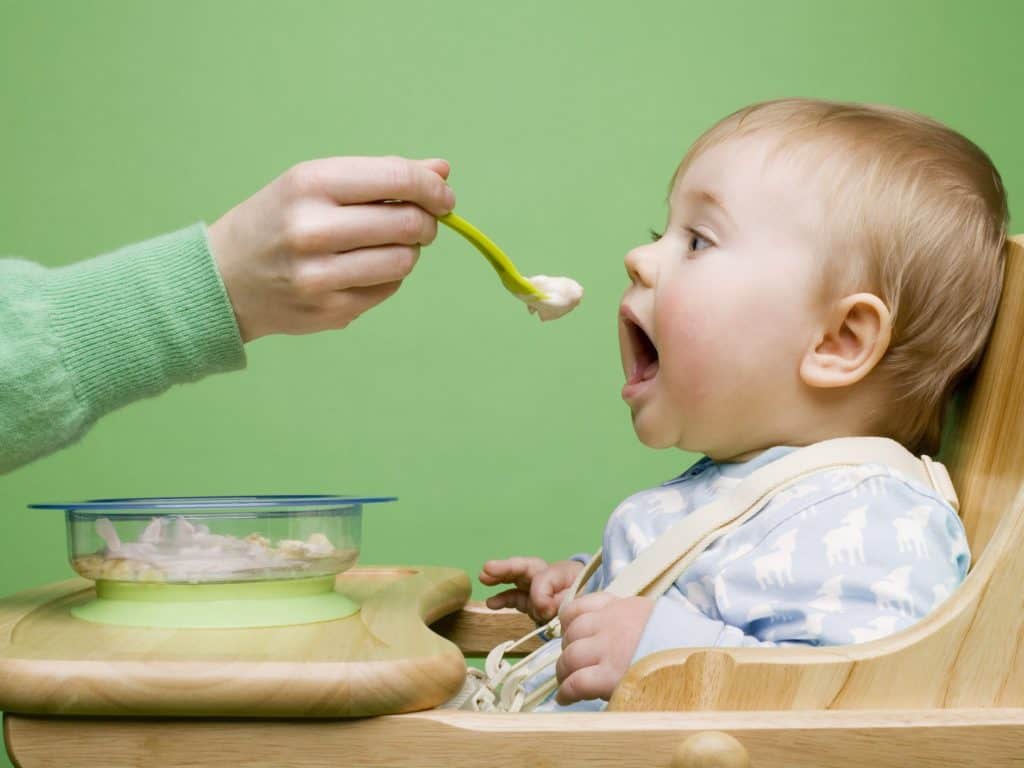 There has been quite an argument around if feeding babies with cereal is the right thing to do. Though it is okay for babies to eat solid foods by the 6th month, some parents might still be led to believe that the baby should be on formula until the first birthday.
However, for parents who are okay with introducing solid foods early on, the best baby cereals are probably the first choice for the fact that it is not completely solid and also offers baby-sufficient nutrition at the same time. If you are one of those parents, this blog is the place to be at!
Before we get to the best baby cereals, let us address the elephant in the room first: "Is it okay to use baby cereal?"
While breast milk is typically enough source of nutrition for most babies, baby cereal works really for babies who suffer from gastrointestinal reflux disease (GERD). Since GERD causes their sensitive stomachs to spit up endlessly, also making them colicky, cereal can be a pleasant alternative, or at least be used substitutionally. Besides, cereal can also be helpful to prep the baby for the transition from breastmilk to completely solid foods.
When Is It Okay To Introduce A Baby To Cereal ?
Though typically, a 6th month mark is supposedly ideal for introducing a baby to solid foods, parents must also factor in conditions like-
1. If the baby is ready to chew food instead of gulping it down
2. If the baby can sit up on their own while chewing
3. If the baby shows a positive reaction after being fed for the first couple of times (look for signs like indigestion, irritability, or just plain repulsion)
Is Rice-Free Baby Cereal Better? Why Rice-Free Baby Cereal ?
If you have been thinking about introducing your baby to cereal, you probably also have been talking to people about it. If you have, you must also have heard a lot of recommendations around using rice cereal. While traditionally, families around the world have been relying on rice cereal, since rice is easily chewable and digestible by younger babies, food science has now evolved and there are tons of baby cereals on the market that are nutritionally rich and don't just contain rice as the main ingredient.
Besides, rice cereals are also concerned to have high levels of arsenic that occurs as a result of irrigation of rice crops. As rice crops grow, they absorb arsenic from the irrigation water used to grow crops, and hence, all rice contains some level of arsenic; the level dependent and varying on the arsenic levels of the ground and water where rice is grown.
Rice cereal, thereby, obviously contains arsenic and that arsenic is also hence found in baby cereal. This arsenic, when fed to a little baby, can have some unfair effects on a baby's central nervous system. Studies also reported some "worrisome arsenic levels were detected in infant cereals, typically consumed between 4 and 12 months of age." Since organic and non-GMO baby cereals are free of this potential health risk, it is recommended to look for cereal brands that offer a blend of nutrition-rich grains.
To help you on that matter, here is a list of the ten best rice-free baby cereals to buy for your baby-
1. Gerber Organic Single Grain Oatmeal Baby Cereal: Best Baby Cereal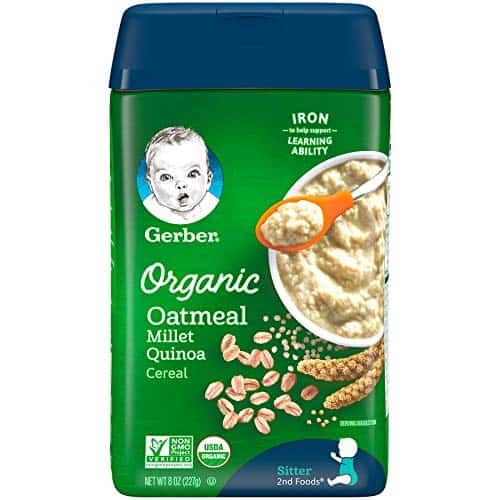 Priced at $22.59
One of the best rated rice-free baby cereal, Gerber Organic, as the name suggests, is a single-drain oatmeal-based cereal, loaded with iron to support a baby's overall development. This baby cereal also is free of any added flavors, fragrances, or synthetics, ensuring nothing foreign goes inside your baby and also keeping them free from potential allergy triggers. Single-grain oatmeal, it should be noted, is very easily digestible by babies.
2. Beech-Nut Stage 1 Organic Oatmeal Cereal: Best Baby Cereal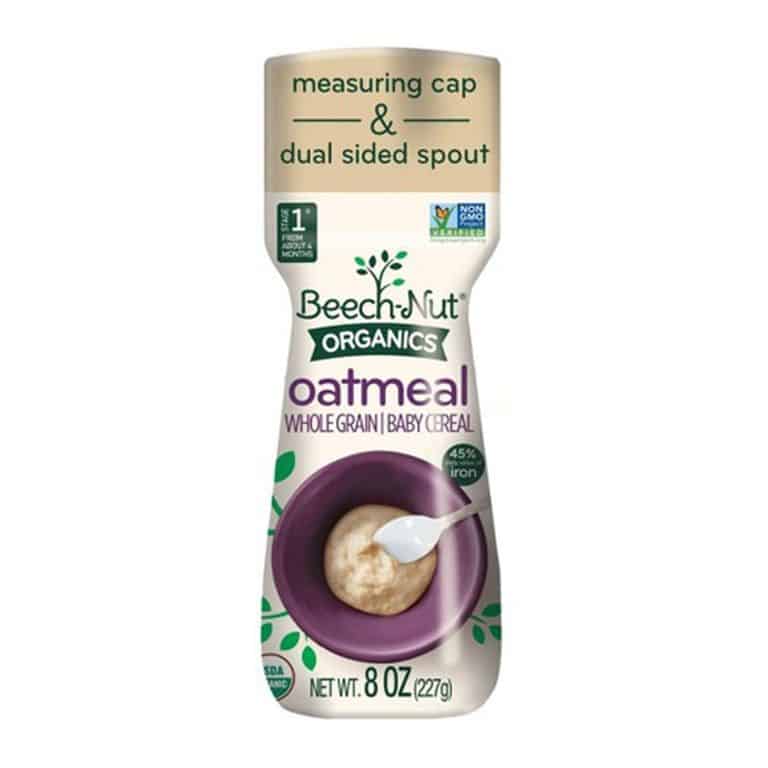 Priced at $3.49
A single-ingredient baby cereal made only from vitamin-rich, organic whole-grain oat flour, it could be one of the best introductions to solid foods for your baby. If and when the baby gets used to this brand's cereal texture, you can also introduce them to the veggies and fruits options as they grow older!
3. HappyBaby Oatmeal Baby Cereal: Best Baby Cereal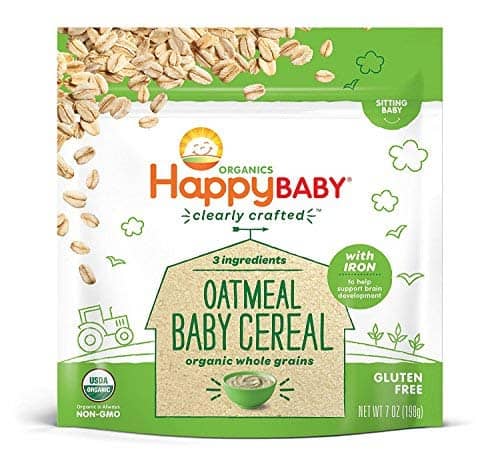 Priced at $19.74
Also made with limited ingredients for a simpler and easily digestible composition suitable for babies, HappyBaby oatmeal baby cereal is also rather versatile. You can blend it either in water, in the formula you already use, or even with breast milk to create a smoothies-like meal for your baby. Besides, since it is just three ingredients, your baby will be relatively safer from allergy triggers.
4. Gerber Lil' Bits Oatmeal Banana Strawberry Baby Cereal (6-Pack): Best Baby Cereal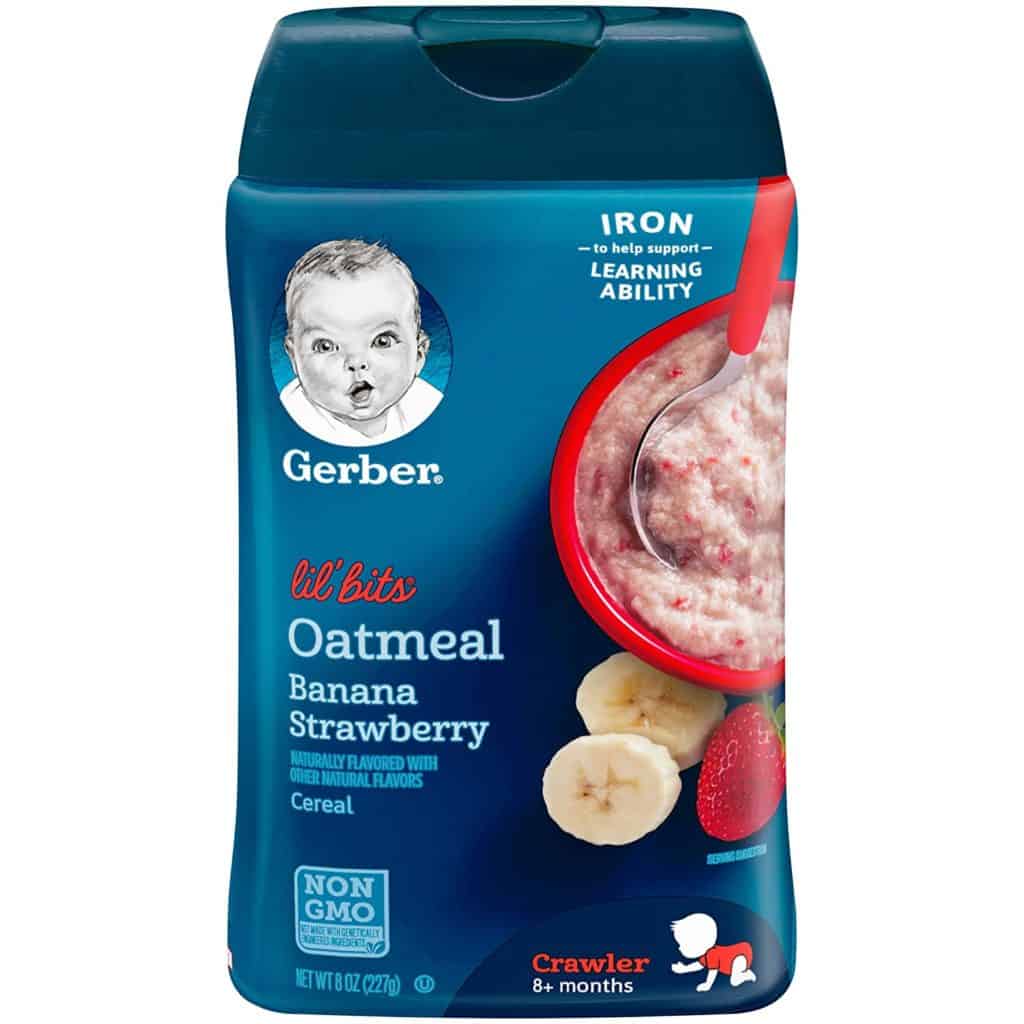 Priced at $20.28
Another one by Gerber, this vitamin-rich cereal is packed with bone-supporting calcium, that adds a boost of health to your baby's meals while not compromising on the taste.  Also free of GMOs, this oatmeal cereal contains flavors and nutrition of banana and strawberry. The tiny bits of oatmeal in the cereal is perfect to introduce your baby to chewing and tasting foods of varied textures.
5. Bio-Kinetics Organic Quinoa Baby Cereal: Best Baby Cereal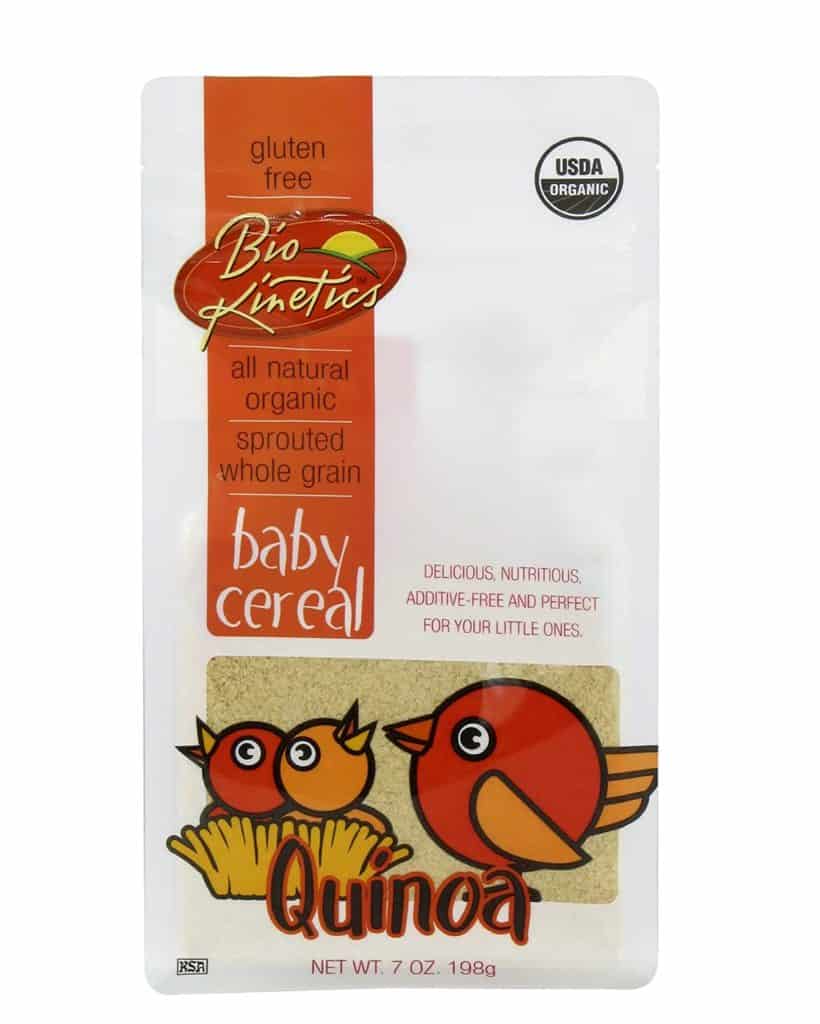 Priced at $26.95
Made from organic quinoa, the superfood with a nutritional profile very similar to that of breastmilk, this baby cereal supports the baby's developmental growth as quinoa is considered to be a complete protein on its own. This cereal also does not contain any synthetic nutrients which makes it so easy to digest by tender tummies. However, keep in mind that you always add this to warm liquid as it otherwise can become lumpy.
6. Kabrita Organic Goat Milk Porridge: Best Baby Cereal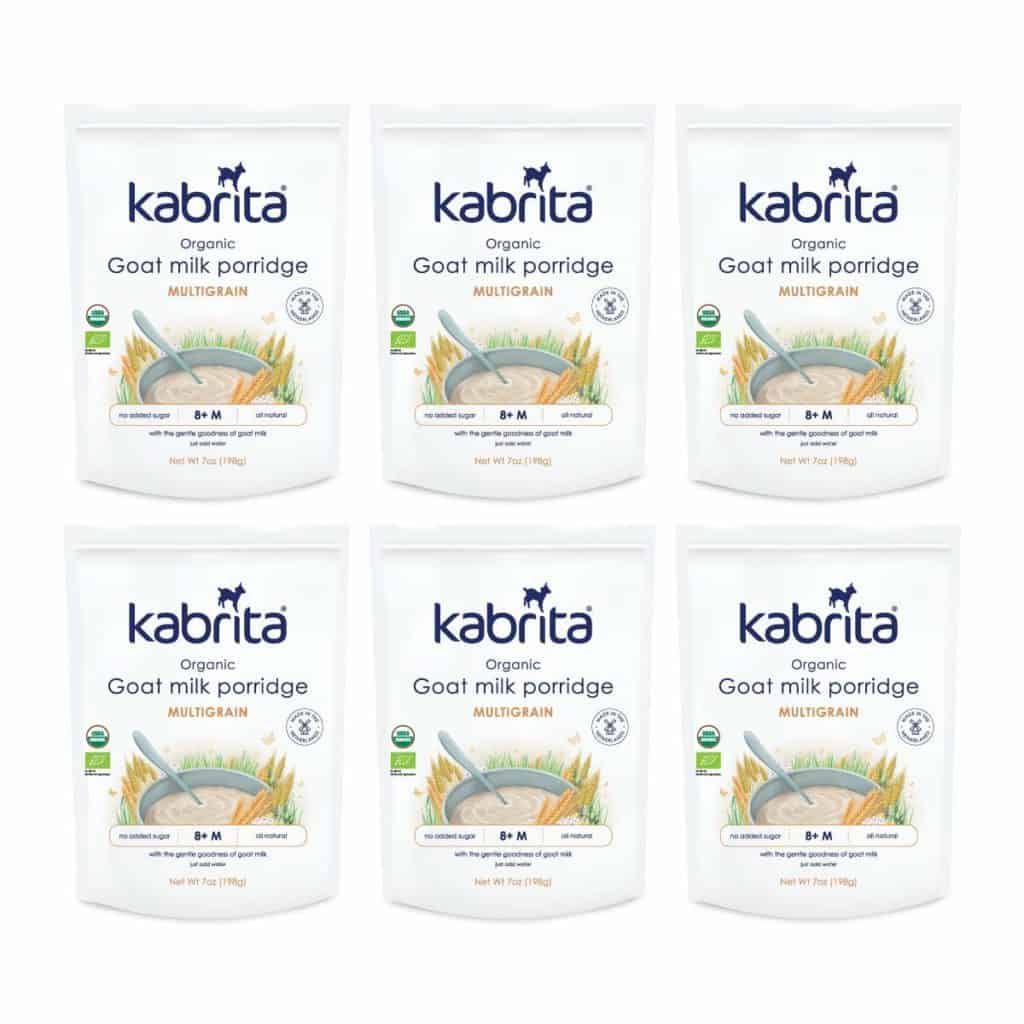 Priced at $7.00
A porridge made from 50% organic goat milk, this one sure is the ultimate boost of nutrition and energy your baby will need. It is also free of sugar or any synthetic additives and is instead loaded with tons of baby-relevant fats and vitamins. Just add a bit of water, whisk well and watch your baby change from a hungry, cranky baby to a healthy, happy baby!
7. WutsupBaby Organic Quinoa Infant & Baby Cereal: Best Baby Cereal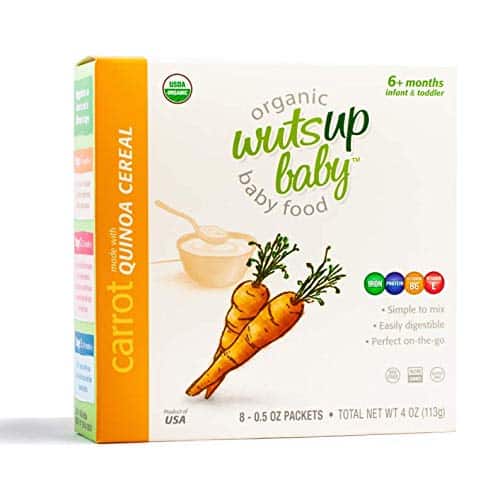 Priced at $11.97
Available in small, travel-friendly packaging, this baby cereal is a trove of baby specific nutrients! Tasting of carrots and processes such that it retains all its nutrients, this cereal will keep the baby and mamma equally happy. Besides it also has probiotics that further enhance digestion and is particularly helpful for babies who suffer from a sensitive stomach.
8. Earth's Best Organic Whole Grain Multi-Grain Cereal: Best Baby Cereal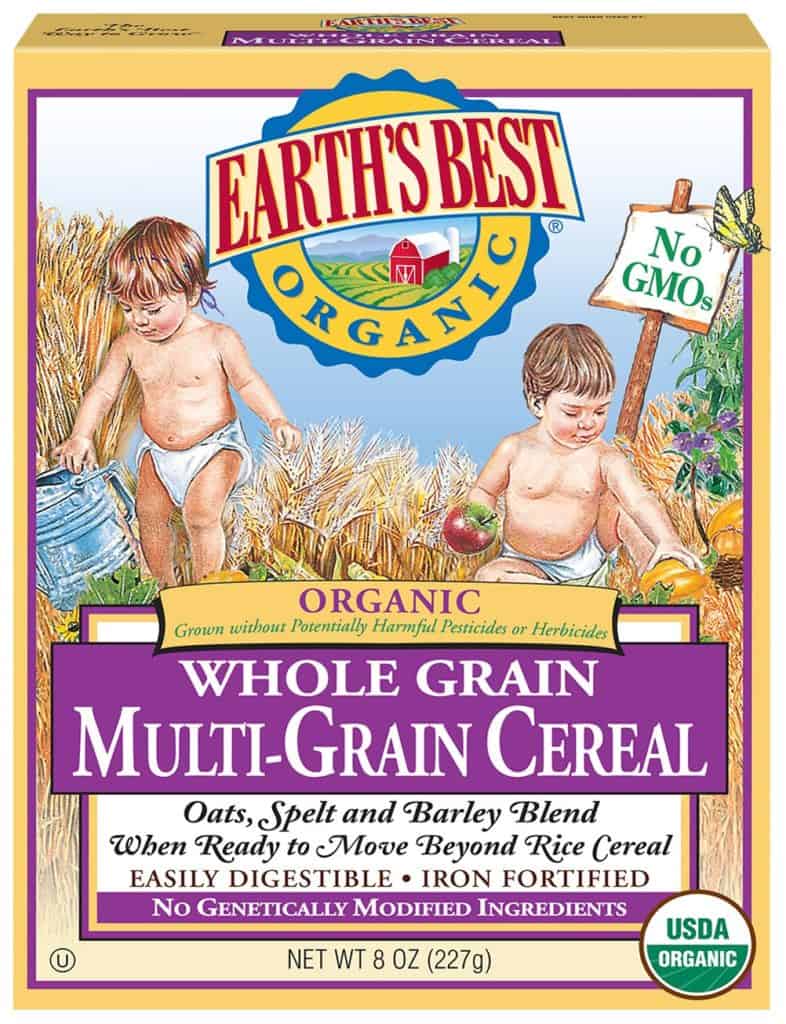 Priced at $32.60
Though a little steep in its price, Earth's Best multigrain, pesticide-free, organic cereal is a power-house of so much nutrition, it sure will be a little too difficult to say no! Ideal for babies who are transitioning from semi-solid to textured and solid foods, this cereal is made in a blend of oats, spelt, and barley. The manufacturer claims that this fine blend can comfortably fulfill 45 percent of a baby's iron requirements, while also being very easily digestible.
9. Happy Baby Organic Clearly Crafted Oatmeal Cereal: Best Baby Cereal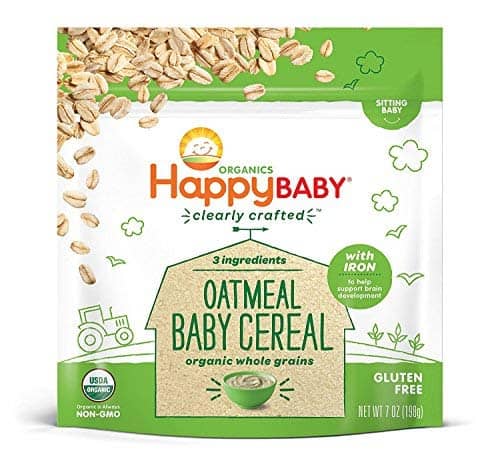 Priced at $19.74
A single-grain oatmeal cereal that is not only easily digestible by a baby's stomach but is also power-packed with iron, this oatmeal-based cereal offers a nice silky smooth and fluffy texture, ideal for babies new to solid foods. Unlike rice, since this is an oatmeal-based cereal, it also offers more nutrition and not just empty carbohydrates. For some more points still, this allergen-friendly cereal contains no GMO, is sold in a BPA-free resealable pack, and is free of added salts, sugars, colors, artificial flavors, gluten, or dairy!
10. Gerber Baby Cereal Probiotic Oatmeal & Banana Baby Cereal: Best Baby Cereal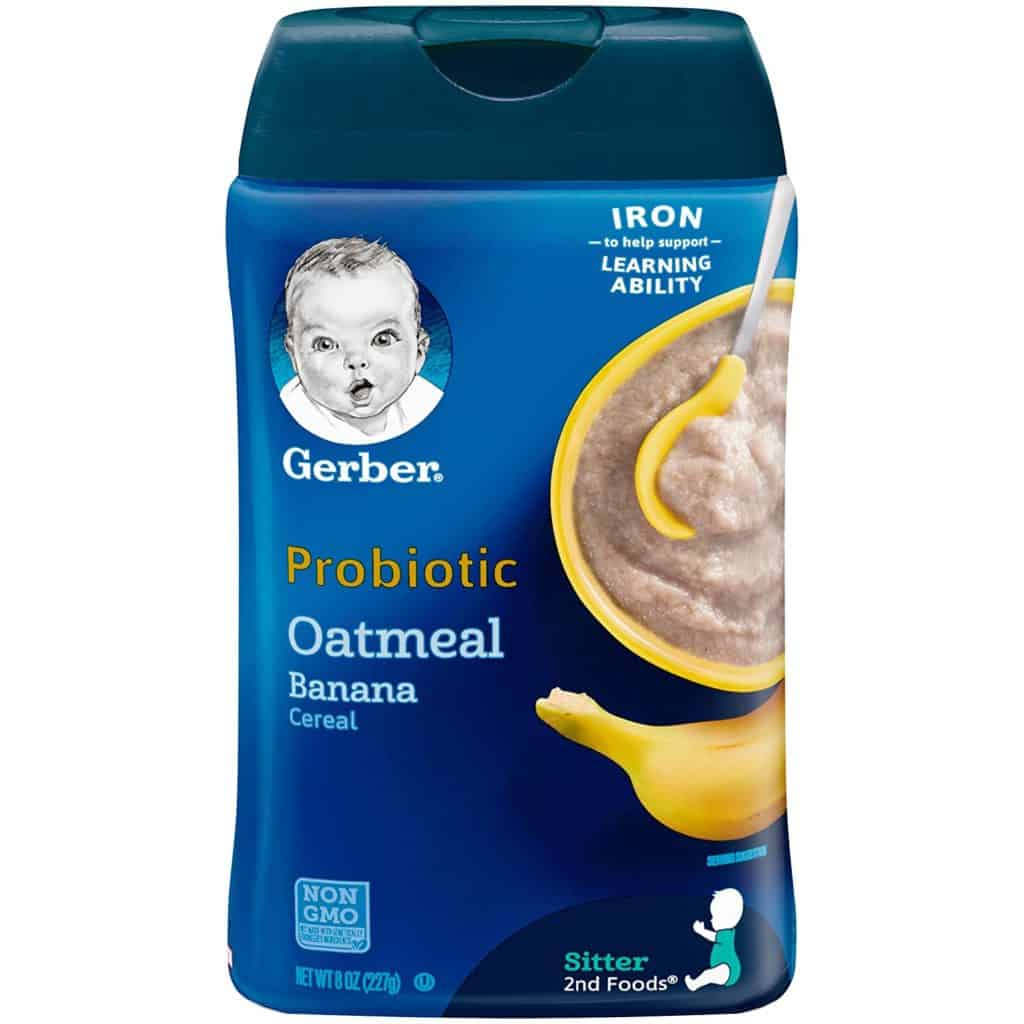 Priced at $20.38
Gerber is on a roll! This variety of baby cereal by Gerber offers the goodness of iron and probiotics that enhance a baby's brain and gut development. Widely raved about on the internet, this one has been an established all-time favorite and for all the right reasons! For some bonus points, it also contains banana flakes that mask the otherwise plain and bland flavor of oatmeal – be informed, your baby is going to keep asking for more!
Best Baby Cereals FAQs
1. Can I skip baby cereal and go straight to baby food ?
Though there is absolutely no problem with skipping cereal and jumping straight to solid foods, it also depends a lot on how your baby responds to it. Try and introduce them to mashed bananas or mashed avocado for the starters. Or perhaps, you can add mashed bananas to a baby's cereal to let them taste the best of both worlds while also getting them used to solids. Besides, checking in with your doctor is always a good idea before changing anything in a baby's diet or lifestyle in general.
2. Can I put baby cereal in a bottle ?
The doctors at the American Academy of Pediatrics recommend "only breastmilk or formula in a bottle unless otherwise directed by a physician."
3. Can I feed a three-month-old baby with baby cereal ?
It is recommended to not feed a baby with solid foods or even semi-solid foods like baby cereal up until 4-6 months of age until a baby's oral skills develop. If fed with such foods before the 4-6 month age mark, you pose the risk of food being sucked in the airway as the baby would involuntarily move solid food from the front of their mouth to the back.