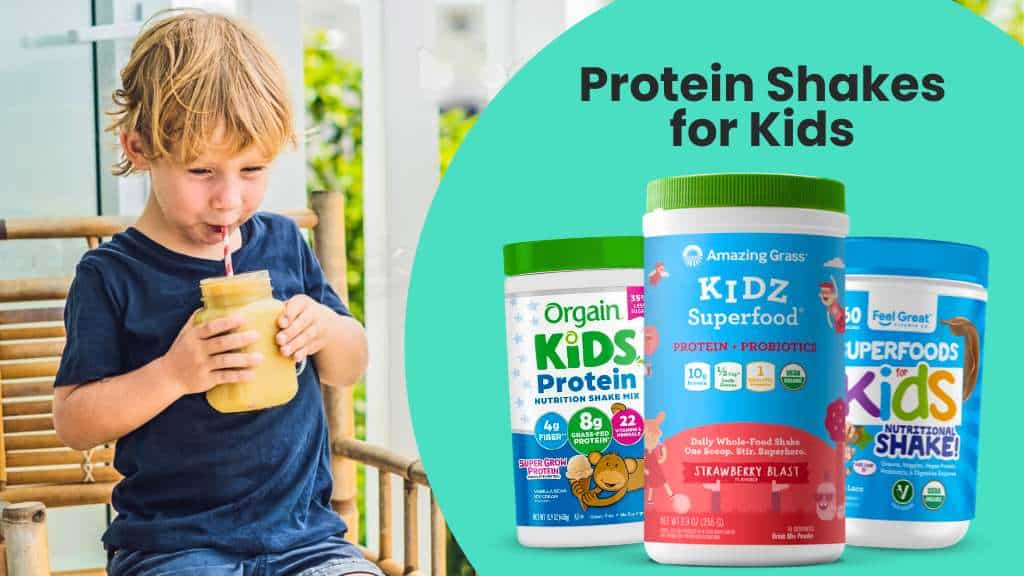 Parenthoodbliss selects the best products based on real-life testing conducted by our staff, members of our user community, the contributors, as well as through research and feedback by experts; here's more about our product review process. The details and prices are accurate as per the publishing date and we may earn commissions through the shopping links on this blog
You might have expected your kid to gobble up a colorful and balanced diet (remember those good old days?), but now you're probably amazed by how a mostly beige, cracker-filled diet somehow keeps them growing. It's no wonder that protein supplements seem like a tempting option for children since they're so easy to get. But guess what? Studies show that most kids meet or even exceed their daily protein needs just by eating regular food. So, for the majority of children, additional protein supplements may not be necessary.
However, if your child is on dietary restrictions, has increased protein needs, struggles with eating, or has a medical condition that affects their ability to meet their protein requirements through food alone, protein shakes can be a good choice.
Here, take a look at the top 15 protein shakes for kids in 2023!
11 Best Protein Shakes for Kids
1. Else Plant-powered Kid's Shake Mix ($24): Best Protein Shake For Kids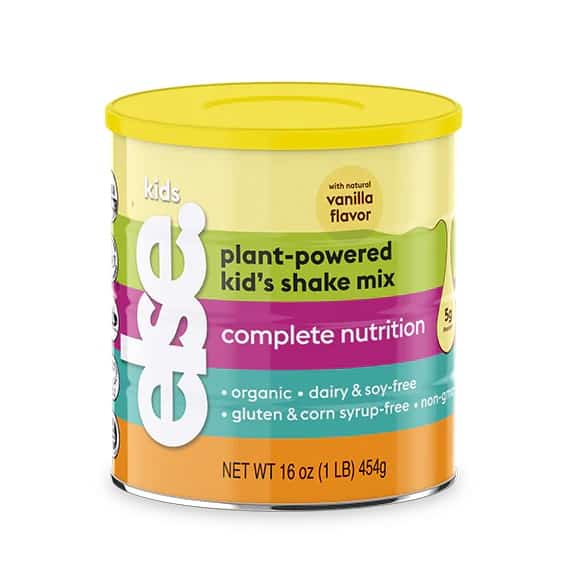 Elsa's shakes are loaded with essential nutrients to give your kids a well-rounded diet.
Each serving packs a punch with 5 grams of protein.

They have a bit more fat and calories to help underweight kids gain weight.

Plus, they're loaded with over 20 important vitamins and minerals.

Remember that the serving size is a bit larger—5  to 6 scoops per serving—and there are only 10 servings per container. 
Now, since these shakes are fortified with vitamins and minerals, keep an eye on the recommended intakes. You don't want your child to exceed the limits, especially if they take other supplements like a multivitamin.
The best part is that there are 2 delicious flavors to choose from vanilla and chocolate. You can serve it as a shake on its own or get creative by adding it to smoothies, oatmeal, or other recipes. The possibilities are endless!
Here's another reason to love these protein shakes: they're certified organic and have the Clean Label Project Purity certification. So you can rest easy knowing that they're free from heavy metals, industrial toxins, and environmental contaminants. It's all about keeping your child's drink safe and pure.
One thing to note: if your child has a tree nut allergy, unfortunately, these shakes aren't safe for them. But for all the vegan and vegetarian families out there, this is a great choice!
2. Nourished Mighty Chocolate Milk ($19): Best Whey Protein Shakes for Kids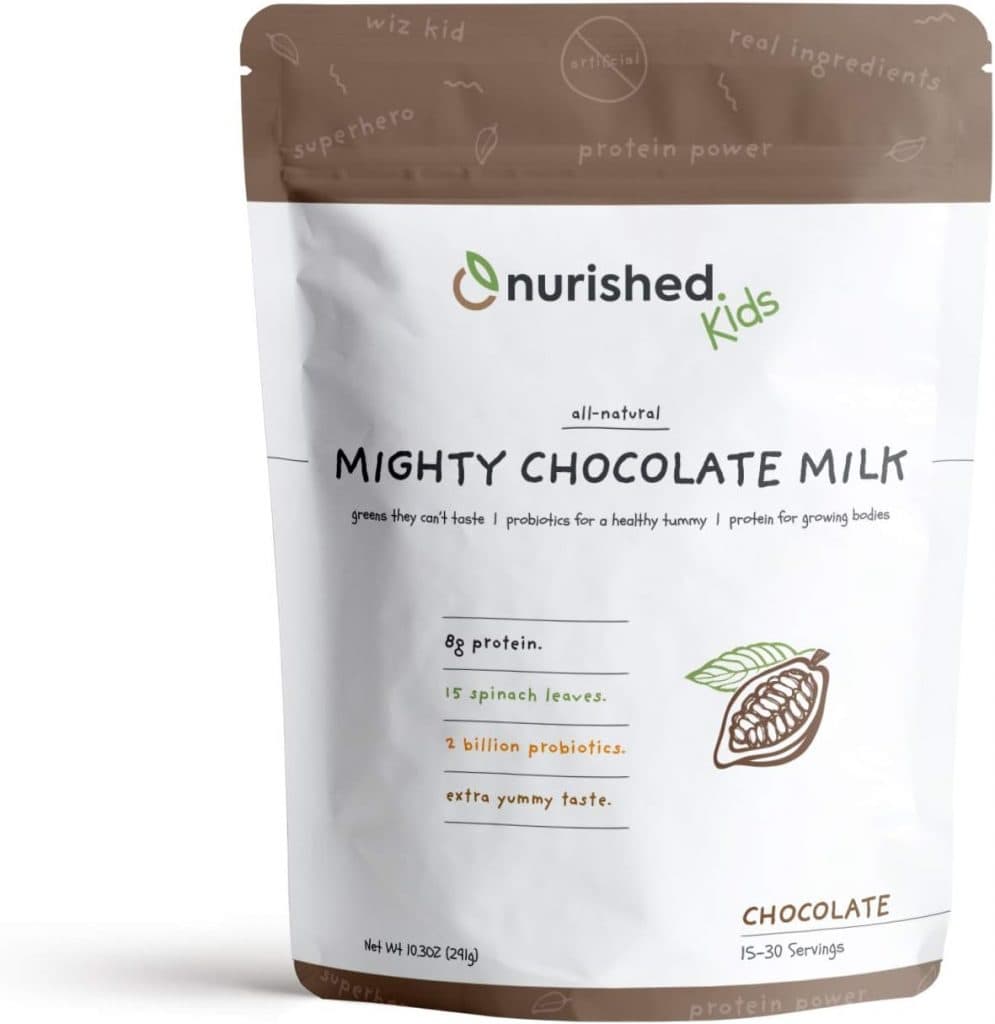 It's like a healthier version of chocolate milk, but in powdered form and packed with whey protein. But if you've got a dairy allergy or intolerance, this might not be the best option since it's whey-based.
This product doesn't have huge amounts of calcium, iron, or potassium, but it's mainly focused on giving you a protein boost. So, if your kiddos already have a diverse diet or take other vitamin/mineral supplements, but maybe need some extra protein, this could be a good choice. Each serving for kids aged 4 and up gives them 8 grams of protein from whey protein concentrate.
Plus, there are 2 billion CFU probiotics in there, and they are even mixed in some organic spinach leaf blend with the protein. So, if you've got little ones who are 2 or 3 years old, just use half the dose. While probiotics might be beneficial for some kids, if your child has any gut issues or already takes other probiotic supplements, it might not make much of a difference.
The manufacturer suggests shaking or frothing the powder with milk or a milk alternative, which might not be the most convenient thing. But hey, here's a workaround: you can also mix it directly into smoothies or oatmeal to give them a chocolaty nutrition boost. And for those who are watching their sugar intake, the good news is it's sugar-free! But hold up, they did add some sugar alcohol called erythritol and stevia for sweetness, so it might not tickle everyone's taste buds.
3. Kate Farms Pediatric Standard ($51): Best Sole-nutrition Protein Shakes for Kids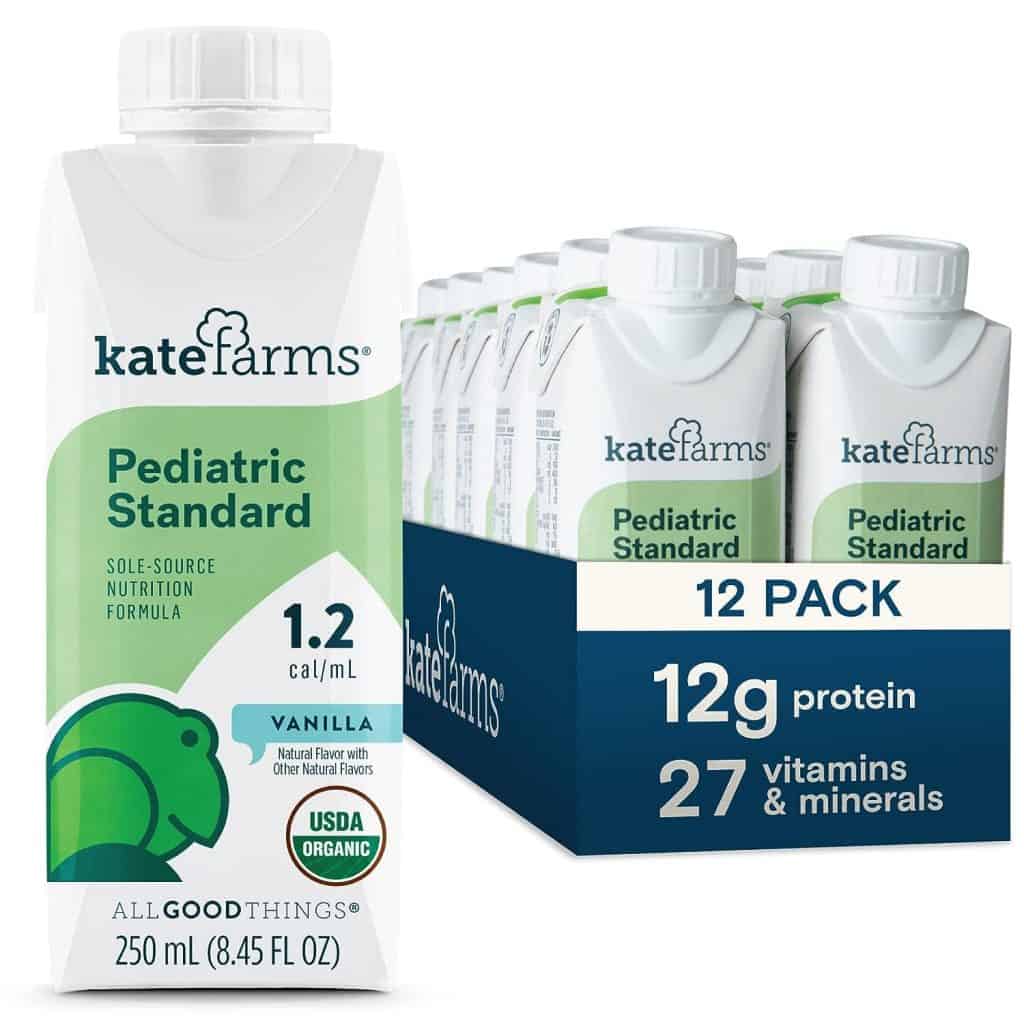 Kate Farms specially designed this for children with low nutrition intake who need that extra boost. 
Just one 8.45 fluid-ounce carton of this shake gives your little one 300 calories, 12 grams of protein, 36 grams of carbohydrates, and 12 grams of fat. But here's the cool part: you can adjust the serving size depending on what your child needs. 
Now, since this shake already has a bunch of micronutrients added, it's important to make sure your child isn't going overboard with other vitamin and mineral supplements unless a healthcare pro has advised otherwise to fix a diagnosed deficiency. Gotta keep things balanced, right?
Here's what we love about this product:
It's USDA Organic, which means it's made with high standards.

Plus, it's free from common food allergens like milk, eggs, fish, shellfish, tree nuts, peanuts, wheat, or soybeans.

The protein in it comes from peas, which is a complete protein with all those essential amino acids.

It's suitable for vegan diets too!

No need to worry about artificial sweeteners either.

It even has an antioxidants blend with

plant-based

phytonutrients to keep things extra healthy.
Now, here's the nitty-gritty: if you have insurance coverage, you can get a prescription from a healthcare professional to get these Kate Farms formulas. They also offer a monthly subscription service, so you can easily keep your supply stocked while saving some bucks.
Just a heads up, though: this product should be used under the guidance of a healthcare professional. They can help you out with a medical necessity form if needed. Better to have expert advice, right?
Amazon Reviews:
Great for kiddos who need extra calories without the dairy and sugar. Great taste.
– Gigi
The product tasted good and is good for you. No doubt about that but a little pricy
For more product reviews visit Amazon.
4. Kinder Sprout Organic Plant Protein ($29): Best Budget Protein Shakes for Kids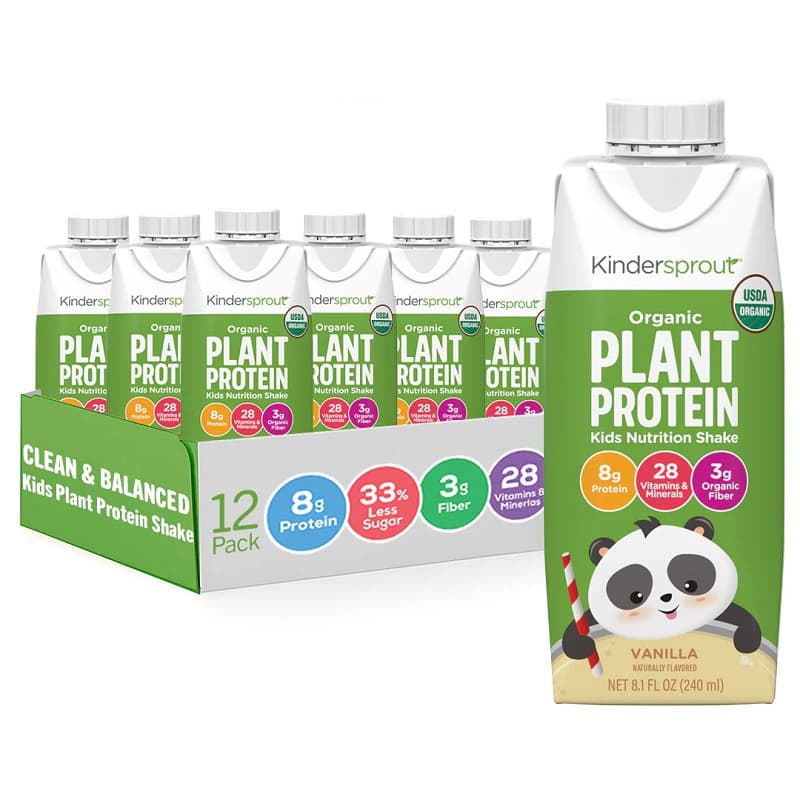 We dig the fact that it's USDA Organic and doesn't have any fake colors or sweeteners.
It packs a punch with 8 grams of plant-based protein sourced from organic brown rice and peas, which gives it a complete amino acid profile.

It hooks you up with 3 grams of fiber.

You also get a solid lineup of 28 essential vitamins and minerals per serving.

You've got options too, with vanilla and chocolate flavors up for grabs with a good measure of organic vegetables and fruits.

KinderSprout is free of GMOs and vegan.
On top of that, it's got your back if your child has allergies or dietary restrictions—no nuts, dairy, soy, eggs, yeast, wheat, gluten, or shellfish.  It's like a superhero shake for all your needs!
5. PB&Me Powdered Peanut Butter ($12): Best Protein Shakes for Kids With Zero Sugar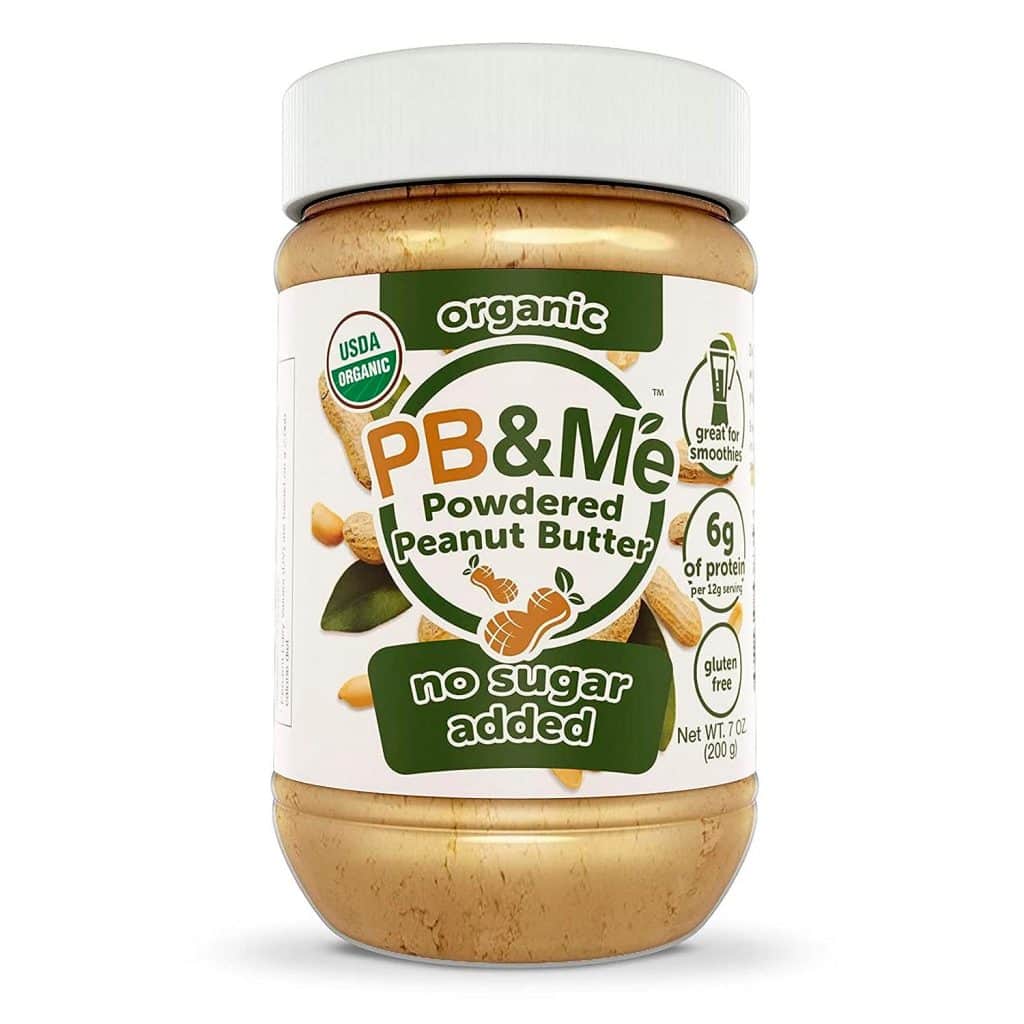 If you're all about that protein goodness, we've got a powder option that might be just what you need. PB&Me Natural Powdered Peanut Butter is a fantastic choice, especially if your kids aren't really into protein shakes. This stuff works wonders when you mix it into baked goods or smoothies. And get this, you can even whip up a peanut butter spread by simply adding water! 
In each 2-tablespoon serving, you'll find
45 calories

6 grams of protein

2 grams of fiber

2% of the Daily Value of iron
It's worth mentioning that if your child has a nut allergy this is a strict no-no, but for those following gluten-free, dairy-free, vegan, or organic diets, this is a winner. Here's a bonus: PB&Me is third-party tested for potency and purity, including heavy metal testing.
Amazon Reviews:
However I have to limit oxalate so this really doesn't work out for me because and smoothies it's just too concentrated with oxalate
Delicious. Added to chocolate protein shake for PB cup shake. Perfect addition.
For more product reviews visit Amazon.
6. Drink Wholesome Chocolate Protein Powder ($40): Best Protein Shakes for Kids With Zero Diary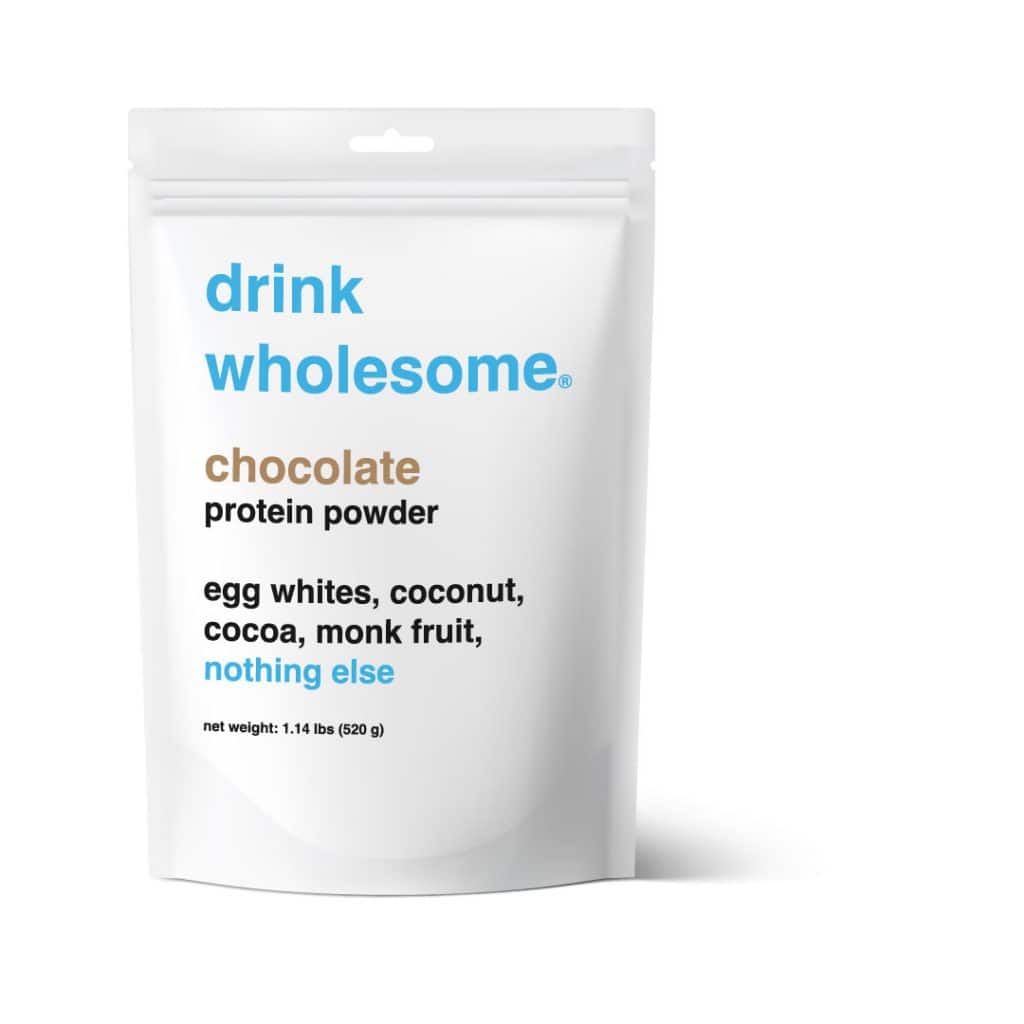 Even though it's not specifically made for kids, Drink Wholesome is still a good option for kids.
First off, it's made with real food, like powdered and dried egg whites, instead of those protein isolates that can be hard to digest. That means it's easier on the tummy.

You can have it on its own or you can mix it into things like smoothies,

oatmeal

, pancakes – you name it.

They've got all the classic kid flavors covered, like chocolate, peanut butter, and vanilla. But hey, if your kid is a picky eater, they've even got an unflavored version that might be just right.

The recommended serving size has 20 grams of protein, which is more for adults. But no worries, you can use half or even less, which not only makes it better for kids, but it also saves you some money. And get this, each half serving only has 1.5 grams of sugar. So it's a win-win!
They're Good Manufacturing Practice Certified, made in a registered FDA facility, and they don't add any extra stuff like additives, dairy, gluten, or lactose. So you know you're getting the good stuff without any junk.
7. Amazing Grass KIDZ Superfood ($21): Best Protein + Probiotics Shake for Kids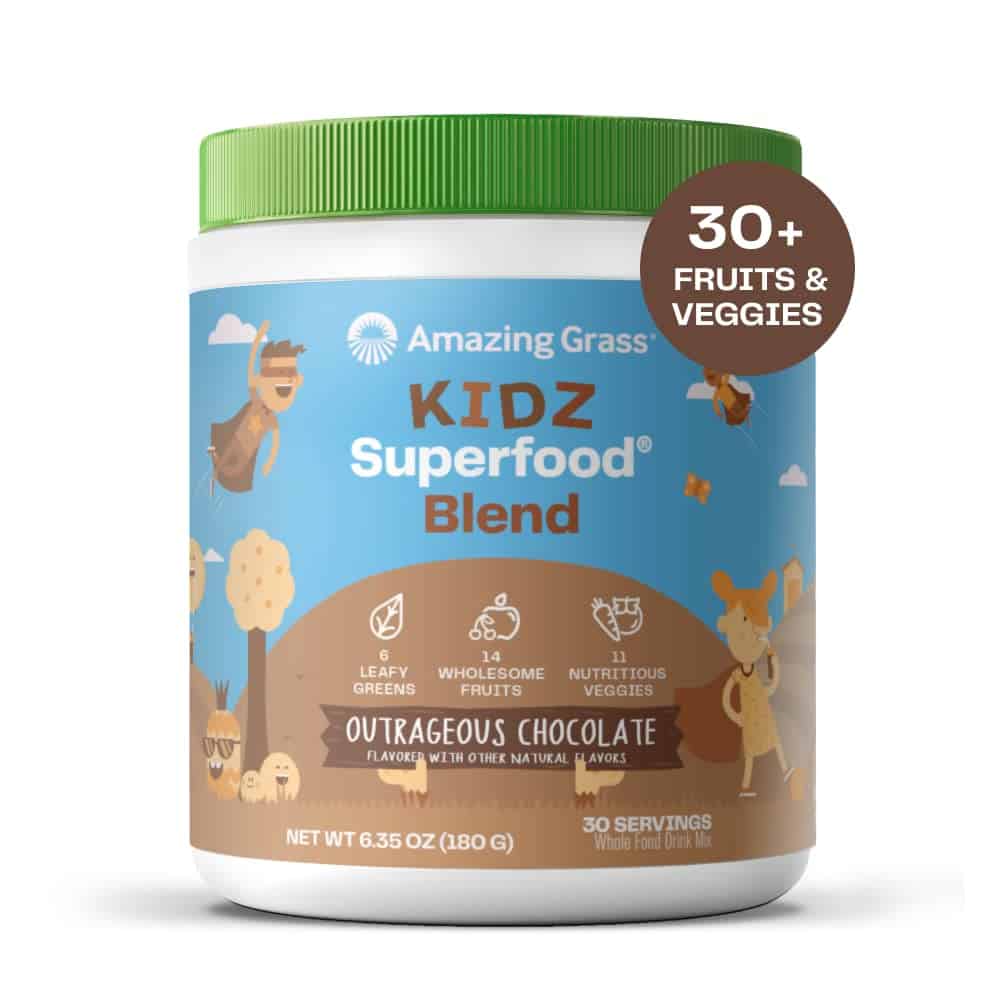 Amazing Grass Kidz Superfood drink mix powder is made with ingredients you can actually like organic banana, beet juice powder, pineapple, and cocoa.
It packs a punch with 10 grams of pea protein and 1 billion CFU probiotics per serving.

It only has 70 calories, which is way less than other protein powders.

It's not fortified with vitamins and minerals, so you know you're getting the real deal.

The added probiotic is great for some kids, but if your little one has any tummy issues or is already taking probiotic supplements, it might not be necessary.

Each serving only has 2 grams of sugar. But fair warning, it does have stevia, so if you're not a fan of its taste, you might want to consider other options.

The best part is that this Kidz Superfood Protein + Probiotics is vegan, dairy-free, and gluten-free.

It comes in chocolate and strawberry flavors, and you can mix it into all sorts of foods or simply enjoy it with non-dairy or regular milk.

No artificial colors, flavors, or fillers either.
It's all the good stuff without any of the junk. So if you're looking for a nutritious and delicious protein shake for your kiddo, this one's worth trying out!
Amazon Reviews:
My son is autistic and struggles immensely with texture. He will not eat ANY vegetables and will only eat a few fruits in a smoothie if they are well hidden. My husband and I have become very concerned for his health, so I went looking for a protein powder that would help to give him some extra nutrients. I spent hours comparing ingredients, and this is the cleanest one I could find. I refuse to give my autistic son any sucralose or any other synthetic sugars, so it was wonderful to find this option! After opening it, I was really worried that he wouldn't drink it, because the spirulina smell is pretty strong, as is the taste. I have been buying a hot chocolate mix that has cocoa and monk fruit instead of normal sugar. I added a tablespoon of that to the mix and my son drank it right down!! So far, the plan is working great and I'm so happy and thankful to be able to finally get him some good nutrients. For those who are interested, monk fruit is safe for kids, and can be mixed in equal parts with cocoa to make a healthy chocolate milk mix. I love the Lankanto brand.
I was hesitant bc a lot of reviews say this has an odd taste. However I purchased it with the intention of baking with it. I always make muffins for my kids and they just devoured the batch I made with this in it. I would definitely recommend for anyone looking to add some hidden variety to their kid's diet. Mine also eat vegetables but they are getting many in this that they would never usually touch.
For more product reviews visit Amazon.
8. Healthy Heights Grow Daily Whey Protein & Nutrition Mix ($30): Best Protein Shakes for Kids With 3 Flavors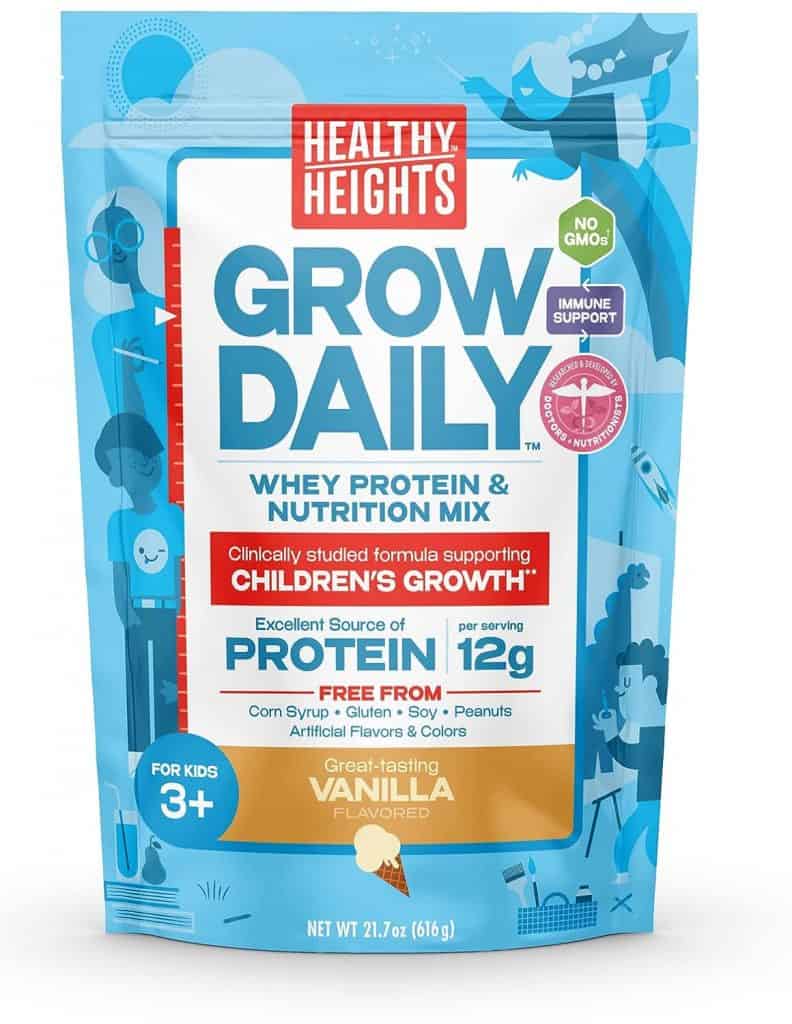 It's a complete nutritional supplement that's been developed by pediatricians and nutritionists to support growth in kids between the ages of 3 and 9. Now, here's the cool part:
Each serving of Healthy Heights packs a punch with 12 grams of protein, 180 calories, fiber, vitamins, and minerals.

When you mix it with just half a cup of milk, the protein amount shoots up to 18 grams per serving. If you feel that's some serious protein power you can easily cut the dose in half.

Healthy Heights comes in two handy options: a bigger pouch for home use, or these super convenient single-serving pouches that you can take with you on the go.

Healthy Heights is made from whey protein.

They've got three tasty options for you: chocolate, vanilla, and plain.

You can mix it up with water or milk, or get creative and throw it into a smoothie or baked goods.

This

formula

is free of artificial colors and flavors.

Plus, it's a no-go on soy, gluten, and corn syrup.
One thing to note, though, is that Healthy Heights isn't third-party tested. But hey, with all the good stuff it's got going for it, it's worth considering.
Amazon Reviews:
Our daughter was diagnosed with Failure to Thrive and after using this 1x a day on top of her usual meals, she finally started growing and her blood work levels improved. Very happy with this but we do wish it was a bit more affordable.
Let me start off by saying I don't typically write reviews, but I had to share this to help other parents. Our son has been on the smaller side since he was an infant. As he grew, he was considered small in stature in height, weight and even head size. He is very picky, so we felt like he could be lacking vitamins and protein. We make smoothie pouches out of this powder and we are beginning to see a dramatic difference in weight within 2 WEEKS! Our toddler is more active, energetic, and overall looks healthier. We think he might have suffered from malnutrition due to being a picky eater. This has helped so much. If you have a picky child who the pediatricians keep saying is on the lower spectrum, please purchase this! You won't regret it. Our son loves the taste. We blend it with hemp milk, berries, avocados, peanut butter and bananas. The amount of powder you get for the price isn't the best, but we are going to keep purchasing because it's helping. I hope this review helps someone.
For more product reviews visit Amazon.
9. Nutiva Organic Hemp Protein Powder ($20): Best Multipurpose Protein Shake for Kids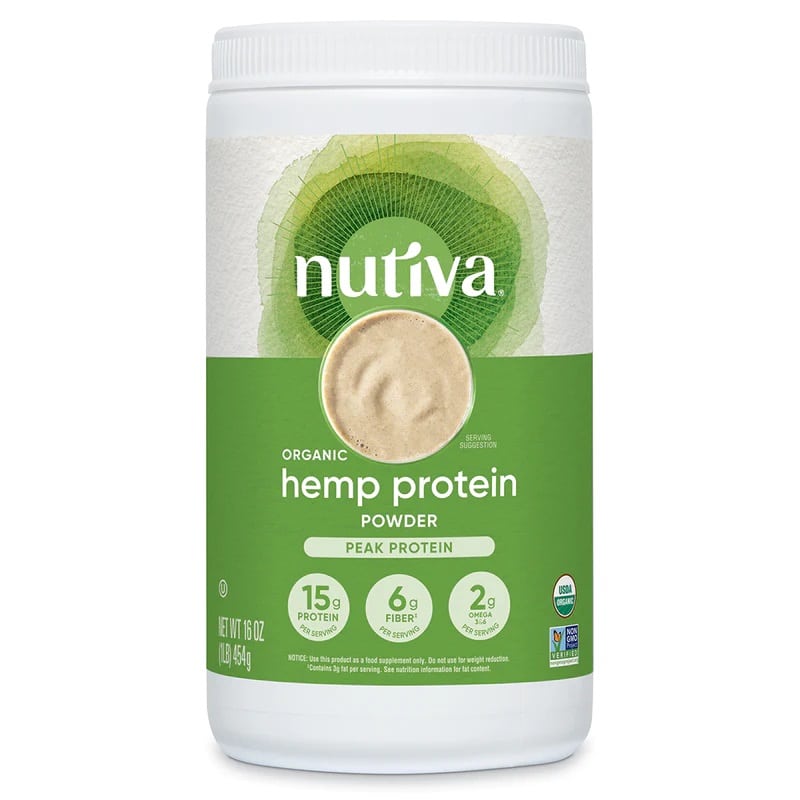 It's got a bunch of good things in it like protein, magnesium, healthy fats, iron, zinc, potassium, and fiber. And the best part? No extra sweeteners or weird ingredients are added. Plus, it's a budget-friendly way to get some protein into your kid's diet.
It's been tested by a third party to make sure it's pure and potent. They even check for heavy metals, so you can trust that it's safe for your child.

It's just ground-up organic hempseeds.

Since it's not a fancy processed powder, it doesn't mix smoothly like other protein powders. But don't worry, it's still great when you mix it with other foods like smoothies, and energy balls, or even use it in baking.

If you're making a smoothie, you might want to use a smaller amount because a full serving gives you 15 grams of protein.

But if you're making granola bars or banana bread, go ahead and use the whole serving. It'll give you a nice little boost of protein without messing with the taste or texture too much.
10. NorCal Organic Pea Protein ($40): Best Vegan Protein Powder for Kids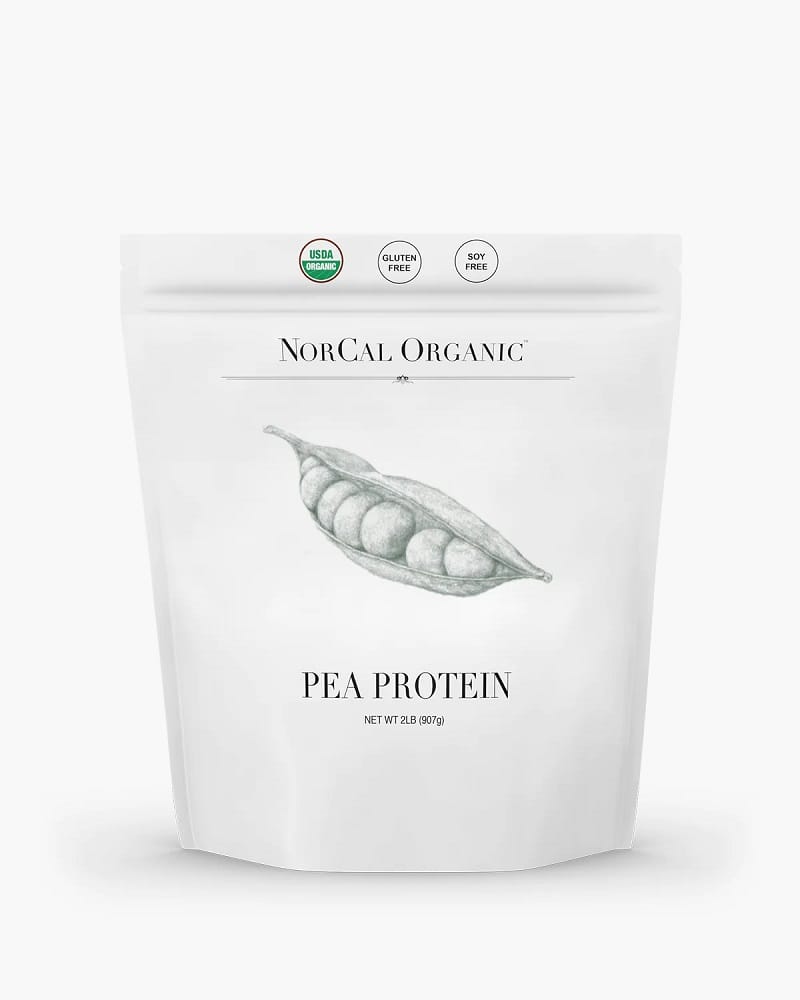 The ingredients of NorCal Pea Protein powder are super simple, just like the packaging.
It's all about that one ingredient—organic yellow pea protein isolate.

Plus, it's gluten-free, soy-free, dairy-free, and vegan and vegetarian-friendly.

No sugar, no preservatives, no artificial stuff. Just pure, clean protein goodness.

Your kiddos may not be too thrilled about its flavor, though, because it's not super strong, but it's not exactly pleasant either. But hey, mix it up with some fruit in a smoothie or juice and they won't notice it at all.

The best part is that this protein powder blends like a charm. No clumps or lumps to ruin your drink. It's a total win, especially if you're after an easy plant-based protein powder for your little ones.
But, let's be real here. The downside is that it's a bit on the pricey side. Overall, if you're looking for a straightforward protein option for your kids, NorCal's got your back.
11. Bare Necessities Kids Shake ($20): Best Vitamin + Fiber + Protein Shake for Kids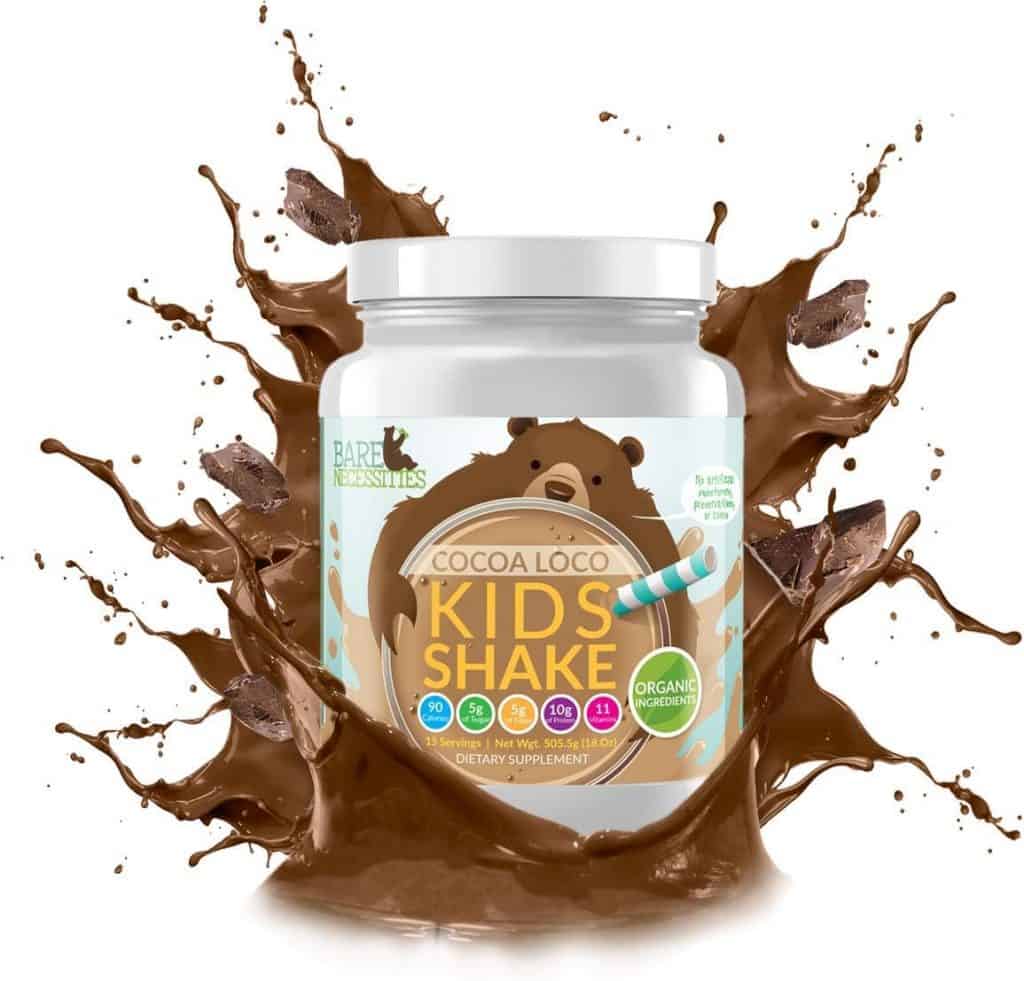 Not only do the kiddos adore the taste, but you'll also be thrilled to know that it's free from any artificial sweeteners, colorings, or preservatives. Plus, it's loaded with 11 vitamins and packs a punch of 5 grams of fiber.
Now, what makes it special is that it's made from pea protein and collagen protein, which means it's gluten-free, dairy-free, and soy-free. And hey, all the ingredients are organic and free from any genetically modified stuff.
Here's the best part: just one scoop of this powder gives you a solid 10 grams of protein! You can easily mix it into smoothies, yogurt, or any dairy-free milk you prefer. No fuss, no hassle.
The cherry on top is that kids will love the taste of this one. Here's a quick rundown of what we dig about this protein powder:
The kiddos go crazy for the vanilla flavor.

It's all organic, with no GMO ingredients.

Say goodbye to artificial sweeteners, colors, and preservatives.

Each serving packs a solid 10 grams of protein.

It's gluten-free, dairy-free, and soy-free.

Suitable for kiddos ages 2 and up.

The only downside is that it's a tad pricey.
Amazon Reviews:
My daughter had surgery on her scalp and I wanted to help with the healing and hair growth. I am so glad I found this protein shake because it is all natural and even has collagen. It helped with healing and her hair is growing back nicely. Even before her surgery I always had a hard time getting her to eat breakfast. Now I mix a big batch of this with almond milk and heavy whipped cream and she has a protein shake for breakfast before school! The HWC helps with the taste and adds good fats! I just wish it wasn't so expensive…but you get what you pay for and this is an excellent product.

TIP: If you have a Nutri-ninja it's best to mix it up in that to prevent clumps.
After searching for a very long time I was so happy to find this product and amazing small business owner! I'm very particular about ingredients in my daughters food products. This is the only one I have found that I'm confident to allow her to drink. She loves the taste of both the vanilla and chocolate. If you have picky kids they will never know you put this in their smoothie. Give it a try and you'll love it.
For more product reviews visit Amazon.
But, are protein shakes good for kids?
If kids don't have enough protein due to certain conditions or health issues, they might consider using protein drinks to add to their diet. However, there's not enough evidence to back up the benefits of protein powder specifically for kids dealing with these illnesses. In a 2015 review, researchers looked into how protein supplementation affected children with chronic illnesses such as cystic fibrosis and pediatric cancer, where these conditions often lead to inadequate nutrition.
Surprisingly, this study found no significant improvements in weight, height, or overall nutritional status. For the majority of healthy children, protein supplements aren't really necessary. Protein deficiency is pretty uncommon in the United States, and most kids who eat a well-balanced diet are already getting the recommended daily amount of protein.
Consuming excess protein can have unintended health consequences, according to studies. Some potential effects of too much protein include weight gain due to additional calories, especially when combined with sugary protein drinks. High protein intake can also strain the kidneys, leading to kidney stones, long-term damage, and dehydration, though these effects are associated with extremely high protein levels. While protein drinks are generally safe in moderation, using them to replace regular meals may result in nutrient deficiencies for children, depriving them of essential nutrients found in other foods. 
An Endnote: So how much protein is too much protein for kids?
According to the National Institutes of Health, a child's daily calorie diet should have about 10% to 20% of protein. The amount of recommended protein is different depending on age, size, weight, and gender. However, most healthy children need about half a gram of protein for every pound that they weigh.
For example, a 50-pound child would need about 25 grams of protein daily. Children who don't consume meat — or other products like milk, eggs, and cheese — may have lower levels of protein. This means they may need up to 15% more protein to reach the same levels as meat-eaters.
Protein drinks should not be regarded as the sole dietary choice because they can have detrimental effects on the child if they don't eat other essential vitamins and nutrients from food. Broccoli, shrimp, milk, eggs, tofu, almonds, lentils, and similar foods are among the top dietary food sources of protein.
FAQs:Protein Shakes for Kids
1. Is it OK for kids to drink protein shakes?
Unless a kid consumes an excessive amount of protein, the protein drinks are unlikely to pose any harm. Do not use these drinks and shakes as a substitute for regular meals because then kids may lack essential nutrients that they would otherwise obtain from other foods.
2. At what age can a kid take protein shakes?
Teenagers view protein powders and supplements as a convenient solution to boost their growth at a faster pace. However, the impact of using these supplements on individuals below the age of 18 is uncertain.
3. How to make protein powder for kids at home?
Blend the following ingredients into a smoothie to make that perfect protein shake for your kid:
1 cup almonds
1/2 cup walnuts
1/4 cup cashews
5-6 tbsp melon & pumpkin seeds
1 cup oats
4 tbsp flax seeds
1/2 cup mishri
9-10 green cardamom
4 tbsp fennel seeds
3 tbsp chia seeds
4. Is a baby monitor necessary?
If you are sleeping with your baby or live in a small space where you can always hear or see them, you don't need a monitor. Other parents need the convenience a baby monitor provides so that they don't constantly have to check on their child or need to stay close to the nursery.