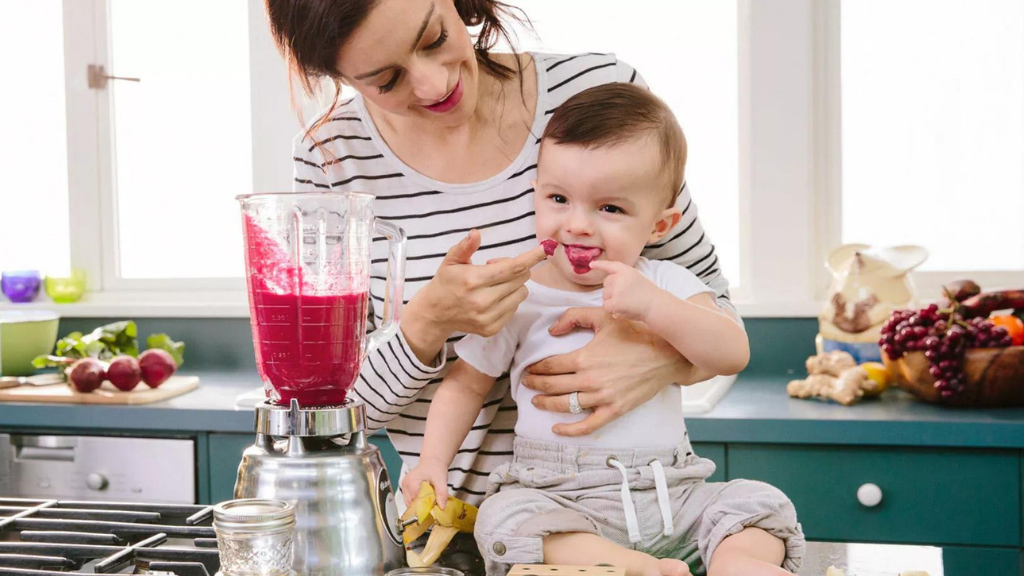 When preparing food for the little one, you need not be a master in the kitchen but must know the tricks and healthy recipes for them. While the convenient commercial baby foods lose vitamins and nutrients during their processing and come with additional artificial tastes, there are other homemade nutritious food recipes that you can try.
To help you narrow down the best picks, we've listed the top 10 best baby foods that are not only inexpensive but are more nutritious as compared to the others on the grocery store shelf.
Baby Food Recipes - Is Your Baby Ready For Solids?
According to the 2012 publication of the American Academy of Pediatrics, they recommend that parents wait for at least 6 months to start introducing solids. Nevertheless, there are some parents who choose to start feeding the baby solids, as early as the 4th month, as long as certain developmental stages are reached.
Also according to the 2013 study, babies who started with solid foods by 6 months old also happen to have a reduced risk of allergies and asthma.
Make sure your baby is able to sit upright and hold their head up. In addition, they must also show signs of interest in solid food. Once that is evident and the child's pediatrician is ok with it, you're ready to bring the baby's first foods to the table!
How To Make Baby Food - Baby Food Recipes
Listed below are the top 10 best baby food purees that you can also prepare in the best baby food makers with much ease and comfort. So Let's get started!
Place a steamer and insert a saucepan into it

Now, fill it with water to just below the steamer's bottom

Bring the water to a boil and add peas

Now cover and let it steam until tender, which is for about 15 minutes

When done, add breast milk with the peas in a blender/food processor and puree until it is nice and creamy. 

Strain it using a mesh sieve to remove the lumps

Spread this mixture into an ice cube tray and cover with plastic wrap to freeze until solid – roughly about 2 to 3 hours. 

Transfer these frozen cubes to a resealable plastic bag and store them in the freezer

While serving, heat these cubes in the microwave for 30 seconds or until warm, and stir thoroughly.
Peel a banana and use a fork to mash 

Add some milk to make the consistency thin 

Now, add a taste the is familiar for them to eat

Serve with formula or breast milk if served for breakfast
Mash avocados using a fork or blend them in a food processor

Now, mix the mixture with breastmilk, formula, or water to reach the desired consistency
4. Baked Sweet Potato Purée
To start, preheat 400 F

Scrub the potatoes and prick with a metal fork or skewer 

Now, place it on the baking tray and roast them for about 45 minutes or until tender and wrinkled 

Next, remove it from the oven and cut them in half

Scoop the flesh and puree it in a food processor until smooth. You can also add a little milk to thin out the consistency 

Most might also want to use this method with baking potatoes as they tend to take longer to cook than sweet potatoes for about 45 minutes and 1 hour. Do not puree the ordinary potato flesh in a blender as they tend to break the natural starches and produce a sticky texture. This is why it is best to puree the potato in a baby food grinder and mash with a fork for slightly older babies 

To make the method quicker, you can also microwave the sweet potatoes and prick them with a fork. When done, cook it in the microwave on high for about 8 to 10 minutes until soft. When done, cut the potato into half and scoop the flesh, mix with breast milk or formula to smooth the consistency.
To start with, preheat the oven and line a baking sheet

Next, slice the top of the pumpkin and cut it lengthwise to the middle until there are 2 halves of a pumpkin

Scoop the seeds out and string, try not to get too obsessed with getting all the strings out as they will nicely puree with the rest of the pumpkin. You can also choose to chop the pumpkin into small pieces and place them on a baking sheet skin side down or roast it in the oven until tender

Peel the skin and blend by placing the pumpkin inside a food processor or the blender

Add thyme and breast milk or formula before blending it for 1-2 minutes or until you get the desired consistency

Serve or store in the freezer for later
6. Avocado & Banana Baby Food
Take the avocados and cut them in half. Remove the pit and scoop the flesh out using a spoon

Peel bananas and add them to the avocados

Next, place all ingredients into a medium bowl/food processor/blender and blend till smooth

You can also use a food strainer to help remove all the lumps in case your child needs a texture-free puree

Pour puree into individual containers and refrigerate them for up to 4 days or freeze containers and thaw as needed
7. White Fish, Leek, and Carrot Purée
Take a medium saucepan and bring water to boil over medium heat

Now, place the white fish, leek, and carrots into a steamer basket and steam for about 15 minutes 

Once done, let it cool 

Transfer all the ingredients into a blender or a food processor and blend it until smooth by adding 1/4 cup of liquid at a time, do this until you reach your desired consistency
Heat the oil in a heavy bottom pot on medium or high heat

Now, add chunks of beef and sear for about 2-3 minutes on each side or until brown

Now add onions, potatoes, carrots, and water. Make sure to keep stirring the ingredients and bring it to boil

Next, reduce the heat to low, cover, and cook for about an hour and 15 minutes, or until the vegetables and beef are tender

Puree the mixture in a food processor until smooth or until desired texture for the baby
9. Raw Baby Purée Of Blueberries, Avocado, Mango, and Mild Chilies
To puree the ingredients, place all into a medium bowl, and using an immersion hand blender, blend all until smooth

Next, add water in tbsp increments as per the need

For older babies, place all ingredients on a cutting board, and using a fork, mash it all until all the fruit is incorporated
10. Cherry and Mint Greek Yogurt Baby Food Purée
In a small saucepan, add cherries and water 

Now, cook it on medium-low for about 10 minutes or until the ingredients are tender

When done, let it cool 

Use a slotted spoon and transfer the cherries into a blender or food processor leaving the liquid in the saucepan

Next, add in the mint leaves and puree for about 1-2 minutes or until the mixture is smooth

Add the reserved liquid increments if needed

For serving, take 2 tablespoons of the puree and 2 tablespoons of yogurt in a baby-safe bowl 

Gently stir together.
To Conclude: Baby Food Recipes, Things To Keep In Mind
Here are a few things that you must keep in mind when thinking about baby food:
Babies who are just starting off with solids, only need about 1 to 2 tablespoons of food. So make sure to keep the portions small

Be aware of the allergies, especially when feeding foods that contain common allergens, such as eggs, wheat, soy, fish, peanut, and shellfish.

There is no order for you to introduce them, so start with the ingredients you are very sure about. It is also best to check with your doctor to be double sure.

Try and make the process fun and eventful! There is no better way to feed them!
FAQs: Top 10 Best Baby Food Recipes For Your Little Munchkin
1. What are the foods that are higher in pesticide residue?
The ingredients that are higher in pesticide residue, include:
Peaches
Nectarines
Sweet bell peppers
Cucumbers
Cherry tomatoes
Strawberries
Grapes
Celery
Spinach
Apples
Snap peas
Potatoes
2. What to keep in mind when preparing for solids for a 4 to 6-month-old baby?
When preparing solids for a 4 to 6 months old baby, you'll need to make sure to use simple and single-ingredient purées. This can also be helpful in identifying food allergies or sensitivity.
3. Are rice cereals good solid foods?
Yes! Rice cereals make one of the most common foods that must be introduced as they commonly have less allergenic reactions and are easy to digest.