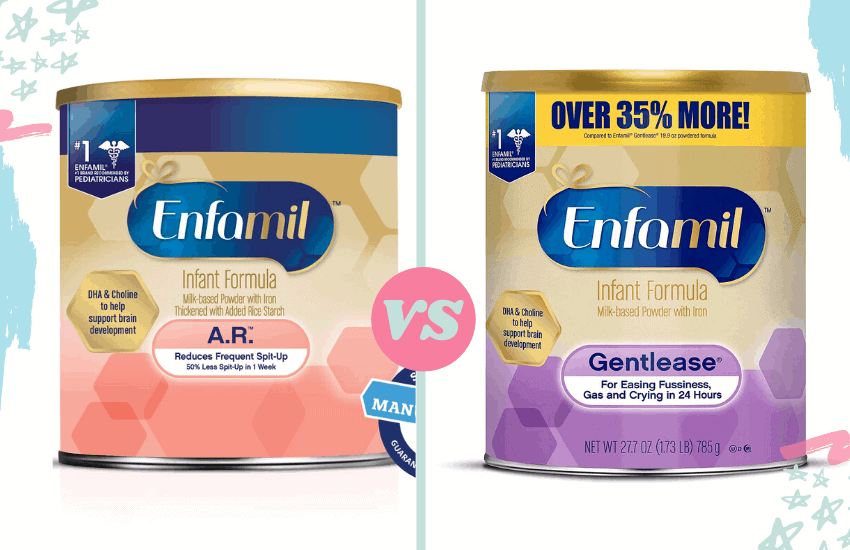 Much like adults, some babies tend to have a sensitive stomach and if your little one is showing symptoms of an upset stomach a little too frequently, it might be the infant formula. However, given the advancement of technology in the food space, Enfamil has been able to come up with formulas exclusively for infants with sensitive stomachs.

Especially if you have just switched to formula feeding or are new to this space, you must most likely be facing difficulties with choosing the right infant formula. Your baby might be spitting more than normal or might even be showing signs of gas, diarrhea, constipation, or fussiness. This is most likely because a baby's little stomach takes some time to adjust to formulas. However, we understand that terrible feeling of having to see your baby suffer.

Enfamil Gentlease and Enfamil AR to the rescue! Enfamil Gentlease and Enfamil AR are the two top-selling formulas by Enfamil, both of them available at an affordable price and both of them being insanely effective for stomach-related issues in babies. However, if there are two formulas sold as two different names, what is the difference?
Enfamil AR vs Gentlease: The primary difference between Enfamil AR and Enfamil Gentlease is this-
Enfamil AR:

Made specifically for babies that spit up more than ideal, owing to a reflux issue

Enfamil Gentlease:

Made for infants who find it difficult to digest regular formula, resulting in gas and irritability, all due to their delicate and sensitive stomach



Now that we know of the basics, let us discuss these formulas in detail to help you make a more informed decision for your baby.
 
Enfamil AR
Enfamil Gentlease
Description

Enfamil A.R. Formula – Clinically Proven to Help Reduce the Spit-Up in 1 week –
Omega 3 DHA & Iron and thickened with rice starch.

Also contains 2 prebiotics meant to aid digestive health.

Omega 3 DHA & Iron and thickened with rice starch.

Also contains 2 prebiotics meant to aid digestive health.

Enfamil NeuroPro Gentlease Milk Powder is best for easing Gas & Crying, Minerals & Vitamins for Immune Support, Infant Formula Inspired by Breast Milk Non-GMO DHA MFGM Iron 


19.5 oz (tub)




Price
$ 29.99 or a 19.5 oz tub
Or, $9.95 for 2 fl oz (6 bottles)
$ 29.99 or a 19.5 oz tub
Or, $8.95 for 2 fl oz (6 bottles)
Purpose

●        AR stands for anti-reflux

●        Intended for babies with reflux issues – babies who spit up more than the ideal 5 times in a day

●        Might also help the baby gain weight since they will be able to retain the formula instead of spitting it up

●        Matches the reflux reduction guidelines issued by the American Academy of Pediatrics

●        Intended for babies with a generally sensitive stomach; those who cannot digits the regular formulas and suffer from gassiness or irritability as a result

●        Claimed to show results within 24 hours of use

How does it work?
Since Enfamil AR has a thicker consistency than other regular formulas, it lessens the number of times a baby spits up by as much as 50 percent.
Being a milk-based formula made with easy digest proteins, it helps babies who suffer from stomach sensitivity issues like gas and irritability.
Formulation
Available in powder as well as liquid forms
Available in powder as well as liquid forms
Cons

●         Some reviews report that AR powder formula tends to become foamy and bubbly when mixed in water due to the thick consistency.

●        Always mix the powder well to avoid clumping in the nipple of the feeding bottle.

●        It is also recommended to use the liquid instead of the powder as the liquid formulation solves the dissolvability and clumping issues.

●        There hardly are any cons reported by mothers for Gentlease.

●        In fact, most reviews report that it actually shows results within the magical 24 hours of first consumption.

●        It also is highly recommended by most mothers for supplementing breastfeeding or as a transitional formula when you decide to switch to formula completely. Most babies, as per reviews, hardly noticed any difference when they were fed a Gentleease as against breast milk.

Reviews

●        4.1/5 Stars with 475 reviews on the Enfamil website

●        4/5 Stars with 331 reviews on Amazon

●        4.3/5 Stars with 944 reviews on the Enfamil website

●        4/5 Stars with 874 reviews on Amazon
Before you go, here are some helpful tips on feeding a baby-
Never microwave a formula!


If you have leftover formula milk and want to use it to feed the baby in their next sitting, it is recommended to use it at room temperature. However, if you are very keen to heat it up, it is advised to use a bottle warmer or to submerge the milk in hot water instead of microwaving it. 

Remember to make the baby burp after every three ounces to avoid baby spit-up and gas  due to the trapped air bubbles
Always talk to your child's pediatrician if you feel like your baby is more gassy than usual, cries nonstop, spits up more than normal after burping and feeding: these could be a more serious symptoms known as reflux and requires a diagnosis and treatment from a physician. 
Above all, use the baby feeding time as baby bonding time. You will be spending a lot of your day feeding them and use this time to make a connection with your baby. Choose a calm and relaxed place, sing to them, talk to them, and always – always- look into your baby's eyes while you feed!
Enfamil AR v/s Gentlease FAQs
1. My baby suffers from gas as well as reflux - Is it okay to mix Enfamil AR with Enfamil Gentlease ?
Though mixing the formulas is usually okay, it is best to first re-confirm with your pediatrician.
2. Does Enfamil AR cause gas ?
Enfamil AR has been reviewed by mothers to cause gas only when the powder formula is fed to the baby too soon after mixing. It is recommended to let the formula sit for some time after mixing as it tends to form bubbles due to its thickness. If not, you could even opt for the Enfamil AR premixed liquid formula.
3. How long can I use Enfamil AR or Enfamil Gentlease for my baby ?
If your baby happens to respond positively to the formula and does not show any side effects, these formulas can supply enough nutrition for the baby until they are old enough to switch to solid foods.
4. Is it okay to add rice cereal to thicken a baby formula ?
It is recommended to not add rice cereal to baby formula for thickening purposes as it adds unnecessary, empty calories to the baby's diet, also depriving them of essential nutrients.