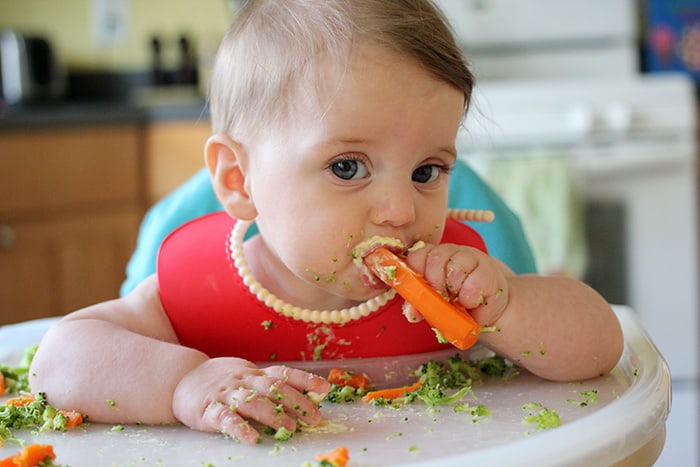 As parents, it is natural for you to want to ensure that your child is fed only the best of the best. Furthermore, as parents, it is only natural that you would want your child to consume the purest and best food available. When it comes to purity and safety, organic food makes the most sense because it is free of any harmful substances. Organic food contains no sewage sludge-based fertilizers, , synthetic pesticides, genetically modified organisms, or ionizing radiation. All of these ingredients, obviously, can have a variety of effects on your baby's growth and health. 
While it has been established that you must consume food free of these ingredients, where can you find such food? As new parents, you may find it difficult to sift through hundreds of options and read up on the labels of each to determine which is best for your child. Read on to learn about the best organic baby food brands.
To make the process much easier, here are the top 7 organic foods with (pros and cons of each) to buy for your baby-
1. Beech-Nut Organic Just Pumpkin Stage 1 Baby Food- Sold in a pack of 10 4.25-ounce glass jars
Since this food is packaged in a jar bottle, this one, by default, is free of BPA and phthalates. This food product is prepared with indirect heat that avoids the food to lose its flavor and nutrients, hence making it a tasty yet healthy meal for your baby. It is also free of any preservatives and rich in fibers that are essential for a baby's digestion.

The Beech-Nut Organic Just Pumpkin Stage 1 Baby Food is made from pumpkin, one of the most nutrition-packed foods, and it has a mild texture that makes it easy to consume for a baby. It also has Vitamin A that boosts your little one's immune system and also potassium, calcium, iron that aids the development of muscles, bones, and brain respectively.
 Pros-
Easy to feed and consume

Helps aid digestion and prevent constipation

Can be mixed into other foods' recipes

The low-heat cooking process to retain nutrients
Cons-
The glass jars are not ideal for on-the-go snacking or transportation
2. Once Upon a Farm Organic Stage 3 baby food- Sold in a pack of 16 3.2-ounce pouches
The Once Upon a Farm stage 3 organic baby food is made from organic fruits and vegetables like mango and coconut, also rich in fibers. Free of the unnecessary added sugar and preservatives, this baby food is also cold-pressed that helps it retain its texture, taste, and nutrients alike. As for its ingredients, it has calcium that aids the development of healthy bones and teeth; iron to help the baby's brain development, and potassium to aid in muscle development as well as balance bodily fluids. This baby food is also free of gluten and is 100% kosher, sold in BPA-free and recyclable packaging.
Pros-
Cold-pressed production process

Free of added sugar or preservatives, non-GMO and gluten-free

Kosher

Recyclable and BPA-free packaging

Contains good fats
3. Gerber Organic Single-Grain Oatmeal Baby Cereal- Sold in Pack of 6 8-ounce containers
Made of a single ingredient, Oatmeal, this could be a great option for food intolerant and hypersensitive babies. Free of GMO and also USDA certified, this food comes from a well known and celebrated brand, Gerber, that further ensures the high quality of ingredients viable for a baby. Ideal for babies over the age of 6 months, this food is rich in iron that aids brain development and also vitamin C that helps in the absorption of the iron. Further, it contains calcium that aids the development of strong teeth and bones; Vitamin B that gives the baby a boost of energy, Vitamin A for enhanced eyesight and Vitamin E, Zinc for overall improved immunity and health.

Each of its containers offers 15 servings.
Pros-
Non-GMO and USDA certified organic

Single-grain cereal

Contains iron, calcium, and multiple valuable vitamins

Best for babies with food hypersensitivity
Cons-
The taste is rather bland and your baby might take time to develop a liking for it
4. Happy Baby Organic Superfood Puffs Assortment Variety Packs- Sold in Pack of 6 each, 2.1-ounce
The best, stand-out feature of this baby food is that it comes in a range of blends that make it easy for you to choose which works best for your little one. 100% free of GMO and USDA certified, this baby food also comes in BPA-free packaging, each of it power-packed with multiple vitamins and nutrients. Easily dissolvable in the baby's mouth, these puffs are perfect for babies between 6-8 months. Talking of the primary nutrients, it has choline that aids brain development and eye health as well as vitamin B12 that helps produce RBCs and supports the functioning of the nervous system. As for the vitamins, it has vitamins C, A, D, and B6 as well as iron, phosphorus, calcium that aid the overall good health of a baby. Free of gluten and soy, it also is made in an excellent texture that is desirable by most babies.

The assorted packs comprise one pack each of kale & spinach, sweet potato & carrot, banana & pumpkin, apple & broccoli, strawberry & beet, and purple carrot & blueberry.
Pros-
Contains choline unlike most baby foods

Rich in vitamins and minerals

Soy and gluten-free

Certified organic

Made in a finger food format which is great to improve a baby's eye-hand coordination skills as they would not find it difficult to eat this on their own
Cons-
Needs to be consumed as soon as possible once opened since it otherwise goes stale pretty quick
5. Happy Tot organic stage 4 superfoods - Sold in a pack of 16, each pack contains 4.22-ounce pouches.
The Happy Tot baby food comes with chia seeds infused in it that offer a punch of some added nutrients such as omega 3 fatty acids and fiber, unlike most other baby foods. Made in a flavorful, tasty blend, this stage 4 food is excellent for parents who are in the process of transitioning their baby to table foods. USDA certified organic and gluten-free, this baby food, along with the goodness of chia, also offers a mixture of organic fruits and veggies. For other nutrients, It has vitamin C which helps the absorption of iron; Vitamin A for enhanced eyesight, immunity, and skin, and calcium to aid the growth of strong bones and teeth.

Available in a variety of 12 blends, it definitely has a flavor to appetize the taste buds of each baby out there.
Pros-
The goodness of vitamins A and C, omega 3 fatty acids, and fiber

Non-GMO, dairy-free, and certified USDA organic

Available in so many options of blends 

A tasty medium of feeding vegetables and fruits to your baby

Easy to use
Cons-
The pouches could have been better if they were see-through
6. Earth's Best Organic Baby Food Puree Pouch- Sold in a pack of 12 pouches, 4.2 ounces each
The convenience of this baby food is available in a pouch packaging (free of BPA), which is the first thing that attracts most parents. USDA certified organic and free of GMO substances, artificial flavors, or colors it is formulated with quality ingredients and essential nutrients like iron for brain development, potassium to impart a balance of body fluids & promotion of muscle development, and calcium that ensures the growth of strong bones and teeth.

Earth's Best offers 19 blends of flavors in a variety of combinations of fruits, veggies, and wholesome grains. Apart from the veggies and fruits, its formulation also entails whole grain barley flour, quinoa flour, oats, and ground flax seeds.
Pros-
USDA certified organic

Resealable pouches that are perfect for on-the-go snacking

Lets the baby feed themselves with ease

Available in multiple combos of fruits, veggies, and wholesome grains
Cons-
The baby might create a mess while consumption by virtue of its packaging that can cause easy spillage
7. Plum Organics Baby Stage 2 Organic Baby Food- Sold in 3.6-ounce bowls, each pack containing 12 bowls
Available in a variety of 10 different flavors, this baby food also comes in a very convenient  packaging that is handy to hold as well as to store. Besides, a unique feature of this one's packaging, made of non-BPA plastic, is that it has a marker to help you keep track of the food's freshness. Free of GMO, BPA and USDA certified, this stage 2 baby food is enriched with the goodness of iron that majorly aids the development of a baby's brain, calcium that helps with the  growth of strong bones & teeth, and potassium balance the bodily fluids as well as promotes an enhanced functioning of muscles.

Another stand-out feature in terms of the convenience of this baby food is that all of the bowls have a dome lid that lets you stack the containers worry-free, and each bowl is also recyclable to satisfy environment conscious parents.
Pros-
Easy to hold bowls with a spoon in each

Hassle-free, clean, neat

Choice of 10 delicious blends

Non-BPA packaging

USDA certified organic and non-GMO
Cons-
Babies might take some time to acquire the taste
Final Thoughts
As a final brownie tip, we recommend that you always look for your best organic baby food brands. 
Has USDA certified organic ingredients, is free of GMOs, and does not contain any artificial colors, flavors, or substances of any kind? 
Are easy for the baby to consume and provides the goodness of not only fruits and vegetables but also other vitamins, minerals, fibers, and so on. 
Are packaged in convenient packaging that must be BPA-free if not recyclable. 
Always think about it and do extensive research before purchasing baby food because organic baby food reviews the initial growth years of babies are the foundation of their long-term good health. Looking for more parenting advice and hacks? Check out our other blogs or ask us a question in the comments; ParentHood Bliss is always happy to assist!
Organic Baby Food FAQs
1. Is baby food bought from the store healthy?
Yes, for sure. There is no other reason the whole concept of storing food has taken shape. Also, if you aren't quite a chef in your kitchen, you need not worry as these stored foods are here for your rescue. All you need to do is, keep these foods stored to a particular degree and you are good to go.
2. Is it a good option to make your own baby food instead of the one found on the market?
Yes, absolutely! Making your own baby food is an ideal option. Also, making your own food helps you save up quite an amount too. For instance, if you are buying yourself a 4-ounce jar of baby food it might cost you around $0.50. And, if your baby consumes approximately 3 jars a day, it is equal to $45 per month. So, if you opt to make your food that is of the same amount, it would cost you around only $15. While you save up $30 per month. Isn't this quite fascinating?
3. Will the baby food lose its nutrients if it is left in the freezer?
Not quite literally. You must make it a point to understand that the freezing process on its own doesn't contribute to destroying the nutrients in the baby's food. Therefore, to be on the safer side, try to freeze all the foods that are stored at 0°F or even lower. This helps maintain and preserve the baby food's texture, color, and nutrients, making it healthy for the little one to eat and have a healthy meal.