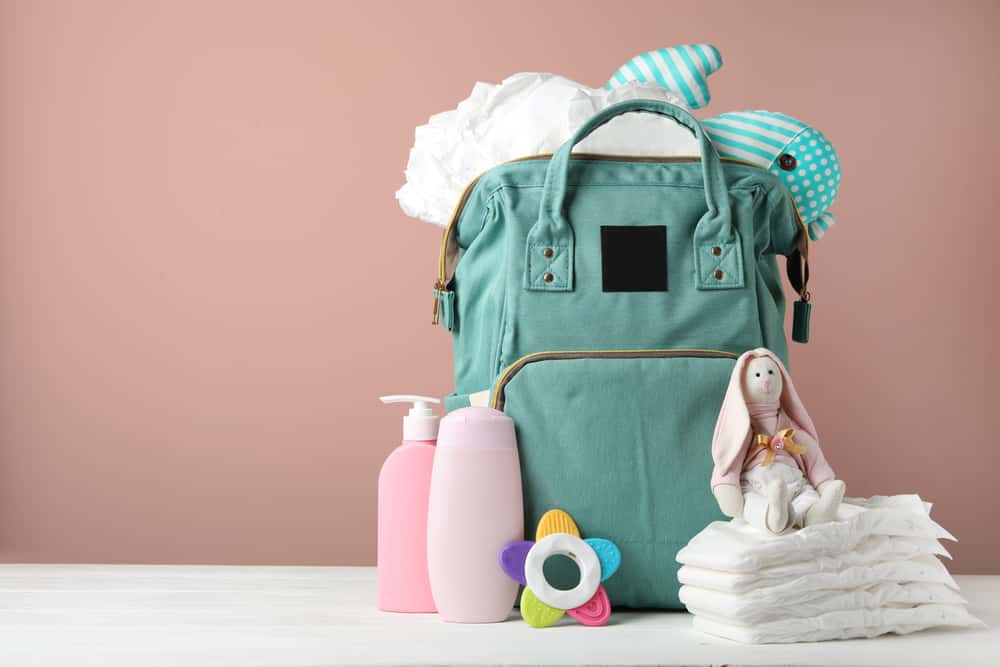 Whether it's a prepared parent or a newbie, the best diaper bags are something extremely important even before the baby is born. Before you leave for somewhere, you should make sure that all the necessities of the baby are packed properly. You'd not want to step out of your house with your baby and without their diapers. Just imagine what a massacre it would be!
From baby's snack to wipes and all the other essential stuff must be added to the bag. You can also throw in your wallet, house keys, and other important stuff. The most relaxing part of today's day is that you get hundreds of lists of the best diaper bags to choose from which are specially designed for your convenience. While you are at it, do not also forget to check out our list of the top best diapers for babies here!
There are a lot of different types of diaper bags and it could be overwhelming when it comes to choosing one. You need to consider many things, including who will be using it, how much you'll be carrying, and how many kids you have.
Diaper bags can come in various styles, including:
Backpack: Frees up your hands and also provides equal weight distribution.
Tote: Has two long straps so that you can easily carry the bag over your shoulder.
Messenger Bag: Has one long strap. Can Also be worn over one shoulder, or crossbody.
Diaper Clutch: Is small and portable. Usually used to fit the bare essentials.
How To Choose A Diaper Bag?
If this is your first baby, there are likely some things you have not considered when it comes to selecting a diaper bag. And there might be several factors that you are already well aware of and are unwilling to compromise on. When you know what you want in a diaper bag it will make your selection process much easier.
Style: Trying to find a bag that won't make it evident to the rest of the world that you're a mom can be a bit challenging. You may be a mom, but that doesn't mean you automatically have to embrace looking frumpy or unstylish. You may want a bag that reflects your style because as a new mom you may feel as though you are losing your identity a bit. You need to remind yourself of the person you were before you became a mom.
Cost: Some diaper bags are outrageously expensive. But also keep in mind that expensive doesn't always mean better. And, at the end of the day, it is just a diaper bag. It's not worth the price of making a car payment. But on the other hand, you will not buy the cheapest bag you find, unless you're totally in love with it, because it may not last as long as you need it to. You should consider buying a middle-of-the-road bag that has both affordability and quality.
Material: Do you want something durable, or an extremely soft diaper bag? Or are you looking for something that will be easy to clean? If you are, you may want to stay away from particular types of material that will be harder to clean and maintain when something inevitably gets spilled on it. Because, at some point, something is going to leak into or onto your bag.
1. Skip Hop Baby Grand Central Baby Diaper Bag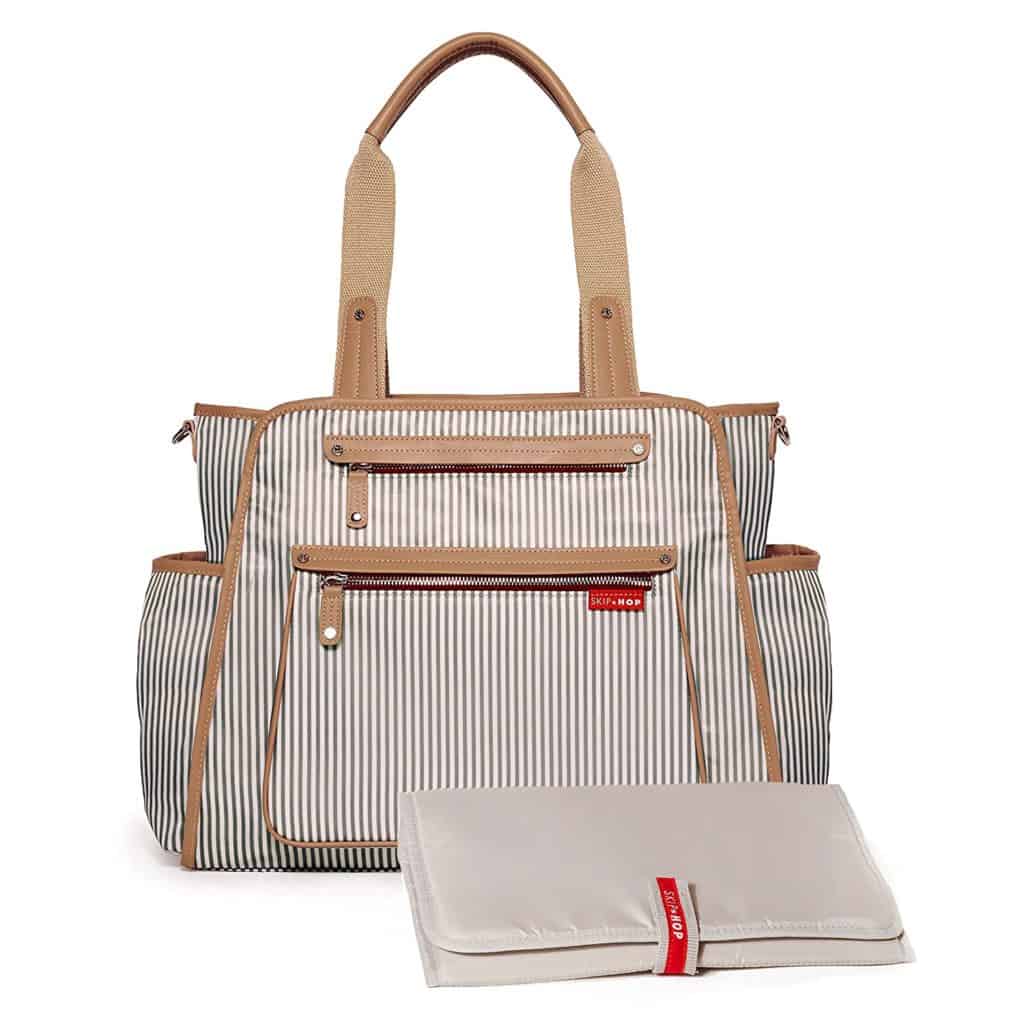 You'll fall in love, the moment you open this one of the best baby diaper bags put there: the Skip Hop baby diaper bag! We can assure you this as we did. It is a perfect combination of fashion and an operational product.
The leather accents with black stripes give it a chic look and to compliment that the New York-style colors add an oomph factor to the bag making it super stylish for our very own stylish moms. It's a tote-style baby diaper bag.
The most impressive aspect of the bag is how efficient the bag is. It is huge with exactly 11 pockets to get your things kept in an organized way, well-made and is just over 2 cubic feet of space in our measurements.
The pockets are big enough to fit even the broadest of the baby bottles. It even consists of zipper pockets to keep all the valuable belongings and personal things like car keys and wallets. It has a huge space in its center for big products like changing clothes, diapers, and much more.
In all, it is an extremely amazing tote diaper bag that's functional and super stylish for our moms. That's why we chose to give this bag the topmost place on our list. Talking about the pricing it's a bit over the edge but it's worth the money.
2. Petunia Pickle Bottom Boxy Backpack Baby Diaper Bag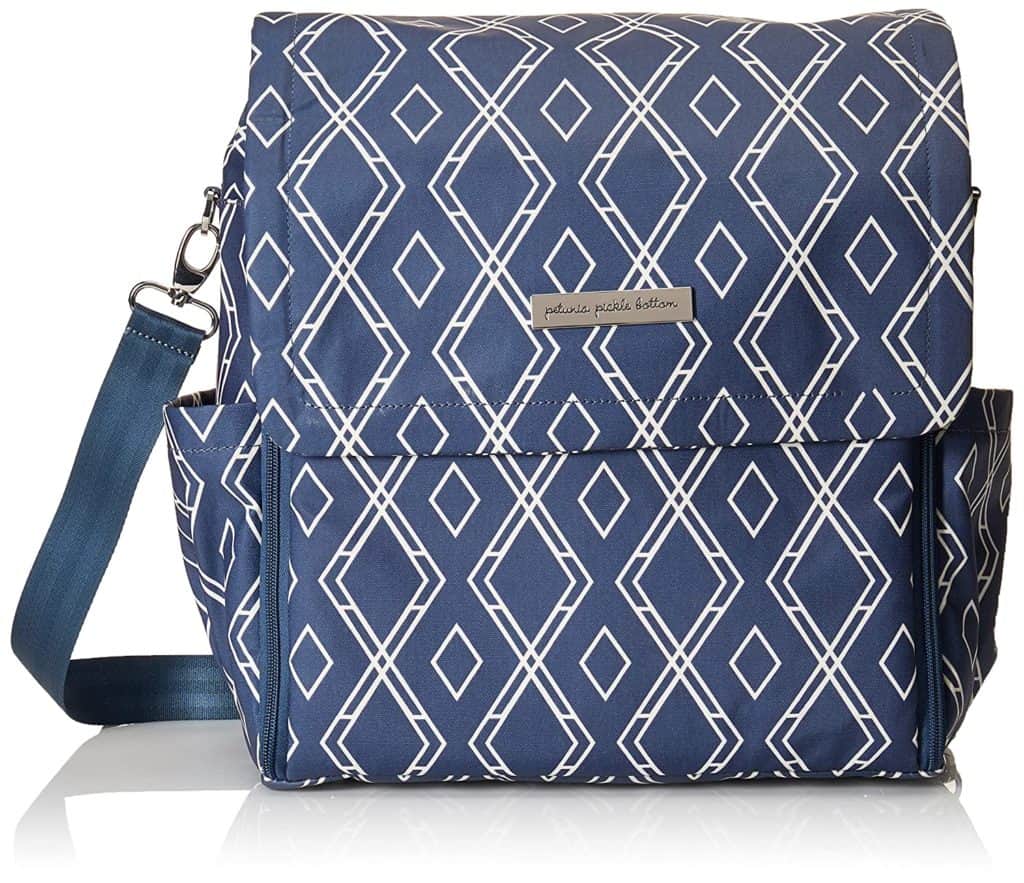 When we talk about the best baby diaper bags, the Petunia Pickle Bottom Boxy diaper bag has to be on the list! You will be amazed by how stylish, popular, and high-quality these diaper bags are. They are amongst the most well-known and used diaper bags in this industry.
The brand has a wide range of diaper bags for you to choose from; you will get floral cute-looking diaper bags to quilted gold-trimmed black bags if you are going for a chic look. It also has a variety of abstract watercolors.
It is one of the most expensive diaper bag options that we have on our list! $150 is the price that you pay for the boxy backpack model which comes with a high-end look with really sophisticated designs. Being so costly, it is worth all the money that you spend on this very useful, efficient, operational, and also super stylish diaper bag.
The fabric is made of cotton canvas that has a very anti-stain sturdy coating glazed on it and it's even waterproof. The size of the bag is almost 0.90 cubic feet which are why the baby diaper bag is very spacious and big.
It has 8 inside pockets in total, out of which two of them are zippered. Because it comes with enough space there will not be any problem in storing the baby's things in it. The most amazing part about this diaper bag is its versatility.
It comes with several carrying options. You can also use it as a cross-body bag or may use it as a tote bag or baby diaper bag, as the name suggests. You may turn the bag into a backpack or by attaching it to the stroller just change it completely and use it as a simple stroller bag with the help of the included stroller straps.
The reason it's called a boxy diaper bag is that it has a boxy and a very stable bottom which helps it easily stand on its own, without toppling over. The bag is super lightweight, functional, and a very stylish option to go for.
3. The Maman Nappy Baby Diaper Bag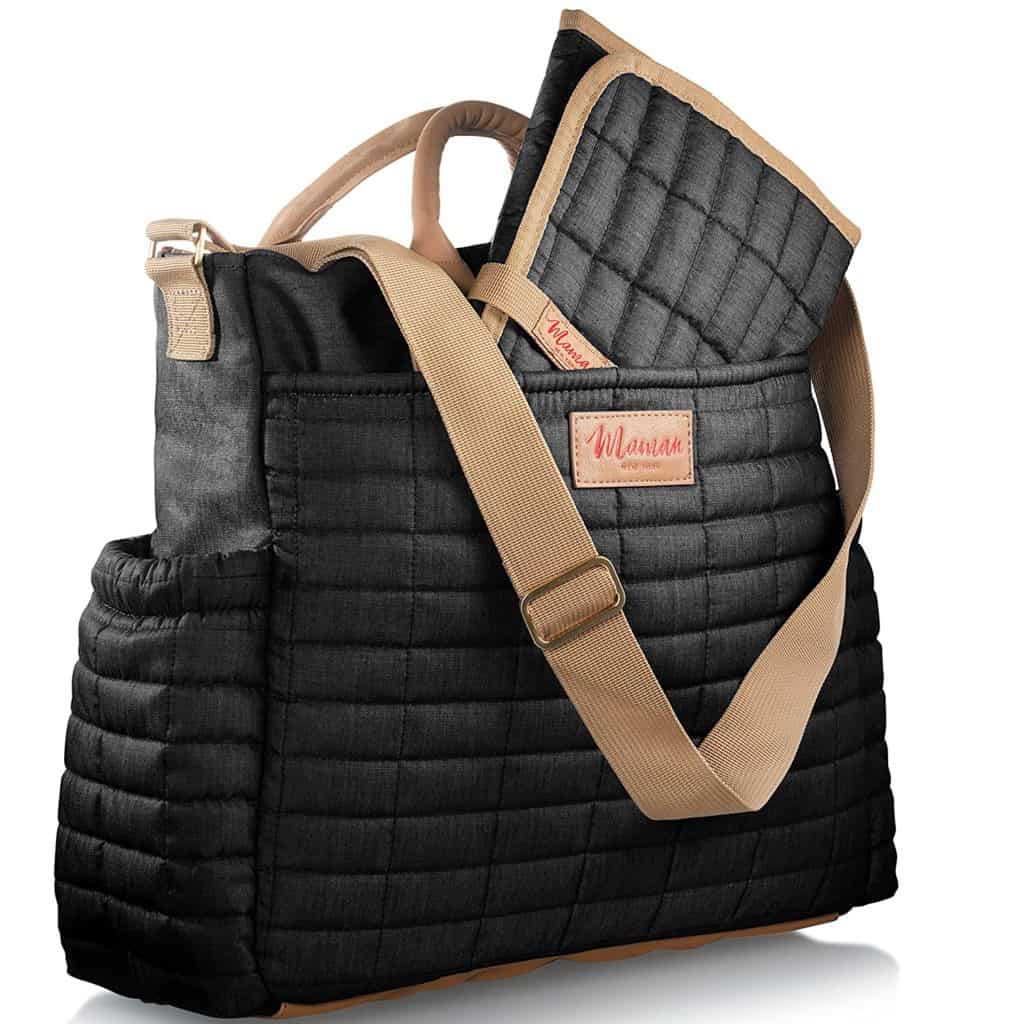 This bag almost resembles a purse and can be easily mistaken for a bag that would not even be close to a baby diaper bag! Well, we are not saying it as a disadvantage but we do say this very proudly. This diaper bag creates a bold statement: it features gold hardware, stylish thick quilted exterior, and tan leather, with red accents. This makes the baby diaper bag look fashionable and more expensive than it is!
This bag can cost you about $55, isn't it a great deal to go for? Apart from being super reasonable, the bag does not lack efficiency and quality at all. It assures you with one of the best functions and looks and does not create a hole in your pocket.
It cannot convert itself into some backpack like other bags, but it has various other options like transforming itself into a shoulder bag, tote bag, or even a stroller bag. The material that is used in the diaper bag is waterproof and fulfills every claim that it makes.
This bag has 10 pockets in total which makes the bag pretty organized and spacious. It is quite big, which makes it very easy to carry around for moms. The bag is one of the best baby diaper bags for sure, it is super durable and if you use it properly it can stay with you for several years as the zippers, seams, and buttons are high quality. This is a deal-breaker option for you to go for.
4. Honest Company Everything Tote Baby Diaper Bag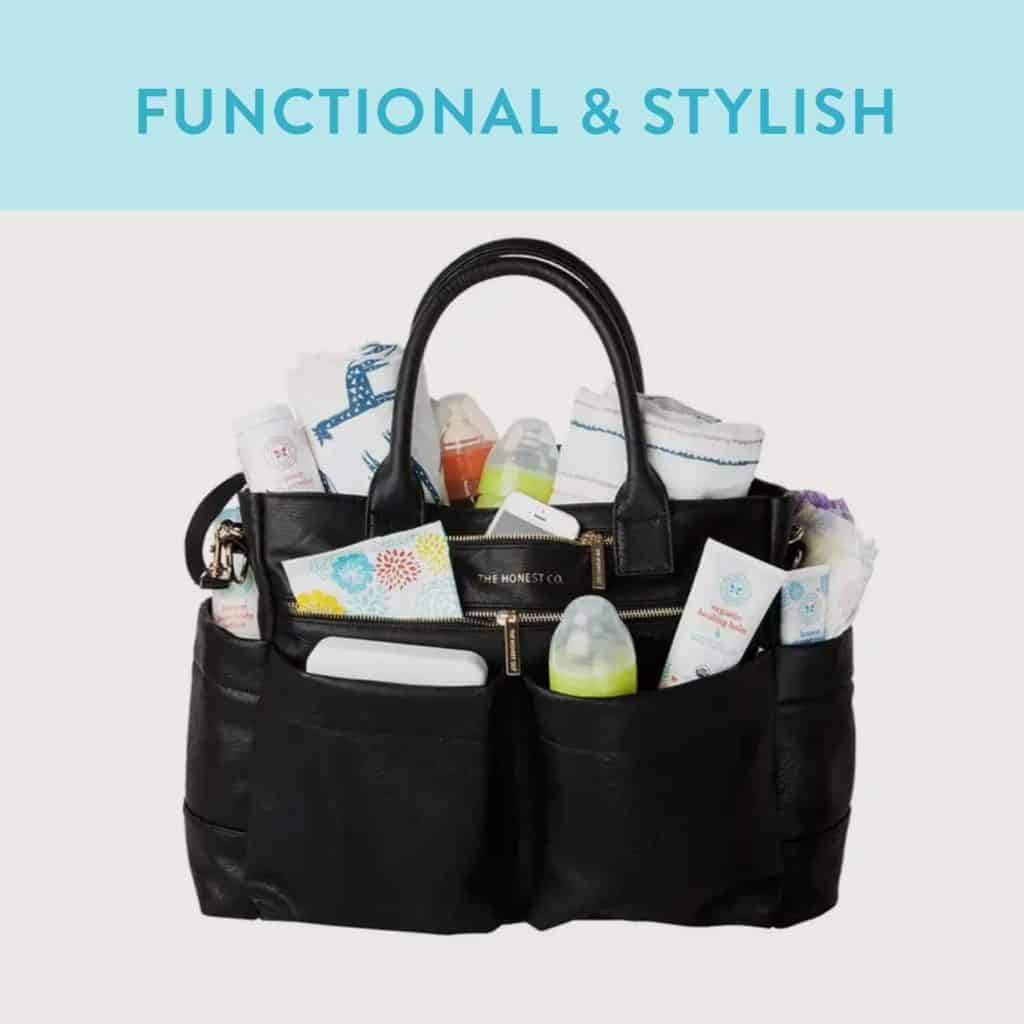 This is an amazing and huge black vegan leather bag. The design, look, and most importantly the functionality is what makes this bag the perfect purchase to keep the baby's things and carry them around.
It is one of the most loved and popular bags among moms which is not at all surprising as the bag is very versatile and high-end. This bag is designed as a large tote and even comes in a size of about 7″ deep, and 19″ wide, 13″ high, which makes this bag spacious enough. It has seven pockets in total, two of them out of which are zippered.
In the center, you will find a huge space to keep the baby's diapers, an extra set of clothing, and much more. The bag also features a water-resistant pocket on the front to keep things that can spill or are wet. Besides that, it has 2 insulated pockets on either side where you may keep the feeding bottle or snack chilled for a longer period.
You may even change it into a stroller bag and also a shoulder bag. Everything about this faux leather bag is perfect except the fact that it is a bit expensive as it comes at a price of around $150. But taking the points of the space and the multi-functionality that it offers, it is a great deal!
5. Vera Bradley Ultimate Baby Diaper Bag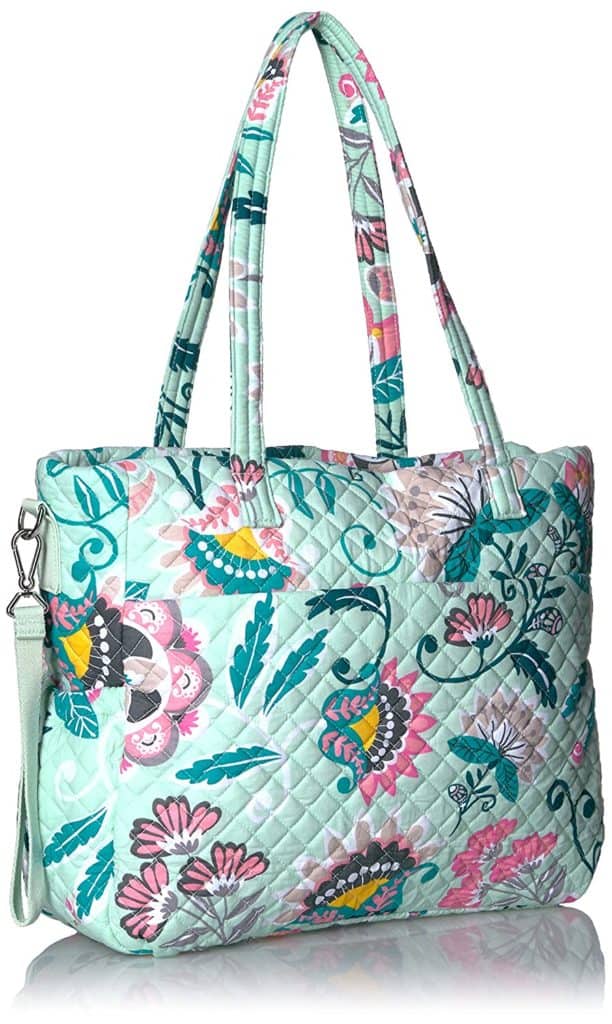 If you are also a person who loves the Vera Bradley products then, here is exciting news for you. The brand also makes a wide range of the best diaper bags that coordinate with the feel and look of other Vera Bradley backpacks, handbags, and purses!
The diaper bags come in a tote or backpack style of bags. The tote style bag not only comes in tones of different colors and designs but has also the essence of the classic style of Vera Bradley. This bag is big and very well-made and versatile. The floral prints of the classic Vera Bradley and even the texturing are very nicely presented in the diaper bags.
The material used in making this bag is 100% cotton which makes it super durable, comfortable, and soft to use and feel against the skin. The straps are long enough (12″ strap drop) to go comfortably on your shoulder, and there is an optional (clip-on/off) padded shoulder strap for cross-chest carrying.
It comes with a detachable stroller strap on both sides. And the bag has a zippered top and can stand upright without toppling over. The dimensions are about 14″ high, 20″ wide, and 5″ wide, and provide just under 1 cubic foot of volume.
The insides of these bags are lined with polyester that avoids problems with stickiness and stains, and it has six mesh pockets too with elastic tops.
You will also find on the outside of the bag two large additional pockets but the only disadvantage we found was that it did not feature any insulated pockets or zippered pockets on the insides. Nonetheless, the stitching, the fabric, seam, zippers everything is of very high quality and functions well.
It is not as spacious as some of the other bags, but this bag is a perfect point of intersection where style meets versatility. Coming for $120, this is right in the middle of being less pricey and one of the most expensive designers yet one of the best baby diaper bags.
6. Bag Nation Backpack Baby Diaper Bag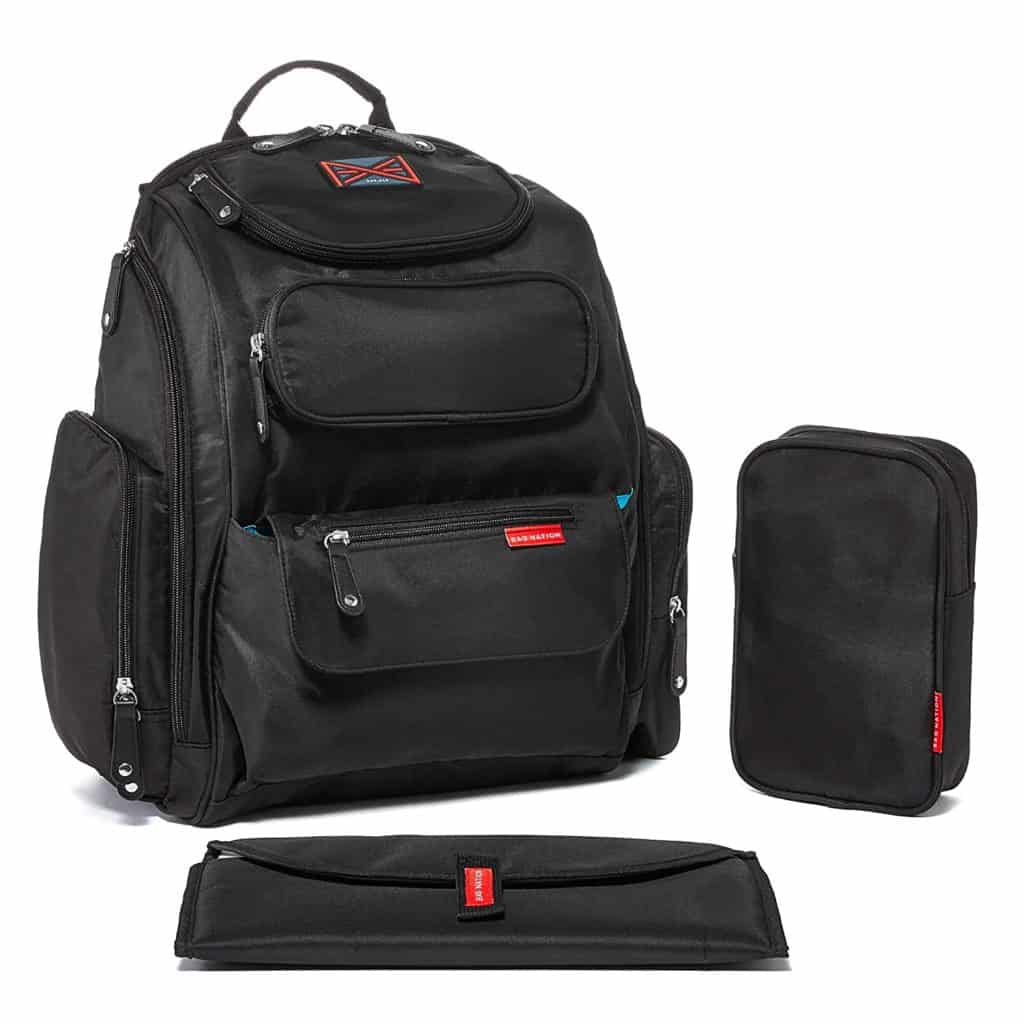 This backpack diaper bag is amazing and is an all-rounder, it's also one of the highest-rated baby diaper bags you will find in the USA!
It is a simple but edgy-looking diaper bag with not many colors and patterns: it just comes in 2 variants which are heathered grey and black. Both of them are super sophisticated and high-end-looking bags.
The multi-functionality will surprise you as you may carry it as a backpack, a tote, and it also assures strong built-in straps to carry it as a stroller bag. You will find tonnes of pockets in the bag, almost 14 to be precise, one for each of the baby's stuff.
It has an outsized insulated baby bottle pocket and therefore what blew our minds was that it comes with a diaper dispenser! All you would like to try is simply reach back and pull out one.
The main compartment of the bag is extremely spacious and can fit up to large quantities of things very efficiently. The zipper, fabric, and all look of the bag are very long-lasting and high-end.
It also comes with a complimentary small tote diaper bag which will fit up to 3-4 small things for the baby on the go. It's a water-resistant bag and is extremely versatile.
The best part about the baby diaper bag is that you can get it for $60 online. Looking into how highly versatile the bag is, it is well-priced!
7. SOHO Grand Central Baby Diaper Bag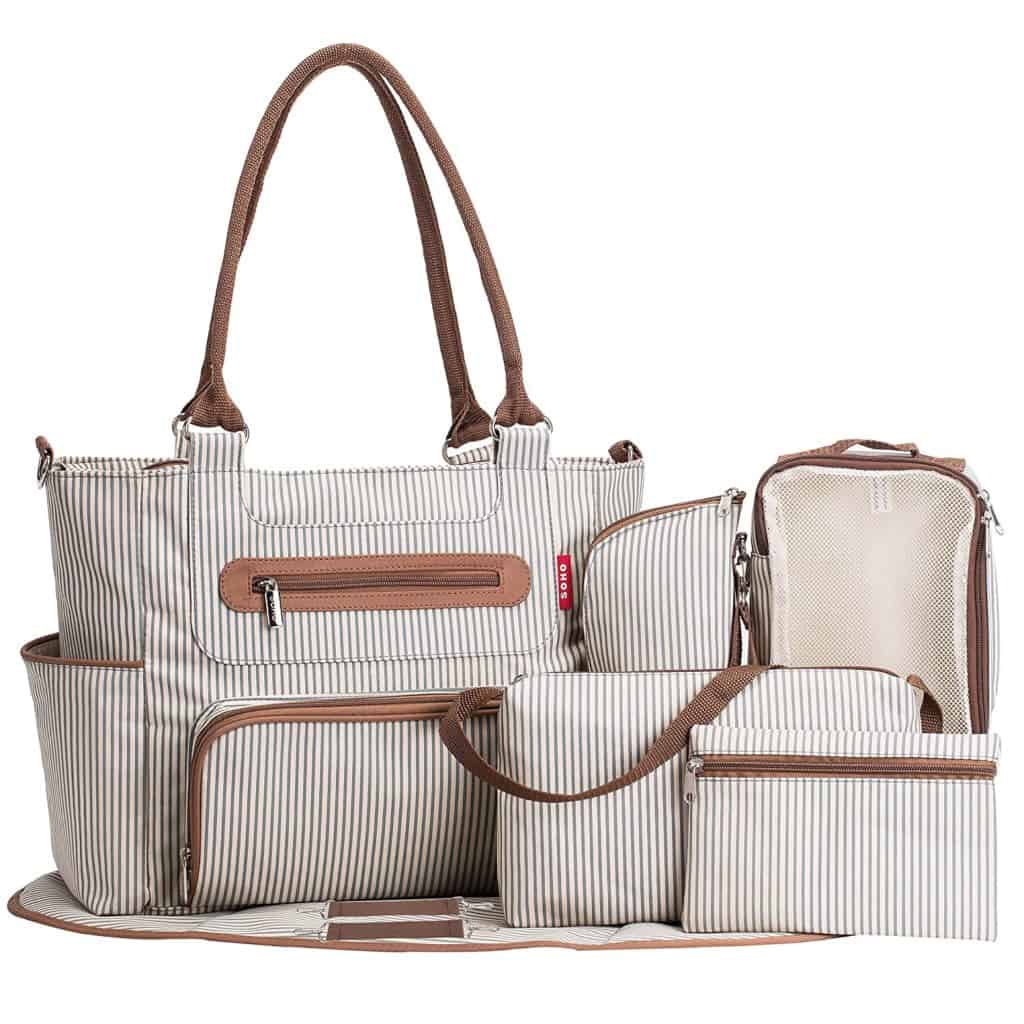 If you're finding one of the best alternatives for Skip Hop Grand Central diaper bags, we have come with the SOHO Grand Central diaper bags. And the best part for you, it's not even that expensive! It is an amazing diaper bag with few similarities such as mode and functions but is for half the price.
This bag has separate functions for different features. Here you'll get 5 different smaller bags to keep your miscellaneous things. You get a set of separate zipper bags, a separate diaper bag, an insulated bottle bag, a toiletries bag, a changing pad,  and a little wallet.
This diaper bag features a whole new functionality and approach towards diaper bags. You can take only the required stuff with you, without carrying an enormous bag for it. The size is the same as the Skip Hop diaper bag. It also comes with high-quality additional stroller straps.
This bag is extremely operative and efficient to use and you get an honest product by paying a relevant price for it.
8. Skip Hop Duo Signature Baby Diaper Bag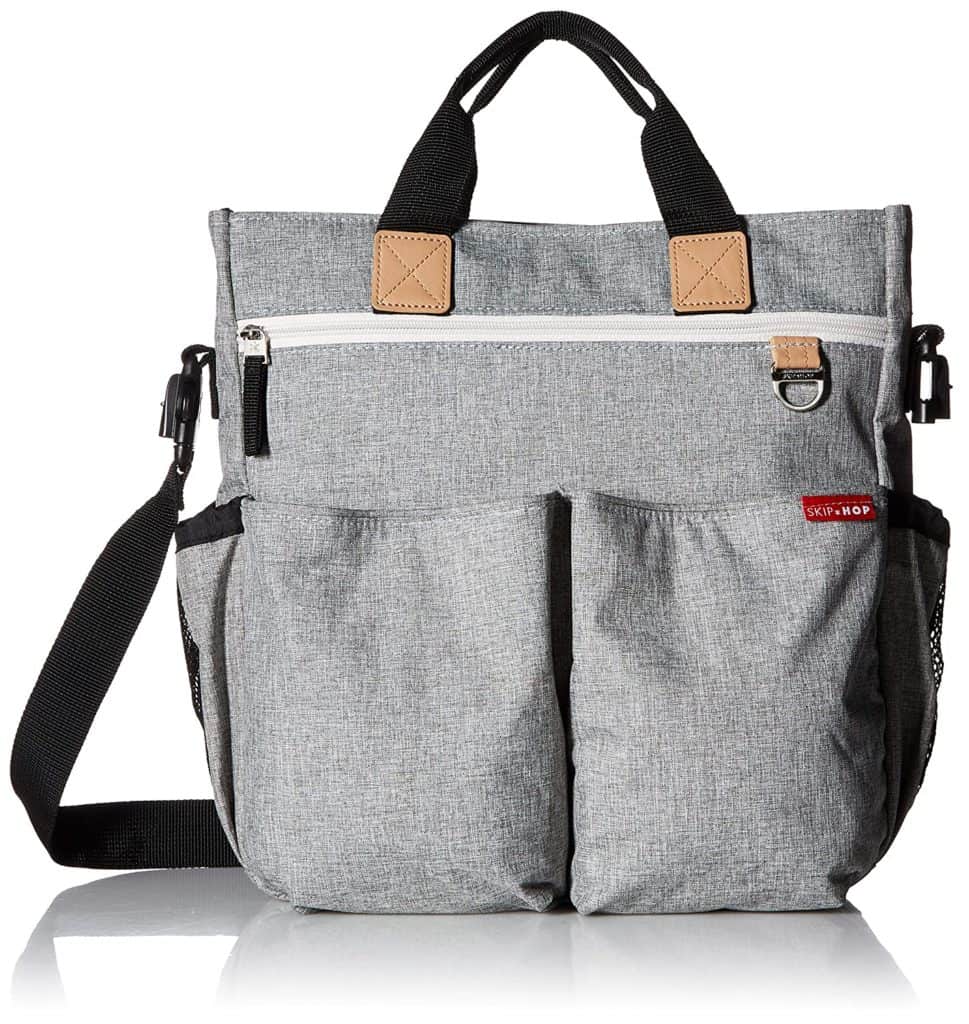 There is absolutely no doubt that Skip Hop makes one of the most amazing and functional diaper bags. This is why it tops the list when it comes to a diaper bag that has a lot of modern look to it and yet does not look very old-fashioned.
It resembles more like a tote or over-the-shoulder bag than a handbag. The shape of the bag is more deep and narrow than short and broad. This gives the diaper bag a sleek and edgy look.
This bag may be a perfect choice for mothers who don't want to hold enormously huge diaper bags with them. Though this bag is small, it's very spacious because it features a deep-going pattern inside it.
It contains a complete set of 10 pockets, a hoop, a changing pad, a separate insulated bottle holder, and a pleasant interior liner. The lining inside is super soft and of high quality. The padded strap is comfortable, as are the padded carry handles.
9. Freshly Picked Convertible Backpack Baby Diaper Bag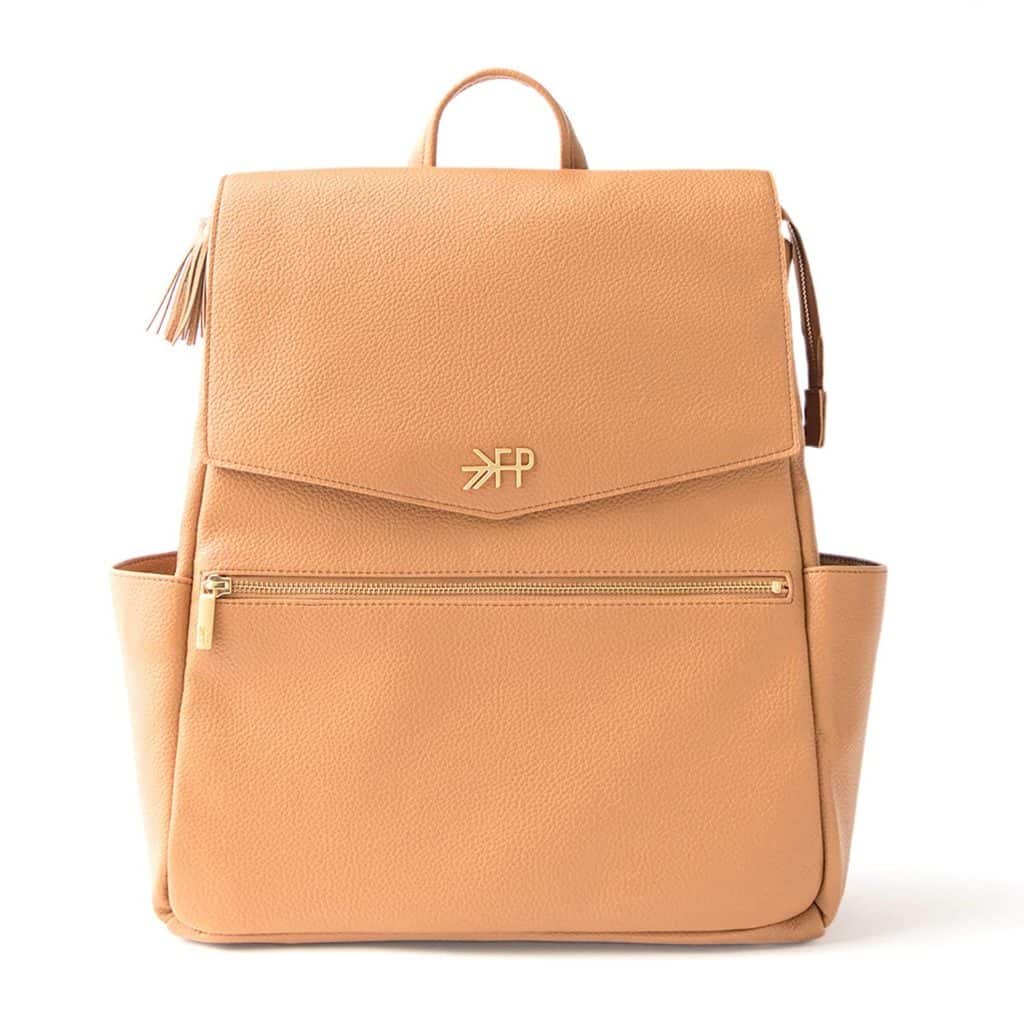 This bag is loved and is super popular, The Freshly Picked line of diaper bags is seeking tons of attention this year. It comes in backpack style and carry-all and offers an array of pastels to choose from like fig, butterscotch, birch, and impala lily.
This is a vegan leather bag that appears super sophisticated and classy and has excellent material. It is water-resistant and also stain-resistant, which suggests you'll wipe off any mark very easily. All the hardware is sturdy and of top quality.
It comes with 6 pockets in total. The bag is extremely stylish and comfortable. It has a lot of space to fit all the essential items into it. If you're going for an uber-cool and trendy designer diaper bag this bag is one of the simplest options.
The bag stands upright, on its own without toppling over. It's pretty durable and efficient to use. It is a bit pricey for faux leather but it can also change itself into a stroller bag, a strap bag, a backpack, or a purse-style bag.
10. HaloVa Backpack Baby Diaper Bag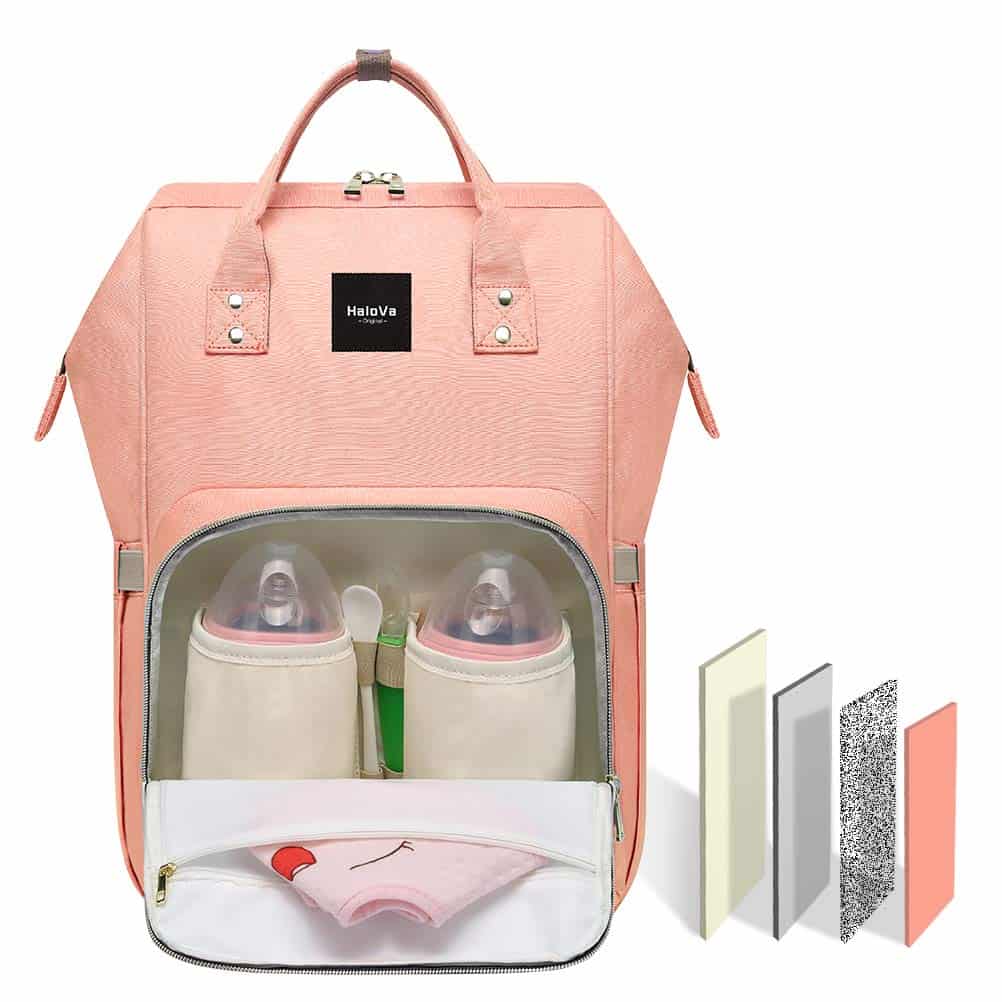 This diaper bag with great functionality and style is the last option on our list. It comes in a variety of designs, patterns, and colors to choose from. It is a convertible tote as well as a backpack baby diaper bag.
It is super spacious, comfortable, and functional enough to carry most of the necessities. This diaper bag is highly inexpensive because it comes for just $35. Though the price is quite low it gives fair competition to the diaper bags which usually get featured on the best diaper bags lists.
It has an outsized center compartment for keeping the baby's things. It uses a technical way to separate other compartments in a very organized and systematic manner.
Comprehensive of these excellent and efficient elements, we discovered that this baby diaper bag is extremely affordable along with all the other perks.
11. Elkin Diaper Bag Backpack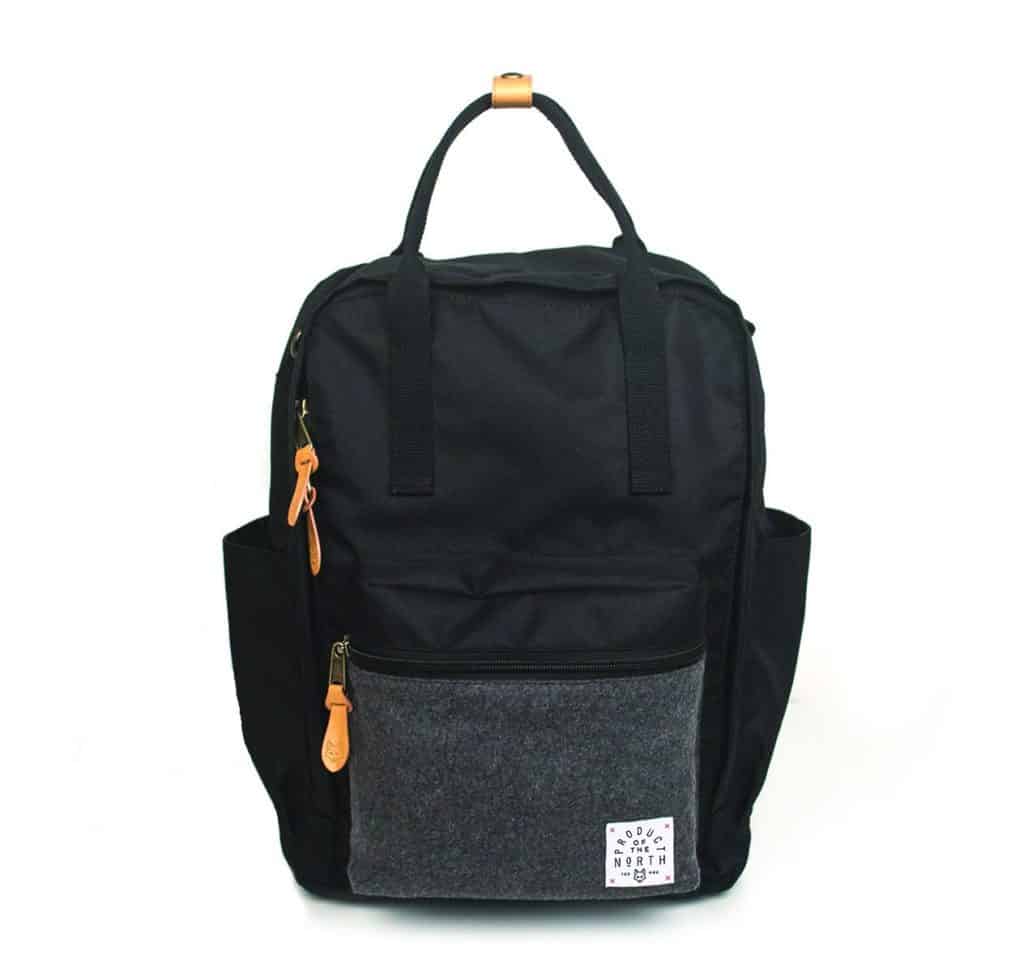 This diaper backpack from Elkin is gender-neutral and boasts more than just its good design. It's made using recycled water bottles adding to its stylish design and making it sustainable.
It comes with an oversized range with the main compartment which can be used to store a lot of baby products, all at one go.
The diaper bag features a frog-mouth opening that unzips for, has easy access, has multiple interior and exterior pockets, zippered pouches, a removable changing pad, a padded compartment for your laptop, and a key clip that helps the parents to hold their phone and wallet, too.
The bag can be worn as a backpack or carried using its top handles.
12. Freshly Picked Classic Diaper Bag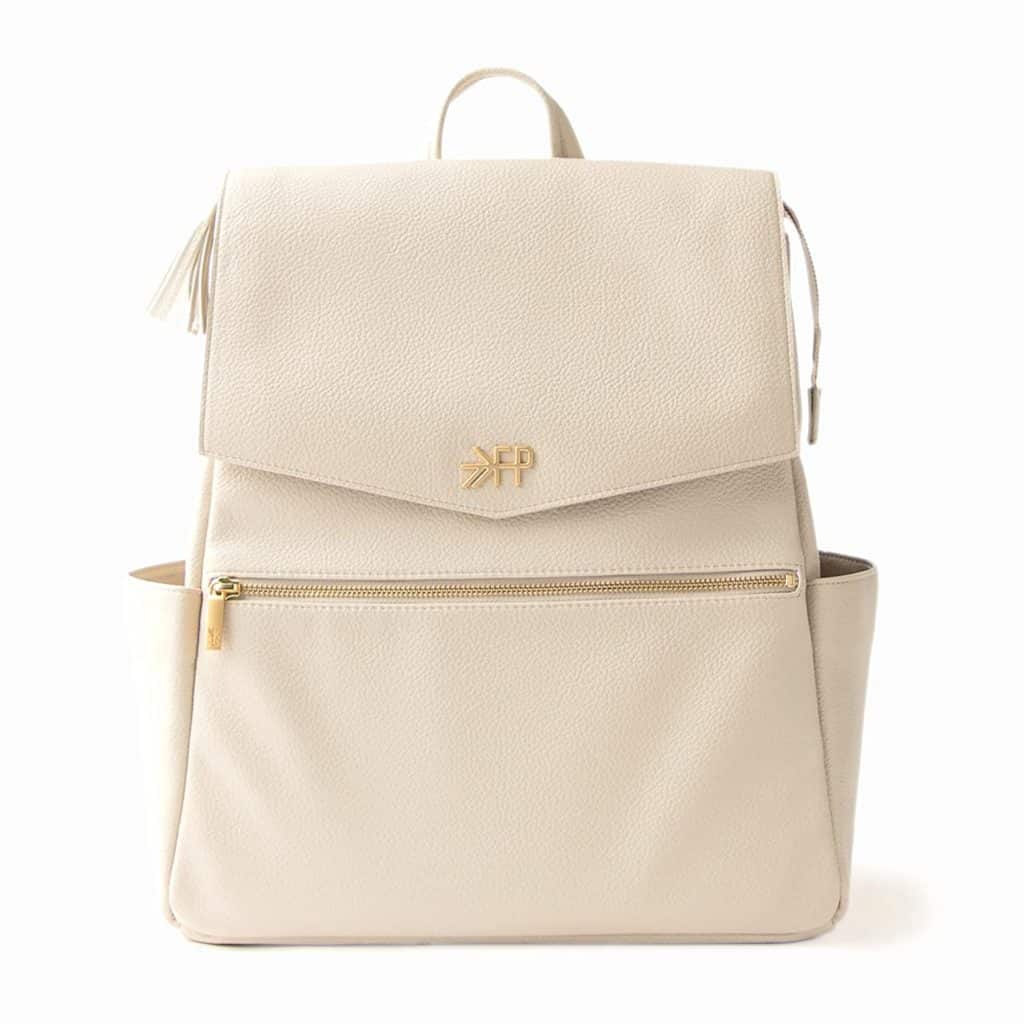 Freshly Picked makes a beautifully designed diaper bag that you can carry anywhere and everywhere.
Made using vegan leather, this diaper bag is 100% wipeable and spill-resistant, both inside and out, how convenient!
It has a metal foot at the bottom that makes it stand alone and prevents it from touching the ground directly.
It features about 10 pockets to stash all baby stuff and can be worn as a backpack, crossbody, or purse.
13. Eddie Bauer Terrain Diaper Backpack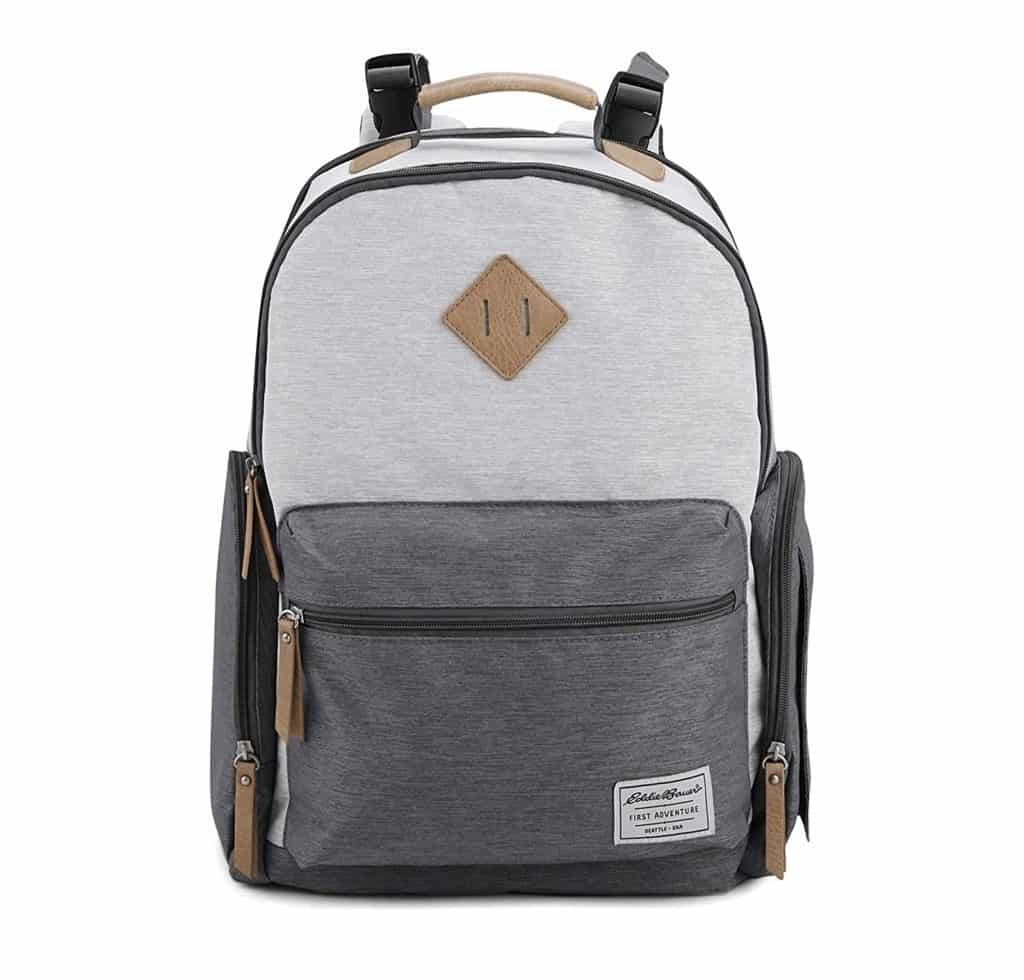 Eddie's Bauer Terrain diaper backpack makes up for a practical and affordable bag pick.
It features multiple compartments, including the insulated sections and zippered pockets with pop-open removable wipes on the side.
The bag is versatile, which means, parents can choose to wear this as a backpack, a tote, or strapped right onto your stroller handles.
14. Luli Bebe Monaco Diaper Bag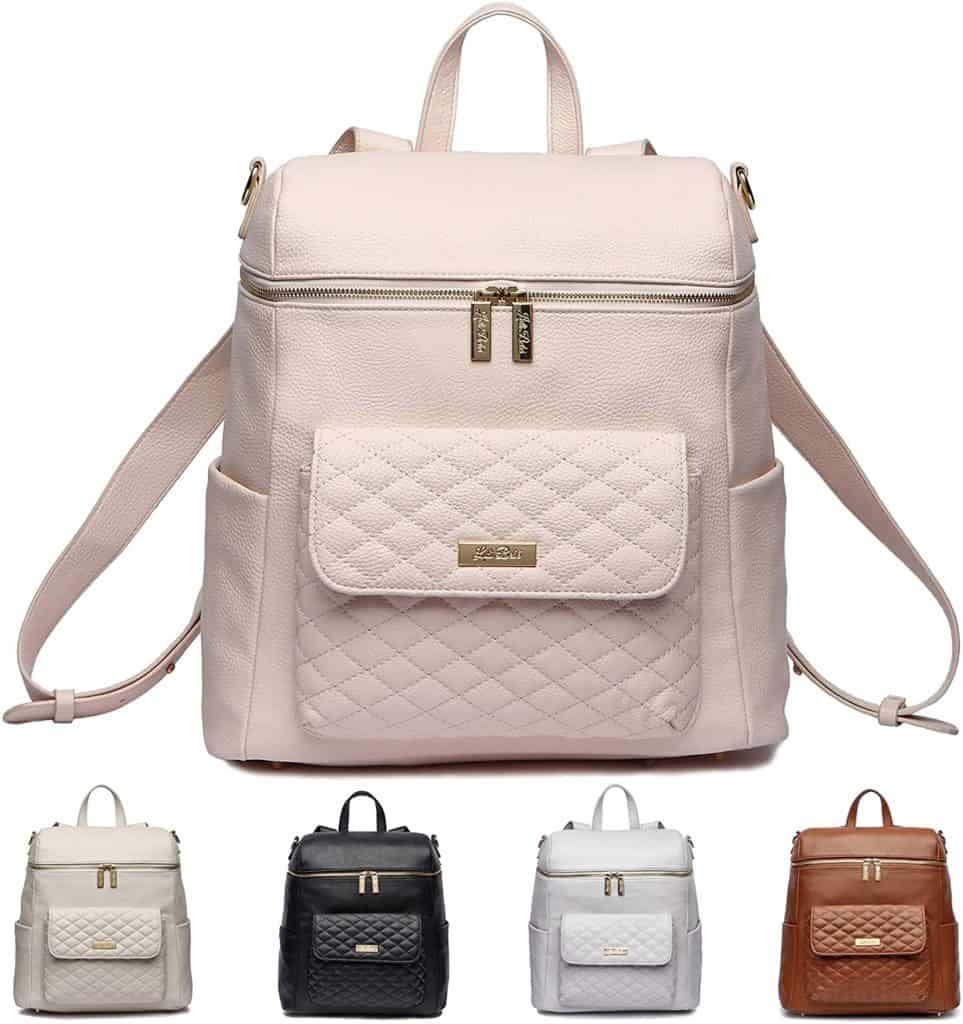 Luli Bebe Manoca's baby diaper bag speaks volumes on style, is vegan-friendly, and makes a good mix of casual plus formal, perfect for any outing with your little one.
It features nine pockets in the bag, has a quilted magnetic flap front pouch that makes it easy to store assets and have easy access too.
The bag can be worn in multiple ways, just like Eddie, that is as a crossbody, over your shoulder, or even as a backpack with its largest pouch being capable of holding a 13" laptop.
15. Ruvalino Diaper Bag Backpack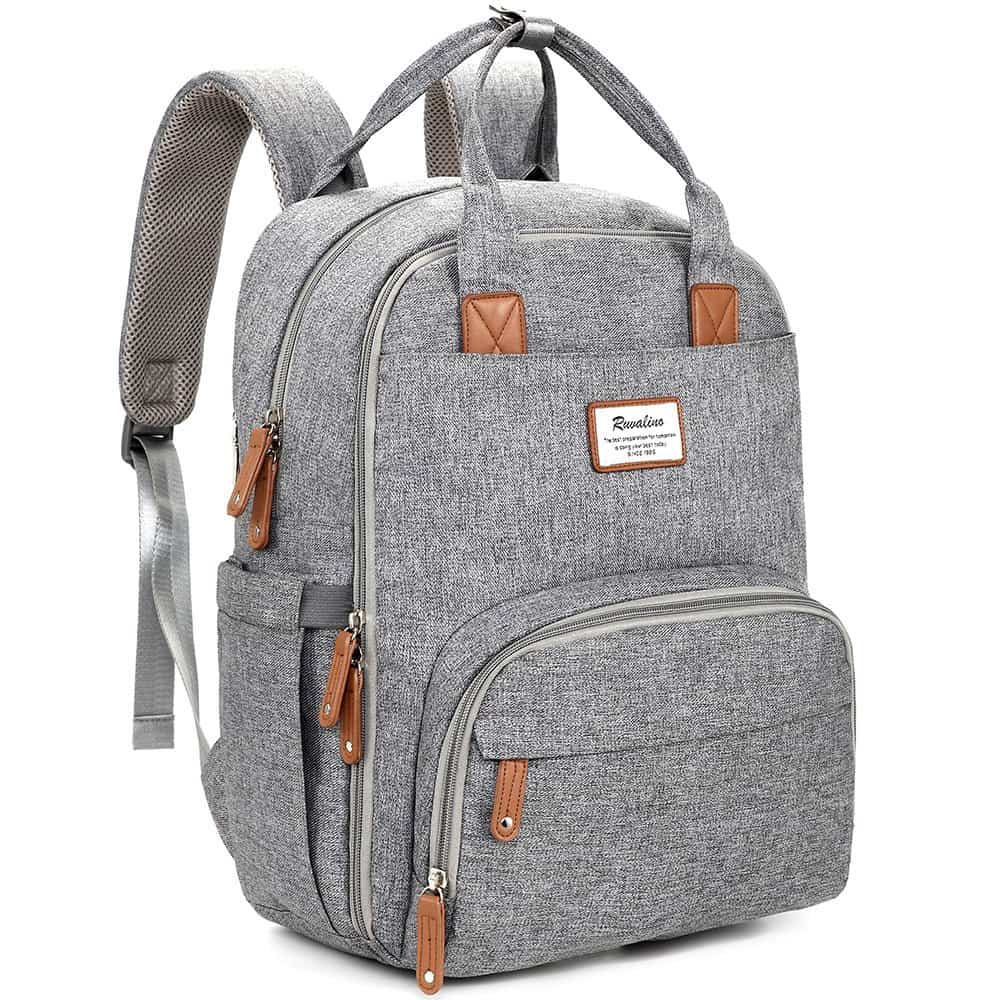 This diaper bag has bagged over 11,000+ Amazon reviews. You know as it's said, the more the reviewers, the better the brand.
Ruvalino backpack diaper bag makes for a great combination of style, functionality, and cost. No surprise it's the most reviewed diaper bag!
It has a streamlined design with multiple pockets, which means, two big compartments and 16 pockets with a comfortable padded strap.
The bag is available in a variety of colors and is affordable given the wide range of usage.
16. Kibou Baby Diaper Bag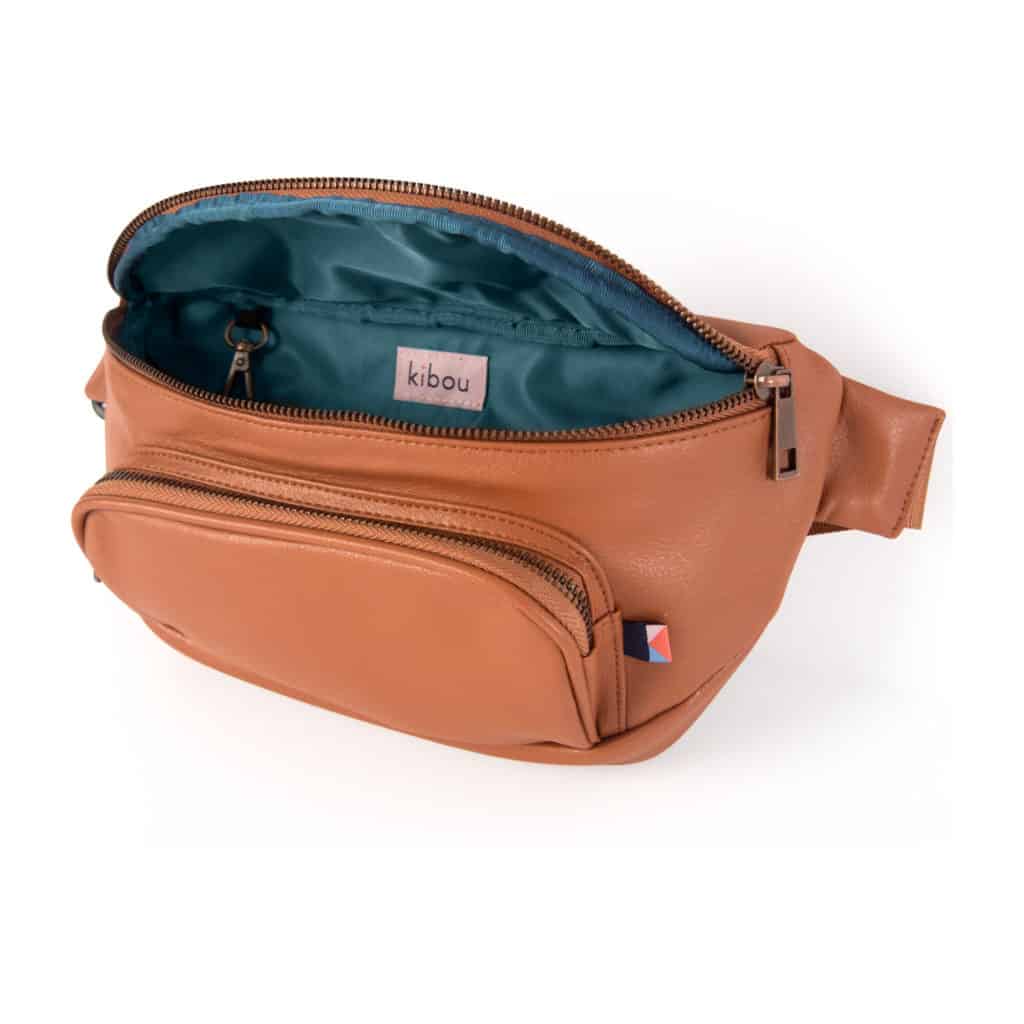 The Kibou diaper bag is minimalist that can be worn around your waist with ease and much comfort.
Although it might look small, the bag is capable of holding all of the essentials that you'd need when going out with your baby. You can pack about 20 wipes and a diaper or two in the larger compartment with your phone/cash/credit card in the smaller pocket, as per the need/requirement.
It also comes with a detachable changing pad, a hook for your keys, and/ or a pacifier.
17. Ju-Ju-Be Legacy - Diaper Backpack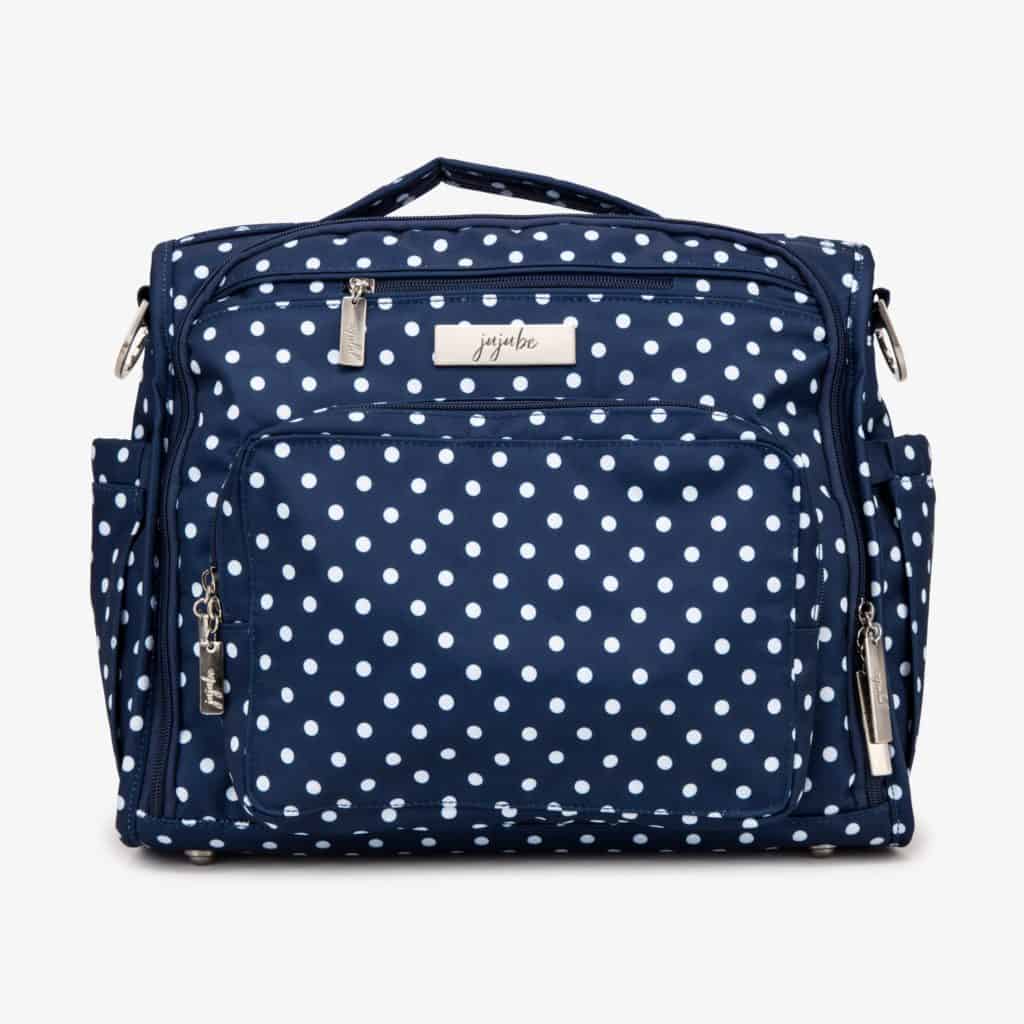 Ju-Ju-Be's diaper bag is a fun yet thoughtful backpack, making it the choice of the parents.
It has an all zipper feature that has a two-way closure, a magnetic front flap pocket with a key clip, a photo, and a cell phone pocket.
The bag also has insulated bottle pockets, a memory foam changing pad with an antimicrobial lining.
The best part? It is completely machine-washable!
Best Diaper Bags FAQs
1. What are the best diaper bags ?
Some of the best diaper bags are:

Skip Hop Baby Grand Central Baby Diaper Bag
Vera Bradley Ultimate Baby Diaper Bag
HaloVa Backpack Baby Diaper Bag
Freshly Picked Convertible Backpack Baby Diaper Bag
However, there are various diaper bags available and you may choose the one that fits your needs and preferences.
2. Is a diaper bag worth it ?
Diaper bags can be used to keep baby wipes, feeding bottles, snacks, and every other related stuff that is necessary. You can also keep your house keys, wallet, and other important stuff. Diaper bags are specially designed for your own convenience with several compartments and pockets that will make your work a lot easier.
3. What should I consider before buying a diaper bag ?
Before buying a diaper bag you must consider the size, material, number of compartments and pockets, and color.
4. What should the best diaper bag contain ?
The best diaper bag must contain a lot of compartments and pockets so that you can keep your stuff organized, it should be spacious, and most importantly it must be durable and easy to maintain.
5. What are the types of diaper bags ?
Diaper bags can come in various styles, including:
Backpack: Frees up your hands and also provides equal weight distribution.
Tote: Has two long straps so that you can easily carry the bag over your shoulder.
Messenger Bag: Has one long strap. You can also wear it on one shoulder, or crossbody.
Diaper Clutch: Is small and portable. Usually used to fit the bare essentials.