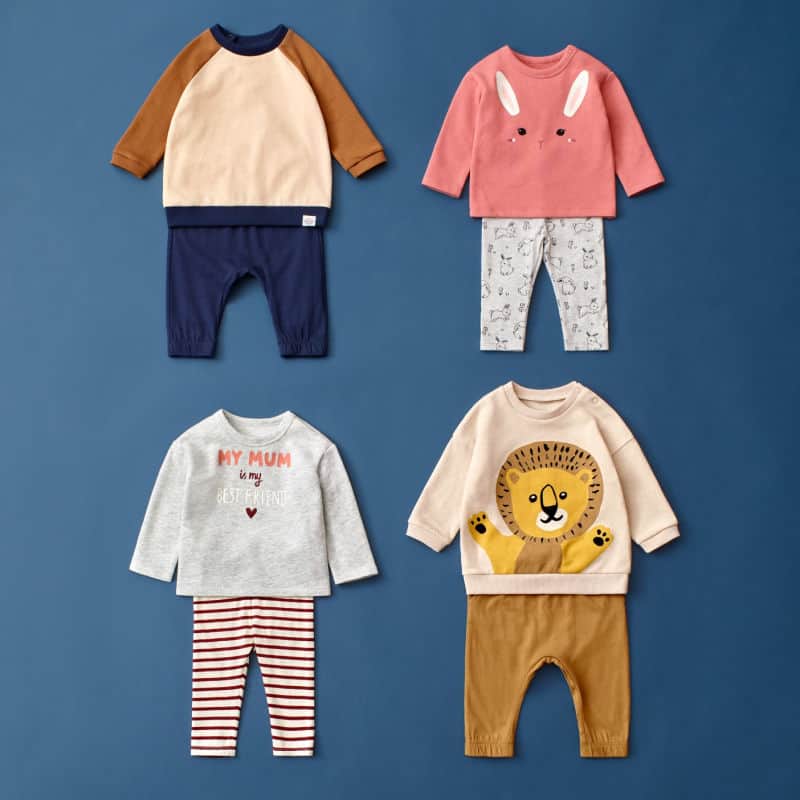 There is something just so charming and adorable about well-dressed babies. Though parents do happen to spend a lot of their money on baby clothes, for the sad part, babies often outgrow their clothes within months (if not weeks). The clothes also, almost always, are subjected to a lot of poop and pee blowouts, spit-ups, drools, and other dirty elements of sorts. Hence, the most pragmatic way around buying the best baby clothes is perhaps looking for clothing that is comfortable even though these explosions – yet something that doesn't take away the privilege of being the cutest and the most well-dressed baby from them.
There are some really essential pieces of clothing all kids need to have. This list of essential baby clothes includes some jammies, socks, rompers, boots, onesies, pants, swim clothes, jackets, and also accessories like bibs and headbands. Including one recommended brand and product for each type of clothing you need to have for your baby, we have curated a list that can help you as a quick-reference-cheat-sheet on your next online shopping spree for baby clothing.
Here is a list of some of the most comfortable and cutest best baby clothes to buy for your little one-
1. Loulou Lollipop Short Sleeve Romper: Best Baby Clothes
A really cute and amusing romper to speak of, this will be a welcoming addition to your baby's closet for how versatile this piece of clothing is. It can be used almost anywhere- for when you are taking your little one to the supermarket, on a playdate, for some photoshoots, or even just a casual day at home. Loulou is really well known and celebrated for creating the best infusions of style and comfort when it comes to baby clothing. A really adorable piece of dressing, the short sleeve romper is also as durable.
This cuteness can be bought for a price of $36.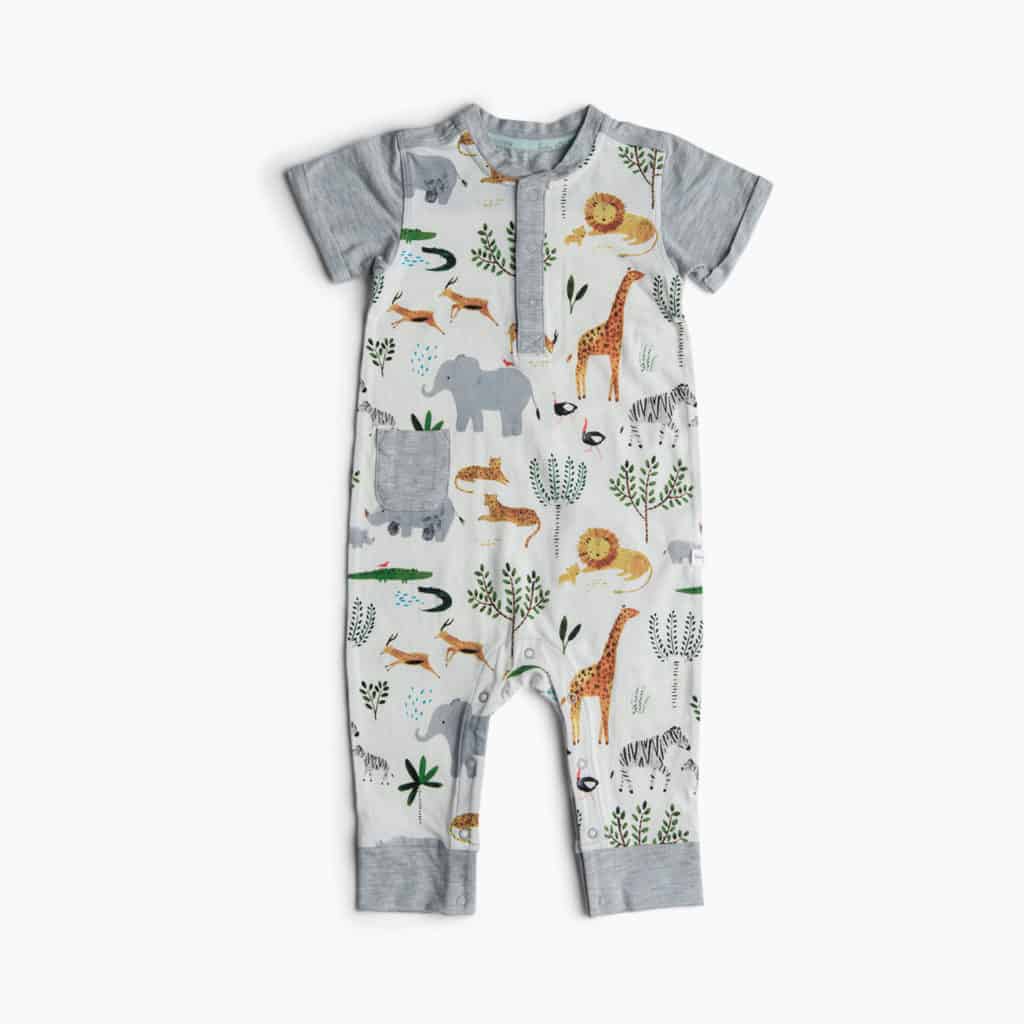 2. Carter's Short Sleeve Bodysuit (5 Pack): Best Baby Clothes
If you are a parent that likes to dress their baby in onesies and bodysuits, look no more beyond Carter's. The brand has been well-known and acclaimed for selling the most adorable onesies in bundle packs of 3 and 5. Their bodysuits are all-cotton, have expandable necklines, come in an assortment of colors and patterns, and can be picked from either full or short sleeves.

The five-piece set is priced at a fair $17.99.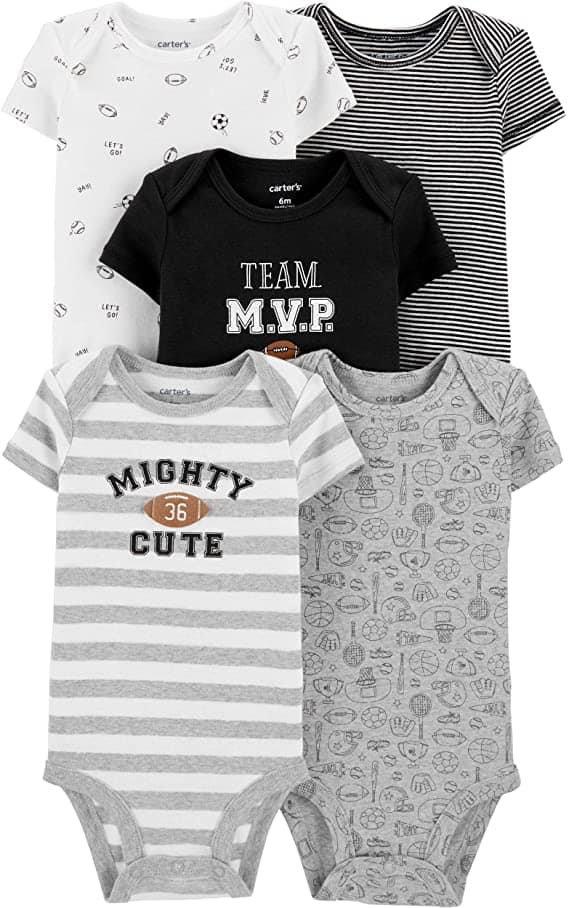 3. GAP- Baby First Favorite Knit Pants: Best Baby Clothes
Talking of comfort, GAP always does it right for parents and babies alike. If you are looking for some really comfortable, durable, soft, plush, and like a pair of go-to pants for your baby, the GAP knit pants could be your ideal pick. These pants come in a range of cute colors, available in a range of styles, from soft jersey leggings to sweatpants to elastic-waist denim and twills. All of them, however, are as comfortable as the other.

The pants are priced at a mid-range of $10.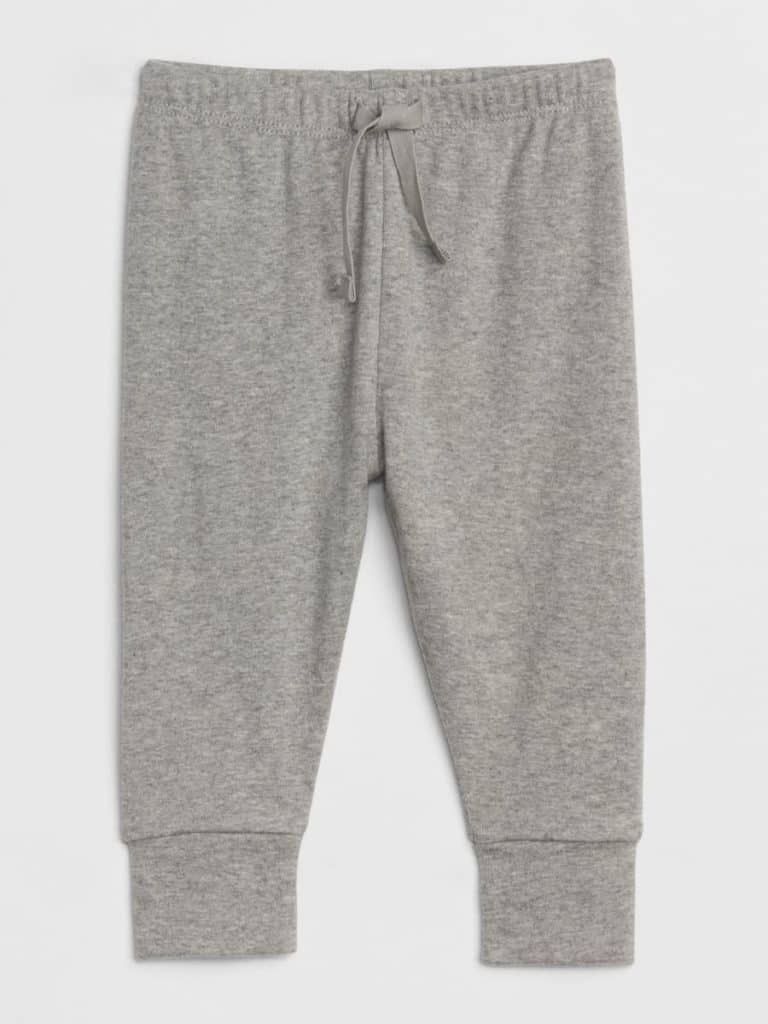 4. Burt's Bees Baby Organic Watercolor A Bee C Reversible Jacket: Best Baby Clothes
Chills and winters can be really unforgiving if it gets to a baby. If you are a parent who wants to buy a sort of an outer for the baby but not necessarily something really warm and thick, look out for this reversible jacket! Made for two looks at the cost of one, the Burt Bees reversible jacket is 100% made from organic cotton and is guaranteed to be really soft on your baby's skin.
The Burt Bees utility-imposing jacket can be bought for $21.95.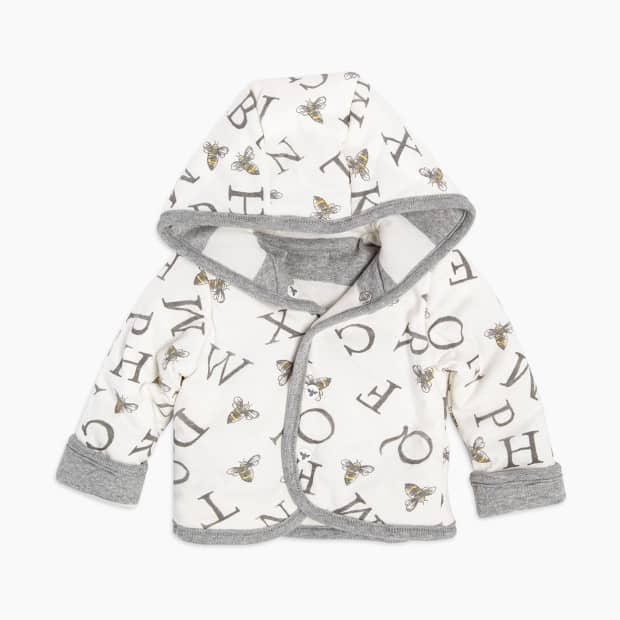 5. Zutano Cozie Fleece Booties: Best Baby Clothes
Anybody, who has dealt with a kid, a parent or otherwise, knows how difficult it gets to keep a  baby's shoes in the place. Babies are always on the move, which often (always) leads them to remove and misplace their shoes. Zutano understood this infamous behavior of little ones just about right and made shoes that really stay put on babies! The Cozie Fleece booties can be put on a baby's feet with the help of two snaps around the ankle. These shoes, apart from being always-on, are also really comfortable, really easy to put on, not very easy to just randomly fall off and they come in two choices: either cotton or fleece, so you can pick according to the weather conditions of your p=location.
The price you pay for keeping the shoes on your little one's feet? Just about a really worthy $21.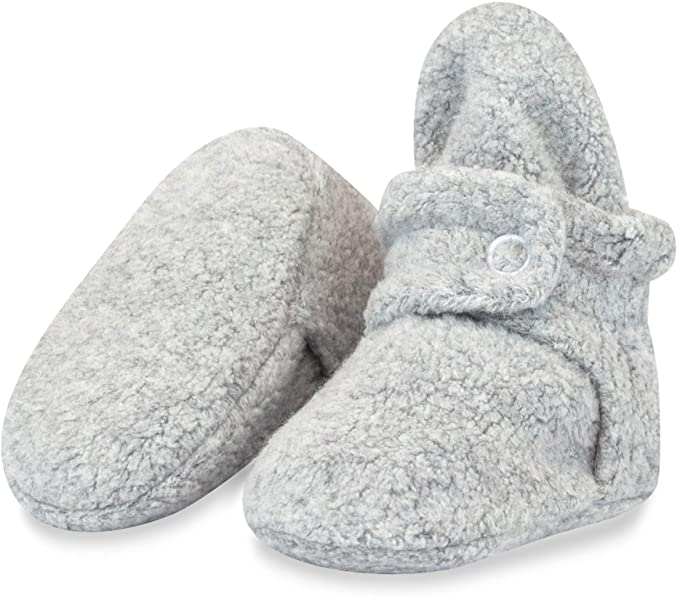 6. Copper Pearl Bandana Bib Set: Best Baby Clothes
All the infamous drools and spit-ups can be taken acre of right here! The copper pearl bib sets comprises four stunning, thick and stylish bibs that have a cotton layer on top and a bottom layer of some absorbent fleece which amps up its utility. All Of the bibs in this set also come with two snaps that help you adjust the bib around the baby's neck as and when they grow. It is for a fact that kids will create some massive drool until they start teething and hence, you might as well want to take care of it in style!

Keep your baby's neck warm and clothes dry with this bib set that costs $19.95.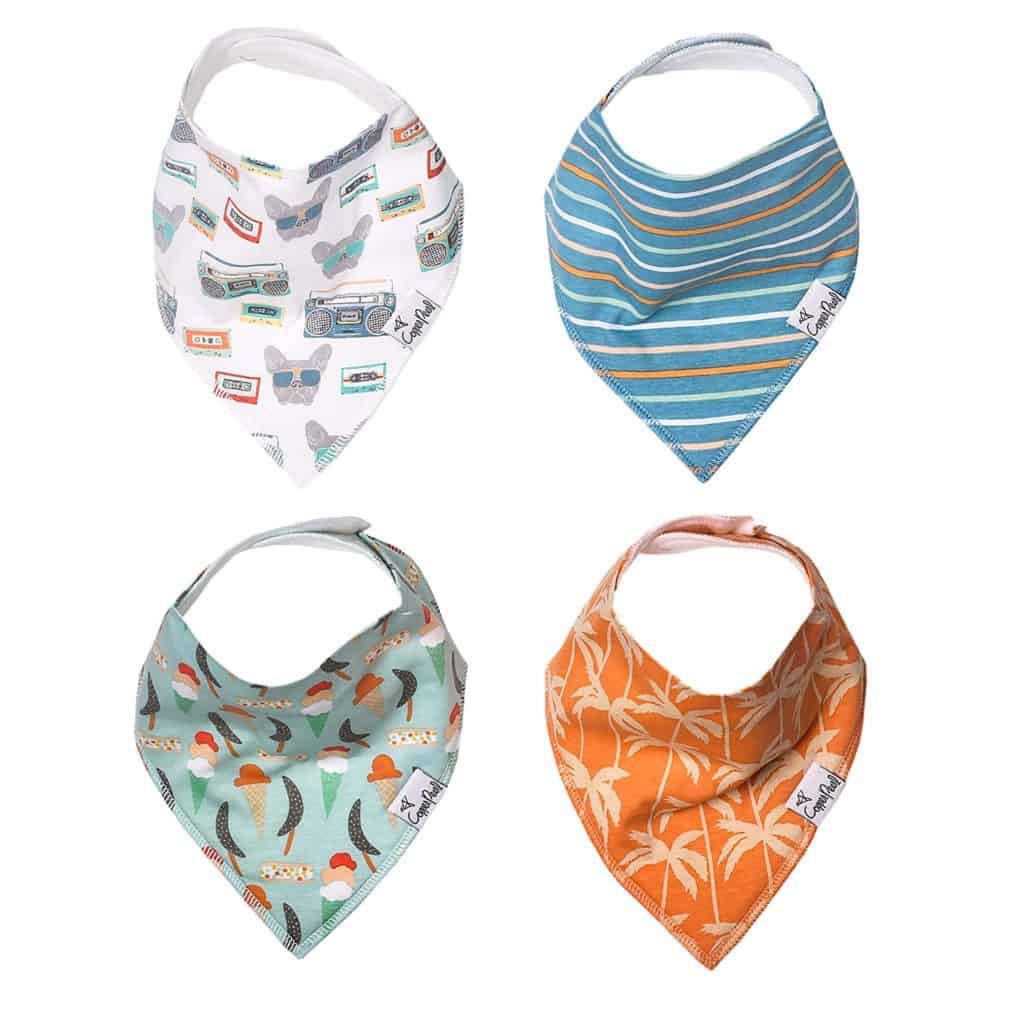 7. KicKee Pants Footie with Zipper: Best Baby Clothes
As full blown-up adults, you probably already know there is hardly any piece of clothing that matches the comfort of PJs. Why should you keep your baby from the pleasure? Made from a mix of viscose (majorly), bamboo and spandex, the Kickee jammies are so comfortable even to just touch that even you, as an adult, would want to have a similar pair for yourself. Also, for some brownie points, these jammies offer 50 SPF protection.

This really durable piece of clothing can be purchased for $34.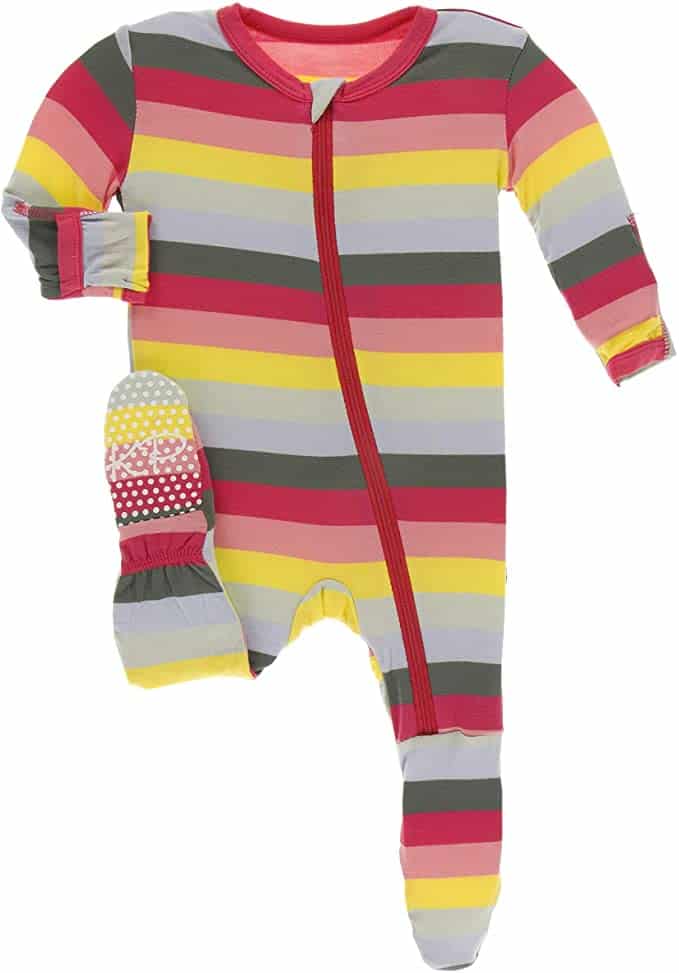 8. Babysoy Organic Cotton Solid Socks: Best Baby Clothes
Bay socks, a lot like baby shoes, only seldom stay on. Baby socks, however, also, are one of the most necessary possessions a baby needs to have. Apart from the obvious factor that it keeps your baby's feet smell-free in shoes and cold-free in winters, socks also help keep your baby's feet clean in general. You cannot expect them to put on slippers anyway! The Babysoy baby socks are made from a blend of cotton, Azlon (an element derived from soy), and nylon – making it a 100% organic produce. These socks also offer a really nice and snug fit apart from their non-skid soles for when the baby starts to crawl/walk and just move around.
The 100% organic baby socks can be bought for a price of $4.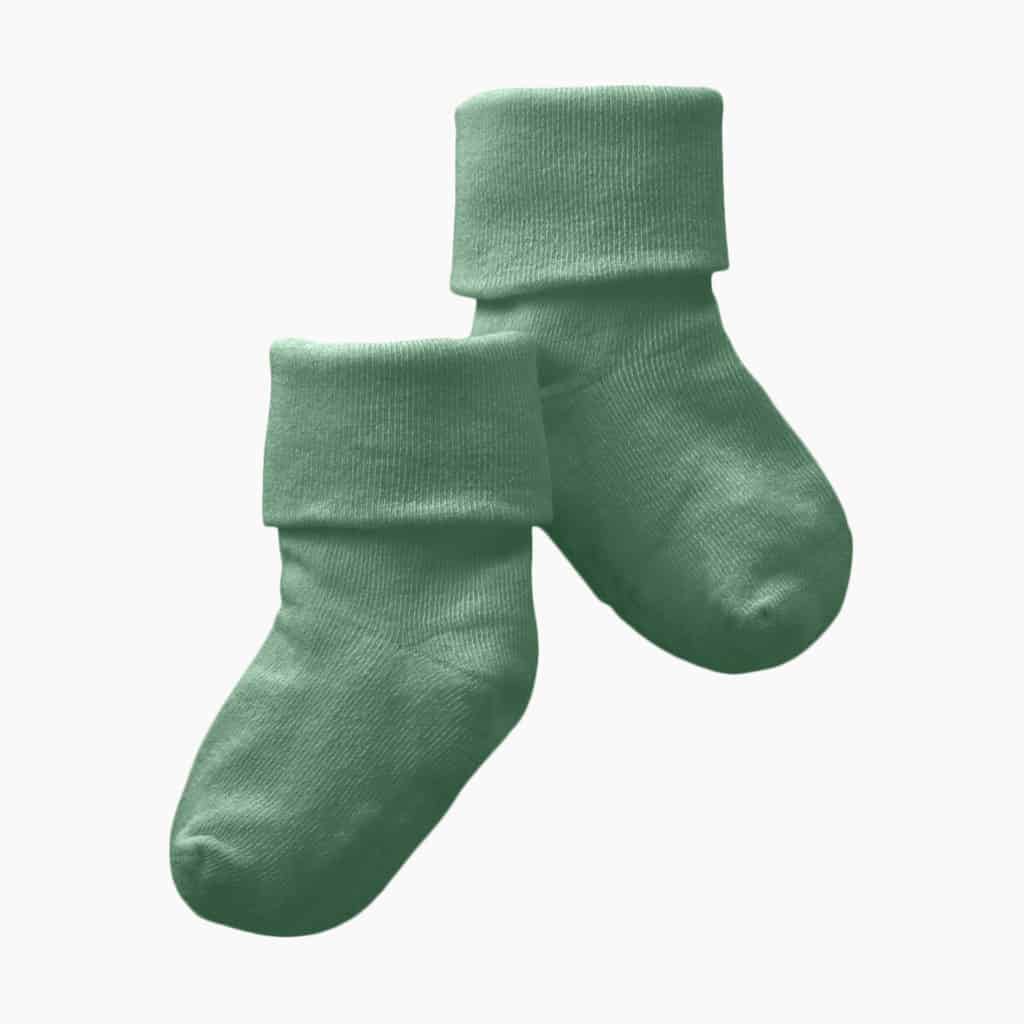 9. I play by Green Sprouts Snap Reusable Absorbent Swim Diaper: Best Baby Clothes
Summers are for sun and just like how you would have spent a lot of time looking for the perfect bikini for yourself, it's about time to invest in some good-looking (and utile) swim clothes for your baby too. iPlay are the pioneers of cloth swim diapers and they have really outgrown even themselves when it comes to creating some really cute bathing suits and bathing trunks for babies.
The iPlay reusable swim diaper can be bought for $12.99.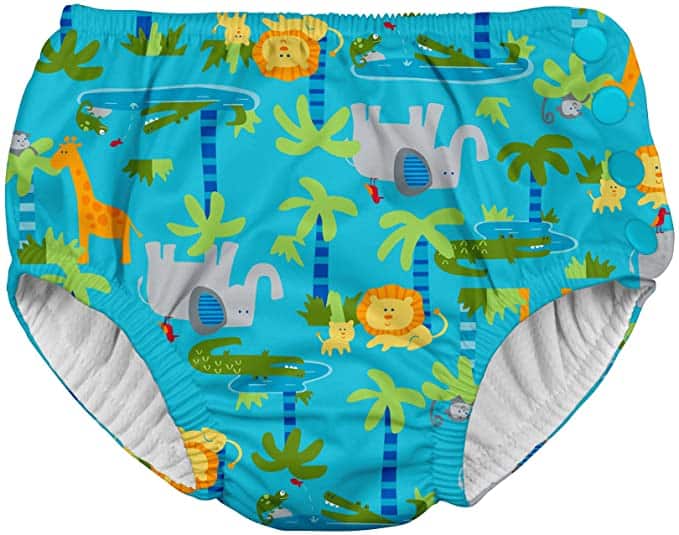 10. Primary Rainbow Tee: Best Baby Clothes
For and as parents of today, you might be of a more open minded approach and you might not want to limit your baby boy to blue and baby girl to pnk. However, also as a matter of fact, gender neutral clothing is not that easy to find out there. Parents often have to adjust with some boring looking solid colored clothes when it comes to buying gender neutral clothes; however, to save you the boredom, you can look for this primary rainbow tee. A quality-build,really comfortable piece of clothing, this one smashes all gender stereotypes, right from where it begins to become a part of psychology.

This colorful, fun piece of clothing is priced at $11.50.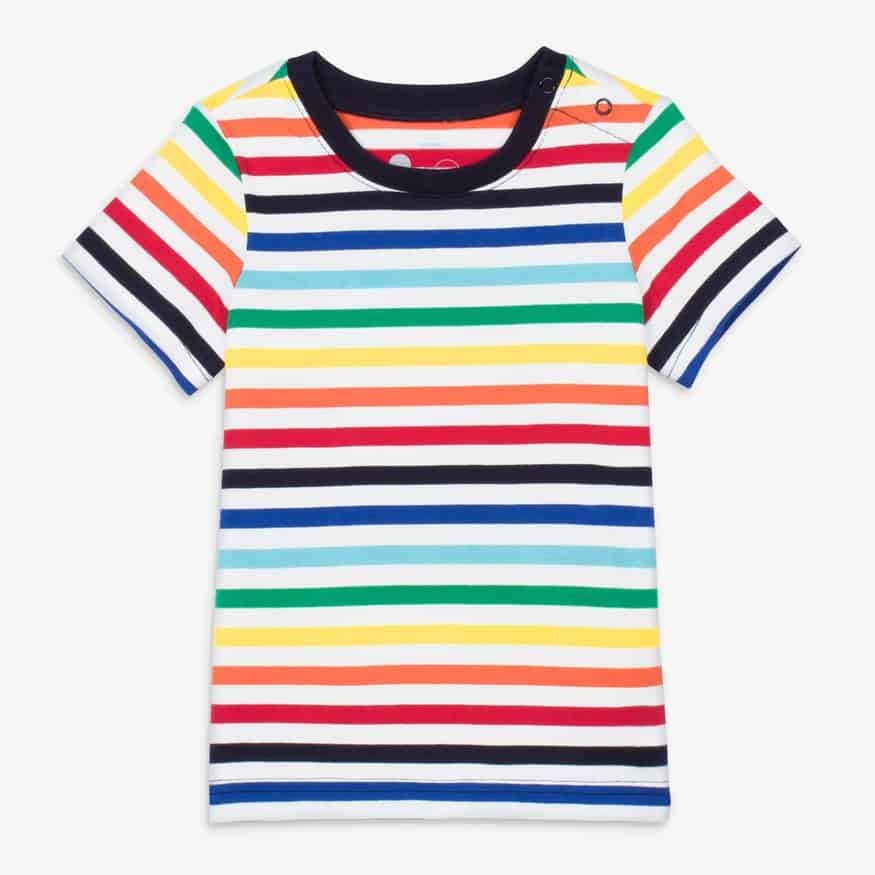 11. Baby Bling Classic Knot Headband: Best Baby Clothes
For kids and parents that like dress-up and that extra oomph factor while heading out, this headband could be a really blingy and bright place to begin with. The headband, in its classic knot design, is rather vintage to look at and comes is also very stretchy which makes it a good fit for newborn babies and even full-grown kids alike.
So, you see, a small investment of $10 really goes a long way!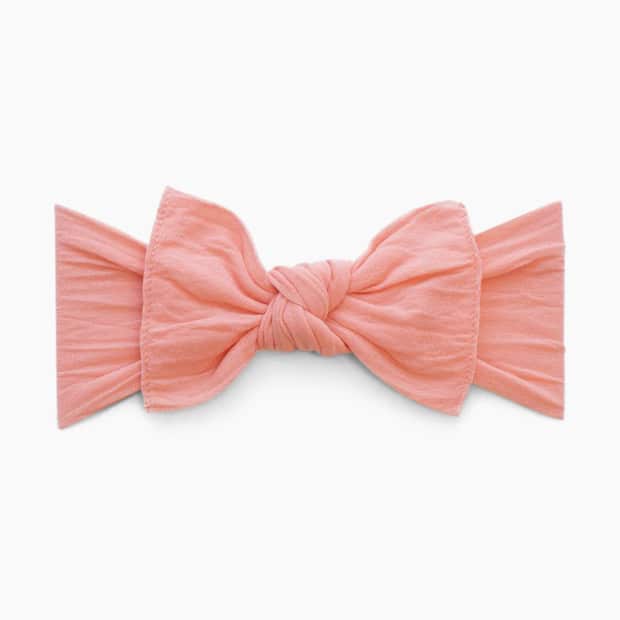 Best Baby Clothes Final Conclusion:
While, for a fact, babies do outgrow their clothes very quickly, it still is also a fact that baby's clothing needs to be really well-thought of. Baby's have very sensitive skin and hence, you cannot just put anything on them. Always try to look for clothing that is comfortable and do not just fall for something by the looks of it as you would for yourself, as a full-grown adult. Save yourself the stress, time and money into finding solutions to problems that you would create for yourself by buying baby clothes that do not stand up to what they should be or simply put, do not suit the baby. Experience the parenthood bliss and while you are at it, we also are right here to help you through it with hacks, lists, and cheat sheets to parenting 101!
Best Baby ClothsFAQs
1) Do all newborn clothes or zero size clothes fit the newborn?
Yes, absolutely! Newborn clothes are designed to fit the little newcomers into the world. They are available in a wide range of sizes, that makes it even more possible for the newborn to fit into the newborn clothes at birth. However, as parents, we must understand that the size of a newborn varies and there are quite a few chances for the newborn to fit in the newborn clothes just perfectly. Also, we are aware of how fast they grow, so you need not worry about the newborn clothes fitting the little one.
2) When is it recommended to move a size up from the already existing size of the baby in their baby clothes?
To help understand this better, we need to know that these cute baby clothes come in roughly three groups; that is (a) the infants, (b) the babies, and (c) the toddlers. Therefore, depending on these categories you can decipher between the growth and the need of changing the baby's clothes, where an infant fits into between 0-6 months, babies that are bigger than the infants in between 6 to 12 months, and 12 months and above that fits on the toddlers.
3) What is the number of sleepsuits a newborn baby would need?
This completely depends on the weight of the baby at birth. For instance, for infants that are born smaller and weigh less it would be ideal for a parent to buy or have at least a minimum of 1 or 2 first size, 2-3 newborn size, and 4-5; 0-3 months sleepsuits. However, also keep in mind that there is no hard and fast rule considering the number of sleepsuits needed, as per your interests and needs, you could choose to have a limited or even more amounts of little adorable sleepsuits.
4) Is it ideal for babies to wear a baby vest under their sleepsuits?
It is a preferable personal choice. Ideally, a baby should at least have 6-8 bodysuits or vests. These vests can be worn depending on the season they are born or are in. For instance, for babies born in spring, autumn and winter seasons can wear these vests under their sleepsuit to help the little ones get cozy, warm, and comfortable providing heat to their body. Unlike kids in the summer season, they can choose to wear their vests on their own.