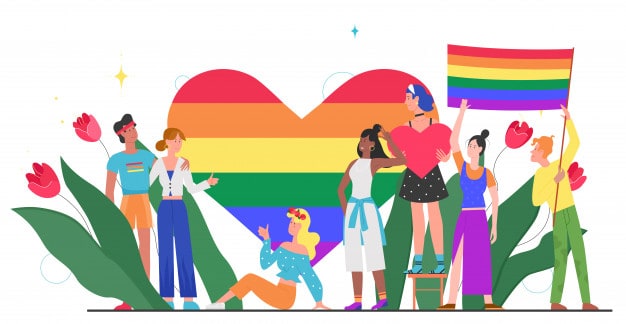 As parents, it's our duty to introduce the LGBTQ topic to our children rather than waiting for a specific event, in simple words, every opportunity is the best. But then, why June? 
June commemorates the anniversary of the Stonewall Rebellion and aims to increase awareness not only of the topic but also of its history; the gender identity, and support the lesbian, gay, bisexual, transgender, queer, or the LGBTQ community as a whole.
Adding to that, the rainbow – Pride flag and virtual events could intrigue children, and we're sure couples don't wish to wait until then to introduce the topic. That will only make it all the harder by bombarding the kid with the history and significance, together.
This is why it's important to share the stories to your little ones in small doses that make it easier to understand and also question, as and when they are curious. What better way for the parents to introduce and teach the children than LGBTQ quotes in addition to the books and progressive TV shows to help answer all of their questions in a kid-friendly way?
Confused? Don't worry, as Parenthoodbliss helps you make this even easier and normalize gay parenting with the best LGBTQ quotes to help the kid learn and grow. So, let's get started!
Top 20+ LGBTQ Quotes For Parents in 2021!
Here are the best picks of LGBTQ quotes with their reference that parents/families can use to help the children learn about the community:
"Love him and let him love you. Do you think anything else under heaven really matters?" – James Baldwin
"If I wait for someone else to validate my existence, it will mean that I'm shortchanging myself." – Zanele Muholi
"It is absolutely imperative that every human being's freedom and human rights are respected, all over the world."– Jóhanna Sigurðardóttir
"Equality means more than passing laws. The struggle is really won in the hearts and minds of the community, where it really counts." – Barbara Gittings
"My silences had not protected me. Your silence will not protect you." – Audre Lorde
"When you are doing something that is right, you just do it and take care … Someone has to do this." – Alice Nkom
"There will not be a magic day when we wake up and it's now okay to express ourselves publicly. We make that day by doing things publicly until it's simply the way things are." – Tammy Baldwin
"Openness may not completely disarm prejudice, but it's a good place to start." – Jason Collins
"The richness, beauty and depths of love can only be fully experienced in a climate of complete openness, honesty and vulnerability." – Anthony Venn Brown
"Families don't have to match. You don't have to look like someone else to love them." — Leigh Anne Tuohy
"Our family is like a big beautiful patchwork quilt. Each of us is different yet stitched together by love!" — author unknown
"Life isn't about waiting for the storm to pass. It's about learning to dance in the rain." — Vivian Greene
"Everything is hard before it is easy." — Goethe
"Hardships often prepare ordinary people for an extraordinary destiny…" — C.S. Lewis
"What makes you a man is not the ability to make a child, it's the courage to raise one." — Barack Obama
"I think it would be really boring if everybody had just a mom and a dad. It's really special how I have a mom and a mama!" — Cody Jurs-Allen, second-grader
"This community has fought and continues to fight a war of acceptance, a war of tolerance and the most relentless bravery. You are the definition of courage, do you know that?" – Lady Gaga
"What I preach is: People fall in love with people, not gender, not looks, not whatever. What I'm in love with exists on almost a spiritual level." – Miley Cyrus
"Gender and sexuality are so fluid. It's OK to change your mind a million times and figure out what works for you. It's OK to take your time."- Amandla Stenberg
"It is not our differences that divide us. It is our inability to recognize, accept, and celebrate those differences." – Audre Lorde
"We deserve to experience love fully, equally, without shame, and without compromise." – Ellen Page
"Being born gay, black and female is not a revolutionary act. Being proud to be a gay, black female is." – Lena Waithe
"What is straight? A line can be straight, or a street, but the human heart, oh, no, it's curved like a road through mountains." — Tennessee Williams
"Equality means more than passing laws. The struggle is really won in the hearts and minds of the community, where it really counts." — Barbara Gittings
"The next time someone asks you why LGBT Pride marches exist or why Gay Pride Month is June tell them, 'A bisexual woman named Brenda Howard thought it should be.'" — Brenda Howard
These were the top best LGBTQ quotes that a parent can use to help teach their kids about the queer community! Hope you liked them and are excited to share them with your children as a part of their growth in the LGBTQ community as we are! 
Happy Pride month!
Normalizing Gay Parenting: LGBTQ Quotes To Teach Your Kids FAQs
1. Why is it called pride?
The word PRIDE is an acronym for Personal Rights in Defense and Education. This was organized and formed in Los Angeles, California in 1966 by Steve Ginsburg.
2. What do the pride colors mean?
The original six stripes of the rainbow flag or the Pride flag incorporate black representing the self-respect movement, blue representing the Ambedkarite movement, and red representing left values.
3. Why is the LGBT symbol a rainbow?
The flag was popularized and used as a symbolic representation of the gay community by San Francisco artist Gilbert Baker in 1978. Also, the different colors are associated with "diversity" in the gay community.
4. What to keep in mind when a child comes out to a parent?
Do not ignore it
Do not use the phrase - "knew all along"
Never tell them that it's "just a phase"
Avoid the use of religion to shame them
Tell them that you believe and love them
Accept their bravery and thank them for coming out to you
Ask them about the kind of support they need