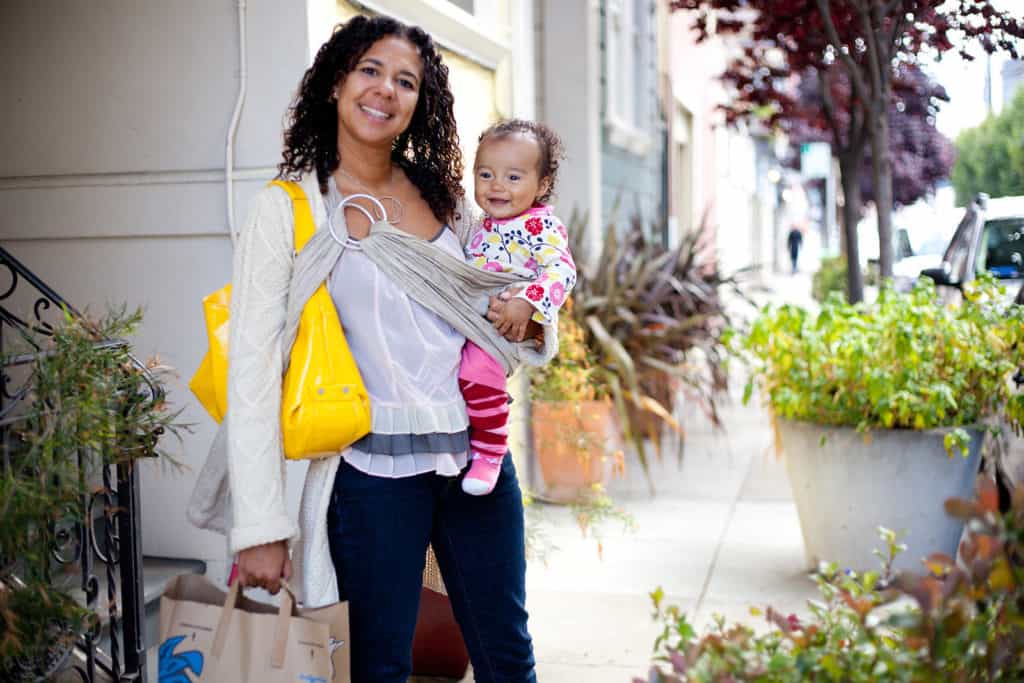 Best Ring Slings For Baby
Are you looking for an easier option to replace the seat-like baby carrier? If yes, you have come to the right place! Parenthood bliss has curated a list of the top 6 best ring sling baby carriers for you to choose from. But before we get there, let's understand a little about these ring slings and their benefits.
What do you mean by a ring sling ?
A ring sling baby carrier is made from a woven wrap that is sewn to the shoulder for the parents to carry and is sturdy and supportive for the baby to sit in. These are known to be the best choice when it comes to breastfeeding the little one while you do your work on the side. It enables you to get the little one in a proper position for nursing and allows you to cover them using the 'tail' or the extra fabric from the sling.
Parents find these baby ring slings to be the easiest baby wrap carrier, especially in the fourth trimester 0f the baby. This sling baby wrap provides comfort to your baby as they are close to you while allowing you to multitask, leaving you hands-free. This wrap sling is a piece of fabric that is light and foldable making it easy for you to put in your diaper bag. Lastly, these baby slings can hold the baby close keeping them warm, and can hold up to 8 to 35 pounds.
What to keep in mind while using a ring sling ?
The age of the baby: These best ring slings baby carriers are recommended for baby's from around 4 months of age as they by then develop neck muscles that are crucial for the ring sling to be effective and safe.
The weight limit of the baby carrier: While you are purchasing the best ring slings you might want to double-check the weight it can carry for the safety of the baby.
Make sure the ring sling allows the baby's face to be visible: Try to have a check before you go in for the ring slings and see if they have breathable fabric. See if it allows you to see the face of the baby and that it isn't obstructed by the sling or your skin.
Test run the baby slings for safety: While you're on the hunt for the ring slings, take a drive. Does it allow you to bend while keeping the baby safe? Does it fit the baby perfectly? If yes, you're good to go.
Keeping in mind the above things, let us now get into the list of the top 6 picks of ring sling baby carrier
1) Moby Ring Sling For Baby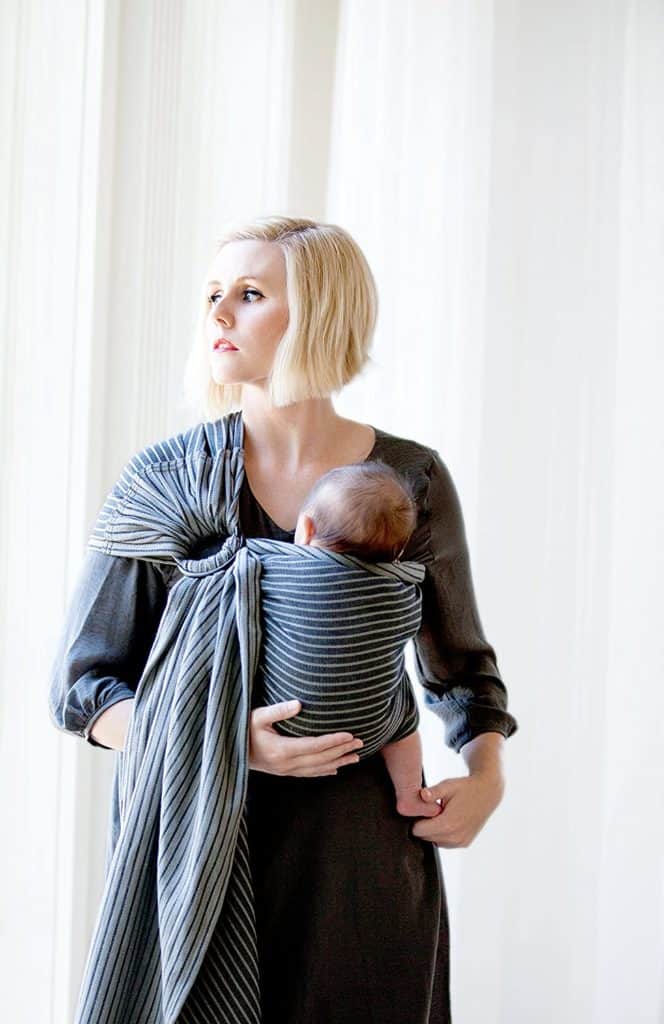 This baby sling has a weight capacity of 8 to 33 pounds and is crafted from high-quality woven-cotton fabric that can be wrapped between the front and hip-carrying positions alternatively. Moby ring sling is durable and the company offers one-on-one product training for you via Facetime, Skype, or Zoom, completely free of charge.
Pros
This cotton ring sling is made from breathable fabric
This baby sling is easy to clean
Is safe for the baby
It's machine washable
Cons
Could be tricky to use due to the amount of fabric used
2) Sakura Bloom Ring Sling for Baby
This ring sling for the little one has a weight capacity of 7 to 45 pounds and is widely available in different materials, such as dyed linen, silk, bamboo, tanned leather, and cashmere. Sakura Bloom also offers different styles of this baby wrap carrier including 7 to 45 pounds scout, 7 to 35 pounds of classic Ring Sling, and 15 to 35 pounds of Onbuhimo that can be worn in different configurations according to the amount of support needed by the baby
Pros
Easy to use
A good choice for short walks
3) Ion and May Made from 100% Natural Collection Ring Sling For Baby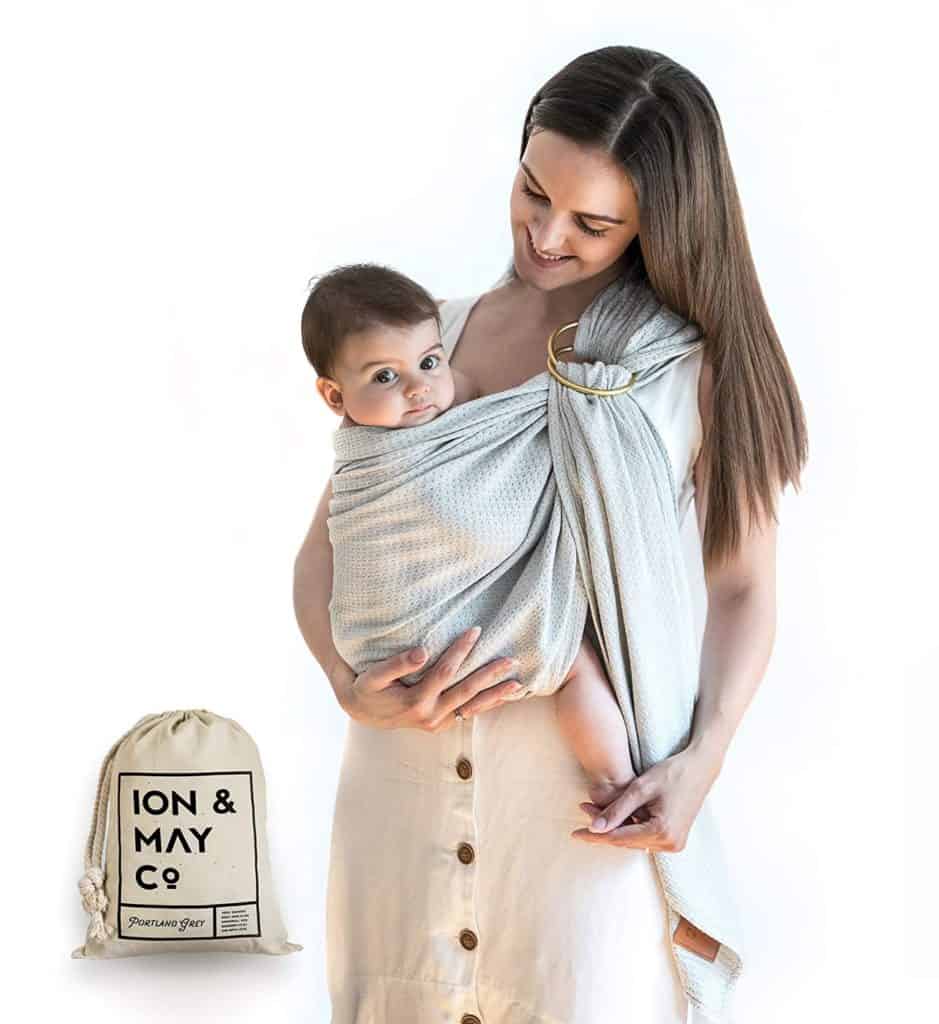 This baby ring sling holds a weight capacity of 8 to 30 pounds and is crafted from bamboo and linen that makes it soft and comfortable for both the mother and the baby. The baby wrap(s) rings are made from aluminum that guarantee safety and durability for babies up to 30 pounds. Also, these Ion and May made baby carriers make a perfect sling for the warm weather as it is made from breathable bamboo.
Pros
These baby wraps are made from soft materials
Is sleek and stylish
Cons
These are observed to be thin when it comes to the fabric
4) Nalakai Luxury Ring Sling for Baby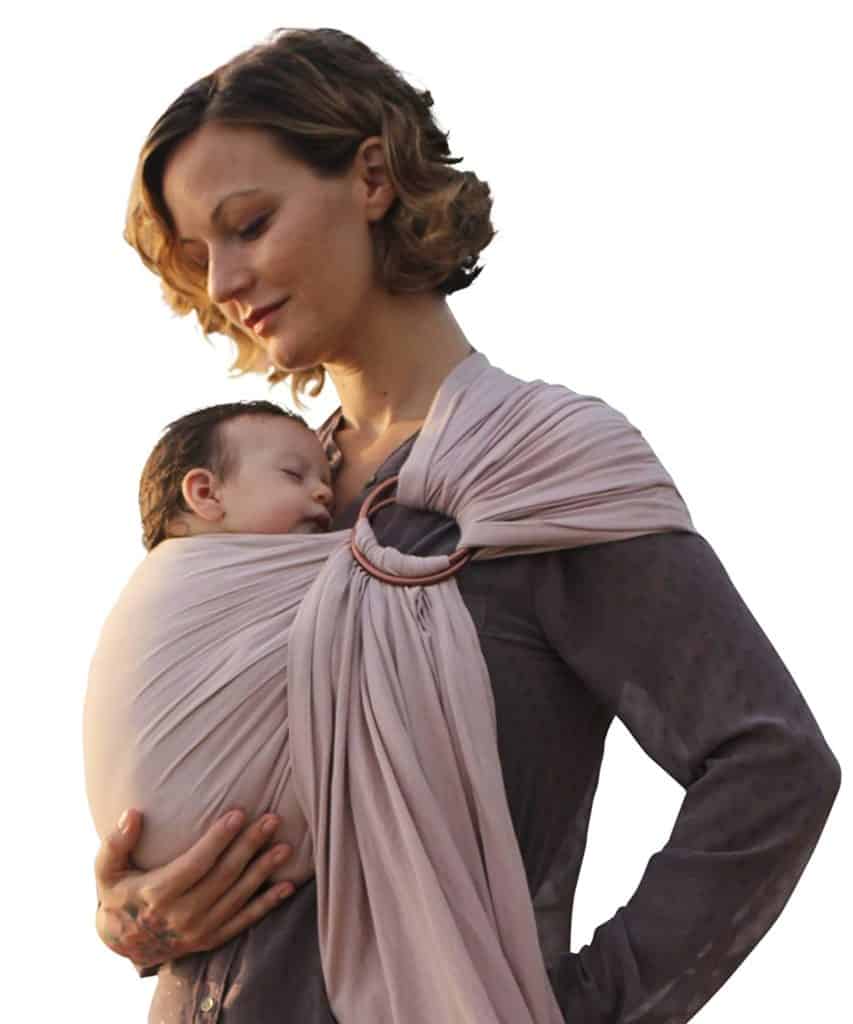 This best baby luxury ring sling baby carrier has a weight capacity of 8 to 34 pounds and is made from bamboo and linen. They feature to be comfortable, highly absorbent, made from vegan materials, and eco-friendly in nature. It's colored using natural dyes that are available in many options to buy.
Pros
Easy to use and adjust
Made of 100 percent soft fabric
Eco- friendly
Cons
Expensive
The fabric wrinkles easily
5) Mebien Ring Sling for Baby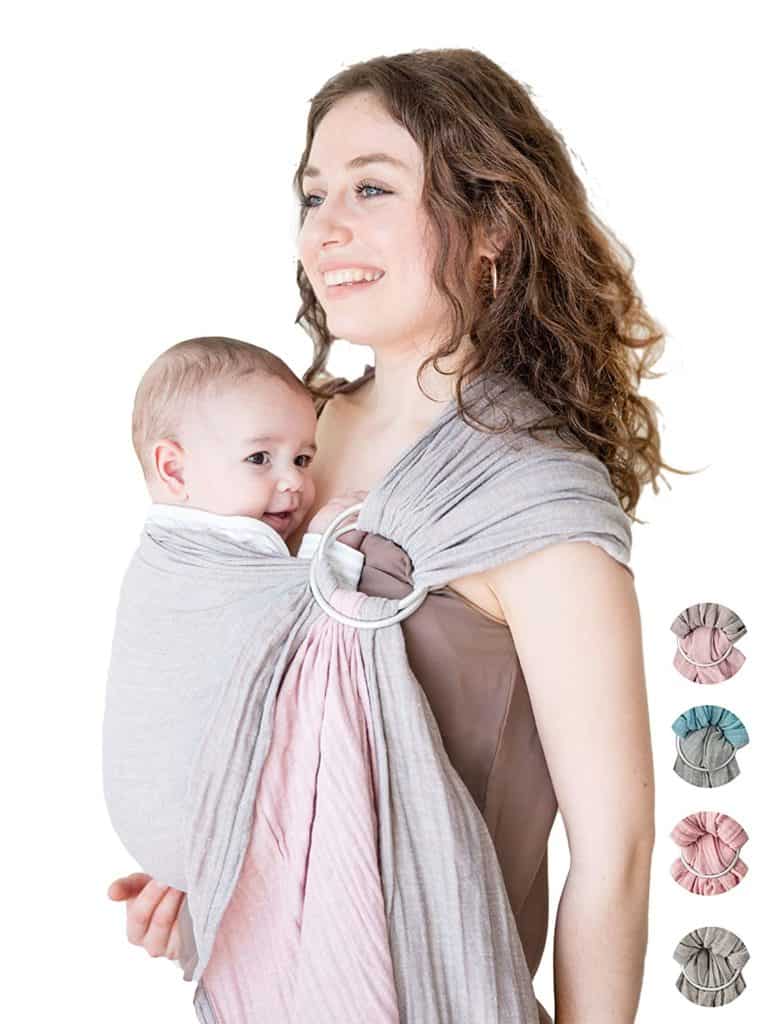 Baby products from Mebien are known to be super cute for toddlers. This luxury ring sling baby carrier has a weight capacity of 8 to 35 pounds with a double face look, one side gray and the other pink with a little flare making it a good choice for parents too. This cotton ring sling is made from 100 percent Turkish pre-washed muslin cotton, which is very soft and machine washable.
Pros
Has a high quality
Is super soft
Lightweight
Cons
Takes time to learn to use
6) Maya Wrap Lightly Padded Ring Sling for Baby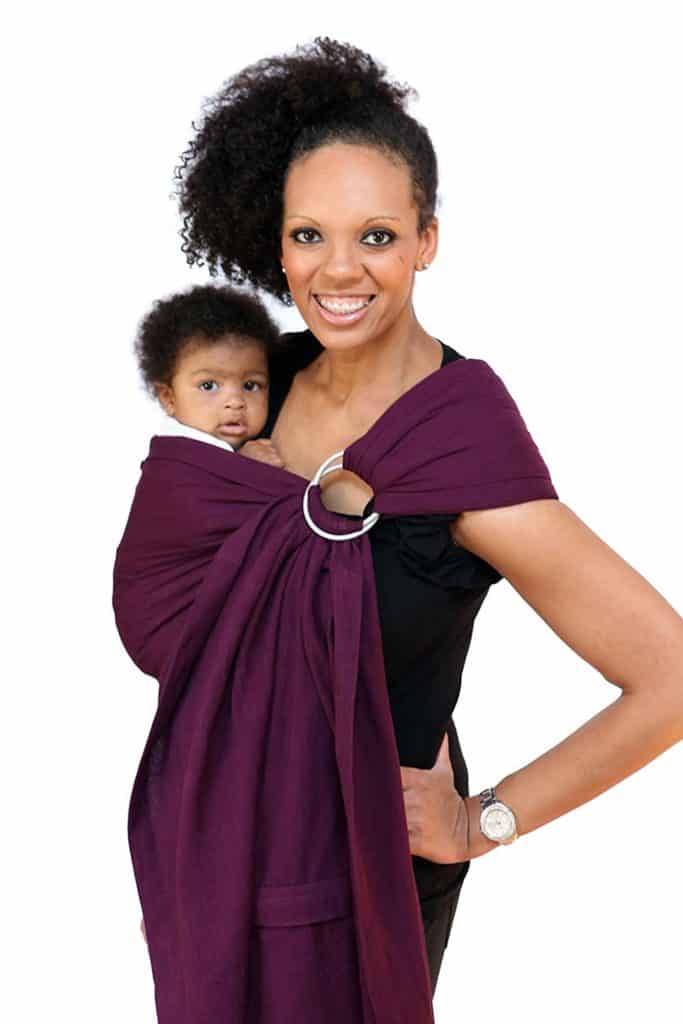 Maya Wrap lightly padded ring is made from a 100 percent natural made from cotton and has an absorbent shoulder pad to keep both you and baby cool and comfortable. This lightly padded ring sling baby carrier supports newborns and toddlers who weigh anywhere between 8 to 35 pounds, and feature a cute pocket placed in the tail to store small items.
Pros
Easy to use
Good for ideal use
That's all folks! These were our top baby sling or baby carrier picks for you that are available in different fabrics, weight capacity can be worn in different ways and sizes.  Looking for a baby carrier instead? Explore our top pick right away!
Best baby ring sling are an ideal choice for parents who are looking for a much more comfortable option for carrying their little one, and want to work for long periods. Perhaps, it is recommended to have a test run before you purchase the baby sling in order to know if they fit perfectly and provide comfort to the baby as well as to you.
Best Ring Slings For Baby FAQs
1) Are ring slings good for newborns ?
Yes! Ring slings are designed to be light weighted and are compactly in nature. They allow parents to keep the little one closer to them while being hands-free. They are best when it comes to keeping the little ones feel warm and happy in infancy and beyond! These slings have an average weight capacity of 8 to 35 pounds for newborns and toddlers.
2) Are these ring slings dangerous for babies ?
No, they aren't. These baby wrap slings are specially designed for babies and toddlers using breathable materials that are soft, water-resistant, and even safe to carry providing love and warmth to the infant. These are made to be one-shouldered that allows carrying the baby with ease and safety. However, parents may earn a fortune if they choose to have a test run before they purchase the slings and make sure they are made of 100 percent safe rings and are one that fit the best.
3) When can you start using ring slings ?
Keeping in mind the little one's safety, even the best ring sling or baby wrap carrier must be worn once the baby is 4 months old.