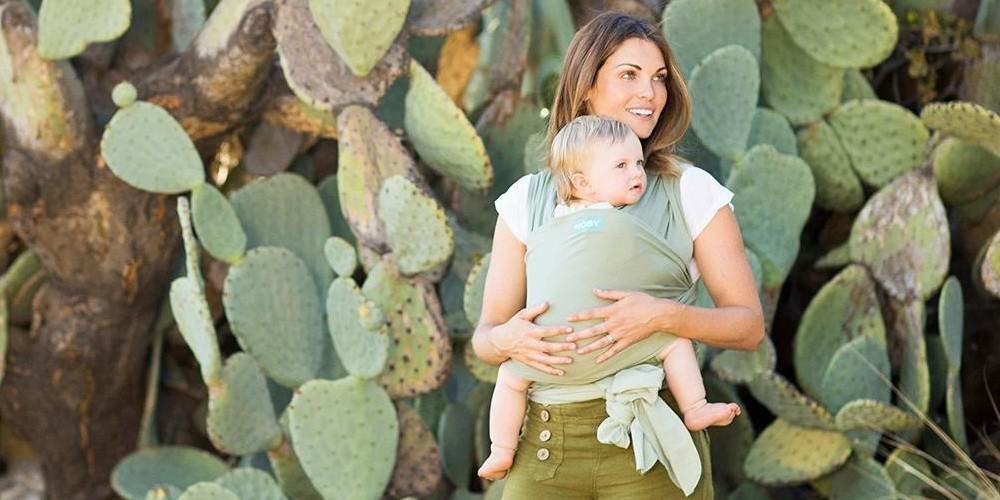 Babywearing shirts are shirts that are used as a baby carrier resembling kangaroo care that create a womb-like space for the baby to stay curled up right next to you. This is because the baby, as well as the parents, crave the closeness while the little one is still a newborn that is referred to as the fourth trimester per se.
These best babywearing shirts enable the baby to be in skin contact while also not restricting your movements, allows you to be hands-free, and is completely easy to use. Adding on, these interior pocket shirts are stretchy, have a good fit, and let the baby's head pop out and not suffocate, and have no space for a learning curve unlike the baby wraps.
What to be careful about while wearing a babywearing shirt?
These "kangaroo care" babywearing shirts have incredible health benefits but are only useful for preemies and full-term babies and not for grown-up toddlers. Here are a few things to take care of while wearing this babywearing shirt.
Make sure to wear the baby in a shirt or in a carrier in an upright position to avoid any mishandling.
Unlike the baby carriers, these are designed for newborns.
They cannot be handed over to another caregiver until and unless they have the same proportions, as they do come sized.
They stay warm so do not put on too warm clothes while putting the baby in the pouch.
Lastly, they are comfortable, so do not worry!
Now, let's quickly get onto the top picks from Parenthood bliss for the best babywearing baby carrier.
Best 5 hands-free kangaroo care babywearing shirts
1) Nesting Days Newborn carrier babywearing shirt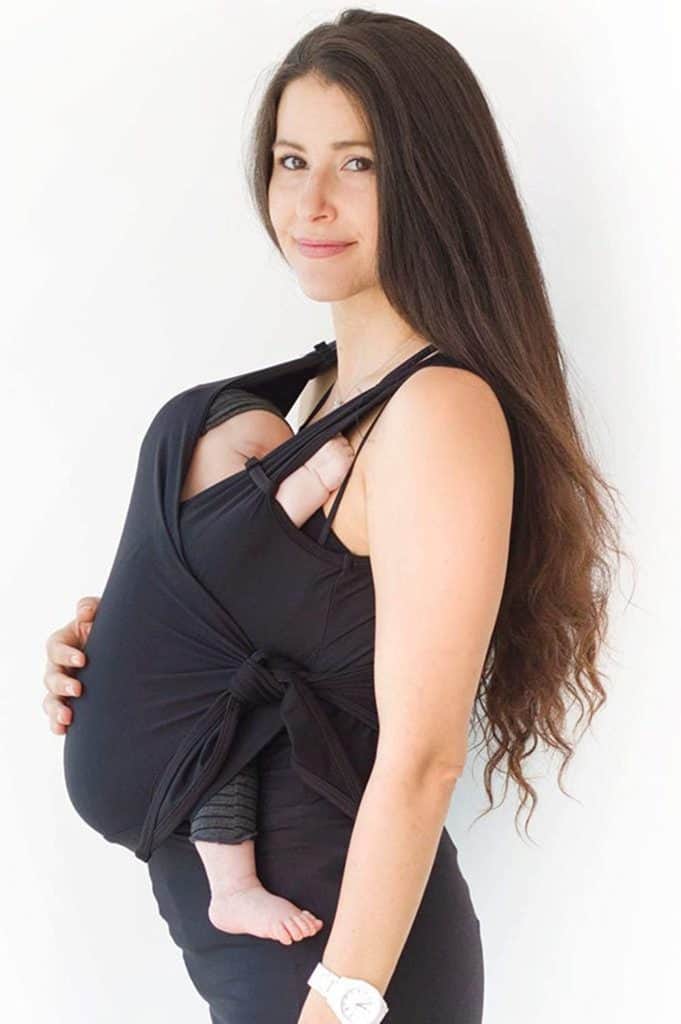 This kangaroo t-shirt babywearing is soft, stretchy, hugs you in all the right places, and comes in black color only. The nursing tank crisscrosses over the baby and the "skirt" section and has a stretchy tube as a support belt of fabric that is attached to the bottom of the tank. This tube of fabric can be left down as a skirt or even pulled up around both, you and the baby for extra binding. However, for those moms who have undergone a c-section, this 'skirt' under the stomach offers extra support to the abdominal muscles for the mom.
On the other hand, the weight limit of the carrier is 8-18lbs and is intended to be worn as a shirt for maximum skin-to-skin benefits. Do not shy away from layering it over other clothing as per the climate, desired level of coverage, and best comfort.
Pros:
Is soft and stretchy
Features a skirt like fabric that can be used as a skirt or for support
Has good support in the abdominal section
Cons:
Has a weight capacity of 18 lbs
2) Lalabu Soothe babywearing shirt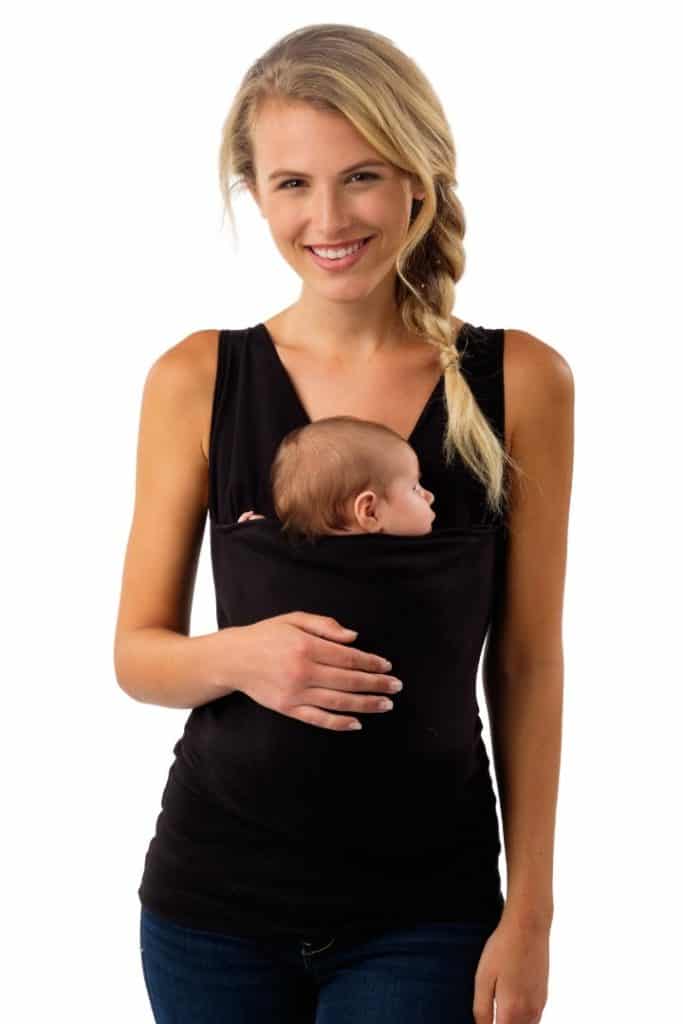 The Lalabu soothe, also a tank top, features a pouch or pocket on the outside of the carrier, allowing the baby to slip in just like a kangaroo. It also has an extra length of fabric at the top that can be worked around as a hoodie or as adjustable head support used as and when the little one starts to grow taller. Once grown, this kangaroo care can be worn as a nursing tank.
However, the design holds a weight capacity of 7-15 lbs, It is a full tank top with a mesh panel between the baby and the belly, meaning it does not have the similar skin-to-skin contact as you would with others. Adding on, it is not hands-free and you will be required to hold the baby in one hand at all times.
Pros:
Has a pocket outside the carrier that is great and can accommodate different sizes
Can be worn as a nursing tank later
Has an extra fabric for the head support
Cons:
Has a weight capacity of 15 lbs
Not hands-free
3) NuRoo moisture-wicking babywearing shirt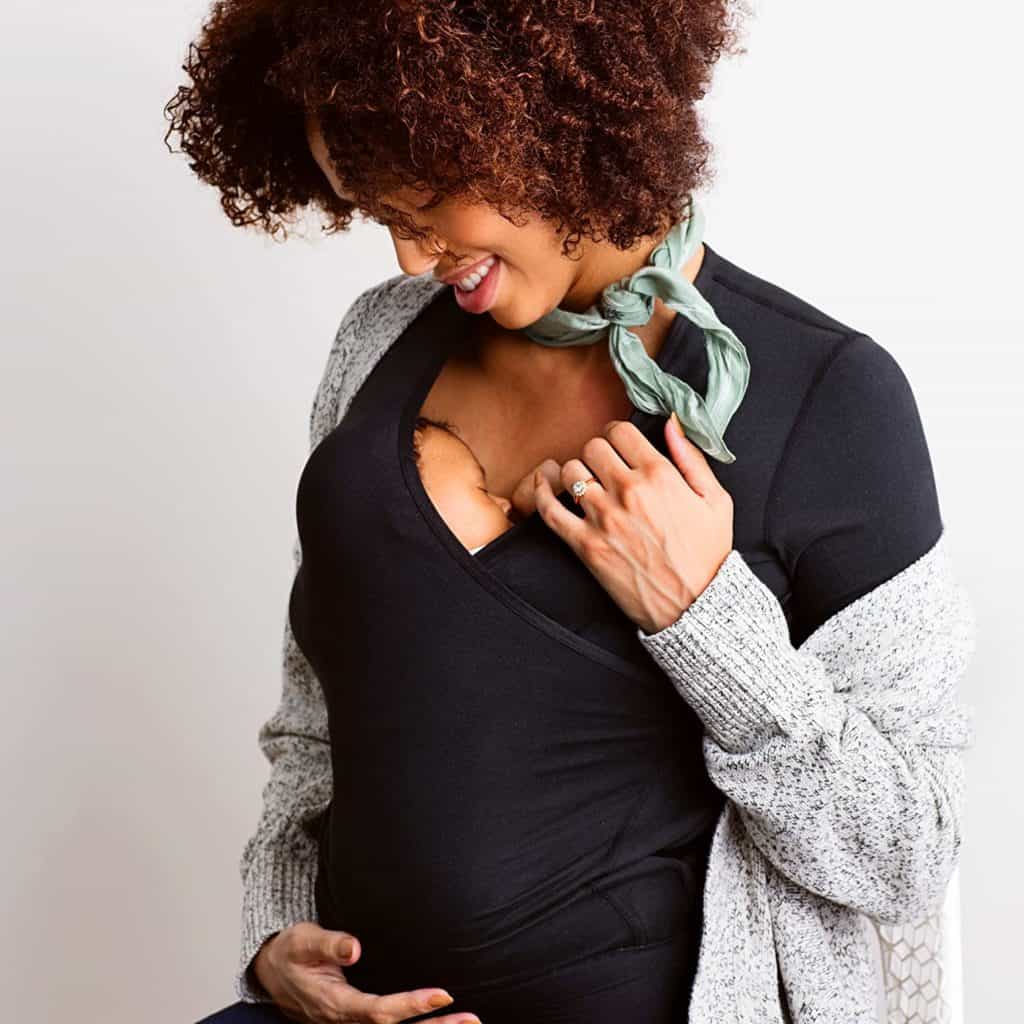 This cute NuRoo pocket crossover-style top features short and three-quarter sleeves with enough structure and compression to help keep the baby solidly seated against your naked skin.
As per the wearing is concerned, you will need to place the baby's legs in an interior pocket made inside the shirt panel, followed by both sides shirt wrap around you and your child with padded waist belts that keep the little one propped up. The stretchy v-neck can be pulled for the support of the child's head and neck as well. Once worn, you are free to work hands-free, worry-free.
However, the weight limit of the babywearing shirt is up to 25 lbs and there are a few moms who have reported that the sizing is a problem, so check the size accordingly.
Pros:
Is made from soft, breathable, and absorbent material
Keeps the baby comfortable
Has a support belt to help hold the baby and prevents them from sliding
Cons:
A few users found the size of the shirt to be smaller
Mothers found the Velcro uncomfortable
4) Vija Design babywearing shirt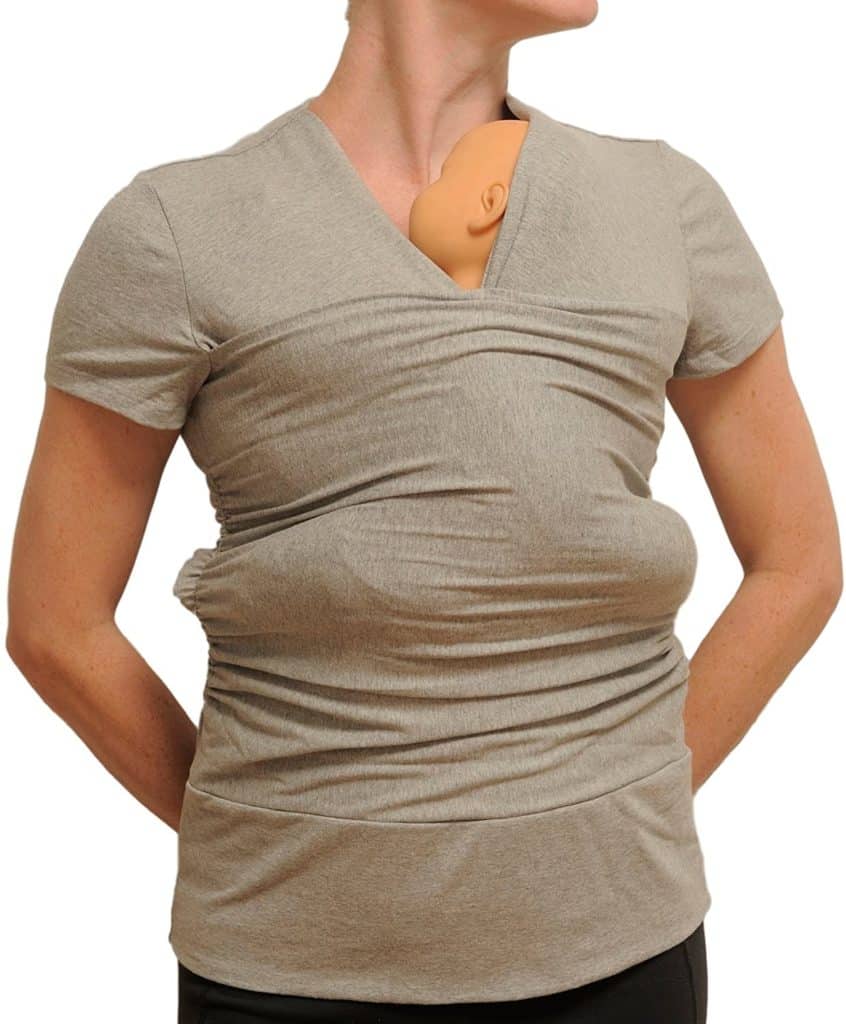 This Kangaroo T-shirt is inspired by geisha and comes in vivid hues choice with both short and long sleeves. All you need to do is simply slip the newborn into the shirt, and later, as the baby grows, it can be used as a nursing top. Vija also carries a sexy halter style tank as well, so why the wait?
The weight capacity of the Vija babywearing is up to 15  lbs and you must make sure of the size before buying to get a snug fit.
Pros:
The fabric of the shirt is 94% cotton and is soft, comfortable, and breathable
Is available in six colors
Keeps the baby close and easy to nurse
Cons:
A few mothers found the fitting of the T-shirt to be quite tight and uncomfortable
5) Dad Ware Cotton Kangaroo Care babywearing Shirt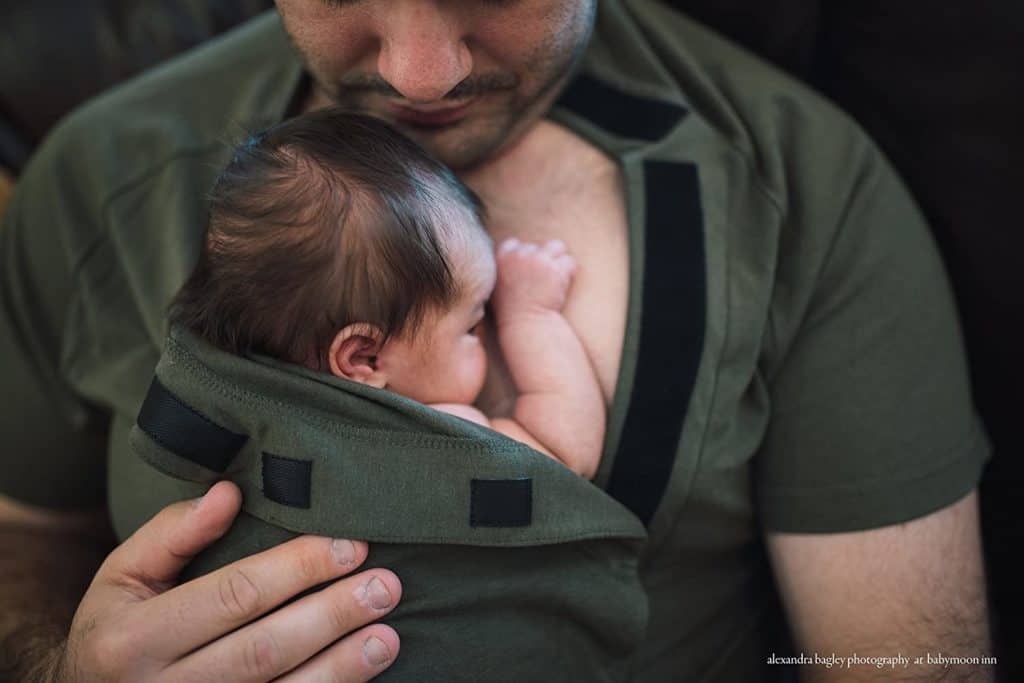 This babywearing t-shirt makes it possible for the dads to bond with their baby as mostly the wearings are designed for moms. Also, these have a weight capacity of 33 lbs.
Pros:
They have velcro straps around the neck to accommodate the baby
Contains more than 90% cotton making it comfortable and breathable
Cons:
Not hands-free
Has no pocket to place the baby
The velcro was found to be scratchy when it comes in contact with the skin
A babywearing shirt helps you nest or stay close and warm to the little one with all you need to do is slip the newborn in. However, choosing the right small babywearing is all about picking the correct mix of skin-to-skin contact, support, comfort, and style for the bonding.
FAQs on 5 Best Babywearing Shirts
1) Why do we need Babywearing Shirts ?
Babywearing shirts or baby carriers are designed for the love and closeness of both, the baby and the parents during the newborn months, or the "fourth trimester." These kangaroo care shirts help in skin contact, keep you snuggled, creates a womb-like space, and helps you work tension-free as the little one continues to stay curled up next to you.
2) Is it bad to wear your baby ?
There is no way babywearing shirts can spoil a baby through babywearing. Also, according to a study, 'It's just not possible to spoil a baby by holding them too much' as they reduce crying resulting in less stress for everyone and comfort for all.
3) How long can you wear your baby ?
The simple answer to things would be, as long as both of you want. Perhaps, provided that the babywearing shirt is in a healthy position and comfortable for both. Also, up until the baby weighs 40 lbs, or as per the limit of your babywearing.