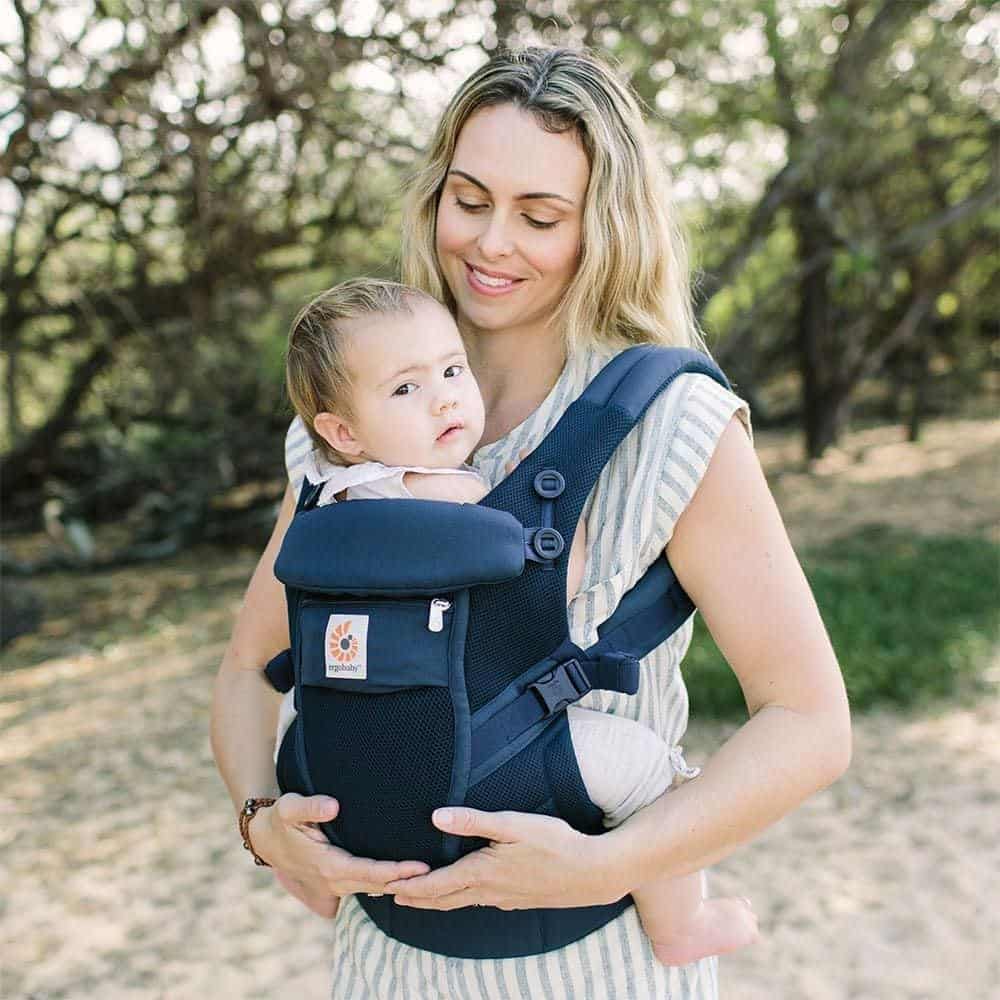 As your little one is growing, they are always so eager to explore everywhere on their own two feet. However, those little legs tend to feel worn out quickly. Well, when you come to think of it, big legs do too! If only you had a carrier that could help you, when you're out and about and trying to wrangle your tiny adventurer and would accommodate bigger kids too. Keep on reading and who knows you might find exactly what you're looking for!
What Is A Toddler Carrier?
It is a soft-structured carrier that can carry your little ones beyond the baby stage. The toddler carrier comes with padded adjustable shoulder straps and a waist belt to evenly distribute your child's weight and to reduce strain on your shoulders, neck, and back. They also provide a wide-seat, hip-healthy position that places your kid's legs in a frog-like position. In most toddler carriers, you can find a hood that protects your little one's head from the sun as well as a storage pocket for your everyday essentials. They are best suitable from infancy through the toddler years.
Do You Need a Best Toddler Carrier?
Most parents tend to start with a wrap or a ring sling for their newborns. This keeps them tight and close and also supports their neck. However, as your toddler grows, you'll need more support if you want to carry them for long stretches. When you don't want your little ones roaming free (for instance, the airport, street festivals, or the boutique with all the breakables) or when they get tired, it is helpful both for them and for you, if you have a place where they can safely sit to rest. Yes, a stroller checks all these boxes too, however, a carrier is a better option, if you're going to be in a small or crowded space or if you're craving a little extra snuggle time.
Check the weight limit of a structured baby carrier with buckles or Velcro (if you already have one), it might work for the toddler years too. As a reference, a two-year-old is about 28 pounds, whereas a three-year-old is almost 32 pounds.
How To Choose The Best Toddler Carrier?
After collecting the reviews and opinions of real families about the baby products they love the most, and the top products that they shared with us, we added our research and insight to tell you all about the best toddler carriers available. Let's go!
Top 14 Best Toddler Carriers For You To Choose From!
1. LLLbaby 3 in 1 CarryOn All Seasons - Best Toddler Carrier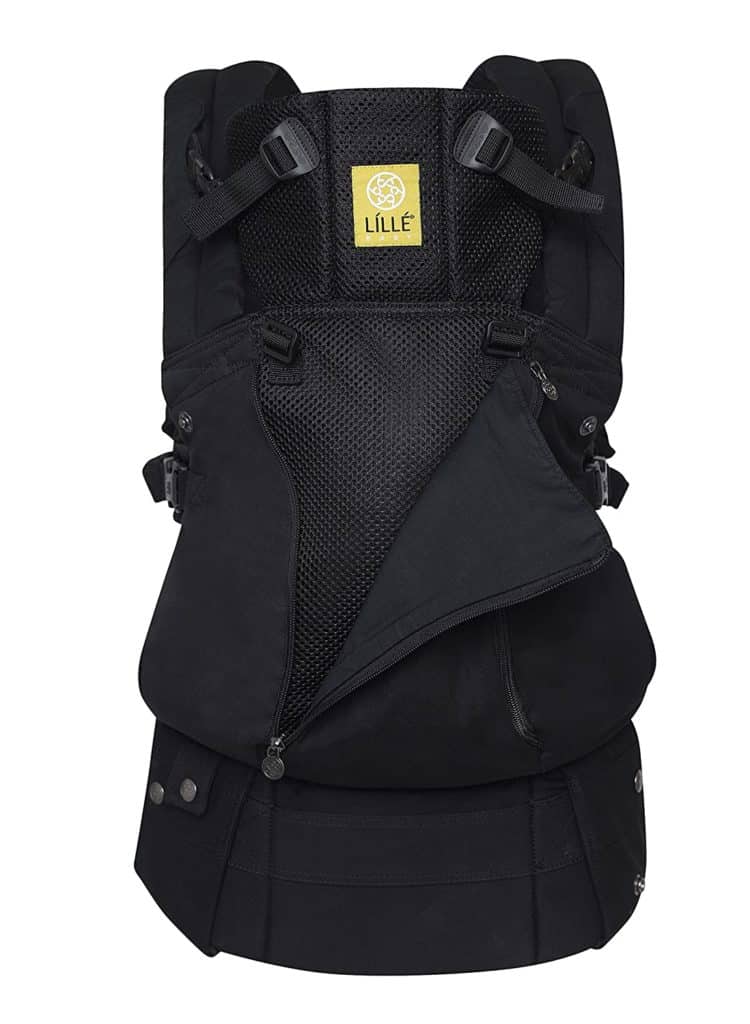 Unlike most baby carriers that can hold up to 45 pounds, this fabric carrier can hold from 20 pounds to 60 pounds comfortably. It also lets you keep your hands free and visit places you won't be able to with a stroller.
You can use this carrier in three different styles: Firstly, you can keep it to the side on either hip, secondly, you can use it as a front carrier, or thirdly, you can carry it on your back. This carrier comes with three-way adjustable buckles in different places, which allows the carrier to grow with your baby. It has extra room for your baby's comfort and a temperature control panel that ensures that your child doesn't overheat. In addition to that, it has a removable hood and two pockets, and a wide padded band that goes around your waist to provide lumbar support. The added cushion on the back keeps the adjustable strap from digging into your skin.
For extra comfort as your toddler gets heavy, the shoulders are padded too. As it is made out of 100% cotton fabric, you can simply toss it in the wash for easy care, when your toddler spills apple juice or falls asleep and drools. With your baby's hip development in mind, the carrier is made in such a way that it keeps your baby's legs in an M-shape. It is made available in four colors, black, stone, dark gray, and dark coral.
Remember to use this carrier with a baby of at least 20 pounds and refrain from using it for smaller or younger babies. Moreover, the zip that allows airflow does not tuck into anything, so it can annoy you while walking around. It is a bit pricey than other brands.
2. Tula Ergonomic Carrier - Best Toddler Carrier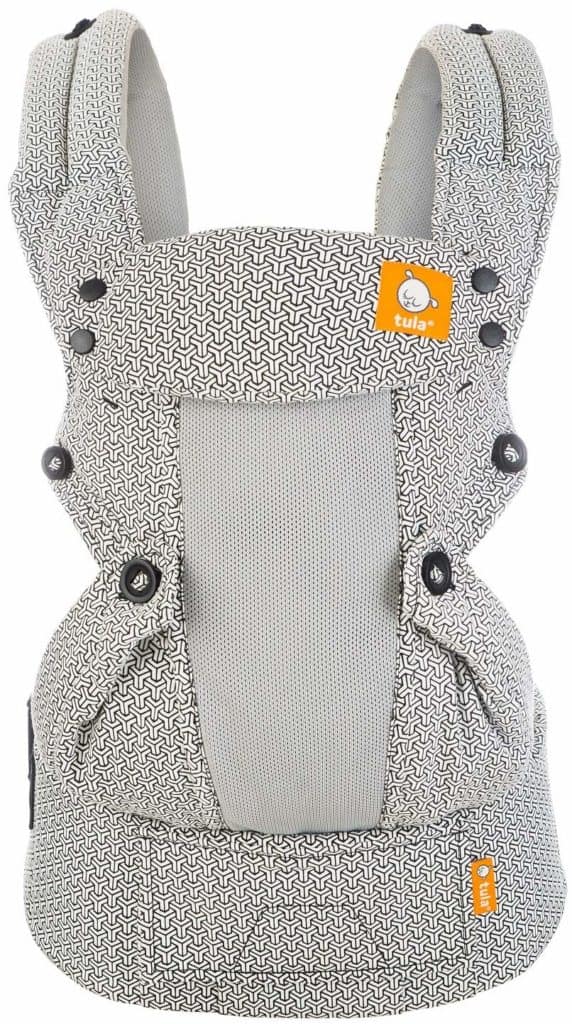 This carrier is available in 18 different colors and patterns to suit everyone's personality. Furthermore, it costs around half the price of other toddler carriers. You can carry it on the front or the back, although you cannot wear it on the hip like the other carriers. It is made out of a breathable and lightweight canvas which is 100 percent Oeko-tex standard 100 certified canvas. This carrier can hold somewhere between 25 to 60 pounds. It also has the M-position which supports the proper development of your little one and makes it a comfortable place for your baby to rest.
Besides, it includes dual adjustable padded shoulders to ensure comfort and support for your neck and shoulder and a removable hood which protects your baby from the sun. Finally, it provides all-around support for the mom with its wide adjustable front panel. Also, the band distributes your toddler's weight evenly. It is meant for children that are 32 inches and up.
Check out our article on best baby sunscreen.
If a dad wants a more neutrally designed carrier, you might have to look for it. Also, it might be difficult to put on by yourself.
3. Beco Toddler Carrier - Best Toddler Carrier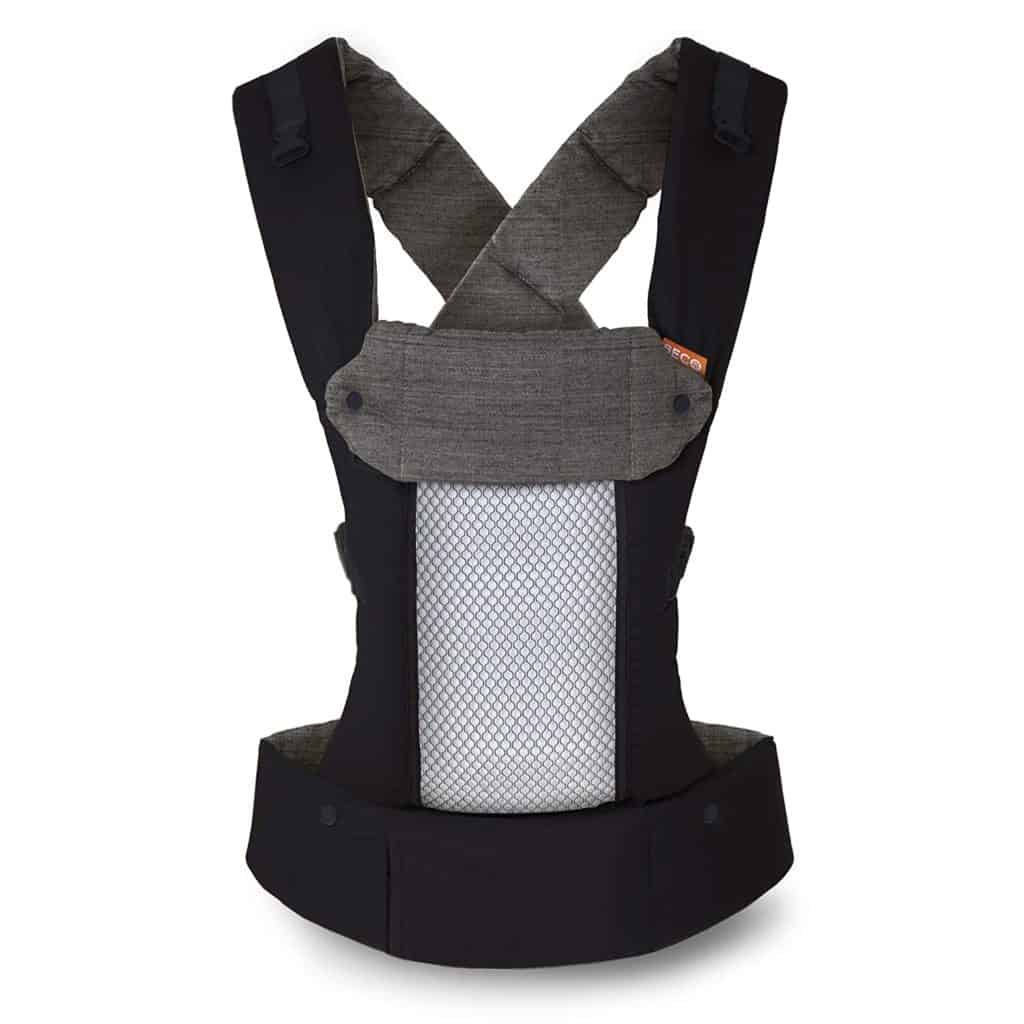 Although this toddler carrier costs a lot, it's one of the best options available for a child who weighs around 20 to 60 pounds. Even dad would like to carry their children around in this carrier as it comes in a cool dark gray color. If you like fun patterns you can for their two available options, which are nebula, and geo teal, and white. The adjustable features are well-loved by parents, as you can fit extra small adults up to XXL in size. You can also carry it in three different ways, on either hip, front, or back. It has some added new features which you cannot see in other carriers, such as crossable shoulder straps and a waist belt pocket. The 3D mesh vented panel for added airflow is something that children 18 months and older will love. Besides, it has a built-in headrest and a detachable sleep hood that can also protect your kid from the sun. You can nurse in the carrier, that too hands-free! If there is a leak, you can simply toss it in the wash.
It is a bit on the pricier side which might deter a lot of customers. Otherwise, this carrier is great for any larger small children.
4. Piggyback Rider Explorer - Best Toddler Carrier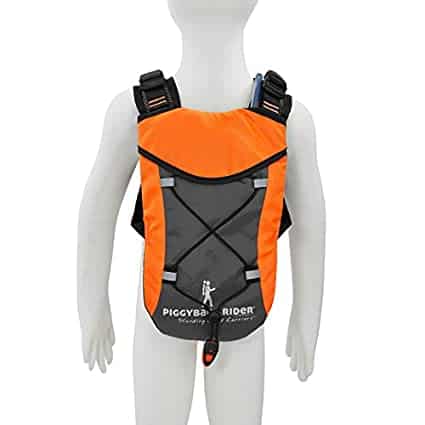 This carrier works for moms, moreover, the camo print was made with dads kept in mind. Anyhow, your kids can stand on a metal platform attached to their parent's backs, which makes this carrier all the more unique. It comes in two pieces, the first one for parents with a back anchor where you can hold the straps together and the metal platform for your child to stand on. The second one holds a back anchor with straps for a child to attach to their parent, this way you can keep your kid safe from falling off the platform. This toddler is best suitable for kids who are around 2-4 years old or children that are up to 50 pounds. Though it can hold more it depends on the parent and the child. This setup works better for parents' back as the weight shifts with the child standing. Your toddler needs to stand to use this carrier and if they feel sleepy there is no option available to relax because their hands rest on their parent's shoulders and their feet on the platform. If your little one spends a lot of time napping, then this is not a good option.
Moreover, the straps on this carrier are adjustable and you can purchase a HIP BELT for extra comfort. It is so far the lightest option available as it is under three pounds. In an included bag, you can store the small device easily. Besides, it comes with a six-point military-grade safety harness which ensures no one is injured at all times. Also, it has rear pockets that offer a little storage, and to optimize a child's standing position, the metal platform offers non-skid.
It almost seems unfair that such a small device is so expensive. Nevertheless, with this price you are getting a tested device with premium parts meant to last for more than infant weights and works well too. Although it is a better option for parents back, it's not that comfortable for children as they cannot rest on this device.
5. Little TiB Ergonomic - Best Toddler Carrier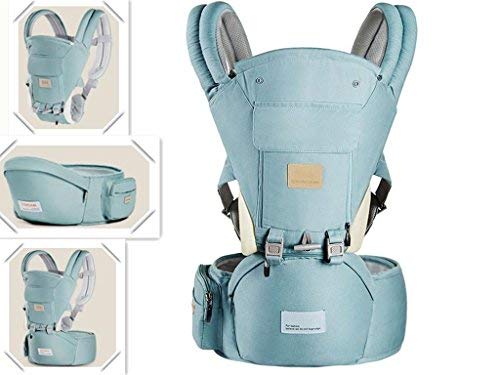 You can get this baby carrier for a fraction of the cost of the other carriers listed above. This is the most affordable carrier for your little one. It is made out of 100 percent organic natural polyesters which makes it an amazing option for eco-friendly moms. Plus, it comes with a mesh over the front that provides ventilation for your toddler. After spills and accidents, you can simply toss this fabric in the washing machine. This carrier's design provides support for a child's natural neck and head posture and doesn't put a strain on the hips or spine. While supporting the baby's weight at the bottom, the M- position allows good circulation for your baby. Unlike the other carriers, this one can support from 8 to 55 pounds, which is a lot of weight for a parent to carry, hence why this carrier provides lumbar and back support.
It might run a little tight and could be difficult to put on. This carrier is best suitable for smaller moms and babies. Also, it works best if it is used as a front carrier.
6. Boba Wrap - Best Toddler Carrier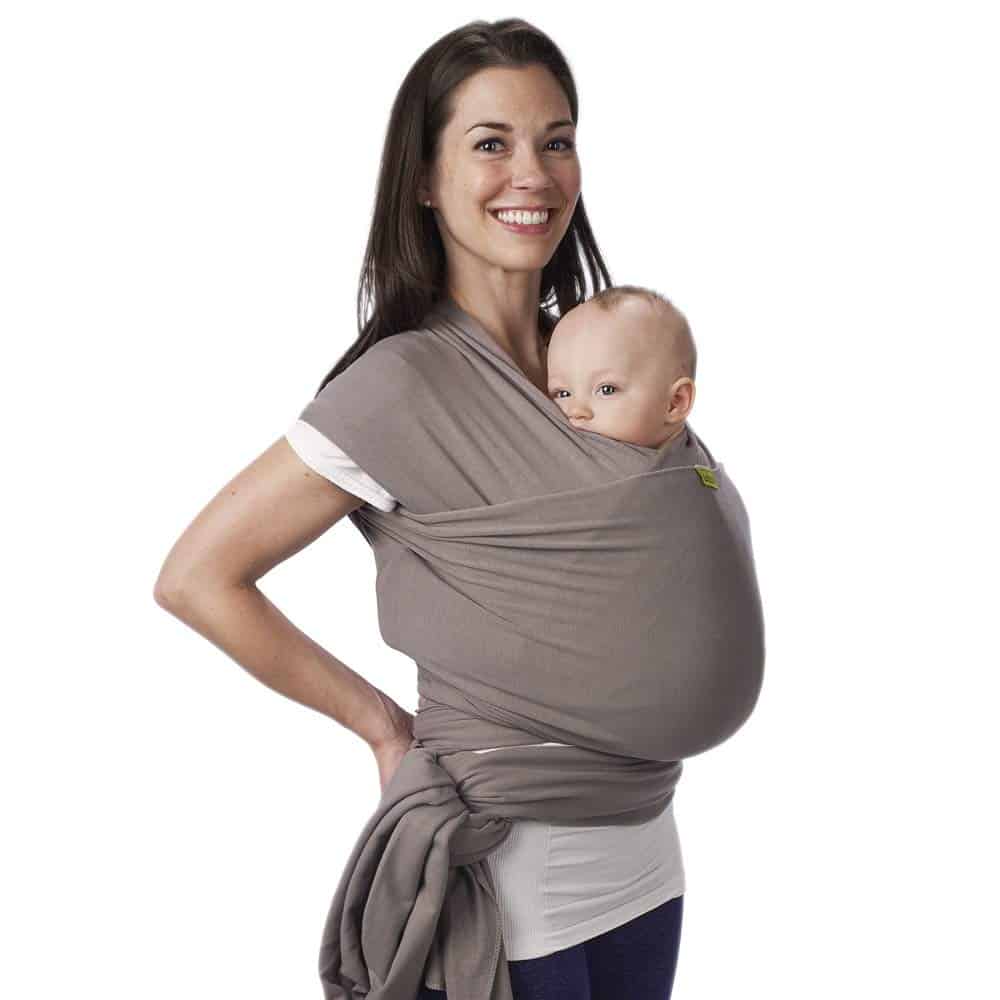 This baby carrier has a weight range of up to 35 lbs, made using cotton and spandex, all at an affordable price. Boba wrap baby carrier features an inexpensive wrap that is available in rainbow colors, can be used for newborns up to toddlers of 35 pounds.
This carrier is made using 95 percent of breathable cotton, has 5 percent of spandex, and is easy to stretch and hold. Available in one-size-fits-all, is best for postpartum bodies and can be for other caregivers of the family too.
Keep In Mind
The soft wraps would need some time to master as there are multiple ways to help tie the baby in them which could get a little frustrating for a few users — especially while traveling. On the other hand, there are a few reviews that indicate its life to be fairly short despite the weight limit and could be a little uncomfortable with larger infants and toddlers.
sum dolor sit amet, consectetur adipiscing elit. Ut elit tellus, luctus nec ullamcorper mattis, pulvinar dapibus leo.
7. Mission Critical S01 - Best Toddler Carrier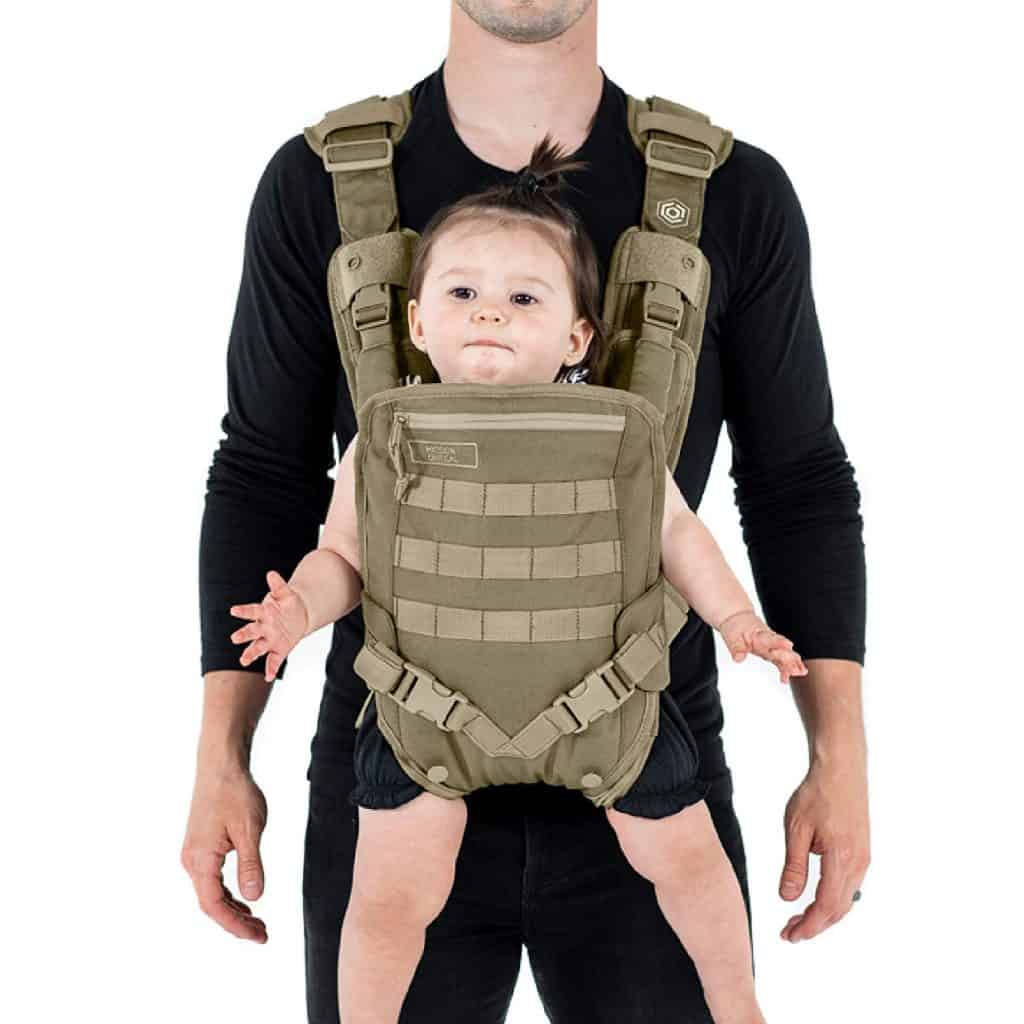 Mission Critical S01 baby carrier comes with a weight range of 8–35 lbs, can be positioned forward, inward, and outward, and is made from nylon. This affordable baby carrier features a lightweight, durable, removable liner, and has a rugged military design from webbing, making it easy for parents to attach toys.
Keep In Mind
Mission Critical can also fit tall and big dads, however, if sharing is a problem, these are also available in a wide range of sizes. There are a few reviews that question the comfort offered by this carrier for babies as its seat is not in the best possible position which allows the baby's feet to dangle and not spread wide with lifted knees, which is a healthier and ergonomic shape.
8. Ergobaby Omni 360 - Best Toddler Carrier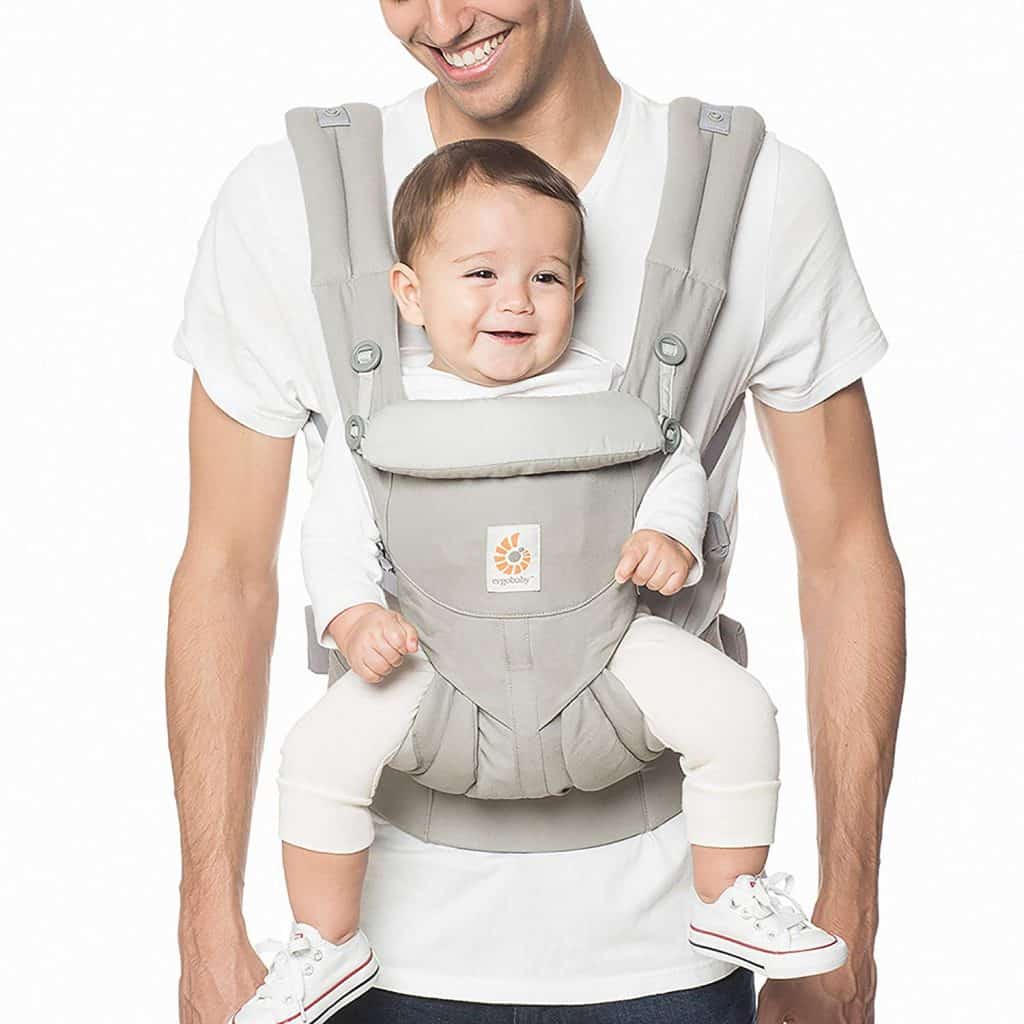 Ergobaby Omni is a versatile baby carrier that is adjustable and can fit from petite to larger body types. It features an adjustable waist belt, that is from 26 to 52 inches with movable shoulder straps – from 28 3/4 inches to 48 3/4 inches.
Not only that, these carriers allow the baby to be carried in front, back, and hip, all thanks to the straps backpack style or crossed. They are nicely padded, are sturdy yet soft for the comfort of the baby.
Keep In Mind
There are a few reviewers that shared that decoding the usage of the carrier could get a little too hard, has a little stiffer fabric, is not breathable, and isn't the best for short moms.
9. BabyBjörn Mini Carrier - Best Toddler Carrier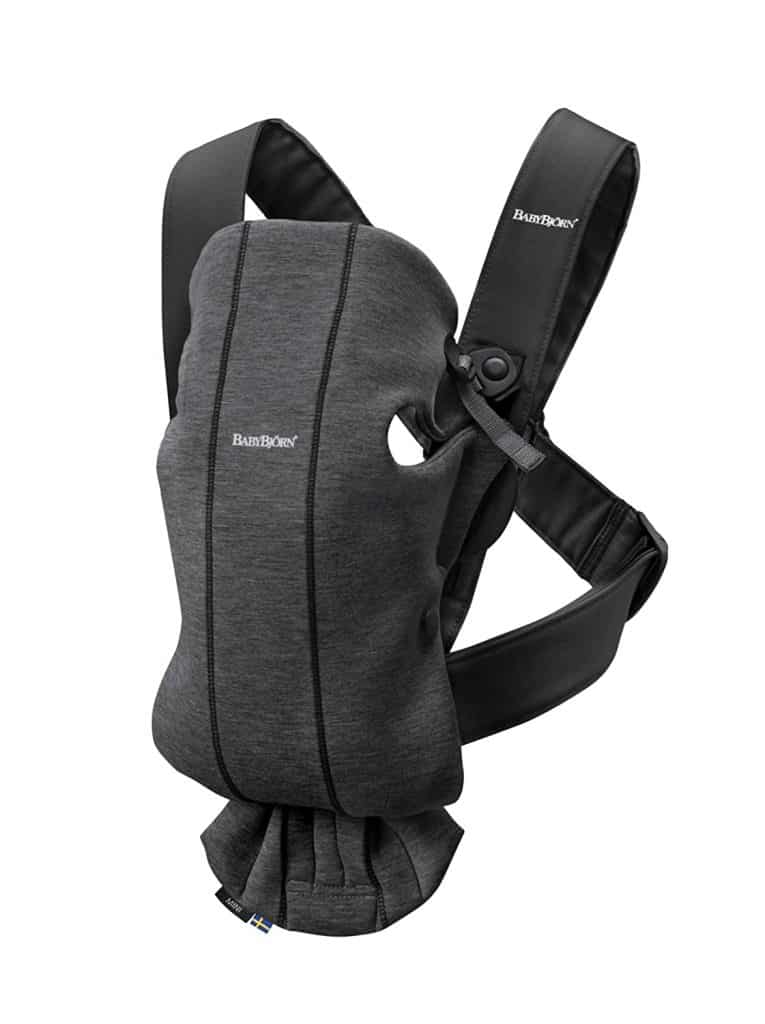 This mini baby carrier comes with a weight range of 7–24 lbs, is made of soft cotton, and can position the baby in front, inward, and outward, all at a super affordable price.
Keep In Mind
The carrier only fits babies who weigh up to 25 pounds, and one might need to purchase another one post the mentioned weight limit. Adding to this, there are some reviews that state the carrier isn't padded enough for comfortable wear for long stretches.
10. Osprey Poco - Best Toddler Carrier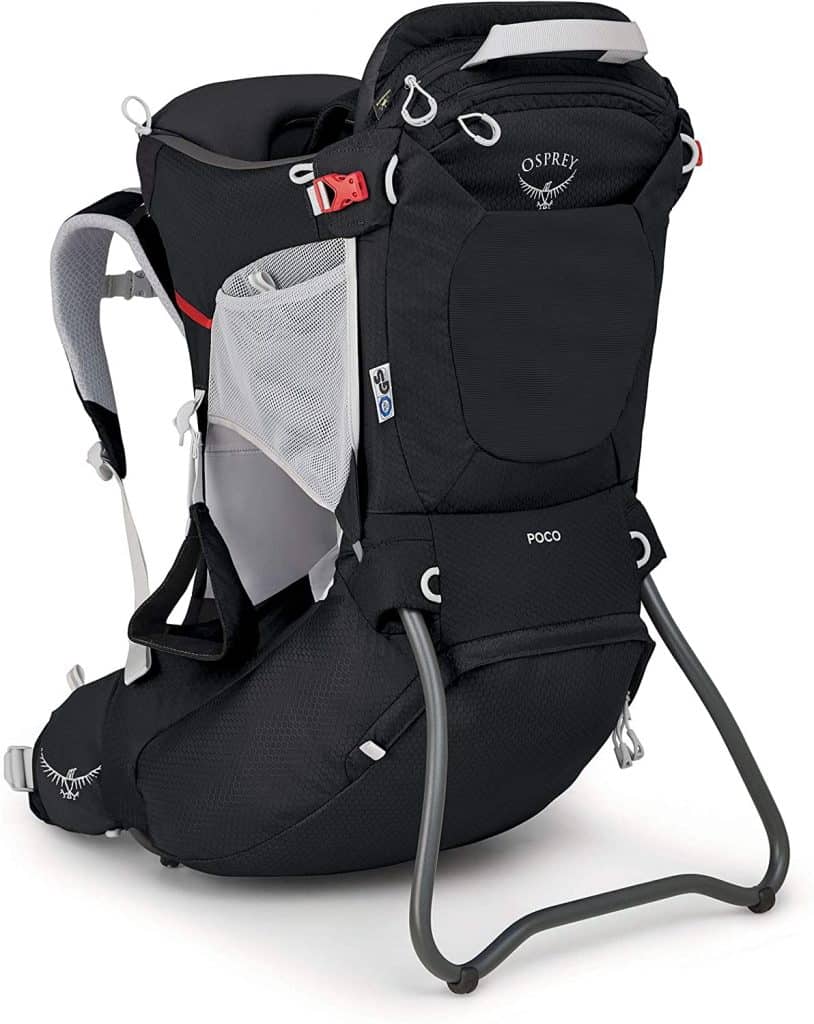 Osprey Poco baby carriers have a weight limit of 16 lbs with a minimum child weight of up to 48.5 lbs. This helps position the baby at the back, is made from durable nylon, has an aluminum frame for lightweight support, and has 6 inches of adjustment for all body types.
It also has a "halo harness" that secures the baby in the carrier, has an in-built sunshade, or is for extra privacy when napping.
Keep In Mind
This is an expensive baby carrier. The wearing and fit must be checked to ensure comfort, and the waist belt digs into the hip area that could cause bruises if not fit properly. Remember, use this carrier only when the baby is old enough to hold their head and sit on their own.
11. ClevrPlus Cross Country - Best Toddler Carrier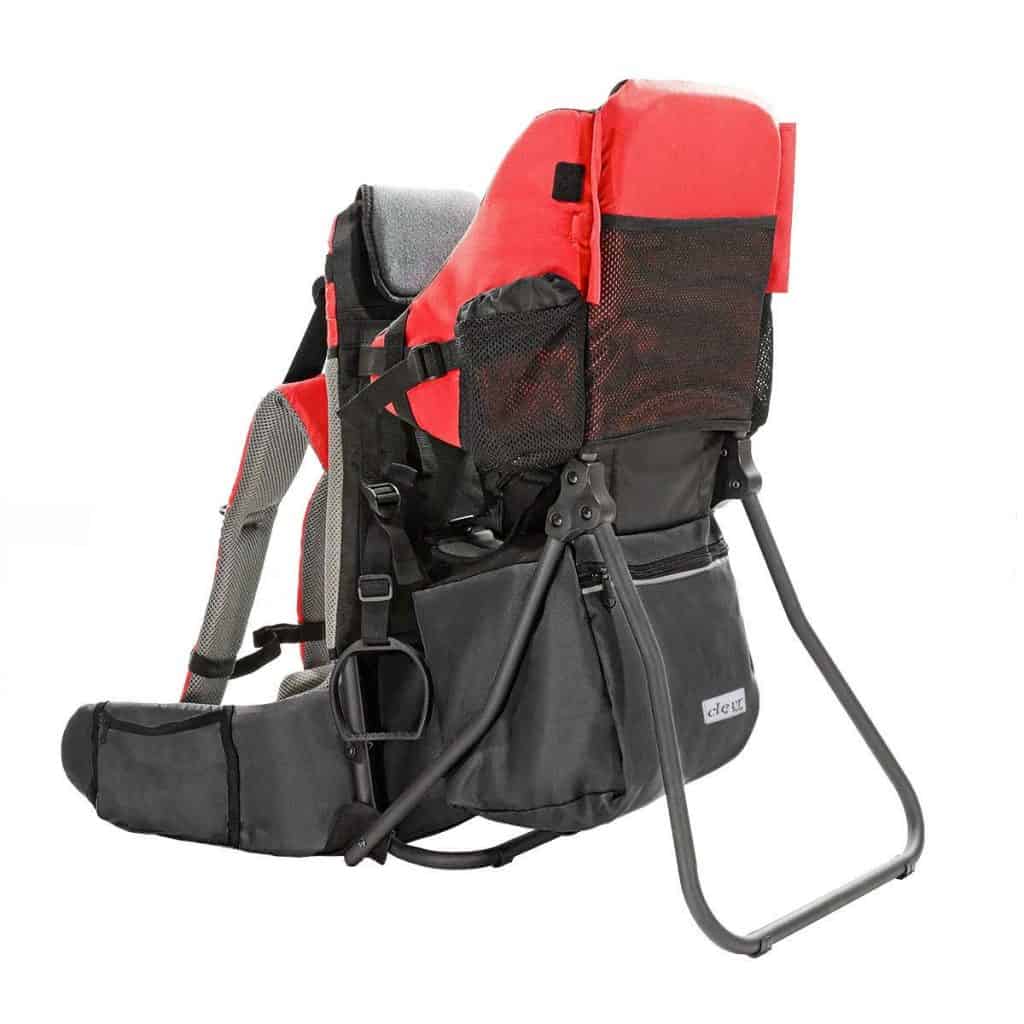 This baby carrier has a weight range of up to 33 lbs, with a baby back position, and is made using oxford cloth. ClevrPlus is a hiking budget-friendly backpack, can carry weight up to 5 ½ pounds, has an aluminum frame, padded straps, lumbar area, a hip belt, and many pockets to carry water bottles and diapers.
Keep In Mind
Although being comfortable and a carrier of better quality, the size just doesn't work for most people. Also, it is observed to become squeaky after some use.
12. Baby K'tan Active - Best Toddler Carrier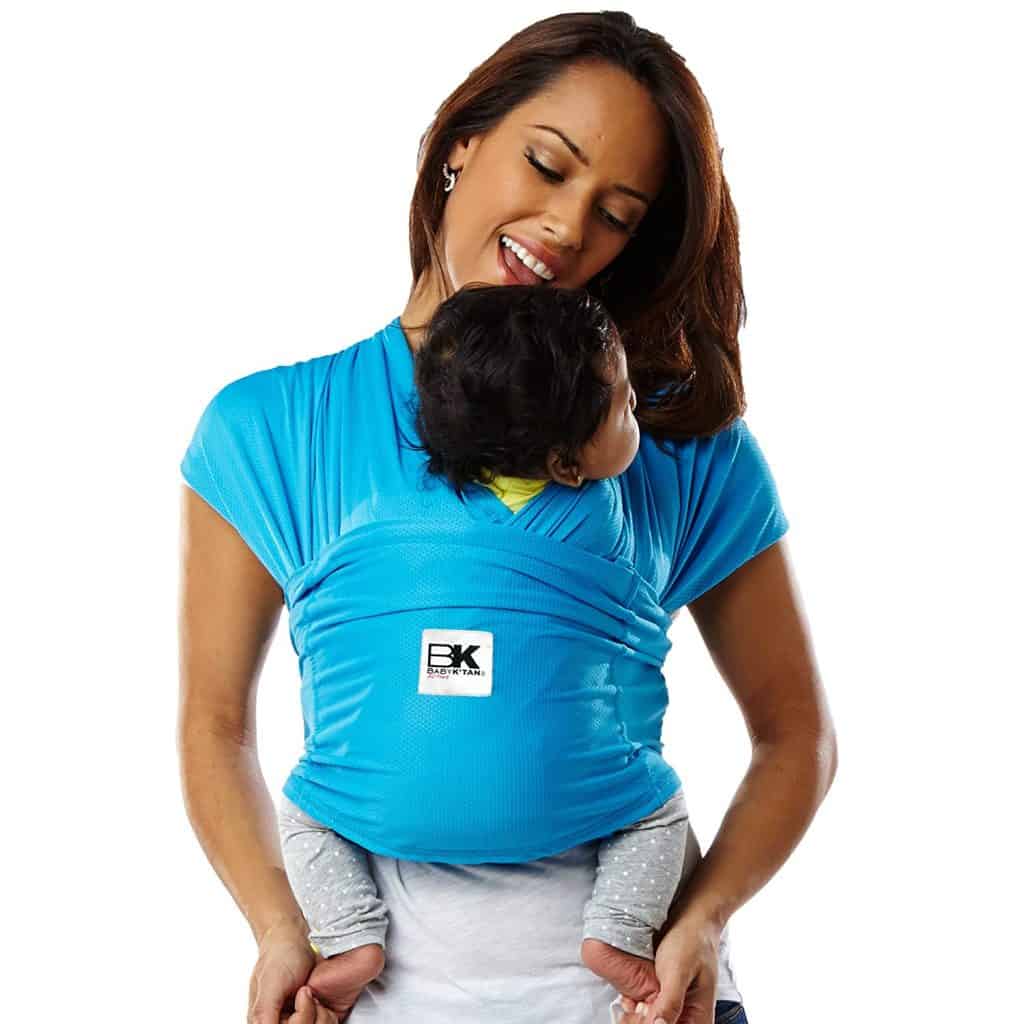 Baby K'tan carrier has a weight range of up to 35 lbs, is made from polyester, and the baby can be positioned front, inwards, outward, and backward. It features a wrap that wicks the moisture away, the fabric blocks 90% of UVA and UVB rays and is super easy to wear.
Keep In Mind
You must make sure to pick the right size, from XS to XL for a better fit, which also means it cannot be shared between caregivers. While the others review the fabric as one that does not fit best and can be uncomfortable for small babies.
13. Infantino Flip 4-in-1 Baby Carrier - Best Toddler Carrier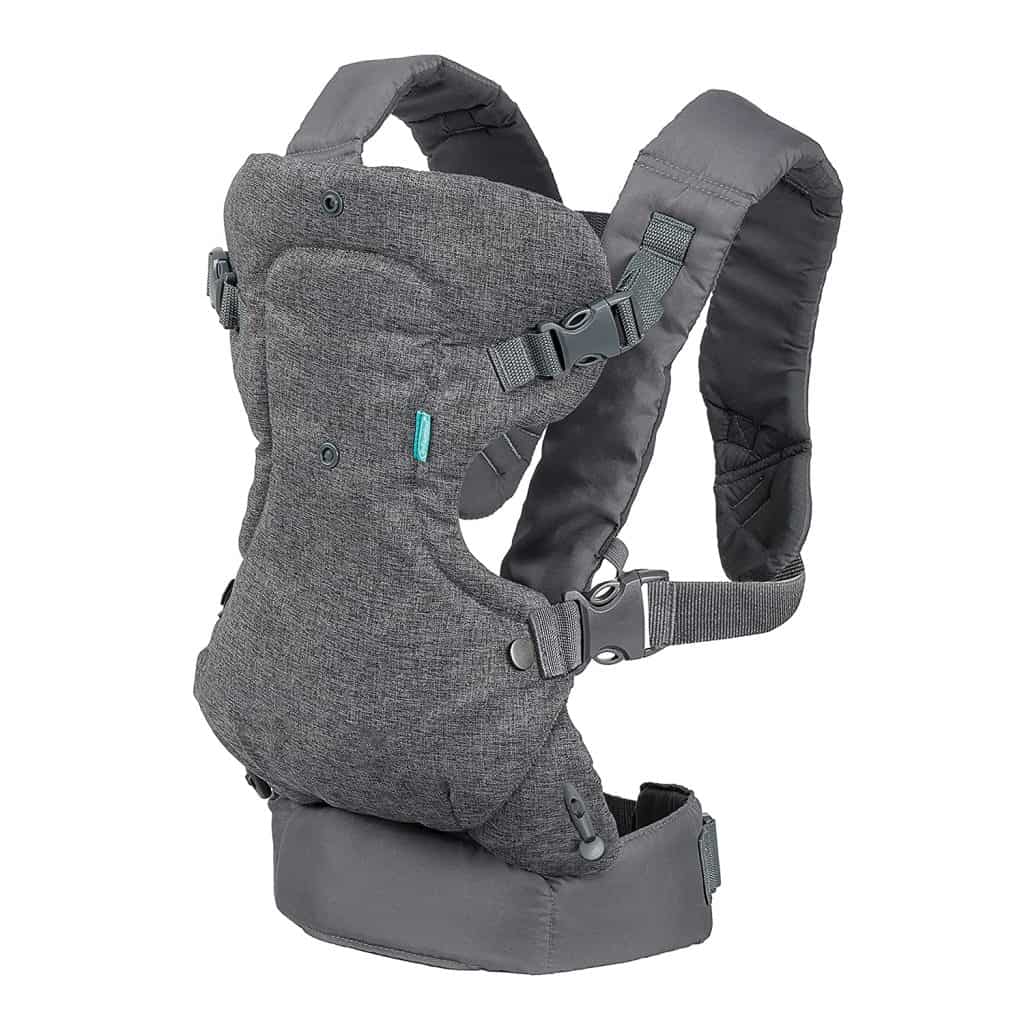 It has a weight range of 8–32 lbs, is convertible, and is made from polyester and cotton. The carrier is affordable, allows you to hold the baby in four different ways; an inward, outward, outsider, and inside. The best part about this baby carrier is that it is super easy to wash, comes with a "wonder cover," and a bib to prevent spit-ups.
Keep In Mind
There are reviews about the less padded counterparts, which could be rough and uncomfortable for the baby.
14. TwinGo Carrier - Best Toddler Carrier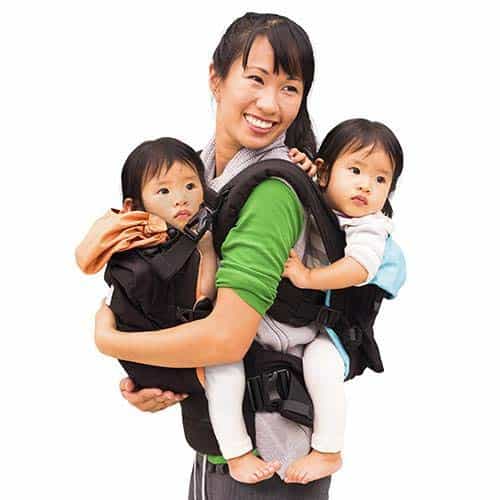 TwinGo baby carrier has a weight range of 10–45 lbs, can be worn for the baby to position in front, inwards, and behind, and is made from soft cotton. It features best for twin parents as it allows them to carry two babies at once with ease, that is if under 45 pounds. The waistband of the carrier can fit anywhere from 20 inches to 99 inches.
Keep In Mind
The carrier can only be used for babies in front and back of the body-facing inward.
Best Toddler Carrier Final Conclusion:
Whichever carrier you end up choosing, it should be a safe and comfy resting place for your toddler. If you get a chance, head to a store and check out these carriers in person before you commit. After that, you are ready to set off on your next adventure, toddler in tow!
Best Toddler Carriers FAQs
1) At what age can a baby be carried in a carrier?
You can start using a toddler carrier from day one as most of them are meant to hold babies when they're a newborn up to 2 or 3 years old.
2) Can you wear a baby carrier through airport security?
While going through the USA's airport security, you do not have to remove your baby or your soft-bodied baby carrier. The TSA agents present there will most likely allow you to go through the metal detector while still wearing your baby.
3) Can you wear your baby too much?
If you have a newborn baby, you don't need to sweat it! Contrary to popular belief, parents can't hold or respond to a baby too much.