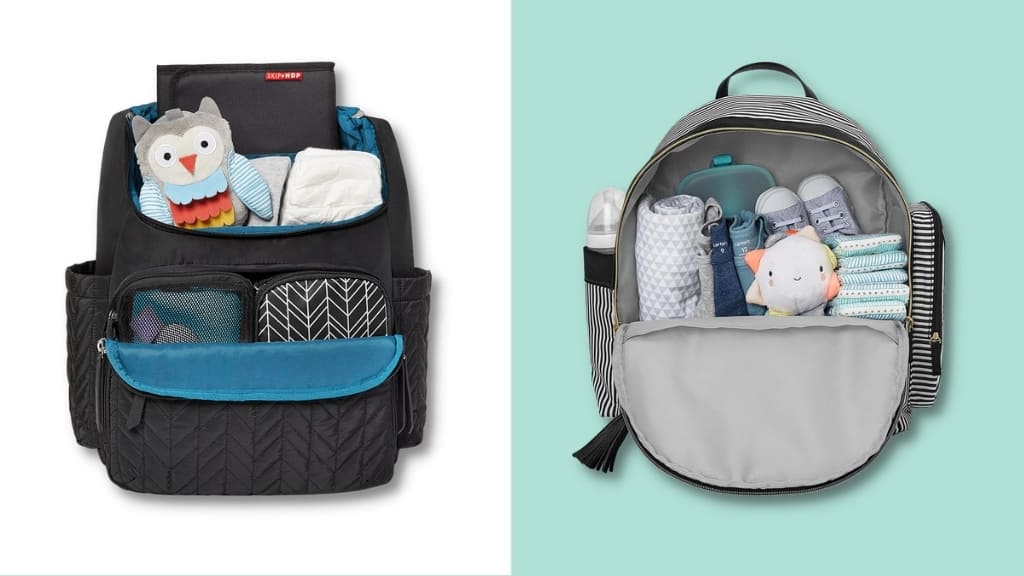 Tired of struggling with having to carry your baby in one hand and a diaper bag in another? Backpack diaper bags are here to save the world!
A backpack diaper bag is one of the most common problems faced by moms on the go: full hands. A backpack diaper bag frees your hands and lets you move around freely without having you compromise on any of the basics expected from a regular diaper bag.
Backpack diaper bags feature enough room with multiple other features like insulated bottle holders, wipe holders, and some even go to the next level with a changing pad!
Wondering if there are any backpack-style diaper bags that are functional, stylish as well as affordable? Here is a list of top backpack-style diapers bags to pick from and free yourself the hassle of occupied hands!
1. Mina Baie The Harper Midi: Best Diaper Bag Backpack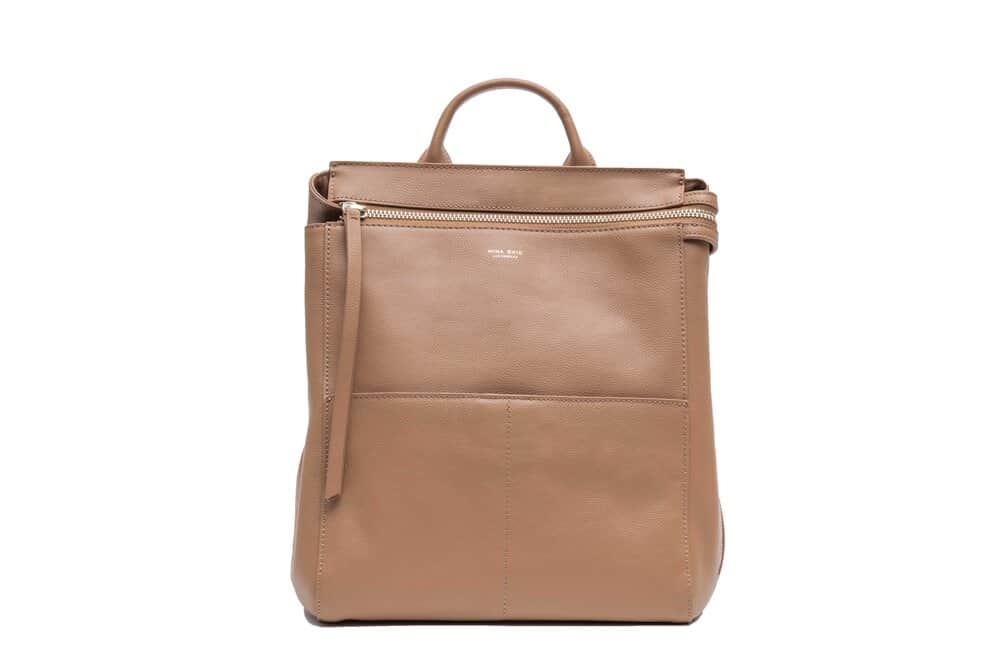 Priced at  $288.00
For stylish moms who like the oomph of a leather bag, Mina Baie is the bag to buy! This leather backpack diaper bag featuring a spacious interior, easy-access zippered pockets, and made in a beautiful pebbled leather material is so chic, you could even use it for other purposes once the baby outgrows their diaper age!
2. Fawn Design The Original Diaper Bag: Best Diaper Bag Backpack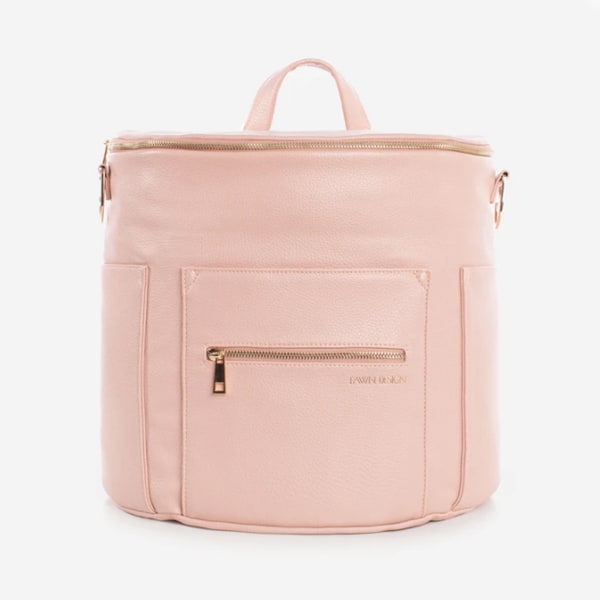 Priced at $169.99

Are you an animal-friendly mamma who secretly yearns for the luxury of leather bags? This is where your search ends! This vegan diaper backpack offers all the functionality expected from a diaper bag while sporting a modern, luxurious, soft, and chic look. It sports a roomy interior space with 12 supporting pockets to ensure you never not have enough space. Besides, the straps are detachable and it also comes with a messenger strap for days when you'd like to wear a bag on one shoulder.
3. Skip Hop MainFrame Diaper Backpack: Best Diaper Bag Backpack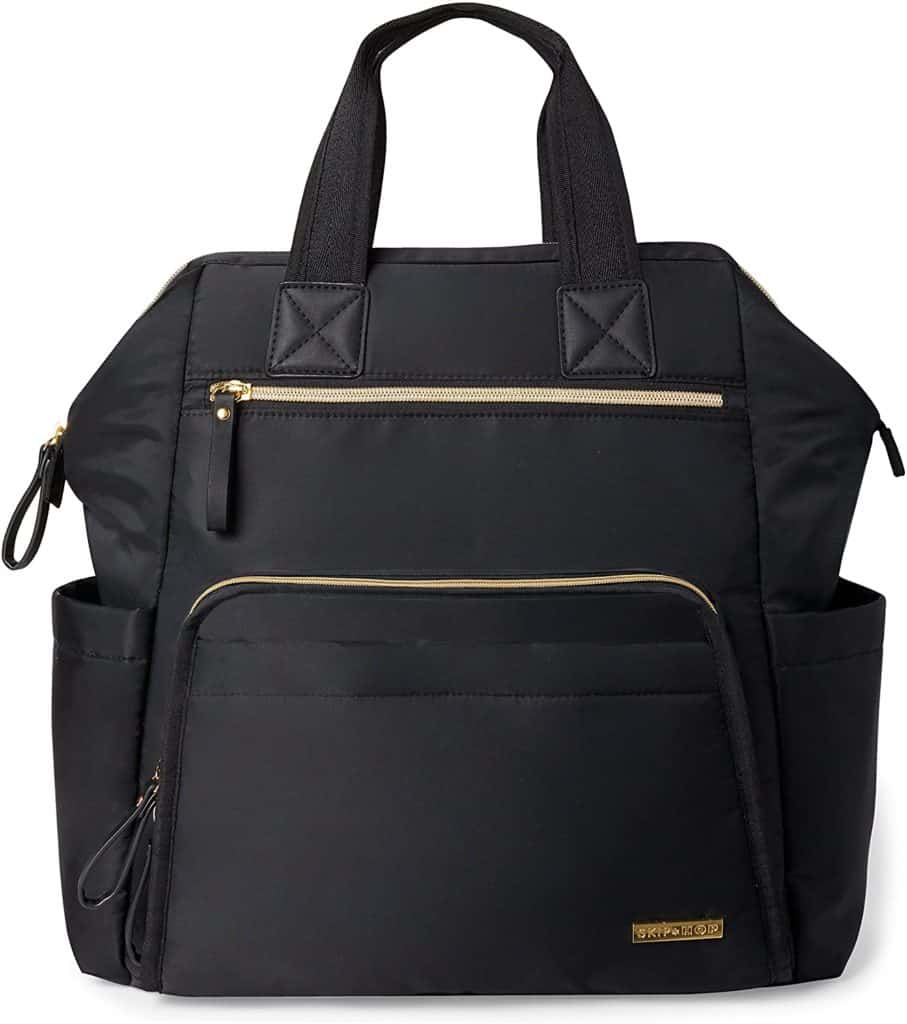 Priced at $74.99
A mid-range backpack diaper bag, this one is a straightforward bag with no frills attached. This bag has a structural frame that gives it some spine and keeps it from toppling around on flat surfaces. The main compartment offers an extra-wide opening for easy navigation and the interior is also rather roomy, sufficient to comfortably fit in all baby accessories. It also sports multiple pockets including a bottle holder and tech pocket to store your mobile phone or AirPods for easy access on the go.
4. Land Diaper Backpack: Best Diaper Bag Backpack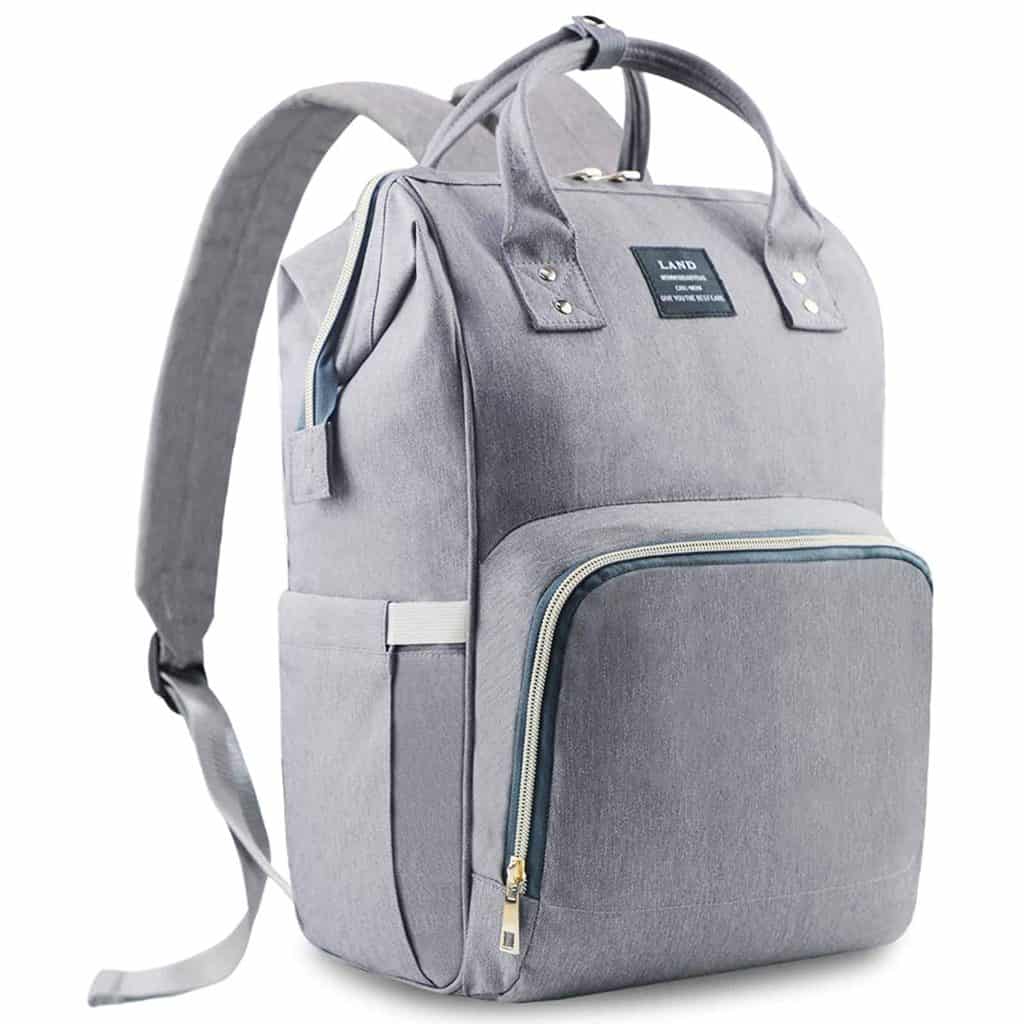 Priced at $24.99
A super affordable diaper backpack, this one is ideal for moms obsessed with the utility of additional pockets. You read that right- this backpack features 15 pockets, including a water-resistant pocket and three insulated pockets! Besides, with the roomy interiors, you'll never fall short of space- consider this bag a deep bottomed pit -mobile, wallet, iPad + baby accessories? No problem!


5. Herschel Supply Co. Nova Sprout Diaper Backpack: Best Diaper Bag Backpack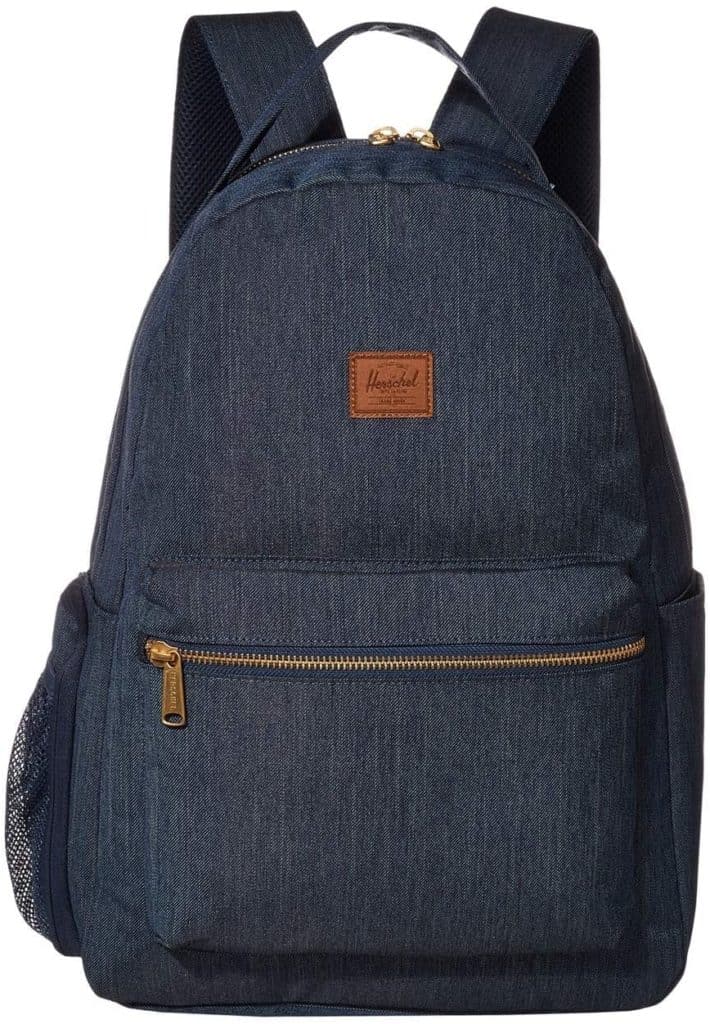 Priced at $129.99

A gender-neutral diaper backpack, this one comes in a couple of neutral color choices and is made in a very basic yet utilitarian design. It has zippered pockets with wide openings to make reaching in for stuff very easy. Besides, it also had padded straps, uncommon in diaper backpacks, and also a coordinated changing pad.
6. Carter's Handle It All Diaper Backpack: Best Diaper Bag Backpack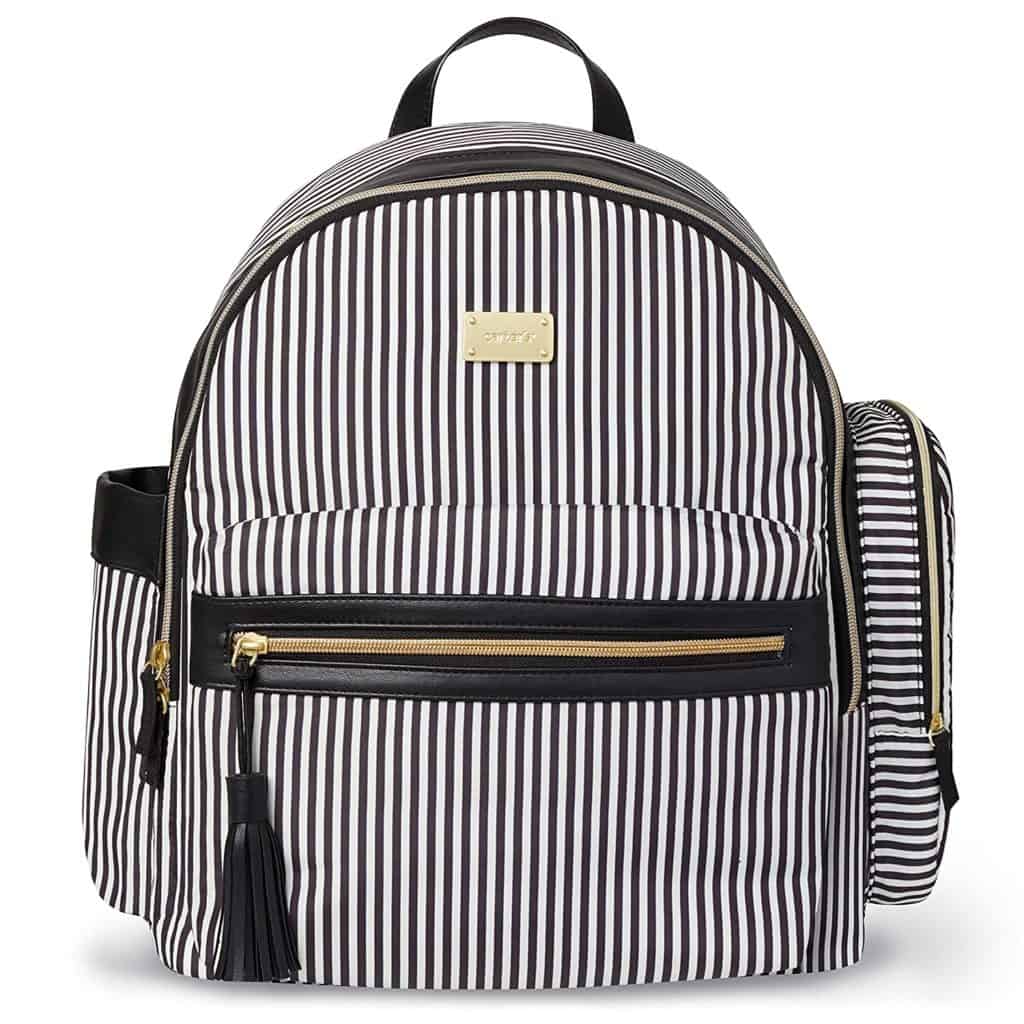 Priced at $40.00

One of the best diaper bags under $50, this diaper backpack is made with some really necessary yet uncommon diaper bag features like a wipes-dispensing pocket, multiple storage pockets, padded straps,  side-pocket bottle holder, and even a stroller loop! Not compromising on the looks, there also is some beautiful faux leather detailing to be impressed with!
7. Ju-Ju-Be B.F.F. Diaper Bag: Best Diaper Bag Backpack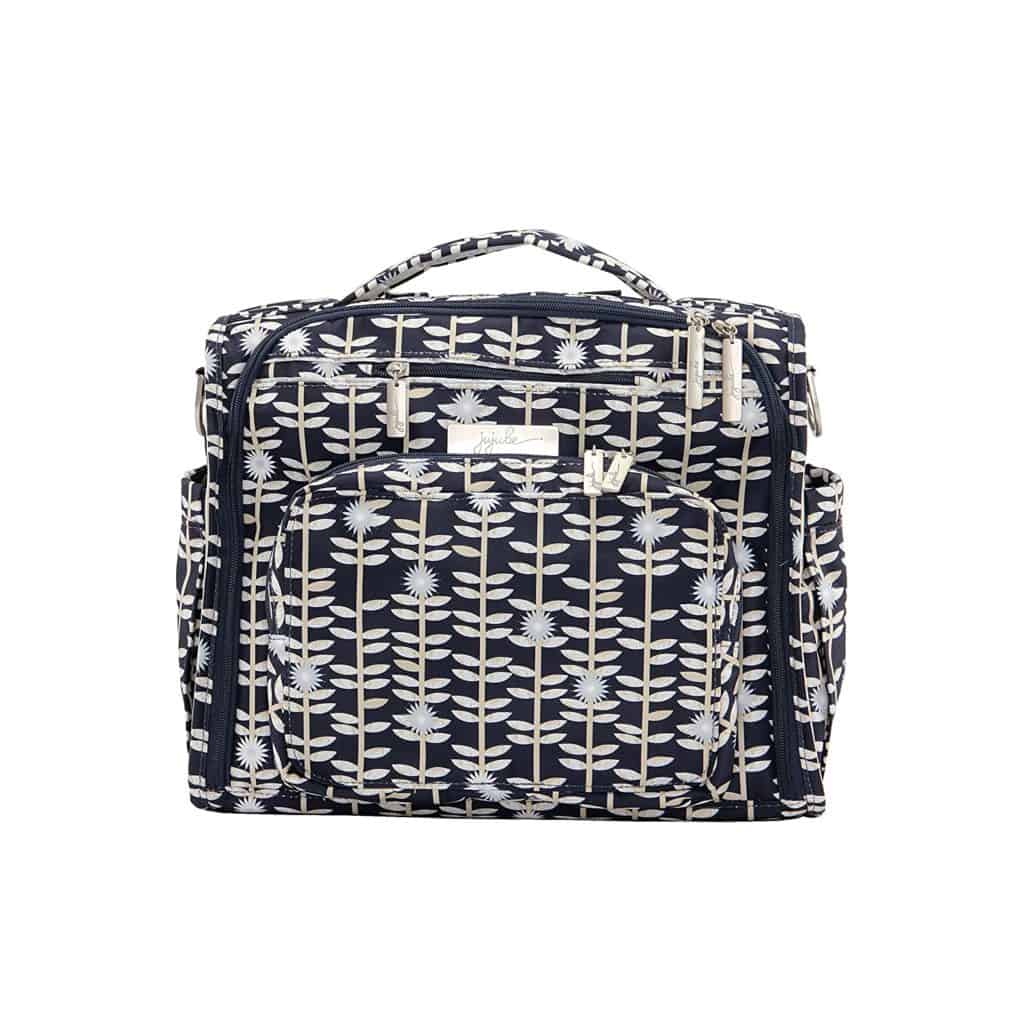 Priced at $125.99

This diaper backpack is coated with Teflon, a stain-resistant fabric to keep it free of all sorts of stain-potential mess typically found around a diaper bag. Yet, in one odd case even if you do happen to stain this bag, just toss it in the machine, and off you go! If you are not impressed already, it comes in tons of colors, can be worn as a backpack messenger or tote, has nine pockets along with two insulated bottle holders, and even a memory foam changing pad to keep the baby comfortable!
8. Skip Hop Go Envi Eco-Friendly Diaper Backpack: Best Diaper Bag Backpack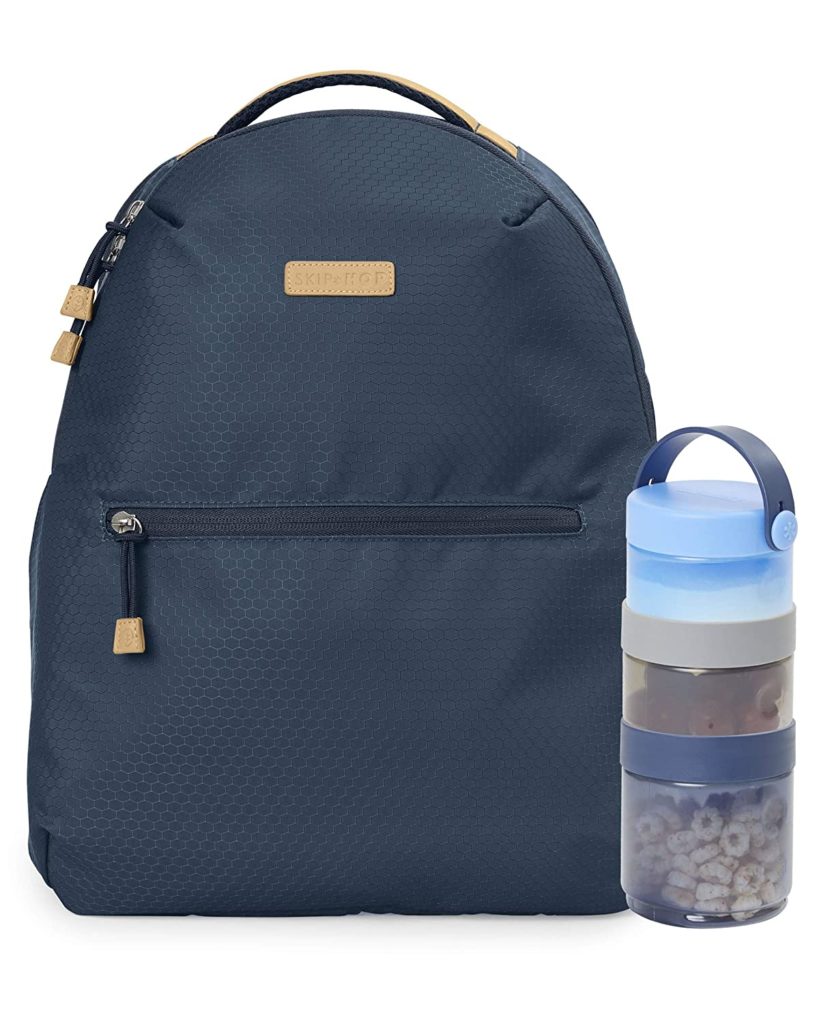 Priced at $79.99

Made from recycled plastic bottles and with vegan leather trim, this is the perfect backpack for parents who like to care about the environment as much as they care for the baby. The bag features six pockets, inclusive of two stretchy concealed bottle holders and also a changing pad, and a reusable food tower.


9. Skip Hop Forma Diaper Bag Backpack: Best Diaper Bag Backpack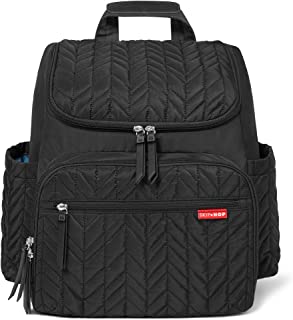 Priced at $74.99

With surprising roominess in the main compartment as well as the front zipper area, this bag is most loved by mommies for how functional it is. There also are two side pockets to quickly stash the dirty clothes in along with one insulated pocket to keep the baby milk hot and one regular travel cubes for easy organization. Available in a couple of colors, this one also can be regarded as a unisex diaper backpack owing to the availability of neutral as well as the black color option. Measuring 16 inches by 14 inches, it can also store a typical 15-inch laptop with no beef!


10. Petunia Pickle Bottom Abundance Boxy Backpack: Best Diaper Bag Backpack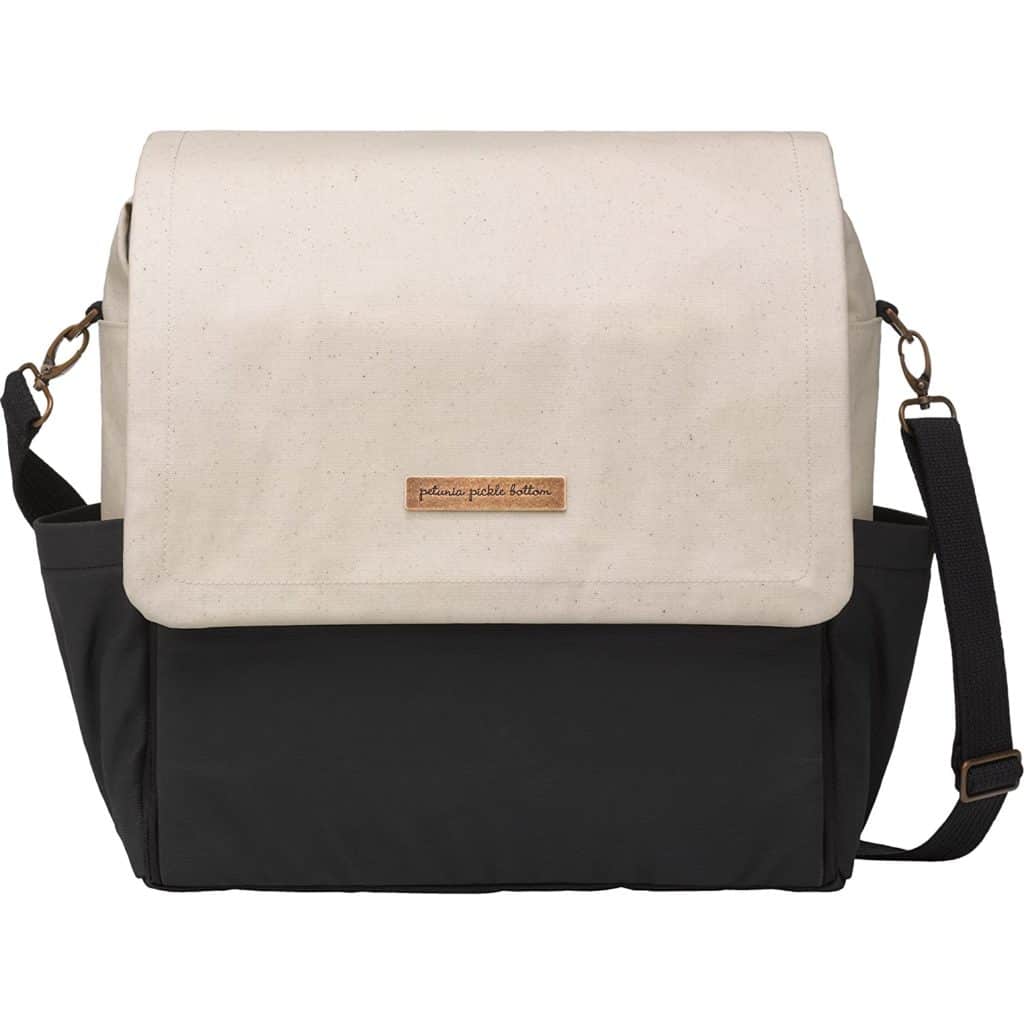 Priced at $189.00
Are you parents to twins sick of having to carry around two diaper backpacks for the two babies? Well, the Petunia Pickle Bottom Abundance Boxy Backpack does the job of two at once! A big (very big!)boxy backpack with five interior pockets, two insulated bottle holders, two exterior bottle holders, and a built-in wipes case- they have made sure you never fall short of space! This bag further earns points on versatility as it can be either worn like a traditional backpack or even crossbody style and is available in ten beautiful prints to pick from! Also comes included with compatible-with-most-strollers stroller straps.
Best Diaper Bag Backpacks FAQs
1. What should I look for in a diaper backpack ?
A diaper backpack needs to be functional and utilitarian more before anything else. You should ideally check-
The size: If the backpack big enough to be able to store baby accessories as well as is comfortable to carry around
Comfort level: Check if the backpack's straps are wide enough to distribute the weight. Padded straps and a structural framing are always brownie points.
Storage: Apart from roomy interiors, also look For how many pockets and the kind of pockets offered. Insulated pockets, bottle holders, and multiple easy-to-reach pockets of various sizes are basics.
A few extras like stroller strops, diaper dispensers, changing pads are always good to have!
2. What's the difference between a diaper bag and a regular bag ?
Diaper bags, unlike regular bags, usually have more baby-need-specific pockets like dedicated pockets to hold baby bottles and even feature a diaper dispenser or a foaming pad. While even a regular bag may be used as a diaper bag, in most cases it won't be as roomy or offer as neat an organization and convenience as a diaper bag would.
3. Are backpack diaper bags better?
While the kind of diaper bag you choose - backpack or messenger- totally depends on one's own convenience and needs, a backpack diaper bag is most liked because it frees up your hands and lets you carry the baby much more comfortably and with ease. Diaper bags are also usually very heavy and backpack diaper bags solve the weight-issue by distributing that weight evenly.