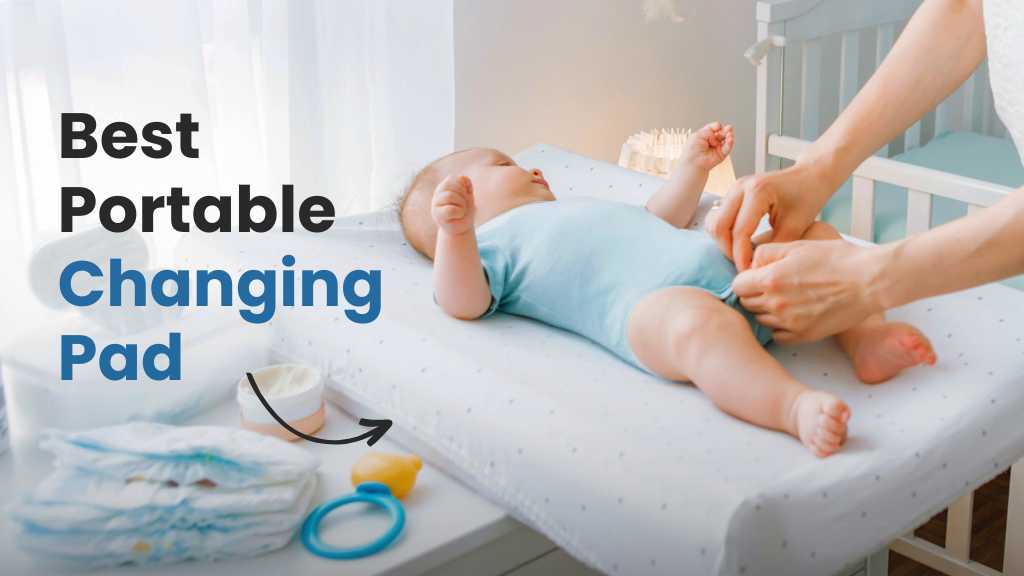 Diaper changes are no joke—up to 12 times a day! That's why a changing pad is an absolute nursery must-have. It's like a magical cloud, making sure your little one's tushy time is safe and comfy. But hey, don't settle for just any changing pad; you need the best portable changing pad! It's all about being easy-peasy to use, a breeze to clean, and fitting perfectly into your space.
Before you dive into diaper-changing-pad-land, there are some crucial things to consider. Safety first, folks! And hey, if you're into eco-friendly stuff, we've got you covered too. With our top-notch research skills, we've examined everything—from material and value to design and cleanliness. Trust us; we've done the hard work to find the absolute best portable changing pad for you and your baby. Happy diaper adventures!
15 Best Portable Changing Pad
1) Summer Infant Contoured Changing Pad (around $25)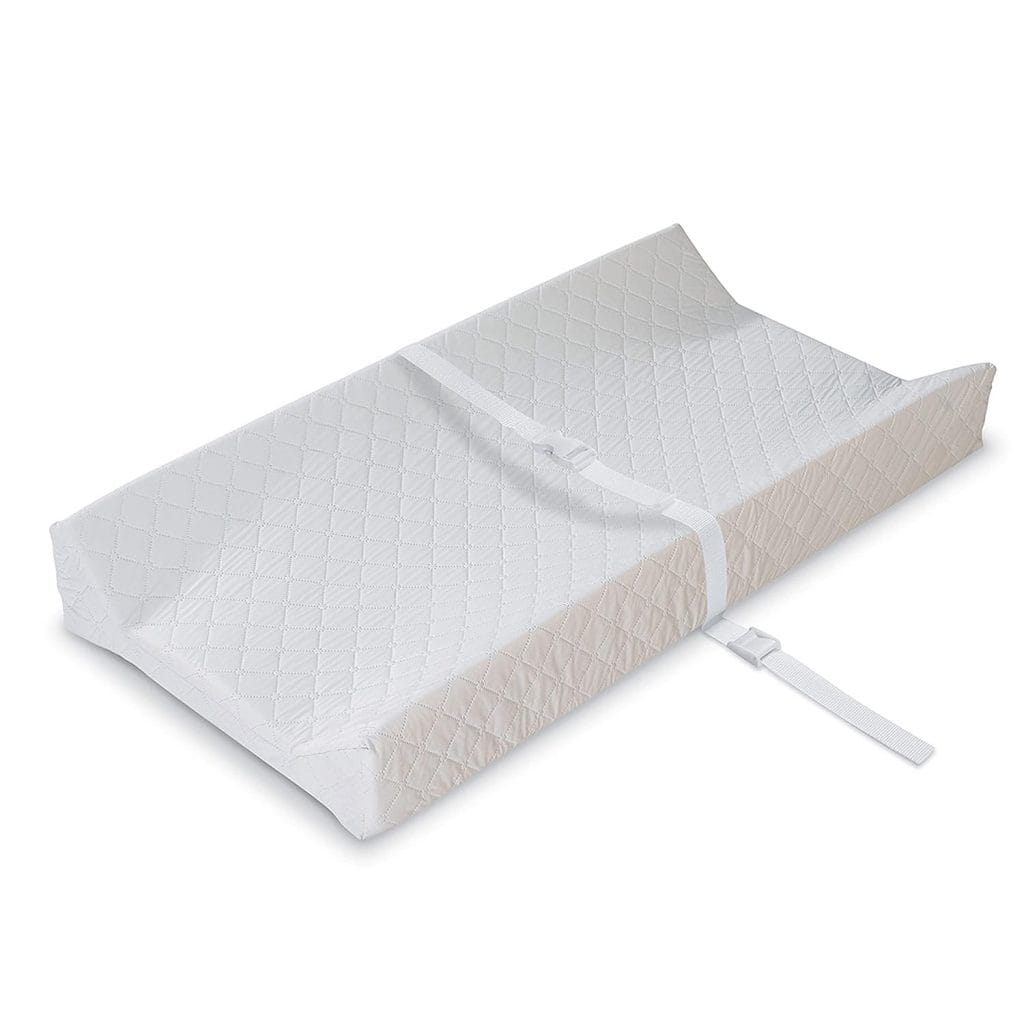 The Summer Infant Contoured Changing Pad is the shining star amongst changing pads, earning its title as the best portable changing pad.
This little gem comes with high, curvy sides, a safety belt, and wipe-friendly material, all while being budget-friendly. Yay for affordable awesomeness!

But watch out: It's not a fan of the washing machine, and it might go on a little sliding adventure on certain surfaces.

It's got all the qualities you'd wish for in a pad: safety, comfort, easy cleaning, and affordability!

The quilted, double-layered vinyl can be wiped down in a snap, while the lofty contoured sides and plush padding cuddle your little one during

diaper

changes.

To keep things extra secure, there's a strap underneath to anchor the pad on a sturdy changing table, and another strap up top to wrangle those fussy, wiggly babies.

This pad's material is both light on weight and heavy on durability.
You'll be delighted to find that it fits most standard changing tables like a glove. Ready to rock your baby registry? This best portable change pad is a must-have addition.
2) Skip Hop Pronto Portable Changing Pad (around $48)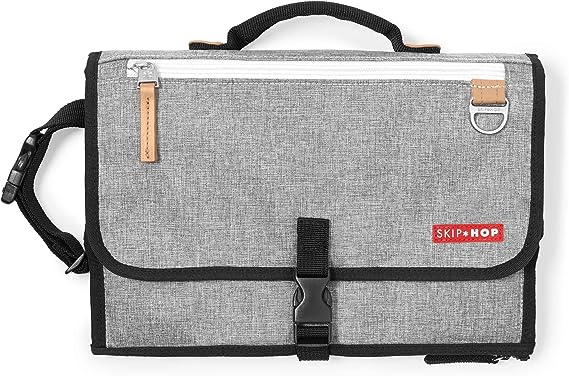 Are you ready to meet the ultimate travel sidekick? Behold, the best portable changing pad that's here to make diaper changes a breeze no matter where you go!
This pad is like a magical bag of tricks with its mesh pockets, holding up to 4 diapers, and an outer flap to stash all the parent essentials.

Oh, and did we mention the translucent, easy-to-replenish baby wipe case?
This pad is so versatile and stylish that you can fold it into a chic clutch and rock it around your wrist.

You can also attach it to your

diaper bag

for some diaper-changing-on-the-go action.

And when you're done, just stow it away under your stroller like a pro!

The material is soft, laminated goodness both inside and out.

You can wipe it clean with ease or even give it a gentle machine wash (but no dryer shenanigans, please!).
We won't lie; this beauty comes with a slightly higher price tag, but trust us, this one is totally worth the investment.
3) Baby Changing Pad by Lil Fox (around $24)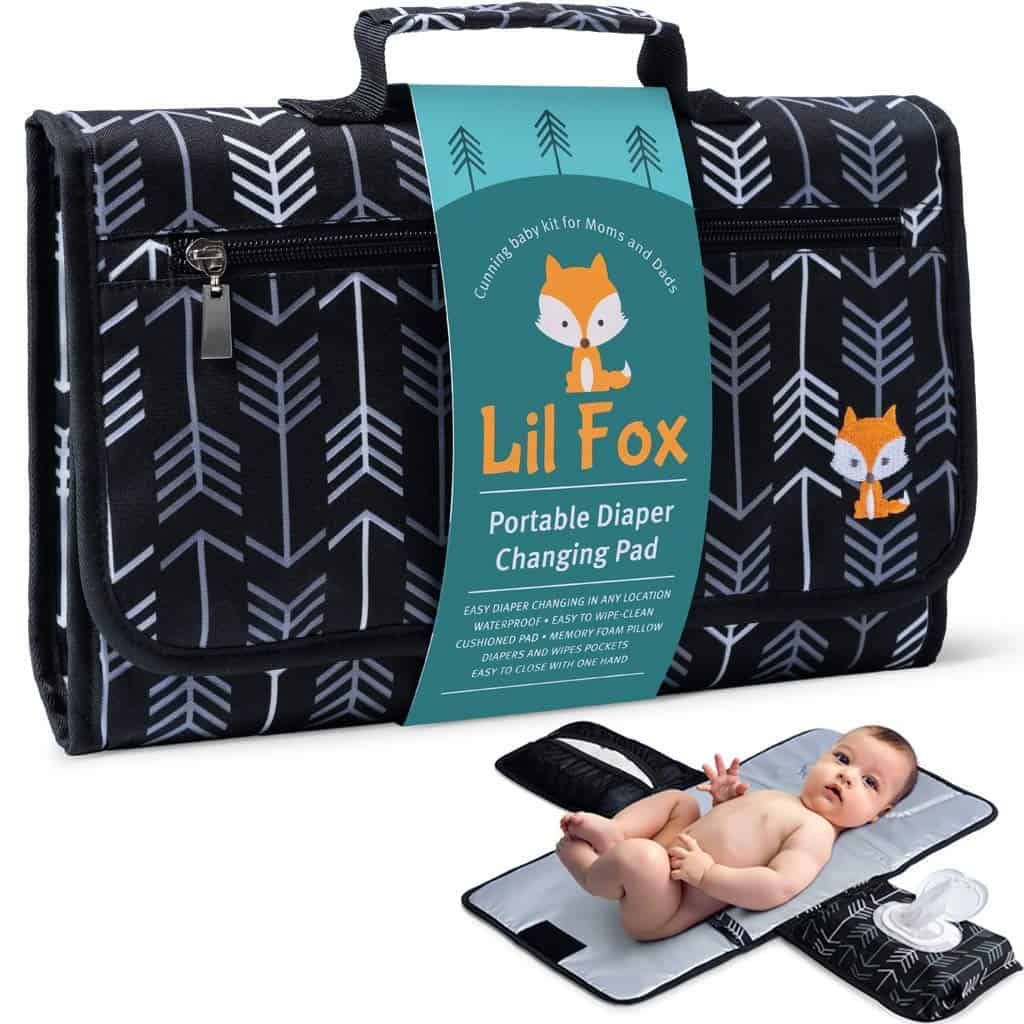 When you're out and about, this high-quality pad will come to the rescue like a superhero.
With just one hand, you can set up a clean and secure surface in a jiffy.

There are two handy storage pockets—one for up to five diapers and the other for wipes, so you'll always be prepared for any mess.

Your baby's comfort is taken care of with a memory foam pillow.

And there's even a zip pocket for your essentials—keys, creams, or even your phone!

Plus, it's made from 100 percent waterproof material, so no worries about spills and leaks.

And the fun doesn't stop there—the pad comes in a variety of colors and designs, making it a stylish accessory for any parent.
Just attach it to your stroller with the hook, and you're good to go on your changing adventures!
4) Keekaroo Peanut Changer (around $150)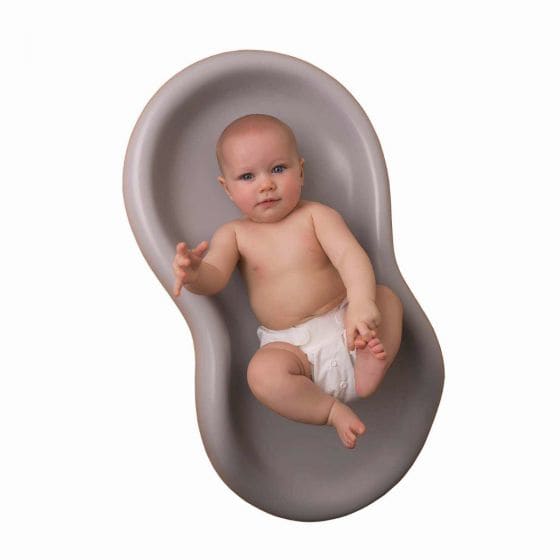 This plush and eye-catching peanut is a game-changer for diaper duties. Say goodbye to the traditional changing table because
The slip-resistant base and peanut shape allow it to sit happily on any dresser or table.

Sure, the polyurethane material might feel a bit chilly against the baby's skin, but fear not! Its special foam is like a superhero, fighting off cracks, stains, and discoloration.

Liquids and mess won't stand a chance with this virtually impermeable surface!
So, let the Keekaroo save you time and energy, and trust us, it's worth the cost! At $150, it's a keeper!
5) BABY LOOVI Store Baby Portable Changing Pad (around $15)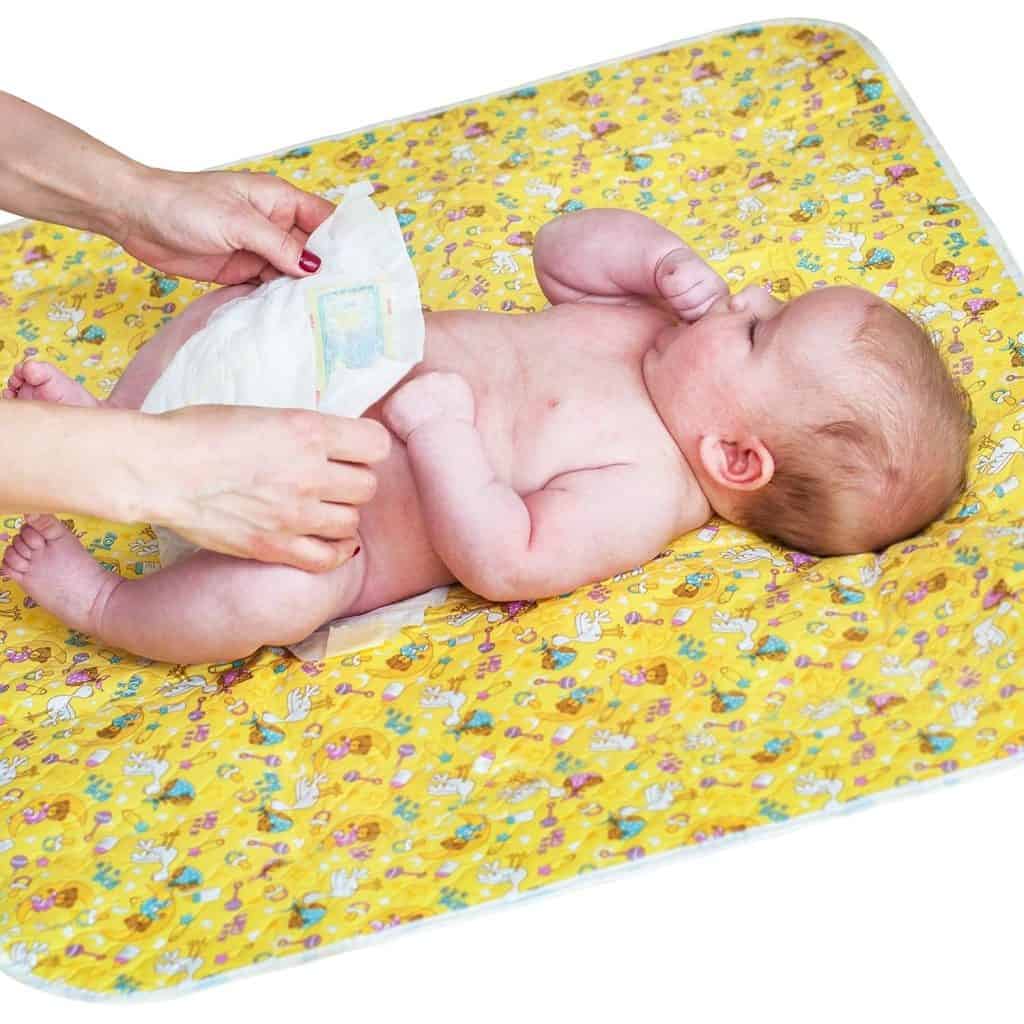 With its generous size, your little explorer will have all the wiggle room they need for diaper dance-offs.
The ample padding provides them with cozy cuddles during every diaper change, making it a happy, giggle-filled experience.

This magical mat is crafted from a waterproof, skin-friendly material that repels wetness like a superhero, keeping it dry and odorless, so no more wrinkled noses! Say goodbye to irritation and allergies, and hello to pure comfort!

Just fold it up or roll it like a magic carpet, and it'll fit right into your go-bag or snuggle cozily under your airplane travel stroller.

Unfolded, it stretches out to 31.5″ x 25.5″, and when folded up, it shrinks down to a compact 6″ x 8″.
Now, here comes the best part – your wallet will be jumping for joy as you get one of the best choices without breaking the piggy bank!
6) Munchkin Secure Grip Waterproof Diaper Changing Pad (around $32)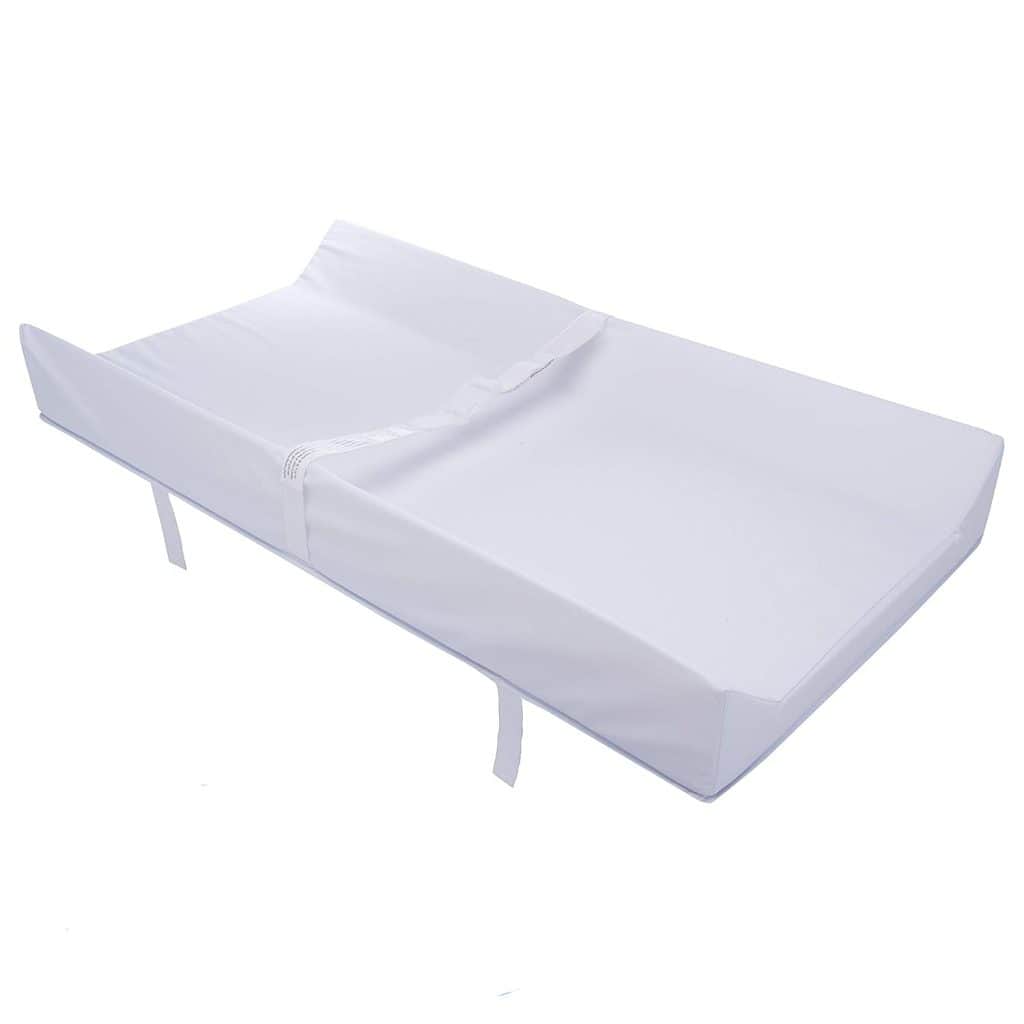 When it comes to the best portable changing pad, waterproof is the way to go! Check out this Munchkin design—it's like a superhero for messy situations.
Its wipeable surface means quick cleanups are a breeze.

The foam material makes it as cozy as a cloud for your little one's tushie.

With extra grip strips, this pad stays put like a pro during diaper duty, no slipping or sliding allowed!

This pad's got a safety belt to keep your baby snug as a bug in a rug, whether it's 4 p.m. or 4 a.m.

31.5 inches of length, 16 inches of width, and 4.25 inches of pure changing power! And it weighs just 1.8 lbs, so it's light enough to handle even with a sleepy brain.

It's made from polyurethane foam and cotton.
Some reviewers say those sticky grip strips might leave tiny marks on dressers and changing tables. So, let's place it wisely, shall we? This best portable change pad is best suited for babies older than one month, so save it for those slightly bigger bundles of joy!
7) LA Baby 4-Sided Waterproof Diaper Changing Pad (around $40)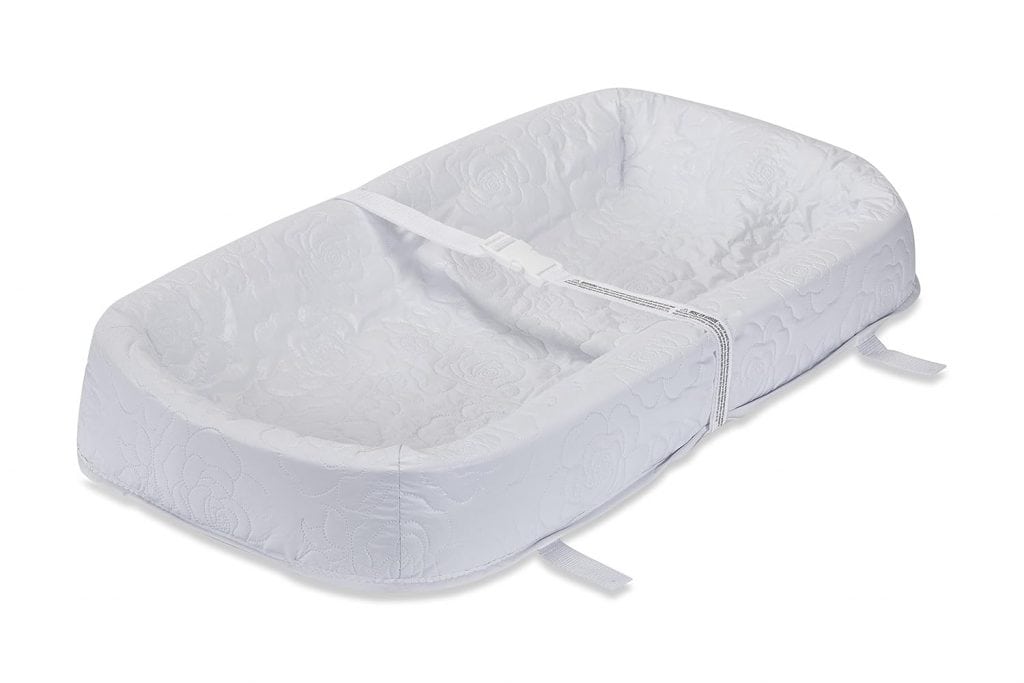 It's a four-sided, contoured wonder that keeps your precious bundle safe and comfy during diaper changes.
With a non-skid bottom, this pad won't go sliding around while you're tending to your little one's needs.

Plus, the outer cover is waterproof, anti-microbial, and phthalate-free—talk about top-notch hygiene!

Cleaning it is a piece of cake; just grab some water and soap, and you're good to go!

Now, here's the catch (drum roll, please): the sides are 4 inches high, which means it's not suitable for itty-bitty

newborns

under one month old.

You get the deets on dimensions, weight, and materials: 30 inches long, 16 inches wide, and 4 inches high, weighing in at 3 lbs., and crafted with polyester foam, PEVA, and cardboard. It's a lightweight champ!

It comes equipped with a safety strap, ensuring your little wriggler stays put during those diaper-changing dance parties.

Plus, if you need a bit more space, there's a 32-inch-long size available.
Do keep in mind, lovely folks, that this cozy cocoon is best suited for babies over one month old. Safety and comfort are the key, so be mindful of those teeny tiny ones!
8) Gimars 6 Pockets Travel Changing Mat (around $40)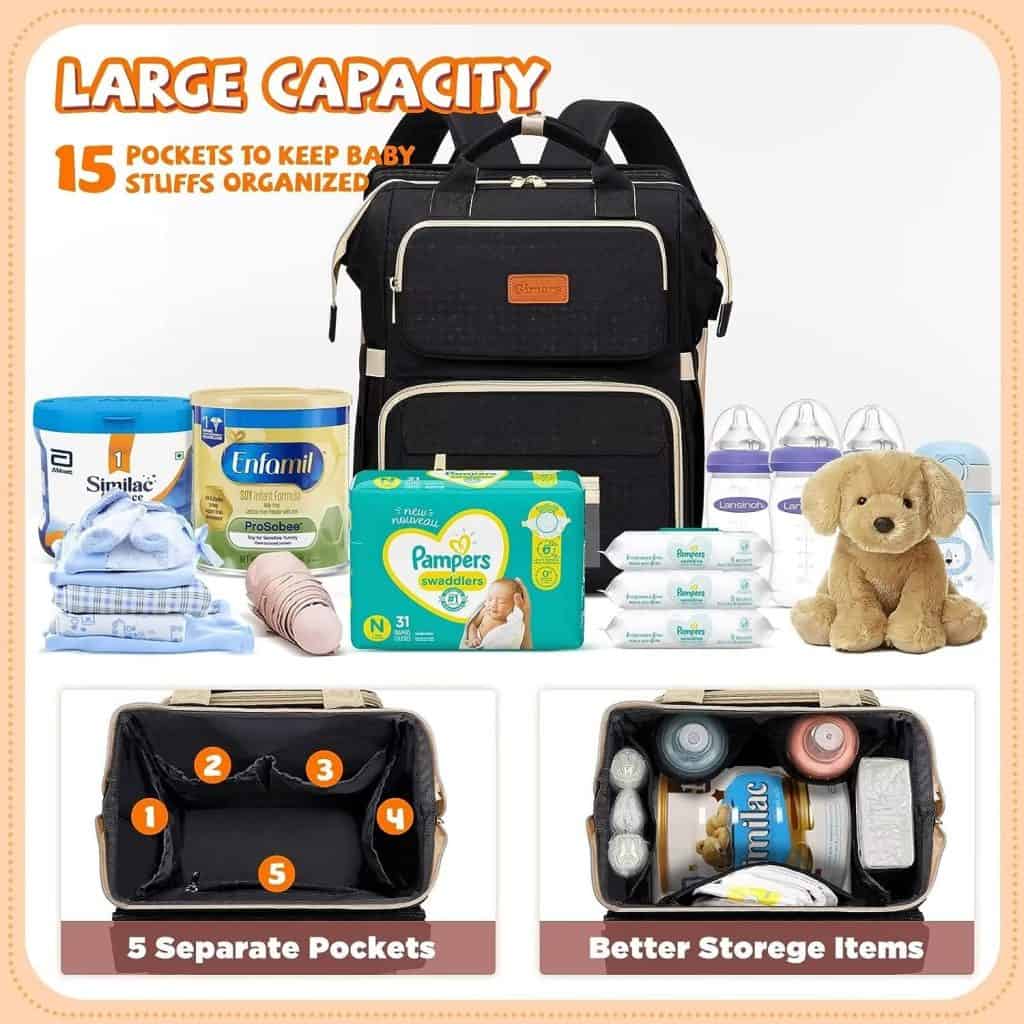 Say hello to the "Best Portable Changing Pad" that's ready to be applauded "The Beast" of changing pads!
This marvelous creation by Gimars has an epic amount of storage space – 6 additional pockets to be exact!

Forget about lugging around a

diaper bag

, this pad is an all-in-one solution in a convenient clutch.

This pad comes with a slightly higher price tag than your average changing pad. But fear not! Its durability and functionality make it worth every penny.

Plus, it boasts a head pillow for extra comfort and even a special pocket for wipes and 8 diapers!

Unfolded, it's a generous 27.5″ x 14″, and when folded, it's a neat 8.6″ x 13.7″.
9) Naturepedic Changing Pad (around $130)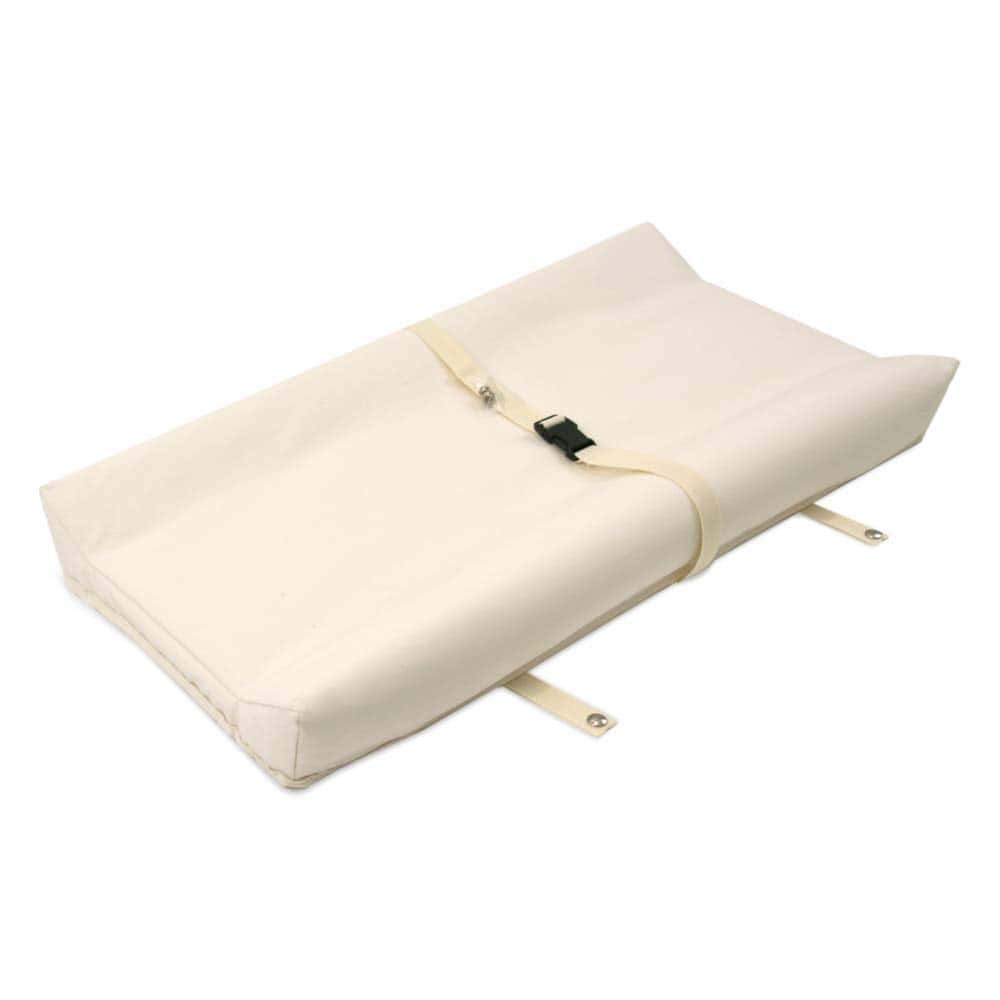 Calling all eco-conscious parents and sensitive-skinned babies! Naturepedic's changing pad is the best portable changing pad for you!
Crafted with love from organic cotton fill and fabric, this pad even boasts food-grade polyethylene waterproofing made from sugarcane.

No need to fret about potentially irritating chemicals; this pad is free of formaldehyde, phthalates, GMOs, soy, latex, polyurethane foam, vinyl, and flame retardants—whew, that's quite the list!

This plush pad has highly contoured sides to keep your little one cozy and secure during diaper changes.

The included belt with screws ensures a super snug attachment to furniture, making it extra secure for those wiggly babies.
With its impressive dimensions and one-year warranty, you'll be changing diapers with ease for a long time to come.
10) J.L. Childress Full Body Portable Baby Changing Pad (around $15)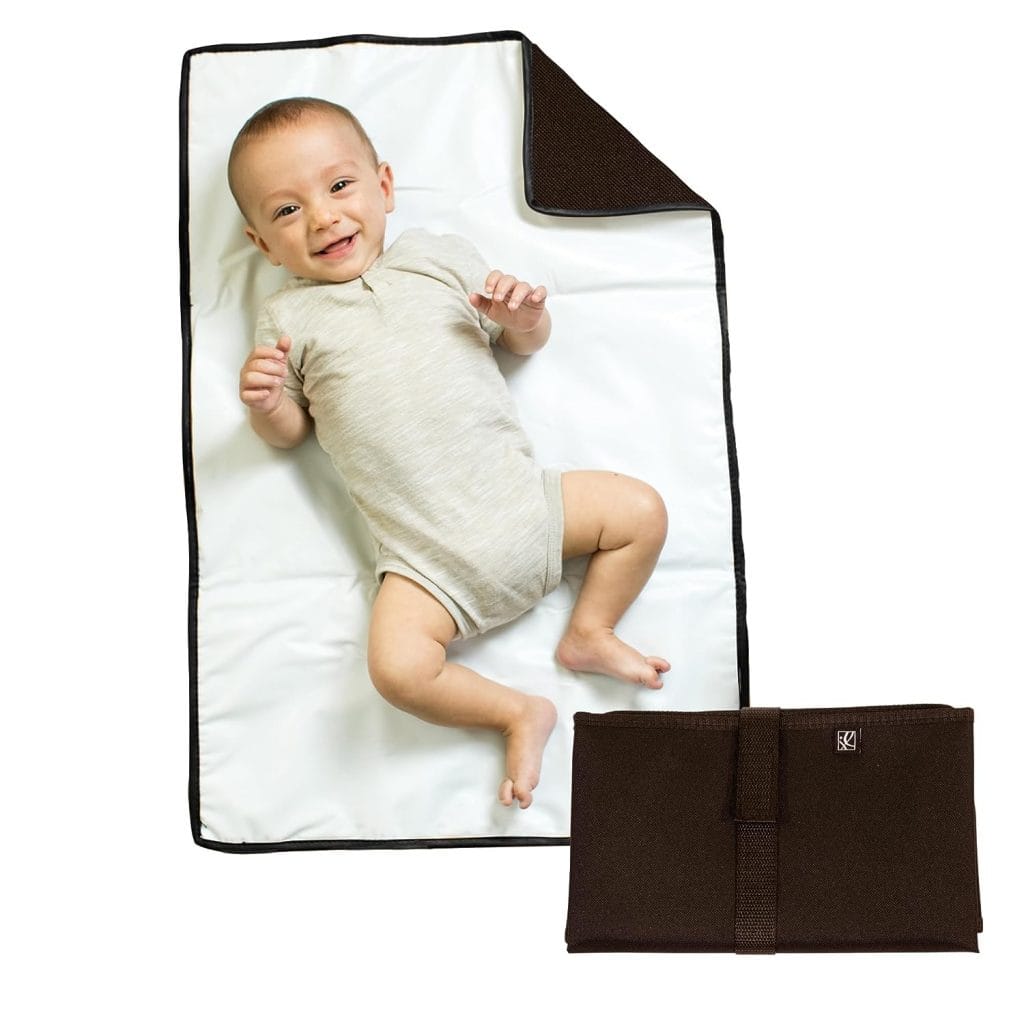 If you seek a foldable, full-body baby changing pad that knows its mission and excels in it with flying colors, then look no further than the J.L. Childress Portable Baby Changing Pad.
It's colossal, comfy with ample padding, and oh-so-perfect for those on-the-go diaper duties.

This pad's wipe-clean changing surface is made from a magical, lead and phthalate-free waterproof material, ensuring maximum safety and hygiene for your adorable bundles of joy.

Solid as a rock, yet light as a feather, it's a true champion that gets the diaper-changing job done to perfection!

When unfolded, it measures a whopping 30″ x 19″, and when folded, a mere 6.5″ x 10″.

The only con is that it doesn't have any secret pockets for additional parent gear.
11) Jool Baby Contoured Changing Pad (around $35)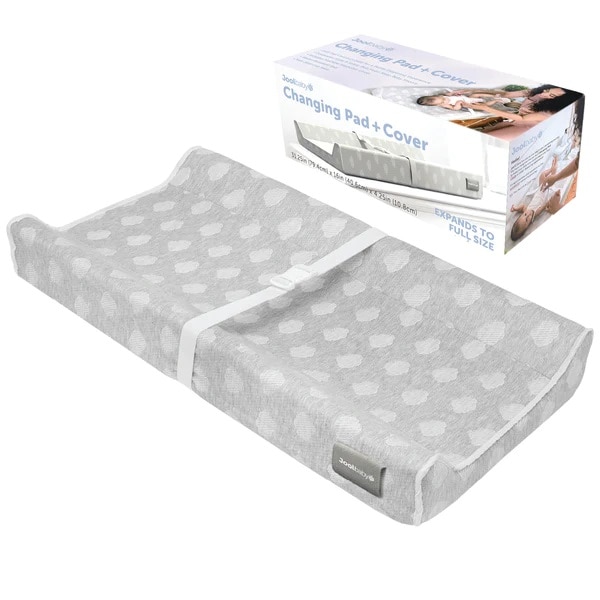 Not only does it come with a super soft, machine-washable cover (with an adorable cloud print, mind you!), but hidden underneath is a magical waterproof pad that stays clean and dry no matter what messes come it's way.
And, even the most squirmy infants are no match for this pad's non-skid base and contoured sides, keeping them safe and secure during every diaper adventure.

It is spacious (31.25" (L) x 16" (W) x 4.25" (H)) weighing only 2.6 lbs and a mix of super comfy polyester and rayon.

Those contoured sides and the trusty safety belt – so baby stays put!

A soft, machine-washable cover keeps things squeaky clean.

Keep in mind that it is not suitable for newborns younger than one month.
12) LA Baby 4-Sided Diaper Changing Pad (around $40)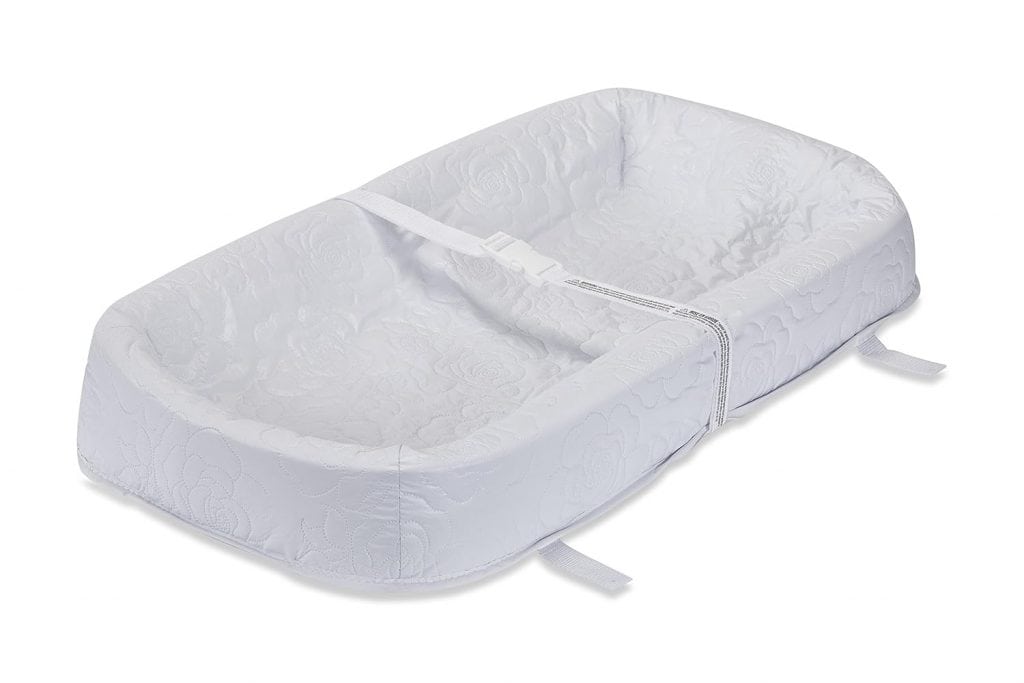 This super-secure best portable change pad is like a superhero for small changing tables!
With its slip-resistant base, 4 high-contoured sides, and a snazzy safety harness complete with a quick-release buckle, you can rest easy knowing your little one is in good hands.

It even comes with 2 screws to mount it extra-tightly to your furniture fortress.

It's made of non-toxic, hypoallergenic stuff and fights off germs with its anti-microbial, phthalate-free, and waterproof powers. But remember, even with all these super features, never leave your kiddo unattended during diaper-duty battles!

The sizes come in both 30 inches and 32 inches long, but many parents prefer the smaller one because it fits snugly into changing tables that others just can't conquer.
Here's a con though: some parents say it showed a bit of wear and tear over time.
13) Comfy Cubs Baby Portable Change Mat (around $10)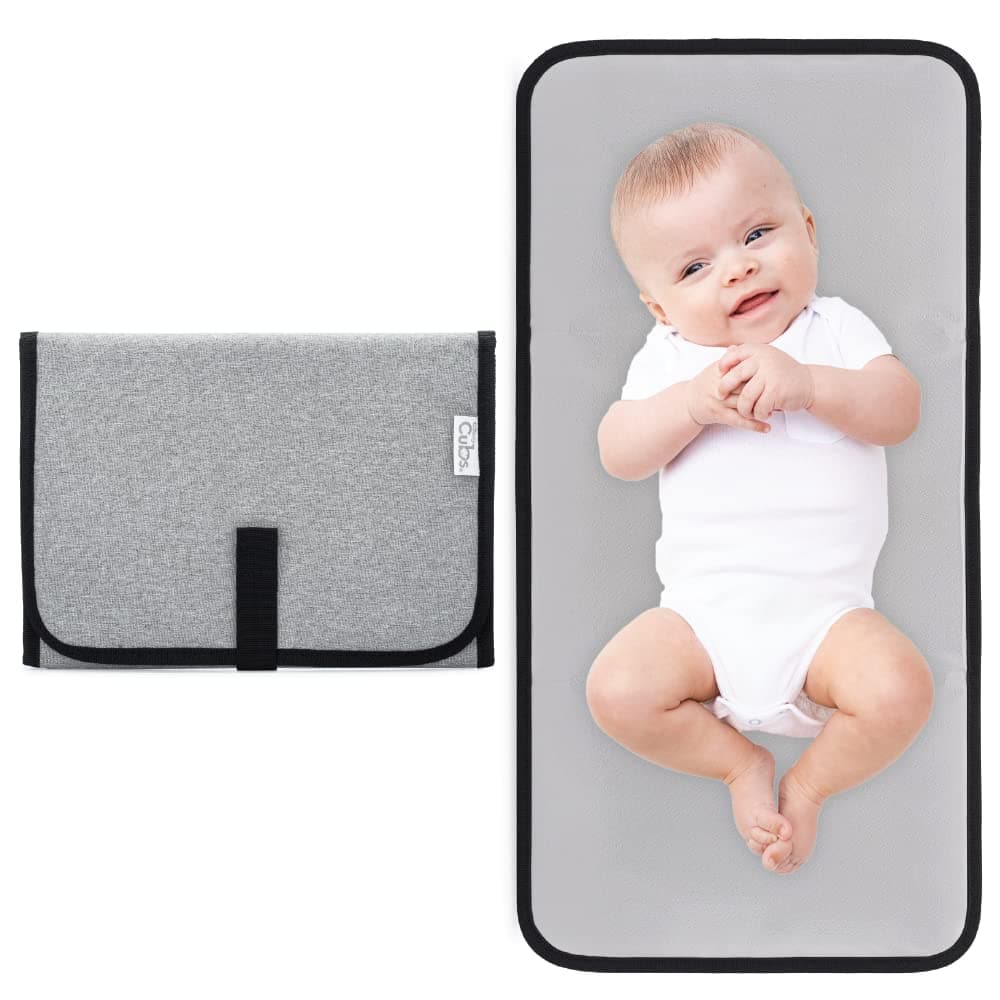 Made from tough polyester, this best portable changing pad from Comfy Cubs is waterproof to make cleaning easy.
And check out that padded headrest!

For parents on the move, this is the best changing pad you can fold it up, and toss it in your trusty

diaper bag

.

If you're still not smitten with it, Comfy Cubs has your back with a no-questions-asked return policy!

Unfolded, this pad stretches up to 25 inches.

Folded, it's a neat little 8 by 11.5 inches making it as compact as a baby hedgehog.

It might be better for small babies who won't move much during diaper changes.
14) Keababies Portable Diaper Changing Pad (around $12)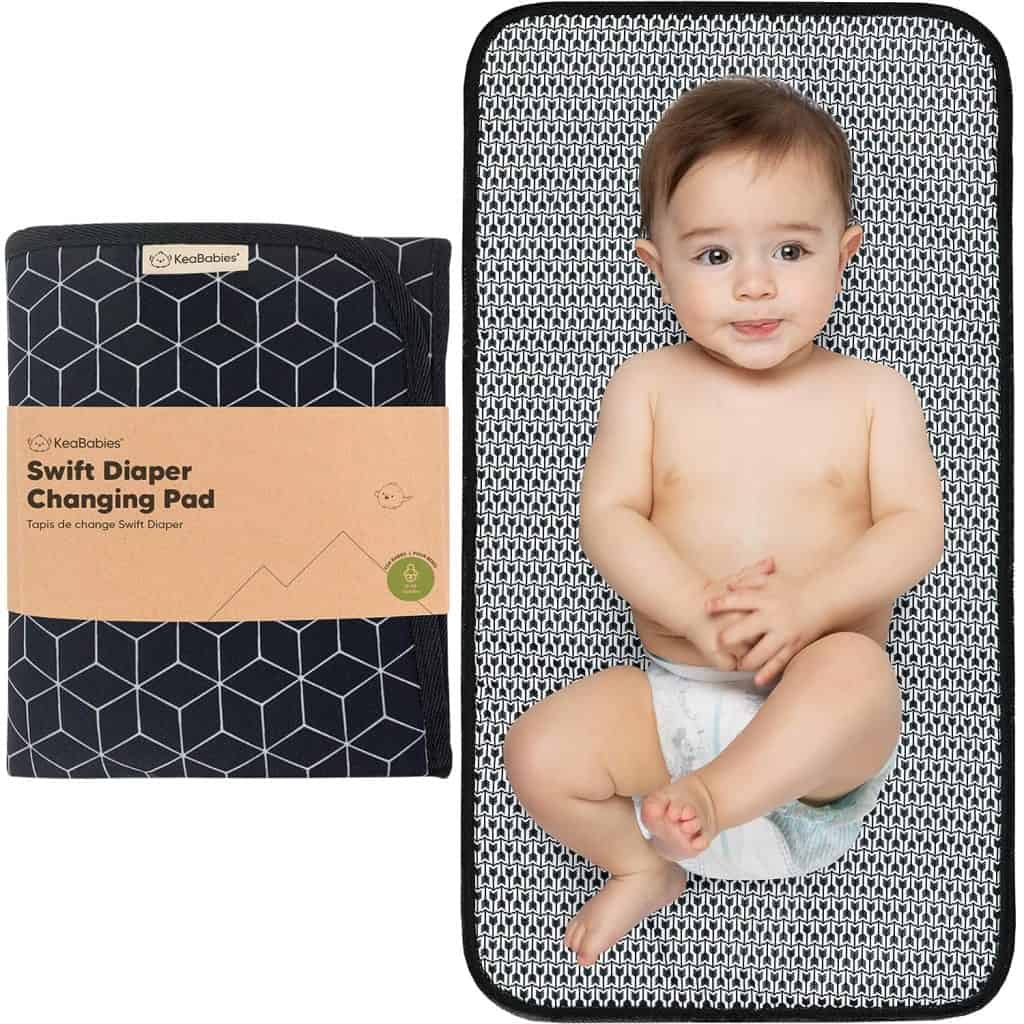 Do not skip this must-have travel best portable diaper changing pad that fits right into your diaper bag.
This magic mat is double-sided, waterproof, and oh-so-durable!

And no, this mat's got no age restrictions – it can be used for a newborn and an infant because just check out the dimensions – 25.59″ (L) x 13.78″ (W) x 0.83″ (H)!

Unfold it with one hand and lay your baby on the cushy foam pad for an easy breezy diaper change.

This baby changing pad comes at a jaw-dropping price of under $15 – a score for budget-conscious parents.

With a weight of just 4.8oz., it's light as a feather.

Plus, it's made of polyester so you know it's both sturdy and easy to clean.

This pad's also got a compact, bag-friendly design that simply screams convenience.

And we've got some good news for those who dread laundry day – this baby changing pad is machine-washable.

Whether you're into bold and vibrant or subtle and pastel, this pad comes in a range of colors and patterns.
Now, let's be real – some reviewers mention that it's a tab smaller than expected but with all the fantastic features it offers, a little size compromise might just be worth it.
15) Skip Hop Nursery Style Baby Changing Pad (around $80)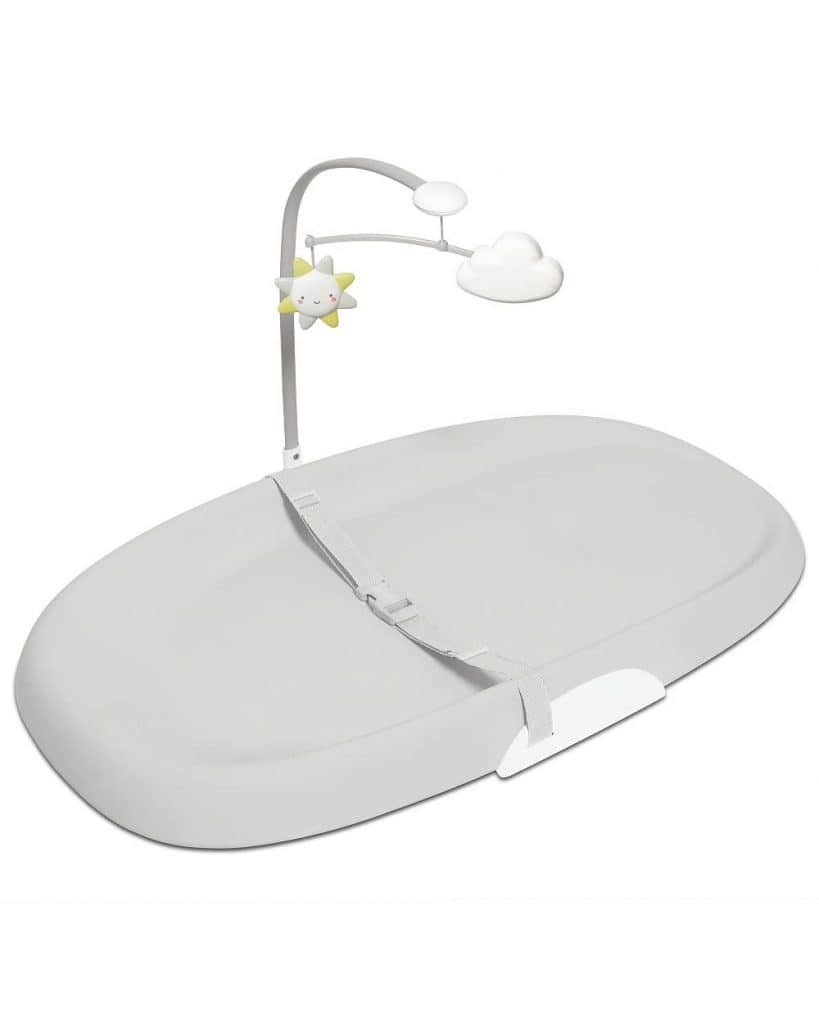 Who said diaper changes had to be a boring messy affair? This changing pad brings the show to town with its tuck-away toy bar adorned with sun and cloud mirror toys that'll keep your baby mesmerized.
The foam material is a breeze to clean.

The safety belt and non-skid bottom make sure your baby stays put.

While some parents wished for a bit more cushion, this pad still offers plenty of fun.
To find the best portable changing pad, we put on our research hat and consulted our pediatrician to ensure we covered all the important safety aspects. We followed the safety recommendations from the AAP and the certifications from JPMA and ASTM International. Safety and comfort are our top priority and we hope you found the best product for your little one.
Best Portable Changing Pad FAQs
1) Are portable changing pads worth it?
We've all been there, and unfortunately, not every public diaper-changing station is the most sanitary. Having a portable changing pad or mat will protect your baby from messy surfaces and surfaces from a messy diaper.
2) Are changing pads safe?
A good diaper-changing pad should be comfy and safe for your little one, with a three-sided or contoured design to prevent rolling and extra cushioning for comfort and head protection.
3) How do I choose a changing pad?
When choosing a changing pad, make sure it has a belt to keep the baby secure and straps to anchor it to furniture or walls. Always use the safety features and keep the baby close by during diaper changes.