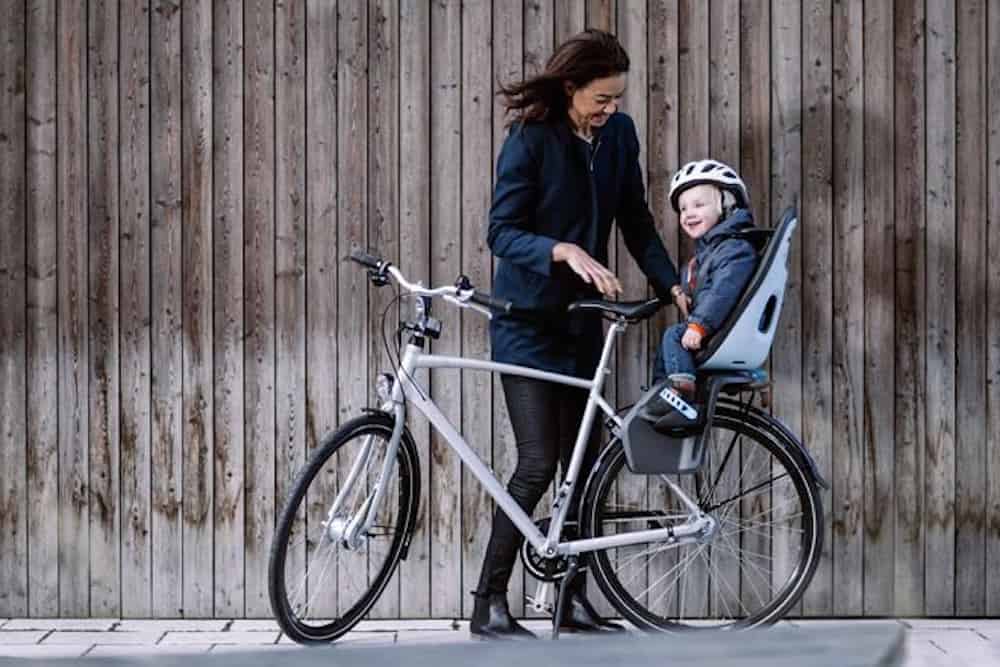 A child bike seat is designed to be safe and comfortable on two wheels. So, while the little one waits for their own bike rides, you can make use of these child bike seats so the kid can ride along on yours.
However, there are quite a number of kids' bike seats that tend to cause confusion in parents due to their high range of availability with comparatively diverse features. So, in order to make things earlier, we at Parenthood bliss have curated this article that accumulated the top 5 best kid bike seats for you to choose from. But before we get into that, let's understand why must one have a child seat and when is it needed the most?
When must a parent buy a child's bike seat?
According to the American Academy of Pediatrics, parents must wait until the child is big enough to wear helmets irrespective of the market having child bike seats for babies as young as nine months. Adding on, in some states, it is even considered illegal for kids under one-year-old to ride in a trailer or a bike seat as a small bump on the road can curb the little one down.
Therefore, to answer the question, parents must purchase a bike seat for the kid as and when they have a strong neck, have head control, and can sit sturdily.
What to look for when purchasing a child bike seat?
Listed below are the important things you must keep in mind while determining the right bike seat for the little one to ride along:
The compatibility of the bike: While choosing the best bike seat make sure you check the specifications to ensure that the components work well as per the type of carrier you want.
Comfortability: The add on of a "co-pilot" tends to add more weight and has a chance to throw off the center of gravity. Where we find few parents that feel comfortable with their kiddo in a front-mounted seat, the others find it easy when they are seated behind. So, check your preference and choose the child bike seat accordingly.
The age of the child: Get the child's bike that suits the age of the child. For instance, the front-mounted seats are designed for riders from nine-months to two- or three-years-old (or a weight limit of around 35 pounds), while the rear-mounted seats are best for nine months old kids of around 45 pounds.
Now that you know what to look for in a bike seat for the kids, let's get to our best picks of the child bike seats.
5 best bike seats for the kids
Listed below are the top 5 best picks for a kids bike seat for you to choose from!
1. Thule Yepp Mini child bike seat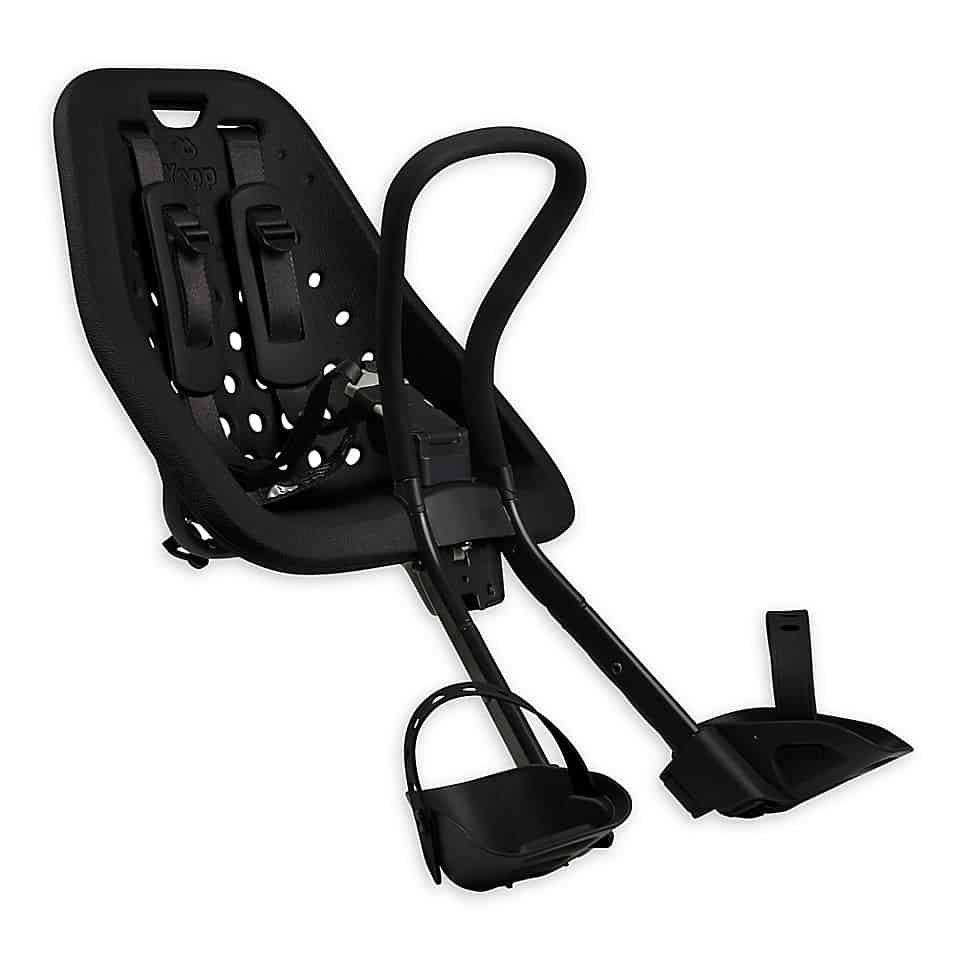 Thule Yepp Maxi is a front-mounted seat and features to be compatible with most bike models with its sleek, lightweight design. It is also shock-absorbent as it is built from water-repellent EVA materials that keep the seat durable and easy to clean. Adding on, Thule makes the rides extra comfortable, safe with a padded 5-point harness, and adjustable footrests and straps for the little one with ventilation holes, a high back, and a childproof safety buckle.
Additional Specs –
Age range: 9 months – 3 years
Weight capacity – 33 lbs
Seat weight: 7.7 lbs
Safety harness: 5-point
Fits ok. The foot holders hit the frame of the bike on light turns so the placement of those isn't ideal on a mountain bike. I put a piece of tape where it touches to keep it from scratching. The Pole extensions for the foot rest may also rest against your fork suspension. You most likely need the optional adaptor to mount to your bike unless you're installing on something with a tall handlebar neck like a beach cruiser. Otherwise my child seems comfortable and enjoys it. Very lightweight and easy to remove with one click.
We researched numerous child seats, both front and rear, and am glad we went with the Thule Yepp Mini. We also purchased the Thule Children's RideAlong, which is great, but our 12 month old really enjoys riding in the front. We put it on a Trek Verve 3 Lowstep and have zero issues. The features we love are that it is vented (we're in the deep south so summers and even falls can be extremely hot and humid), the handle (yes she uses it it), the lightness of it, and the security. On the security aspect, you basically have to press a button and then slide another piece before lifting (assuming it is unlocked). It if effective, but also very efficient. Our knees rarely ever bump it.

Depending on your bike, your turning radius can be limited. We have no issue with it as my wife's bike is a lowstep, but on my bike (not a lowstep) the turning radius is slightly limited as the leg bars contact my frame.
I would purchase again and highly recommend.
Instructions were simple. Installation took ~30 mins
For more product reviews visit Amazon
2. iBert Safe-T Child Seat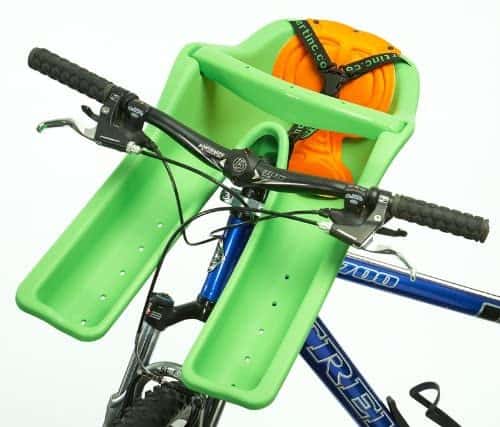 This fount – mounted bike seat for the mounted child is affordable, easy to install, and is fun to use. It has a maximum weight capacity of 38 pounds, is durable, and is a compatible frame-mounted bike that is compatible with most bike frames due to its 3/4" spacing on the seat tube. iBert also has a good unique center-mount positioning that helps the little ones with balance, has a padded steering wheel that adds on in an interactive ride, and helps them navigate.
On the downside, this rear child bike seat doesn't have bells and whistles included, with the back positioned a bit lower, providing less head support for taller toddlers.
Additional Specs –
Age range: 1-4 years
Weight capacity – 38 lbs
Seat weight – 3.11 lbs
Three-point harness for safety
This child seat has been amazing. My wife and I had been trying to be more active so we looked into options for going bike riding with our 18 month old. We tried the trailer you pull behind, he hated being in there for more than 10 minutes and it just wasn't comfortable for him. Then we tried two other seats before this one and they were just too big and made mom's ride uncomfortable.

Then we saw this one. At first we thought there was no way that would be easy to ride with the legs way out front like that. We decided to try it out and have loved it! It mounted very easily and even though it's only two bolts holding it, it felt very secure. The seat sits further forward then others and isn't as wide, which made mom's ride much easier. It has a 3 point harness that is adjustable to a wide range of sizes and feels very secure when the child is strapped in.

Our son loved it right away also. He never complains about being in it and he loves being up front taking in the view. We've gone for 30 minute rides and he's been comfortable the entire time. In fact he's so comfortable that he's fallen asleep in his seat a couple of times. He's 2 yrs old now and he still fits very comfortably with a little room to grow.

Would definitely recommend this seat to anyone looking for one. 5 out of 5 *****
I did a lot of research before buying a bike seat for my little guy and I'm so glad I found this one. I was worried because it looks cheap/unstable and weird/uncomfortable from the picture but it couldn't be more opposite of those things. My little guy HAD to be up front so he could see everything or he wouldn't be happy. This was perfect for us. It's safe, keeps his legs and feet clear of the wheel and handle bars and it seems EXTREMELY comfortable! He never wants to get out! It looks like it would be hard to steer, but it's really not, especially after a little practice. This is very easy to assemble and attachto a bike and super easy to put baby in. I love this seat! Thank you for making an upfront seat!!!

And for the record, I did NOT receive this product free or at a discount. I paid full price for it and am writing this review just to help other people who pay full price for stuff too!
For more product reviews visit Amazon
3. Thule Yepp RideAlong Child bike seat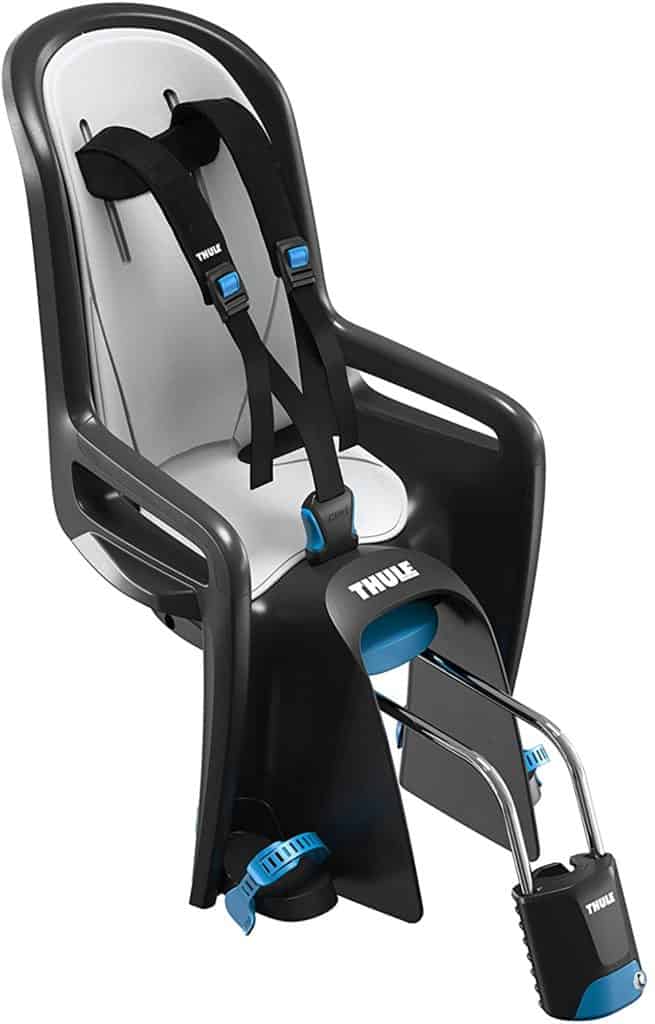 This Thule RideAlong features a top-notch sturdiness with a removable quick release bracket. They also include an adjustable harness, a childproof safety buckle, a built-in reflector, a DualBeam suspension system, adjustable footrests, and foot straps with five different reclining positions.
However, it is expensive as compared to the other bike seats, but is assured a perfect trifecta providing comfort and durability.
Additional Specs –
Age range: 9 months years
Weight capacity – 48.5 lbs
Seat weight: 10.2 lb
Safety harness: 3-point
Our 2 year old loves riding in this seat. The straps and adjustable foot rests must be comfy because she is content to ride along for a long time. It is very easy to install and feels very secure.
I've been using this seat for my 3yo daughter (just over 30lbs) for about three months now, and it's been absolutely great. I bought the frame-mounted model, which I installed on my 56cm Surly Cross Check. I'm not an advanced bike mechanic (can change tires and break shoes, but most other stuff I have done at a shop), and I found the installation to be super easy. It took only about 20min all told.

Importantly, I have had no trouble at all with my heels hitting the foothold parts of the kid seat. There is ample clearance there. And there's also plenty of space between my saddle and the seat itself. I generally carry a big backpack when I'm bike commuting with my daughter in the seat, and she has plenty of room between her and the backpack. In addition to commuting, I've done some longer sightseeing rides and my daughter had been super comfy throughout (even falling asleep once or twice).

Bottom line, highly recommend this!
For more product reviews visit Amazon
4. Topeak BabySeat II Child bike seat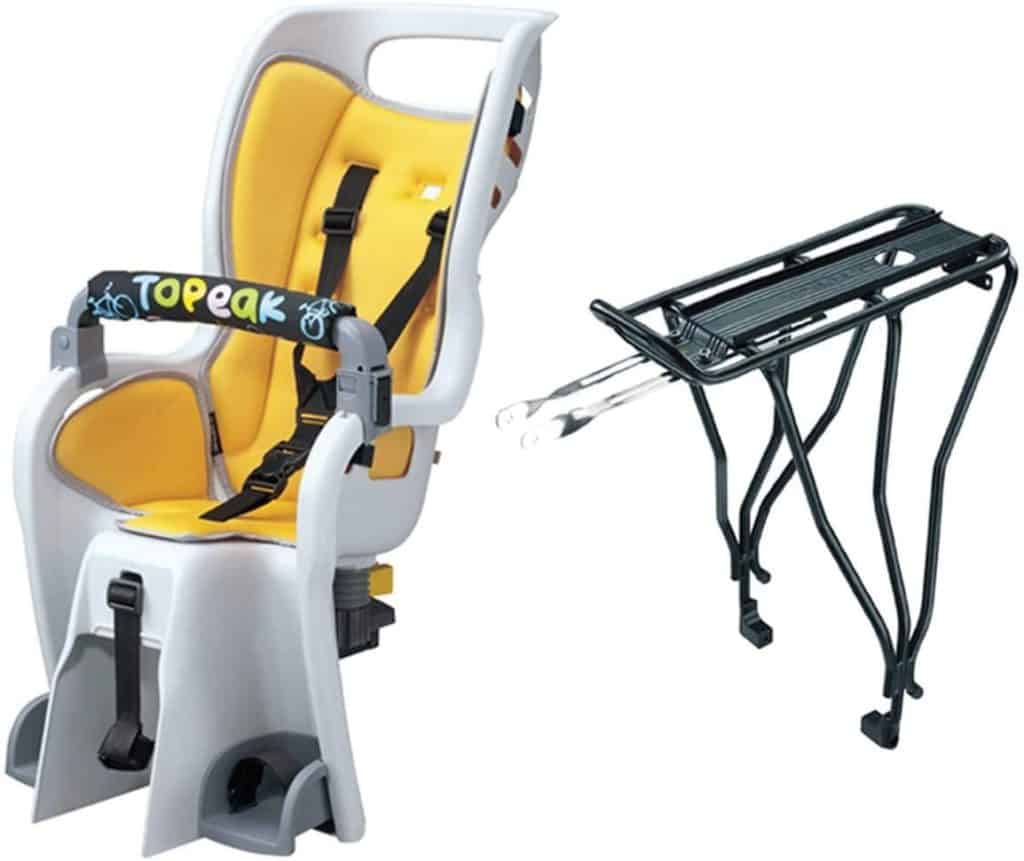 These mounted bike seats from Topeak come with a rack that can be placed either for disc brakes or non-disc brakes featuring protective "cocoon-like" wrap around your little one. Its backrest provides extra room for the helmet, has an adjustable shoulder harness and footrests, making it comfortable for parents to maneuver and a smooth ride for the little rider.
On the downside, the positioning of the seat could be too close for your comfort, as most would find it cozy, the others do not, for instance, the older the kid gets, the lesser space.
Additional Specs –
Age range: 5-6 years
Weight capacity – 48.5 lbs
Seat weight – 6.9 lbs
Safety harness – Includes a shoulder harness with multiple systems for the height adjustment
I'm glad I chose this seat we toppled over and my son was protected very well. I did have to purchase new bars to hold the stand because the ones it comes with were too short for my cruiser bike. All the reviews mentioned that but ended up not being a big deal just bright it to my local bike shop and they fixed it all up for me.
So I haven't put the baby in the baby seat yet, but I already love it. I won't put the baby in the seat until it's warm enough to take her for a ride. I don't want to upset her. We returned a different bike seat for this one. The other one was not a rack mounted bike seat, and it did not work well. This bike rack was easy to install, because my bike is already manufactured to take a bike rack. My only complaint is that the front metal straps were not long enough, so my husband had to fabricate us longer straps. This rack will fit a 29″ wheel, but the straps that you have to use have to be about 2″ longer to make the rack flat like it needs to be. I do have a medium frame bike. It looks like the seat itself is well designed, and she will be comfortable sitting in it with a helmet. I can pedal comfortably and the seat does not interfere at all. I'm really excited to be able to get out and use this seat.
For more product reviews visit Amazon
5. WeeRide Kangaroo bike seat for kids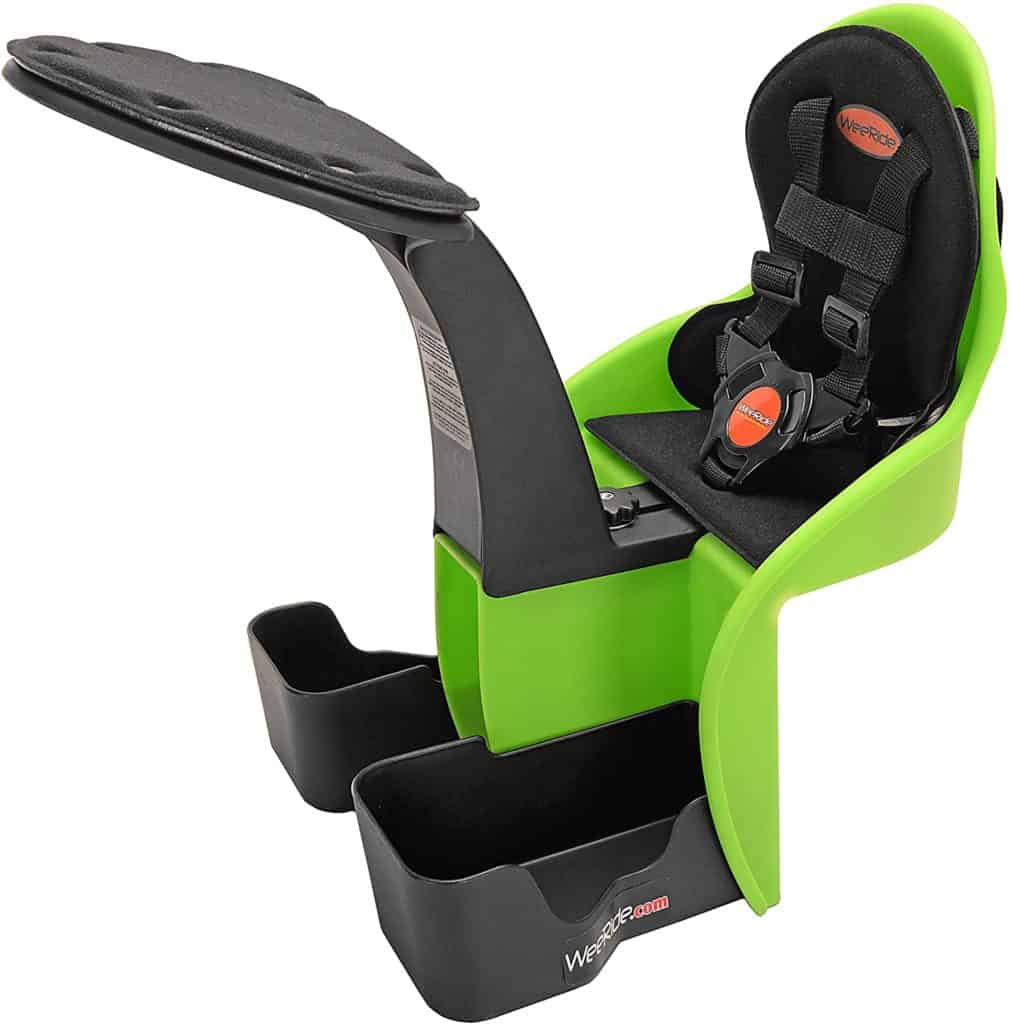 This mountain bike seat is front-mounted, favorite for most 1-4-year-olds, and more affordable compared to the other sleep-look iBert. It is easy to attach to most bikes especially with models with less space, on the headset, a padded front bumper for the kids to hold onto, or can use an impromptu pillow. Its mounted feature in the center provides more balance for the parents too.
Keep in mind that these mountain bikes have a low back causing the shoulder straps to slide down.
Additional Specs –
Age range: Ages 1-4
Weight capacity – 40 lbs
Seat weight – 10 lbs
Safety harness – 5-point
I bought the WeeRide so that we could go on family bike rides together. My (then) almost 3 year old fit in it easily. He is 4 1/2 now and too big for it, but we had some great times when he was younger. He fit it until 4, (he is on the small side of average).
As my son got older and taller I would move him further up the crossbar so that he could have his legs in a comfortable spot without my knees hitting the foot rests. One thing is to test how far you can turn the handlebars before you start riding- once I had him too far forwards and I couldn't turn the handlebars enough. So I just moved the seat back a little.
One difficult thing about the WeeRide is that you do have to change your peddling movement slightly- by riding with your knees a little out. For me this was helpful as my knees actually turn in a little (I am slightly knock kneed). Riding with my legs out strengthened my knees in a good way.
Aside from that, I think this is one of the best child bike seats out there, maybe even the best. I never had balance or tipping issues like my friends have had with rear mounted seats. I like that I could talk to my son when we were riding, and we could really enjoy the ride together.
It was relatively easy to fit. We didn't bother fitting the handle/headrest as I knew my son wouldn't fall asleep while riding. This meant he could hold the handlebars and it helped him learn to steer. He only played with the bike gears once lol. Most of the time he held a soft toy.
My only regret is not getting a WeeRide earlier when my son was younger and lighter (less leg work in peddling). However As my next child gets old enough I am sure we will have some fun bike rides!
For more product reviews visit Amazon
Purchasing a rear-mounted seat or a child carrier on bikes as a front seat is important until the little one is ready to get onto their own bikes. However, there are a lot of options available in the market that make it impossible for the parents to choose the best ones. Therefore, you can make use of our best picks as mentioned above in the article as they are reviewed to be comfortable and safe for the little co-pilots.
FAQs: Top 5 Best Child Bike Seat Of 2023
1) Is a front rack mounted kid seat safe?
Yes, they are! The rack-mount seat post is designed by keeping in mind the little one's safety until they are around 2 years of age and can ride their own bikes. They are also safe, reliable, and provide comfort for both, the parent and the kid.
2) Can a 6-month-old baby ride in a bike rear seat?
Generally, the rear seats are not legally compatible for 6 month-year-olds. This is because the American Academy of Pediatrics recommends starting using these rear rack mounted bike seats only once the child is 12 months old until they can sit unsupported.
3) Can a child's seat be fixed on a full-suspension bike?
No. For safety reasons, attaching the rack-mounted rear seats on a full-suspension bike is not recommended. However, using these while traveling with the little one to the market is still awash with a rear-mounted child bicycle.