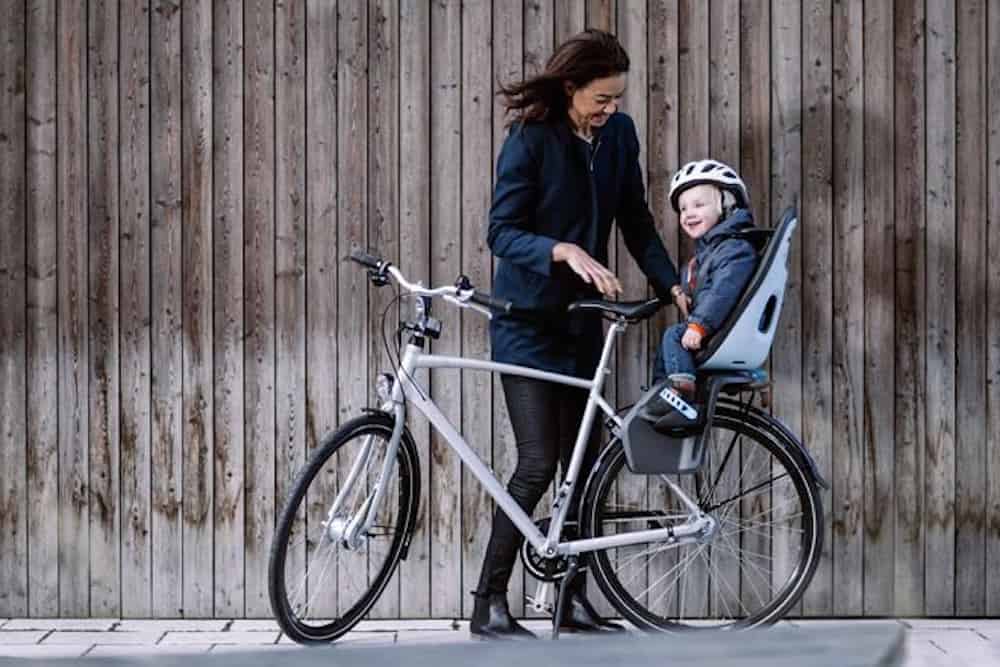 The best child bike seat is designed to be safe and comfortable on two wheels. So, while the little one waits for their own bike rides, you can make use of these child bike seats so the kid can ride along on yours.
However, there are quite a number of kids' bike seats that tend to cause confusion in parents due to their high range of availability with comparatively diverse features. So, in order to make things earlier, we at Parenthood bliss have curated this article that accumulated the top 5 best kid bike seats for you to choose from. But before we get into that, let's understand why must one have a child seat and when is it needed the most?
When must a parent buy a child's bike seat?
According to the American Academy of Pediatrics, parents must wait until the child is big enough to wear helmets irrespective of the market having child bike seats for babies as young as nine months. Adding on, in some states, it is even considered illegal for kids under one-year-old to ride in a trailer or a bike seat as a small bump on the road can curb the little one down.
Therefore, to answer the question, parents must purchase a bike seat for the kid as and when they have a strong neck, have head control, and can sit sturdily.
What to look for when purchasing a child bike seat?
Listed below are the important things you must keep in mind while determining the right bike seat for the little one to ride along:
The compatibility of the bike: While choosing the best bike seat make sure you check the specifications to ensure that the components work well as per the type of carrier you want.
Comfortability: The add on of a "co-pilot" tends to add more weight and has a chance to throw off the center of gravity. Where we find few parents that feel comfortable with their kiddo in a front-mounted seat, the others find it easy when they are seated behind. So, check your preference and choose the child bike seat accordingly.
The age of the child: Get the child's bike that suits the age of the child. For instance, the front-mounted seats are designed for riders from nine-months to two- or three-years-old (or a weight limit of around 35 pounds), while the rear-mounted seats are best for nine months old kids of around 45 pounds.
Now that you know what to look for in a bike seat for the kids, let's get to our best picks of the child bike seats.
5 best bike seats for the kids
Listed below are the top 5 best picks for a kids bike seat for you to choose from!
1) Thule Yepp Mini child bike seat: Best Child Bike Seats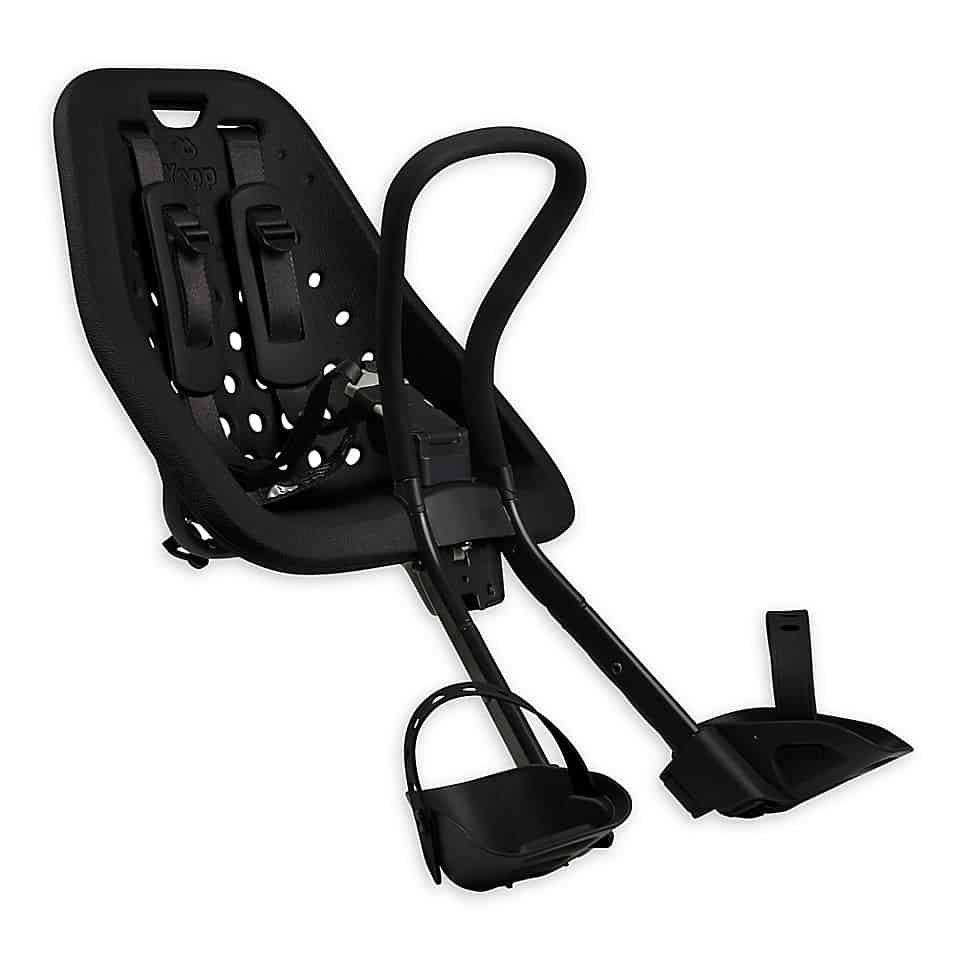 Thule Yepp Maxi is a front-mounted seat and features to be compatible with most bike models with its sleek, lightweight design. It is also shock-absorbent as it is built from water-repellent EVA materials that keep the seat durable and easy to clean. Adding on, Thule makes the rides extra comfortable, safe with a padded 5-point harness, and adjustable footrests and straps for the little one with ventilation holes, a high back, and a childproof safety buckle.
Additional Specs –
Age range: 9 months – 3 years
Weight capacity – 33 lbs
Seat weight: 7.7 lbs
Safety harness: 5-point
2) iBert Safe-T Child Seat: Best Child Bike Seats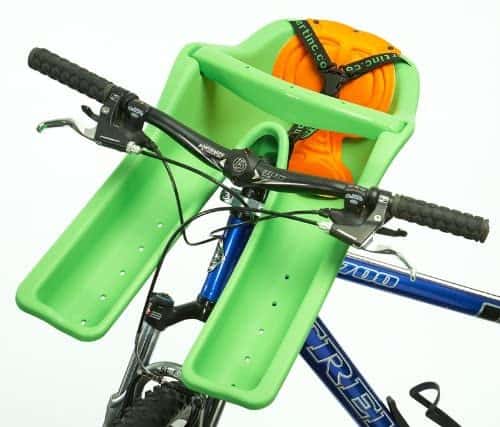 This fount – mounted bike seat for the mounted child is affordable, easy to install, and is fun to use. It has a maximum weight capacity of 38 pounds, is durable, and is a compatible frame-mounted bike that is compatible with most bike frames due to its 3/4" spacing on the seat tube. iBert also has a good unique center-mount positioning that helps the little ones with balance, has a padded steering wheel that adds on in an interactive ride, and helps them navigate.
On the downside, this rear child bike seat doesn't have bells and whistles included, with the back positioned a bit lower, providing less head support for taller toddlers.
Additional Specs –
Age range: 1-4 years
Weight capacity – 38 lbs
Seat weight – 3.11 lbs
Three-point harness for safety
3) Thule Yepp RideAlong Child bike seat: Best Child Bike Seats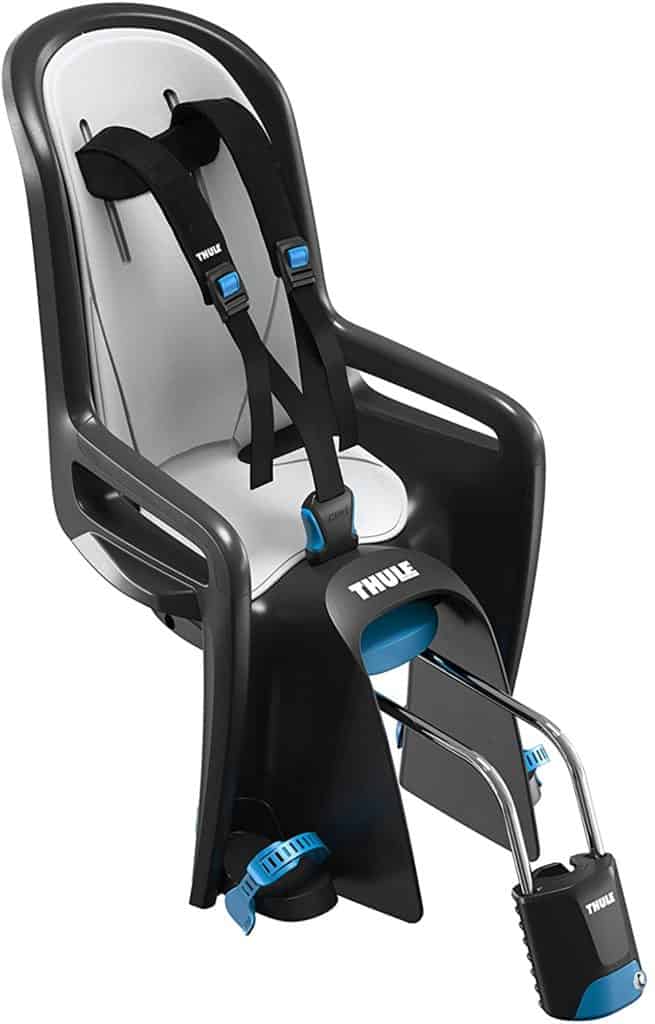 This Thule RideAlong features a top-notch sturdiness with a removable quick release bracket. They also include an adjustable harness, a childproof safety buckle, a built-in reflector, a DualBeam suspension system, adjustable footrests, and foot straps with five different reclining positions.
However, it is expensive as compared to the other bike seats, but is assured a perfect trifecta providing comfort and durability.
Additional Specs –
Age range: 9 months years
Weight capacity – 48.5 lbs
Seat weight: 10.2 lb
Safety harness: 3-point
4) Topeak BabySeat II: Best Child Bike Seats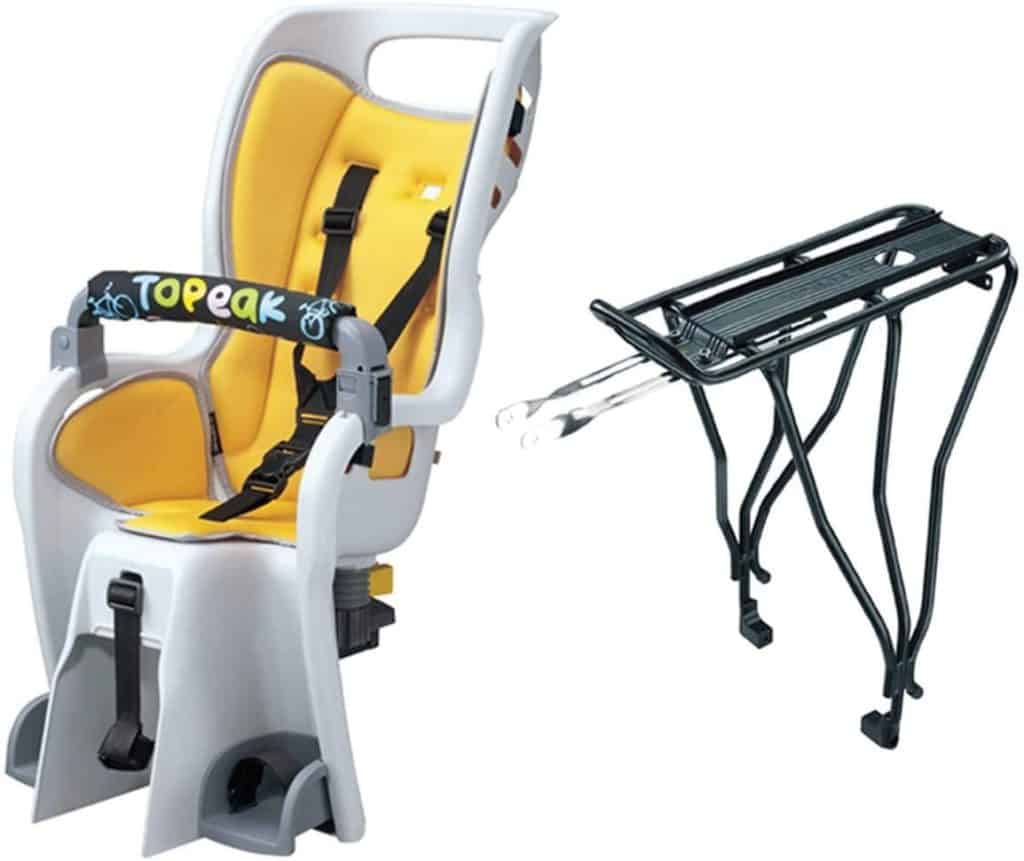 These mounted bike seats from Topeak come with a rack that can be placed either for disc brakes or non-disc brakes featuring protective "cocoon-like" wrap around your little one. Its backrest provides extra room for the helmet, has an adjustable shoulder harness and footrests, making it comfortable for parents to maneuver and a smooth ride for the little rider.
On the downside, the positioning of the seat could be too close for your comfort, as most would find it cozy, the others do not, for instance, the older the kid gets, the lesser space.
Additional Specs –
Age range: 5-6 years
Weight capacity – 48.5 lbs
Seat weight – 6.9 lbs
Safety harness – Includes a shoulder harness with multiple systems for the height adjustment
5) WeeRide Kangaroo bike seat for kids: Best Child Bike Seats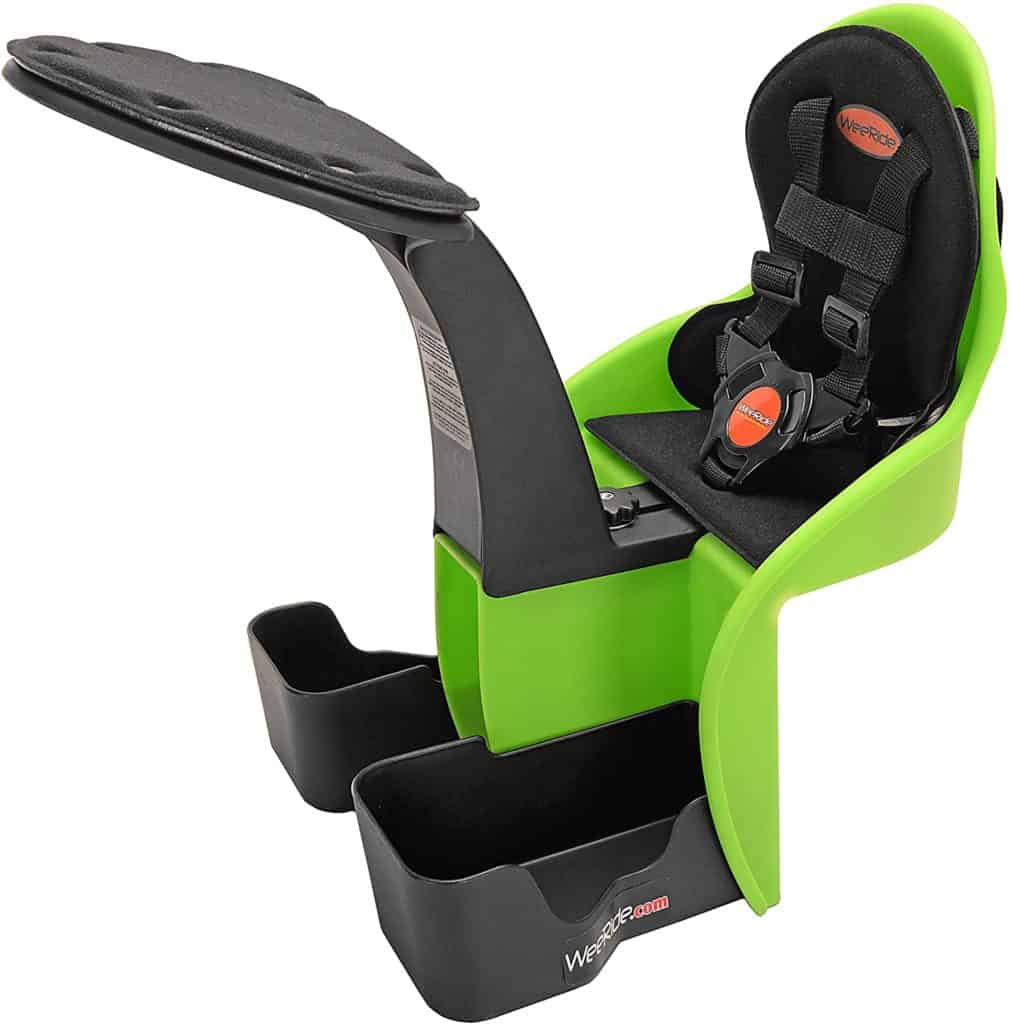 This mountain bike seat is front-mounted, favorite for most 1-4-year-olds, and more affordable compared to the other sleep-look iBert. It is easy to attach to most bikes especially with models with less space, on the headset, a padded front bumper for the kids to hold onto, or can use an impromptu pillow. Its mounted feature in the center provides more balance for the parents too.
Keep in mind that these mountain bikes have a low back causing the shoulder straps to slide down.
Additional Specs –
Age range: Ages 1-4
Weight capacity – 40 lbs
Seat weight – 10 lbs
Safety harness – 5-point
Best Child Bike Seats Final Conclusion
Purchasing a rear-mounted seat or a child carrier on bikes as a front seat is important until the little one is ready to get onto their own bikes. However, there are a lot of options available in the market that make it impossible for the parents to choose the best ones. Therefore, you can make use of our best picks as mentioned above in the article as they are reviewed to be comfortable and safe for the little co-pilots.
Best Child Bike Seats FAQs:
1) Is a front rack mounted kid seat safe?
Yes, they are! The rack-mount seat post is designed by keeping in mind the little one's safety until they are around 2 years of age and can ride their own bikes. They are also safe, reliable, and provide comfort for both, the parent and the kid.
2) Can a 6-month-old baby ride in a bike rear seat?
Generally, the rear seats are not legally compatible for 6 month-year-olds. This is because the American Academy of Pediatrics recommends starting using these rear rack mounted bike seats only once the child is 12 months old until they can sit unsupported.
3) Can a child's seat be fixed on a full-suspension bike?
No. For safety reasons, attaching the rack-mounted rear seats on a full-suspension bike is not recommended. However, using these while traveling with the little one to the market is still awash with a rear-mounted child bicycle.