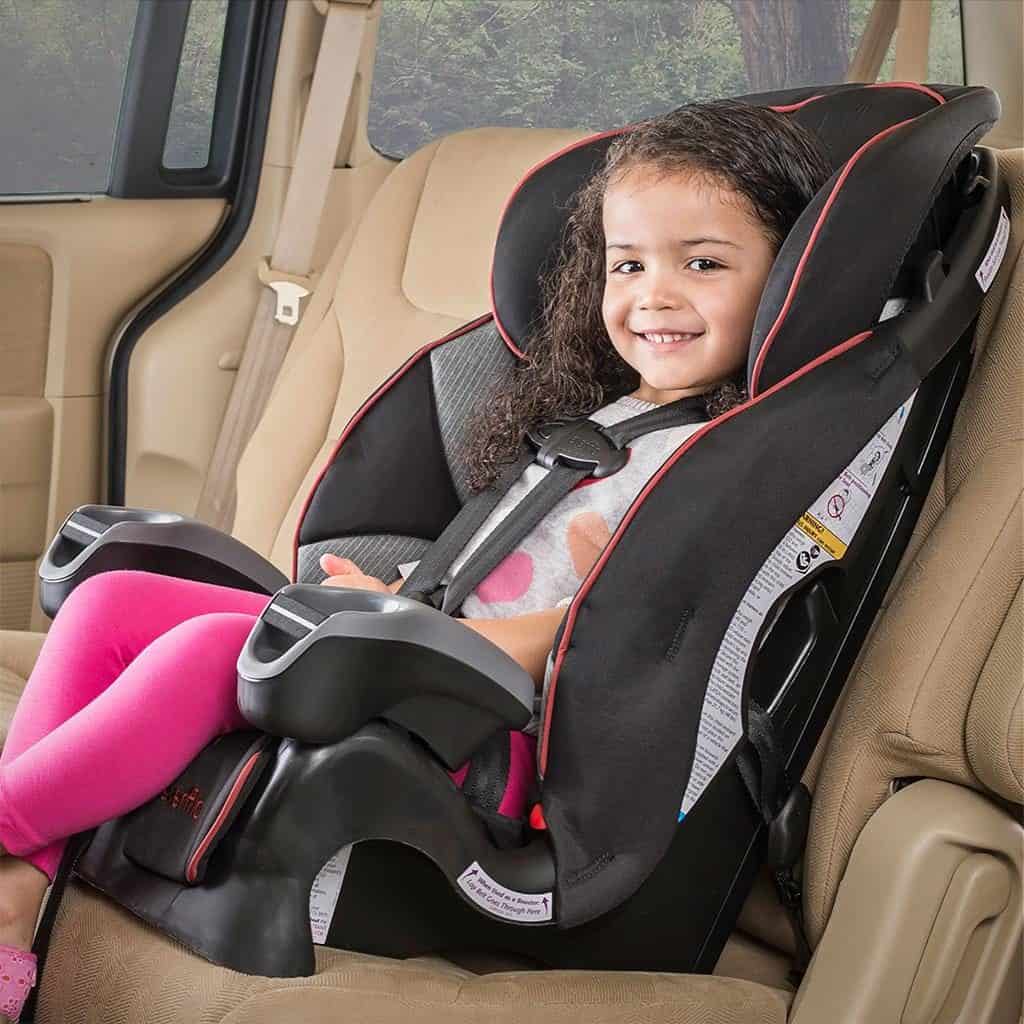 Now that you are a parent, the car and drives are no more only yours and your partner's. You'd often need to drive your babies around, and once you have your second or third baby, you would even need two-three car seats; all of them being narrow enough to fit next to each other. You would perhaps already know that it is illegal to even take your baby out without an infant car seat. Now given this fact, you might have already spent a lot of time looking for the best car seat. This process could get rather confusing and annoying because where does one find a car seat that is narrow enough, comfortable enough, safe enough, does not hurt your fingers while clipping in, and also does not take too long to clip in?
Look no more, Parenthood Bliss does the job for you right here! Before we get to the list, of the best, narrowest, non-convertible infant car seats, let us first establish some basics. An infant car seat, typically, comes in three types; infant convertible car seat, infant non-convertible car seat, and infant booster car seat. While the convertible car seats can be found at about 16-17" wide, the non-convertible and the booster seats are usually and mostly at 17 inches wide.
Here is a quick cheat-sheet to the best narrow car seat(s) for your baby
1. Chicco KeyFit 30 Infant Narrow Best Baby Car Seat
The Chicco infant car seat is not only narrow but it also is hands-down one of the safest, most stylish and functional car seats to speak of. The base of this car seat is at 15" wide and the seat overall is at 16.5" wide. A reliable and versatile car seat, this one can be attached to the base of your car either through the latch system or by the conventional seat belt mechanism. The car seat offers multiple shoulder strap positions, however, for the downside, there is just one crotch buckle position which can be uncomfortable for bigger babies. The adjustable shoulder straps are easy to use and really wide which avoids too much twisting. There also is a lot of space between the canopy and the handle which leaves a lot of space for your hand to comfortably fit in and makes holding/carrying the car seat convenient even when the canopy is up.
Selling at about 200$, the car seat comes in a lot of fun prints, is one of the narrowest on the markets, and can hold babies up to 30 pounds while it, itself, weighs only 15 pounds.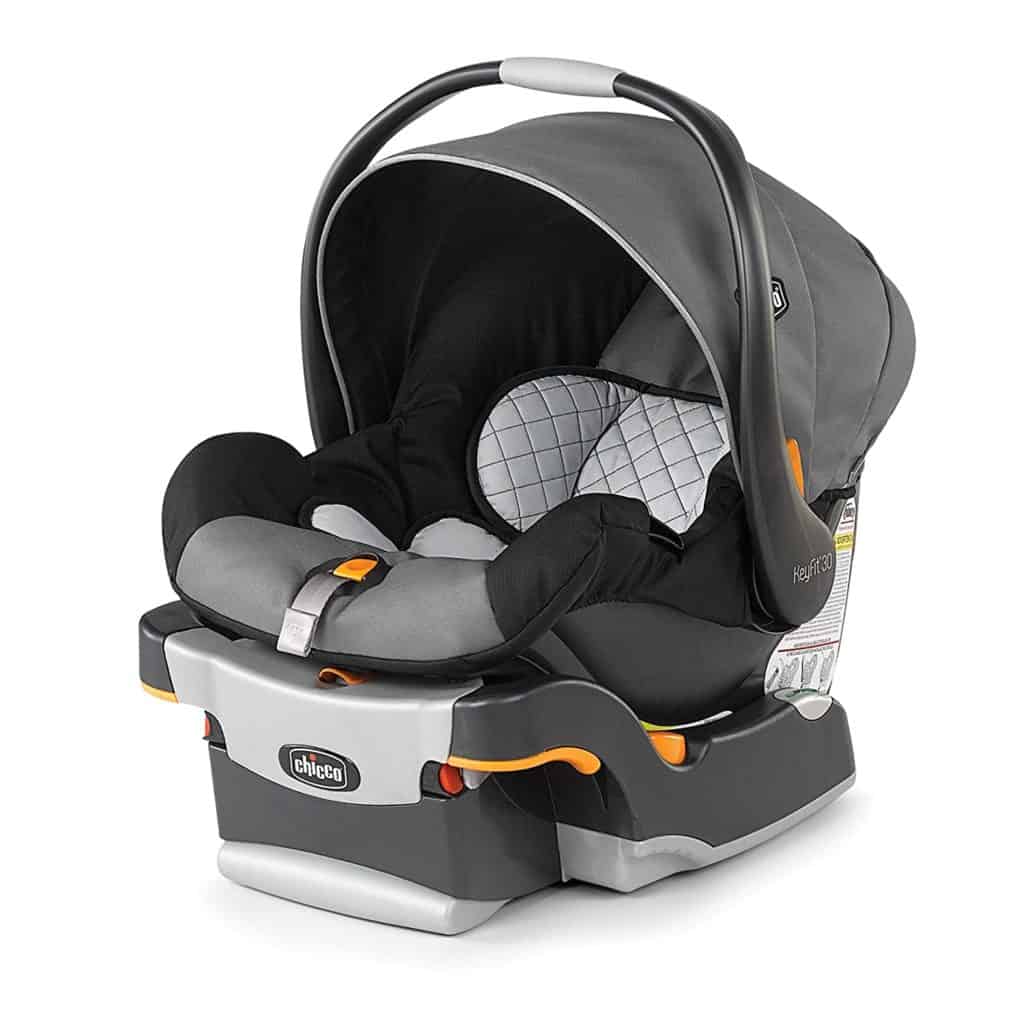 2. Peg Perego Primo Viaggio 4/35 Infant Narrow Best Baby Car Seat
One of the best infant car seats out there and not only on the list, this one measures 17" wide at its widest point. We say "widest" point because this is where the handles can connect to the sides of the seat. The base of this seat is only 14.5" in width. This infant car seat can hold babies up to 35 pounds and 32" tall (when rear-facing)As for the comfort and safety aspects, this one matches up with all the expectations as it has an anti-rebound bar that limits the rotational force if, in an unfortunate case you happen to meet an accident.
It also has a 5-point harness that requires no rethreading and the seat is also adjustable (up and down between 6 positions) and offers a side impact protection. As for one downside in terms of safety, it lacks a steel-reinforced frame that other car seats do.

The padding of this seat is very comfortable, made in high-quality soft jersey cotton fabrics that makes it breathable and is also very premium to look at. Other downsides of the car seat which should be known include: that the canopy of this car seat rubs up against the handle which might squish your fingers a little bit. Also, the harness straps are thin which does not keep them from twisting, unlike the Chicco car seat. Apart from these two points, as mentioned, there is no steel frame which has one compromise on structural rigidity. All in all, though, it is undeniably very well-designed and it is an ultimate piece of craftsmanship and quality-stitching. This non-convertible car seat is priced at 300$.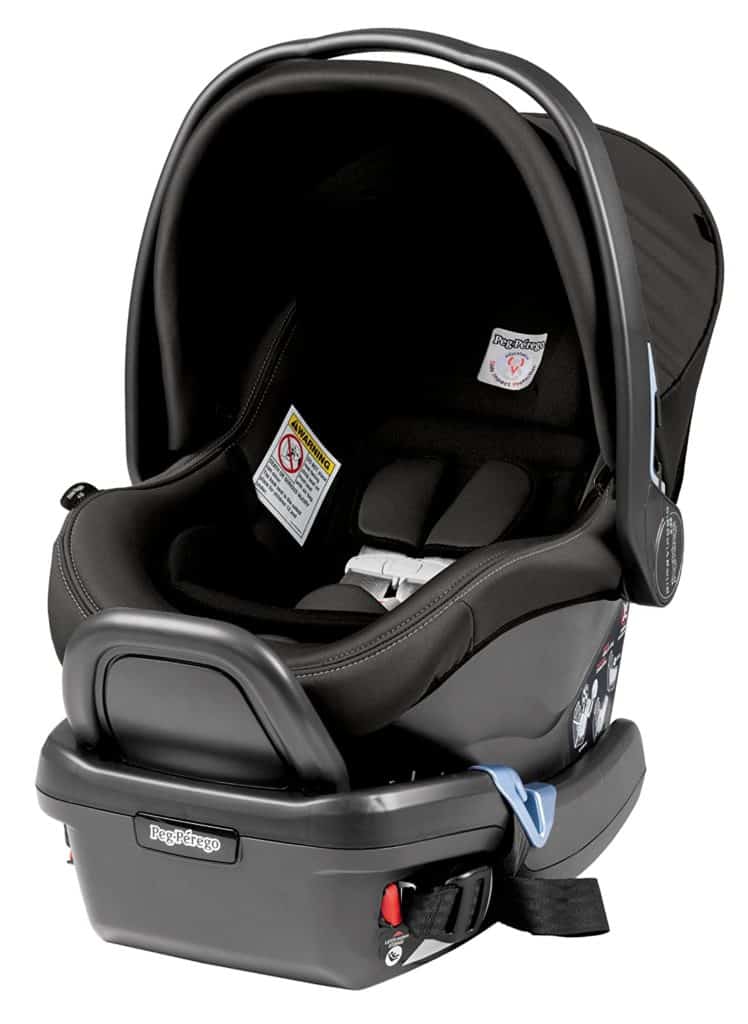 3. UppaBaby Mesa Infant Narrow Best Baby Car Seat
Another really narrow car seat to speak of, the base of this car seat comes at just 14.5 inches and the entire seat as a whole comes at 17", even with the handlebar levers sticking out on the sides. A slimline car seat, this one makes installing as many as three car seats possible, even in really small vehicles. A plush, comfortable seat made with premium, high-quality materials, this one can hold babies weighing up to 35 found and 32 inches in height. The seat can be installed by simply clicking it on the base and for a noticeable fact, the adjustable harness of this seat is wide which avoids entanglement; and even the headrest is height-adjustable without the need of rethreading. For some cons, the fabric is arguably not the softest and not the most breathable of what is available on infant seats. The sunshade and the handles also interfere with each other.

Weighing less than 10 pounds, this seat does include latch connectors and is priced at about 300$.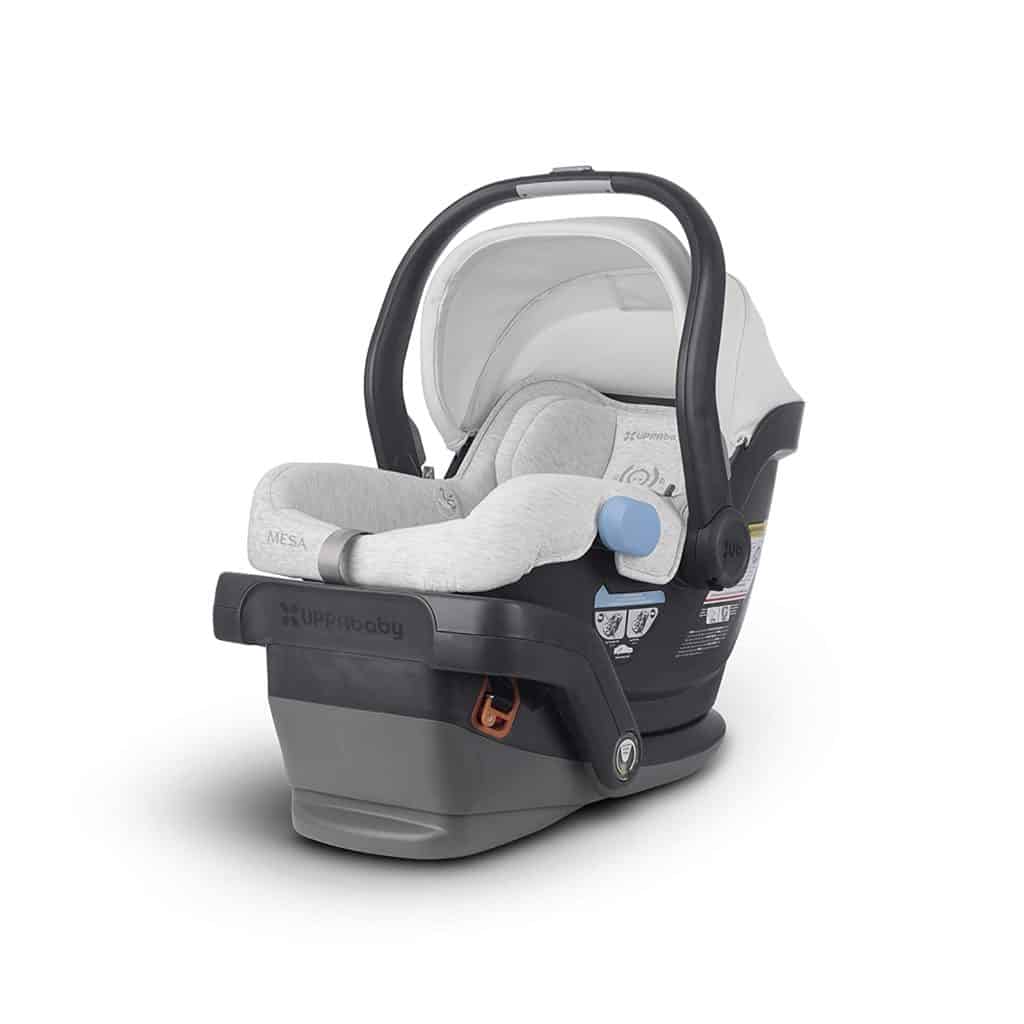 4. Baby Trend Flex Loc Infant Narrow Best Baby Car Seat
Named on several articles that list the best infant seats under 100$, this car seat measures only about 16.5" in width, can hold babies between 5-30 pounds, and is really cool and functional so to say. This car seat comes attached with a carrying handle and unlike other seats that force you to carry them parallel to your body, this one lets you conveniently hold it at various angles. This particular feature really stands out especially for when your baby starts growing in age and starts to become bigger and heavier. Besides, for a car seat that is not exuberantly priced, the fabric of this car seat is rather amazingly comfortable, soft, breathable, and easy-to-clean. The adjustable harness requires no rethreading and the car seat can actually also be very easily installed, by just clicking it on to the base. The up-front shoulder strap can also be tightened or loosened and is strategically positioned by the engineers to ensure an optimal connection with the base.

Some small issues that should ideally be ignored for its really cheap rice point but still need to be mentioned for awareness sake are A) the shoulder straps are rather flimsy and not very well structured which cause them to twist and turn while you out the baby in B) The handlebar can be annoying as it is not so easy to adjust and requires some serious, hard pressing of buttons C) The front recline does not function as smoothly as one would expect it to D) Some parents did review the crotch buckle to be 'difficult' to understand
5. Cybex Aton 2 Infant Narrow Best Baby Car Seat
An extremely-extremely light-in-weight car seat, this Cybex seat is also ultra-portable, slim, made in premium quality of materials, is really slim and boasts of European comfort and styling. The seat weighs a mere 8.8 pounds and it measures 17.5 inches in width when measured with the handles. As for its safety features, this car seat is majorly impressive as it is equipped with a load leg feature that can reduce rotational forces in the event of a car crash along with offering side impact protection and a latching capability. The seat can hold babies in the weight range of 4 to 35 pounds. As for its price, it is priced at 300$ but you also need to pay an extra 160$for the base alone. This could be argued as a rather unfair and unreasonable price by some because the canopy of this car seat is not all that great in terms of size and getting the baby in and off is not the most convenient in this seat. Though great in all other aspects, the price and this tiny downside can have one not purchase the seat – and if you are one of those parents, we would recommend Chicco as a great alternative by virtue of similar features and size.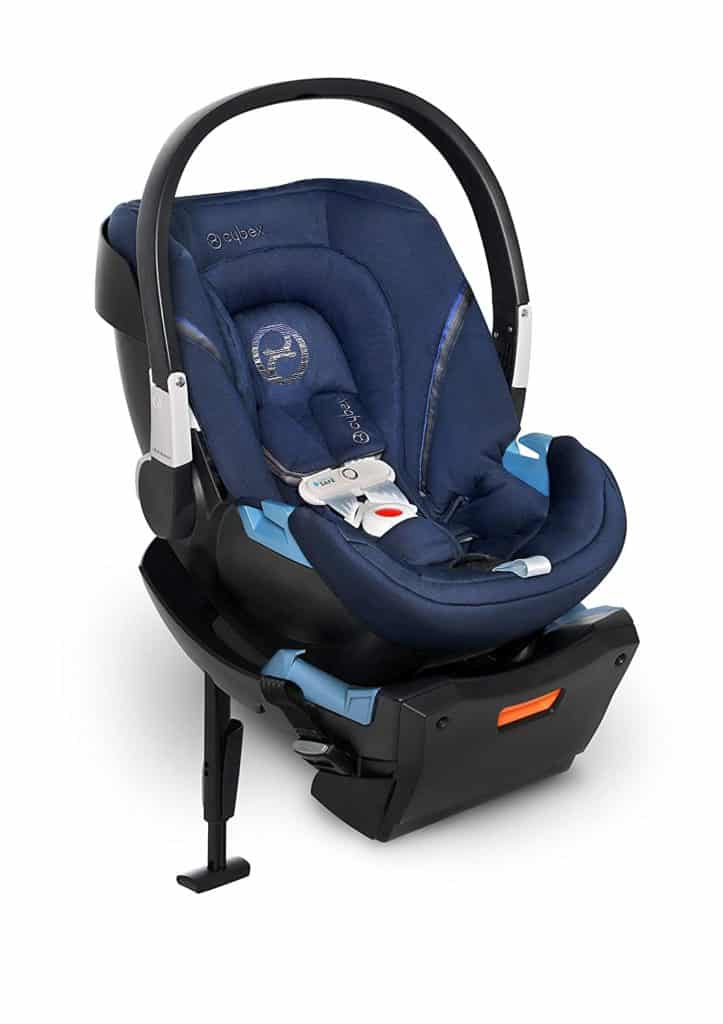 6. Safety 35 Air 360 Best Baby Car Seat
Safety 1st 35 Air 360 baby car seat is perfect for infants who weigh anywhere between 4 and 35 pounds and is equipped with a latch system and also fastened with the seat belt.

This baby car seat features a deep seat, comfortable cushioning, can absorb and provide additional protection. It also comes with a two-piece system where the base remains in the car, has a detachable basket portion, is lightweight enough with all safety measures met, and is super easy to clean.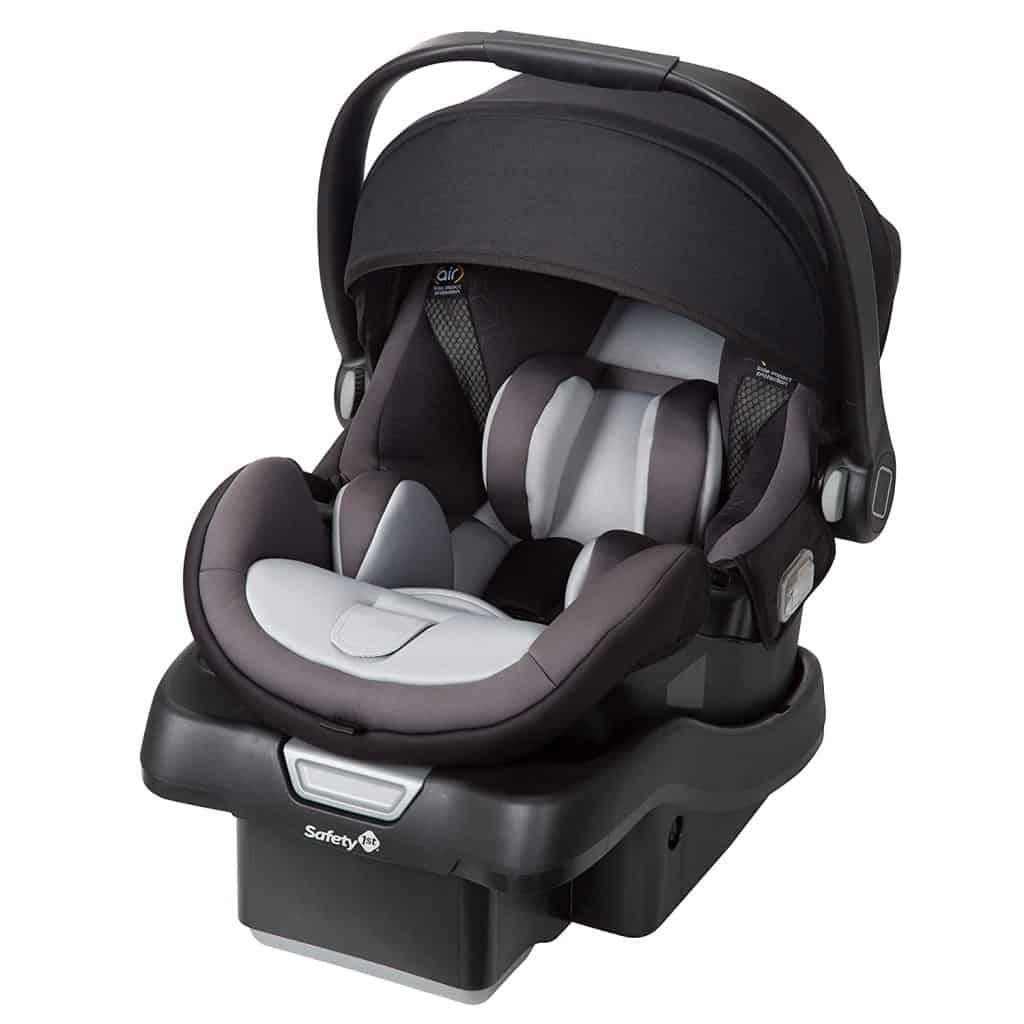 7. Maxi-Cosi 30 Best Baby Car Seat
If you are looking for a compatible car seat for your little one that can be useful to attach on a stroller, then this is your best shot. It works best with other Maxi-Cosi strollers and premium stroller lines too and is the best alternative to the traditional travel systems for babies.

Having said that, you must make use of these until the baby is between 5 and 30 pounds and less than 32 inches in height. Adding on, this baby seat is lightweight, offers a contoured arm, and is super comfortable for the little one to sit and be relaxed during the drive.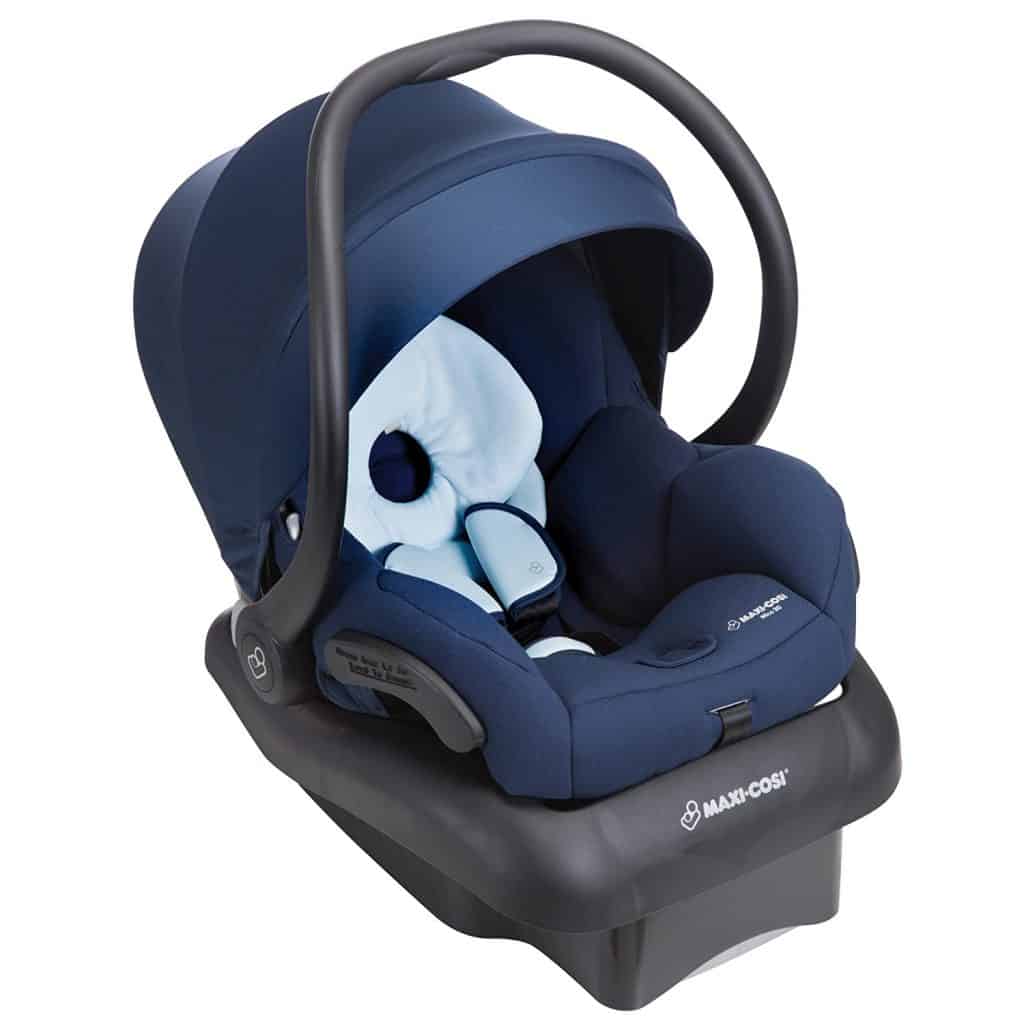 8. Britax B-Safe 35 Best Baby Car Seat
This makes a good choice when it comes to picking a narrow and compact car seat as its narrowness carries through the entire seat and helps fit multiple kids in the back seat.
It features an easy-to-use latch system, has a steel frame, comes with side-impact protection, and has an absorbent base. Britax is best for kids who weigh between 4 and 35 pounds and are less than 32 inches in height.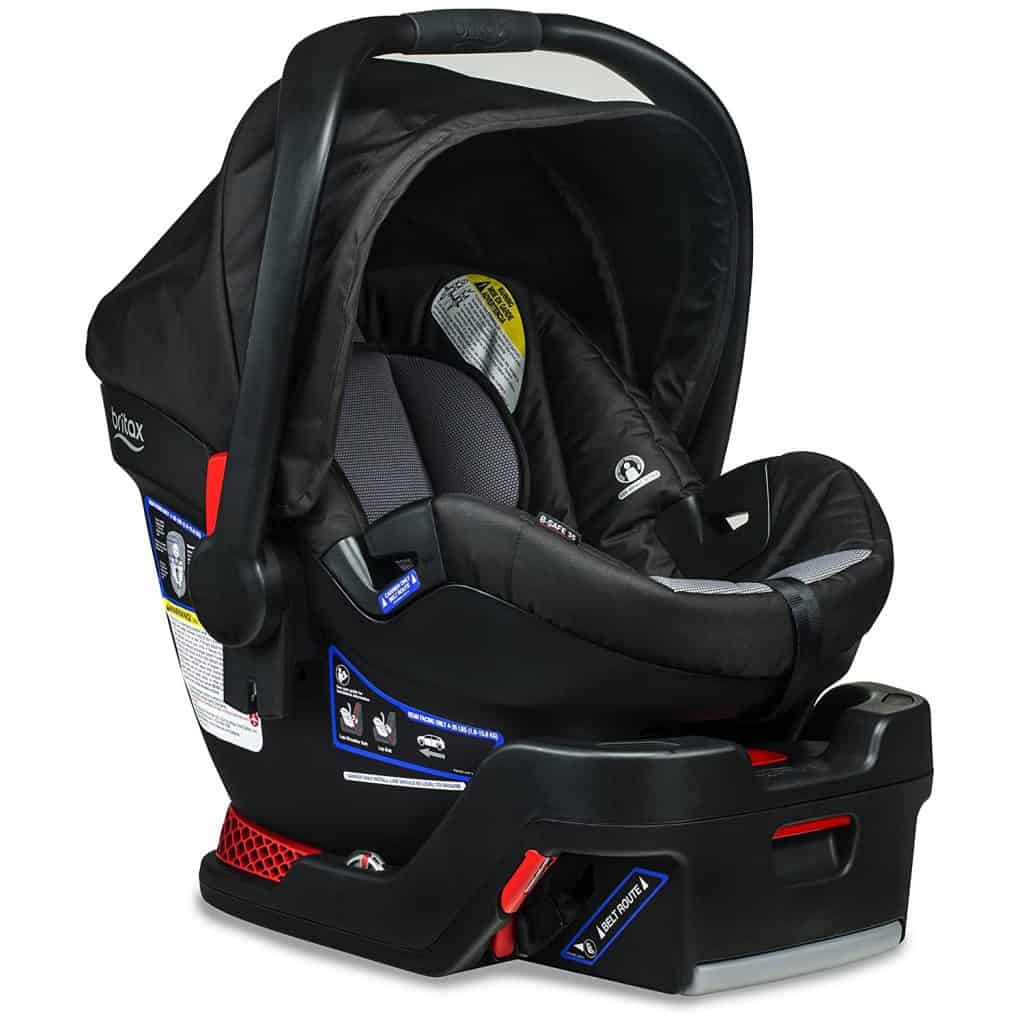 9. Diono 3R Convertible Radian Best Baby Car Seat
Diono 3R features a compactable design that allows it to fit the narrowest of places and fit three kids across a single back seat. Best used for kids who weigh as little as 5 pounds.
As for its features, Diono comes with an extended rear-facing unit, when facing forward it can be used as a car seat, comes with a harness or a booster seat, is approved for air travel, and is made using a heavy and sturdy steel alloy frame. The car seat also offers side-impact protection, absorbent memory, and EPS foam, and is available in multiple color options to choose from.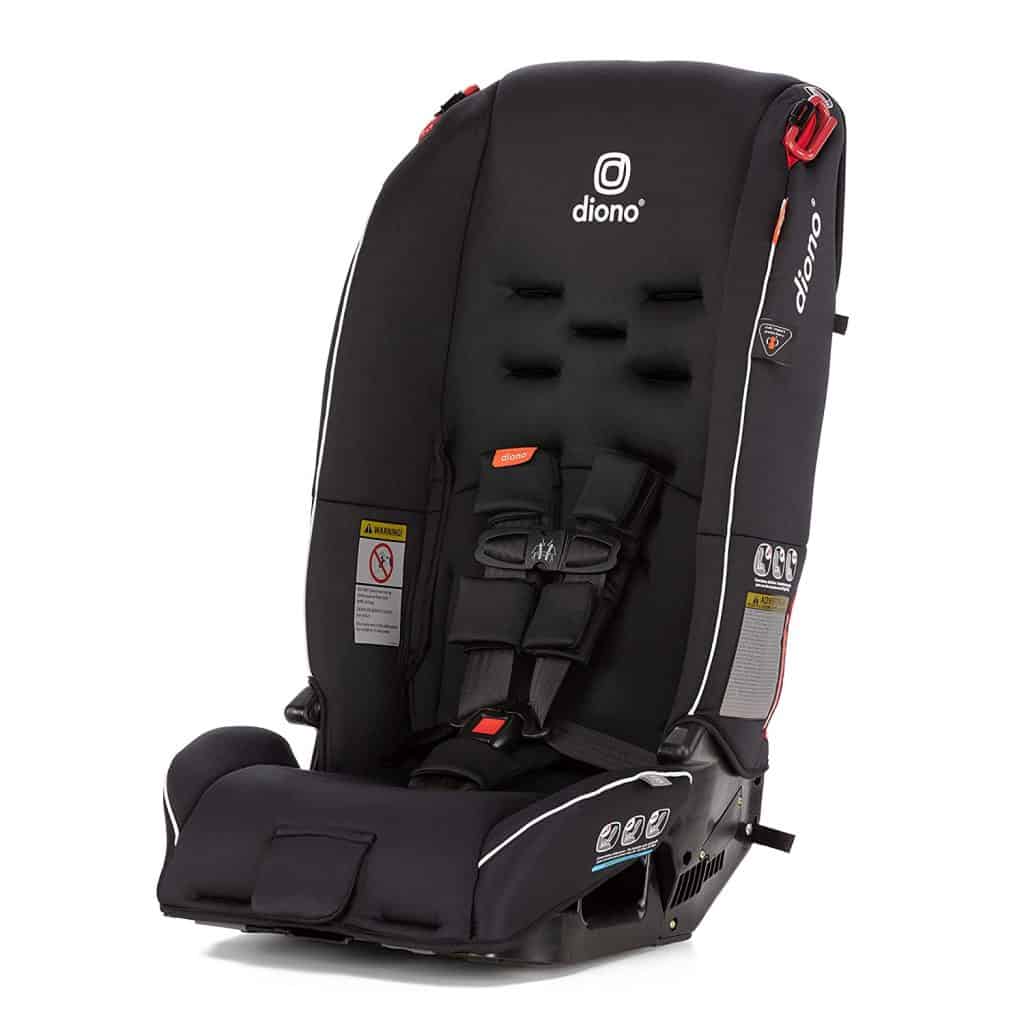 10. Britax ClickTight Convertible Best Baby Car Seat
Britax's convertible baby car seat offers plenty of customization opportunities with seven reclining positions that are helpful when navigating a tighter space and 14 harness positions with a buckle that features two positions for the baby.
When it comes to features, Britax has a unique ClickTight system unlike the latch, allows to fasten the car seat quickly, is very easy to use, and can for children who weigh anywhere between 5 and 40 pounds (rear-facing), and 20 to 65 pounds (forward-facing).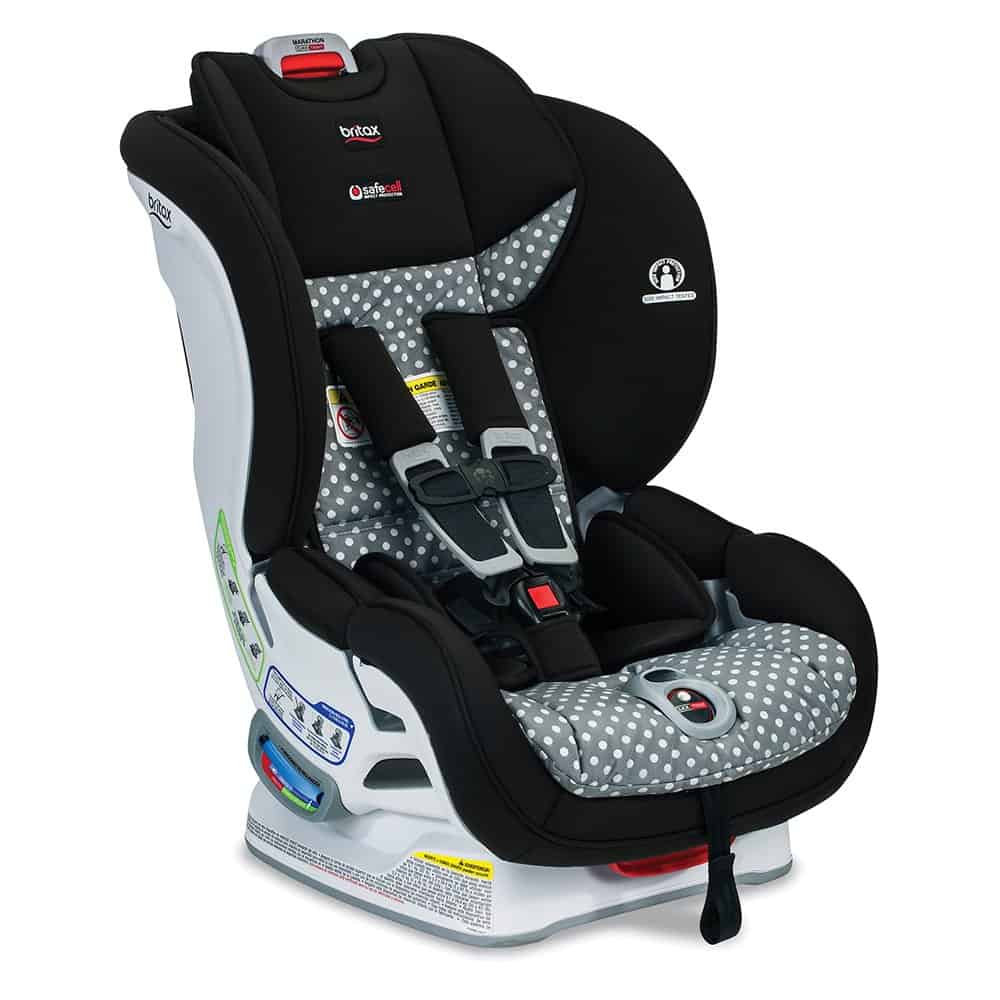 11. Evenflo Sonus Convertible Best Baby Car Seat
Evenflo Sonus convertible car seat keeps the little one comfortable during the hot weather and can fit kids who weigh between 5 to 40 pounds. It features a built-in ventilation system that is designed to keep the child comfortable throughout the journey and cool.
The car seat also has a slim footprint –  suitable for three across, is lightweight, approved for air travel, and suitable for children who use rear-facing with the said weight and 22 to 50 pounds if forward-facing.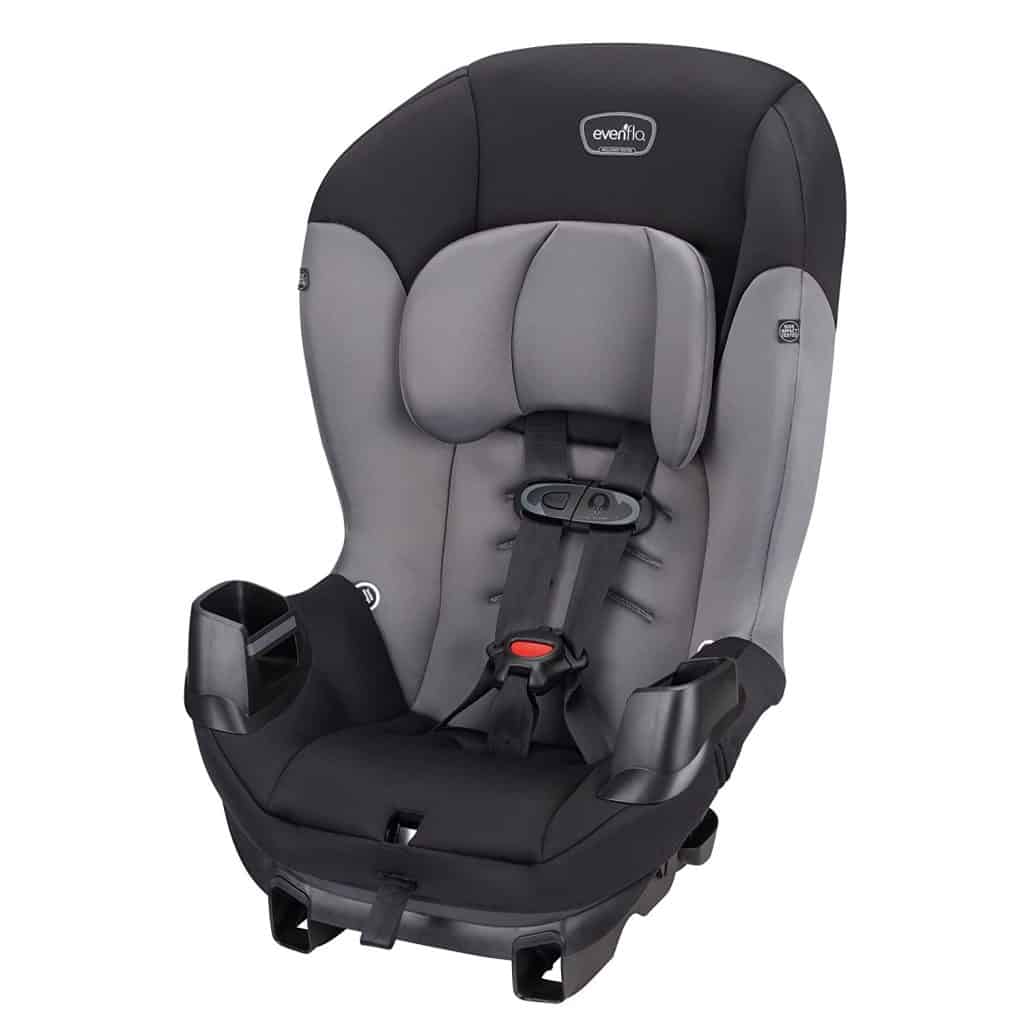 12. Safety 1st TrioFit Best Baby Car Seat 3-In-1
Kids who weigh anywhere between 5 and 100 pounds can use this car seat. It offers an extended rear-facing, provides support and comfort, uses a harness through 50 pounds, and a booster through 100 pounds.

As for its features, the said model is available in a wide variety of colors, has side-impact protection, harness holders to keep the baby secure, has three preset recline options, and an infant insert.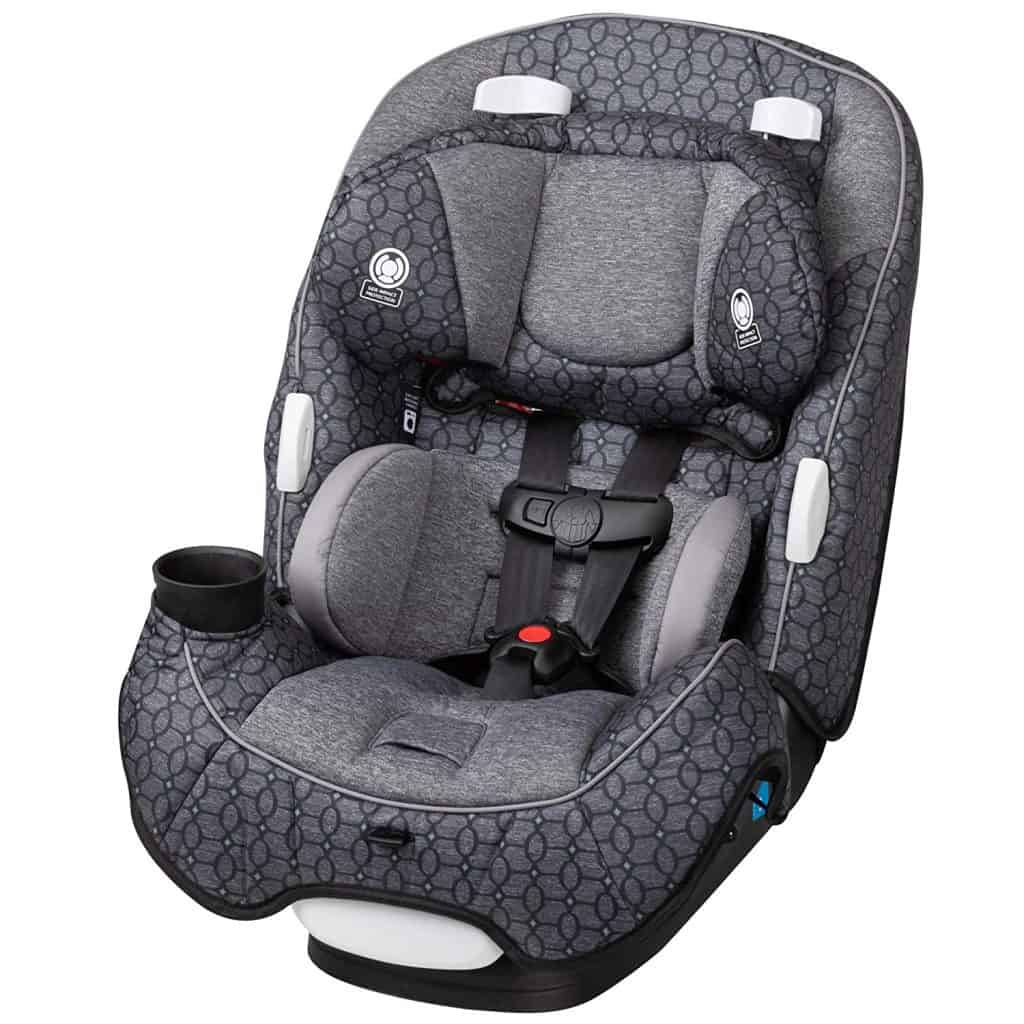 13. Evenflo Maestro Sports Booster Best Baby Car Seat
Evenflo Maestro booster seat provides two options; that is, it can be used with a harness or the seat belt of the car. For the harness, only kids who weigh between 22 and 50 pounds can use it, while those above 50 pounds can use the belt of the booster seat until they weigh 110 pounds.

It features an easy-to-adjust harness, ensures the fit of the little one, and offers protection and safety to the little munchkins.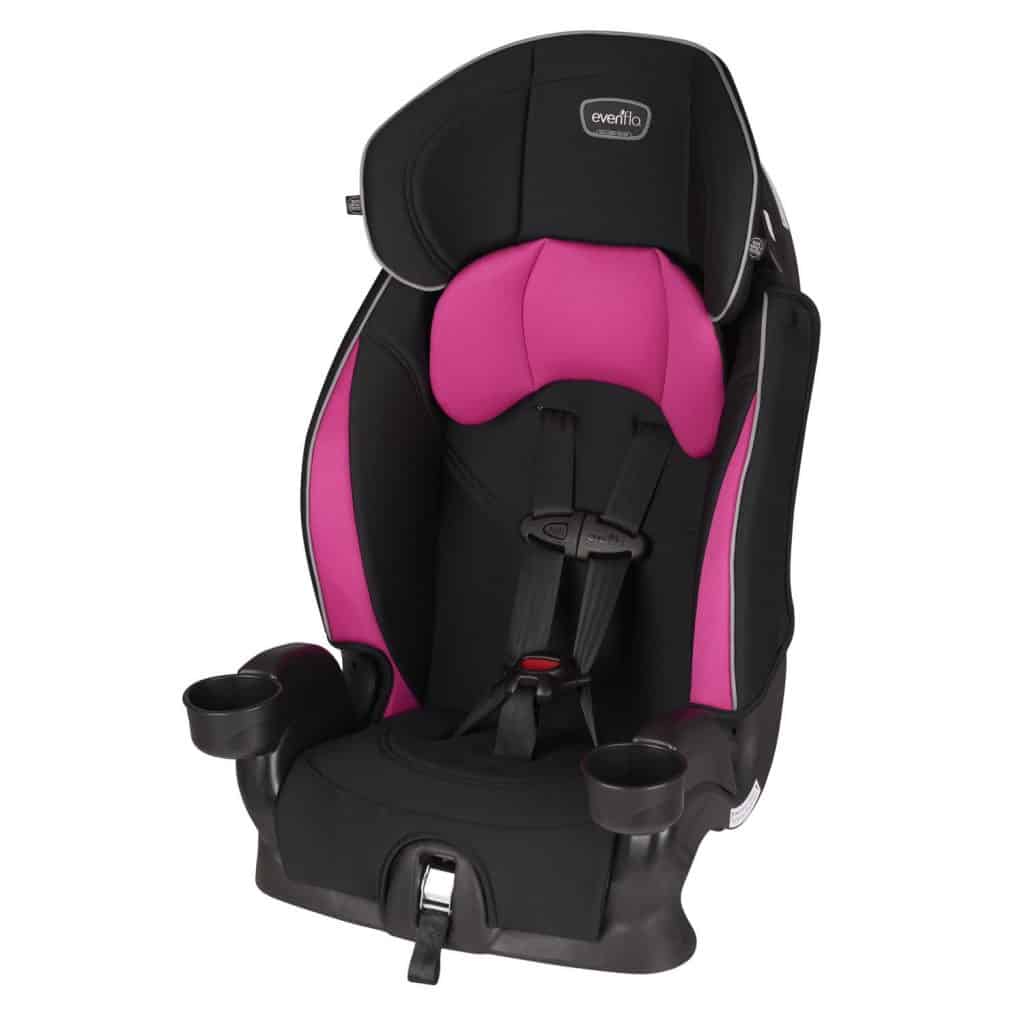 That's all about the top pick from Parenthood bliss for the narrowest infant car seats: non-convertible. However, if you are looking for infant car seats: convertible, we have an accumulated list for that too! Check that out too, just in case. Happy shopping!
The width of a car seat is very important to note by virtue of the fact that the smaller the car seat, the more of them can fit at once in your car. The possibility of installing more than two car seats gets a little tricky especially for smaller or hatchback cars, which might have you find in a situation where you need to take two cars out to be able to take all the kids outside. Or even worse, perhaps, leave one of the kids behind because you cannot possibly fit all the seats in the car.

We hope with this list of some of the narrowest, non-convertible seats, you get to make the most of your parenthood bliss, and are enabled to pick a car seat that ticks all your boxes!
Best Narrow Car Seats For Infant (Non-Convertible) FAQs
1. What is the width of the smallest car seat for an infant ?
The smallest width of an infant car seat is one with the smallest base of around 15.5 inches, the Combi Coccoro. It is a lightweight infant car seat and is the narrowest car seat amongst the rest as yet. The best part about this narrowest infant car seat is that it has a rear-facing view that grows with your child. However, the only downside is that the car seat by combi coccoro only expands up to 25 inches in width, not more.
2. Why is buying an infant car seat so Important ?
An infant car seat also known as the child safety seat is designed for the safety of the little one, protecting them when they are in the car from any unforeseen dangerous incident. For instance, if the car happens to crash, they would be safe from all the injury it could have caused them, keeping them safe with their belt on, attached to their car seat. Infant car seats save lives and keep your baby well sound and smiling. So, get your narrowest car seat, now!
3. Where should one install an infant car seat? On the right or the left side of the car ?
According to studies done by Pediatrics, the infant car seat for a newborn to the age of 3 must have their car seats installed in the center rear seat. This keeps them about 43% safer compared to them sitting in the back of the car on either side. However, studies have also shown that about 41% of parents install their infant baby car seat right beside their seat. That is the rear passenger side, it helps them have a better reach to their kids. But, make sure this could also distract you. So, we feel the center is a better option, concerning their safety, but, you could install the infant car seat as to your preference, just make sure it's safely placed.
4. Could I turn the infant car seat around? And, when can I do so ?
Cases with children that are between the age of 1 and 2, can have their car seat facing the back of the car. This keeps them 5 times safer compared to any other position. Therefore, most infant car seats are convertible and safe for kids to face in the direction of the rear, and work best for kids that weigh up to 35-45 pounds. So, you don't need to turn the infant forward just yet, this could hurt their back and can also risk a spinal injury.