Girls love gifts and surprises, and they may ignore your name, but they can't overlook what you've got them! Picking the right present or toys for a 1-year-old girl may be very difficult, since it must not only be special but also secure and useful in the growth of their physical or mental aspect . In this post, Parenthood Bliss has curated a  selected and rated list of the top 10 best toys and gift for 1-year-old girls, hoping you'll have a fast and simple thought process while making a purchase choice.
1. Fisher-Price Laugh & Learn My Pretty Learning Purse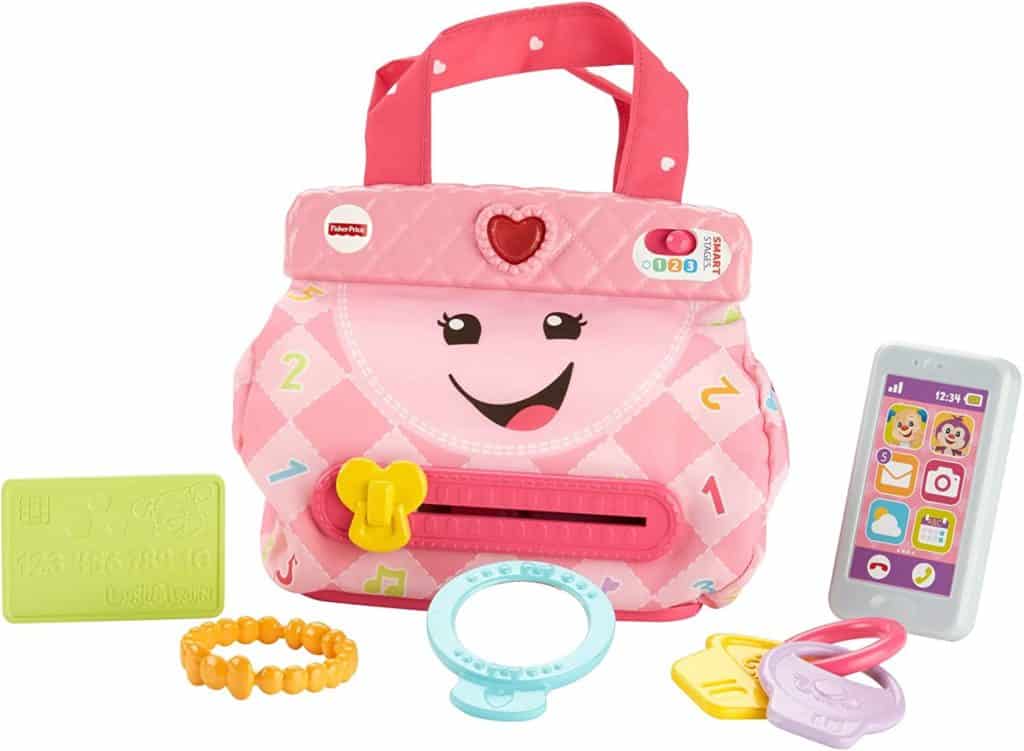 The sweet baby girl is slowly beginning to feel like a woman. Having to carry a trendy, vibrant purse around would make her look even more stunning. The belts are of the perfect length to match the height and shoulders of the infant. This cool play toy has a range of attachments that will make your child learn consonants, numeric, colours, as well as how to behave like a young woman. The handbag has a handle and a zipper that plays tones and music until it's opened/closed. Also all goes well in the bag, and they can also put in a few more games and have a good time trying to imitate mommy or pretending to play. The colour is really girly, too and the style is cute and sturdy.
2. Mary Meyer Taggies Developmental Baby Doll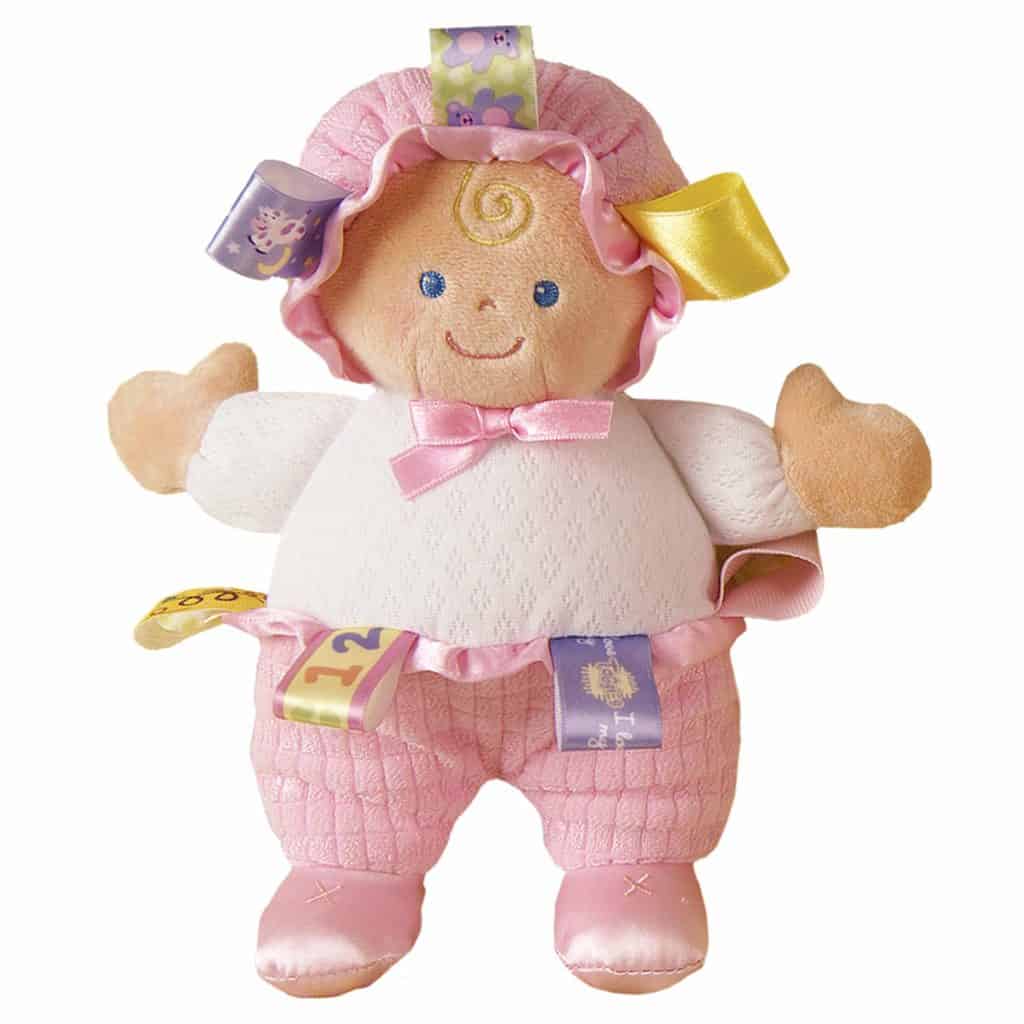 Mary Meyer Taggies baby doll is a cute, 8-inch-high pink doll with multiple synthetic materials that help your child get acquainted with different patterns. She's got a lovely embossed face, a smooth body, silk legs and a stylish hat. It's a lovely present for your 1-year-old baby girl. It's also sturdy and can be easily washed even after its bright colours, and the young one can enjoy the trademarked colorful tags as it is easy to catch whenever they want to stroll around with their doll. It helps the child to grip and grab on to enhance the hand movement. It's a sweet huggable doll, too so if your baby girl likes falling asleep with her dolls, that's going to be a perfect companion.
3. Corolle Mon Premier Calin Charming Pastel Baby Doll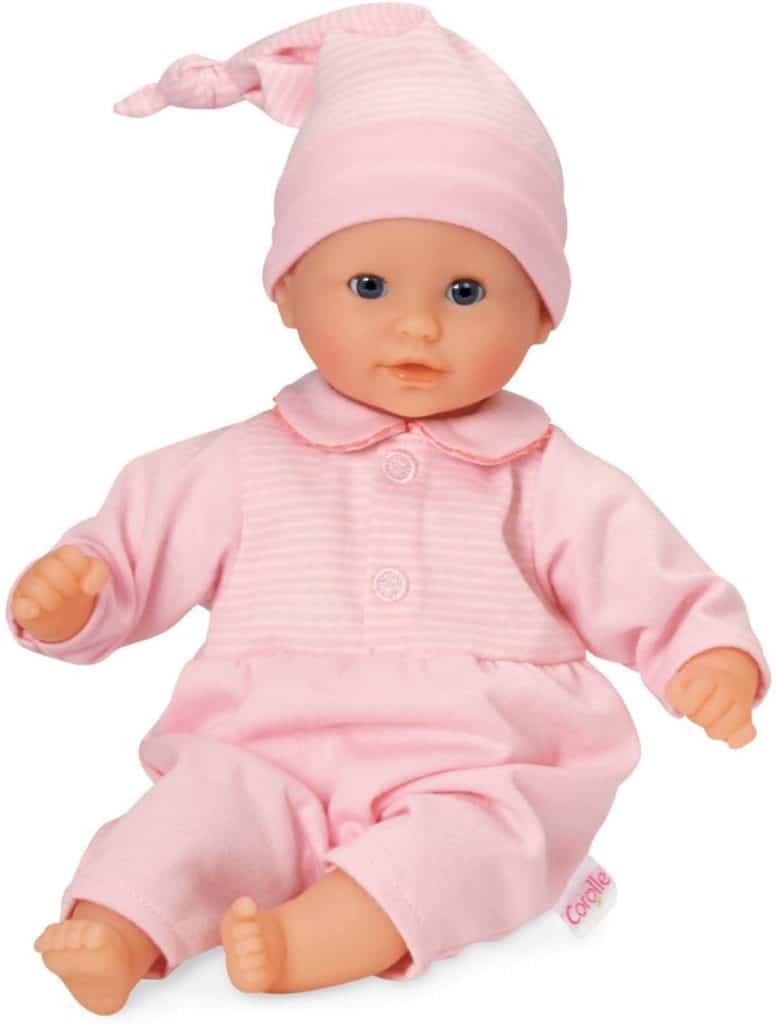 You're going to enjoy looking at the girl's face as she caresses, hugs and snuggles this cosy bean bag filled  doll. The doll is 12 inches long, has a vanilla fragrant soft face and is colourfully decorated in pink and white with a pairing small hat.Your girl is going to enjoy this doll that looks so genuine, since she also takes nap; due to her eyes that open when she sits and shuts when she's lying down. Even so, it could make it very easy for you to persuade your child to take a nap by just napping their doll.
4. Fisher-Price Brilliant Basics Rock-a-Stack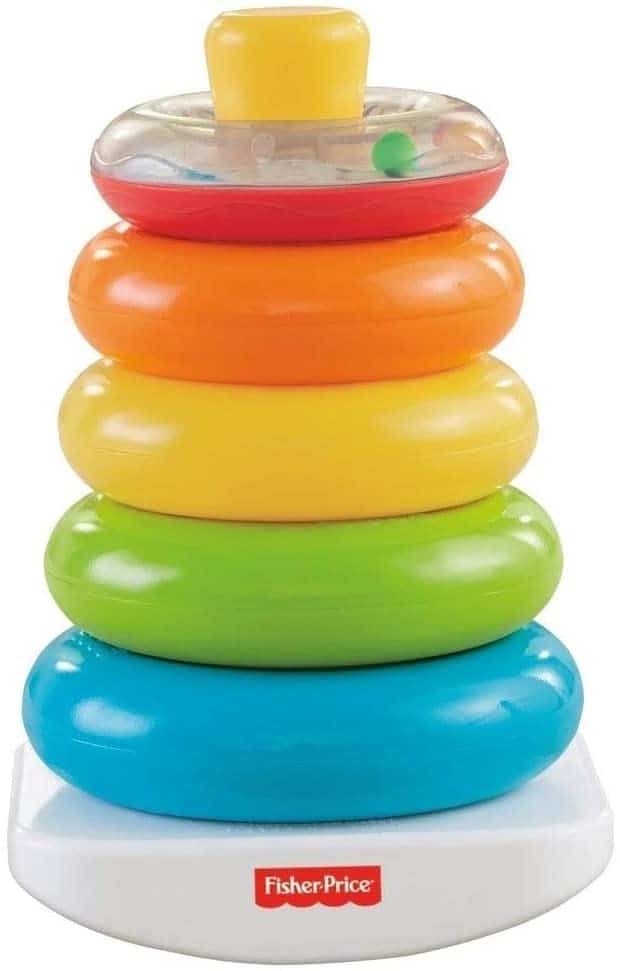 The Fisher-Price Brilliant Basics Rock-a-Stack is a stacking toy wonderfully made and is very enjoyable. The ring stack consists of five distinct size rings, all of which are unique in colour. The colourful rings are interesting to grab and pile on the yellow pillar included within the package. The collection of stacking rings provides the ability to grab, carry, stack, shake,
and explore. Each ring has a unique bright colour, with the smallest ring also providing a glossy reflecting coating. The smallest ring has tiny particles inside that which makes a pleasant whirring sound when shaking around. This is a perfect toy to help motivate young sitters to sit down and engage with the rings. The pin to mount the rings on often gives a slight wiggle when knocked to make it both exciting and challenging. When playing with the Fisher-Price stacking game, children experience good hand-eye synchronization, incorporate size and relativity, and improve gross motor skills. It's made from soft, easy cleaning plastic, and it's secure for chewing as well.
5. Fisher-Price Laugh & Learn Magical Musical Mirror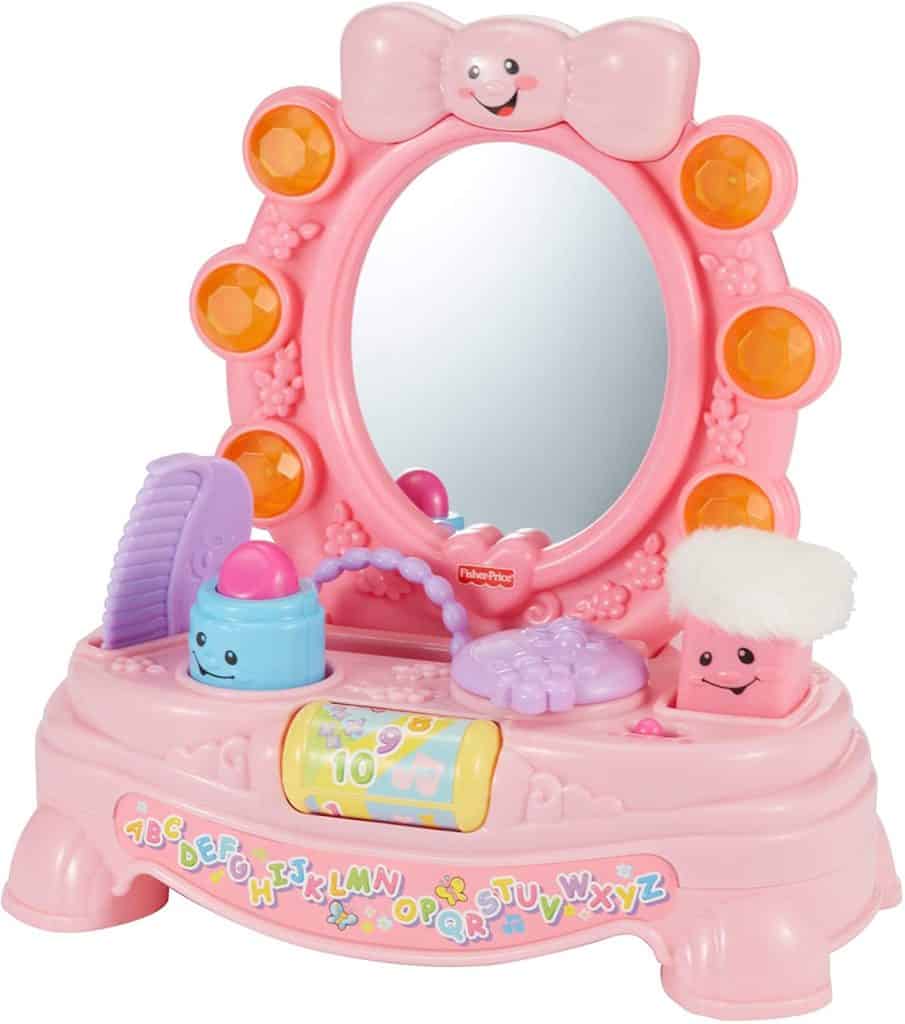 Finally, the young princess will start her glamming practices with this magical musical mirror. Keeping various items, such as a lipstick, a comb, a wristband and a fluffy powder puff, playing time with mommy has never seemed so exciting. This activity will also help the child learn how to count, distinguish colours, alphabets and identify textures. It has 15 tracks, tunes, and phrases that are enabled when the compact is open/closed. And when the kid comes to the end of understanding and playing, the accessories are easily placed back to this beauty station. It's really stylish and of top standard, so if your little girl is getting interested in the mirrors or if they want to mimic you while you apply your make-up on, give them this magical musical mirror.
6. LeapFrog Learn & Groove Musical Table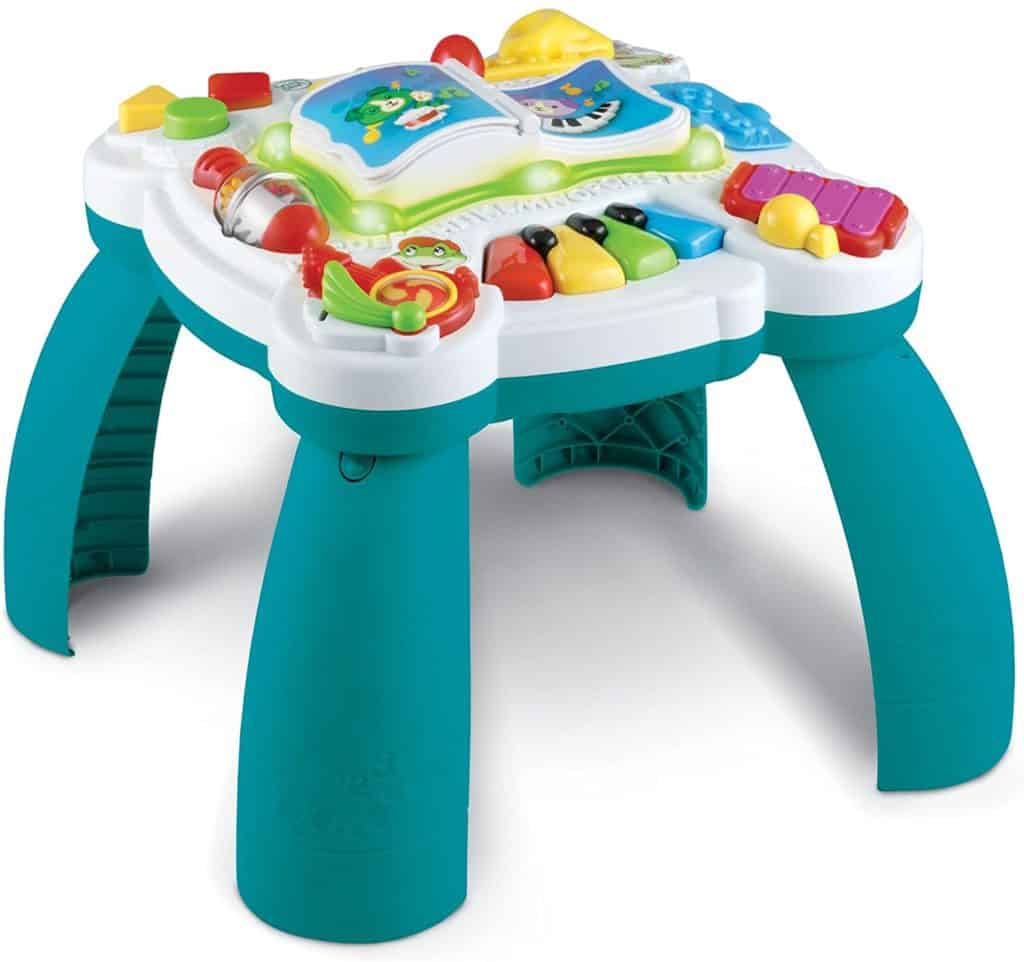 It's a very cool game that your child can enjoy. It contains up to 40 rhythms and 15 unique tasks to amuse the child and make them entertained for hours. The child will experience these games by rolling, spinning, clicking and sliding the various keys and buttons to get multiple songs and tunes. It's a great toy if you're hunting for ideas to teach your young child to numeric, alphabets and shapes. It also includes different vivid colors, so they're going to start learning them as well. It's very sturdy and flexible, so the baby doesn't get distracted with it easily. And it works with temporary batteries, fit to be used.
7. Playskool Explore N' Grow Busy Ball Popper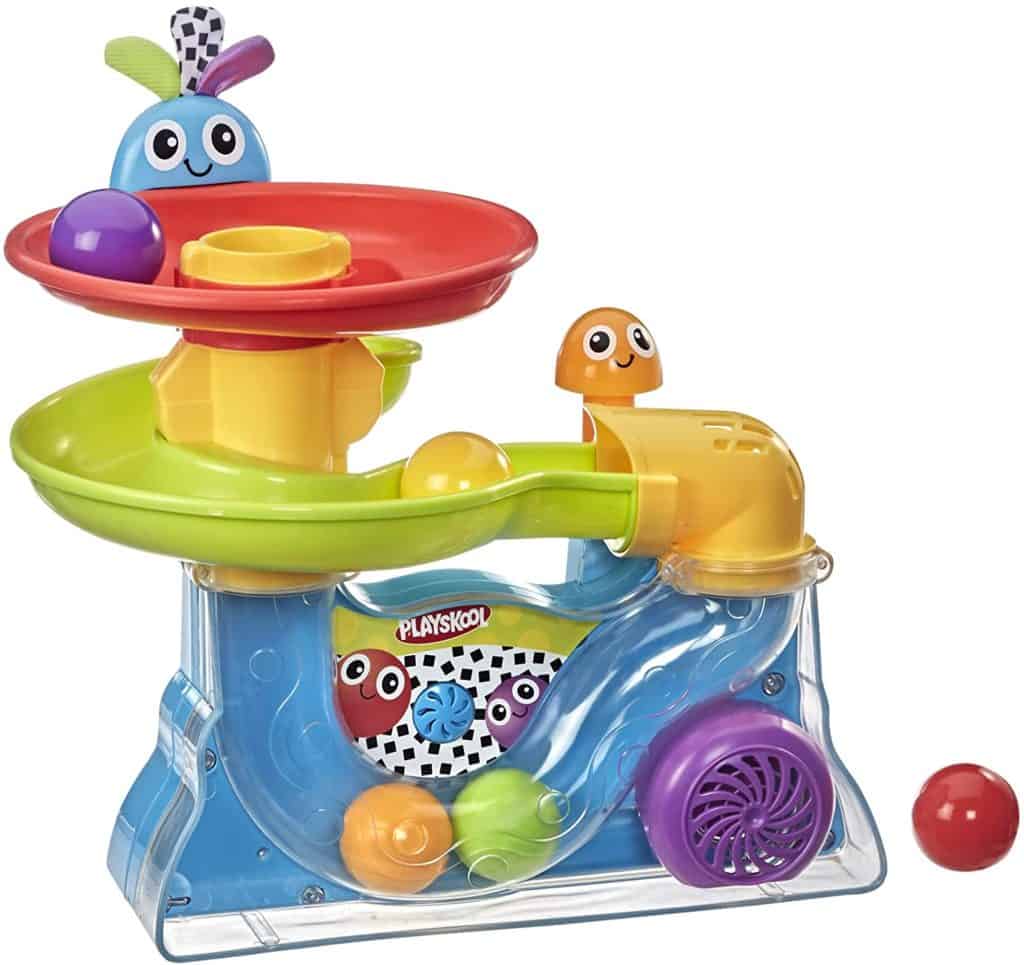 This enjoyable game has five vibrant balls that burst, move and fall down the ramp. When the button is pressed, the balls start bursting out and rolling back to the slope, backed by vibrant songs and lively tones, just to jazz up the game. When one of the ball's falls, it'll be a chance for you to understand how the baby practices object detection and motor skills to get it up. It's a fun way to enable your child to improve their eye-hand coordination, motor skills, comparison and contrast definition, while making them very busy and entertained at the same time. It's also a musical game with 8 catchy tunes for more fun. The sheer performance is robust and the structure is suitable for children. It is appropriate for children of 9 months and older.
8. Anatex Deluxe Mini Play Cube
This five-sided, fascinating toy is fantastic in keeping the toddler occupied for a long time. It has characteristics such as alphabets, a roller coaster, abacus counting, fun tools, and a navigator. The game exposes children to object detection, hand-eye synchronization, arithmetic, colours, and interactive stimulation. It's a solid and strong small play cube, and it's specially built to make it secure for little baby girls for using. The different colours will help catch your child 's interest, and the pathfinders will hold their small hands occupied for a long time. The wires are very solid and sturdy, so they can endure the continuous application of your precious one without twisting out of shape. Well it's beautifully designed to take up only a tiny room in your play zone, and it doesn't have any loose bits.
9. Melissa & Doug Classic ABC Wooden Block Cart Educational Toy With 30 Solid Wood Blocks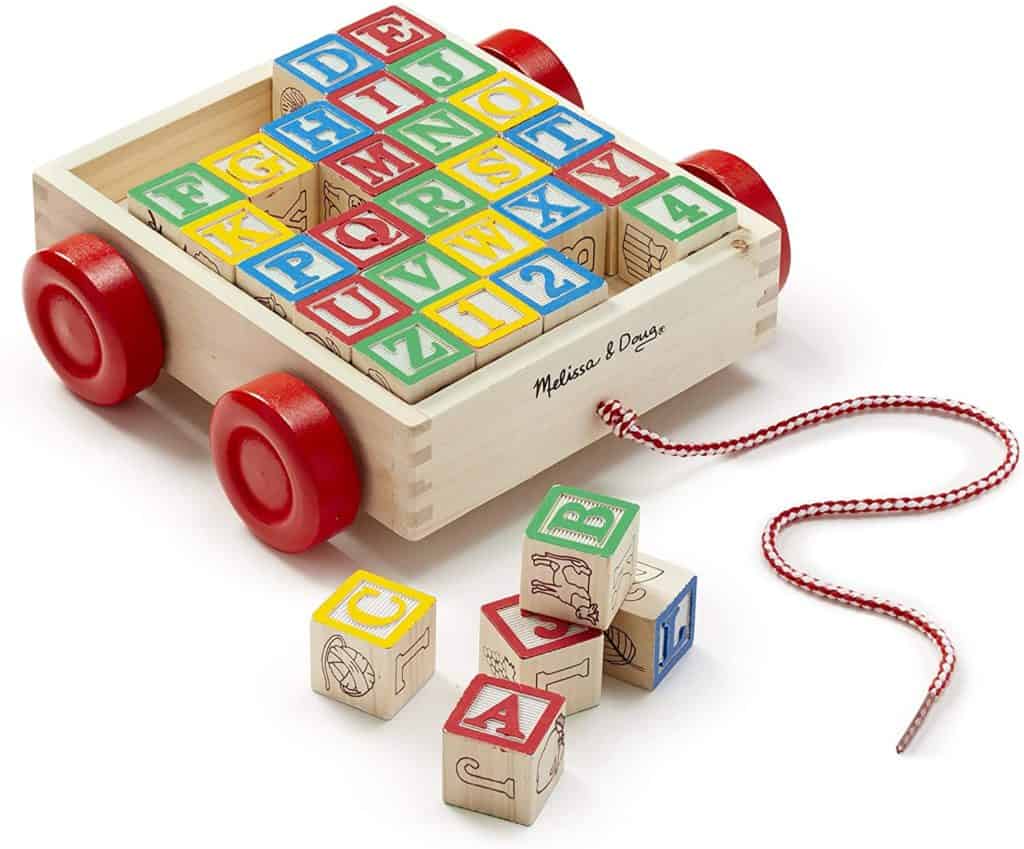 This colourful wooden carriage with a connector pull has 30 blocks that will make the child learn alphabets, numbers, images and colours. The kid will probably have fun piling, arranging and coordinating the sizable blocks. Learning of motor skills and exploration is also exercised here. It's a sturdy toy that's still very safe for baby use, and it's compact, so it's quick to drag along. Furthermore the smartest thing is that you don't need to search for a plastic bag to hold all the blocks until you've finished utilizing them. You're probably going to put them back in the cart and pack it away.
10. Melissa and Doug Sunny Patch Finney Fish Ball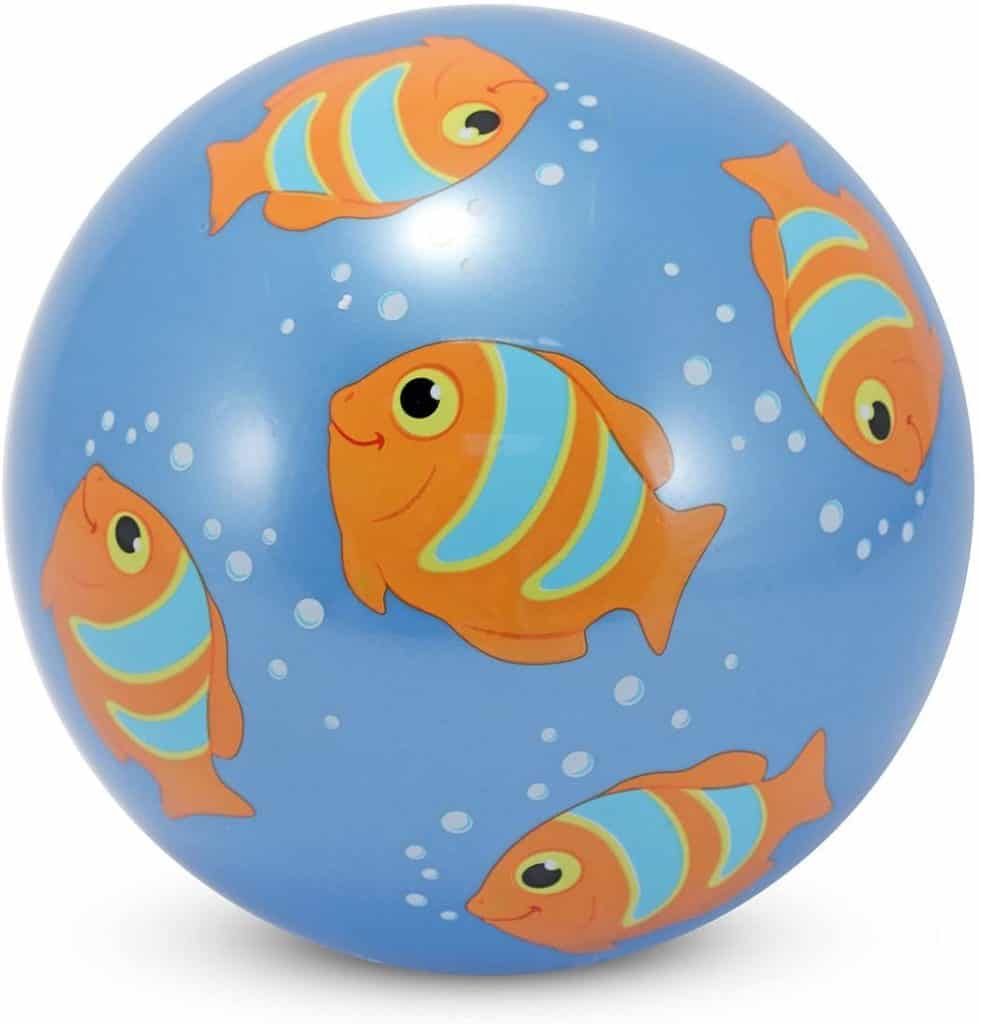 The iconic rubber ball has a blue cover and is painted with green and orange fish designs. It's perfect for tossing and catching outdoor games and learning toys. This fun light ball aims to facilitate gross motor skills, social skills, and great outdoor recreation.
Children develop by seeing, feeling, listening, and so on and it's essential to have all that can support them to improve their learning and overall growth accessible to them at every point of their lives. A big learning target has already been set in one year, and they will need a shift in toys to benefit them in the next stage. That's why we've selected the perfect toys and gift options for 1-year-old girls to assist you choose the right toys for your child's requirements. The list is quite long, and you're certainly going to find something for your precious baby girl. Best of luck to you!
You can also checkout our best sensory toys and best wooden toys for kids.
FAQs -
Q1) What can be different themes or styles for your little princess's birthday party?
● All Pink ● Disney ● Barbie. ● Minnie Mouse ● Hello Kitty ● Mermaid
Q2) What is meant by a 1st birthday smash cake?
A smash cake is essentially a small cake designed to be celebrated by your dearie on her first birthday, in case you're unaware. And because 1-year-olds are very well ungovernable, that implies that by using her fingers, or "smashing" her face into it the second it is put in front of her, she will probably dig into that tasty cake.
Q3) How long should a child's birthday party function?
Toddlers and pre-school children do their best with parties lasting an hour and a half. For school-age children, anything between two to three hours would be enough period.