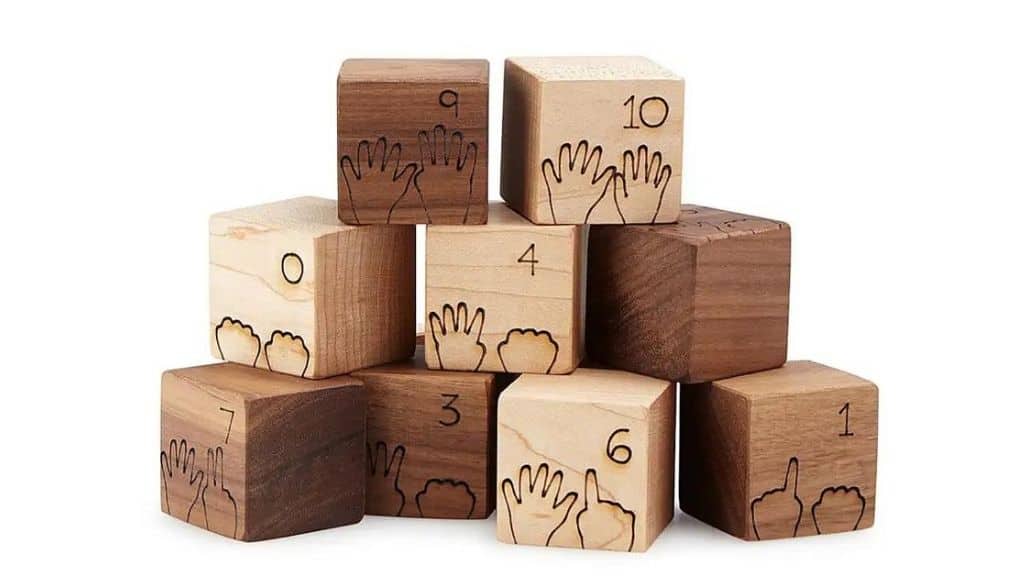 Best baby blocks help the little ones to enhance their fine motor skills and gradually encourage them to become more independent during their journey of decoding the working of these building toys while being proud of their accomplishments.
These building blocks for babies also allow them to visually observe their growth, as and when they are stacking their blocks, and get to explore different options while leasing their creativity to take the lead. The best part about these building toys is that there is no right or wrong way to play and it's only open to the exploration and creativity of your little munchkin!
However, due to the high demand, most parents find it quite challenging to find their perfect building blocks that will both educate and entertain the toddler. For this reason, we at Parenthood Bliss have curated this article that comprises the top 10 best baby blocks that will encourage your baby to develop fine motor skills and also entertain themselves during their playtime.
We recommend you keep the size, durability, material, and purpose in mind while picking the best baby blocks for your baby!
13 Best Baby Blocks For Babies
Listed below are the top 10 best picks from Parenthood Bliss to help you pick the building block for babies and toddlers.
1) Mega Bloks Building Toys - Best Baby Blocks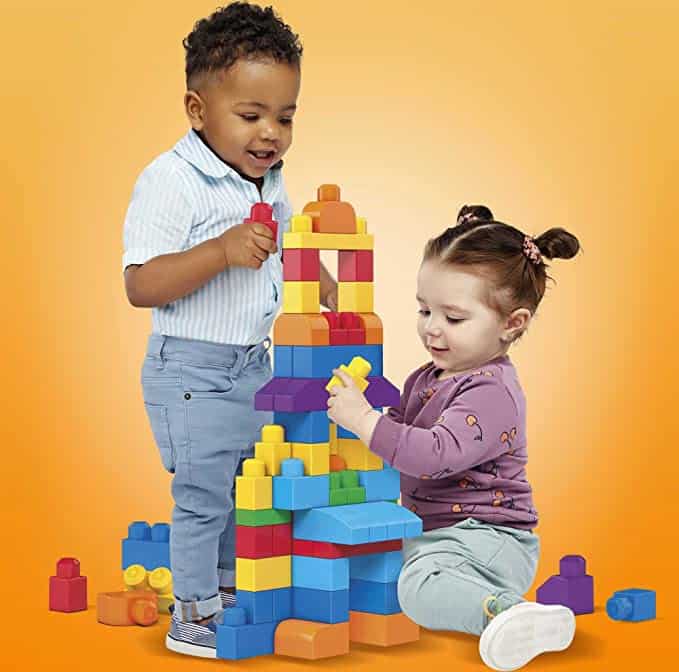 Mega Bloks are observed to be the best blocks for toddlers across the globe as they are very productive, colorful, and easy to grab for little hands. They are large in size with easy interlocking and undoing which makes it extremely entertaining for the children.
Pros:
Includes 80 pieces for the toddlers

The Mega Bloks is a compatible set

Can easily fit in a storage bag

Is travel-friendly
Cons:
These building blocks do not have a base
2) Melissa & Doug Wooden Blocks - Best Baby Blocks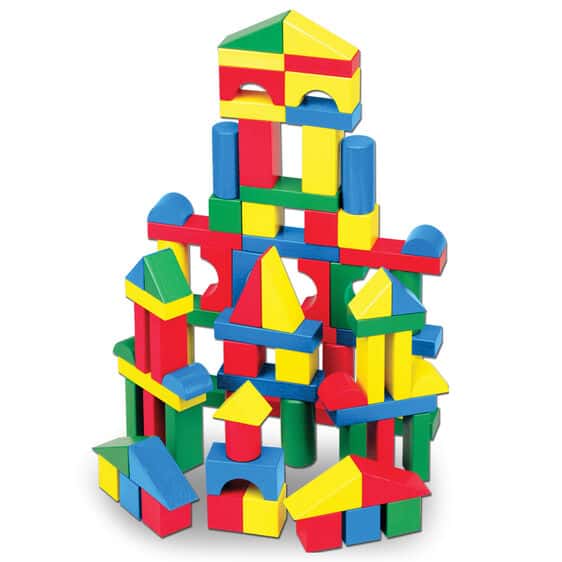 These wooden blocks for babies from Melissa & Doug are classic and have a lot to offer and come in nine different shapes. The wood-blocks feature to be light enough yet durable, will not wear and enhance their creativity.
Pros:
Is available in four colors

The wooden block promotes creativity and is educational

Comes with 100 blocks
Cons:
Doesn't come with a storage container
3) Melissa & Doug Alphabet Nesting and Stacking Toys - Best Baby Blocks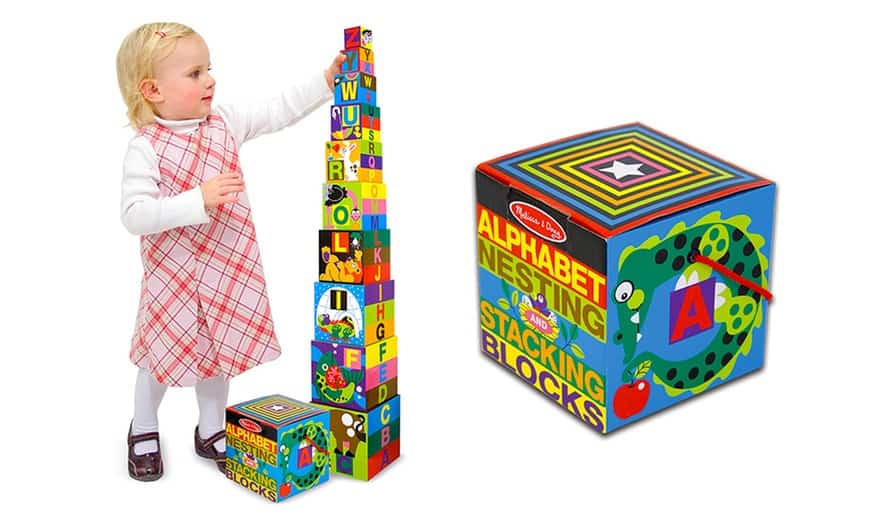 These block sets are compatible and can be used in two different ways, that is, stacking and nesting that most toddlers love to switch between. They feature enhanced imaginative play, problem-solving skills, and are educational,  as the sides of these best blocks include numbers, colors, shapes, and animals.
Pros:
Comes in multi colors and sizes

Are durable

Help your child develop better as they are educational

Enhances hand-eye coordination and problem-solving skills
Cons:
A few parents have observed that the cardboard make is not durable
4) Infantino Squeeze - Best Baby Blocks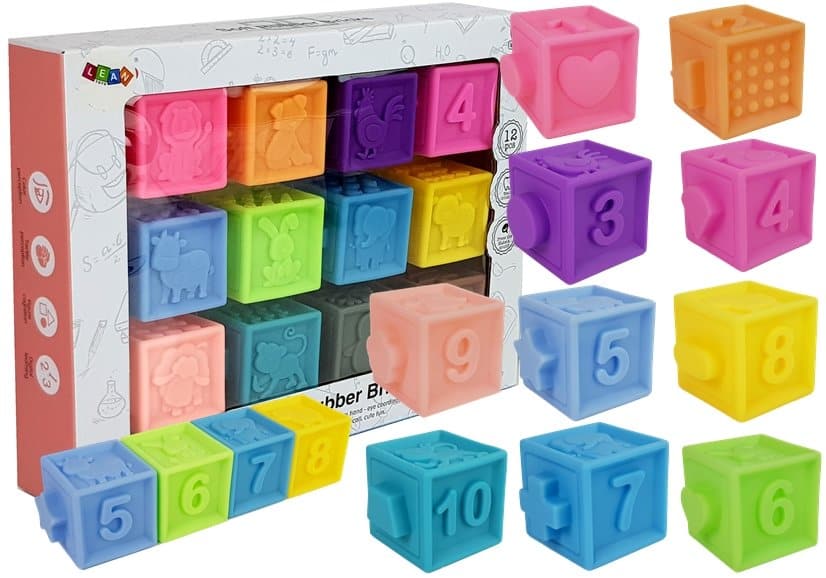 This block cart features bright colors for the children and is squishy in nature that further promotes good play. This block set is durable in nature as it will grow with your child, make good teethers, and are bath time-safe.
Pros:
Is perfect for toddlers age 6 months

Feature to be soft

Are squeezable

Is BPA free

Comes in different colors, numbers, and is shaped as animal

Are reusable and are easy to grab
Cons:
The block set only has numbers up to 8
5) ECR4Kids Softzone Stacking Blocks - Best Baby Blocks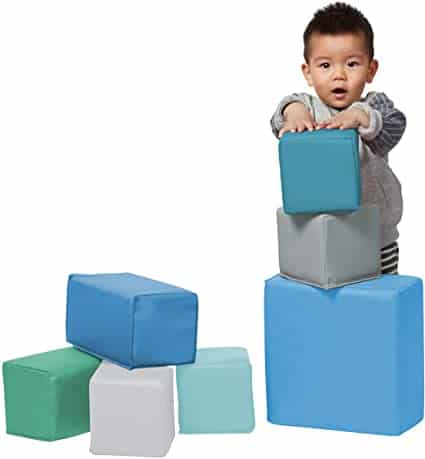 These building blocks for babies make a good gift and feature foam, are easy to hold, and lightweight. The little toddler will love the construction of these blocks. They are creative, come in squares. The set comes in a variety of vibrant and bright colors to choose from, is baby-safe, and the foam is covered with reinforced leather to prevent bites.
Pros:
Is easy to clean

Include 10 blocks to 12 blocks

Are durable
Cons:
The blocks tend to split at the seams
6) Melissa & Doug Pattern Blocks - Best Baby Blocks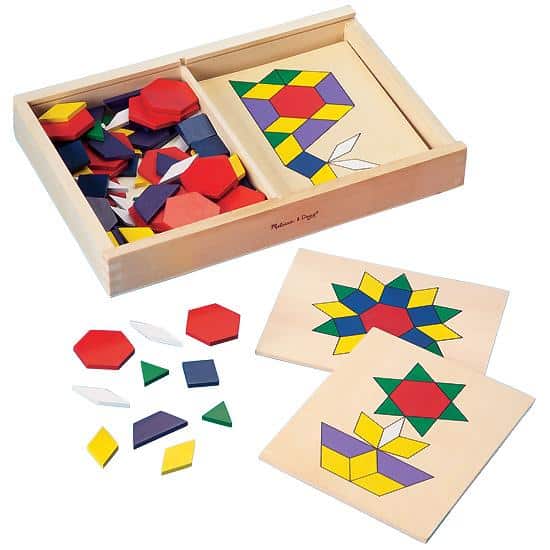 The blocks from Melissa Doug help the baby to create and are great for all ages and the toddlers are mostly mesmerized by the colors and shapes. However, the set would require some guidance as the set comes with a wooden board that includes pictures for the baby to replicate by placing the blocks.
Pros:
The building blocks have 120 shapes and five boards

Promotes problem-solving skills

Enhances hand-eye coordination

The set comes with a storage box
Cons:
A few pieces from the 120 might be too small
7) Melissa & Doug Classic ABC Blocks - Best Baby Blocks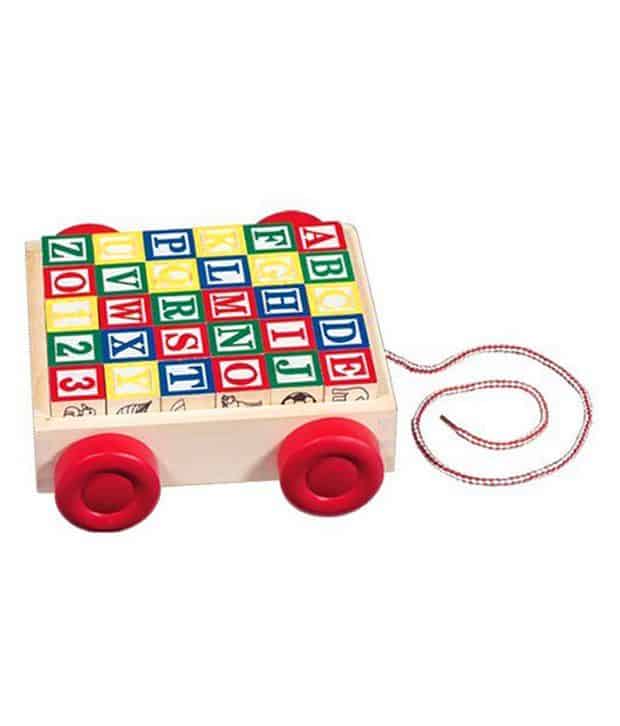 These best baby blocks from Melissa Doug are wooden blocks that feature a perfect size for the children and are easy to play along with. The wooden blocks for toddlers have colorful letters that are printed on all sides, are durable, educational, and enhance their fine motor skills.
Pros:
Melissa Doug classic ABC is durable

Includes 30 wooden blocks and a rolling block cart

Features letter and numbers

Enhances hand-eye coordination
Cons:
The set of blocks are smaller than they appear
8) DreambuilderToy STEM Magnetic Toys - Best Baby Blocks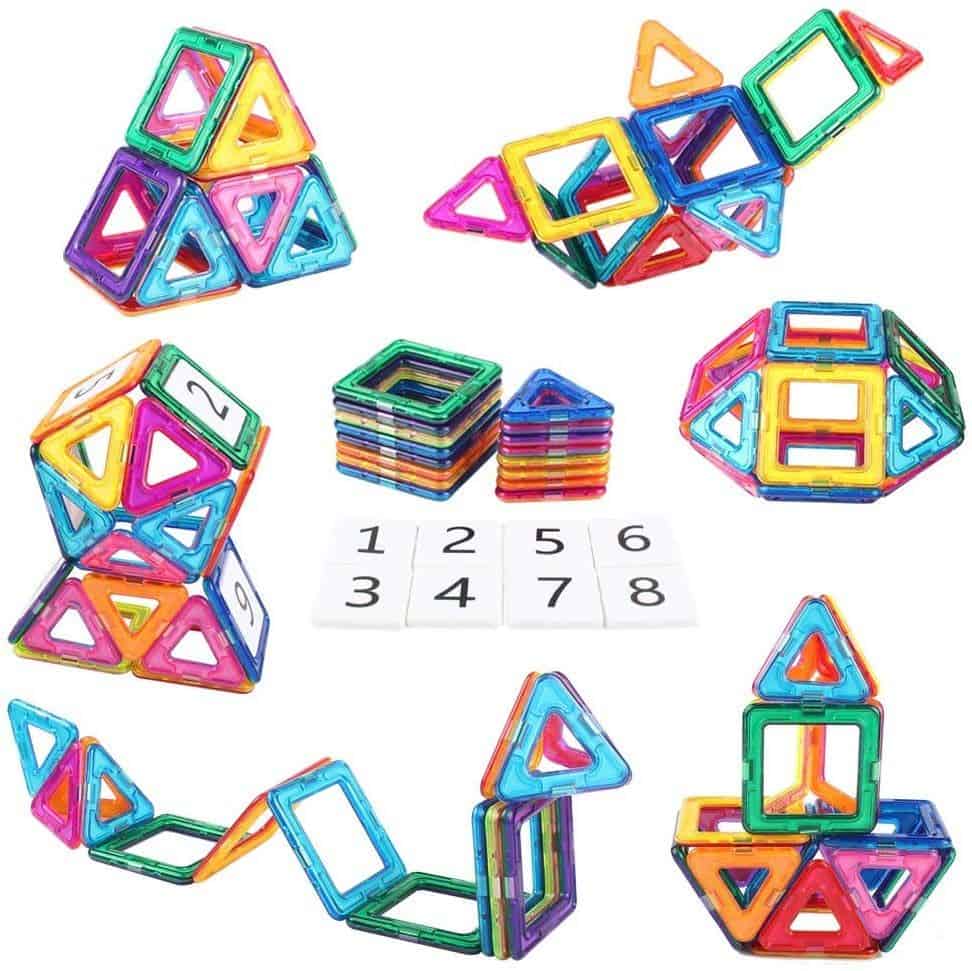 These blocks for toddlers are rather complex, but if your little baby is interested in science, technology, engineering, and math, then this is yours to pick! The stacking blocks feature vibrant bright colors, have intriguing designs, and include many options to play, giving the children control and the ability to make decisions.
Pros:
Is made from 100 percent non-toxic plastic

Has smooth tile edges

Develop fine motor skills

Builds shape and color recognition
Cons:
The stacking blocks could be challenging for younger children

Doesn't include a storage box
9) Intock Magnetic Blocks - Best Baby Blocks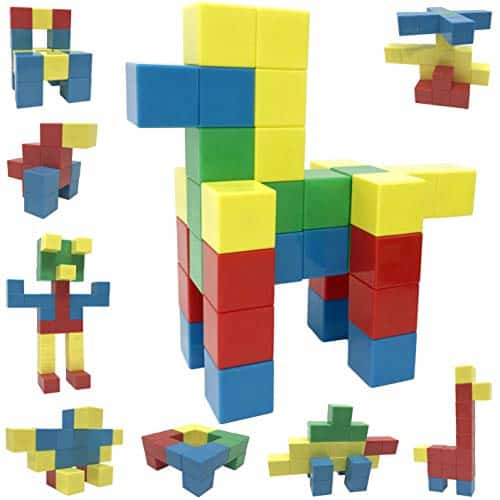 These magnetic building blocks for babies and toddlers provide hours of fun as each block offers a unique challenge. They feature to enhance problem-solving skills, are challenging compared to the otherwise traditional blocks, and are made from non-toxic plastic.
Pros:
Is available in different shapes

Is durable in nature

Comes with a storage box
Cons:
The children will need adult supervision as the blocks are smaller in size
10) Constructive Playthings Translucent Blocks - Best Baby Blocks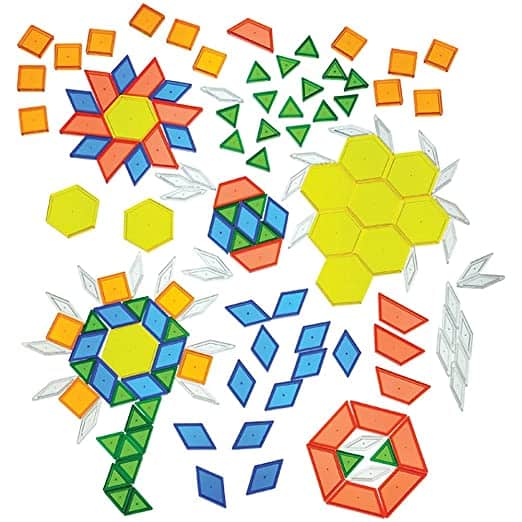 These translucent blocks from PlayThings help enhance the playtime of your children and allow them to build an object that will let them see through it. The blocks come with an assortment of colors that helps the toddlers visually see through the blocks while they build and is the best way to introduce shapes while enhancing their critical thinking abilities.
Pros:
Are lightweight

The set comes with 147 pieces

Feature various shapes, sizes, and colors for the little one
Cons:
Are expensive as compared to the other blocks on the list
11) Magna Tiles Magna-Tiles - Best Baby Blocks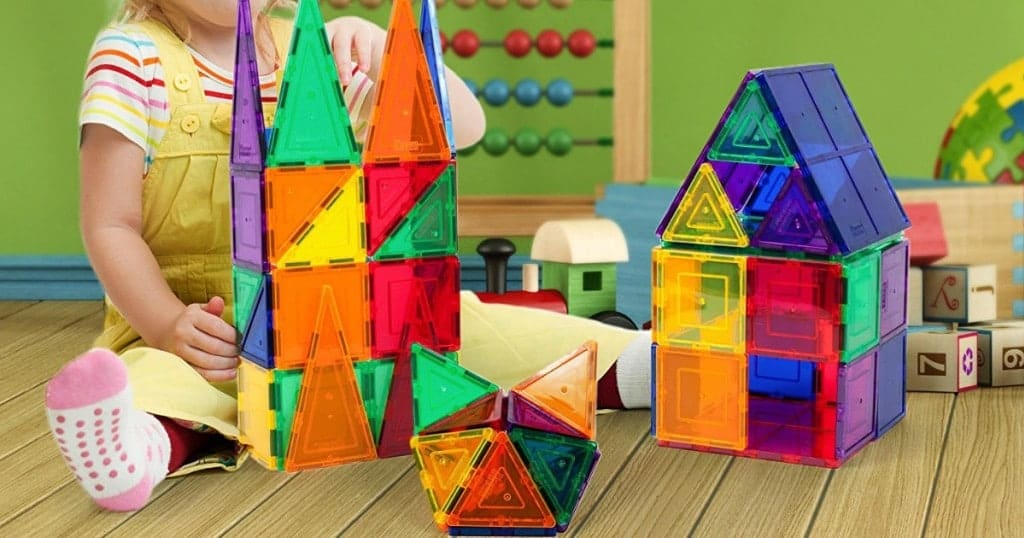 Magna is an award-winning STEM building block that is super fun for kids to play with, don't forget the adults! These are uniquely designed, have plastic flat magnetic tiles, and can be used in both 2D and/or 3D structures. Although it's expensive, they are durable, sturdy, and are combined with loads of other things too.
Pros:
These Magna tiles are customized featuring Grinch, The Beatles, and other well-known icons.

Best for kids who are 3 years old+

Come in a set of 110 pieces
Cons:
Is made from plastic is not eco-friendly
12) Blockaroo Magnetic Foam Blocks - Best Baby Blocks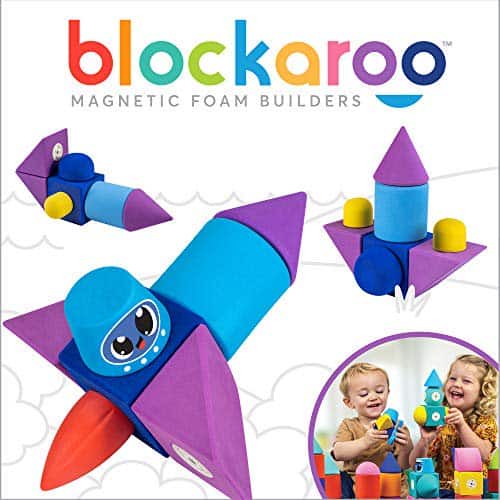 Blockaroo magnetic foam blocks are best for younger kids as they make super-soft foam building blocks with magnets inside them. It's easy to build, can be clicked together, offers multi-sensory experience, and can rotate up to 360 degrees. Best part yet? The foam is waterproof, is dishwasher safe, is durable, and mold-resistant.
Pros:
Is best for kids who are 18 months old 

Comes in 17 pieces

Is mold-resistant
Cons:
The child will need adult supervision when playing
13) LEGO Classic Large Brick Box - Best Baby Blocks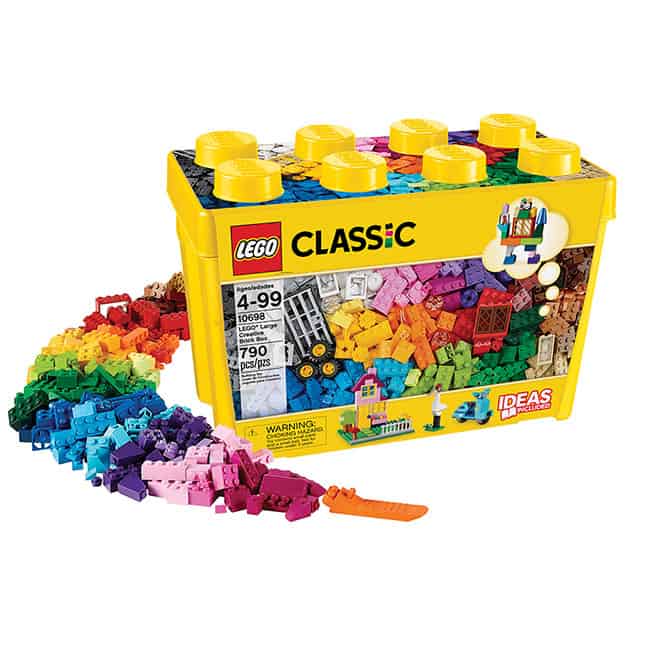 What better than LEGO? If your little one is LEGO-curious, this creative brick is the perfect starter for beginners. It offers about 800 bricks, comes with a storage box, is colorful, and has base plates, windows, tires, doors, and tons of colorful bricks of all sizes.
Pros:
Encourages creativity 

Are compatible with other LEGO sets

Comes in 790 pieces
Cons:
Is made from plastic is not eco-friendly
Best Baby Blocks Final Words:
A block set, be it wood blocks or those made from non-toxic plastic helps the kids to enhance their motor skills, imaginative play, build their hand-eye coordination, are educational toys, along with providing entertainment. Therefore, it is quite crucial for the parents to make a wise choice in order to pick the best ones that are easy to stack, are large enough to prevent any choking hazards, and also easy to store.
FAQs: Best Building Blocks For Babies
1. When should an infant be able to play with blocks?
An infant of about the age of 6 months should be able to play with blocks. They would generally love to knock the block tower down for up to 18 months where they'd learn to stack them back in a proper structure.
2. Are wooden toys kid-safe?
Yes, absolutely! Wooden toys do not break easily and are less likely to become a choking hazard. They also do not contain any unsafe dyes and are quite durable in nature as well.
3. How does playing with blocks help a child's development?
Blocks for toddlers help them enhance their vocabularies, improve certain motor skills, teach them about gravity, balance, as well as geometry. They come in different sizes, shapes, weights, and colors too!