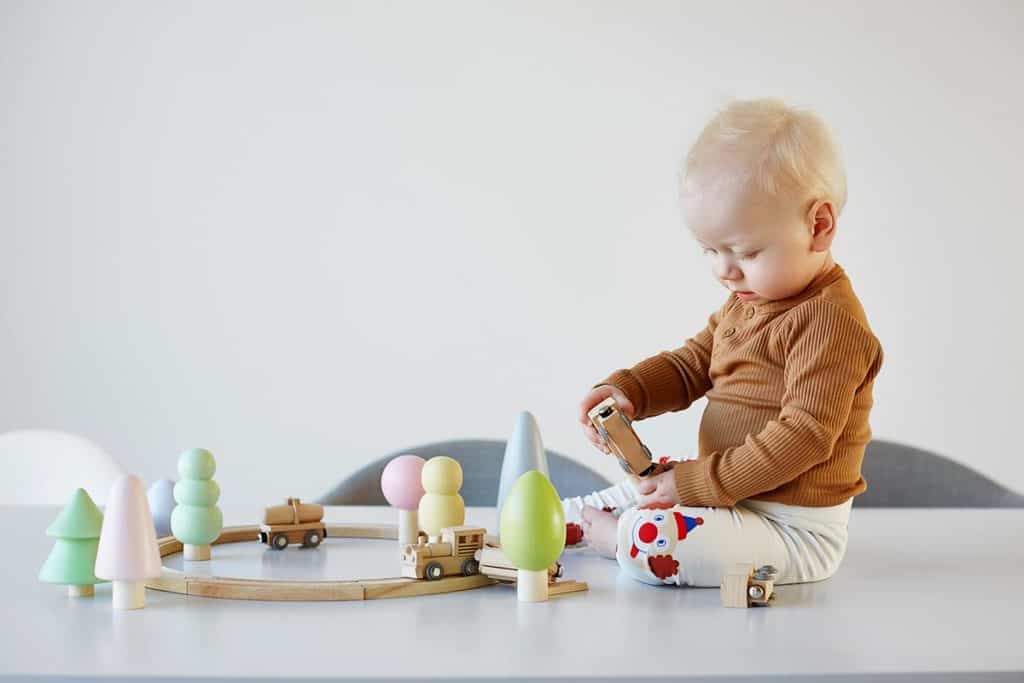 Every kid needs toys. While preparing for your little one's arrival, it's hard to decide what kind of toys you should go for. Some toys remain classic and beautiful throughout the years. Wooden toys are ever-green. You can find so many lovely baby rattles, pull toys, and other favorite toys out there which are made out of wood.
Toys made from wood are natural, eco-friendly, good quality, and feel nice to hold. Whether it's handmade or not, there is just something captivating about wooden toys for babies. We have compiled a list of the 15 best wooden toys for babies.
What Are Some Of The Benefits Of Wooden Toys?
It might seem like wooden toys are old-school or too simplistic compared to the new generation of battery-operated gadgets. However, the Montessori Method and the Reggio Emilia approach, which are modern play-based learning programs, emphasize the importance of natural and simple materials to enhance discovery and learning.
Why Are Wooden Toys Better?
1. Safer
Wooden toys do not break easily. Unlike plastic toys, which have small parts and jagged edges, wooden toys are less likely to harm your little one. Also, they most likely are free of paints, unsafe dyes, and chemicals.
2. Lasts long
They rarely break or fade which makes them durable. It can be enjoyed by your children, and you can pass them onto friends or hand it down to future generations.
3. Timeless
Wooden toys have a classic design and heirloom quality. Even your great-grandchildren can delightfully play with them.
4. Sustainable
The obvious one, wood is natural, biodegradable, and recyclable. Unlike plastic toys, which end up in landfills.
5. It encourages creativity and stimulates your baby's imagination
It could be something as simple as basic blocks or the shape of everyday items, wooden toys tend to encourage your little ones to build, create and engage in imaginative play. By doing these kinds of activities, simulates real-life situations and prepares them for the future.
6. Develop reasoning and problem-solving skills
Through wooden puzzles and blocks, your children are engaged and prompted to use their reasoning skills to build new structures and try to fit the pieces together. Unlike plastic toys (with music, lights, and audio commands), which results in much more passive play.
7. To develop fine motor skills and hand-eye coordination
If you want to encourage their development of neural pathways between their tiny hands and brains, we would recommend you to buy some stacking blocks, fitting wooden bricks together, and stringing wooden beads.
8. It's pleasing to the eye
Sometimes you might come across wooden toys that are so beautiful that you can use them as decorations in your home.
What To Consider When You're Buying Wooden Baby Toys?
Remember that wooden baby toys must be:
Made from real wood.
Free of any harmful toxins.
Keeps your little one engaged.
How Did We Choose Our Favorites?
Parents tend to prefer wooden baby toys because they're so natural and beautiful, and watching your little one play with them feels just right. They are not flashy or over-the-top. Experts say that simple toys tend to be best for your baby's developing minds. After lots of research and talking to real parents, we have compiled this list of the best wooden toys out there. So what are we waiting for? Let's go!
1. Best Wooden Baby Rattle: Wooden Rattle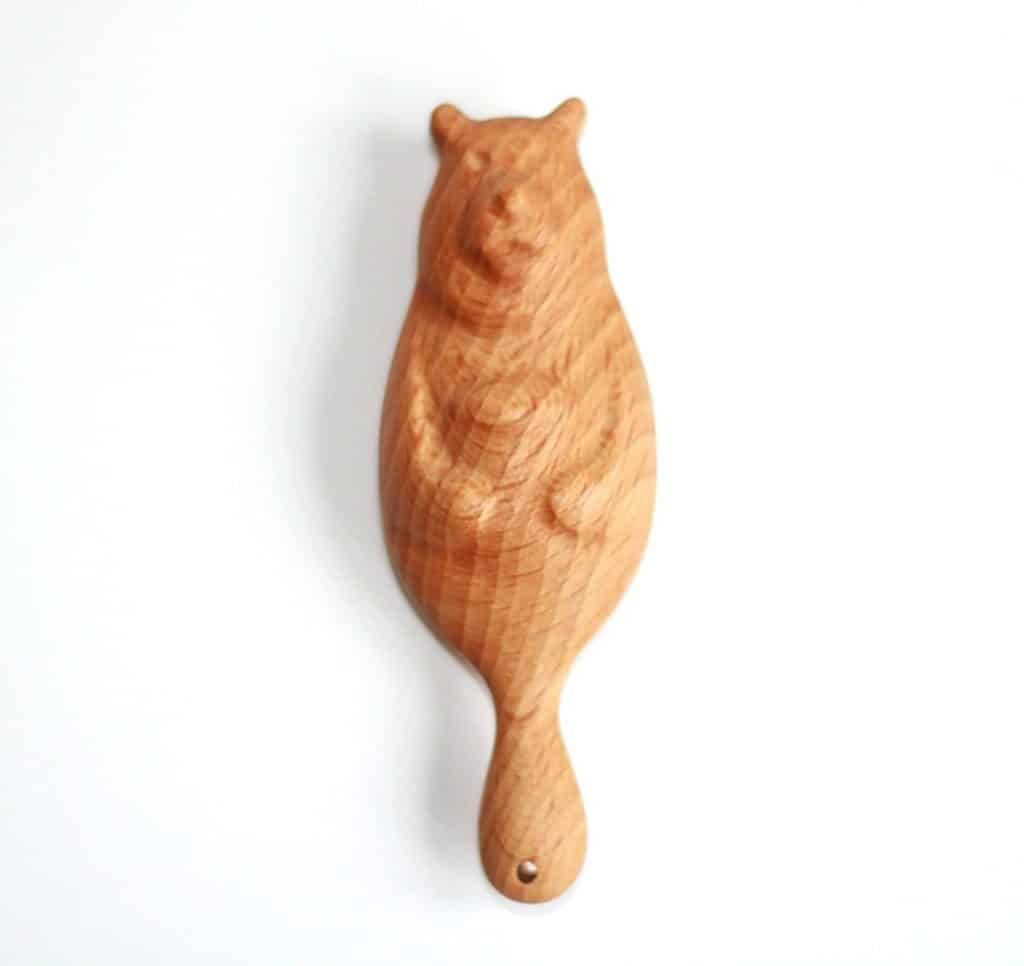 This rattle is great for the tiniest of babies and it's made out of natural, organic, and safe beech wood. It will keep your little infant busy exploring cause and effect.
2. Best Wooden Wobbel Board: Little Dove Balance Board Wobbel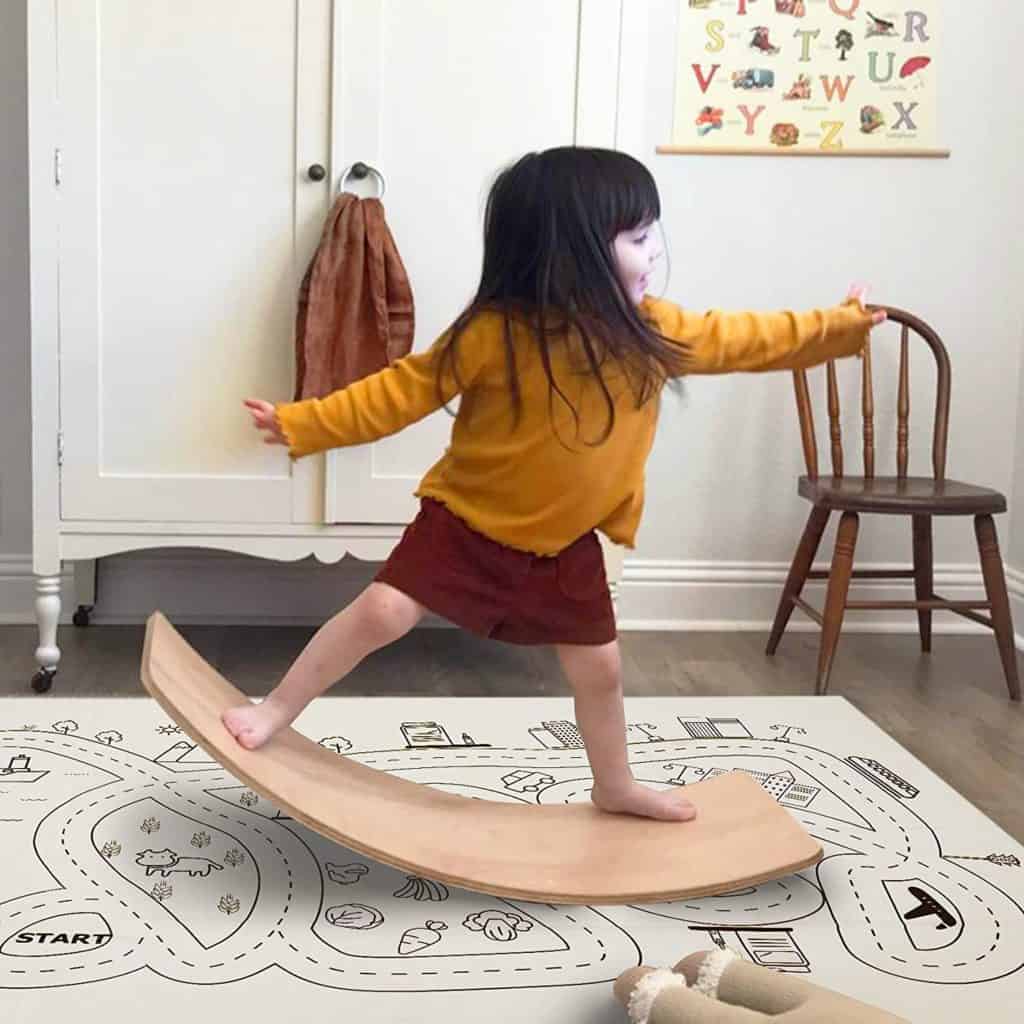 Wobbel boards are a versatile toy brand. This toy lets you work on balance while enjoying indoor play. It's made from natural birch and beech wood. Your kid will love this balance board because they can play different things with it. It consists of a car track, bed, bridge, and even a slide. Make sure they are playing with it in a carpeted area.
3. Best Wooden Rocking Horse: Wood Rocking Horse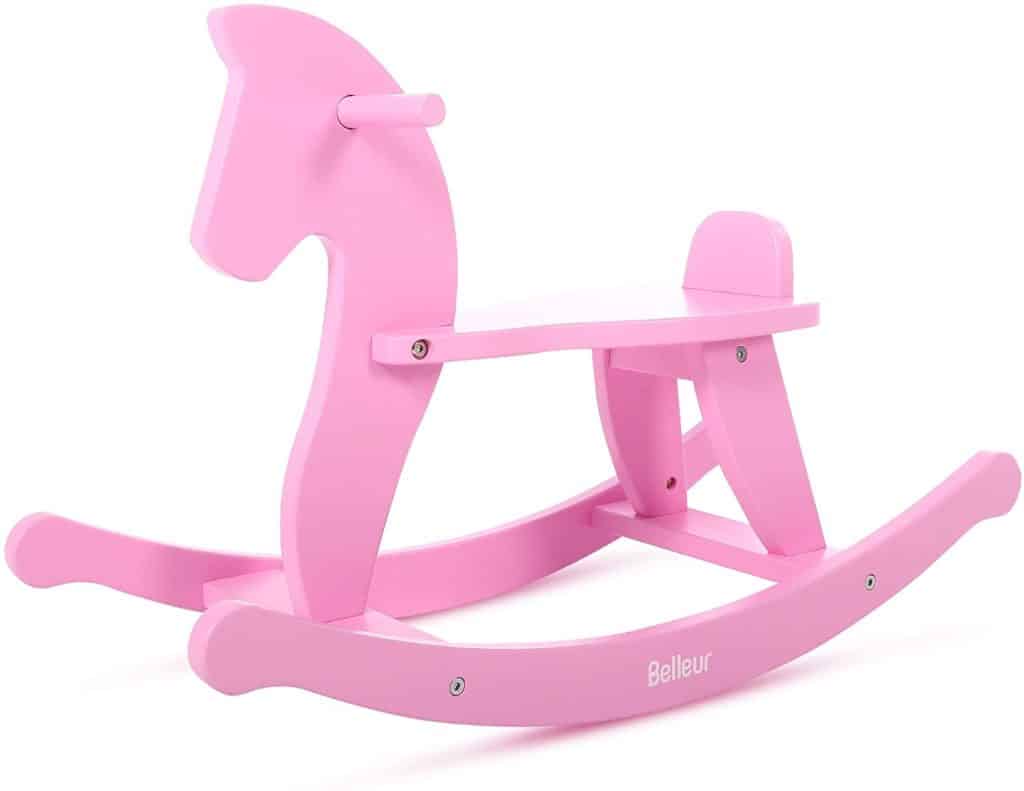 Who doesn't love a good old-fashioned rocking horse? This rocking horse  is made out of natural wood and the paint used is non-toxic. It comes with a protective ring that gives your little one a secure place to hold. Also, the rounded runners will leave no scratches on your parquet floors.
4. Best Wooden Push Balance Bike: Hape Scoot Around Ride On Wood Bike
First comes balance bikes, then comes bikes and trikes! Your toddlers and babies can scoot on this balance bike even before they can walk. It is made from wood which is sourced from environmentally sustained forests and it uses child-safe materials for painting.
5. Best Wooden Tinkering Toy: Small Foot Wooden Toys Compact Nordic Workbench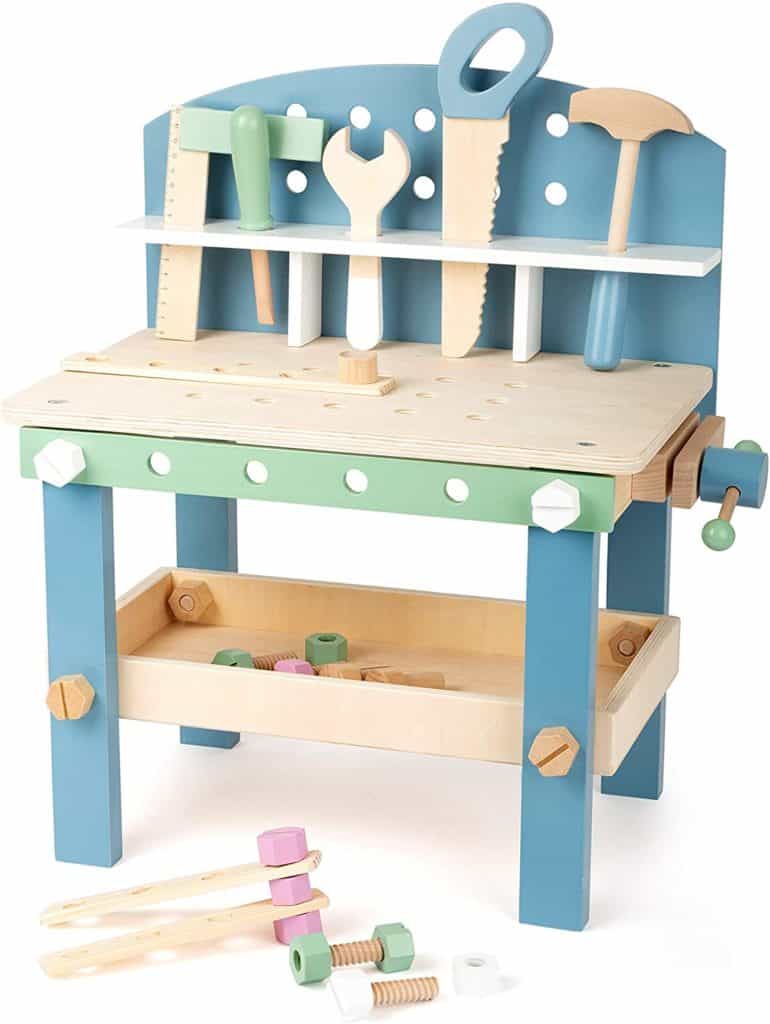 Just like adults, kids love tinkering too, which makes this workbench toy perfect for your little one. This wooden toy is made out of sturdy wood and uses toxic-free paint. This lovely little toy is easy to assemble too.
6. Best Wooden Grasping Toy: Manhattan Toy Skwish Classic Rattle and Teether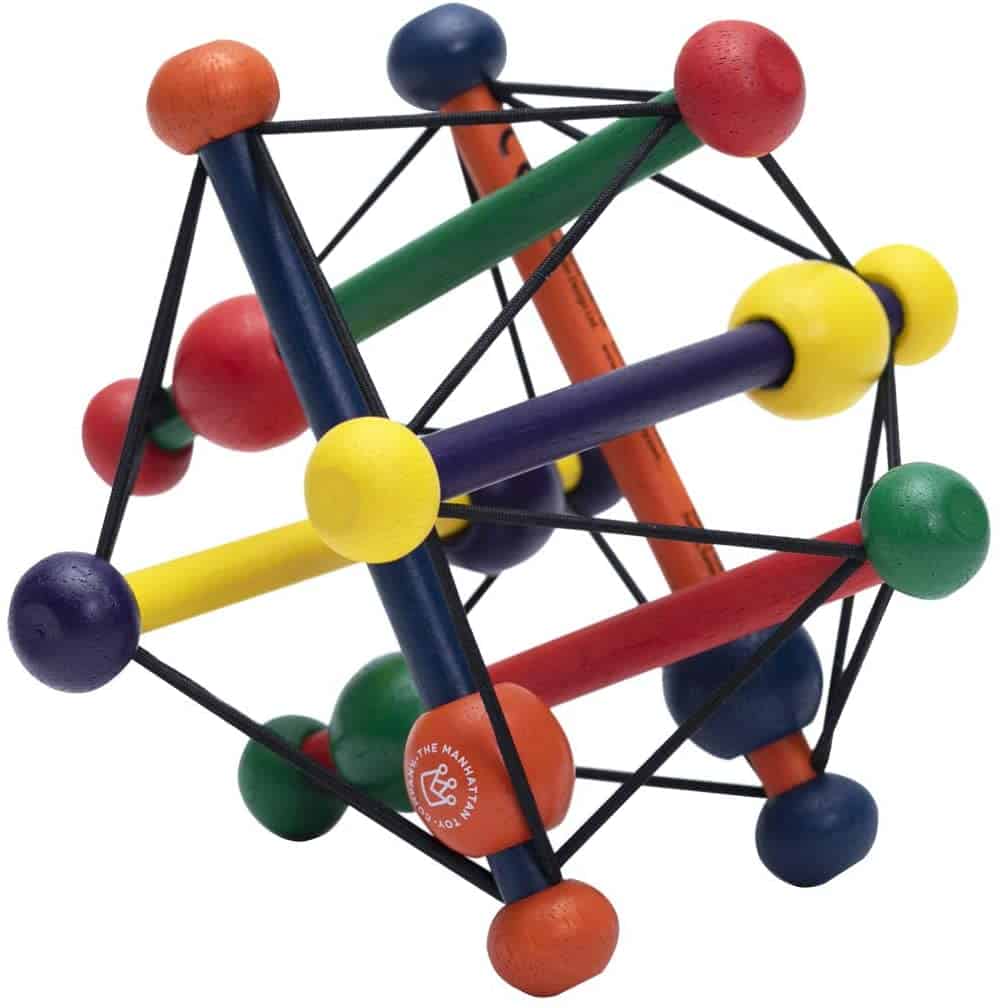 Babies are fascinated and love objects they can grab onto and stare at. This grasping toy is a fine motor skill and it's made from sustainable wood with a toxic-free, water-based finish.
7. Best Wooden Toy Stroller: Wooden Pram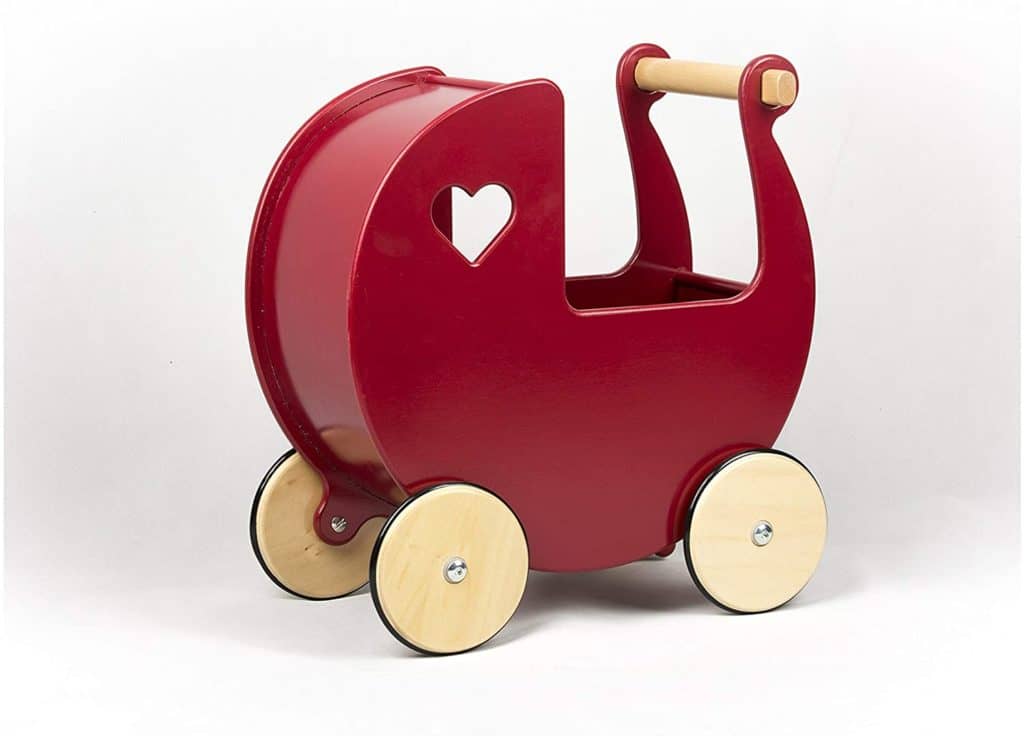 This adorable little pram is best suitable for early walkers. If you have a little one who loves to imitate mommy and take care of their baby dolls, then this is ideal for you. It is made out of sustainable wood. This cute little wooden doll stroller is perfect in size and glides perfectly on your carpet and vinyl floors.
8. Best Wooden Puzzle: Colorful Wooden Shape Puzzle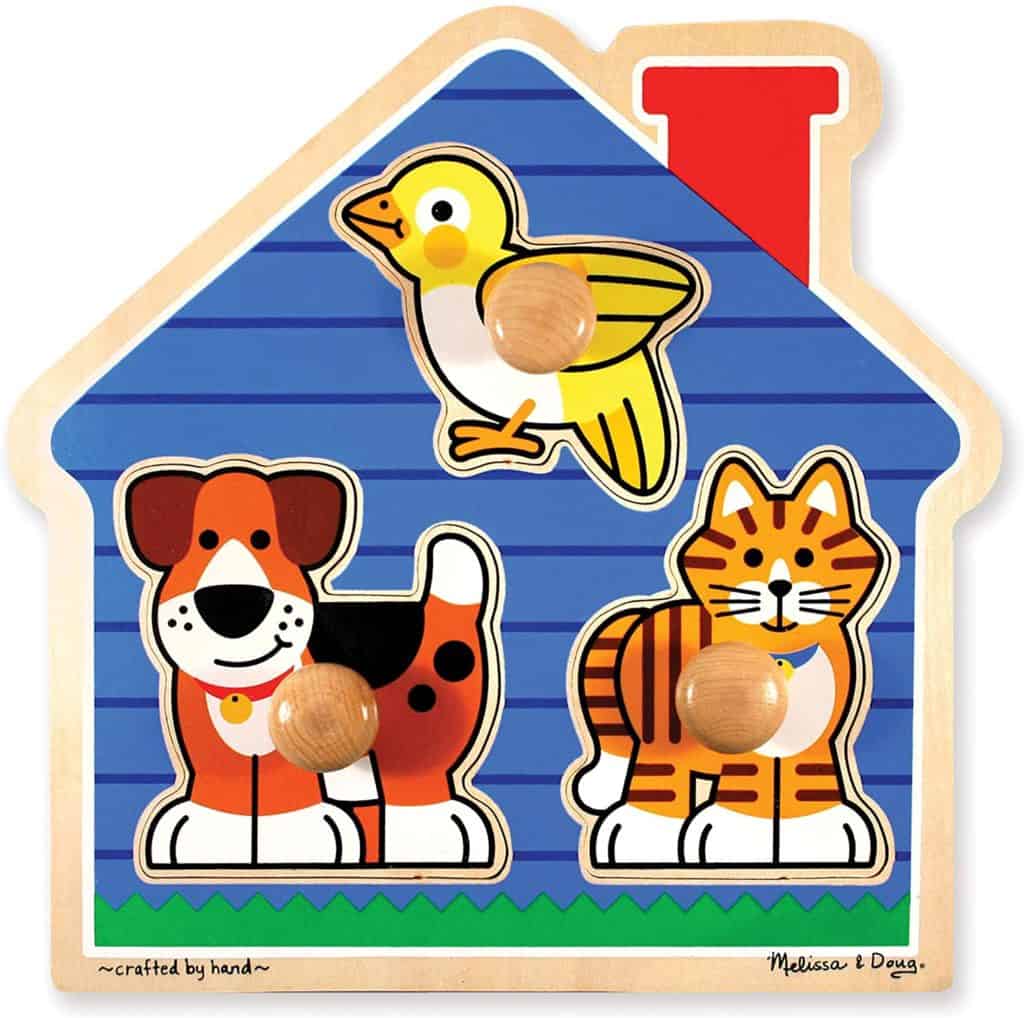 This puzzle is ideal for you if your kid just started learning what a puzzle is and can understand that each piece has its slot. This wooden toy will improve your little one's fine motor, develops their visual sense, and teaches them to shape recognition. It is made out of materials that are free of lead, BPA, and phthalates. This set is perfect in size, the shape pieces slide in smoothly, and it's pretty sturdy.
9. Best Wooden Ring Stacker: GEMEM Stacking Rings Toy Wooden Rainbow Stacker

This premium wooden-made ring stacker works on your little one's fine motor skills, hand-eye coordination, and sensory skills.
10. Best Wooden Rainbow Toy: MerryHeart Wooden Rainbow Stacking Toy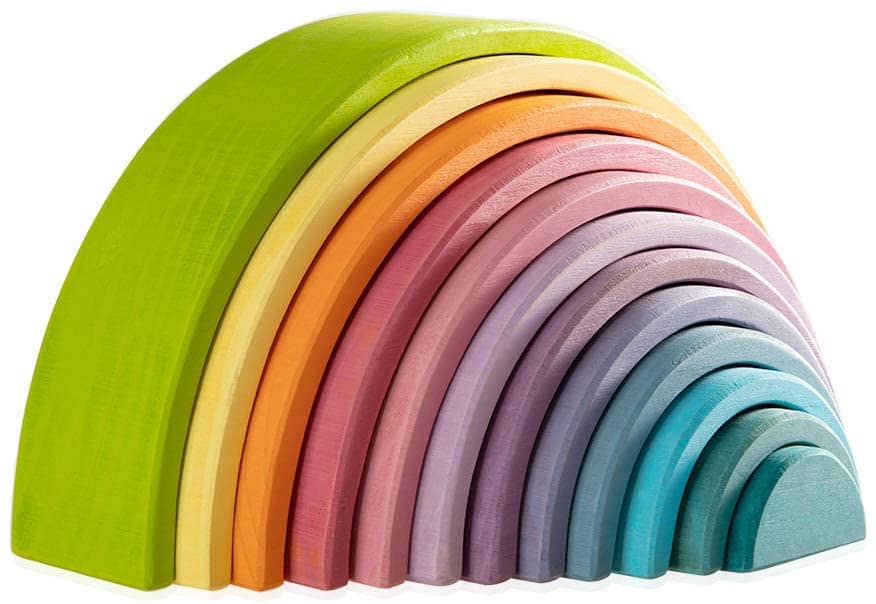 The bestselling rainbow stacker comes with 12 pieces. This ensures endless pretend play and creativity for your little one. This toy is made out of purely natural wood and uses toxic-free water-based paint. Moreover, it's so open-ended and its uses are endless.
11. Best Wooden Building Blocks for the Imaginative Child: PlanToys Fantasy Blocks Building Kit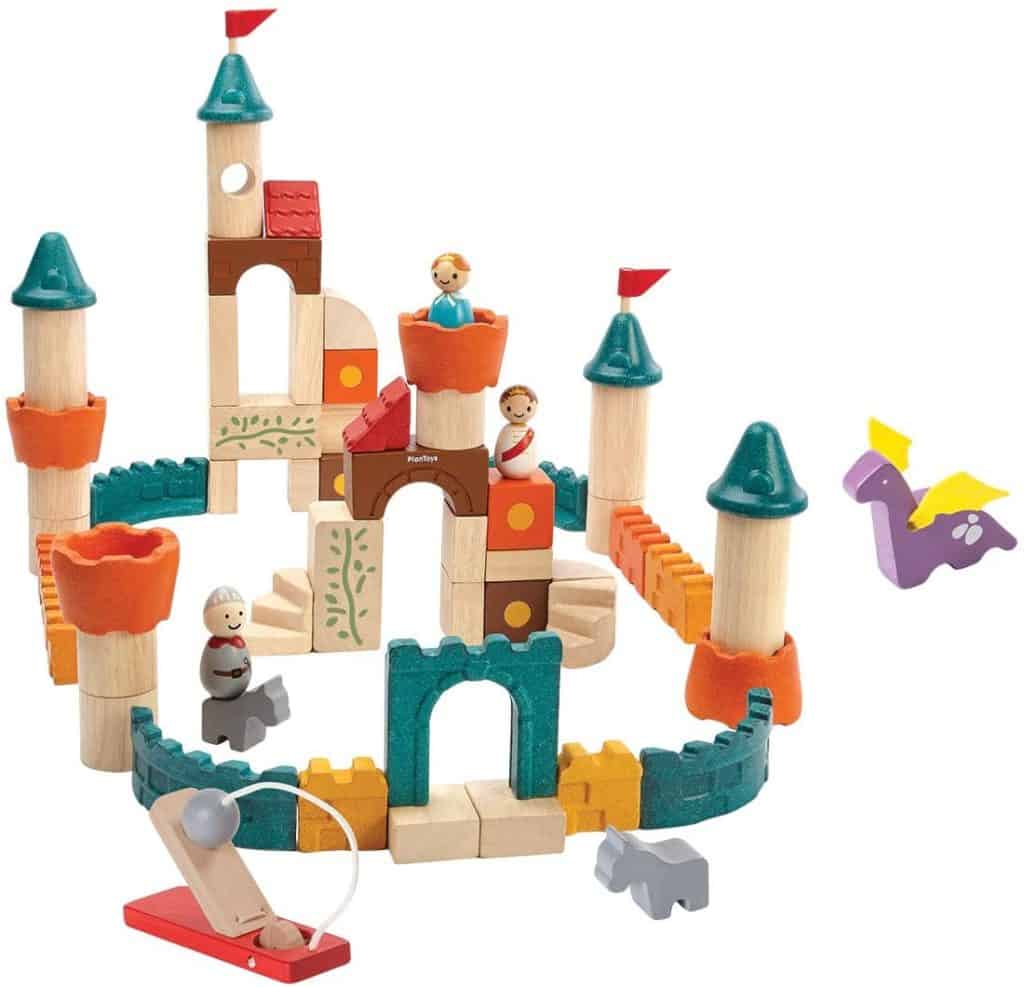 This fantasy-themed building blocks set is everyone's favorite. It builds up your little one's imagination and improves their motor skills too. It is made from sustainable rubberwood and you can choose from three adorable sets, fairy tale, castle, and fantasy.
12. Best Wooden Dollhouse: Bay Tree Dollhouse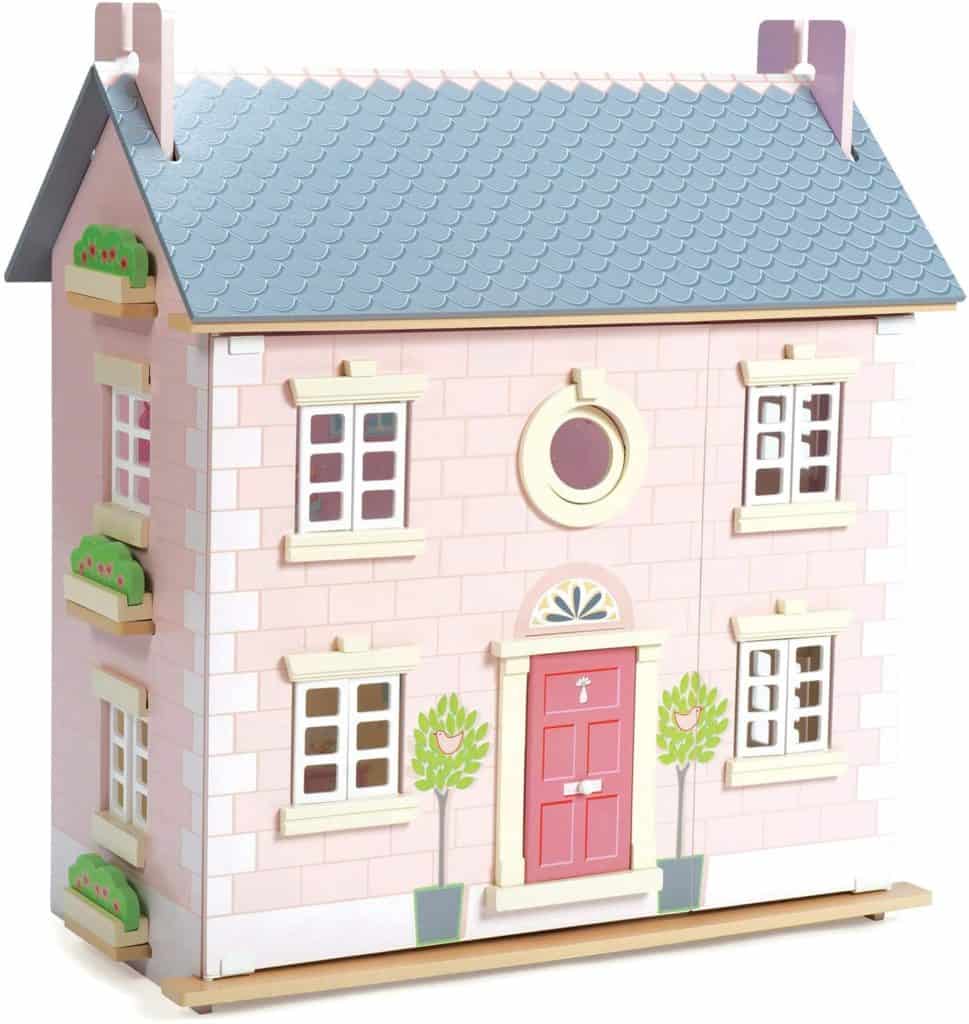 Were you looking for a gorgeous dollhouse for your little one? Well, here you go! This dollhouse is ideal for pretend play. This best seller is made from real wood and decorated with non-toxic paints. Also, it's tested to the highest safety standards which make it safe for your little one. This dollhouse has stairs, you can play in different rooms, you can set the roof at different angles, or come off completely. Additionally, it's a perfect size, the colors are very subtle, and it will look great in your kid's room. When it's not in use, you can store it nicely on a  nightstand.
13. Best Wooden Car Ramp: Top Bright Wooden Car Ramp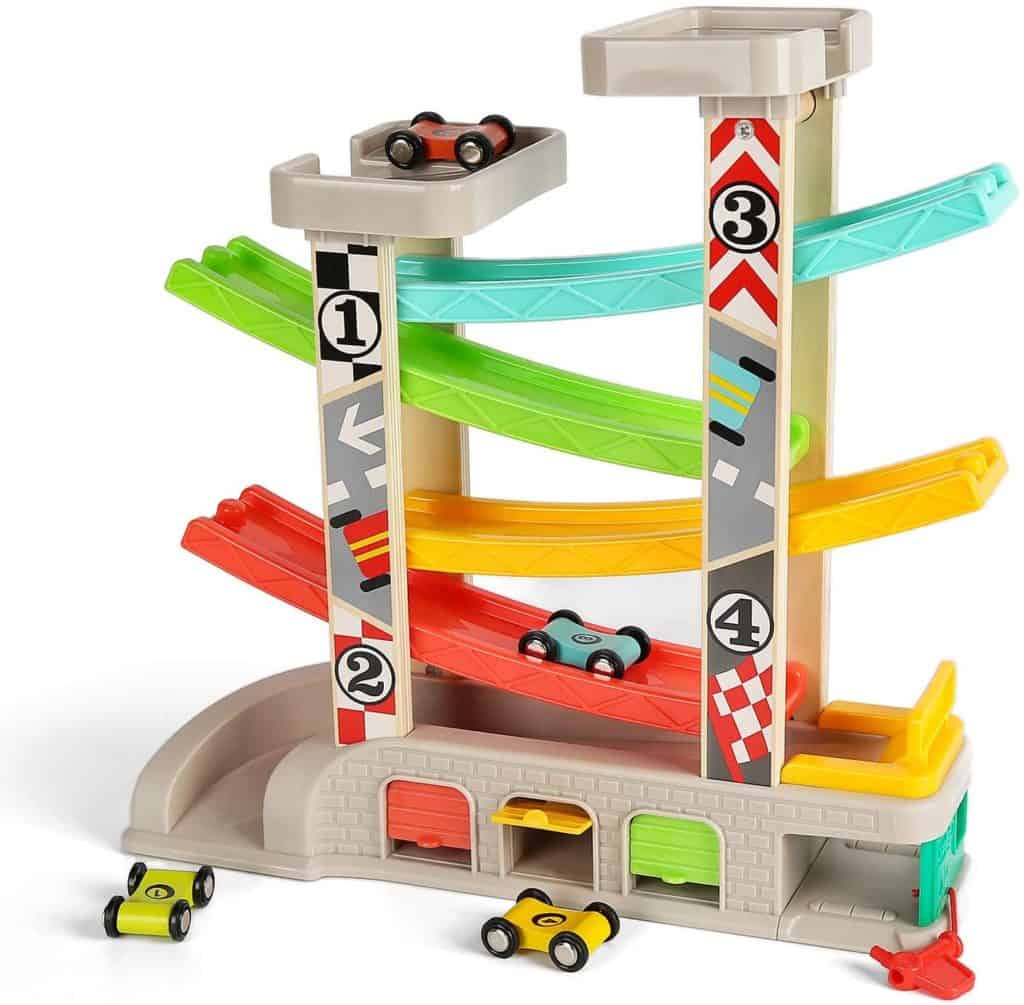 Do you have a little car-lover? Then they will love playing with this ramp toy for hours. This ramp track toy is made out of high-quality wood, free of BPA, and uses bright non-toxic water-based paint. This is a well-designed game for a kid. Although, if you have a younger child, be cautious at all times because the cars are small and could cause a swallowing hazard. However, it is a fun activity for older toddlers.
14. Best Wooden Montessori Toy for Infants: Elite Montessori Object Permanence Box with Tray and Ball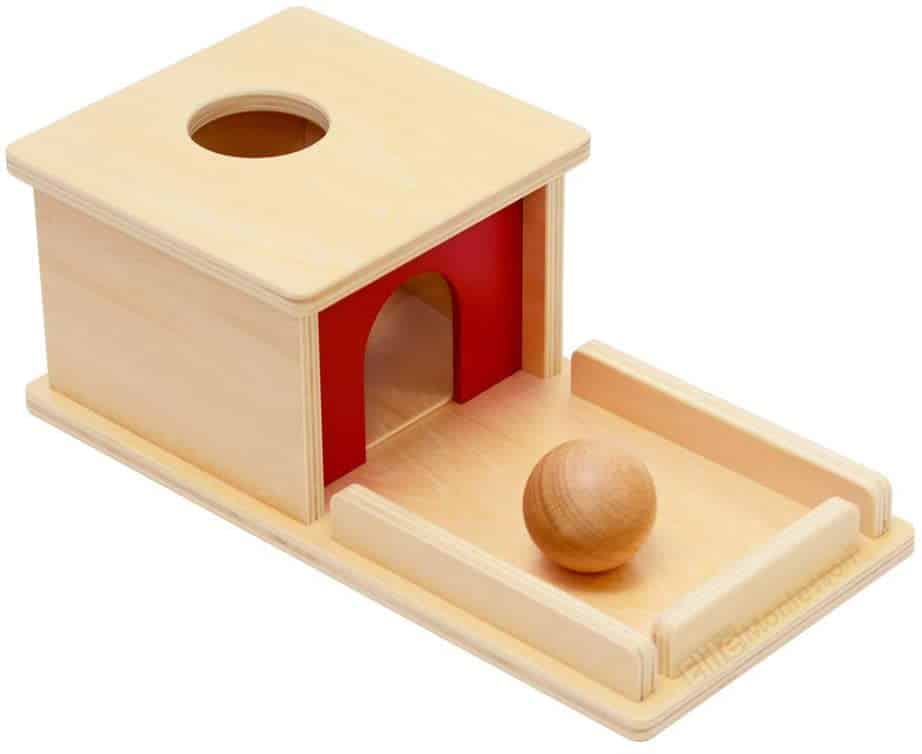 This classic Montessori toy helps your little one understand that an object exists, even when they can't see it and it also improves their fine motor skills. This toy is made out of real wood and it's great if you want to teach your kid about object permanence at home.
15. Best Wooden Teether: Wooden Teething Bracelet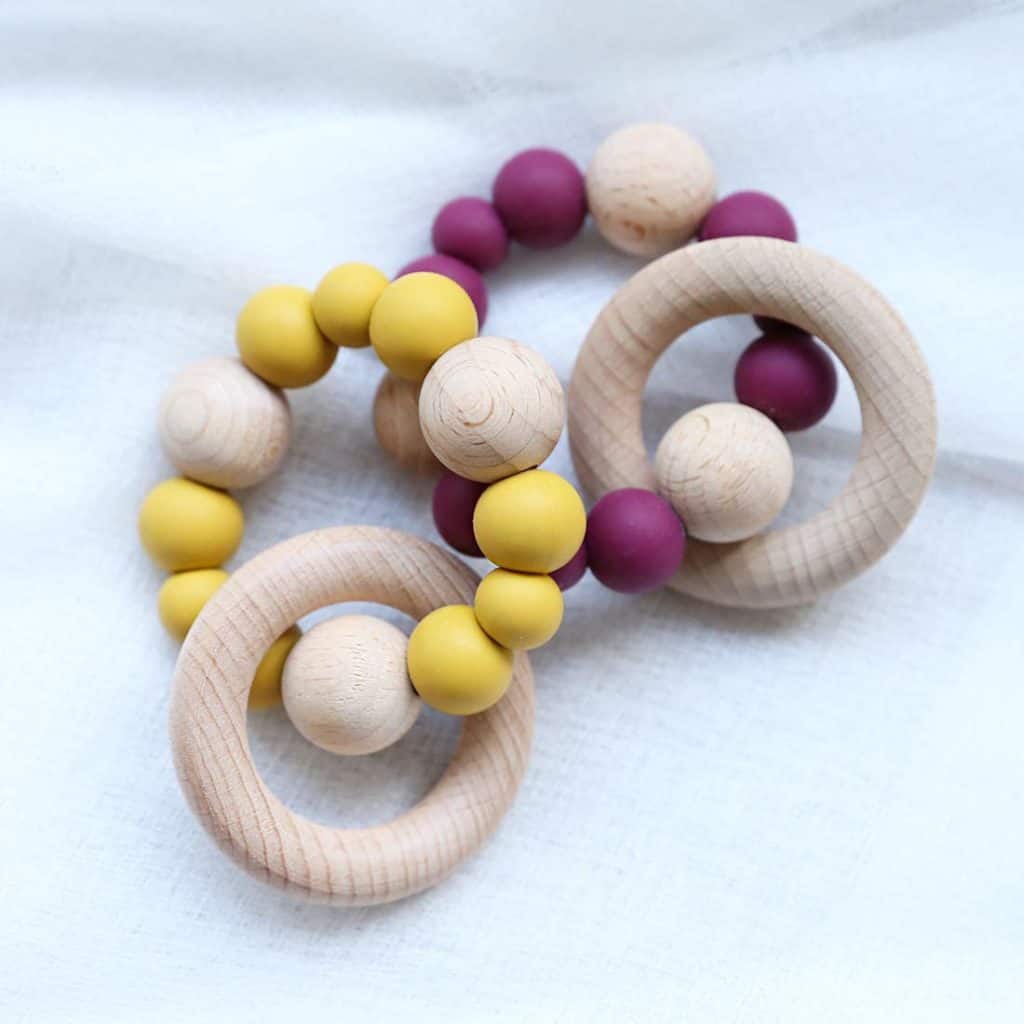 If you are looking for a safe teething toy, then you should opt for this wooden teether with impressive craftsmanship. This nontoxic wooden option is ideal, considering how it goes right in your baby's mouth. Your little one will love to gnaw on this bracelet which is made from beech wood treated with organic virgin olive oil.
Wooden toys seem so enduringly sweet and although they aren't as flashy as plastic toys, they are eco-friendly and non-toxic. These toys will spark every child's creativity and imagination. Moreover, wooden toys can withstand lots of abuse. It can be chewed on, banged around, and thrown across the room, and still look good as new! They're durable, so they can last through multiple children and can even be passed onto generations. Also, keep them clean. Get your good-looking, durable toy now!
FAQs:
1) Are Wooden Toys antibacterial?
Every wooden toy has an amazing, naturally antibacterial quality. Its porous surface will absorb the moisture and bacteria, and that said bacteria will eventually die instead of multiplying as it does on plastic.
2) How do you disinfect wooden toys?
You need to keep it natural. Wash it with mild dish soap, vinegar (white vinegar or apple cider), or other non-toxic multi-purpose cleaners, diluted with water. Remember to never soak or immerse your wooden toys in water because it can cause the wood to swell and split. Simply spray, wipe with a cloth and warm water, then air dry.
3) Are wooden toys safe for babies?
Absolutely yes! Wooden toys are much safer for your little one. Plastics consist of BPA and PVC, which are chemicals. However, there are no BPA, PVC, or phthalates found in wooden toys which makes them a great choice for parents who are looking to avoid any chemicals.