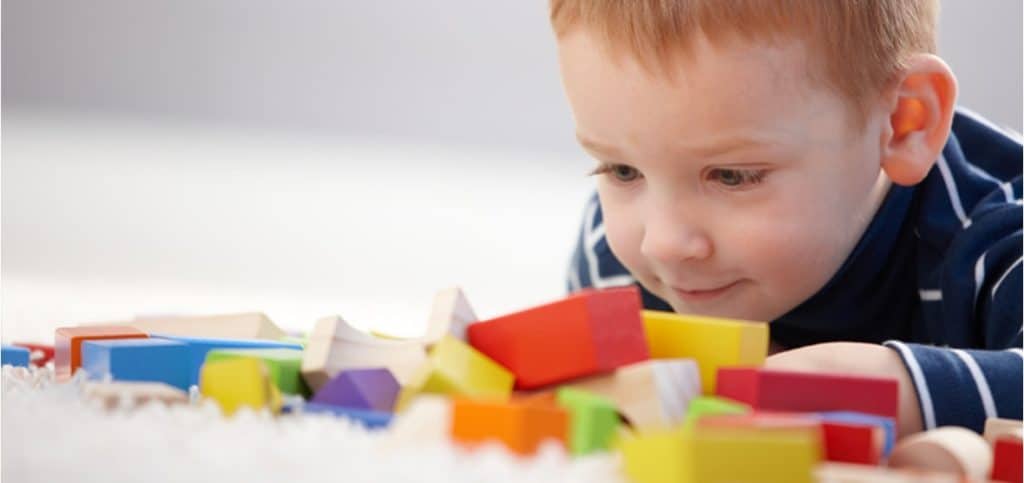 Sensory toys are the kind of toys that expose kids to sensory experiences in order to stimulate their visual, auditory, tactile, and olfactory senses. These toys, hence, are majorly responsible for helping a kid develop their sense of touch, feel, and hear. By introducing such toys in your kid's playroom, you also help kids develop their cognitive skills through play. Sensory toys are also, besides, known to be a great fit for kids who happen to have any form of sensory processing disorder 
Sensory toys majorly include all sorts of toys that can potentially stimulate the baby by their texture. They might have crinkly edges, might be squeezable, maybe have some spikes, or could be the kind that makes sounds of sorts. Some basic examples of sensory toys include slime, squeezable sand, and spiky massage balls. Sensory toys, besides, also make for an amazing gifting option because they are so affordable. You can probably get a couple of them, throw them in a nice hamper pack and wait for grins and glees to surround the room!

Sensory toys are usually ideal for kids as soon as they start gripping or shaking things around, however, as parents, you also need to be sure that you get them the kind of toys suitable for the age they are at. For example, getting a small bouncy ball might not be a suitable pick for a 1-year-old as there exists a phenomenal chance of them swallowing and choking on the ball. For the initial days at least, it would be best to avoid gooey, sticky, and hard-surfaced toys and rather sticking to just the soft, harmless ones.
On that note, getting right to the juice, here are some of the best sensory toys you can pick for your little one-
1. Boon Jellies Suction Cup Bath Toys- $10.99
Let alone kids, who do not like the squishy squeezy feeling of jellies!? The Boon Jellies are the ultimate go-to shower sensory play toy for any kid. These BPA-free oversized bath jellies offer some intense tactile entertainment while kids figure out their way around stacking in to hit a sweet pattern. The jellies, besides, can also be made to just stand on their own.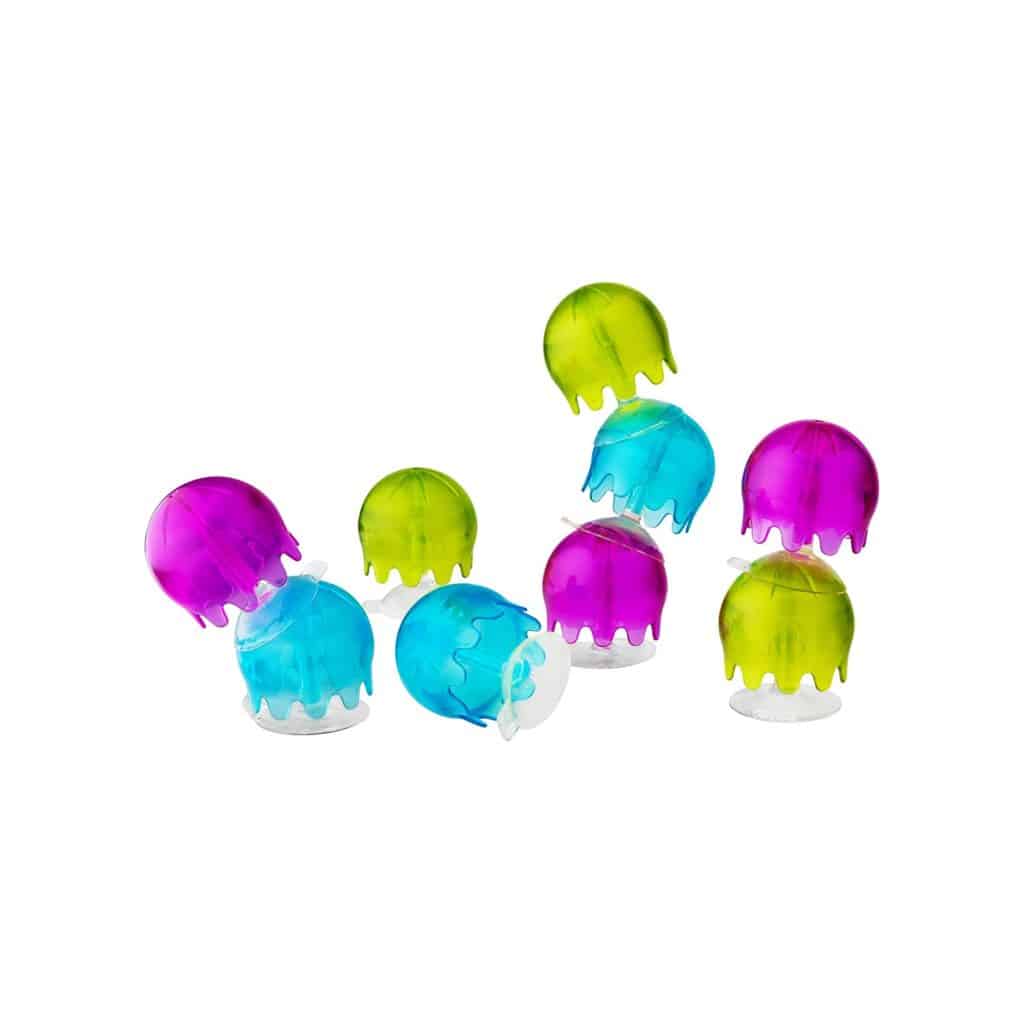 2. Lamaze Mortimer The Moose- $12
Mortimer the Moose is this super-adorable moose figurine sensory toy with legs that swing, paws that clink, a tummy that squeaks, and also a furry body attached with teething rings and antlers. The Mortimer can be clipped on to a car seat, a baby cradle, stroller, or even the baby bassinet to ensure your little one does not lose it on the go. This full-fledged entertainer toy stimulates vision, touch, and hearing just by its very structure.

Its silky legs also have some little knows and polka dots on the paws, all of it which clinks with the teether when shook. Ideal for babies from birth up to 6 months of age, this toy also goes a step extra by being free of BPA. Besides, if your baby doesn't happen to be a huge fan of Moose, Lamaze also makes this toy in the form of a Dragon, Octopus, Piggy, Calamari, Bug, Peacock, and Firefly to suit all interests!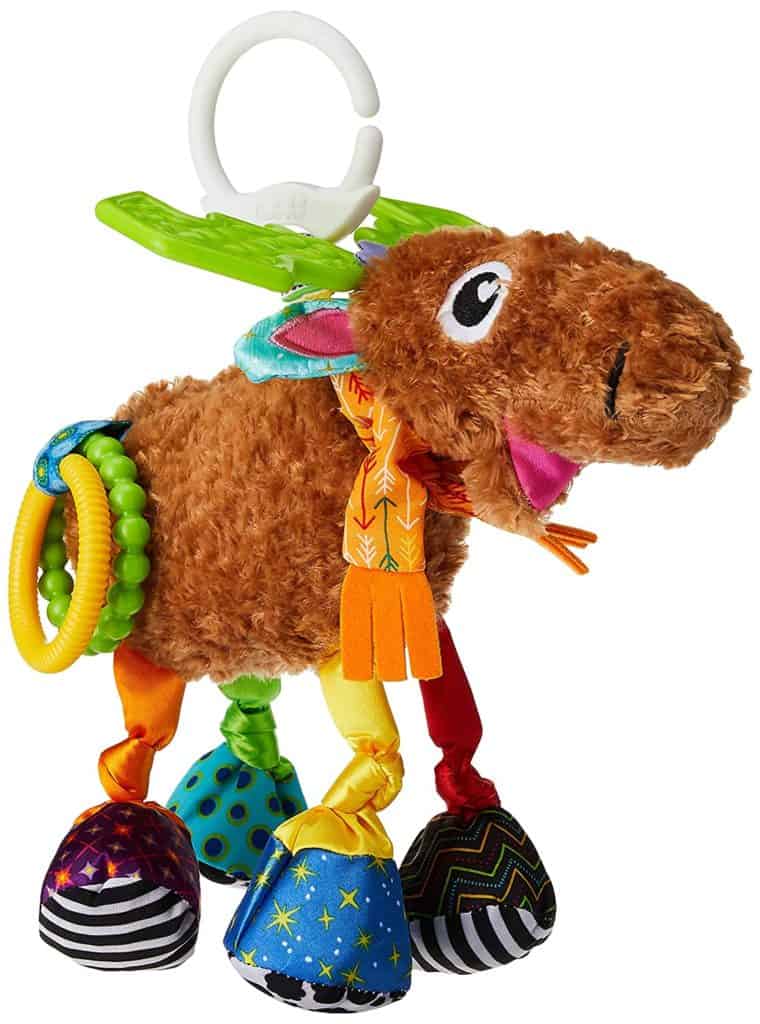 3. teytey My First Soft Book (Set of 6)- $16.99
At the first look, this toy might seem an absolute bore and uninteresting toy because of primarily being a black and white sensory toy, however, be not mistaken! The catch here is that babies, up until at least 6 months of age, can only see what's in the immediate 12 to 15 inches in front of them. By giving them a black and white toy early on, you actually are creating high-contrast pictures for them which works to strengthen and develop their cognitive function.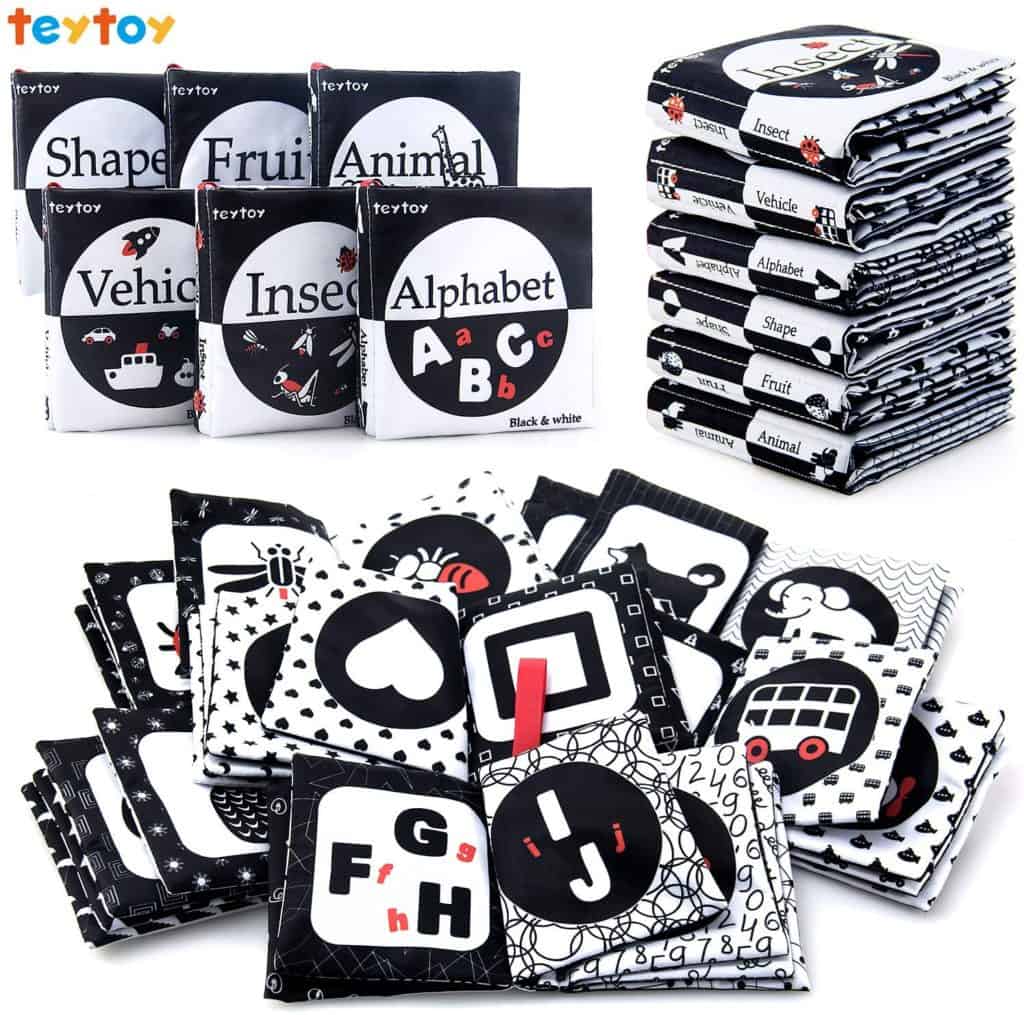 4. Sensory Pop Tubes- $10 for 6 pack
Another bath time favorite, the sensory pop tubes are sensory toys that offer visual, tactile as well as auditory stimulation through sounds, colors, and twisted shapes/angles. The kids can twist and turn the tubes and pour water through a maze of connected tubes in the tub. 
These flexible tubes can be made into any form which can further aid learning, for example, by forming numbers and alphabets of the tube during bath time. The tubes pop on and off of the other tubes without much effort and the bright 6-color pack is 100% BPA free.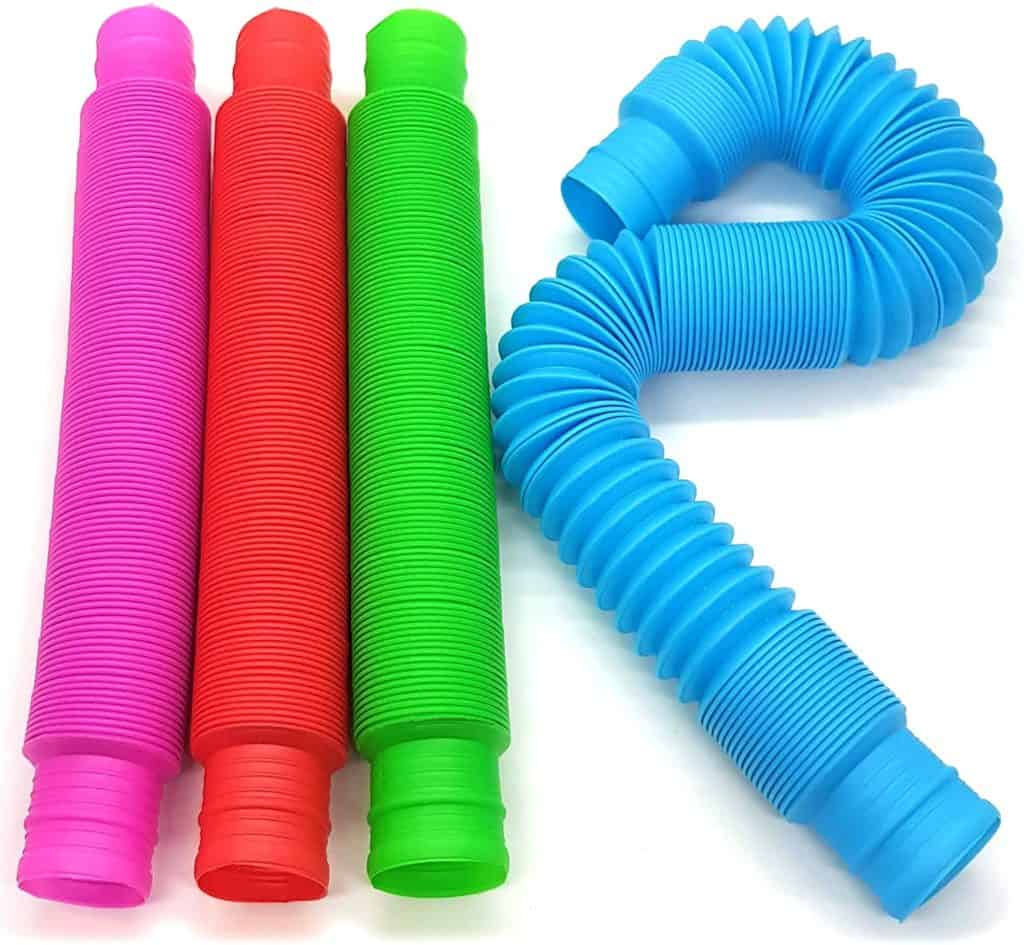 5. TOMY Toomies Hide & Squeak Eggs- $12.99
These 6  eggs, all set to hatch, come in a briefcase to keep them handy and organized. Once cracked open, they further house one bright-colored chick inside, each of which makes sounds when pressed on. The signature chick-chirp sound will not only amuse the auditory senses of your little one but will also, in a way, help kids learn the sounds of the bird at a young age.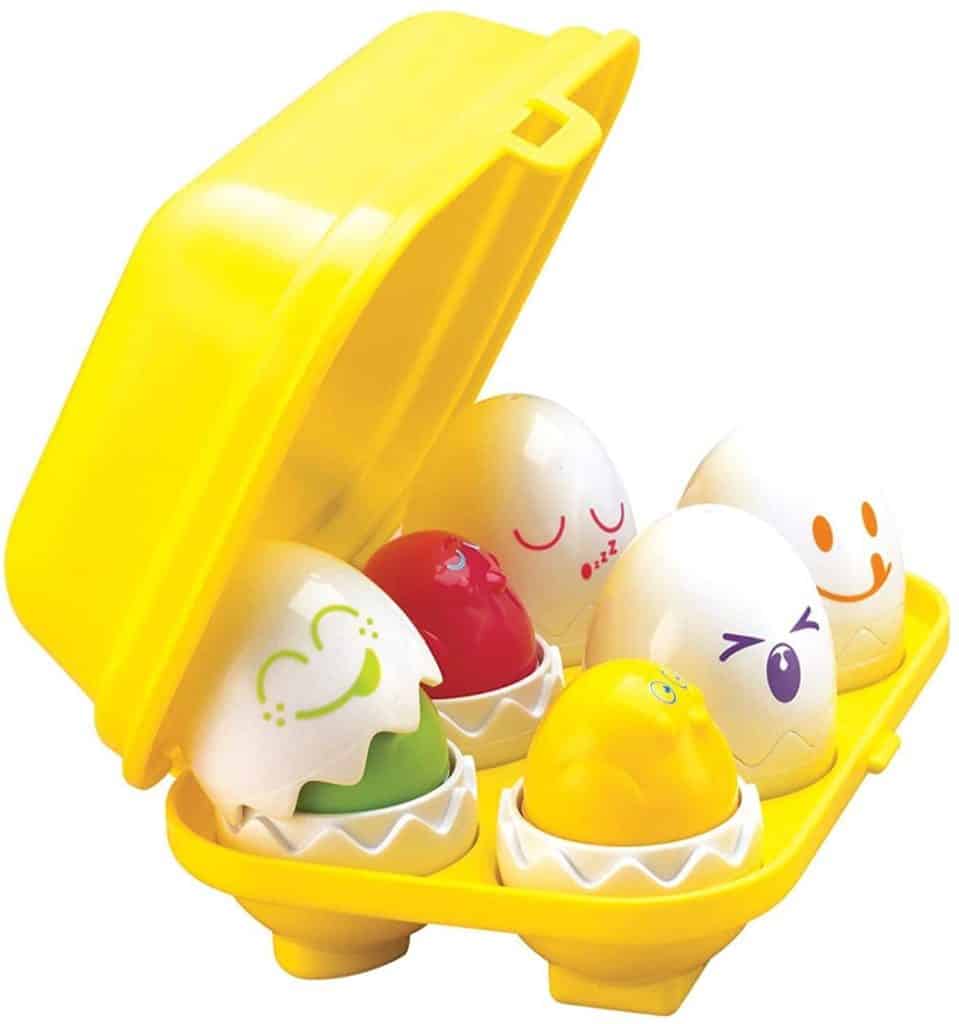 6. Expanding Ball Fidget Toybest - $10.99
This ball is not your regular ball; parents be careful, you might get seriously addicted to this toy too! Made in interesting, bright-colored cross bridges, this ball stimulates a visual and tactile sensory party for the kids! The geometric shape of the toy can expand from 5.6-12 inches, ideal for fidgety girls and boys. Kids with autism and ADHD are particularly reported to love this toy for the repetitive movements it offers. This toy is ideally suited for kids above 3 years of age.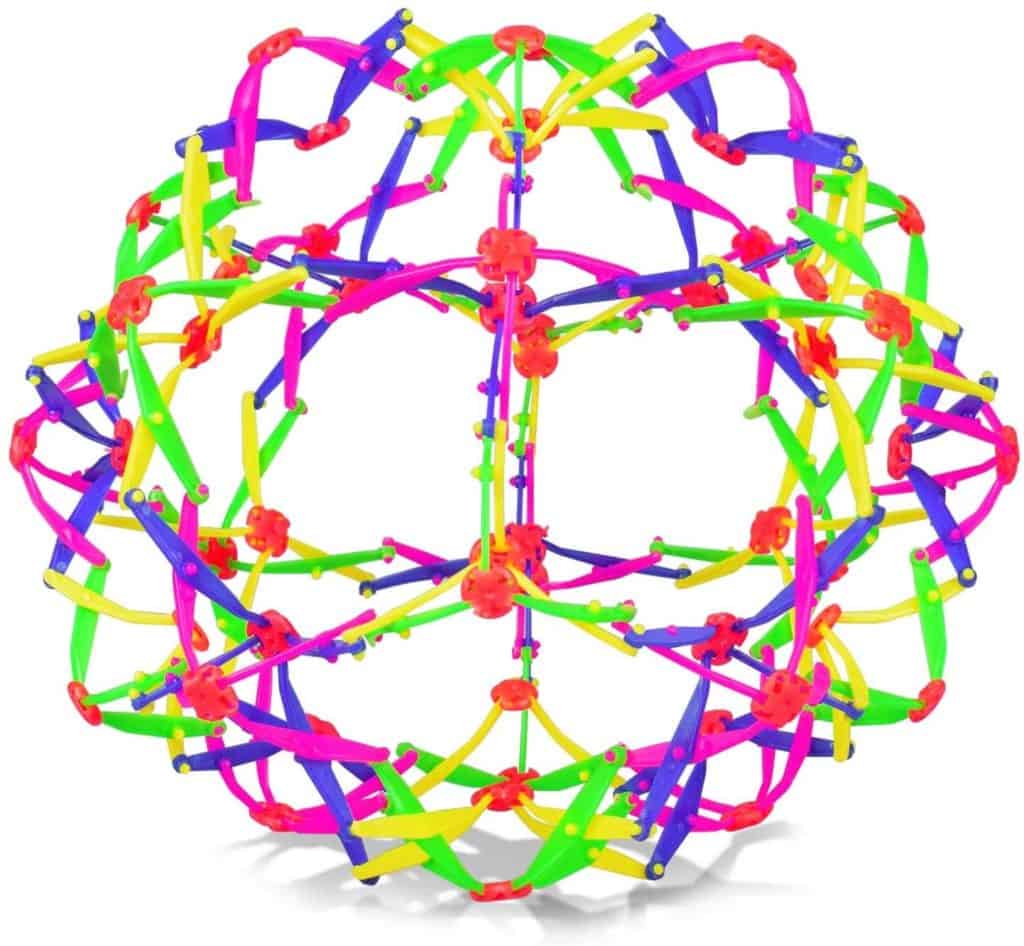 7. SlimySand Bucket- $24.99
Slimy Sand Bucket is what you would call the by-product of a marriage between gritty sand and stretchy slime. Kids absolutely love to dig in their hands and get lost in the tactile sensory experience of this slimy sand. Crash it,  mold it, pull it – it could be a rather fun playtime experience with your kids with a Slimy Sand bucket! For the best part yet, it comes in a reusable storage bucket which means no more dirtying of carpets and floorings with random slime patches around the house!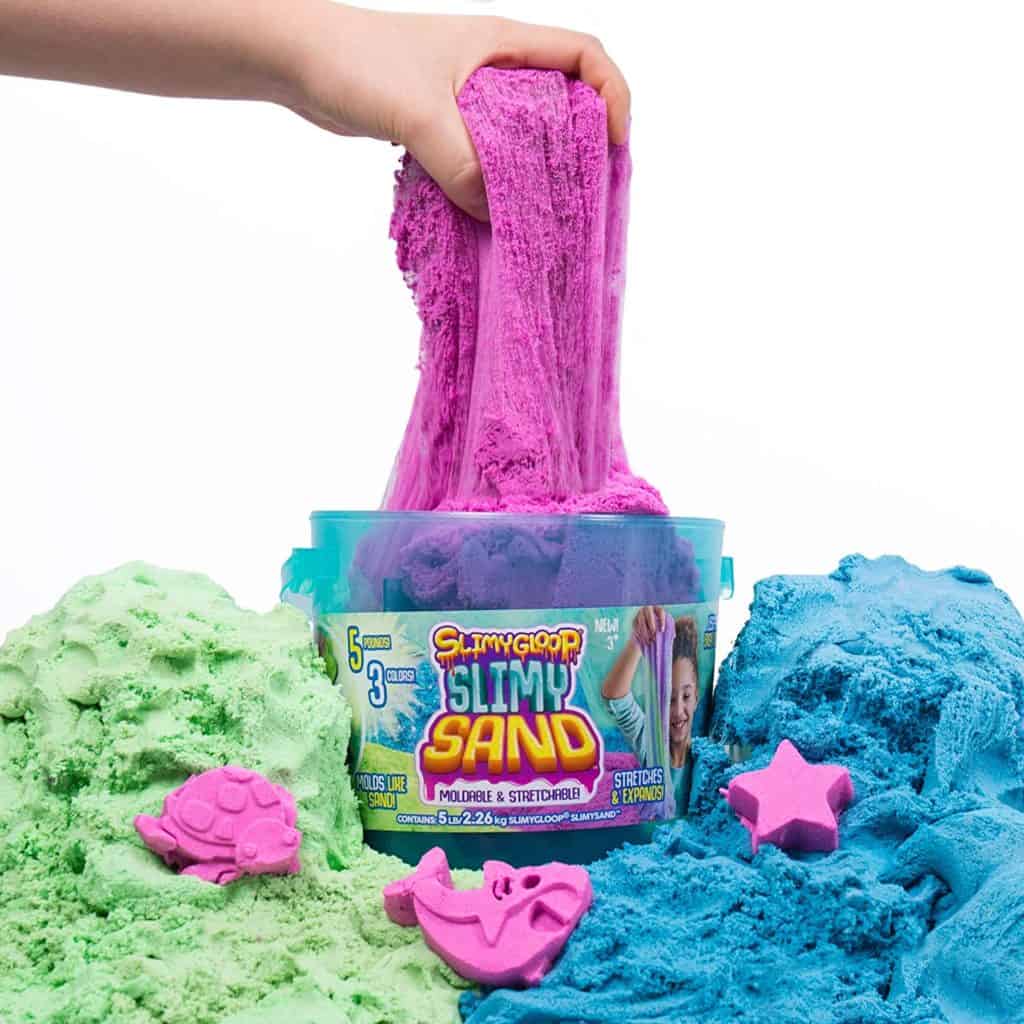 8. Baby's First Musical Instrument Set- $30.59
A 22-piece musical instrument pack, this sensory toy set, trust us, will impress any and every kid. The musical instruments work as a great method of boosting a kids' rhythmic sense, hand-eye coordination, and musical aptitude. This set has something for kids through ages. For kids between 6-12 months, you could use the tambourine to improve hand coordination and catalyze ear development by stimulating the auditory senses. For babies between 12-24 months, you could tap the xylophone and have them imitate you to enhance their overall coordination and movements.  For kids between 2-3 years, there is a flute that can be tried on.

The music sensory playset, besides, is made of all-natural elements.playtime is sure to notch up on the fun part of it with the singing, dancing party you can throw in your nursery with this set!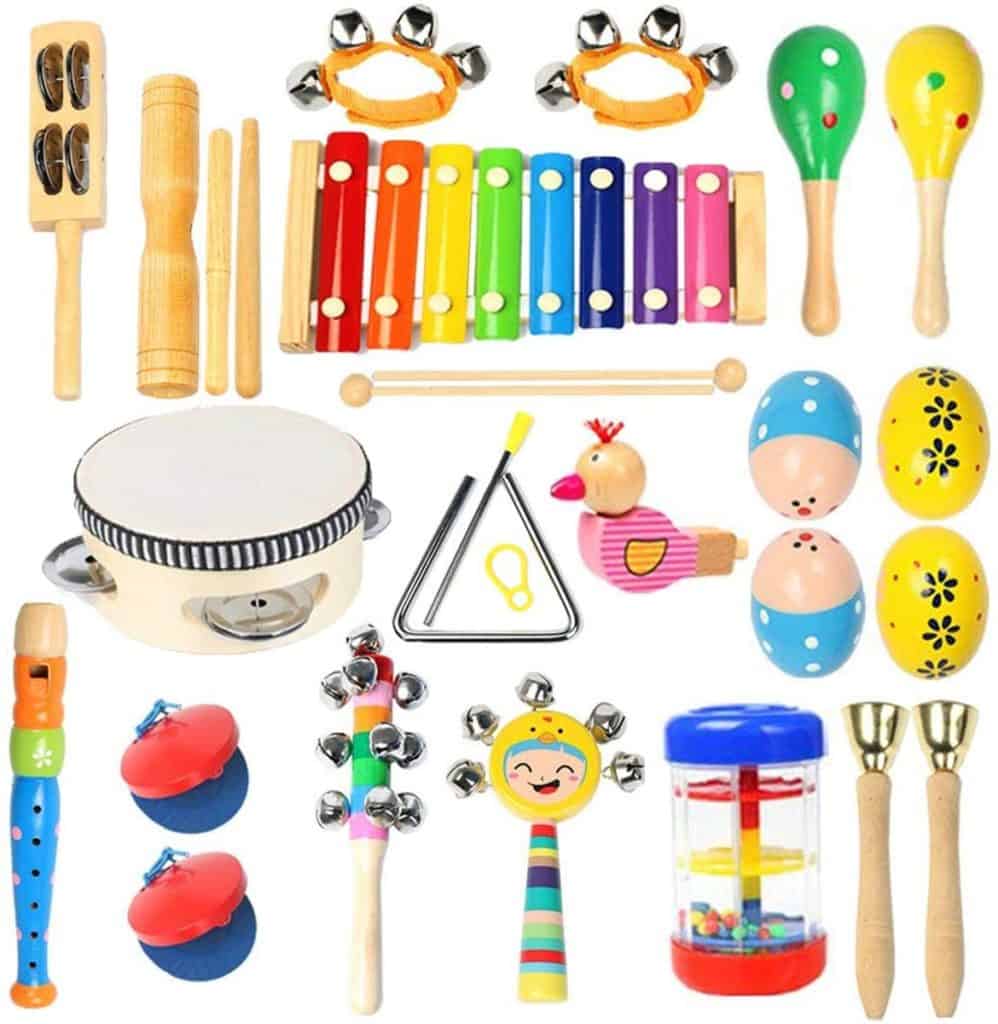 9. Manhattan Toy Winkel Rattle & Sensory Teether Toy- $14.00
A dream toy for all teether kids, this Winkel Rattle and Sensory Teether Toy is sure to make teething a father delightful experience for toddlers. How is this a sensory toy you ask? Well, it is the same. By adding a rattling sound to an ordinary teether toy, this toy aims to stimulate the auditory senses of your little one. While kids gnaw on the maze of soft tubes, they not only get relief from their otherwise annoying teething pain but also enjoy a small party in their ears!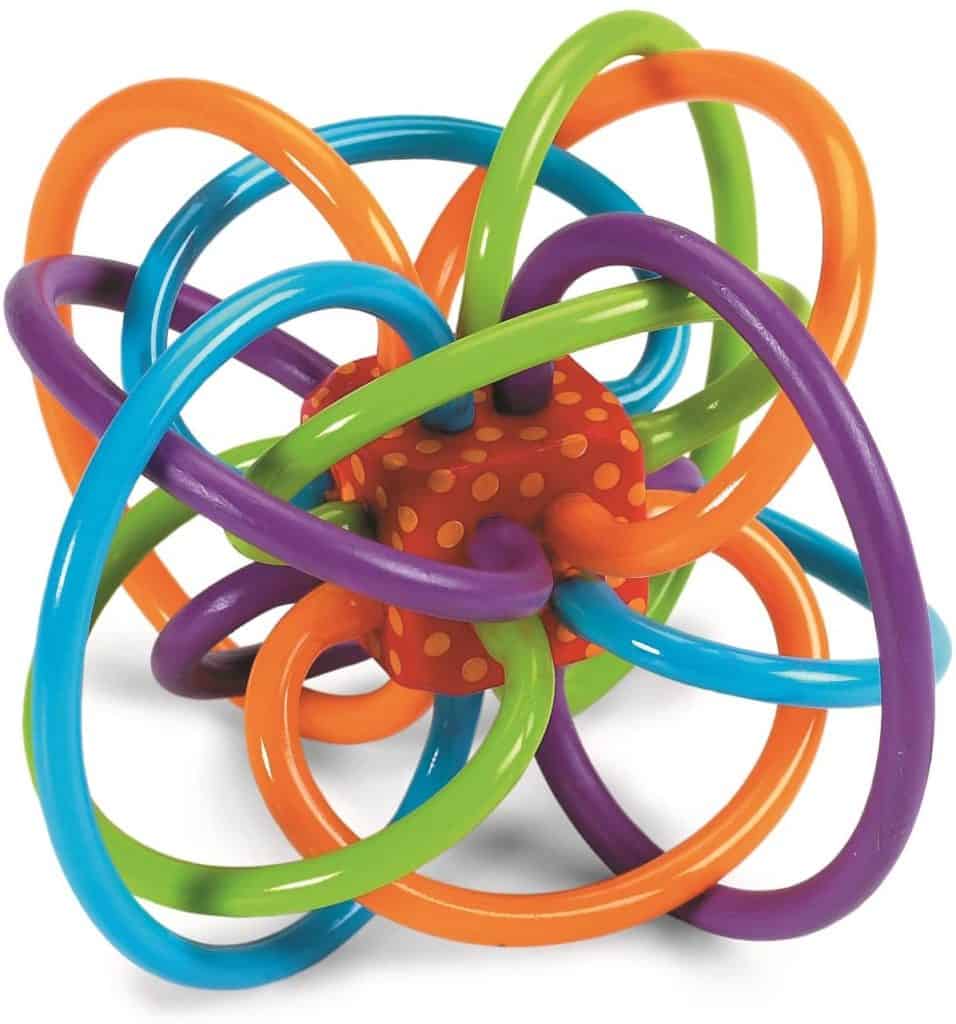 10. Sassy Developmental Bumpy Ball- $9.99
Made in varied textures, bright colors, multiple patterns, and equipped to make a rattling sound, this bumpy ball has all the reasons to become your kid's favorite toy! This ball has been engineered in a smart design with chunky bulges covering the outer surface that help the kid develop their grabbing, grasping, squeezing, and holding movements. Besides, there also are no sharp edges or textures which makes it safe to use by babies. Usually recommended for 6 months plus.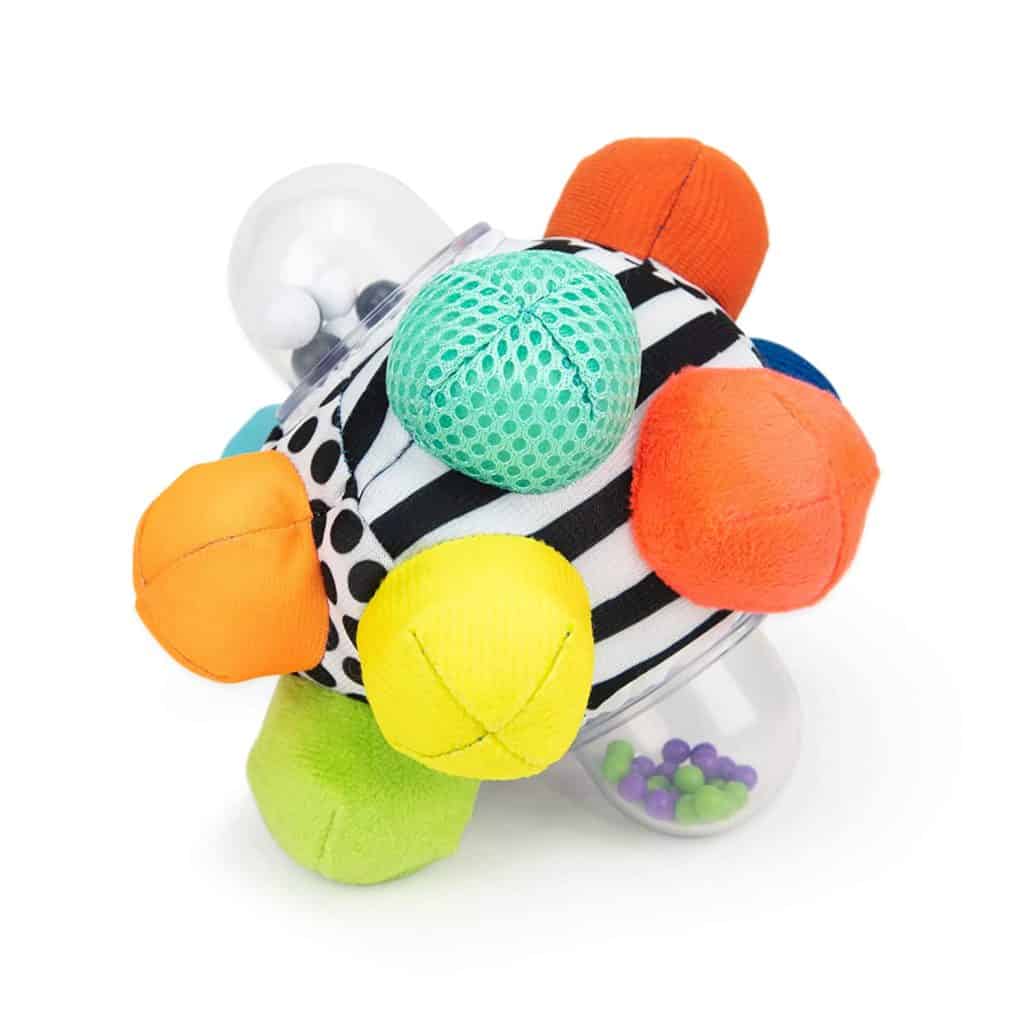 FAQs : Top 10 Sensory Toys Of 2020
1. Why should kids have sensory toys ?
Sensory toys are the kind of toys that can help your kids learn while they play. These kinds of toys are made to essentially help stimulate and develop a baby's five developing senses. At later stages, as the kid grows up and the kind of sensory toys suitable for them changes, these toys further help kids practice their motor skills, socializing, logic, reasoning, hand-eye coordination, and multi-sensory integration.
2. Are sensory toys safe for kids ?
Just like all other toys, sensory toys also come with age recommendations on the package. It is advised that parents make sure that their kids fall under the recommended age limits, or else, you can run a serious risk of choking, laceration, and lead hazards. Should you have any doubts, it is always best to consult with your pediatrician and/or therapist
3. What are the best sensory toys for autism ?
As per the information on National Autism Resources, "Good tactile toys for children with autism must be durable and interesting to touch." Some examples of such sensory toys best for kids with autism would be fidgety toys, massaging cushions, and toys with varied textures.