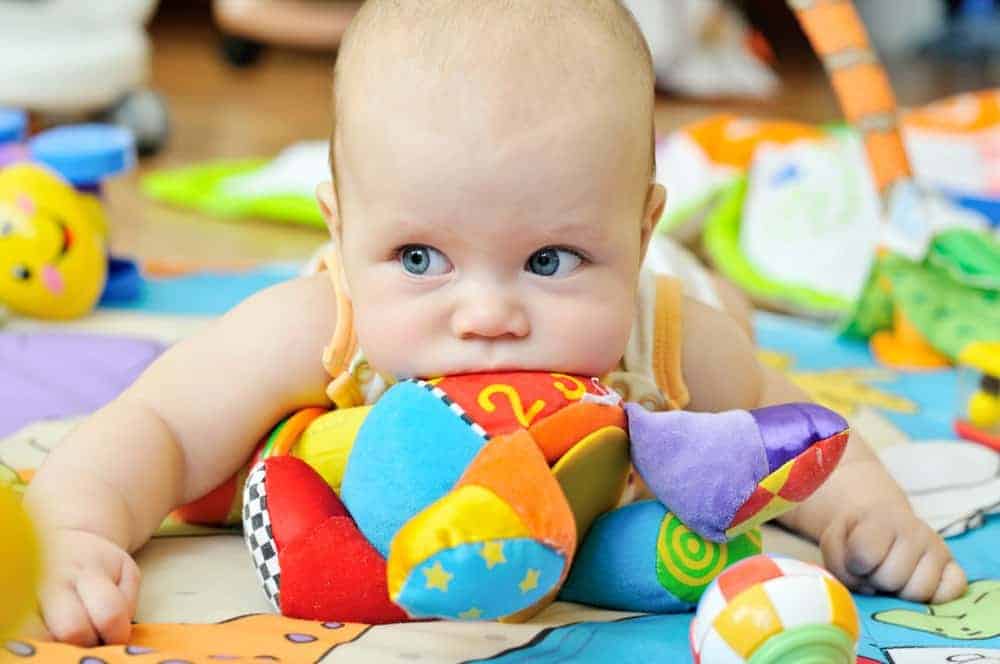 Playtime is essential for the development of the infant, and these toys do help! 
Along with the initial months of a baby that revolve around diapers-feeding-sleeping, playtime helps develop the baby in cognitive, and physical development as well as emotional and social growth.
Playing helps children learn about the world around them and with the company of the right toy they achieve physical milestones, develop their brains, and learn emotions and social skills too. It also encourages the development of language making a huge impact.
Baby's Development During The First 6 Months
By the sixth month, your baby learns basic milestones keeping in mind the development of the baby at their own individual pace. Listed below are a few milestones to look for concerning their development and how playing helps them:
Lifting their head on their own
Smiling
Making eye contact
Following objects with their eyes
Cooing and gurgling
Turning their head in the direction of the sounds
Try holding a soft toy in front of the 2 month old baby as they eat. This helps develop the head, neck, core, and visual development.
Social smiling
Copying facial expressions
Babbling
Reaching the toy using one hand
Rolling from tummy to back
Holding and shaking a toy
Try giving the 4 month old baby a rattle to hold and play with. This encourages skills to help reach along with hand-eye coordination.
Looking at themself in a mirror
Responding to their name
Showing curiosity at toys and objects
Passing toys from one to the other hand
Rolling in both directions
Sit without support
Try a quick and simple game like peekaboo with the 5 month old baby. This will help teach the baby complex concepts like social development and object permanence.
How to Choose The Best Toy For The Baby?
Choose a toy that has a stick to hold on to, making it safe and simple, encouraging exploration, and an open-ended play experience. Toys like the rattles and the other grabbing toys, balls, activity gyms, and board books help encourage the development of the milestone in the first six months. There are even milestone subscription boxes available as per the age for developmental play.
To help parents get started with compiling a toy collection to help build the important skills, here is a list of the best eleven toys for babies from 0-6 months :
1. Skip Hop Musical Egg Shaker Trio Rattle
These are a staple to any baby's toy box with its trio shakers taking the cuteness up a notch, making it friendly and colorful in the shape of animals. For example, Toys in the shape of a fox, owl, and hedgehog make a unique rattling sound featuring the textured rubber patches that help the little hands hold it with a tight grip.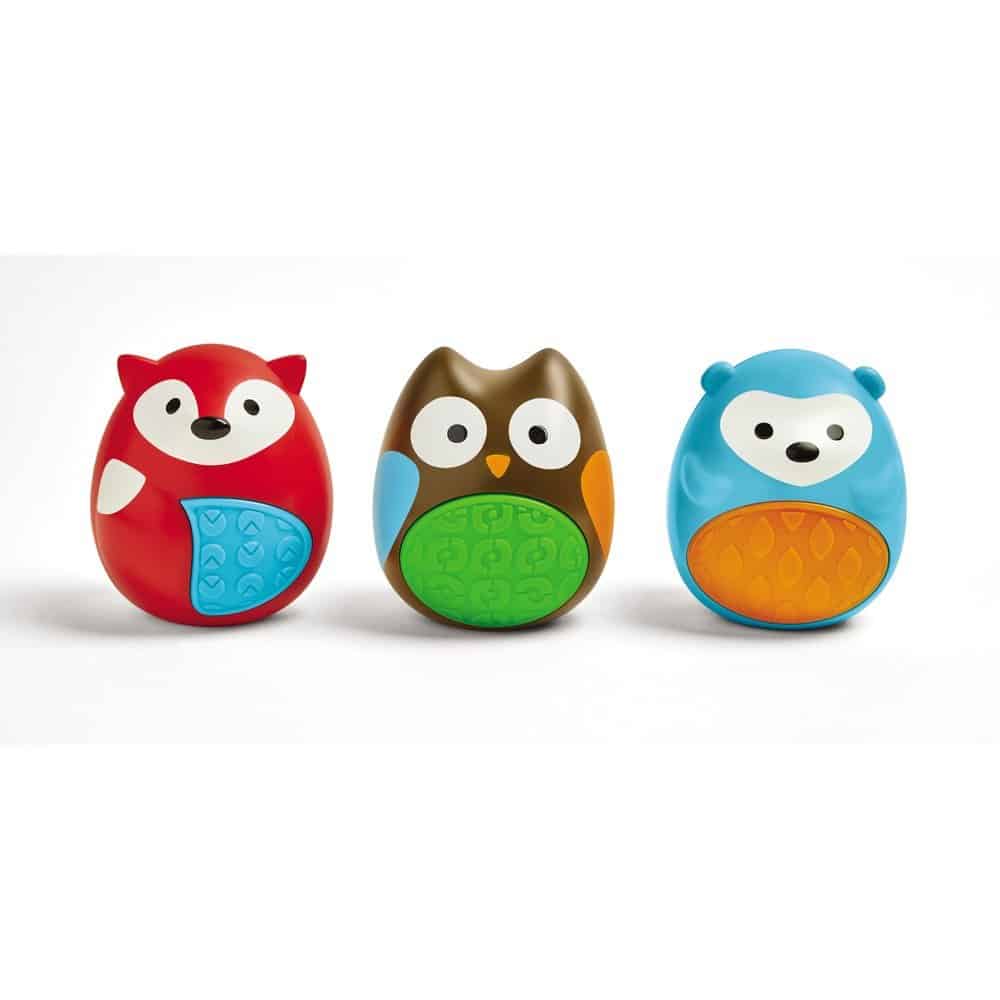 This little xylophone is perfect for a young baby. The base is heavy plastic and the stick is also plastic. The stick is on a short string which we cut so the baby can play each key. My 9 mont/h old grandson likes it. It has a softer sound when the keys are struck.
It's a very new toy so he hasn't got the hang of it yet, but I think once he does he'll love it. His dad and I love it! And he loves it when we play it for him. He just has to get the hang of it.
For more product reviews visit Amazon
2. Manhattan Toy Wimmer-Ferguson Learning Cube
They have high-contrast images that are shaped simply with black and white pictures for the development of the baby's sight. This first toy is paired with soft, squishy, squeaks, gentle rattles with its multi-sensory cube. They can also be used even for early newborns, as per the scientific research on visual development.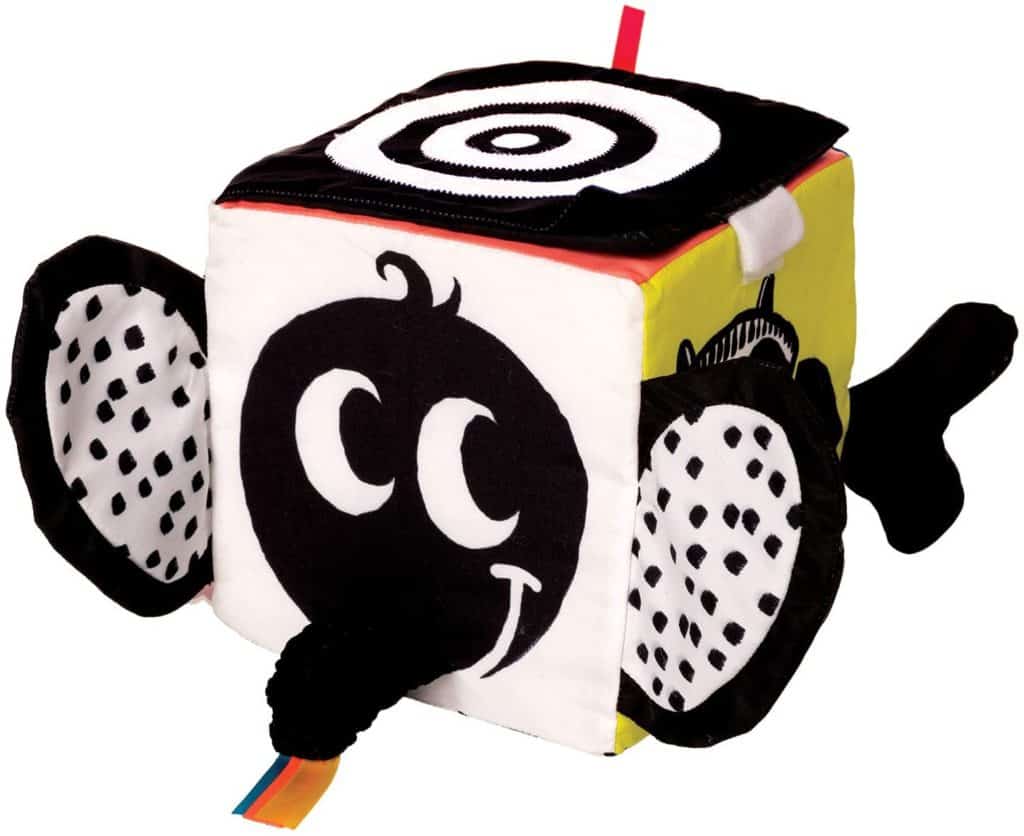 Baby started loving this cube during tummy time around 3 weeks old. The elephant is his favorite. It has textures, sounds, high contrast, things to grab, even a mirror. I expect it will be a hit for several more months.
My baby from the time he was a few weeks old liked to look at high contrast images and this cube provides entertainment for him. Has lots to look at and will likely be a great toy for when he gets a little older too.
For more product reviews visit Amazon
3. Lamaze Play and Grow Firefly
This has been created in conjunction with the development of child development. It features animal friends that have bright colors, patterns, textures, a squeaker, crinkles, a peekaboo mirror, a teether, clinking rings, etc. They also have various animals to choose from like an octopus, a peacock, and even a dragon! The Lamaze grow firefly toy is a great companion for playtime and tummy time all thanks to the built-in clip that attaches to stroller and car seats perfectly.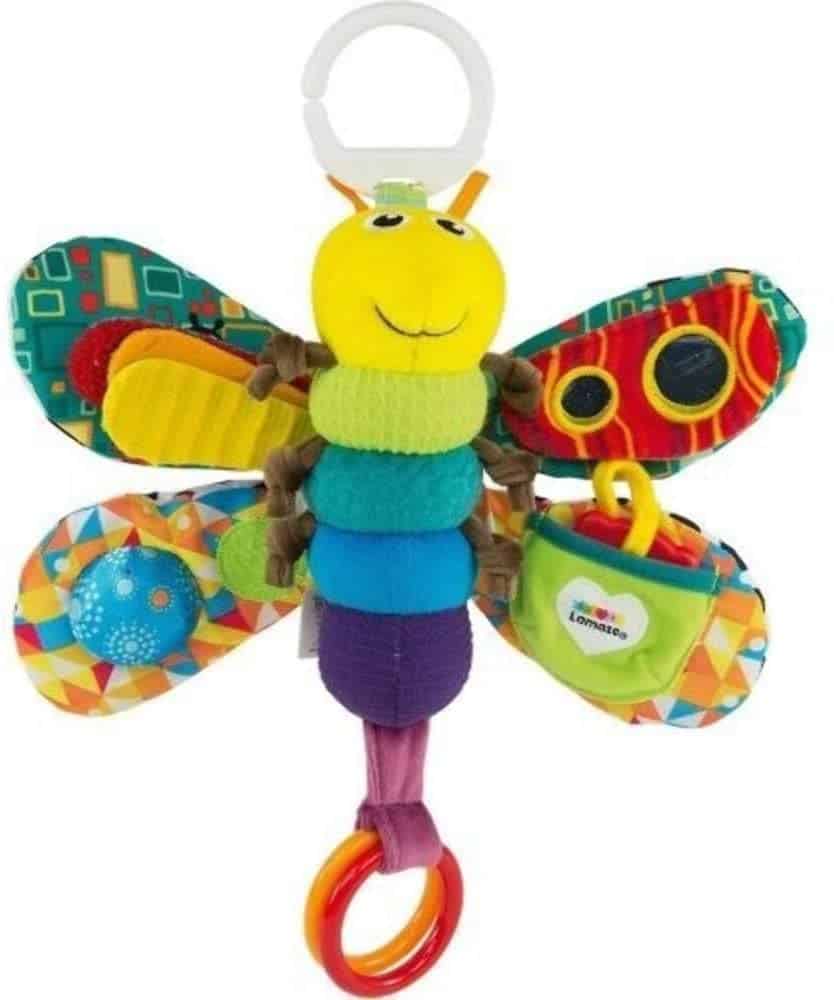 Our almost 3-yo granddaughter loved Mortimer (as we called him) from the time she was an infant. The colors and different textures were fun for her. She still carries him around with her for quiet time on the couch.
When a new baby recently arrived in our extended family, we agreed, "time for Mortimer 2" – and soon, we'll be delivering Mortimer 3. This is our favorite new baby present ever!
My son started playing with this at 5 weeks old. He adores it still at 3 months old and gets hours of playtime fun from it. Well made, gorgeous colors, nice crinkle sounds, many textures.
For more product reviews visit Amazon
It's easy to place the baby down on the Lovevery Play Gym toy. It is thoughtfully designed and grows with the child encouraging the development along the way. It also has a guide along that walks through the stage-appropriate play. However, the only downside is that it is an expensive toy to have to keep in mind the development kit it offers.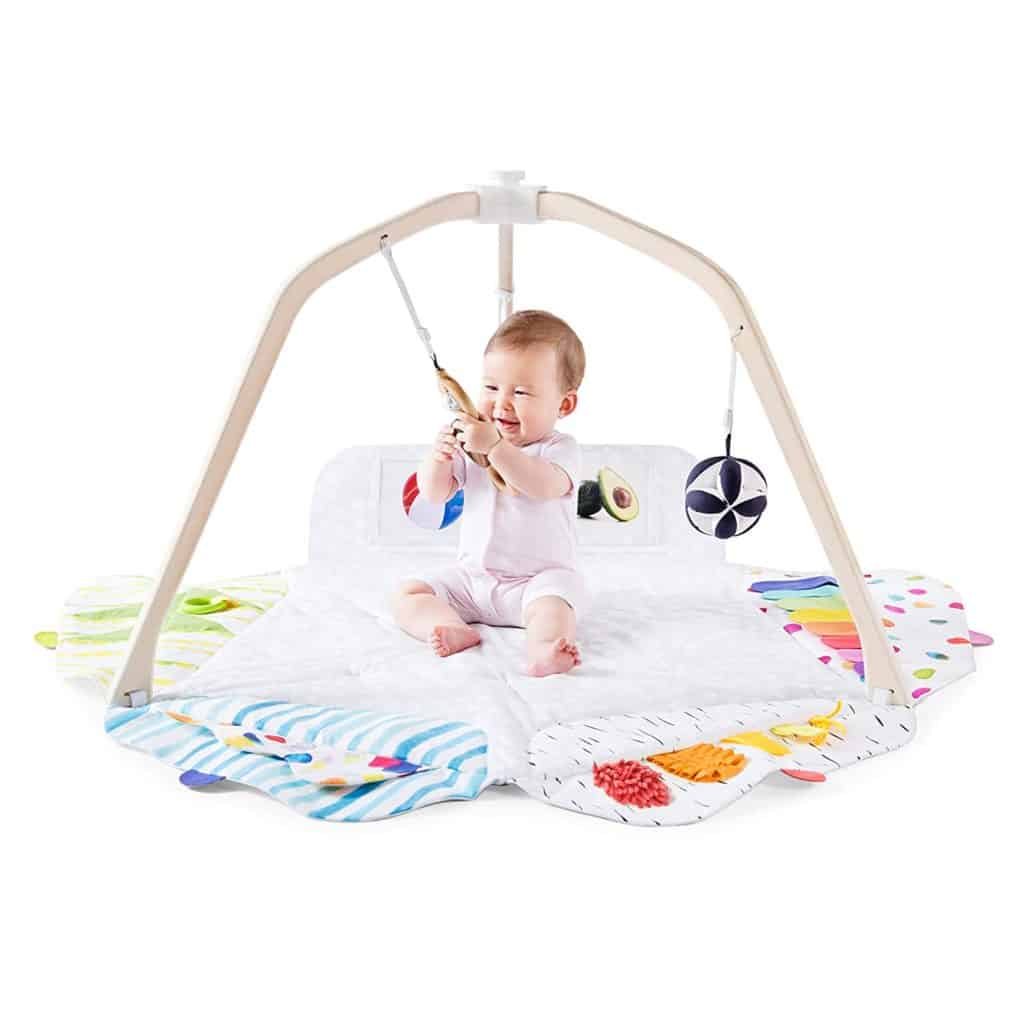 My baby loves her love every activity mat. We also have the subscriptions and combine all of the toys. It's easy to clean, change things, add things, and get creative with for your babies development needs.
I have a 7 month old and place him under his thing constantly. He loves it and has loved it since I bought it. Plus, it will be a cute little tent when he gets a little older. Would recommend.
For more product reviews visit Amazon
What could be better than a ball for the baby that rattles too? The Bendy Rattle toy has large finger holes that are squishy, has a bendable plastic that makes it easy for baby to grab and shake with an interior that is noisy, fun, and can roll across the floor easily. It is great for a three-month and older baby as it is four-inch in diameter with fine motor gripping skills that can be easily tossed in a car or a diaper bag making it a travel toy.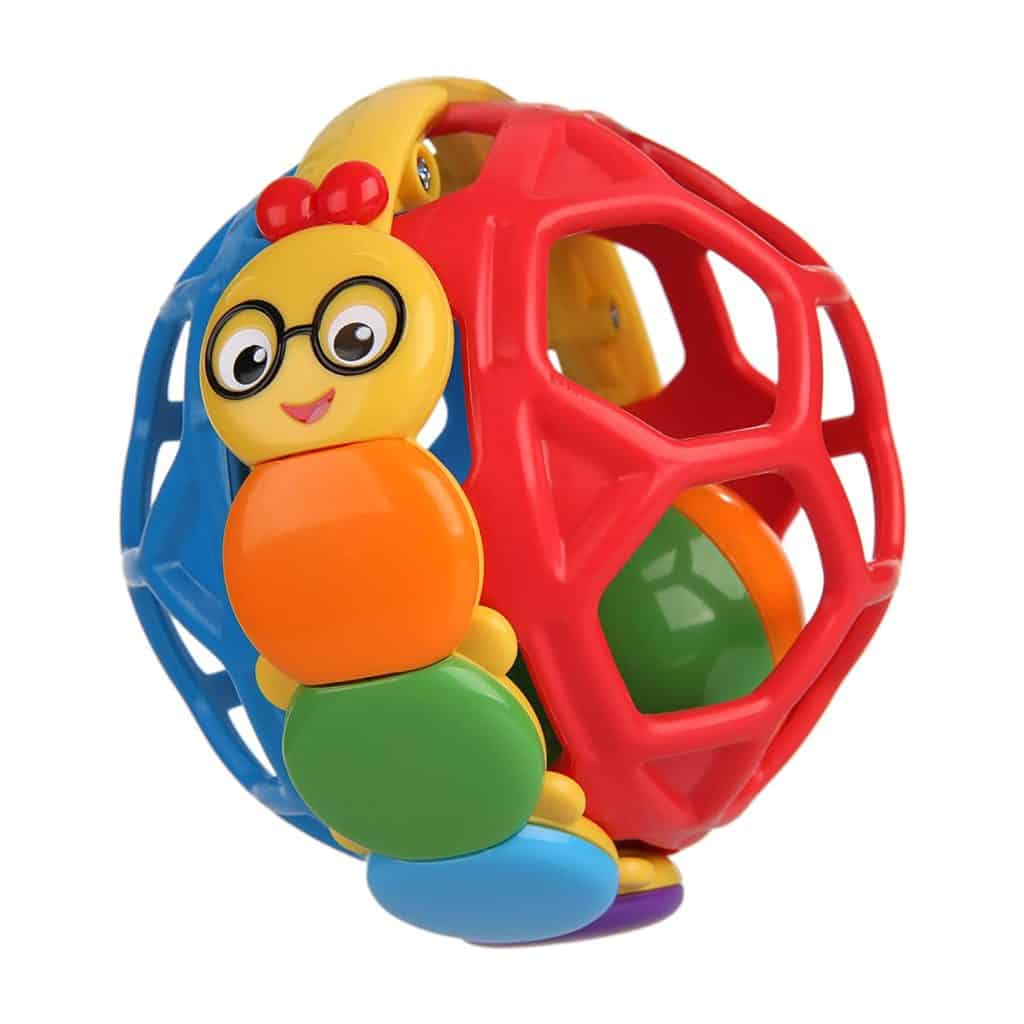 I bought this for a baby shower and I'm so happy I did. It's so colorful and a real educational toy at the same time. The parents love it and so does the baby now!
I got this for my cousins daughter and at first didn't seem all that interested in it being able to roll. The second she realized she could hold and shake it tho she was sold. She loves the rattle in the ball on the inside, and she reaches for it when she notices it.
For more product reviews visit Amazon
6. Manhattan Wimmer-Ferguson Double Mirror Toy
Babies love looking into the mirror to see their reflection irrespective of them not understanding what they are looking into. This mirror toy is a baby-safe that has no glass! It helps develop their vision providing lots of tummy time entertainment and comes with high-contrast art that makes it even more visually stimulated.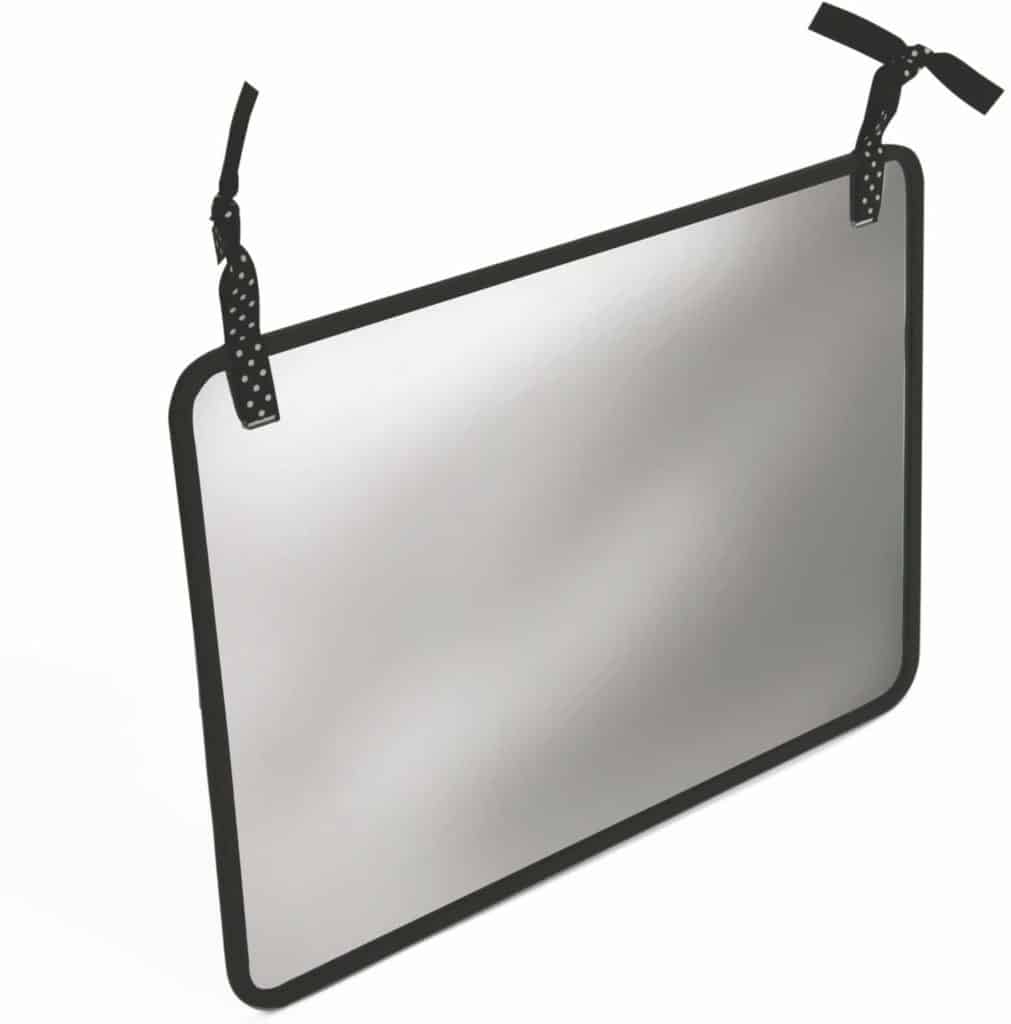 Using this to teach baby to roll over…she can see the baby while on her back…trying to roll onto tummy
My son had this in the nicu and he loved looking at himself & playing. So I had to buy him his own when we left. I love the size & the black and white drawings on the back. Great for his eyes. I just wish the strings were bigger & longer.
For more product reviews visit Amazon
7. Fisher-Price Kick and Piano Gym Toy
It is a versatile play gym that's powered by the little one's kicks. The piano also features four different ways of growing in the little one while laying down, while eating, sitting, and while traveling. It is great for kids inclined towards the discovery of music, for physical development, and to learn of the basic concepts like shapes, colors, and numbers.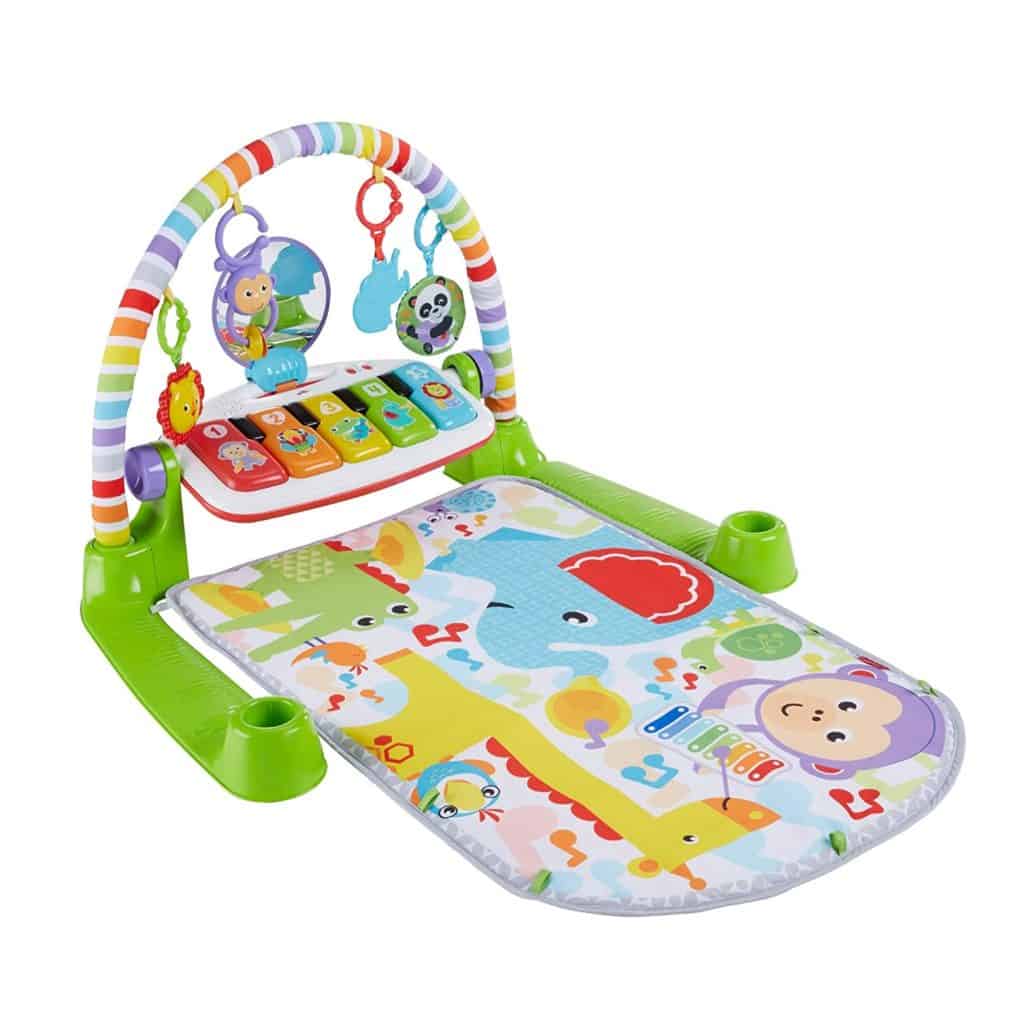 My baby absolutely loves this thing. We use this for tummy time several times a day and he loves looking at the lights on the keys and playing with the toys. The mat that comes with it is a little too slick for my 3 month old to hold himself up on, so we just took it off and use foam puzzle floor mat pieces to give him some grip. I wish there was more variety with the songs because they WILL be stuck in your head all day, but all around great product.
My 4 month old grandson loves tummy time & laying on his back to play. I like that he'll be able to play with the piano when he gets bigger too. Only con is the mat itself doesn't have much cushion but we just lay a blanket underneath and its fine.
For more product reviews visit Amazon
8. Tiny Love Soothe and Groove Mobile
It features forty minutes of non-stop music with six different genres to choose from that make it entertaining for the little ears. It could be used for babies while grooving during their playtime or for soothing music at bedtime. As the baby grows big and in need of a mobile, all you need to do is simply detach the bottle for a portable that transforms into a stand-alone toddler music box.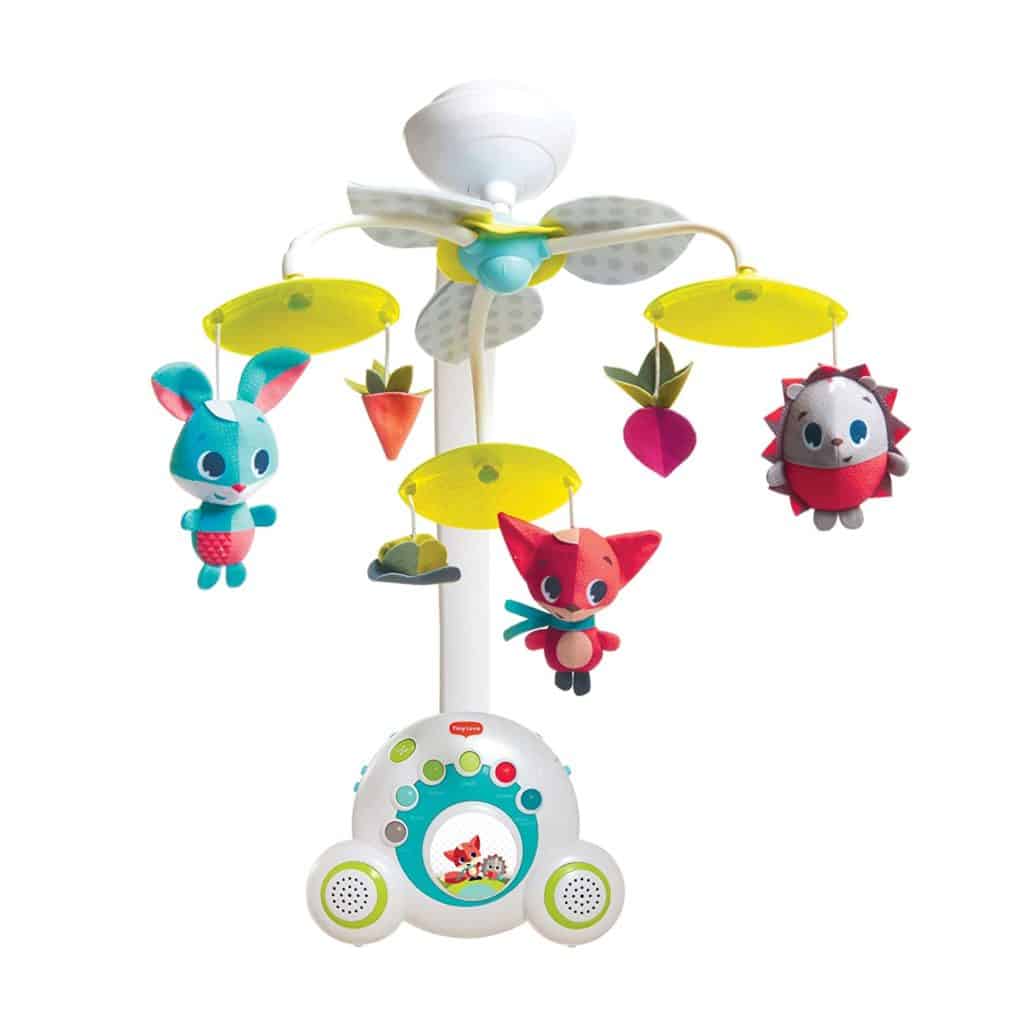 I'm not super into electronic toys for babies. My style leans to simple wooden Montessori or Waldorf toys. But my son LOVED this mobile has a baby and it wasn't a fluke because my 4 month old daughter is also obsessed with it and has been for the last two months. I write this as she gagas and googoos away in her bassinet to which the mobile is attached. It gives me anywhere from 15-30 minutes to get some things done including brushing teeth and getting dressed or some laundry. As soon as she sees it before I even turn it on, she gets so excited, it's adorable. It makes her smile and she now kicks the large button to change the music. Something about the way the little characters do their dance and peek a boo. The music sounds good too, not intrusive, and there's a volume button which is essential IMO. Then when baby is older, they can carry the music box around, which I'm expecting her to do like my son did.
Totally recommend this! I just got their mobile that you can attach to car seat. Excited to try it because she is not a fan of car rides quite yet.
This unit is great for time duration and music choices. Over an hour it will stay on and it has more than 5 categories of songs.

It is lacking in any light display on ceiling and has NO REMOTE
For more product reviews visit Amazon
Babies like feeling the various textures using their fingers as their touch are really sensitive. The senses gift toy introduces the baby to different kind of textures like the Flutterby Teether with soothing bumps for sore gums, Fishy Fascination Station with spinning wheels, the Ring O'Links that clinks, and a miniature version of the Bumpy Ball bringing in textures like smooth, squishy, fuzzy, and bristly. Its bright patterns and the rattle elements of the toy are also naturally entertaining for the babies.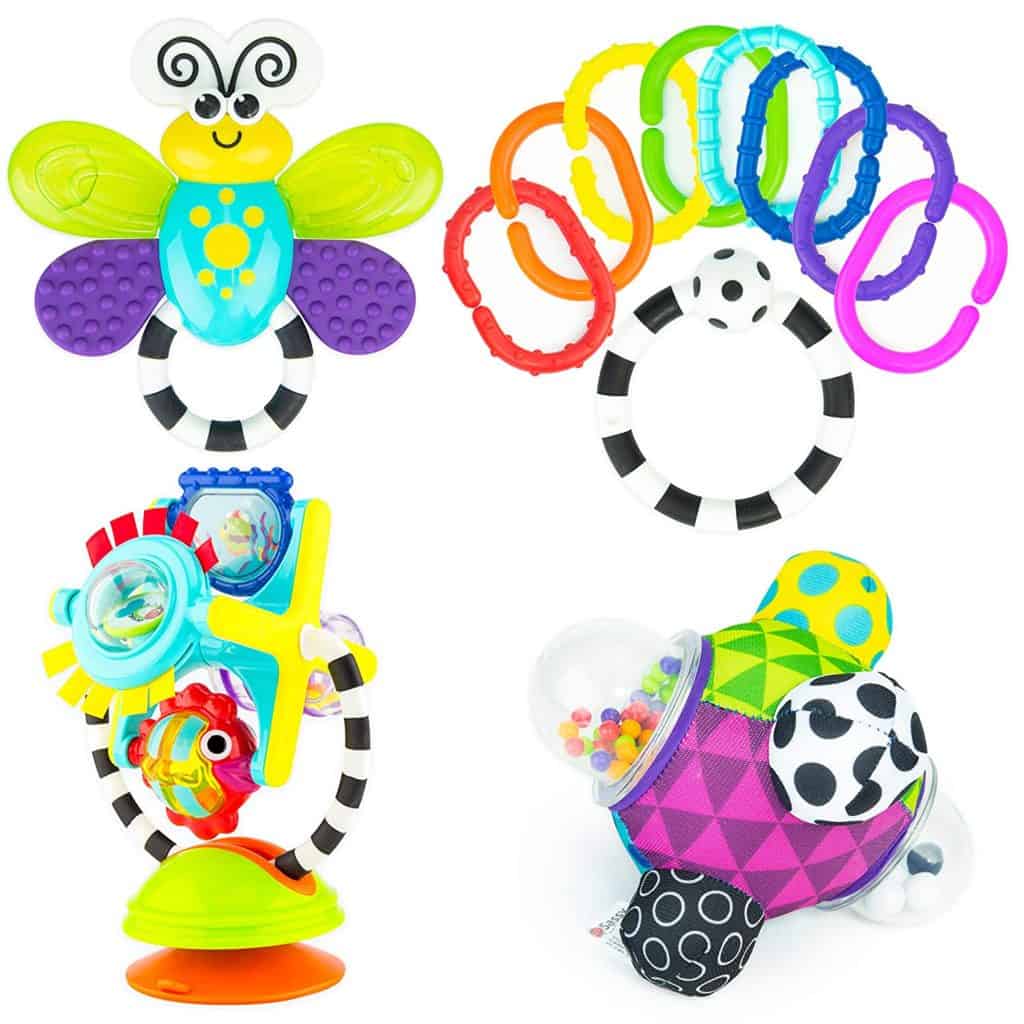 I was primarily looking for the suction cup sensory toy that is part of this set, but I don't regret getting it. The teether is my baby's favorite teether, and the other items like the rings and the soft ball are extras that you'll be using anyway! The suction cup on the sensory wheel is not as strong as the other Sassy suction cup toys, and I'm not sure why. We have the wonderwheel along with the one in this gift set and the suction cup on that one works much better.
I bought his for my 7 month old grandbaby. About 18 months ago, I had bought something similar that was made by Sassy and it was no longer being sold. This was a perfect replacement. The spinning toy may be easily attached to a high chair tray after meals while you clean up. The connectors are great for teething and can be used to attach toys to a car seat, stroller, or other toys. Sassy toys are great for gift-giving and for your own babies … my grandbaby loves it!
For more product reviews visit Amazon
10. Manhattan Toy Toy Winkel
The toy is equally fun to play with as fun it is to take its name out loud. It features soft, narrow, BPA-free loops that are wrapped around the center of the rattle with a teether making it an ideal first toy. The babies like shaking, grasping, and chewing it, and are easy to carry in your diaper bag or even clip to the stroller for the little one to play with.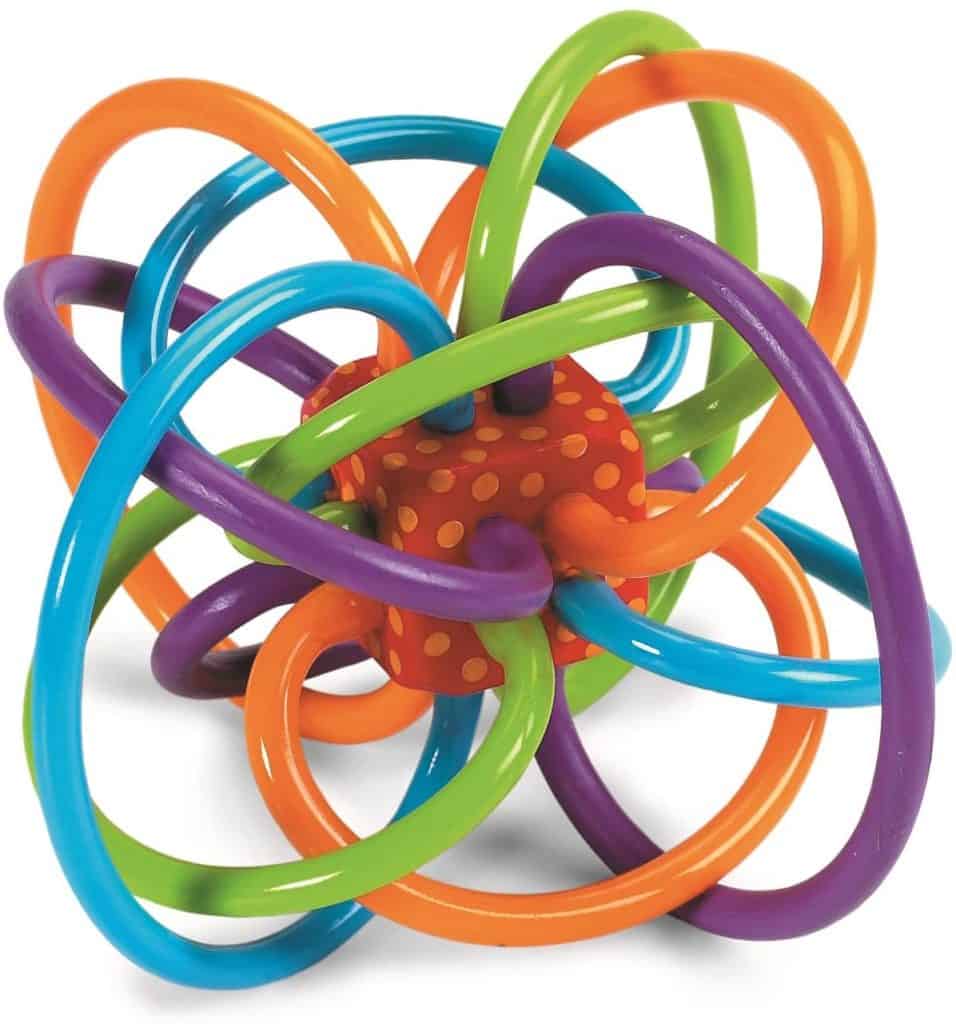 This toy is perfect for the little hands to grasp and hold onto. It was the first toy my little one was able to hold. Also, is easy to put into mouth as the "wires" aren't thick and bulky like the usual other teethers. I totally recommend this item.
Purchased this item when my daughter was 3 months old. It's easy to hold and the shaker sound keeps her entertained. When she started to teethe it was a good option to chew on especially for those front teeth that come out first. It's easy to wipe down for cleaning.
For more product reviews visit Amazon
11. Skip Hop Vibrant Peek and Play Activity Book
As it is never too late for books, this is guaranteed for the baby to come back to it again and again. The play activity book is packed with sensory features like ribbons, crinkly pages, flaps, and a mirror with soft, high-contrast pages that never fail to capture the attention of the infant. It is easy for the little one to turn pages and fold the book into a stand-up playhouse adding more fun.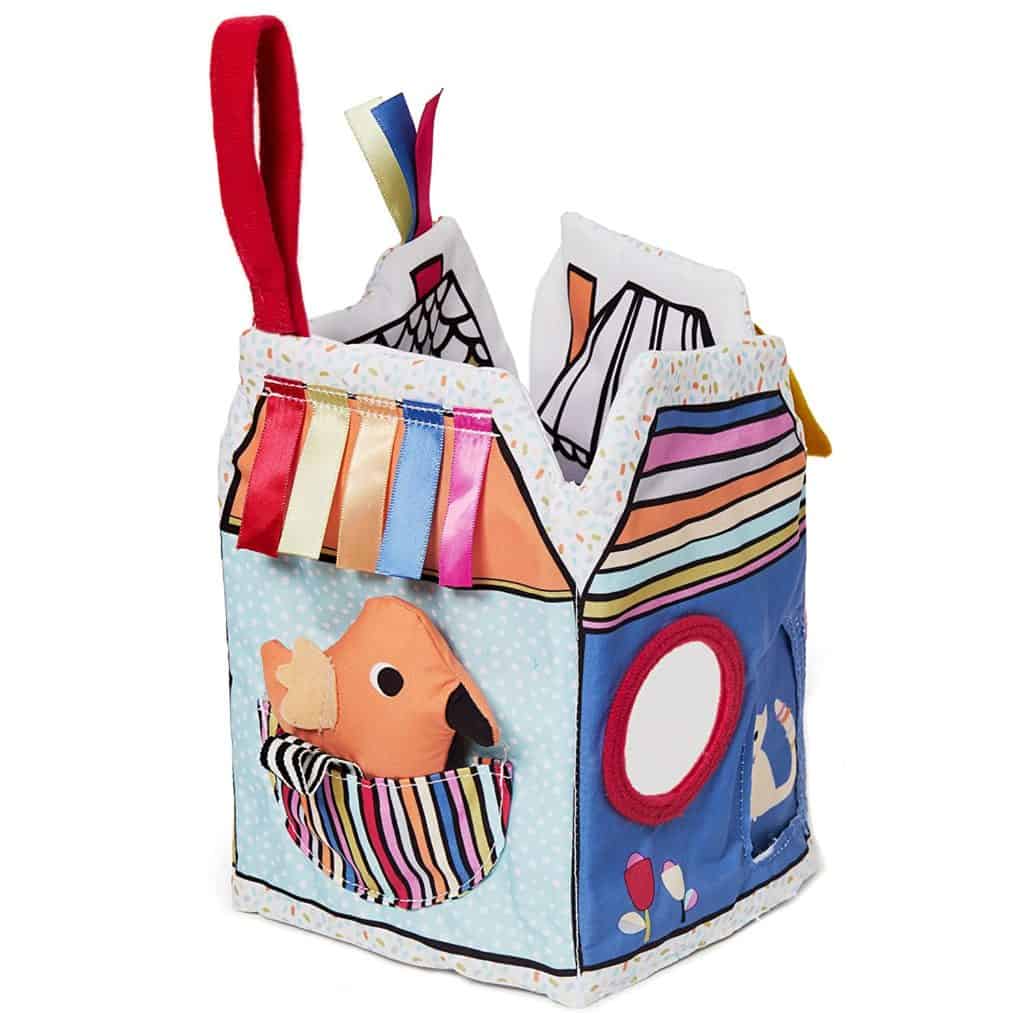 This book was perfect for my 3 month old and at 5 months it's still his favorite toy!

We propped it up on the ground and it got him to love tummy time. Now he can grab parts of it and hold it in his lap for independent play.

I bought it during a late-night panic search for "developmental toys" and I'm so glad I did. This one definitely delivered!
I wanted a few high contrast toys that my newborn could look at while in his playpen. This toy is literally the only one that interests him – he stares at it forever! He doesnt tire at it, and will often smile at it. I introduced it at 2 weeks and he was instantly enraptured, and still likes it at 8 weeks. I will gift this to my friends that have newborns.
For more product reviews visit Amazon
12. Skip Hop Cry-Activated Soother
Although it might look a little sleepy, it is the best cuddle buddy for your baby. The soother is soft, plays lullabies, and nature sounds, and can even record the voice any time the baby cries. This works as an innovative cry-activated smart sensor that automatically responds when the baby cries by providing instant comfort to the baby.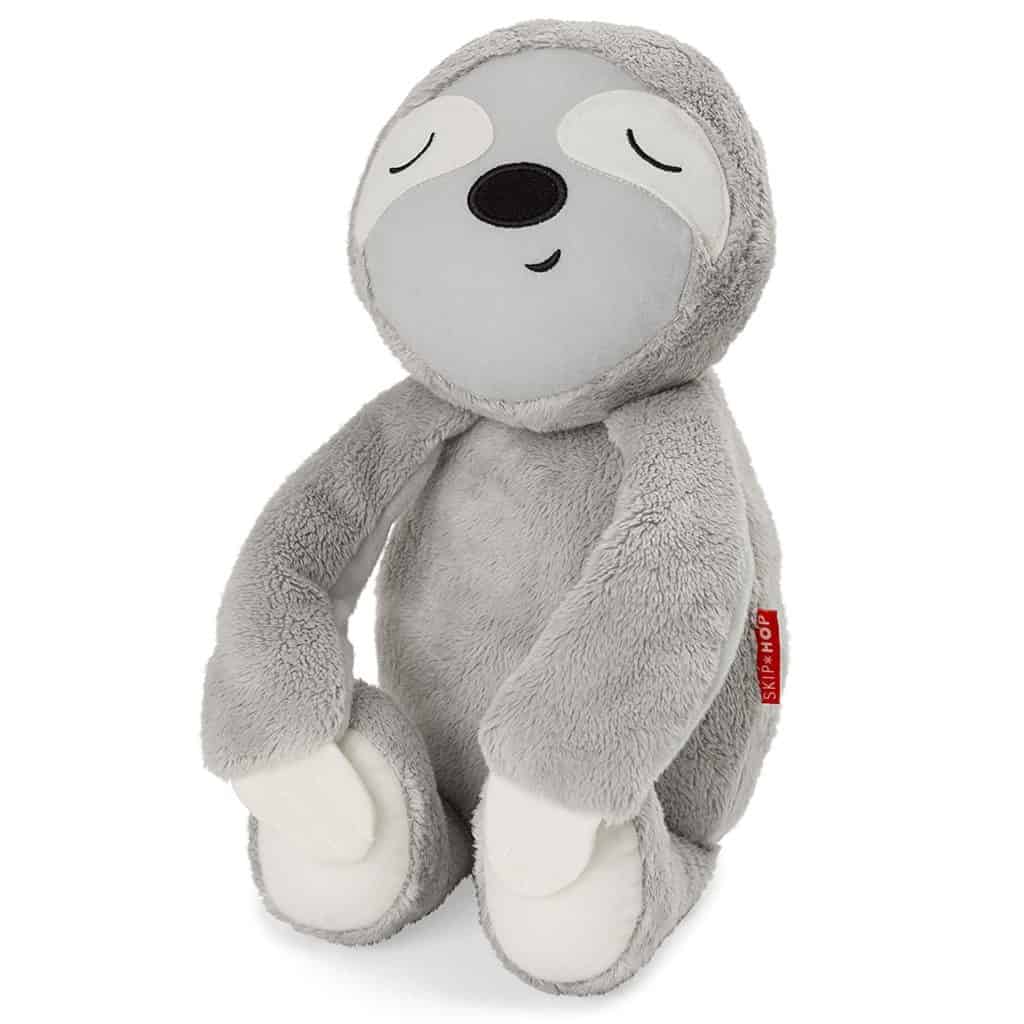 Not that this has helped her sleep any better, but when she does cry, it activates and her cries turn into whimpers. This keeps the one child from waking up the rest of the house. And it is a nice little song for the adult too.
We received this as a gift and one of my twin daughters loved it and couldn't sleep without it
Had to buy a 2nd one cos they kept fighting over it. I love that I cam record my voice and it has soothing sounds. This is a baby sleep saver
For more product reviews visit Amazon
13. Where's the Zebra? Lift-Flap board book
Where are all the animals? Try finding them under the bushes, behind the trees, where else can they be? This book helps stimulate the little ones keeping them busy as they find the animals throughout the book and are delighted when revealed behind the felt flaps on each page including their reflection! Try the sound with animal books, they help to achieve special senses faster.
My little boy loves this book! Felt flaps have held up nicely.
Ordered this for my 6 month old. The felt flaps are easy even for a baby that young! And he of course likes the mirror at the end!
For more product reviews visit Amazon
We understand how important it is for parents to choose the right first toy for their babies. The list above has options for parents to choose from. Make sure you find the best one for your kid, making their playtime fun, exciting, and educational.
FAQs : Best Toys For Babies 0-6 Months Old
1. Do newborns need toys ?
In the first two months, a baby doesn't need any toys. But, when they hit two or three months, they would need a toy as they then explore their hands and what they could do using them. During this time, toys become valuable as they then transform into learning tools and noisy toys work great too.
2. Are noisy toys good for babies ?
Noisy toys help with the development of babies. As they learn to hold the toys in their tiny hands, they also grow to understand the sounds as they rattle a toy designed for any noise. However, it is important to choose the right amount of noisy toy as the babies have sensitive ears and to also make sure that the toys are soft and safe to play with.
3. What is the importance of toys ?
Toys serve multiple purposes for babies. They provide entertainment, and an educational role provided you choose the right toy for your baby. It also enhances cognitive behavior stimulating creativity and developing the physical and mental skills that are necessary for later life.