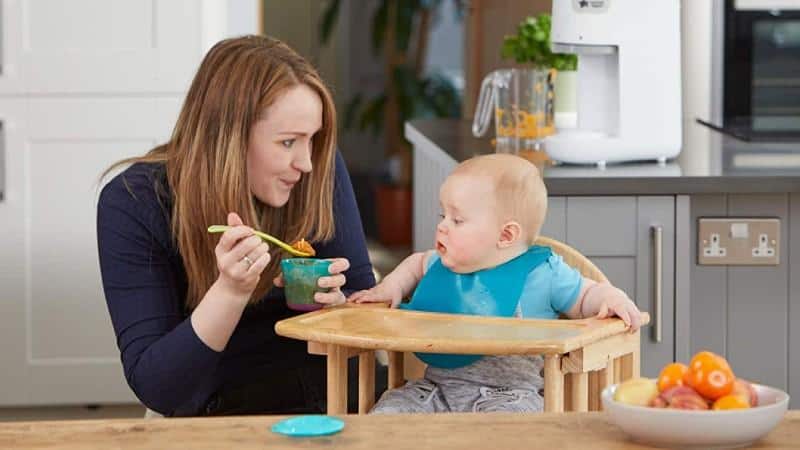 Every meal with your little one gets better and better, but the chances are not all of the food on their plate is going to make it into their mouth. We love our little ones but they are mess-machines. The mess is inevitable so why not buy the best baby bibs which can help you keep things drier. This article will help you choose the best baby bibs that works for you and your little one, no matter what they spit up!
What To Consider While Buying A Bib For Your Baby?
Nowadays, you can find bibs in a variety of styles. We've got the drool bibs, plastic bibs, bibs with pockets to catch the mess. Here are some things you should consider before buying one for your little one:
Opt for a material that doesn't soak up a ton of liquid and can be easily wiped clean. This way you can cut down on some laundry. You can find some cotton bibs which come with an inner waterproof layer that keeps them from soaking in food smells.
Your baby's bib should be made out of soft material because it rubs against your little one's sensitive skin. Your baby will want to rip it off if the bib is rough or itchy.
You'll want bibs that will last more than just a couple of months because babies grow up so fast. Look for bibs that come with adjustable closures and which can fit a range of neck sizes. This way it will last at least a couple of years.
Your little one is getting bigger and stronger, which means they'll get better at gripping their bib and yanking it off mid-meal. You should go for bibs that have firmer closures such as snaps, buttons, or ties.
Bibs with pouches or pockets at the end helps you keep your baby's lap clean, along with their neck and chest.
Bandana bibs are stylish, trendy, and cute. They come in handy for teething, too. Some bandana bibs have a silicone piece at the end, which is perfect for gnawing.
An extra-large bib will keep food and liquids off more than just their chest. Some bibs have sleeves or cover their whole torso and shoulders.
Cotton bibs are usually softer and more absorbent. You can machine wash it without any special care (for example gentle cycle), however double check the washing instructions written on the label. These bibs are available in organic and non-organic, they're also one of the cheapest options. Although, after more than one year of regular use, it won't hold up.
2. Plastic/plastic-coated or polyester
They are waterproof and are easily wipeable. Make sure to read the label because sometimes they can be dishwasher safe or machine washable. Generally, they are designed in a thin and flexible all-plastic composition, thick and rigid all-plastic, or cotton with a plastic cover.
A silicone bib is the easiest to clean out of all materials. You can wipe it clean, hand wash it, or even put it in the dishwasher. Plus, it is long-lasting, and it's also the most expensive. Silicone bibs are sturdy and flexible, and parents say you only need one.
If you are looking for a disposable option when on the go, then this is the most convenient one. But it is not very economical for everyday at-home use.
The 6 Best Baby Bibs For Your Little One In 2023
Here are some of the best baby bibs available on the market:
1. Best Bandana Bibs: Parker Baby Bandana Bibs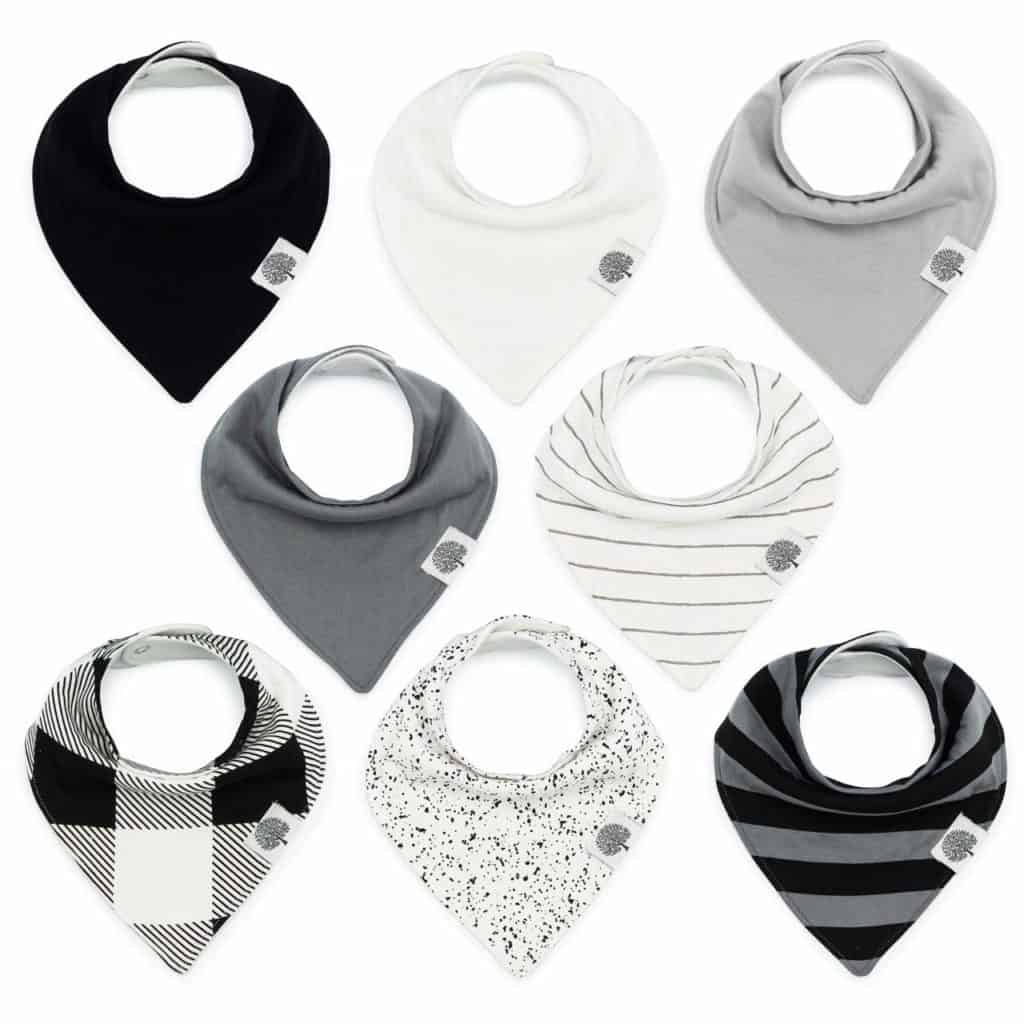 If you are a fan of the bandana bib trend, then you will love these super adorable bibs. It is made from a soft, thick material that absorbs well. The front part of the bib is made from organic cotton, whereas the back is made from durable polyester. As it has two nickel-free snaps at the back, it can fit many different sizes of children. It can fit from the ages of 3 months to around 2 years. Remember to never let your child chew on the snaps because it could be a choking hazard.
Pros
The nickel-free snaps on this bib could be less irritating and more secure than others.
It has a soft and comforting fabric.
The bib is super absorbent and it has no problems in handling heavy droolers.
Cons
As per the washing instructions, you need to lay the bib flat and avoid using the dryer.
If you wash it repeatedly, it doesn't hold up well and it might bunch up or warp.
These bibs stay on with 2 snaps, they are a great size, fashionable, and they are thick enough to where the drool doesn't soak through to the other side. Good investment!
I was super nervous to pull the trigger on these buckle bandanas but WOW. They are not like the others. Fit right. Comfy. Absorb. Cute. Don't choke or sit weird. Wash well. Definitely going to be gifting. We use ours daily and it saves my kid's cloths from being soaked in minutes with teething drool. Plus they are cute enough to use in family Christmas card photos. He definitely had one on lol.
For more product reviews visit Amazon
2. Best Bibs for Spit Up: Green Sprouts Stay-Dry Infant Bibs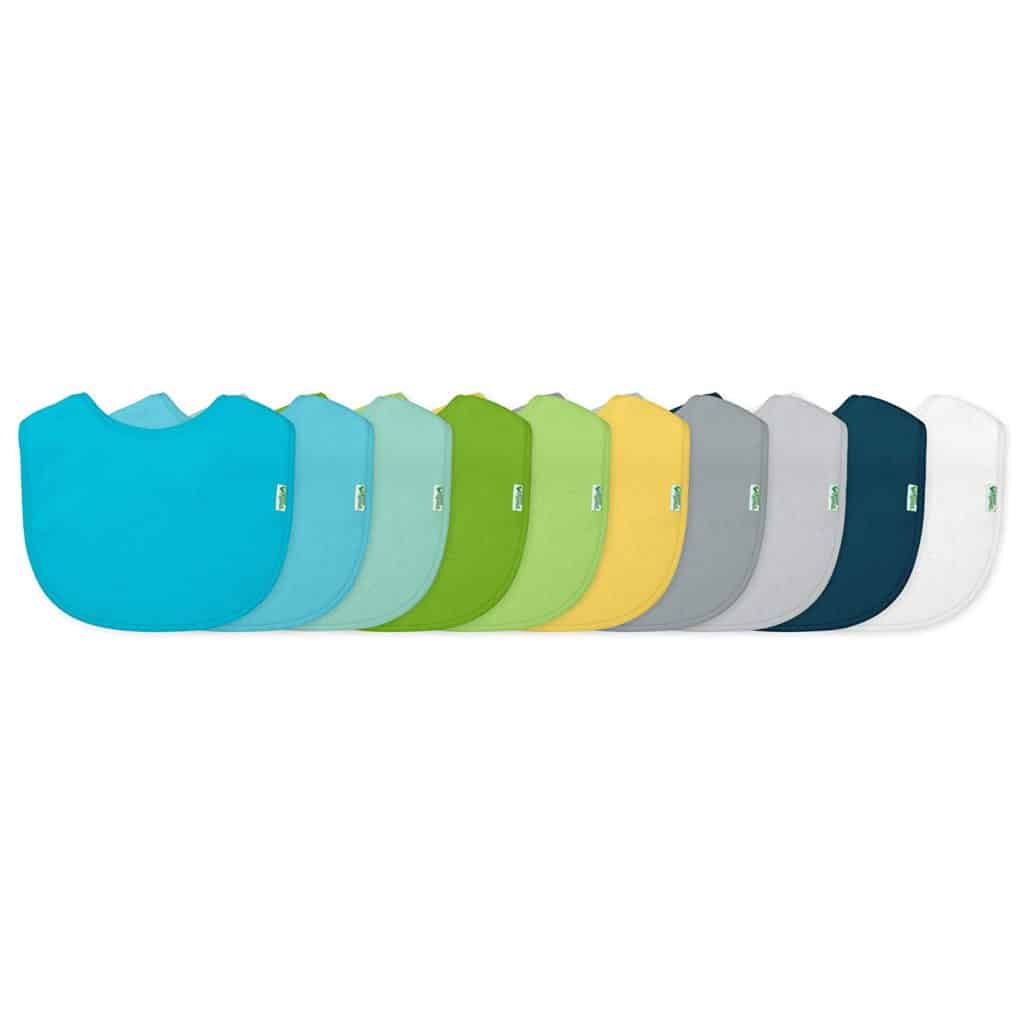 These bibs are made from ultra-absorbent cotton terry. It will protect your baby's sensitive skin from drool rash by soaking up all the drool they produce. It comes with adjustable Velcro closures which makes putting it on and off very easy. It is available in a colorful pack of 10, where each bib costs just more than $1. This stay-dry baby bib is best suitable for babies around 3 months to 12 months old. Also, it has two super absorbent outer layers and a waterproof inner layer. Additionally, you have a variety of fun, solid colors so your adorable little one can spit-up on the whole rainbow!
Pros
You can wash it by machine.
It is made out of safe, azo-free dyes.
You can also reverse it.
Cons
A few parents found the material a bit scratchy and rough.
If you do heavy washing, the stitching doesn't hold up well.
My son had pretty bad reflux and was constantly spitting up. We probably own about 30 of these bibs because they're so good at catching the constant spit up. We avoided many outfit changes because of these. They're not the cutest things ever, but they definitely get the job down. Material is almost like a terrycloth, not as thick. But a good material for absorbing.
Great for teething and vomiting. A bit tight on my now 6 month old so I'll probably stop using but got a few months use out of it. The velcro continued work
For more product reviews visit Amazon
3. Best Full Coverage Bibs: Bumkins Sleeved Toddler Bibs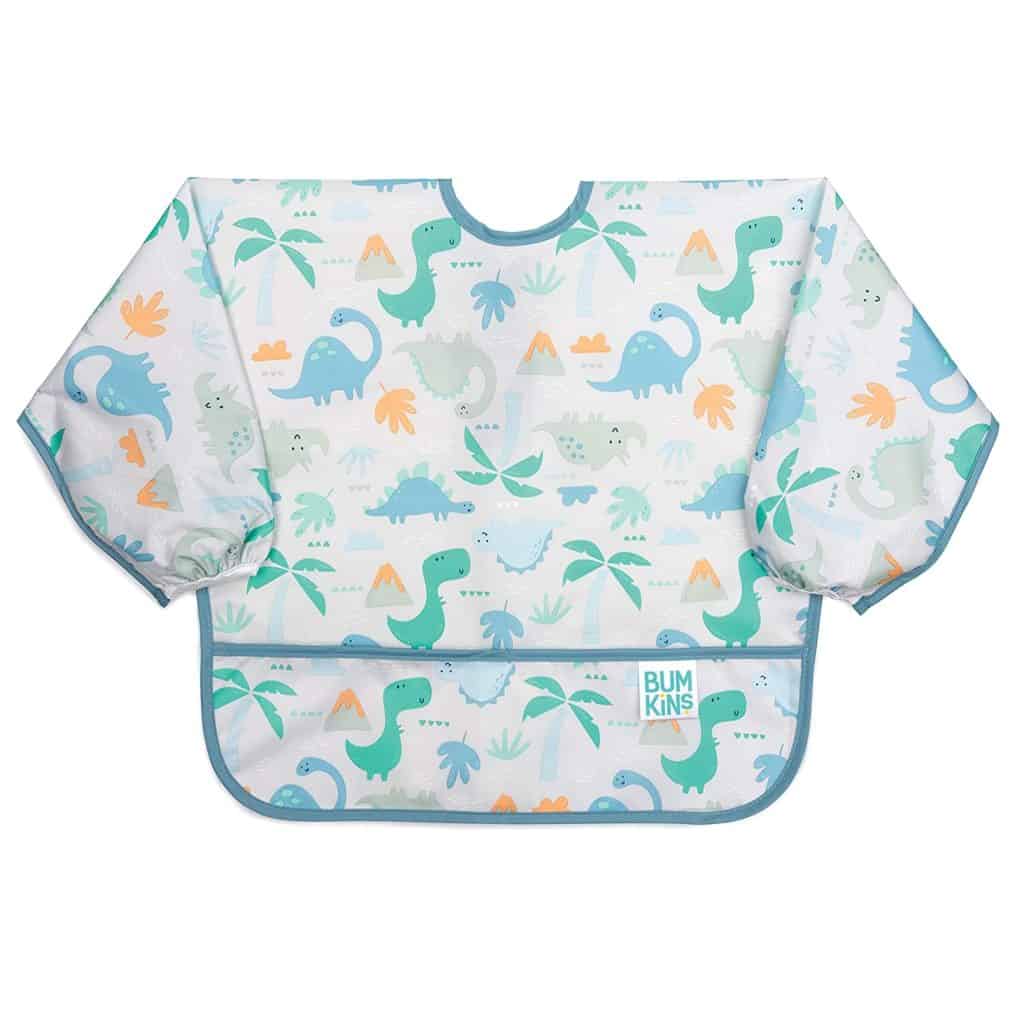 This baby bib is huge and is made out of stain-free and odor-resistant plastic. You can just wipe it down and whip them off after meals to reveal a perfectly clean, happy kid underneath. This bib is designed to cover the whole torso, lap, arms, and right up to the neckline (talk about full coverage!). It is available in a wide range of unisex patterns, plus the material is free from PVC, vinyl, BPA, phthalate, and lead. Once you're done, you can either wipe with a damp cloth or throw it in the washing machine. You can use this if you're heading to a restaurant or friend's house, or for other messy moments such as arts and crafts projects.
Pros
This has a very low chance of getting food and spills on clothing.
It will cover right down to the elasticated cuff.
Also, it comes with a lap pouch to catch any food that falls.
Cons
The bib is a little tricky to put on and off and the tie neck closure can take a while to fasten.
Some parents found the quality lacking.
I honestly wasn't quite about the coverage that this bib would offer but it's kept food off his onesie and high chair beautifully! Not to mention it's freakin adorable! Cute and functional, what more could to ask for? It's also super easy to clean (I just wipe it with baby wipes but I know it can be tossed in the wash) and the catch all pockets certainly do their job! Wonderful product!
These are the best for keeping my 7 mo clean during meals! It's so easy to hose it of in the kitchen sink after and its dry by the next meal. I love that the sleeves are elastic at the wrists which keeps food from going down the sleeves. My only thing is it's a little big around the neck for my baby. It ties at the back end I really with they had velcro instead
For more product reviews visit Amazon
4. Best Bibs for Toddlers: BabyBjorn Soft Bibs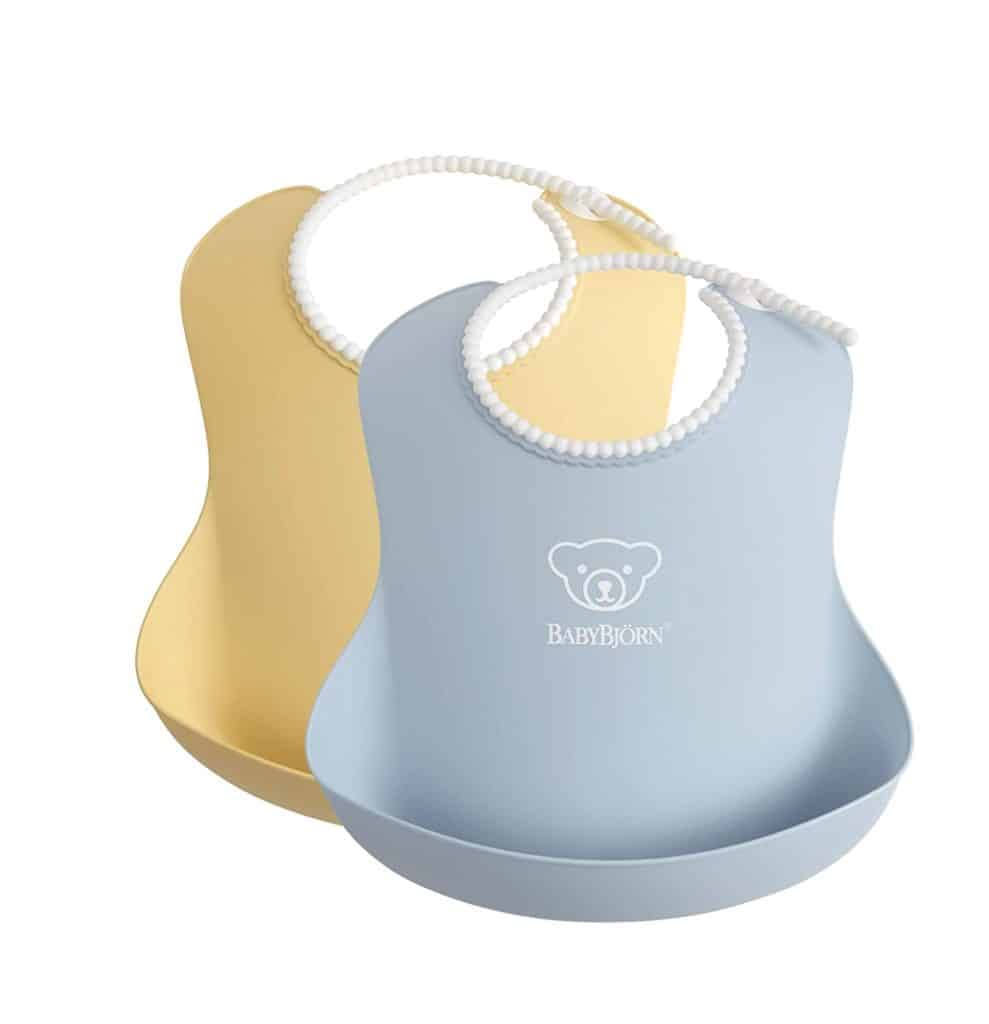 These bibs are made out of nifty propane and thermoplastic elastic rubber. Your babies will be much more comfortable than the cheap plastic bibs (which are so irritating). They are not made from a soft fabric which means you can put them in the dishwasher for easy cleanup. The deep front spill pocket will catch any dropped food.
Pros
During mealtime, the deep front pockets will save pants from being stained.
It is pretty easy to clean.
It comes with an adjustable neck width.
Free of BPA.
Cons
This bib is a bit pricier than other brands.
Some children might find it heavy.
This is the only kind of bib you will need once solid food enters your baby's life.
– The angle and sturdiness of the bib's tray easily catches little messes, keeping children and the surrounding floor clean.
– The bib itself is SO easy to clean.
– The colors and style are great.
I swear by these bibs. I am a mom of three and foster parent of two toddlers right now. I have used these bibs for my own children because they keep their shape unlike MANY other bibs in this style. I also like the way it clips around the neck. I highly recommend this bib above all others…and we've tried many others. They are durable and will definitely last you for years with care. Great to gift at baby showers for future use or as a gift to a parents whose babes are now sitting up and eating as they catch just about everything!!! Save your floors from certain disaster!
For more product reviews visit Amazon
5. Easiest Baby Bibs to Clean: Happy Healthy Parent Silicone Baby Bibs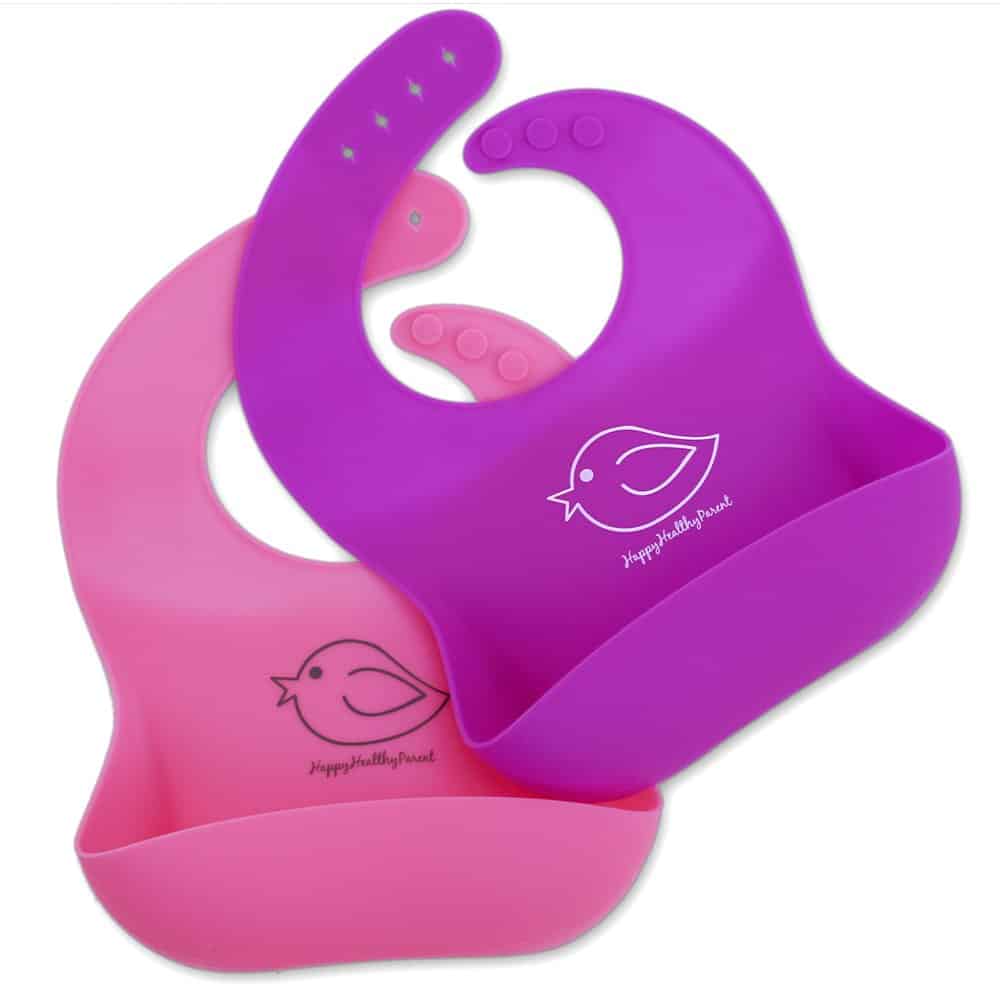 If you are looking for something easy to clean, then you should go for this bib. It is made out of 100% food-grade silicone which means it doesn't absorb any water. You don't necessarily need to be deep clean or go in the washing machine with these bibs. This saves you time, money, and energy! They are always ready to use so when it's mealtime, you can simply wipe the bibs clean and put them on your baby. It also has a handy catcher tray at the bottom, when your baby drops food, it will fall into the catcher. After mealtime simply empty it and wipe it clean.
Pros
You can easily wipe it clean with some soapy water.
It comes with a catcher tray for dropped food.
It is best suitable for kids from 6 months to 6 years old.
Also, it is dishwasher safe.
Cons
Your little one can easily take it off, which can end in breakage.
Some babies found this bib uncomfortable.
We bought these for our grandkids. After several years of use, they are still stain free and have not torn. Much easier to clean than a cloth bib and they fit nicely inside a baby backpack. We highly recommend them.
Got baby? Then you have a mess when they start eating jar food. These catch what their mouths and spoon cannot. Easier to clean than cloth bibs, and they save your carpet too? I'll take 3! The only one who will be sorry that you bought these is your dog!
For more product reviews visit Amazon
6. Best Budget Bibs: Neat Solutions Bib Set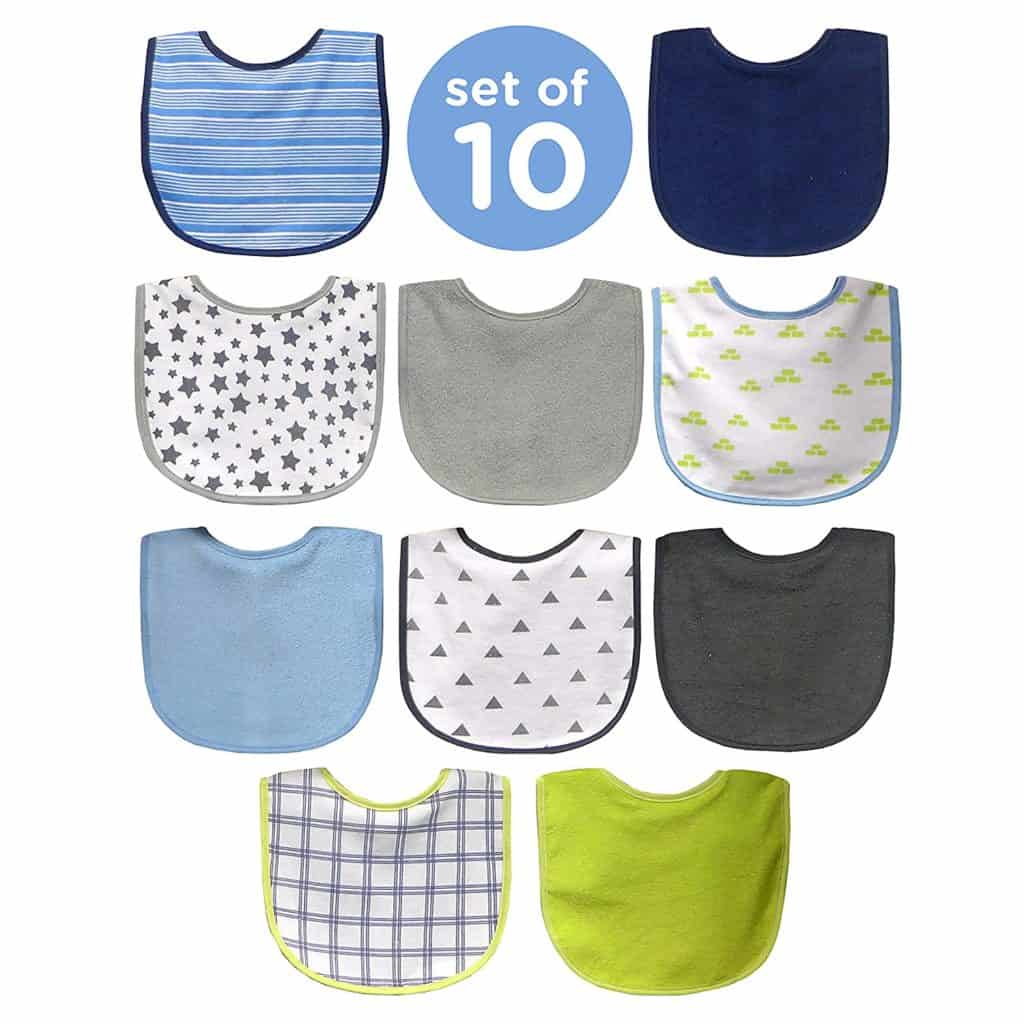 This bib set is a neat solution (just like the brand name!). This is the most affordable option on the list. In a pack of 10, it costs only $7 which means it wouldn't matter if you have to toss one out. It comes with a velcro closure system and each one has an adorable embroidery pattern on it. It doesn't get in the way during mealtime because it's thin and lies flat against the torso. The front of this bib is made out of soft 75 percent cotton terry cloth whereas the back is free of BPA and PVC plastic to stop any wetness from soaking through. You can keep a few of these on hand for travel or emergencies.
Pros
This bib is ideal for daycare or as a cheap backup.
The plastic back is drool-proof, which means it will keep the mess off your baby.
Plus, it is made available in some adorable designs.
It is a thin, low-profile construction.
Cons
This bib is more on the small side, so you might not be able to protect bigger babies or heavy droolers.
Some children might find the plastic backing irritating.
This little bib is perfect for a newborn to 1 year old. Catches all the drool, bottle spill or food and keeps their little outfit clean. Nice variety of colors and great price
For more product reviews visit Amazon
New parents tend to underestimate just how messy their little one can be. It is better to invest in some good quality bibs so that they can offer excellent protection and also keep your little one's clothes dry and stain-free. Make sure the baby bibs are comfortable enough that your baby won't try to rip them off, which they're going to try eventually! Also, get some functional burp cloths to clean the dribbles and spit-ups.
FAQs: Best Bibs For Your Little One
1) What is the best material for making bibs?
You should go for bibs that are made out of soft, absorbent fabrics, which include terry cloth, flannel, and medium to heavy cotton. Remember bibs need to be easy to wash and dry.
2) When should babies start wearing bibs?
Babies who are around 0-6 months old will benefit most from regular and drool bibs because they're usually not eating baby food until they reach around six months of age. You will want to start looking for feeding bibs once they are around 4 to 6 months old.
3) How many bibs do I need?
It depends on your baby, your feeding routine, and your laundry schedule. You usually need about 10-20 drool bibs and 1-5 feeding bibs.