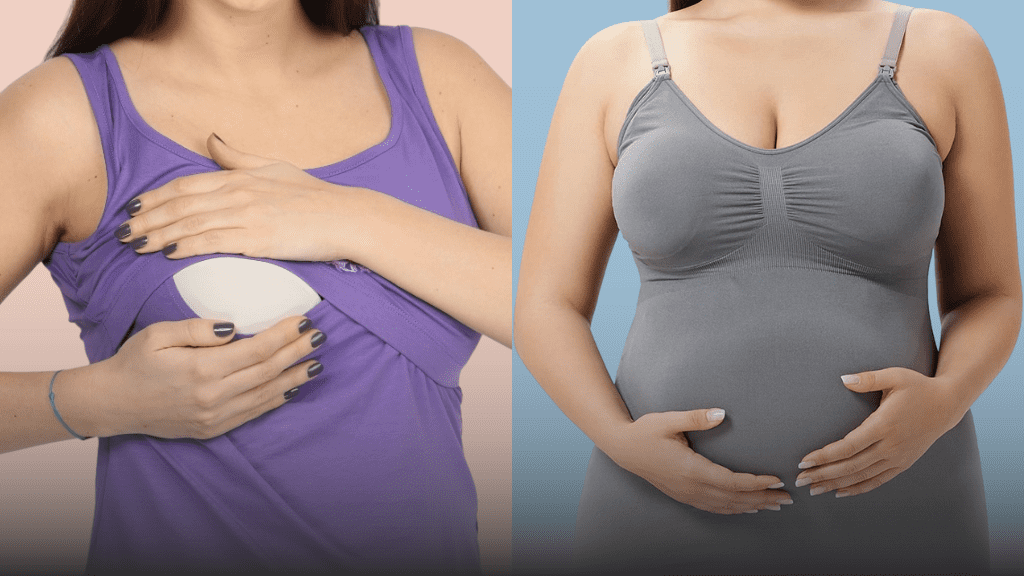 Parenthoodbliss selects the best products based on real-life testing conducted by our staff, members of our user community, the contributors, as well as through research and feedback by experts; here's more about our product review process. The details and prices are accurate as per the publishing date and we may earn commissions through the shopping links on this blog.
Whether you are pumping or breastfeeding, a nursing tank top is an item of essential clothing to be worn with an open cardigan, under other layers, or alone. No wonder they are a wardrobe staple for postpartum and pregnant women. Supportive and easy to wear and access, the best nursing tank tops are made from durable and stretchy materials so they can fit seamlessly on all types of bodies.
But why is that important? When you are trying to feed your hungry little human, the last thing you want is a bunch of clothing between your baby and your breasts. Nursing tank tops are strategically fitted with clasps and flaps to allow you to uncover either or both of your breasts to feed your babies. If you are breastfeeding frequently you will be saved from the hassle of removing your clothing with these nursing tank tops.
A nursing tank covers your belly and helps you uncover your breasts by just pulling down or up. While choosing nursing tanks make sure that you get your size perfect because the pressure on your breast can lead to clogged ducts. Most of them have a clip-down style and a built-in bra. By considering the value, material, comfort, ease of use, and design, we have curated a list of the 14 best nursing tanks for you to choose from. Let's take a look at the brand names before we get into their pros and cons:
Kindred Bravely: Best nursing tank top
Knix BlissFit: Best nursing tanks for work
A Pea in The Pod: Best nursing cami
Storq: Best clip-down nursing tank
Hatch The 24/7: Best splurge on nursing tanks
Motherhood: Best affordable nursing tank
Rumina: Best nursing tank for pumping
ilove SIA: Best seamless nursing tank
Bamboobies: Best sustainable nursing tank
Blanqi: Best supportive nursing tank top
Suiek: Best cotton nursing tank top
Undercover Mama: Best shapewear nursing tank top
Bravado: Best nursing cami
H&M Mama: Best affordable cotton nursing tank
Let's Check Them Out in Detail!
1. Best Nursing Tank Top: Kindred Bravely ($54.99)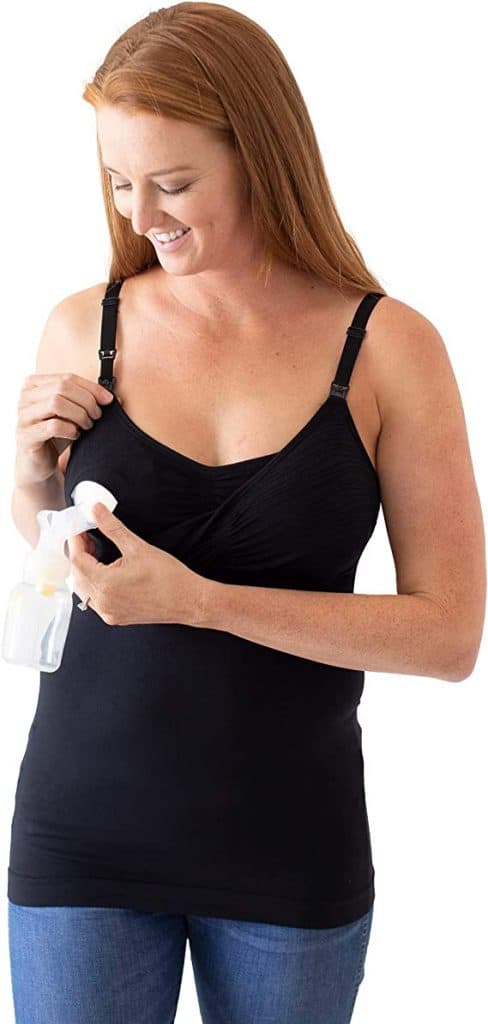 Pros
Two clips for quick and easy nursing
The tank top is extra long (hip length)
Hands-free pumping
Super stretchy soft fabric: 6% Spandex and 94% Nylon
Underwire free
Removable pads
Size range: S – XXL
Available colors: Nude and black
Washing instructions: Delicate cycle or hand wash only
Cons
Too many layers make it too hot sometimes
Runs small
Not sure why this got such poor reviews, ordered a 2x for my 42G chest, fits well. I have been wearing to work to wear while pumping. I would recommend, seems to be good quality!
I'm 5'2, 135lbs with 34DDD chest right now and I ordered a medium and it fits great! I have a petite frame with a large chest so these things are always hard to figure out sizes for but the medium works for me! The fabric is tight fitting so the medium fits slightly looser then I think it's supposed to on my stomach but I'm just looking for something to wear under scrubs at work and this will work perfect. I ordered another brand on amazon that was cheaper and you definitely get what you pay for. It's expensive but so worth it!
– chase
For more product reviews visit Amazon
2. Best Nursing Tanks for Work: Knix BlissFit ($60)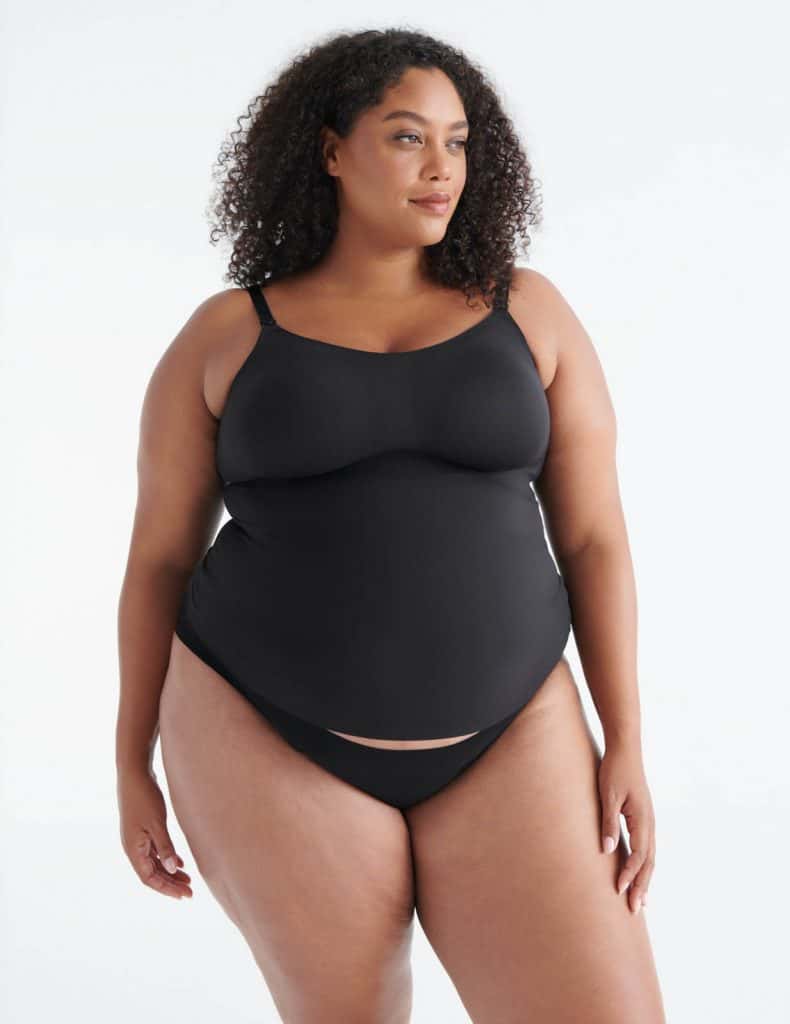 Pros
Leakproof
Removable absorbent pads
Underwire free
Easy snaps
Knit stretchy fabric: 7% spandex, 93 % polyamide, and 62% nylon
Size range: S – XXXL+
Washing instructions: Flat dry and machine washable
Cons
Heavy letdown can lead to leaks
3. Best Nursing Cami: A Pea in The Pod Luxe ($38.40)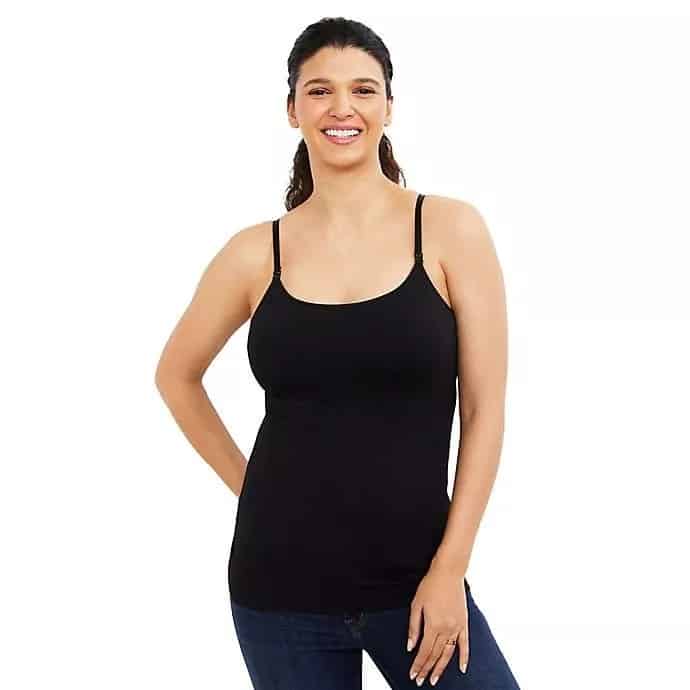 Pros
Easy-to-use
Built-in shelf bra
Clip down function
Thin layering with spaghetti straps
Available in 6 colors
Size range: XS – L
Soft jersey knit material: Spandex, modal, and cotton
Cons
4. Best Clip-down Nursing Tank: Storq ($58)
Pros
Breathable
Internal shelf bra
Easy clip down
Size range: XS – XXX
Soft and stretchy material: 10% spandex and 90% modal
Washing instructions: Machine washable, flat dry
Cons
5. Best Splurge on Nursing Tanks: Hatch The 24/7 ($78)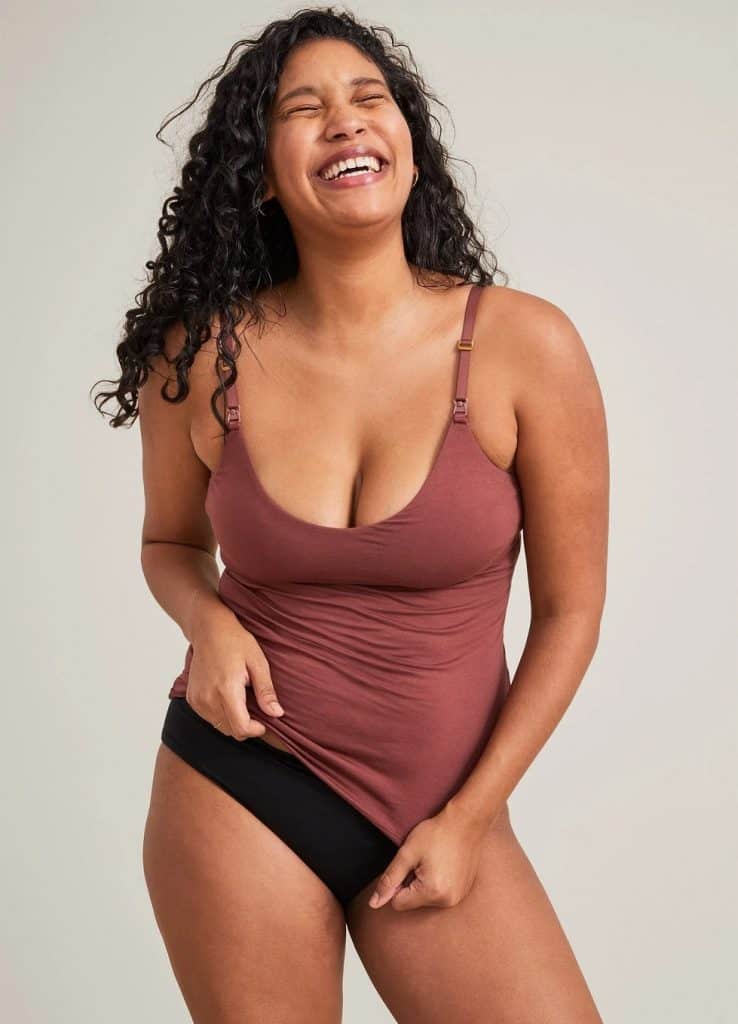 Pros
Adjustable front strap
Can tumble dry
One-handed clasp
Built-in bra
Soft fabric: spandex and cotton
Size range: S – XL
Washing instructions: Machine cold wash, tumble dry low
Cons
Limited sizing
Anti-leak pads sold separately
6. Best Nursing Tanks on Budget: Motherhood ($16.94)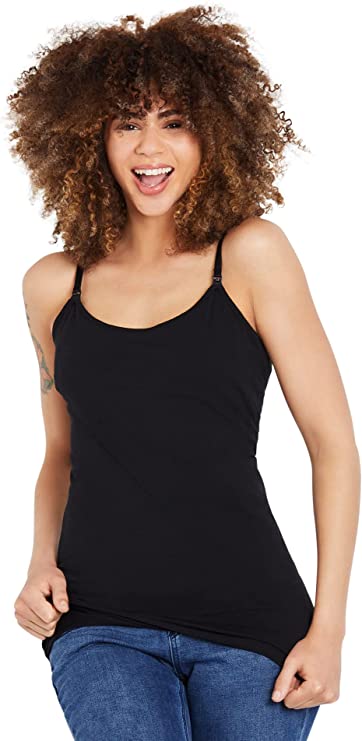 Pros
Great price
One-handed clasp
Clip down feature
Thin stretchy fabric: Spandex, polyester. And cotton
Size range: XS-XL
Washing instructions: dry clean or machine wash
Cons
The built-in bra lacks proper support
You really can't go wrong with Motherhood Maternity. I've loved everything I've purchased for them. I love that this goes over the belly in a way that isn't too tight but also gives me just a little more support. I've been wearing this under dresses when I go to work. Only "complaint" is that because it has the built-in shelf-bra (which when I'm nursing and using pads I'll love) it sits a little lower on my chest. I'd hoped it would be able to cover me up a little bit at work but it sits about where my bra does.
– Annique
I tried some cheapies from Amazon and other brands first and this one is by far the best. It's definitely more expensive than what I'd prefer but the fit and the durability make up for it.
– Missy
For more product reviewsvisit Amazon
7. Best Nursing Tank Top for Pumping: Rumina ($30.99 - $37.99)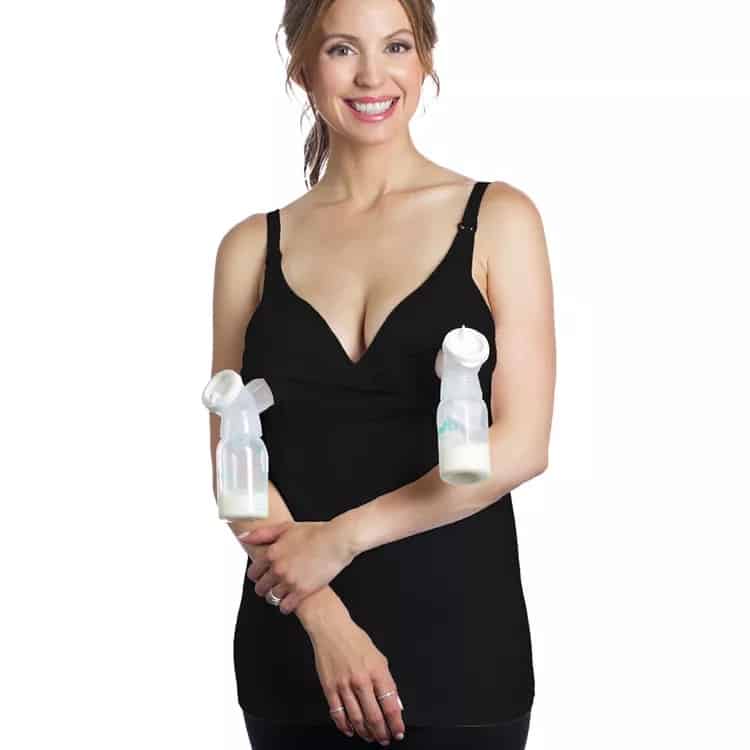 Pros
Built-in bra
Compatible with all breast pumps
Hands-free pumping
Full coverage
Tri-layer design
Available colors: grey, white, and black
Soft fabric: spandex and cotton
Size range: XS-XL
Washing instructions: Machine wash in a gentle cycle
Cons
Pilling on the bottom layer
Tight on larger breasts
8. Best Seamless Nursing Tanks: iloveSIA ($29.99 - $35.99)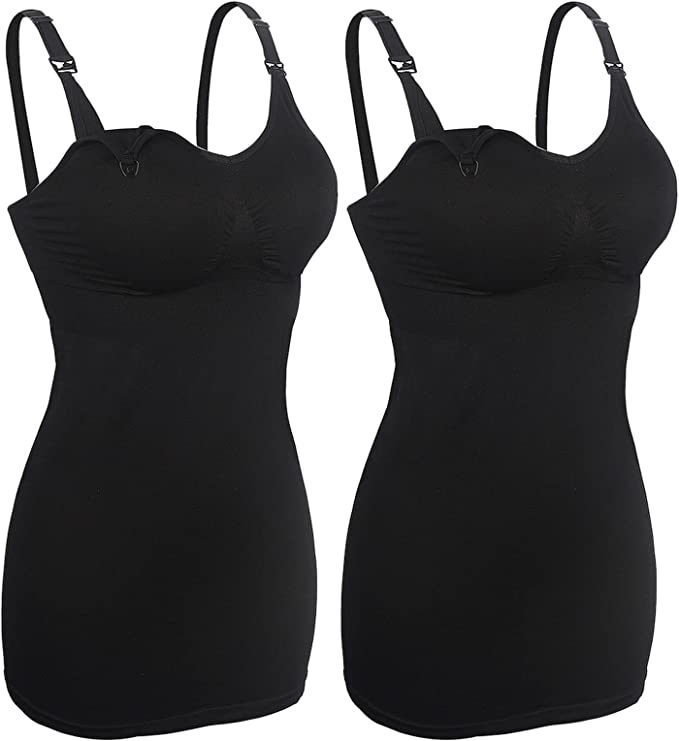 Pros
A wide nursing sling prevents sagging
Long, full coverage
Budget-friendly
Easy-to-use
One-handed, clip-down cups
Ultra soft, stretchy material: spandex and nylon
Size range: XS-XL
Washing instructions: Unspecified
Cons
Lacks support
Too tight for a pregnant woman
As anyone probably reading this review knows, nursing is hard. It's exhausting and life consuming, and on the newborn baby scale there are few worse things than having to completely take off your top at 3am to breastfeed a fussy baby (and then somehow put it back on correctly being very sleep deprived). I knew that there would be a lot of trial and error with breastfeeding, but one of the things that no one ever told me was the struggle to have clothing that makes it easy to nurse (because lets be honest, for the first few weeks you pretty much have a baby attached to a boob at all times). All those maternity + pre-pregnancy clothes are not only going to be a struggle to get to fit with your changing post-partum body, they also are likely to be difficult to be able to pop a boob out of.

So after sleeping shirtless for many days, I found these tops on amazon. On a whim, I ordered them. I am so thankful that I did. They are durable and comfy. The clasp is easy. The boobs have good padding, and a decent amount of support. They are stretchy and long and hold up well in the wash. I basically have lived in these tops and a pair of leggings. I have paired these with a nursing sweater/cardigan for an outfit that makes nursing while running errands easy.
These nursing camis are seriously my favorite piece of clothing right now!! I wanted something long (I am long-waisted, with a built-in structured bra (so I didn't have to wear a nursing bra and a nursing cami), that was cute, and didn't break the bank.

I am 5'7, currently weigh 135 lbs, and was a 32DD before I got pregnant (not sure what I am now). I ordered a small, because I was worried that since these work for pregnancy too that the tummy area would be too loose. As soon as I pulled them out of the package my heart sank, because they were tiny, and I knew they wouldn't fit. But I loved how soft they were (almost like Lularoe!), so I re-ordered, and this time chose a large.

The larges fit perfectly, and I haven't stopped wearing them since I got them! I wish these came in more colors, and I am definitely going to order some more, because they make getting dressed in the morning so easy. I just put another loose-fitting blouse on top, and I am set for the day! To nurse, I just lift that blouse, and can easily nurse baby very inconspicuously.

Seriously, buy these, they are SO worth it. Just size up!
– Grace L.
For more product reviews visit Amazon
9. Best Sustainable Tank Top for Nursing: Bamboobies ($27.99)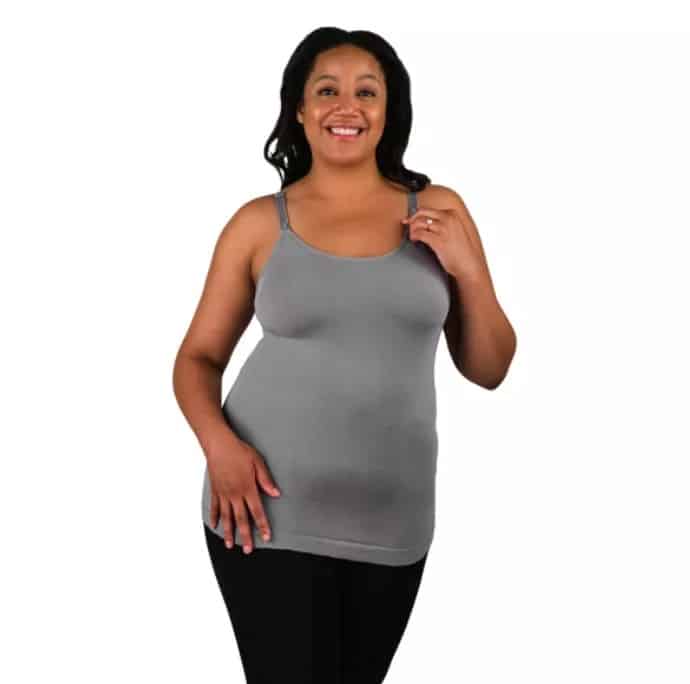 Pros
Durable
Full coverage
Affordable
Easy to use
Underwire free
Stylish
One-handed cups
Soft sustainable material: bamboo rayon
Size range: XS – XXL
Washing instructions: Machine washable
Cons
Thin fabric may show leaks
10. Best Supportive Nursing Tank Top: Blanqi ($43 - $72)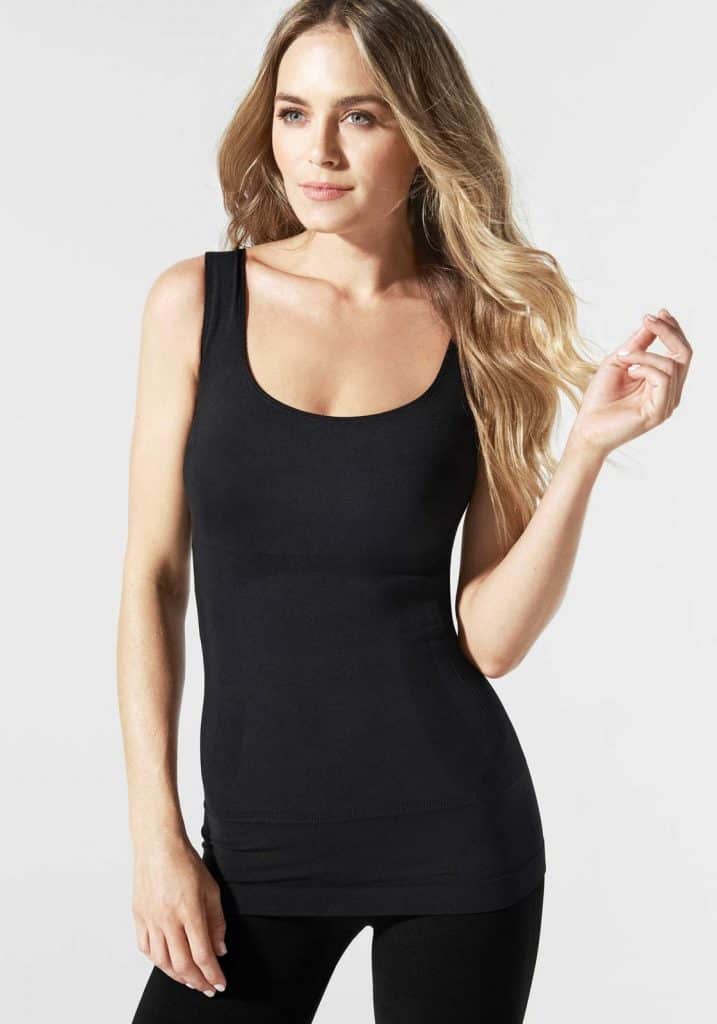 Pros
Smooth and seamless fit
X-shaped bands offer support
Easy pull-down access
Breathable
Moisture wicking
Fabric: 10% spandex and 90% nylon
Size range: XS – XXL
Cons
Unspecified washing instructions
11. Best Cotton Nursing Tank Top: Suiek ($35)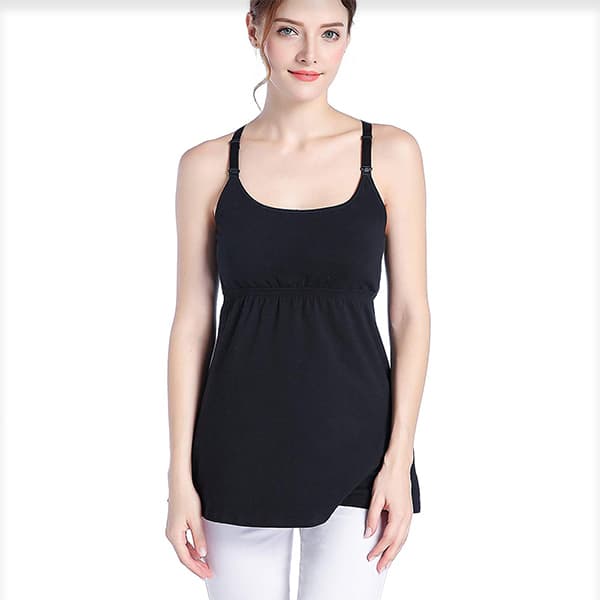 Pros
Available colours: 3 pack pastel or neutral colours
Double layered
Under-bust elastic band
Does not constrict
Easily unflappable
Racerback design
One-handed clip down
Loose waistline
Size range: S – XL
Fabric: 5% spandex and 95% cotton
Washing instructions: Machine wash
Cons
Not supportive of larger breasts
I bought 3 of these shirts about 5 years ago when I was nursing my 2nd oldest. I lived in these shirts, wore during the day and even slept in them. I loved them so much that after they got moth holes, I patched them up. I eventually bought a total of 10. Now that I've had another baby, I'm living in them again and bought even more. The clasp is the best, it never comes apart on its own. It never has broken, the clasp is easy to use- clips right away. Looks great on too – after having babies. It's the best. Will definitely be buying more
– Lulu
This postpartum I've been skipping the uncomfortable nursing bras and have been using these nursing tank tops instead. They are so easy to use and surprisingly supportive without sacrificing comfort. Perfect for everyday use and so cute to dress up with a wrap when you go out.
For more product reviews visit Amazon
12. Best Nursing Tank Top Shapewear: Undercover Mama ($10 to $19)
Pros
Stretchy bustline
Firm compression around the belly
Strapless tank
Attachable to your nursing or regular bra
Fabric: %5 spandex and 95% cotton
Size range: XS – S
 
Cons
Runs short on larger sizes
Difficult to pull it over the head
I'm 5'5", 36B, post baby around 155-160 pounds. I usually wear a Small or Medium size top depending on brand, more Mediums than Small though. The top is comfortably snug on my abdomen, as expected. I could see how someone with a bigger bust and/or body might find this too tight in those areas, but for me the fit is perfect. Since it's tight being a compression type top, it was not as easy to put on as a regular stretchy tank top. It was also a bit of a pull to take it off and tricky. The bust area is single layer, then there's horizontal stitching and a double layer abdomen area. The fabric lay as it did in the pictures. I couldn't get it completely stretched flat on my abdomen, which I didn't mind since I wore it with a loose top. It stayed up in the back without having straps. I wore it long and pulled over the top of my pants, not tucked in. I didn't find it to be extra hot to wear in the summer under a shirt than a regular tank top. Using the O-band to attach it to my nursing bra was easy and convenient. I found this style nursing tank top to be great for my needs and I like the extra compression on my post baby belly. Not quite as tight as Spanx, but enough compression to pull in the mommy muffin for me. Would recommend and order more. Cheaper price here on Amazon than other places I've looked online.
I love the regular undercover mama shirts and I'm glad I gave this one a try. I really like the slimming panel– and I find that the double cotton layer is more comfortable and breathable that other slimming tops I have– some of them make me too hot!
Based on other reviews, I ordered a size up. It's not hard to put on like other reviews said, so maybe that's better, but if I get another I will go with my usual size. That being said, it isn't too loose– it still works, and it's my go to item when I know I'll need to be nursing in public.
Overall, in my opinion it's worth it to spend a little more on the slimming panel shirt rather than the regular– as long as it's clean, I always pick this one first!
For more product reviews visit Amazon
13. Best Nursing Cami Tank Top: Bravado ($36 - $40)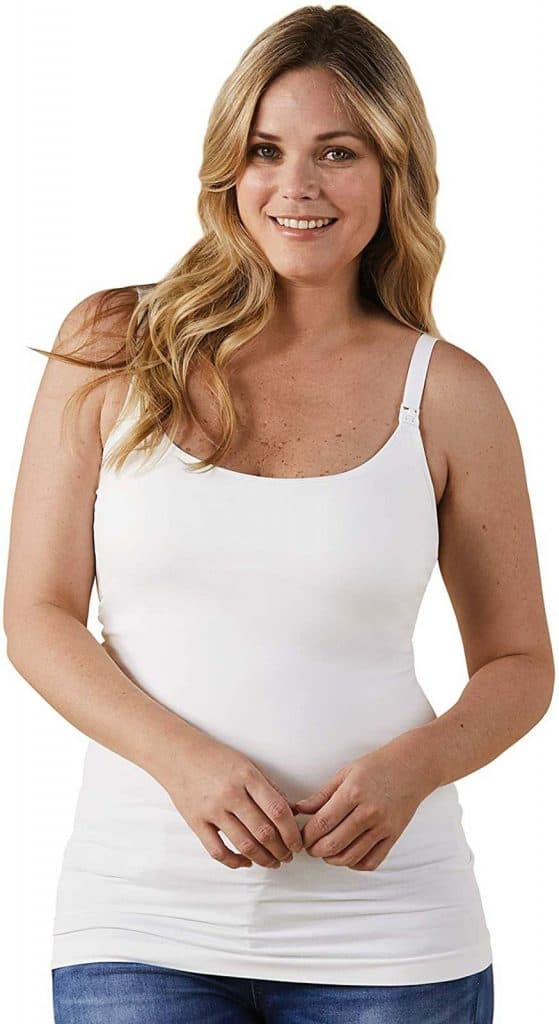 Pros
Long-lasting and durable
Long length
Removable foam inserts for discretion and shape
Supportive shelf bra with no back closure
Full drop-away cup
Wire-free
One-handed
Release clips
Available colours: Grey, black, blue, white
Fabric: 7% spandex and 93% nylon
Foam cup insert lining: 100% polyester
Size range: S – XXL
Washing instructions: unspecified
Cons
Clips cannot be operated one-handedly
I'm six weeks post partum and haven't even been wearing a shirt around the house because of convenience with a baby that is cluster feeding. I feel like a real person again with this cami! It's super soft and comfortable. I'm going to buy more and stop wearing maternity bras and just wear these through the summer.
– Rachel
Great fit. Love the wide straps, great support!! I've bought about 4 other brands of nursing camis (cheaper) and my boobs had absolutely no support and I disliked the way I felt/looked. In search of a support cami I stumbled upon these. I tried on and fell in love! I feel a bit more like myself and more confident. I ordered 5 more..its all I wear!!! For ref I'm about 38 D probably while breastfeeding, previous C cup.
– L Denice
For more product reviews visit Amazon
14. Best Budget-friendly Nursing Tank: H&M Mama ($25)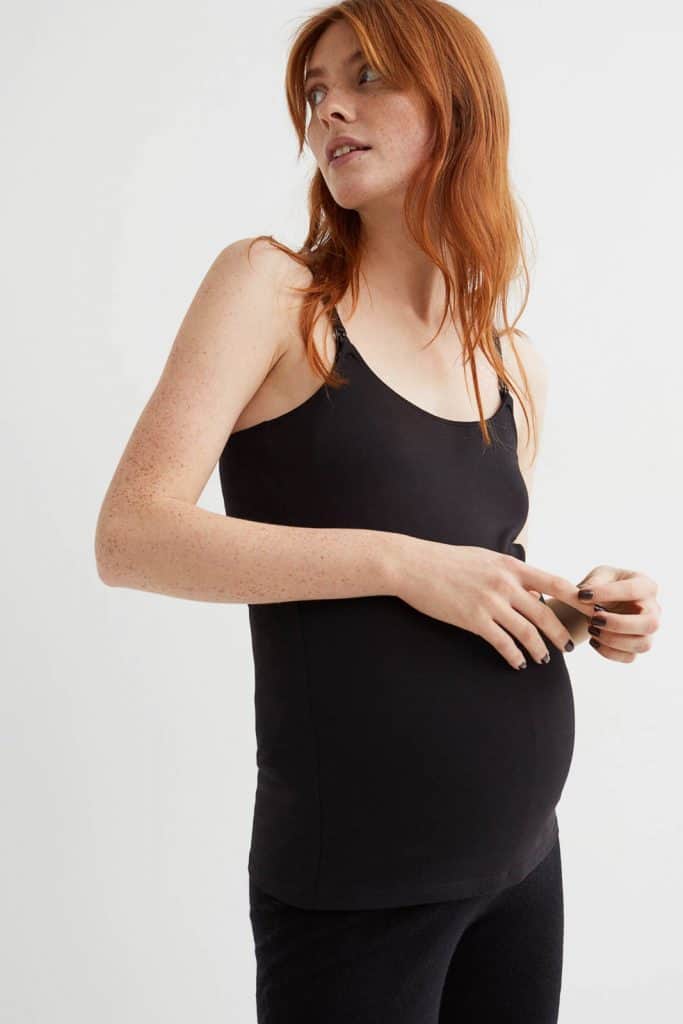 Pros
Soft organic jersey fabric: 5% spandex and 95% cotton
Affordable
Adjustable straps
Elasticized fasteners and lower edge
Easy to unclip
Available colours: grey, white, nude, and black
Size range: XS – XXL
Cons
How to Choose The Best Nursing Tank?
Choosing the best nursing tanks has all the basics of choosing a comfortable breathable garment. Still unsure? We have got you covered. Here are some factors you must consider when buying a nursing tank top:
1.     Comfort
Just like other undergarments and pieces of clothing, you must make sure that your nursing tank top is comfortable enough for you during your pregnancy and postpartum recovery. Your breasts are super sensitive during this time due to the changes in your body so you need to take extra care of them.
Go for fabric that is flattering, breathable, and stretchy. Find the ones that you can easily snap and unsnap with just one hand. If you find no snaps then make sure it doesn't sit tight on your breast (with all the work they are doing, they need to breathe). Studies on clothing during pregnancy are against the idea of constrictive, tight dresses.
2.     Purpose
Decide on the purpose of a nursing tank top. When do you plan on wearing them? If you are going to wear it as a layer then you might want to buy a form-fitting, long one to avoid being baggy. On the other hand, if you are going to wear it as it is, buy a tank that has a flattering style and will give you ample coverage.
Unsure of how to wear a nursing tank top? Check out their pros and cons to get to the perfect style. But always get machine washable and flat dry ones because that means a few minutes of rest for the tired mama.
3.     Type
Nursing tanks have a variety of styles and styles just like regular bras but no matter what type or style you go for, you will always seek the ones that give ample support to your body and sore breasts.
A full coverage silhouette can be fitted with nursing pads and some even have pockets for inserting pads.
Most nursing tank tops come with a clip-down style for convenience. Whether you are nursing in private or on-the-go, these tank tops can be worn without nursing bras.
Pull-down style nursing tank tops are just like traditional tanks but with elasticized necklines for easier access. They don't provide much support and may be paired with nursing bras.
Layered nursing tank tops often have placed cutouts strategically slit underneath a layer of fabric so that you have easy access while nursing. Like most pull-down styles, layered nursing tank tops lack adequate support and you might have to wear a nursing bra beneath.
4.     Pumping
If you are a mum who pumps quite often, choose a nursing tank top that allows you to feed your baby at the same time. A hands-free will be a lifesaver at this point. Always read the garment description before committing to one because nursing tanks are committed to pumping while others can be used for both nursing and pumping.
The Bottom Line: Best Nursing Tanks
Nursing tanks are another's best friend when it comes to comfortable and hassle-free nursing. Some of them come with built-in bras so you can go braless. While choosing, go for the ones that work best for your comfort (because you need that more than ever). The best thing about nursing tanks is that most of them have a shelf that provides adequate support. You need supportive garments during your pregnancy to alleviate health issues related to it. We hope our list of the best nursing tanks helped you choose yours. Happy nursing!
12 Best Nursing Tanks in 2022 FAQs
1. What to consider while buying a nursing tank top?
When you choose a tank top for your nursing days, you need to be clear on where and when you will be wearing them. If you want your nursing top to be a layering piece you may not care how it looks. However, if you are going to wear it as a stand-alone tank top, style might be an option on your list.
2. What are some features of a nursing tank top?
Nursing tank tops come in different styles so consider buying multiples because you will be doing a lot of laundries given the spit-ups and leaks. Here are some considerations for nursing tank tops:● Double layer design ● Clip down cups ● Pull down style ● Adjustable straps ● Built-in bra ● Washing instructions ● Nursing pad friendly
3. Are nursing tanks worth it?
A nursing tank top will cover your stomach and chest more than a loose top. If you prefer less skin exposure while breastfeeding or pumping, a nursing tank top is a perfect choice for you.
4. How should a nursing tank top fit?
If you are buying an outerwear nursing tank top with a loose fit, go for the normal cloth size. For example, if you are a US 2-4 you are an S size but if you are a US 6-8 you are an M size. If your size falls in between two sizes, go for the larger one.
5. What do you wear under a nursing tank?
Wrap dresses flatter most body shapes and work perfectly with nursing tanks underneath. Breastfeeding in a wrap dress is a cinch with the natural V-shape neckline and one-handed nursing clasps on the cami.