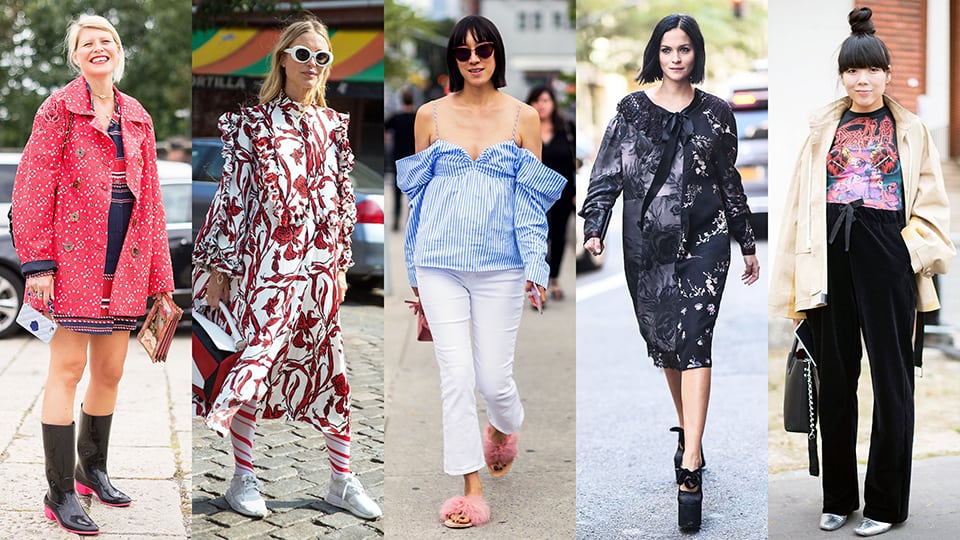 Pregnancy could perhaps get a little uncomfortable with the clothes moms otherwise have in their wardrobe. However, this doesn't mean you forget about dressing at all! Parenthood bliss makes sure to glam their pregnant moms up, showcasing their beautiful self; this time with their little ones.
However, purchasing maternity clothes to accommodate your growing bump could be exciting for some, and rather overwhelming for others. Whatever side you belong to, we've got you. Not only is the list below curated with maternity clothes available in every market, but they are also combined keeping in mind the comfort, style, as well as, to be budget-friendly.
Top 21 Best Maternity Wear Stores For Our Pregnant Moms To Check-Out:
1. Gap - Maternity Demi Panel Jeans - Best Maternity Clothes
No jeans when pregnant? Who said that!
Gap offers jeans that make an amazing pair for you to rock in for the whole trimester. These jeans come in three cuts; skinny, bootcut, and looser fit across the three different style panels. These range from an elastic set into the traditional waistband and lastly the full elastic panel. So get ready to pull them over your belly and walk in comfort.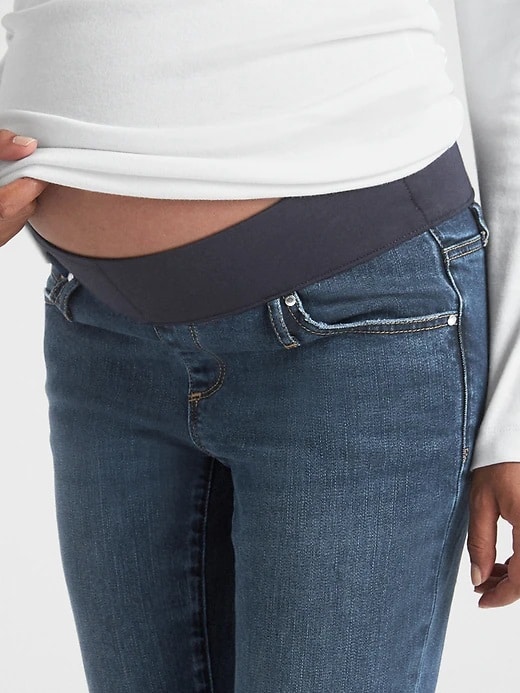 2. A Pea in the Pot - Under Belly Chino Maternity jogger pants - Best Maternity Clothes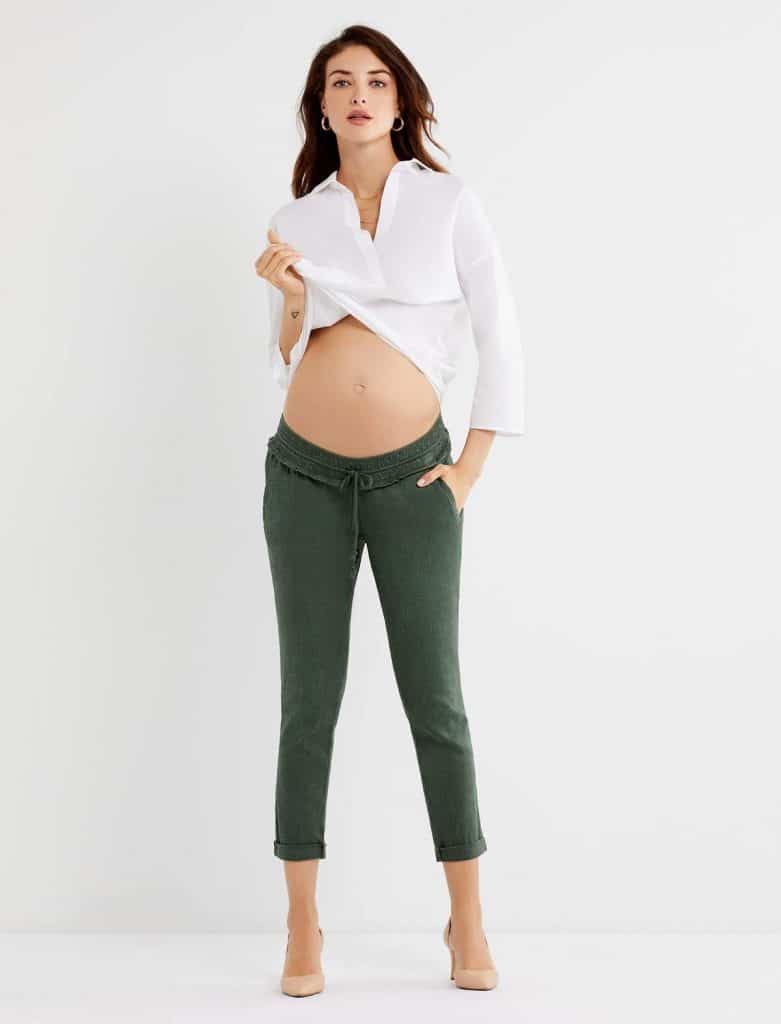 A Pea in the Pot is a renowned maternity brand for maternity clothes. They make a deliberate effort to make moms-to-be look amazing during their trimester. The clothes here have good quality construction and flattering looks that do not go out of style. Our pick is their; Under Belly Chino Maternity jogger pants that are extremely comfortable and stylish.
3. Kindred Bravely - French Terry Racerback Nursing and Sleep Bra - Best Maternity Clothes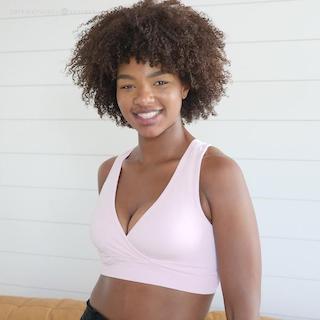 The Kindred Bravely store is known for its lingerie wear, so if you're looking for a place to get your nursing bra, this could be it. They provide bras with stylish designs that range across different sizes and will fit you for sure. They also allow you to maximize your cup space and also have super stretchy and supportive nursing tanks with built-in bras. Kindred also carries sleepwear, activewear, and underwear at an affordable price point.
4. ASOS Maternity - Club L London Maternity Slinky Dress - Best Maternity Clothes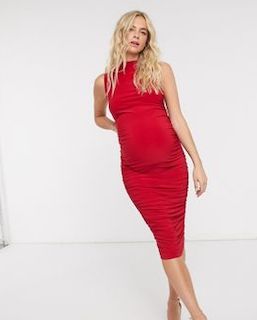 ASOS Maternity is a British retailer and is best known for maternity clothes that are extremely budget-friendly and fashionable. They are clothes of all kinds; party dresses, rompers, tees, sweatshirts, swimsuits, and pajamas. Not only that, but ASOS also have wide-fit shoes that are super great for you to spread your feet in comfort. Our favorite is the Club L London Maternity Slinky Dress, it has its style on point and is a comfort with glam.
5. Seraphine - Natasha Cashmere Blend Maternity Coat - Best Maternity Clothes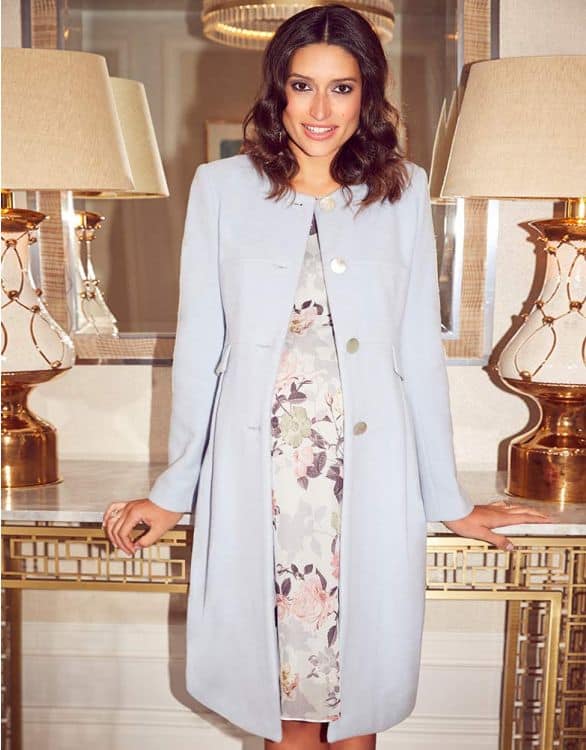 The Seraphine store is great with its collection of Cashmere coats and faux leather leggings. We particularly like their Natasha Cashmere Blend Maternity Coat, also worn by Princess Kate Middleton.
6. Target Maternity - Cotton Knit Leggings - Best Maternity Clothes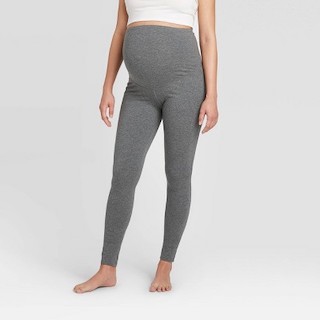 The very famous Target store is known for its comfy maternity basics like leggings, tees, unbuttoned jeans. They have a huge collection to pick from and are budget-friendly.
7. Hatch - The Mika Top - Best Maternity Clothes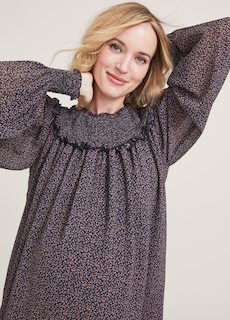 The Hatch store is known for their clothes that are highly sophisticated and comfortable at the same time. As far as the crowd is concerned, they have a huge fall out of hipsters and bohemians that fall their silhouettes in their modern line. The store has floaty and roomy clothes that are given special touches like oversized bows. However, the downside is that the prices are a bit towards the higher end. We like their Mika top that is quite roomy in the arms and the stomach region with frills along the neckline.
8. H&M Maternity - MAMA Puff-Sleeved Dress - Best Maternity Clothes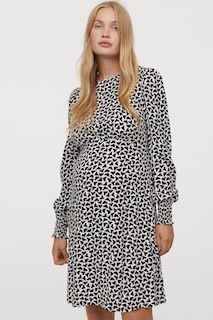 This retailer is known for its uber-trendy styles that come at reasonable prices. Their maternity collection includes colorful florals, great prints, off-the-shoulder dresses, and fun tees. However, our pick is their MAMA Puff-Sleeved Dress, which we find quite fashionable and comforting.
9. Girlfriend Collective Maternity - Seamless Maternity Bike Short - Best Maternity Clothes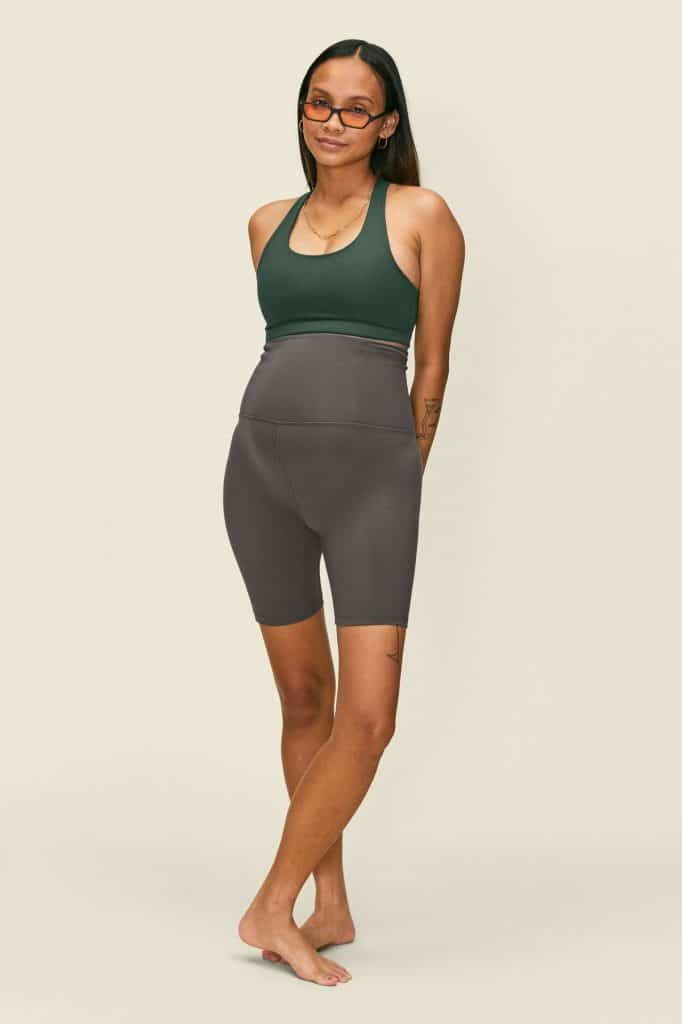 As you might have been told by your pediatricians, staying active is a crucial key to have a healthy pregnancy. The Girlfriend collection makes sure to keep the pregnant moms in style, comfortable, and cool during their workouts. Their collections are soft, lightweight. eco-friendly, sustainable activewear, all with 100% process materials.
10. PinkBlush Maternity - Mint Green Mixed Floral Maternity Plus Kimono - Best Maternity Clothes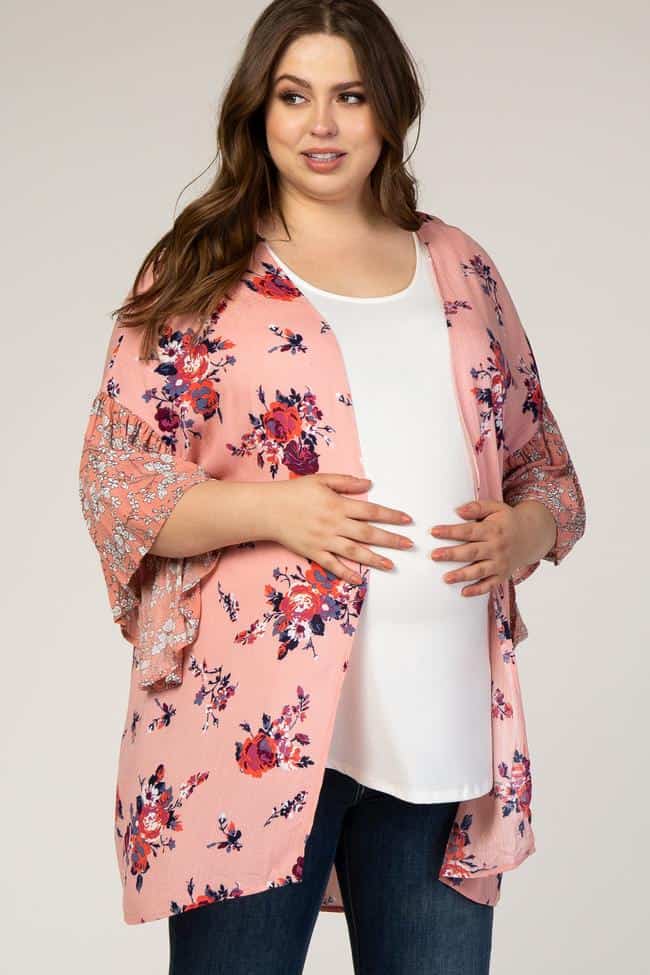 PinkBlush offers a huge variety of styles with their exceeding range of sizes, from XS-XL to Tall and Petite, and their 1X-3X options taking the 700+ plus-size maternity looks. Their collections are trendy, versatile, and comfortable. Our pick would be the open-front kimono, which has an adorable print and can be worn on any combination of clothes.
11. Motherhood Maternity - Best Maternity Clothes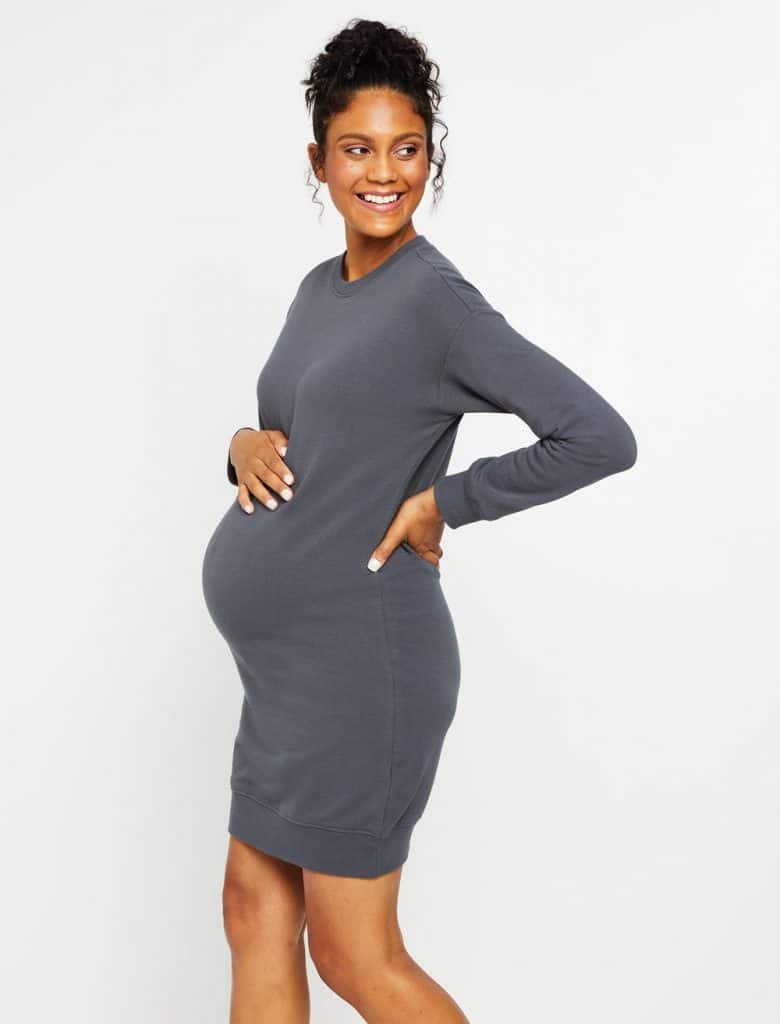 This is the best place to get pregnancy clothes with ease, be it for yourself or for a friend. This pregnancy clothes store keeps all moms in mind, ranging from petite to plus size, and the needed essentials. Designed for comfort, cozy, and best fit.
12. QueenBee Maternity - Best Maternity Clothes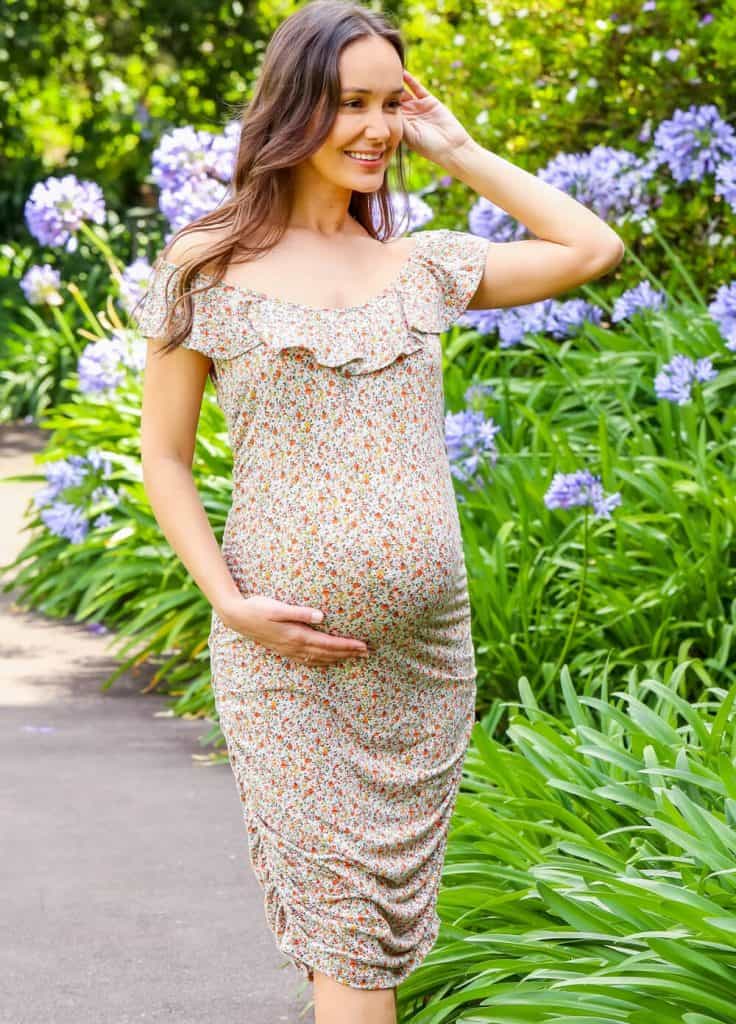 This store for pregnant women is best visited for all kinds, from maternity to nursing, making your shopping an inclusive one. QueenBee maternity offers cozy knitwear, support wear, shapewear, feeding clothes, and elegant dresses for all kinds of occasions. In addition to this, they also feature the best baby products with a discount or two and gift vouchers.
13. Le Tote - Best Maternity Clothes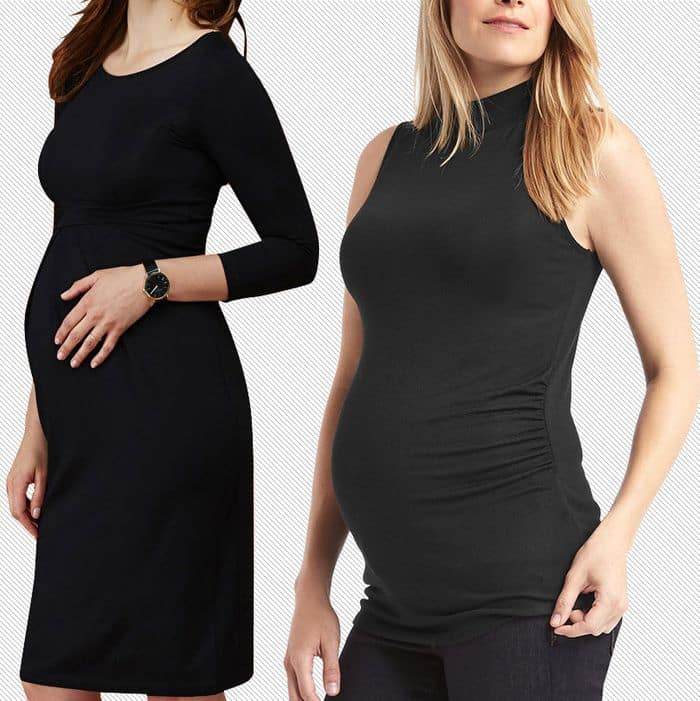 This maternity store is one that is updated with trends and features excellent fashion sense. Their section is nothing less than the definition of "awesome," allowing renting clothes and offering comfort and style.
14. Gapfit Maternity - Best Maternity Clothes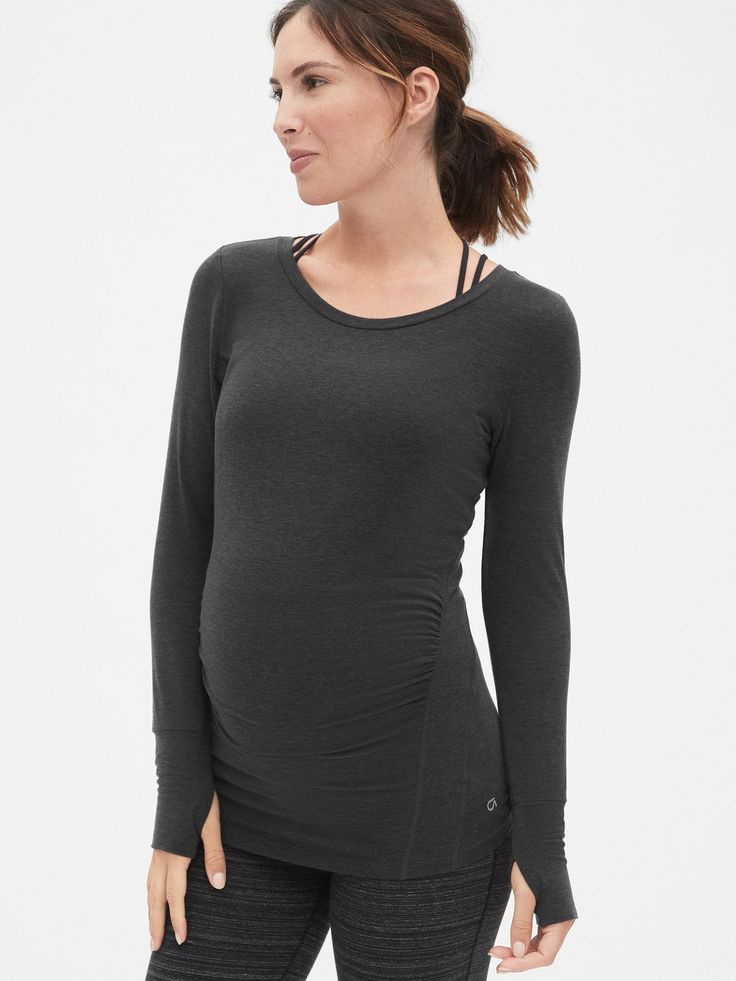 Gapfit is best known for offering the best quality clothes, with a good fit, an incredible selection, bump-friendly jammies, and workout maternity wear. The website offers an easy virtual look through all of the options and is up-to-date with style.
15. Sweet mommy Maternity - Best Maternity Clothes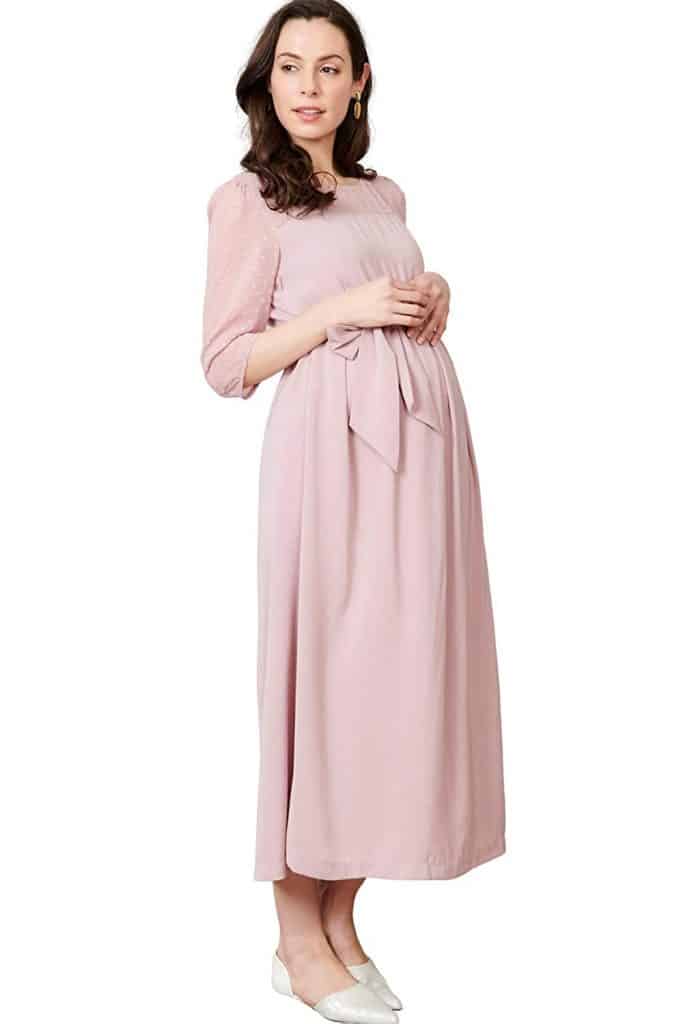 Sweet Mommy is a Japanese-based design brand that has sworn to celebrate women during special occasions. At this store, be ready to discover items that support curves, provide comfort, offer unique prints, use material made from high-quality textiles, and multi-functional design. Be it dresses, jackets, cardigans, coats, gowns, and bottoms, you name it and the store has it.
16. Isabella Oliver Maternity - Best Maternity Clothes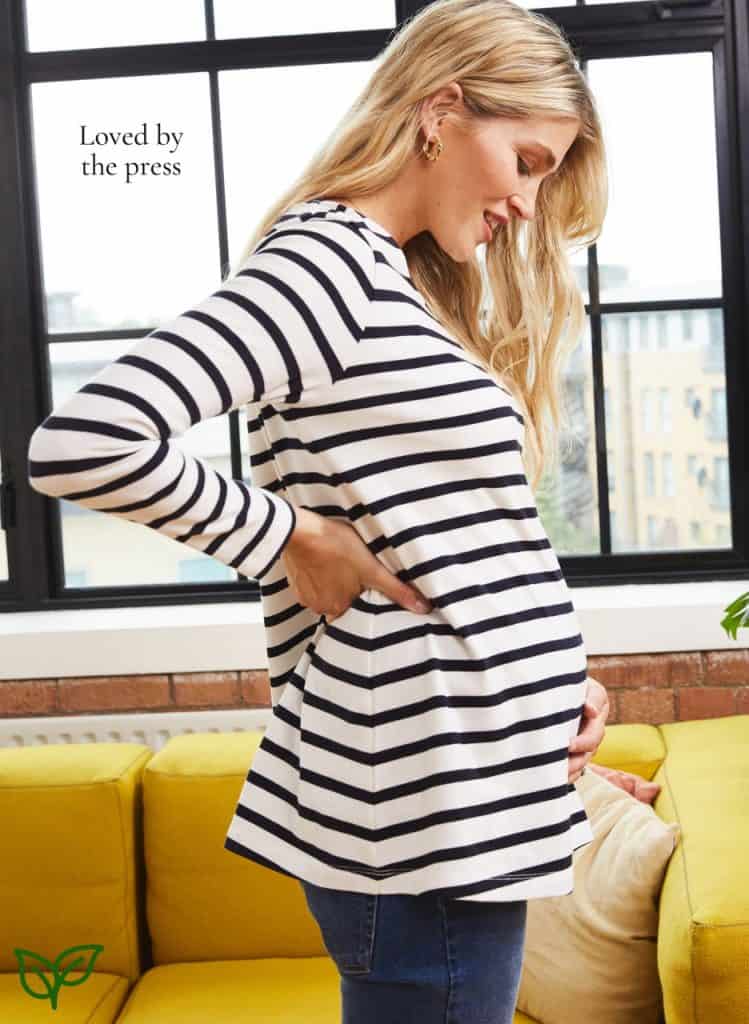 Looking for simple maternity and trendy clothes? If yes then this is your pick! Isabella Oliver Maternity clothes are super comfortable, provide eco-friendly products (natural and biodegradable fabrics), stylish tees, shirt dresses, workout clothes, etc.
17. Boohoo Maternity - Best Maternity Clothes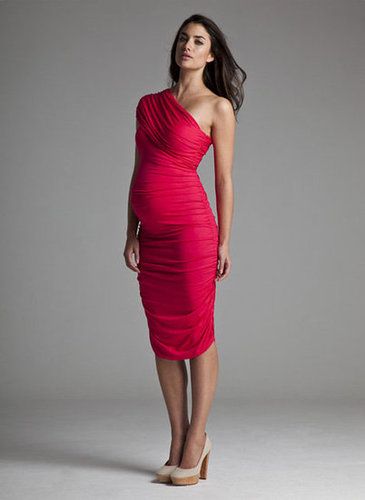 You read it right! Infuse your maternity style with your lived Boohoo fashion, that too with much more ease and comfort with Boohoo maternity. This store offers a professional yet comfortable look, offers a vast collection of maternity wear, dresses, overalls, jumpsuits, T-shirts, and leggings, you've got it all covered here.
18. Hot Milk - Best Maternity Clothes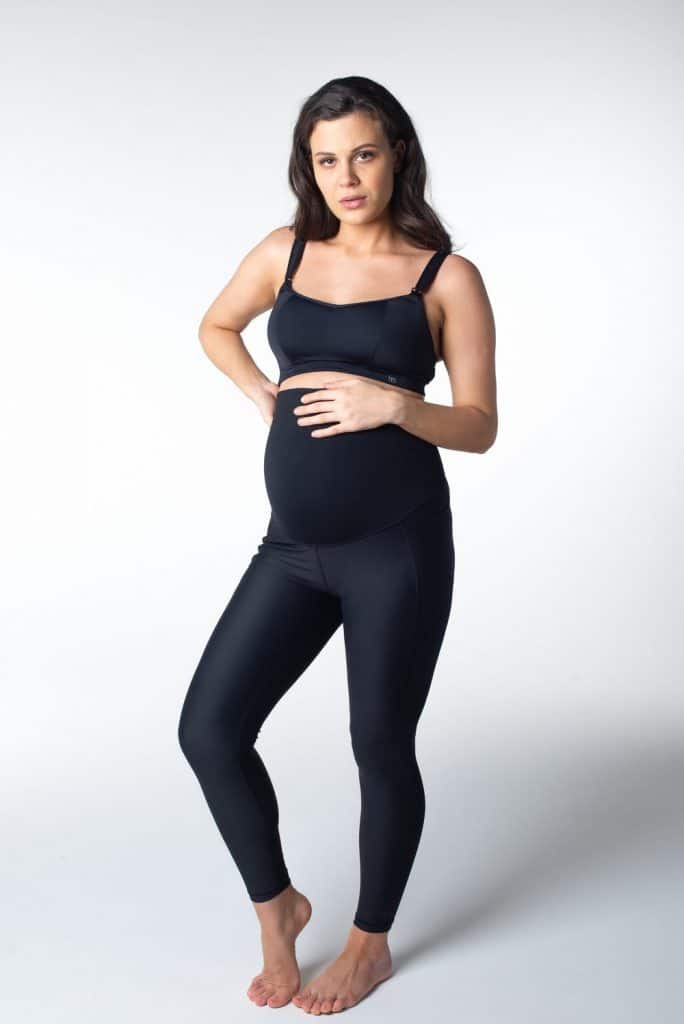 This is a lingerie collection store that has now revolutionized into a maternity and nursing market offering branded designs that are both, fashion-forward and comfortable. Hot Milk offers provocative lingerie options, are premium products at affordable prices, and stands out with zero apologies.
19. Boobdesign - Best Maternity Clothes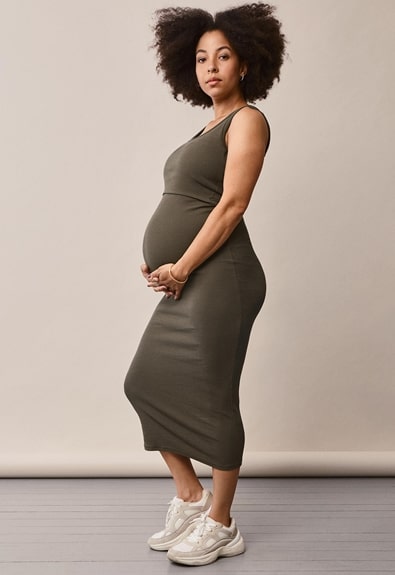 Boobdesign features fantastic designs for maternity times. The brand tries to ensure all mothers have a wonderful and fashionable wardrobe with accessories to match them. Most designs here incorporate smart nursing functionality that you cannot fail to fall in love with.
20. Envie De Fraise - Best Maternity Clothes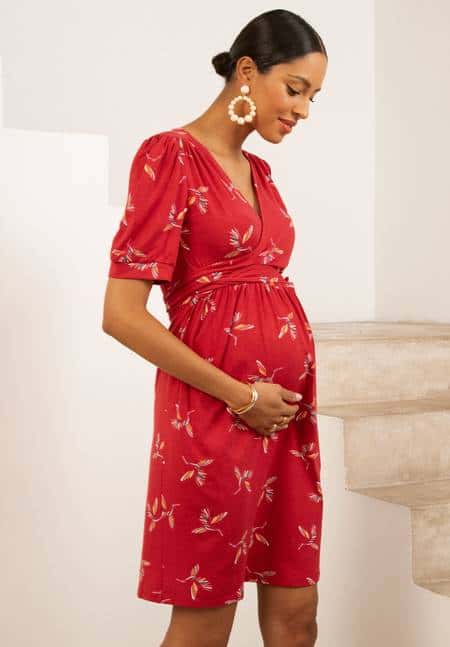 Envie De Fraise is a Paris-based superstore that includes everything you will need on all occasions. With seasonal collections, designs, high-quality materials, yet comfortable and trendy essentials.
21. Cake Maternity - Best Maternity Clothes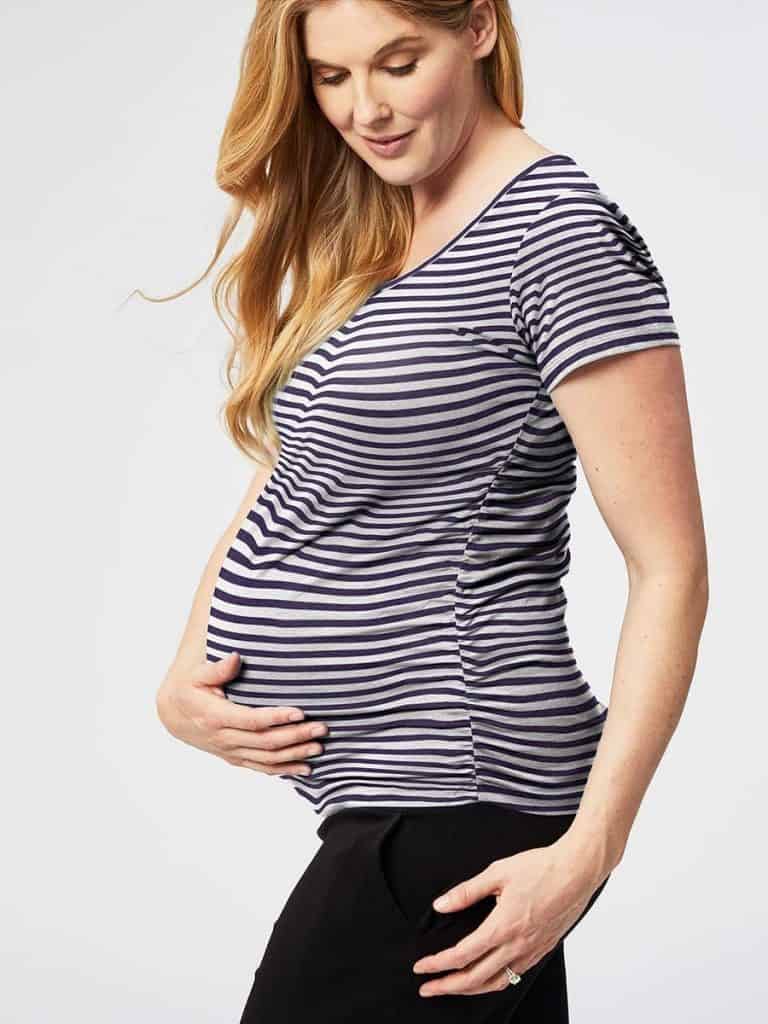 This is a globally recognized maternity lingerie store that offers maternity swimwear and organic nursing pads. Want a well-fitting, luxurious, and comfortable lingerie? Then this is your place to be. Classic, sleek, and contemporary maternity bras, transition bras, sexy nursing bras, and breathable T-shirt bras, you've got it all!
Maternity clothes are of great comfort for pregnant women considering their position and the major changes they are a part of. Therefore, it couldn't harm to have clothes that provide a sense of warmth, cozy, and comfort. The stores listed above not only focus on comfort as a priority, but they also understand the need to have outfits that make them feel confident and glammed up at the same time too. So, get ready to shop for your comfort in these stores with their wide collection for your whole trimester!
FAQs : 21 Best Maternity Clothes Stores For Pregnant Moms
1. What is considered are easy and comfortable clothes for a pregnant woman?
You must avoid unnatural fabrics like synthetics, elastin, chiffon georgette, etc
Maxi dresses
Loose shirts
Gowns
Tunics
Wraparounds
2. Are maternity jeans designed to grow with you in your trimester?
Yes, of course! Maternity jeans are named 'maternity' as they are carefully designed to grow with you in your beautiful trimester journey. Also, you may not shy away from the look and fit of the jeans as they look the same with panels and waistbands to accommodate the baby bump.
3. Is wearing legging advisable when pregnant?
Yes, only if the leggings are made from ultra-stretchy fabric, they are fit up till the due date of your pregnancy. Once snubbed at the waist, simply put a band beneath the belly with a roomy sweater and you're good to go!