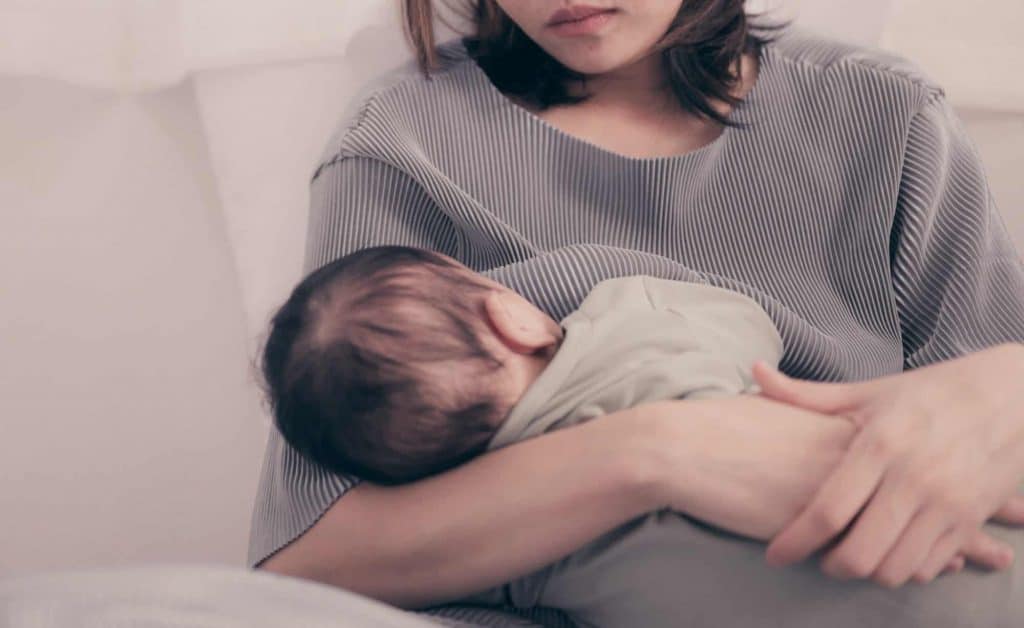 Parenthoodbliss selects the best products based on real-life testing conducted by our staff, members of our user community, the contributors, as well as through research and feedback by experts; here's more about our product review process. The details and prices are accurate as per the publishing date and we may earn commissions through the shopping links on this blog.
Best Nursing Pads
Do you often face wet stains on your nursing t-shirts and bras? If yes, then we have a list of the best nursing pads or breast pads for the rescue of your clothing!
We, at Parenthood Bliss, understand that the breastfeeding sessions can be pretty messy while these are beautiful moments for you and the baby. It may range from milk leakage, that's when your breasts release milk when you are not nursing to exploiting stains that end up being embarrassing and uncalled for while out in a public setting. This is why most moms use breast pads that are inserted in the nursing bra which help soak up extra liquid and keep the nipples dry and the clothing free from milk stains.
Nursing pads come in two versions: reusable nursing pads and disposable nursing pads. The disposable nursing pads are quite convenient and consist of a plastic back that does not let the breast milk soak through your clothes. While the best reusable nursing pads are comparatively softer, cost-saving, and environment-friendly. However, choosing between the two is up to your convenience and luxury.
Check out our 9 best nursing pads and choose yours!
The Best Nursing Pads in 2022: Which is Your Pick?
We have curated a list of the best nursing pads in trend these days for you to choose from. They vary in shape, absorbency, type, and fit. Read on to know more!
1. Medela Disposable Breast Pad ($10.99)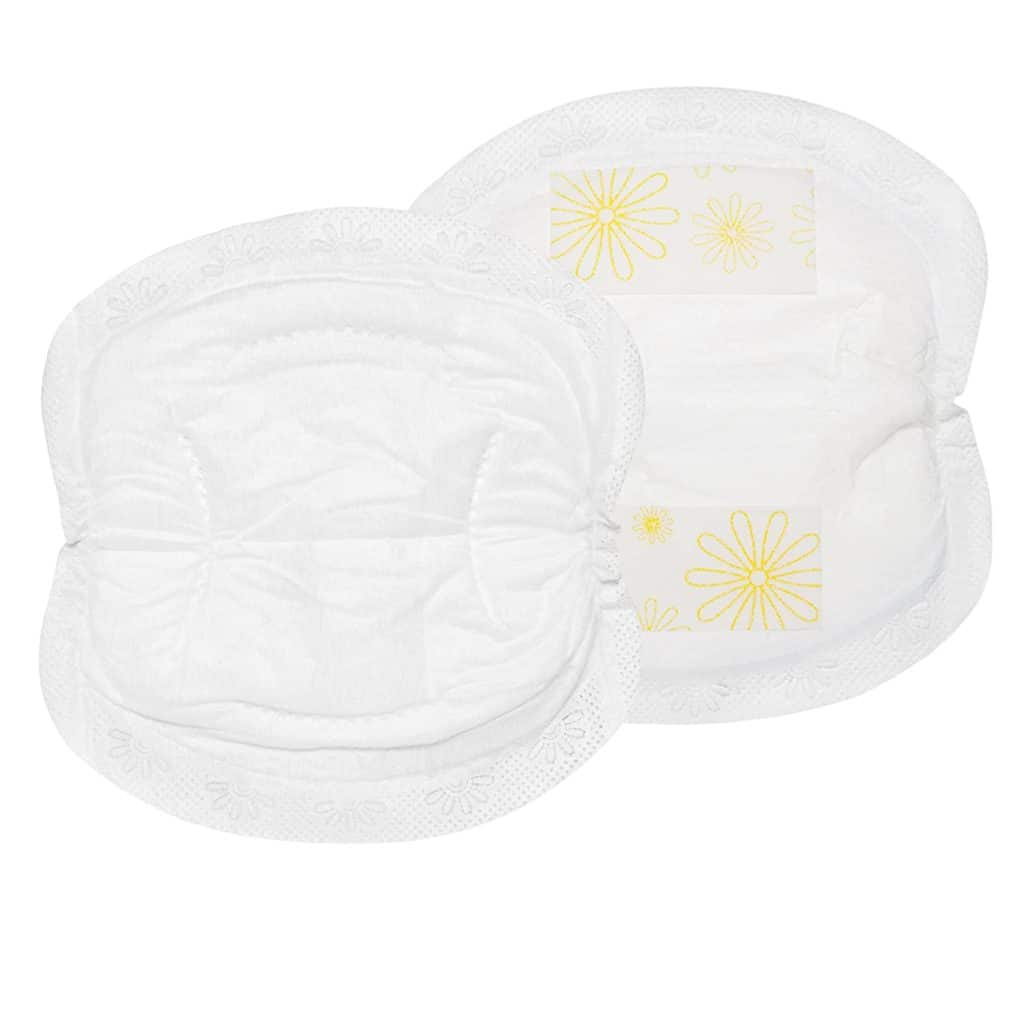 These best disposable nursing pads are individually wrapped and are an ideal fit for slipping inside your bra and helping the breast stay dry. They are also convenient to hold within the purse and therefore the cup shape provides an honest fit even for larger breasts. The disposable nature of Medela's nursing pads is preferred by a lot of moms as these also feature adhesive strips at the back that are sticky to put on the bra to stay in place.
Material: Nylon and cotton
Usage: Single use
Cons: not eco-friendly
Amazon Reviews:
Purchase them for my granddaughter she is Due to have the baby in 15 days – Joan Simmons
Amazon Reviews:
My breast milk flow was extremely heavy and this is a lifesaver – Shakeria For more product reviews visit Amazon.

BUY NOW

2. Lansinoh Stay Dry Disposable Nursing Pads ($18.43)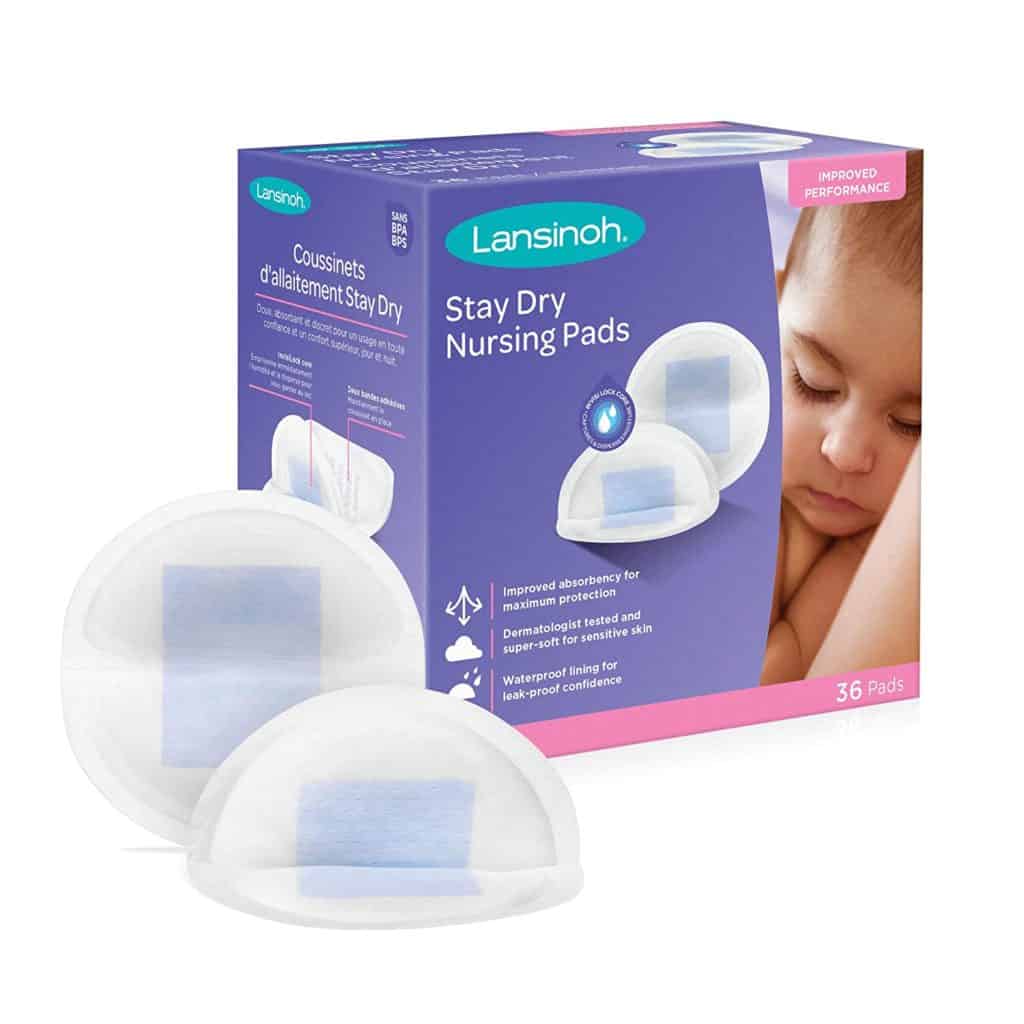 These Stay Dry best disposable nursing pads are ultra-soft and you ought to buy a box of those Lansinoh pads. This pad has a honeycomb lining that keeps the moisture away, keeping your sensitive nipples dry even though they are soaked up in breast milk. It is thinner too, compared to any other disposable nursing pad with a sticky back and cup-shaped feature that helps it stay in place and prevent leaks.
Material: Cotton
Use: Multi-use
Cons: unsuable after 72 hours of use
Amazon Reviews:
These are my go too for when I breastfeed also I rather order fork Amazon since there a bit cheaper then in store ! Super observant soft stick well. – selena
Amazon Reviews:
I've tried Medela, Parent's Choice, and Up+Up. Lansinoh takes the cake. They are soft and absorbent and do not irritate my skin or leak out the sides. So far the most comfortable and best I have found! – Torie For more product reviews visit Amazon.
3. Nuk Ultra Thin Nursing Pads ($6.99)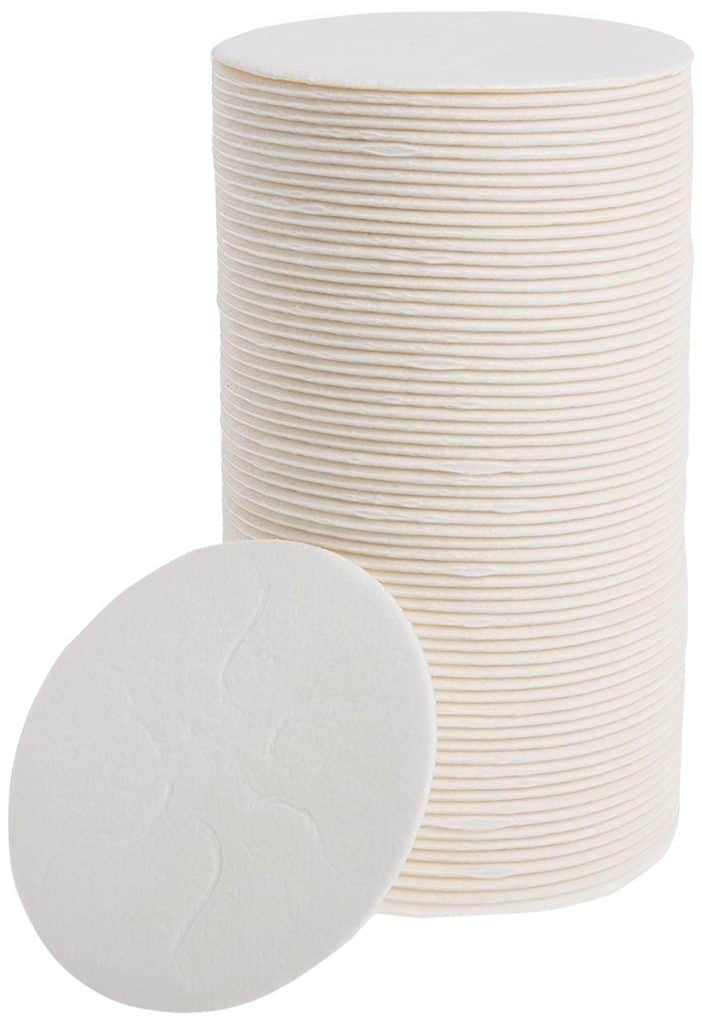 This Nuk super soft thin nursing pad can be a great fit for thinner tops and bras. While it keeps you dry, the pads come across as almost invisible under the clothes but do not have any adhesive to keep them stay put.
Material: Breathable fabric (what kind has not been mentioned)
Use: Single use
Cons: Cannot absorb heavy leakage
Product Reviews:
I liked that these had no individual wrapping but they looked crinkly under a shirt. Like if u tried to stick a greeting card in ur bra. Lol. – new mom
Product Reviews:
All other brands I have tried are either itchy or poke me uncomfortably. These are thin, so they don't show through clothes, and they are comfortable. I do not use the sticky part to attach to the inside of the bra. Rather, I just place them where I find them most comfortable and leave them there until they need changed. They do not usually shift around much, even at night. – Marc For more product reviews visit Amazon.
4. Eco Nursing Pad ($14.90)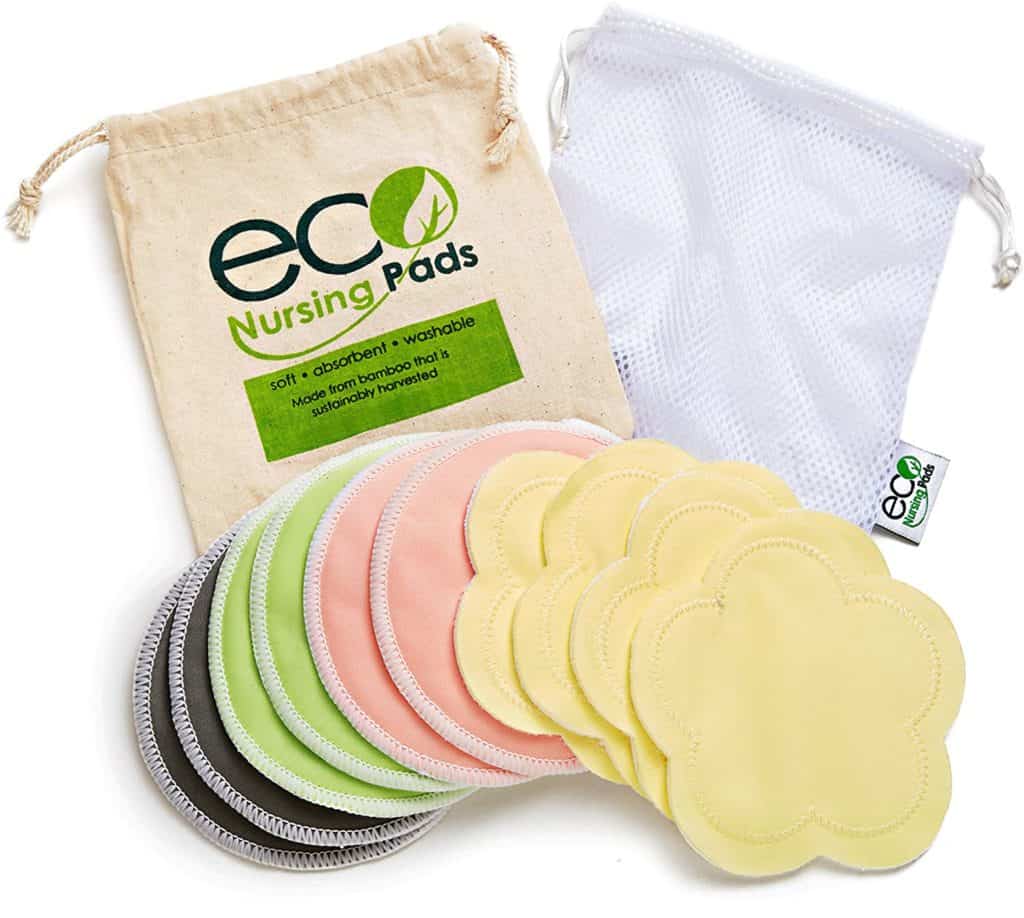 The Eco nursing pads are extremely absorbent, hence it doesn't matter what proportion of leakage you experience. But, do ensure that you handle the soft and thin pads on light to moderate flow in your washing machine. The absorbent material of the pad, that is, the thicker breathable bamboo absorbs enough liquid from the breasted women. All of the pads have a leak-proof backing that does not let anything soak through.
Note – these organic bamboo-made pads are mechanically cleanable and dryer-safe too.
Material: Bamboo
Use: Multi-use
Cons: Non-adhesive
Amazon Reviews:
Works reasonably well…..u get ur moneys worth…happy with the product!!! – Shadine brooks
Amazon Reviews:
I have been using them for about a month. They are soft and I have not had any leaks. I work 12 hours shifts that I dont always get a ton of opportunities to pump so they have been thoroughly put to the test lol. I like to think im helping the environment at least a little by using these as opposed to disposable nipple pads. – jasmine For more product reviews visit Amazon.
5. Bamboobies Washable Nursing Pads Multi-Pack (2 Pair) ($24.99)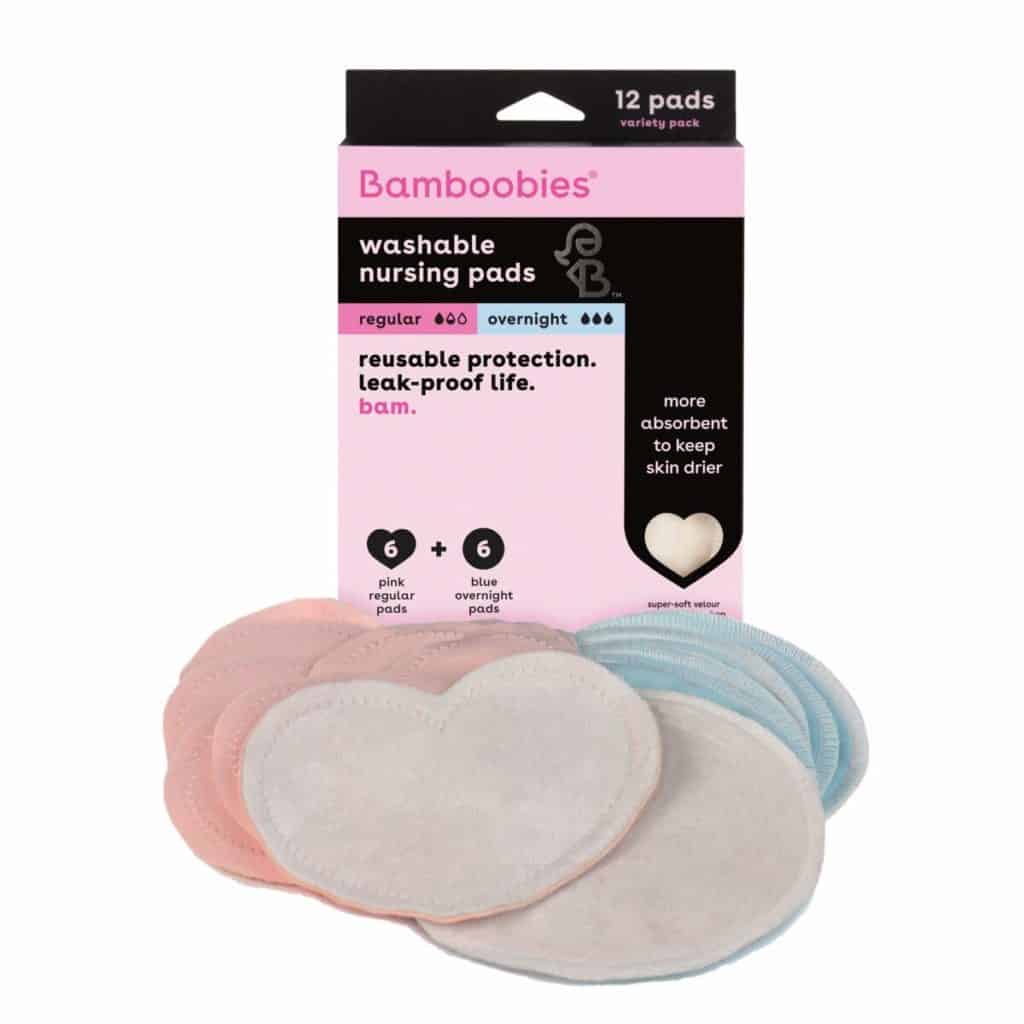 This reusable breast pad can be a good fit for sore and tender nipples with the Bamboobies that feel like velvet on sensitive skin and it gets softer with each wash. The nursing pads feature to handle quite a lot of leakages, are machine washable, dryer-safe, and even include one set of ultra-thin daily usage pads with another set of super-absorbent overnight pads.
Material: Cotton, polyster, and bamboo viscose
Use: Multi-use
Cons: Cannot be used with nipple creams
Amazon Reviews:
So soft and absorb so much without leaking. 100% recommend. – Rebecca
Amazon Reviews:
I've used these with 3 out of 5 of my daughters. I used other brands with daughters #1&2 but swapped once I discovered these with daughter #3. They're soft, comfortable, absorbent, and easy to wash. – Jane Twain For more product reviews visit Amazon.
6. BabyBliss Organic Bamboo Nursing Pads ($13.97)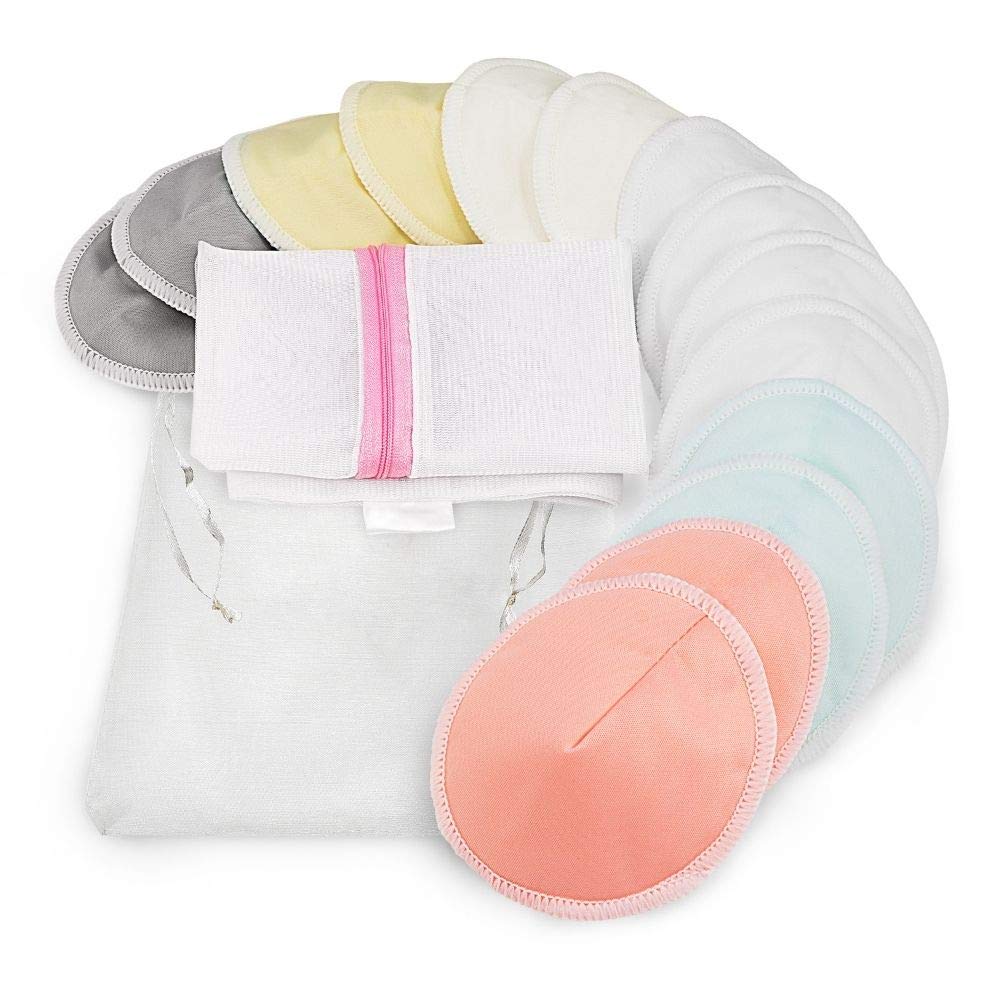 These eco-friendly bamboo nursing pads have a contoured shaping that cups the breast, unlike the reusable ones which prevent any bunching up. These feature hypoallergenic bamboo cotton, available in three sizes, from A, B, D, and E cups. BabyBliss includes a set of 14 nursing pads, is air-dry and dryer safe, and is even machine washable.
Material: Microfiber, polyester, and bamboo cotton
Use: Multi-use
Cons: Not recommended for small breasts
Amazon Reviews:
I got these to wear during the day for when I start leaking for whatever reason so for that use they're great. They are slightly rough at first, which was fine for me but I could see the issue, and they soften up after washing and very low short dryer. I got a different kind for night time. – Amazon Customer
Amazon Reviews:
I really like these nursing pads. They hold a lot of leakage – I only change them once a day and I probably could go longer but don't want to risk thrush. They are comfortable – I don't even realize I have them on until it's time to feed and I have to take them off. They do stick to your nipples sometimes, especially if you have just put on nipple butter and then put the pads on right after. But even when you take them off and your nipples are sticking to them a little it doesn't hurt at all. I like the little washing bag they come in, but I don't actually use it for washing. I've found that if you wash dry them in the bag, they don't dry very easily. I've had to dry them twice for 60 minutes in order for them to fully dry if they're in the bag, but if I just toss them in freely with the rest of my clothes they're dry after one dry. – Rebecca For more product reviews visit Amazon.
7. Kindred Bravely Washable Organic Nursing Pads ($14.99)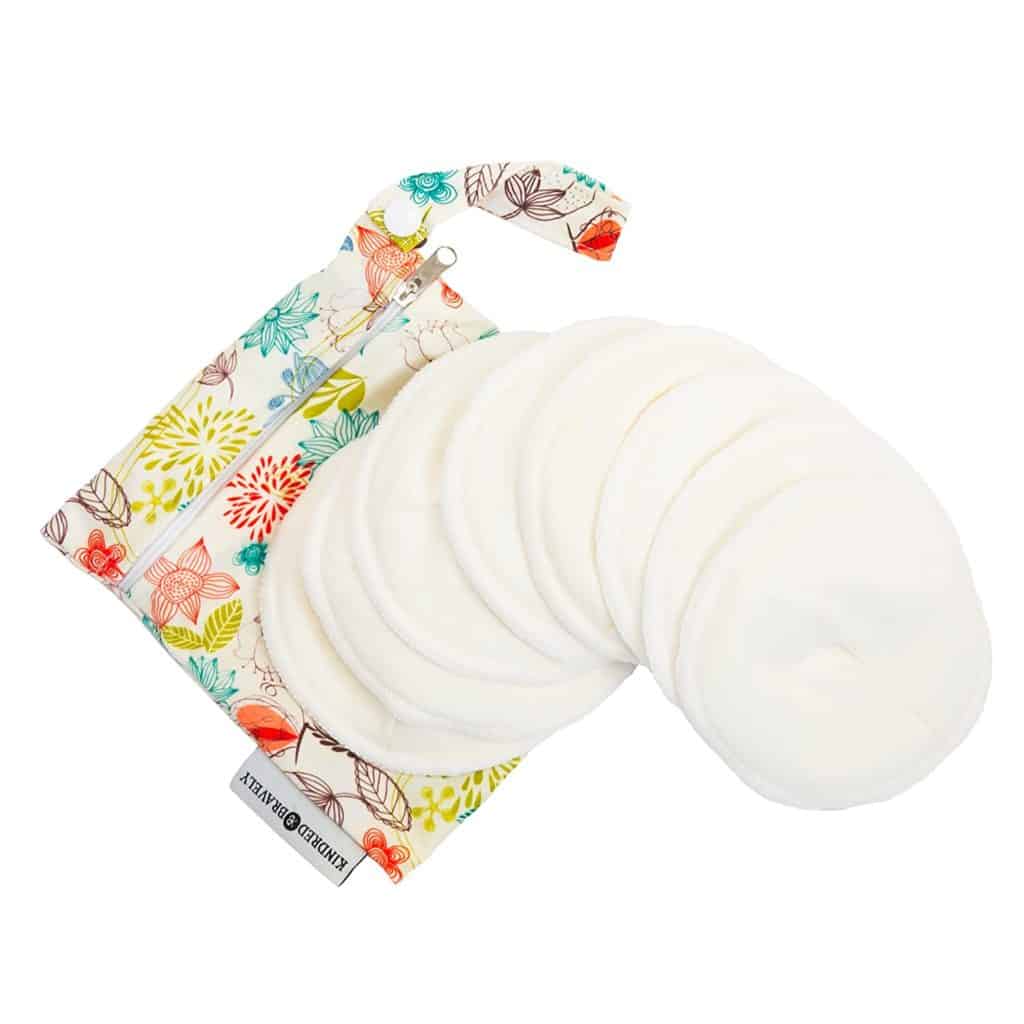 No matter where you are going, you can be prepared for feedings with the Kindred Bravely collection of reusable organic nursing pads. It comes in three different layers, and you will experience the utmost comfort and protection. Its waterproof PUL layer keeps the bra dry and also prevents leaks, while the ultra-absorbent microfiber layer keeps moisture away. Therefore the soft organic bamboo layered pad stays directly on the skin for plush comfort.
Material: Bamboo (Polyurethane Laminate)
Use: Multi-use
Cons: may not be that absorbent for heavy leakages
Product Review:
For the most part I like these – they are much easier to use than disposables and have as much absorbancy. They are just a little scratchy after washing, and they stick to your nipple if you don't use lanolin or nipple butter. It's not too bad, and overall I'm happy with these. – Marrria For more product reviews visit Amazon.
8. NatureBond Organic Bamboo Nursing Pads ($12.55)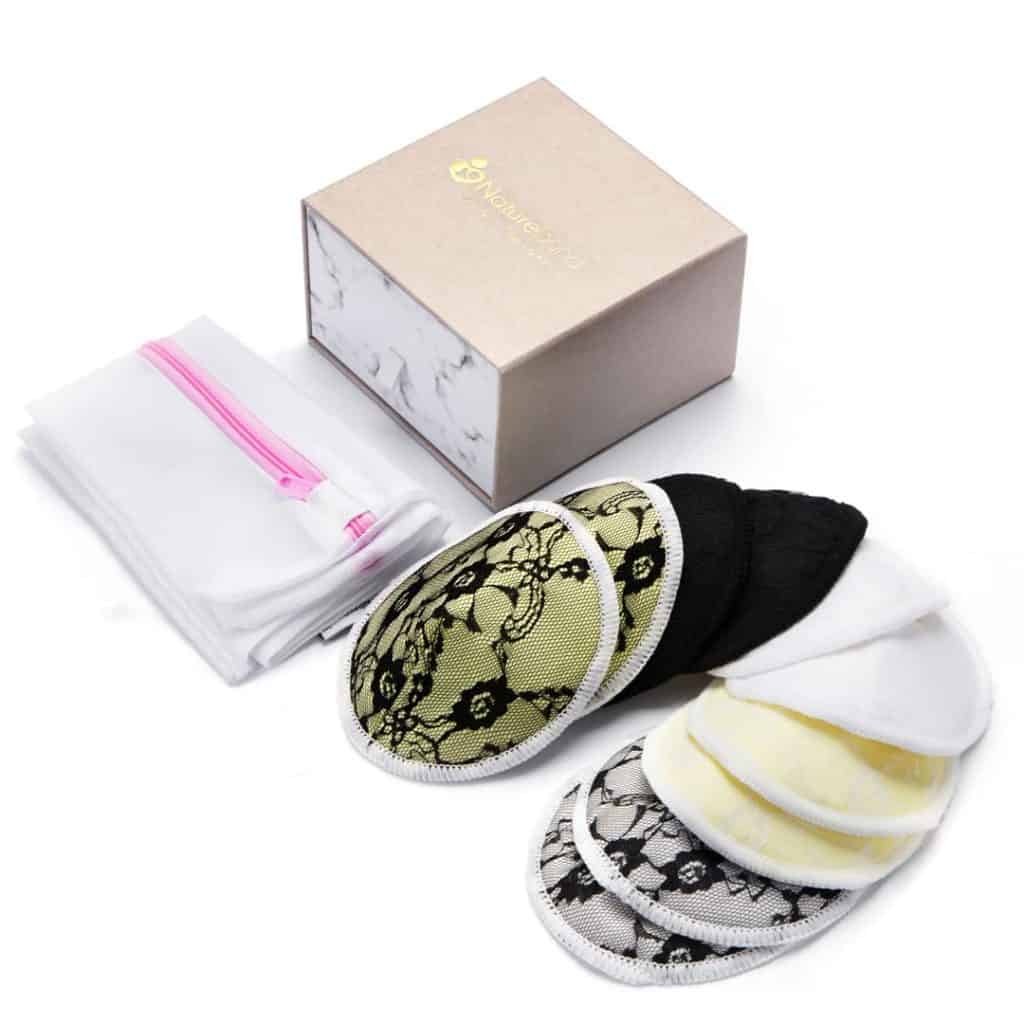 The bamboo nursing pads from NaturBond are every mum's top choice because of their comfort level, absorbency, machine washability, and contoured shape. It is made with contoured microfiber and soft cotton bamboo that makes you feel cozy while absorbing any leakage. They also have a beautiful lace design in several colors. What's the best thing? They include hardcover gift box for you making it an ideal personal keepsake or the perfect baby shower gift.
Material: Microfiber and bamboo cotton
Use: Multi-use
Cons: Pads may show through certain fabrics
Amazon Review:
These are beautiful and I couldn't wait to try them. They don't show through my clothes and I love the contoured shape—they stay in place!
– Infinity
Amazon Review:
I bought this product in the hopes that I wouldn't have to buy and toss any more disposable nursing pads. I have had the set for about 2.5 months now, and I rotate through the pairs of pads every day. I store them in the nice box they came in between uses.
– Eggbagel
For more product reviews visit Amazon.
9. Mother-Ease Cloth Nursing pads ($27.95)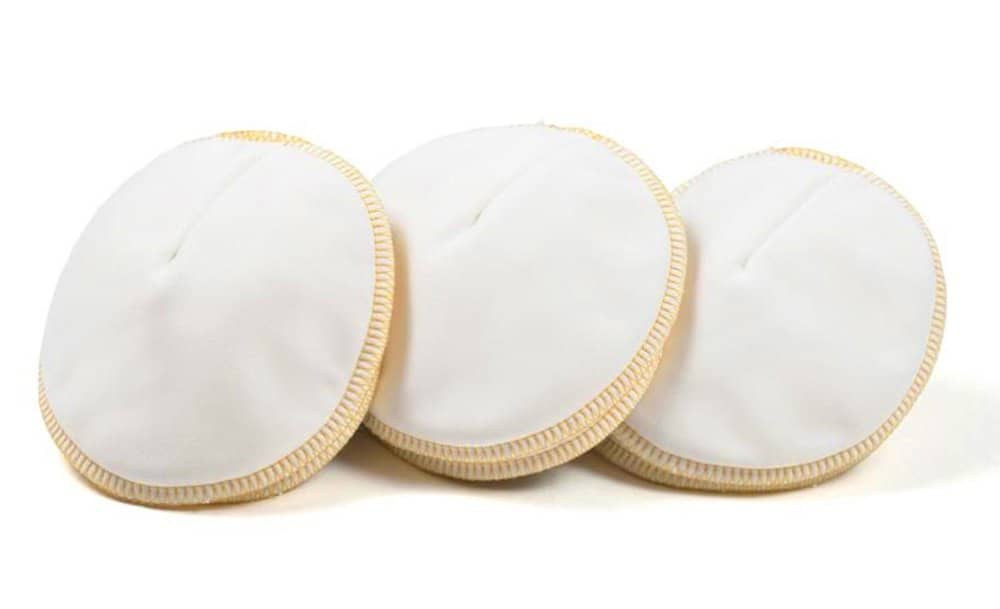 Cloth nursing pads from Mother-Ease fit large breasts comfortably without digging into the skin. It's made of ultra-soft fabric which means no sticking, itching, or dampness. You do not have to change them frequently even if you have heavy leakage. With their contoured shapes, these pads fit seamlessly on the user's body so no more sliding or bunching. You can wash and reuse it multiple times and it will keep you dry by wicking away moisture accumulation.
Material: Bamboo or cotton
Use: Multi-use
Cons: Costly
Amazon Reviews:
I've been experimenting with nursing pads for months now. I've purchased a huge range of pads and none have been just right — too small, too bulky, too thin, oddly shaped, etc. So, I was resigned to the fact that there wasn't one brand that would do the job, and I made due. And, I would often wake up un the morning soaking wet, or at the grocery store with a wet shirt, because the bulkiest pad still couldn't manage. The most absorbant pad was the Bamboobie, presumably because it had bamboo fibres, but because of its awkward shape (and resulting small surface) I didn't wear them too often.
– mjsmjs
For more product reviews visit Amazon.
Disposable vs Washable Nursing Pads
Each of the nursing pads is reusable and washable. The multipack consists of 4 or 8 pairs of pads in total. All of them are put in a waterproof carry bag, which has a cute design. It even fits easily in a purse or a diaper bag. You'll be ready to change pads without worrying about a mess.
Here are some things you would want to consider while you are choosing disposable or washable pads:
Disposable Nursing Pads
Disposable pads generally have a plastic lining outside, which is the part that will touch the bra. The plastic lining will help in preventing leaks, even in case the pad is full of milk.
If you are concerned about your environmental footprint, you may choose washable and reusable pads.
You can go through as many as three or four 60-count boxes a month.
This can be a more expensive route to take because you can't reuse disposable pads.
Washable Nursing Pads
These are more eco-friendly but do not seem to prevent as many leaks as disposable ones. You might have to change them frequently to keep your breasts dry.
If you are going to buy washable pads, you must get several pairs to avoid daily laundry.
You will be paying more for washables in the beginning, but with time they will be a cheaper option as you will not have to buy more after your first investment.
Best Nursing Pads: Final Thoughts
Purchasing a nursing pad is essential for a breastfeeding mother and it helps her get rid of the milk stains that she may otherwise have on the clothes. Perhaps, these are available in a range of options to choose from which may make the mothers a bit confused. For this, we have selected our top 7 best picks that you may consider while you are buying a nursing pad. Also, for those who have super sensitive nipples, try applying a nipple cream instead to prevent discomfort.
Happy breastfeeding!
Best Nursing Pads FAQs:
1) What makes a breast pad good and what to keep in mind while buying a pad for breastfeeding sessions ?
While you are buying breast pads for your breastfeeding sessions, it is very important to pick the ones
Made with soft materials (preferably cotton) that do not create rashes or irritants to the skin
That is pretty absorbent
That allows your breasts to breathe (avoid waterproof ones or pads with plastic liner because they can trap moisture against the skin and cause infection)
Also remember, to change the nursing pads as soon as they get wet as an excessive amount of wetness could end in soreness of the nipples.
2. Are the nursing pads really necessary?
No, they are not of utmost necessity, and a nursing mother can do without them as well. However, the initial days do go by at ease as the flow of the breast milk starts to increase, and the clothes begin to get wet. This is why to prevent all of this, most mothers choose to purchase the nursing pads that are the best in absorption and keep the clothes away from staining.
3. What are the benefits of disposable breast pads?
The disposable nursing pads are made using special materials that help the mothers stay dry and also have a super-soft lining. This makes them comfortable to wear with two adhesive tapes attached that keep them securely in place. Adding on, they're of contoured shape with a natural, discreet, and reliable fit.
4. How do you choose nursing pads?
The nursing pads that you buy must be made from high-quality cotton and must be soft and absorbent. They must help the breasts to breathe, so you should avoid pads that have waterproof or plastic liners as these can sometimes trap moisture against your skin.
5. Are reusable nursing pads good for new moms?
Reusable nursing pads are more cost-effective as you can wear them, wash them, and wear them again. They are also environmentally friendly since you are not throwing multiple pads each day.
Sources:
Reviewed By-