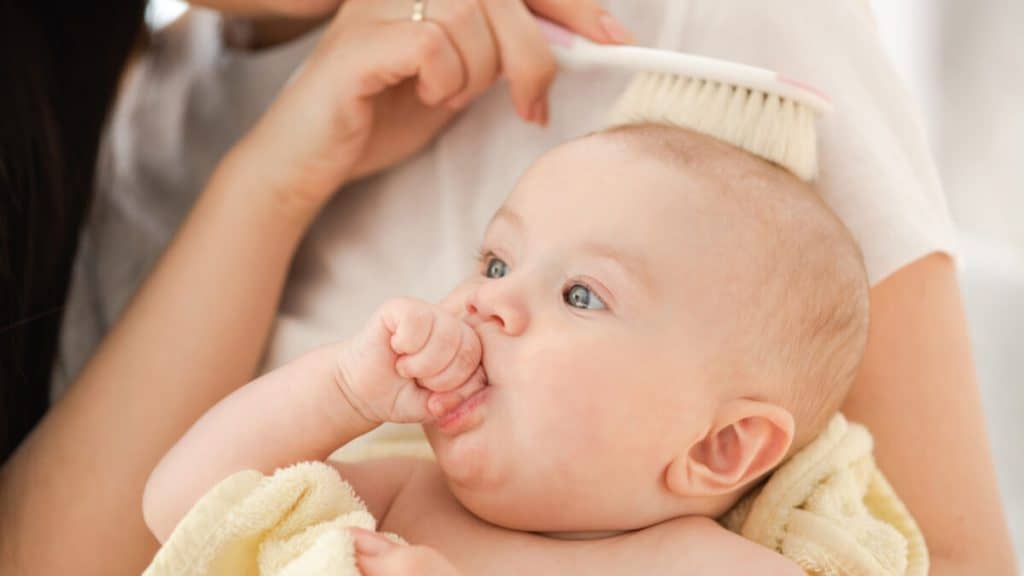 Best Baby grooming kits are a must-have item for your baby registry since it's one of those things you don't know you need until you're a parent. Even if your adult medical cabinet is well-stocked, there are numerous things created expressly for newborns (thermometers, nail clippers, brushes).
Baby grooming and healthcare kits might be simple, with only a brush and nail clippers, or they can be more comprehensive, with first aid equipment included. To identify the finest infant grooming kits available, we have compiled a list coupled with research and expert opinions.
 The Best Baby grooming kits generally include items like nail clippers or scissors (those fingernails may get sharp), nasal aspirators (for sucking up snot), and other essential gadgets like thermometers and medication spoons.
Items to keep in your infant grooming kit include:
Nail clippers
Thermometer
File for nails
Aspirator for the nose
Brush or comb
Conditioner and shampoo
Body lotion
Top 8 Best Baby Grooming Kits To Choose From In 2022
Here are our favorite options for the best baby grooming kits.
1) Fridababy - Best Baby Grooming Kits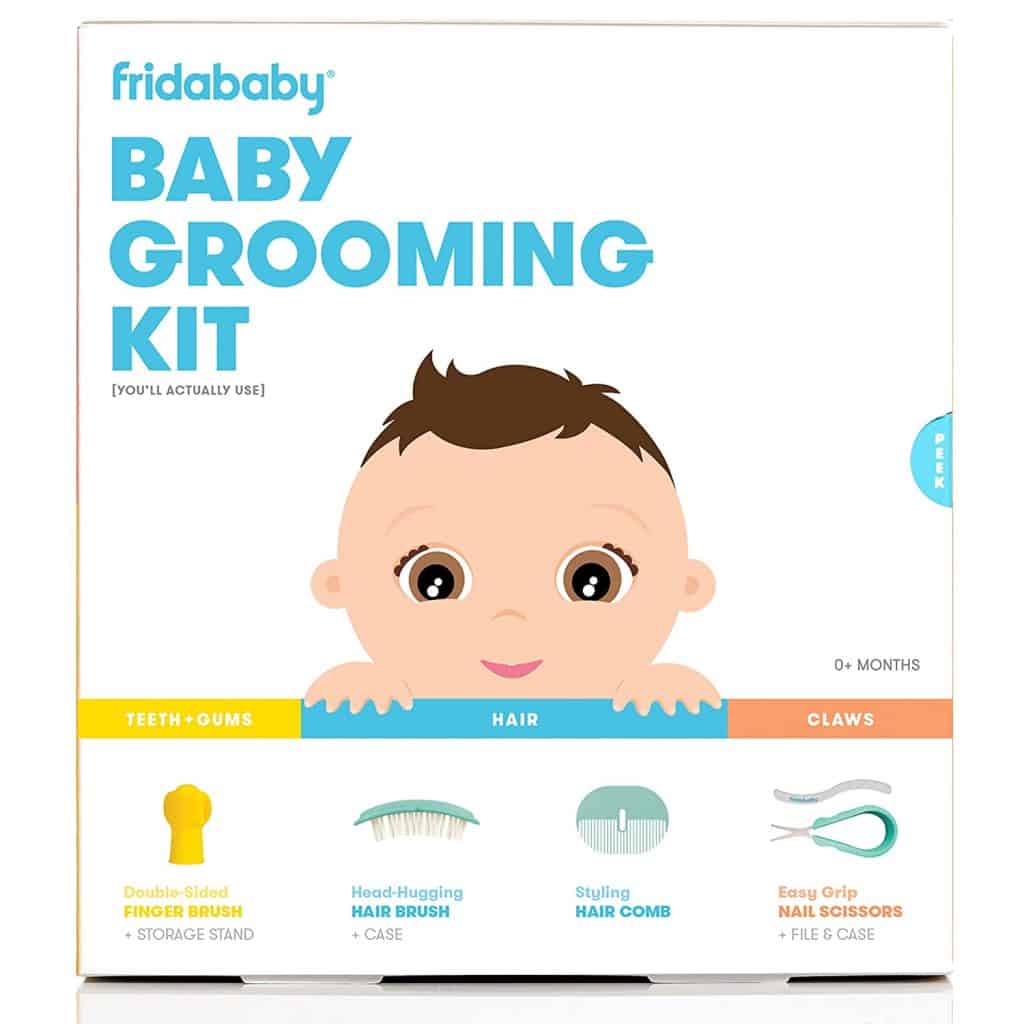 Although this package is expensive, it is the greatest overall beginning set for your baby's grooming needs. It not only includes essentials like clippers and nail files, but it also includes every parent's favorite nose-sucking equipment, The NoseFrida Snot Sucker. We also like the gas-relieving Windi, the simple iThermonitor, and Fridet the MomWasher, a calming tool for postpartum discomfort. It also contains other useful grooming products, such as a hairbrush and a very clever double-sided finger toothbrush, which allows you to clean both the top and bottom gums of your baby at the same time.
Highlights:
SnotSucker NoseFrida

Hygiene filter 24-pack

Comes with 10 packs of Windi GasPasser relief tubes

SnipperClipper set NailFrida

Fridet, the MotherWasher

The iThermonitor FeverFrida
2) Punada - Best Baby Grooming Kits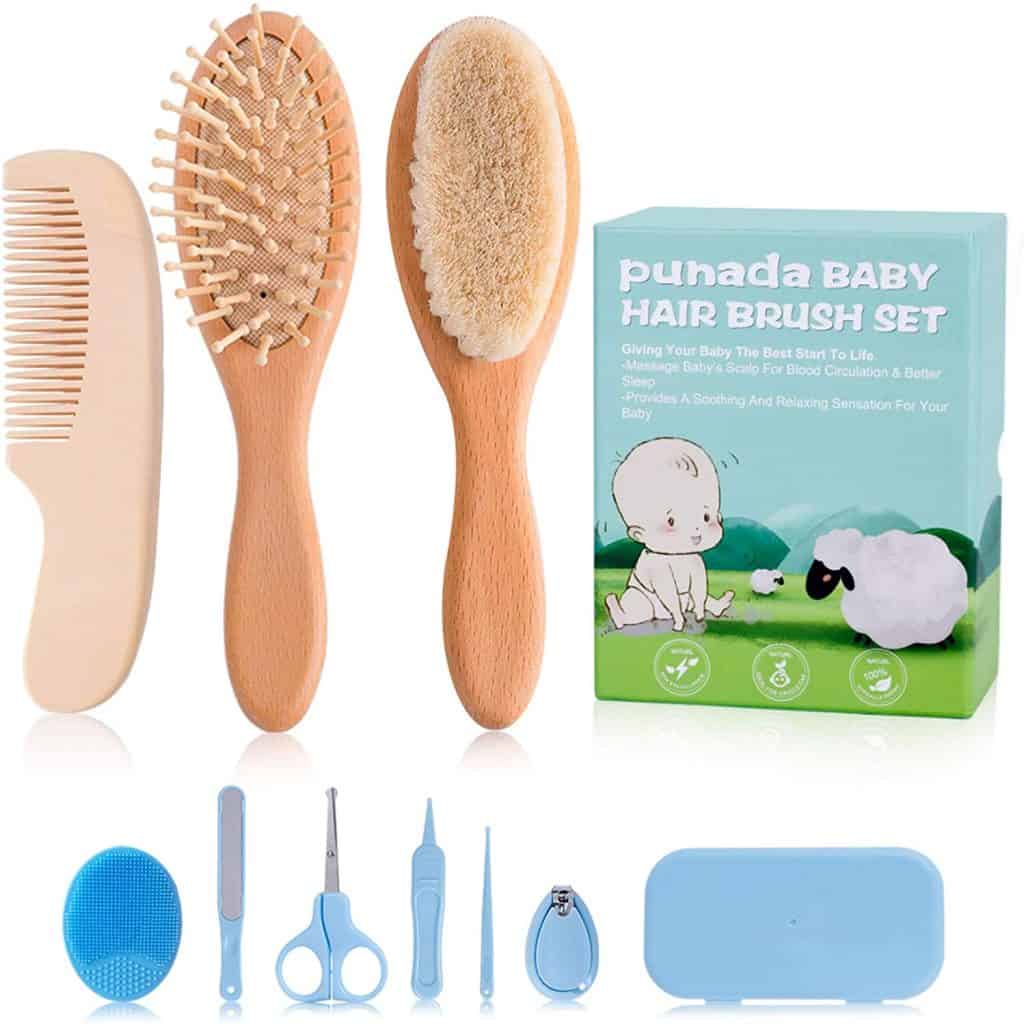 This five-piece hairbrush and grooming set is made of high-quality materials. The bristle brush's natural goat bristles are soft on your baby's delicate hair, and the wooden comb and massage brush both avoid snagging skin and hair. The beechwood handles are sturdy and pleasant to the touch, and the silicone brush is gentle enough to stimulate the skin of the baby. The featured grooming tools for your baby's ears, nails, and nose are scaled-down but simple for adults to use.
Highlights:
Comb made of wood

Massage brush made of wood

Brush made of goat hair bristles

Brush made of soft silicone

Nail clippers for babies

Baby nail clippers

Tweezers for wiping the baby's nose

Nail file for babies

Pick for baby's ears
3) Tommee Tippee - Best Baby Grooming Kits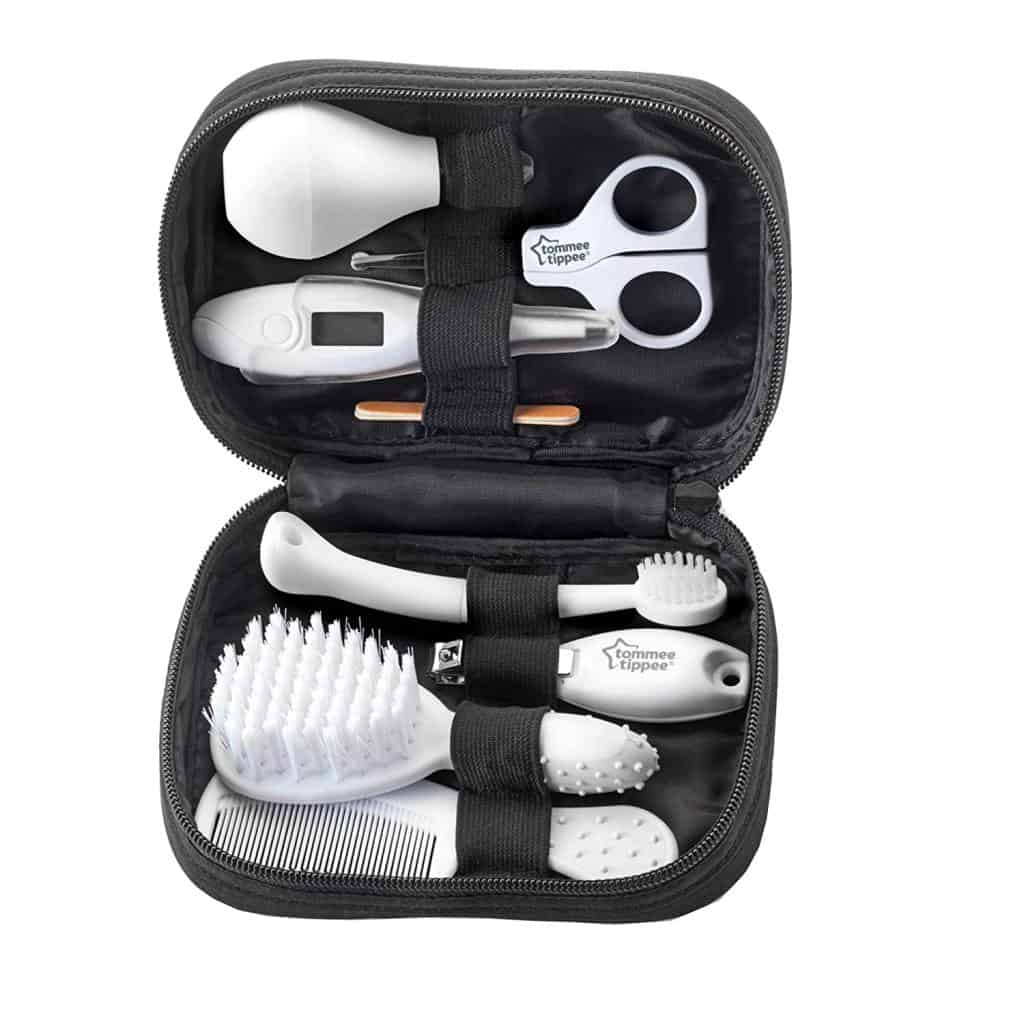 The Tommee Tippee set, which includes nine vital things, is ideal for keeping at home or on the go. It comes with a compact zipper pouch that fits nicely in a diaper bag or carry-on infant for travel, and it includes everything you need to keep your kid clean and groomed without taking up too much space in your life.
Highlights:
Oral thermometer with digital display

Brushing the baby

comb for babies

Baby shears

Nail clippers for babies

a pair of emery boards

Nasal aspirator
4) Safety 1st Deluxe - Best Baby Grooming Kits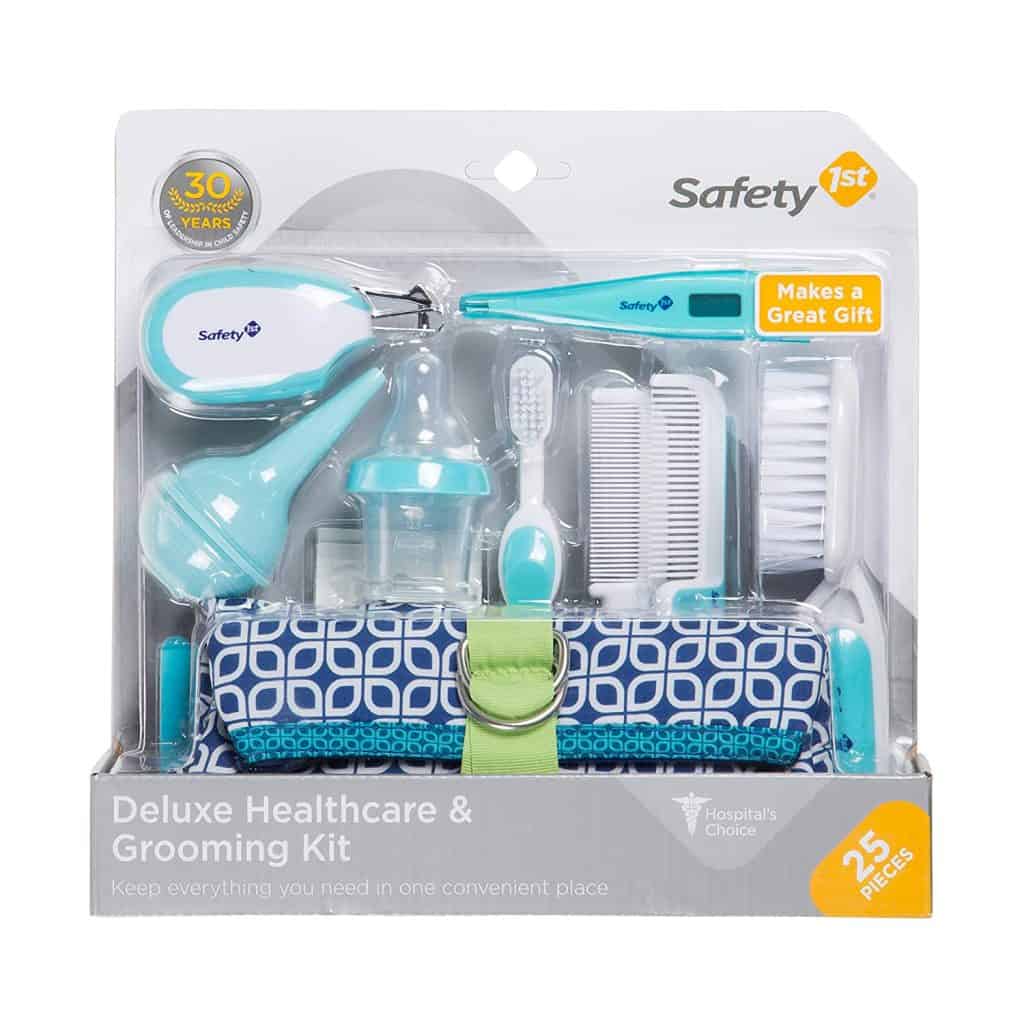 We adore the Safety 1st grooming kit, which comes in a little container that is easy to transport. The package is intended to be a baby shower present, but it's also a terrific alternative for your own house. This selected package will include everything you need for your newborn, with 25 necessities for the baby. It also comes with a one-year limited guarantee.
Highlights:
Thermometer with digital display

Brushes for children

5 emery boards

Dispenser for baby medication bottles

Aspirator for the nose

Baby comb brush

comb for cradle cap

Clippers for nails

5 alcohol wipes for cleaning thermometers

Card with emergency contact information
5) The Honest Company - Best Baby Grooming Kits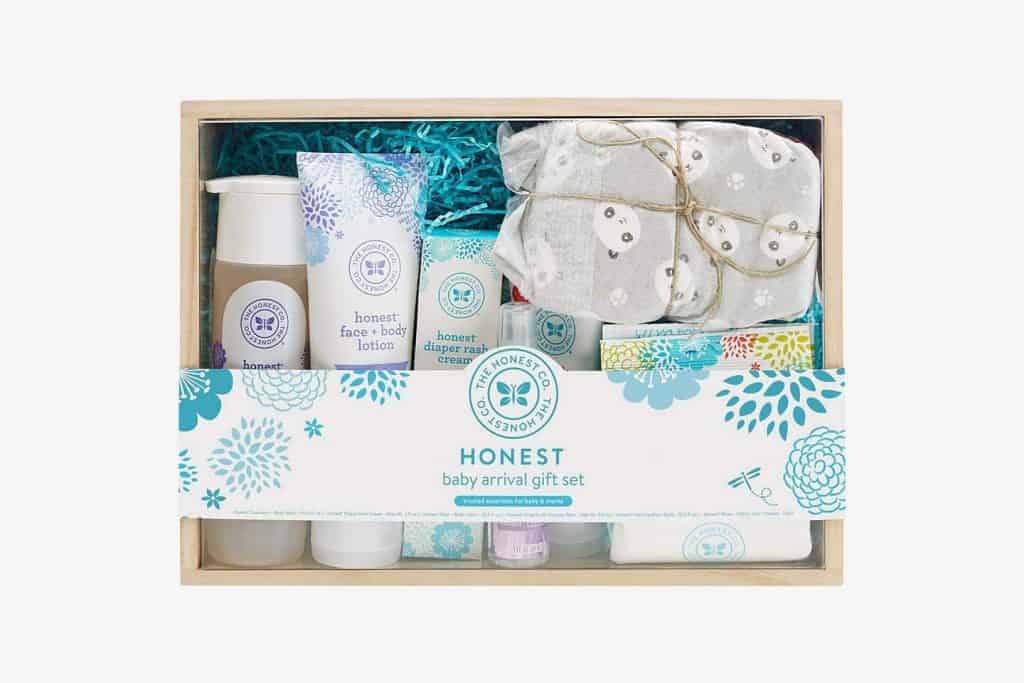 This baby grooming kit includes everything you'll need for diapering and cleaning, including diapers, baby wipes, lavender shampoo & body wash, lavender hand sanitizer spray, diaper rash treatment, and diaper rash cream. All of the items are made from plants, are hypoallergenic, and do not include any synthetic scents. The box, which is constructed of sustainable wood, may be reused for diaper or toy storage.
Highlights:
Is a complete diapering kit

Comes with a diaper, body wash, shampoo, etc

Eco-friendly products

Is reusable
6) Noodle & Boo - Best Baby Grooming Kits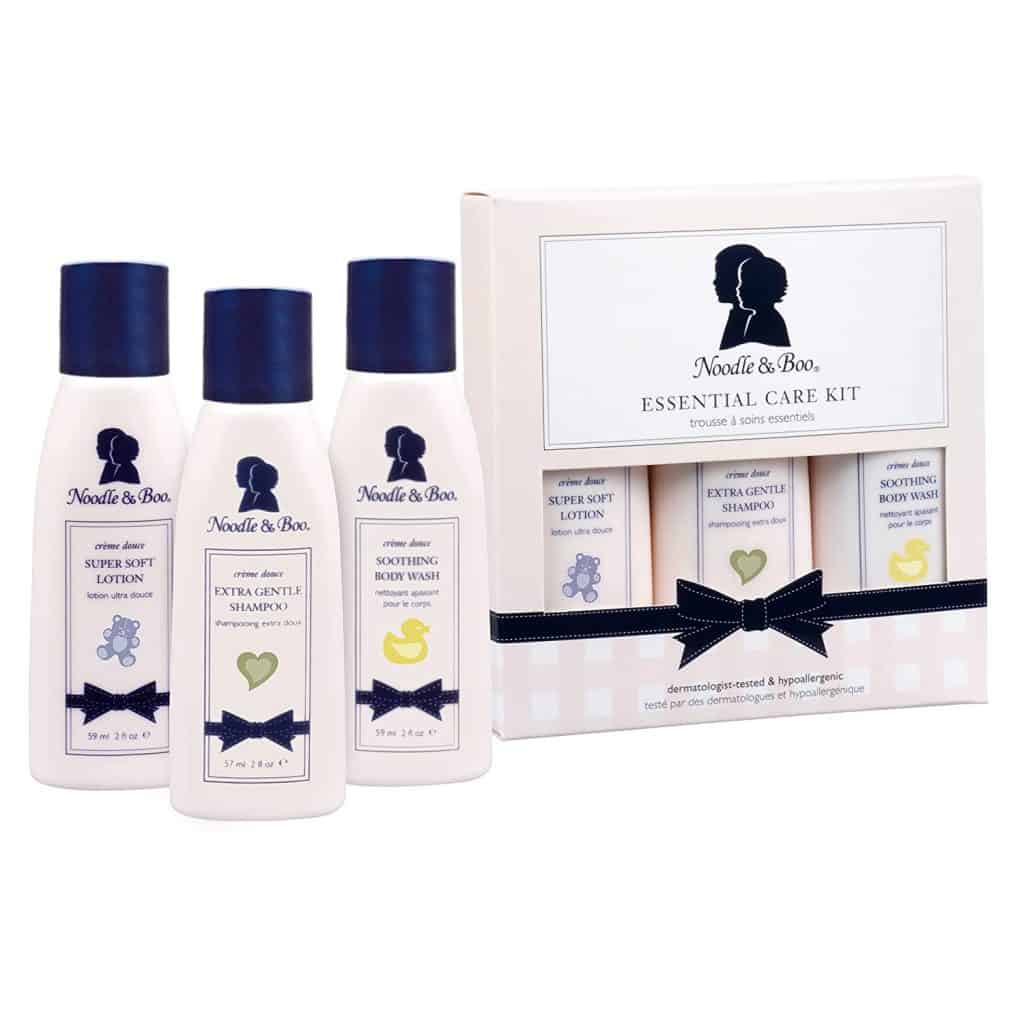 The shampoo, conditioner, and leave-in conditioner in Noodle & Boo's Healthy Hair package are all formulated with plant-based, natural ingredients that will leave your child's hair smooth and shining. We like that they come in 16-ounce pump bottles (no more fiddling with closures) and 2-ounce travel-sized shampoo and conditioner bottles.
Highlights:
Is plant-based

Comes in a 16-ounce pump bottle

Is easy to use
7) American Red Cross - Best Baby Grooming Kits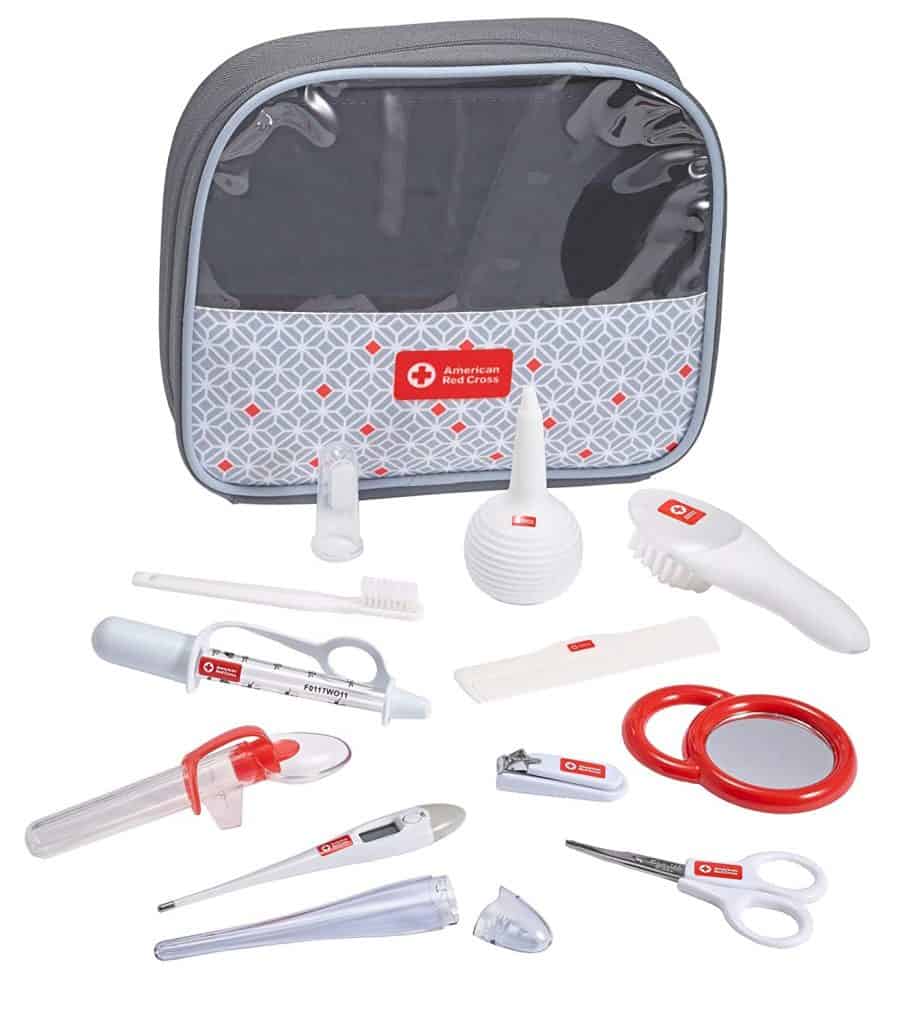 The American Red Cross grooming kit includes a brush, comb, nail cutter, fingertip toothbrush, and other typical infant care supplies. However, it is most known for its health-related products. The package comes with a nasal aspirator, a digital thermometer and case, a medicine dropper, and a medicine spoon, as well as baby safety instructions for convenient reference. The storage tote also has translucent panels so you can see what's inside.
Highlights:
Includes a brush, comb, nail cutter, fingertip toothbrush, etc

Comes with a nasal aspirator

The storage tote has translucent panels
8) Dr. Barbara Sturm - Best Baby Grooming Kits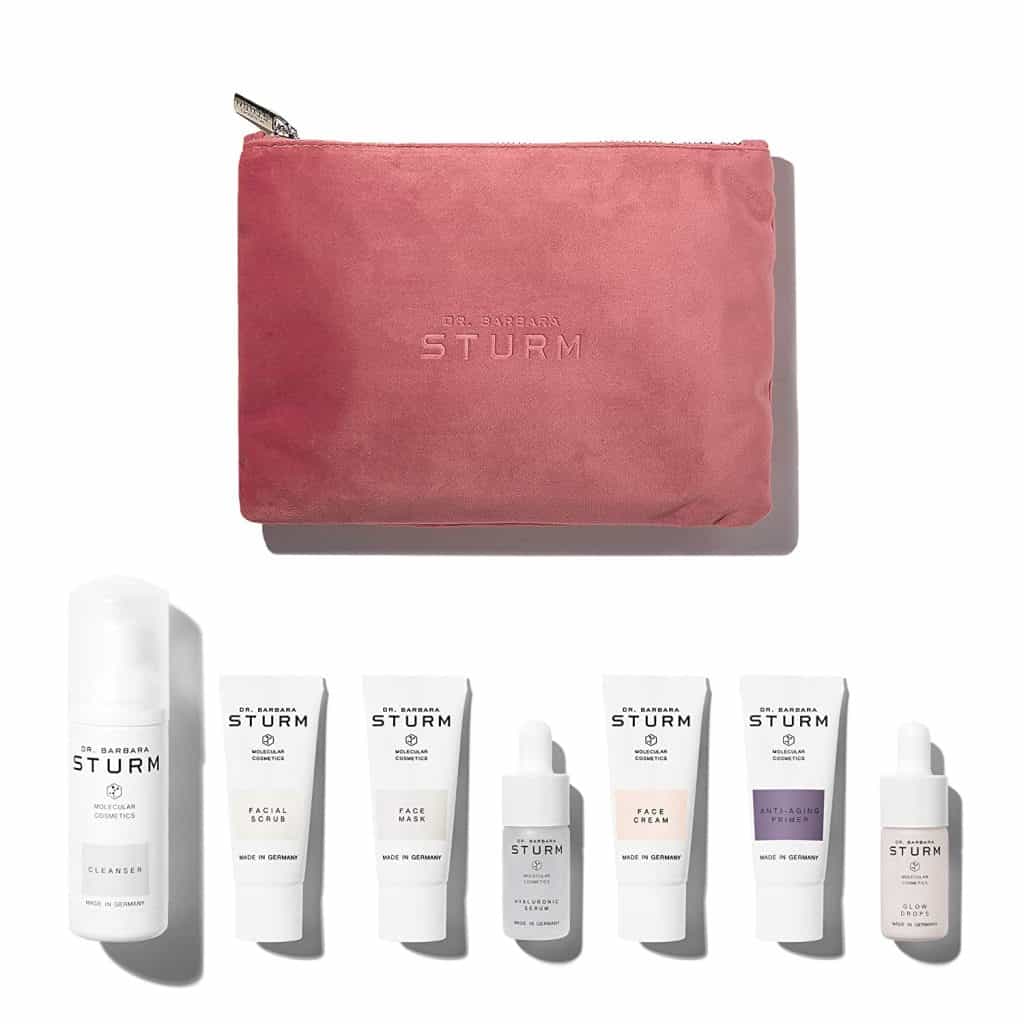 You've undoubtedly heard of Dr. Barbara Sturm, although in a roundabout way. Kim Kardashian famously attempted the Vampire Facial, and Forbes reportedly said she'd "bottled the elixir of youth." So, when your items are as popular as Sturm's, it goes without saying that you may set your pricing.
Enter the astoundingly costly Dr. Barbara Sturm Baby & Kids Set, which includes the whole Mini Molecular Collection. Each item in the set, which includes shampoo, body cream, and face cream, has been specially developed for delicate young skin.
Best Baby Grooming Kits Final Conclusion :
It may appear absurd at first that such a young child has their grooming kit, yet it may truly be considered as a necessity. Every parent should have a baby grooming kit, or at least the products contained in one, on hand.
One of the most crucial reasons to get a baby grooming kit is to ensure that you are providing quality care for your kid. Since your kid has sensitive and delicate skin, the objects we use in our daily life will not be suitable.
Kits are crucial since the components in them are particularly developed for newborns. You wouldn't try to cut your baby's fingernails with the same clippers you use, for example, since they're just too big. We hope our article helps you in choosing the best baby grooming kit.
Best Baby Grooming Kits FAQs :
1. What exactly is a baby grooming kit?
A baby grooming kit is a collection of baby-sized equipment that will assist you in keeping your baby's delicate hair and nails nicely maintained. Best Baby grooming kits, which include everything from hairbrushes and combs to nasal aspirators and thermometers, are useful to have on hand, especially since baby nails grow rapidly and newborns frequently scratch themselves in the face when nails aren't well-trimmed. For the first month, some specialists advocate filing your baby's nails to a rounded shape. Then, when your baby's hands loosen a little as she sleeps, you may start gently trimming away sharp edges without waking her up with newborn-safe fingernail clippers.
2. Is a baby grooming kit required?
Cradle cap and little stuffy noses necessitate a different set of instruments than you'd normally find in your medicine cabinet. Most new parents require some kind of grooming kit. When it comes to clipping your baby's fragile fingernails, make sure you have fingernail clippers intended for newborns on hand. If your baby has a cradle cap, a soft brush can assist battle it; if your infant has thick or aggressive hair, baby combs or brushes will keep it maintained without snags.
3. What are the risks of using a grooming kit?
The primary issue with these kits is that they all contain little tools or parts that you should keep away from your kid. Also, be certain that everything is constructed of non-hazardous materials that do not contain any chemicals. Another thing to keep in mind is that nail care tools might be sharp, so you don't want your infant handling and playing with them. You should have no issues if you always supervise your infant.
4. What are the advantages of using a grooming kit?
While you don't have to acquire a grooming kit, it's convenient to have everything you need in one place. It also makes it easy to purchase everything you need because you don't have to remember to buy each item separately. Most kits also include a bag or pouch to keep everything together. You may buy each component separately as needed, but it's more convenient to obtain a kit and have everything ready to go beforehand.
5. What are the most crucial items to include in a baby grooming kit?
This depends on what you require. Brushes, combs, and nail care equipment are all you need to seek if you're merely shopping for a grooming kit. For such sorts of goods, you may easily get a separate healthcare kit. The most important thing you'll need for a baby is a brush to assist you to get rid of your child's cradle cap. Silicone brushes or brushes with super-soft bristles are often the best for this.