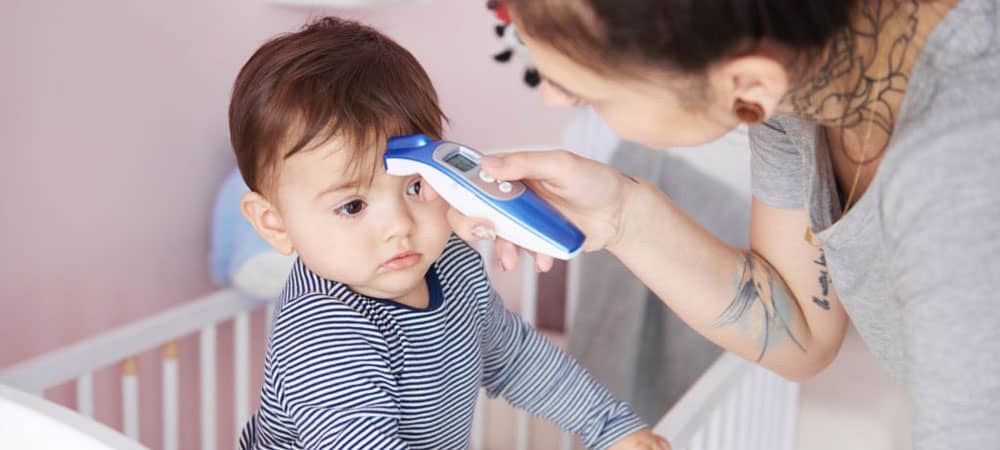 Babies are these little bundles of joy and it hurts all parents to see them even in the minutest of discomforts. A fever or a cold is so difficult to deal with even as adults; and having to see your little angel go through it is nothing less than a mental turmoil for parents.
Having said that, it is also for a fact that, on average, little ones can suffer as many as ten cold and fever episodes just within the first two years of their lives. While this is an unavoidable circumstance, parents at least can be better prepared for when fevers pay a visit. Best Baby thermometers are an essential instrument that each parent should have in their baby registry and it also, therefore, makes for a thoughtful baby shower gift.
Why do I need to buy a baby thermometer?
Babies have a very typical reaction to all the worries of the world: they cry. In pain, while teething, for lack of sleep or even the lack of attention, babies love to express themselves by crying. You cannot even blame them – because what else are they supposed to do as babies? By keeping a thermometer handy, you enable yourself to instantly check if there is something wrong with the bay that is beyond their regular tantrums. By being able to measure their temperature at the tip of your fingers, you also hurry up the entire process of taking them to the pediatrician sooner than when it's too late.
What Are The Types of Baby Thermometers?
These baby ear thermometers are also known as Tympanic thermometers and they measure the baby's temperature via their ear canal. Therefore, these kinds of baby thermometers are considered to be safe for babies who are over six months of age.
2. Baby Digital Thermometer
Much like an adult digital thermometer, this digital best thermometer for kids can also measure a baby's temperature with seconds. A digital thermometer is supposed to be held under a baby's armpit, tongue, or inserted in the anus for measurement of the temperature. This is the most reliable temperature for babies under 6. It is nearly impossible to have a baby still when you measure their temperature via their tongue and this one solves the issue by being insertable in the anus.
3. Baby Best Forehead Thermometer of 2022
Also known as temporal artery thermometers, this best forehead thermometer of 2022 is supposed to be swiped on a baby's forehead to measure their temperature. Though this one is the most convenient, it is also usually the most expensive.  

Below are the top recommended baby thermometers parents should consider picking from for their little ones-
1. Kinsa QuickCare Digital Baby Thermometer: Priced at $24.99 - Best baby thermometer
A tech-based, battery-less, phone-run digital thermometer, this one runs via an app on your phone. You will first need to download the Kinsa app on your phone and then take your child's temperature (orally, under the arm, or rectally) and the reading automatically appears on your smartphone! This app-based system makes logging notes about the baby's fever like the date, the varying temperatures, their moods, and their general behavior at once place. You can get the reading on your phone in less than 8 seconds; and not only that, the app also offers advice and recommendations as per the baby's entered age.
If in case you do not have your phone with you or it has run out of battery or even if the app was accidentally deleted, you can still measure the baby's temperature. However, an initial setup on the phone is still required to avail of this app-less reading and measurement.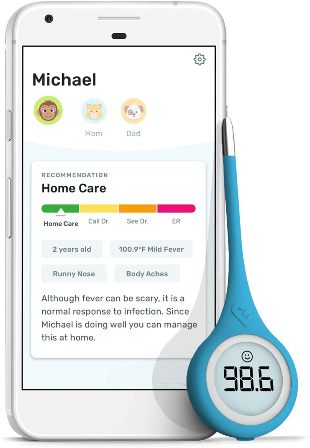 2. Braun ThermoScan7 Ear Baby Thermometer: Priced at $59.99 - Best baby thermometer
An age-based thermometer, the Braun baby thermometer understands that the temperature that can be called a 'fever' majorly depends on a human being's age. The temperature that can be called a fever for a newborn baby will obviously not be the same as that of a full-grown adult. Hence, with Braun, you need to first input your child's age and then save their 9 temperature readings. It uses this to determine a fever at later stages. It also has a pre-warmed tip which nullifies the chances of inaccurate fever results which are common with cool tip thermometers.

Because of the pre-warmed tip, however, you need to make sure that you do not insert it in the baby's ear if they happen to have an already prevailing ear infection or any discomfort in their ear of sorts.
3. Safety 1st Rapid Read 3-in-1 Baby Thermometer: Priced at $9.99 - Best baby thermometer
An Economical and no-frills thermometer, this one is an oral, under the arm or rectal use thermometer for children under the age of 3. It is made in a rather straightforward and simple-to-use mechanism. It measures the temperature in under 8 seconds and notifies you with a beep when done.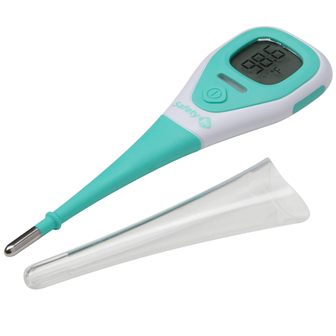 4. VAVA Baby Baby Thermometer: Priced at $79.99 - Best baby thermometer
This best thermometer for kids has some mind-blowing features to speak of! An excitingly non-traditional thermometer, it measures your baby's temperature through a wireless patch that is made of skin-friendly silicone. You need to attach the said pad to the bay's armpit and the temperature reading then appears on an LCD screen.

The pads alert you with a blinking LED light if it detects a high temperature or a temperature beyond the normal range. You can attach the pad to your baby and monitor their temperature for as long as 24 hours! You don't even need to keep checking the reading time and again because as mentioned, it beeps itself if the temperature is abnormal.

However, as for the flip side, you will always need to ensure that the pads are charged which can be kind of a hassle. The pad takes 1.5 hours to charge and the charge lasts for 24 hours. Besides, it also is expensive.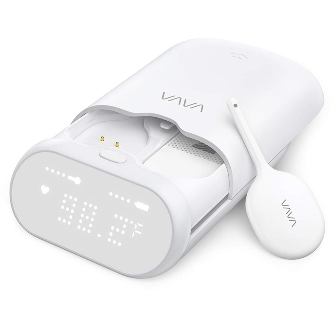 5. iProven DMT-489 Ear and Best Forehead Thermometer of 2022: Priced at $59.99 - Best baby thermometer
This one runs like any other best forehead thermometer of 2022, swipe it across and it gives you the reading. It also has a backlight feature that makes night temperature check easier, without having to turn on the lights and disturbing the baby's sleep. It is, however, recommended that if you use the ear mode, you should gently pull the baby's ear back and up, then aim the thermometer at the eardrum area for an accurate, fool-proof reading.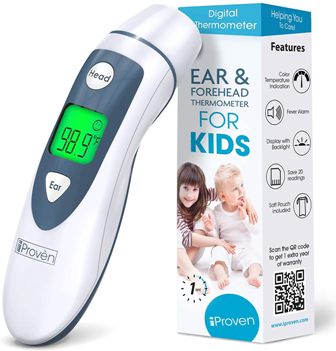 6. FridaBaby Quick Read Rectal Baby Thermometer: Priced at $14.99 - Best baby thermometer
The most common fear of parents when using a rectal thermometer to measure their baby's temperature is over-inserting of the thermometer in the anus. The FridaBaby Rectal Thermometer is specifically designed to help you get rid of that worry. This thermometer is designed in a manner as such that you cannot over-insert it in the baby's anus even by mistake and it only takes 10 seconds to display the reading. It also comes with a backlight to ease the nighttime temperature checking and a large digital screen.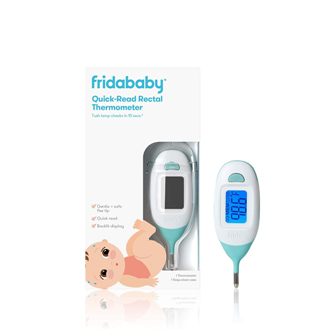 7. Exergen Temporal Artery Baby Thermometer: Priced at $39.99 - Best baby thermometer
A forehead baby thermometer, the Exergen Temporal Artery Thermometer is widely used by pediatricians around the country. You just need to swipe this across the baby's forehead and you get the reading appears on the screen in seconds, without any irritation or disturbance caused to the baby. Do remember that if your child has a  sweaty forehead, it is recommended to swipe it behind the ear instead of the forehead as that could get you a fake, inaccurate reading.

It might take you a couple of tries to get the working of this one right; but again, it is no rocket science after all!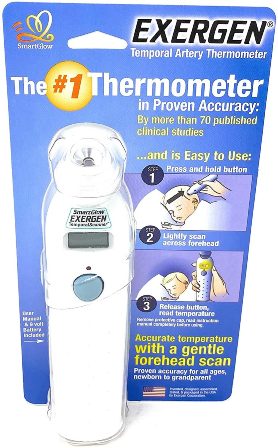 8. Metene Infrared Forehead and Ear: Starting Price of $54.99 - Best baby thermometer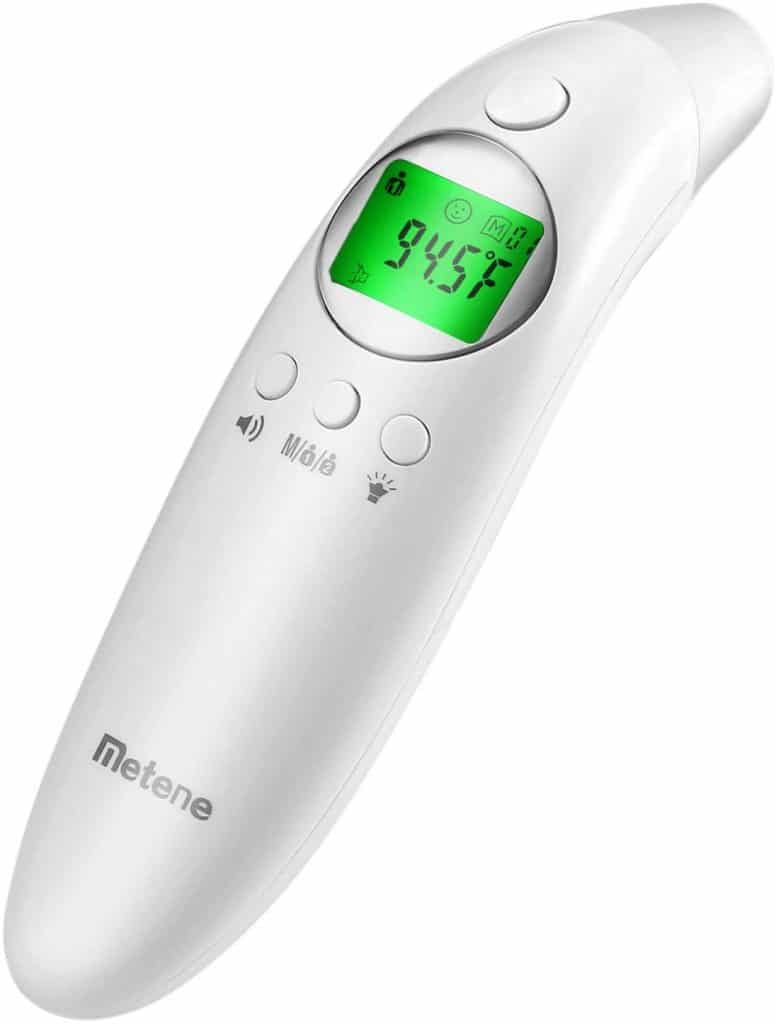 This Metene Infrared Forehead and Ear baby thermometer have been claimed to be used through most clinical tests for its accuracy within only a second. It doesn't need to come in contact with your baby to take the temperature, meaning there is no need to wake the little one now, just to take their temperature.
It comes with a large display, has backlit numbers that allow easy reading, and beeps to indicate fever. It also comes with a full money-back policy of 12 months.
9. Kamsay Digital: Priced at $14.99- Best baby thermometer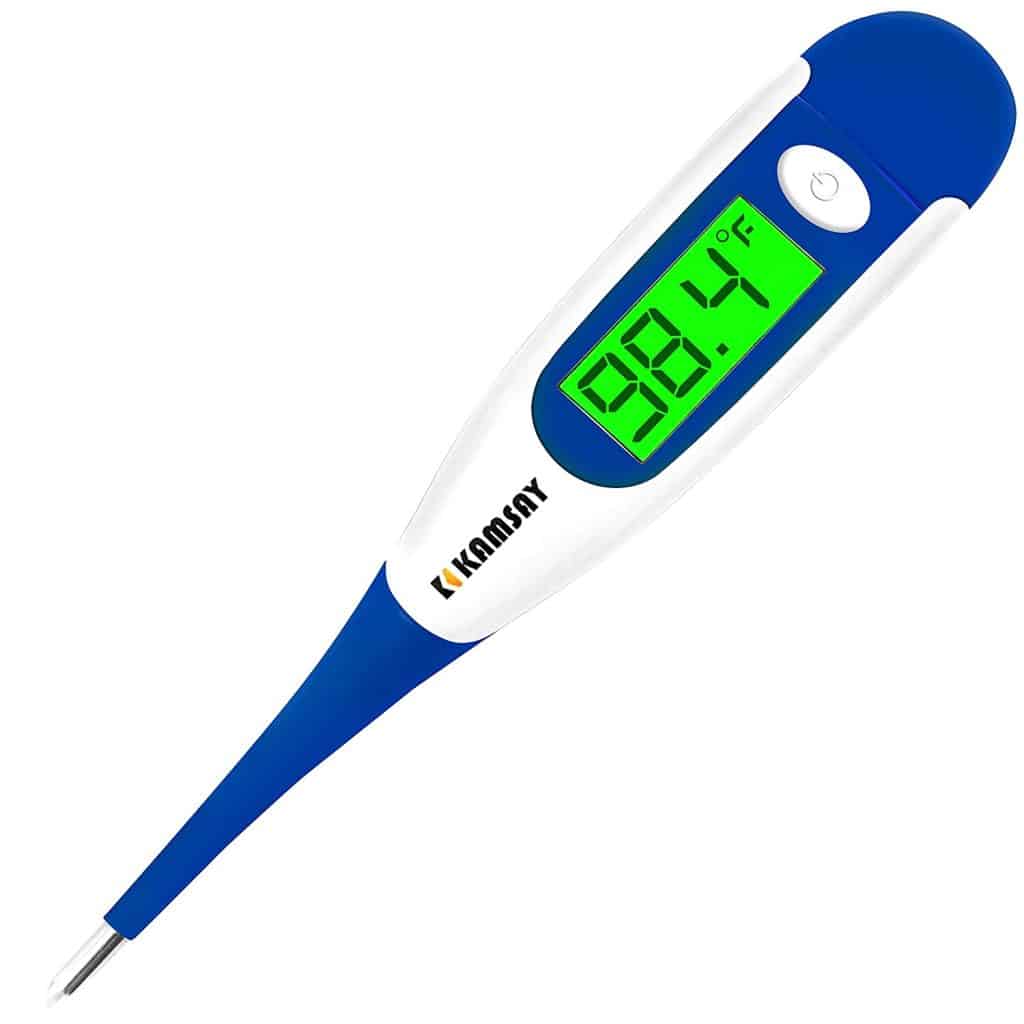 This forehead baby temperature requires a gentle stroke across the forehead for the reading and comes with a lit display with an indicator beep when turned on and off.
It has a "proven" accuracy with use in over 70 clinical studies, takes a 9 volt, and has no small parts, preventing choking hazards.
10. Enji Happy Care Family Digital - Best baby thermometer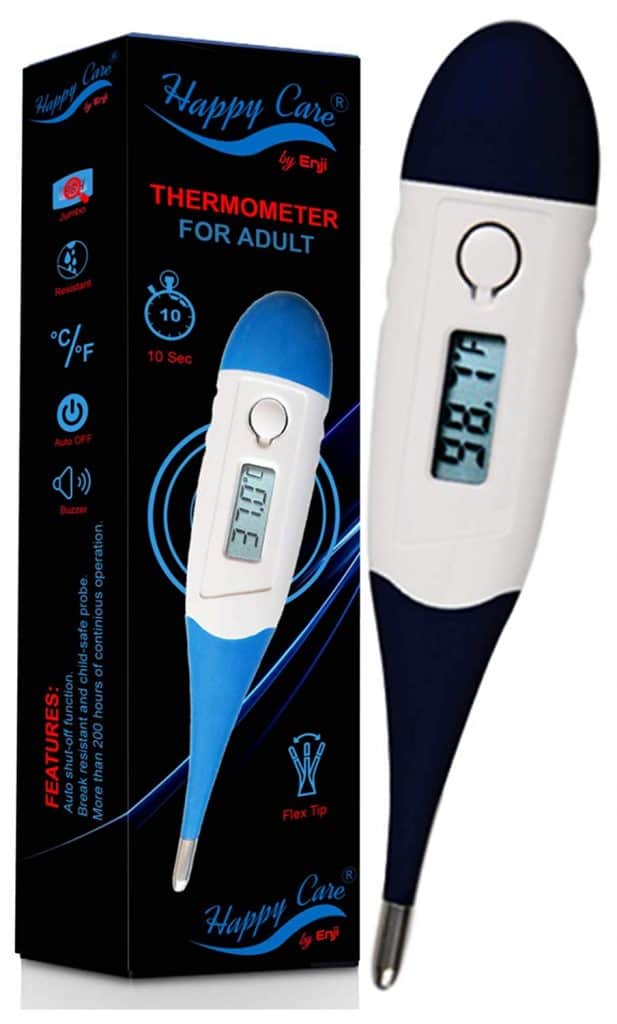 Enji Happy Care Family baby digital thermometer offers a quick 10-second reading time with accurate rectal, oral, and armpit reads. It is budget-friendly, has a flexible tip, shows large numbers, and is in Fahrenheit and Celsius modes too.
It features waterproof, is easy to clean, and comes with a full money-back guarantee.
11. Vicks Baby Rectal - Best baby thermometer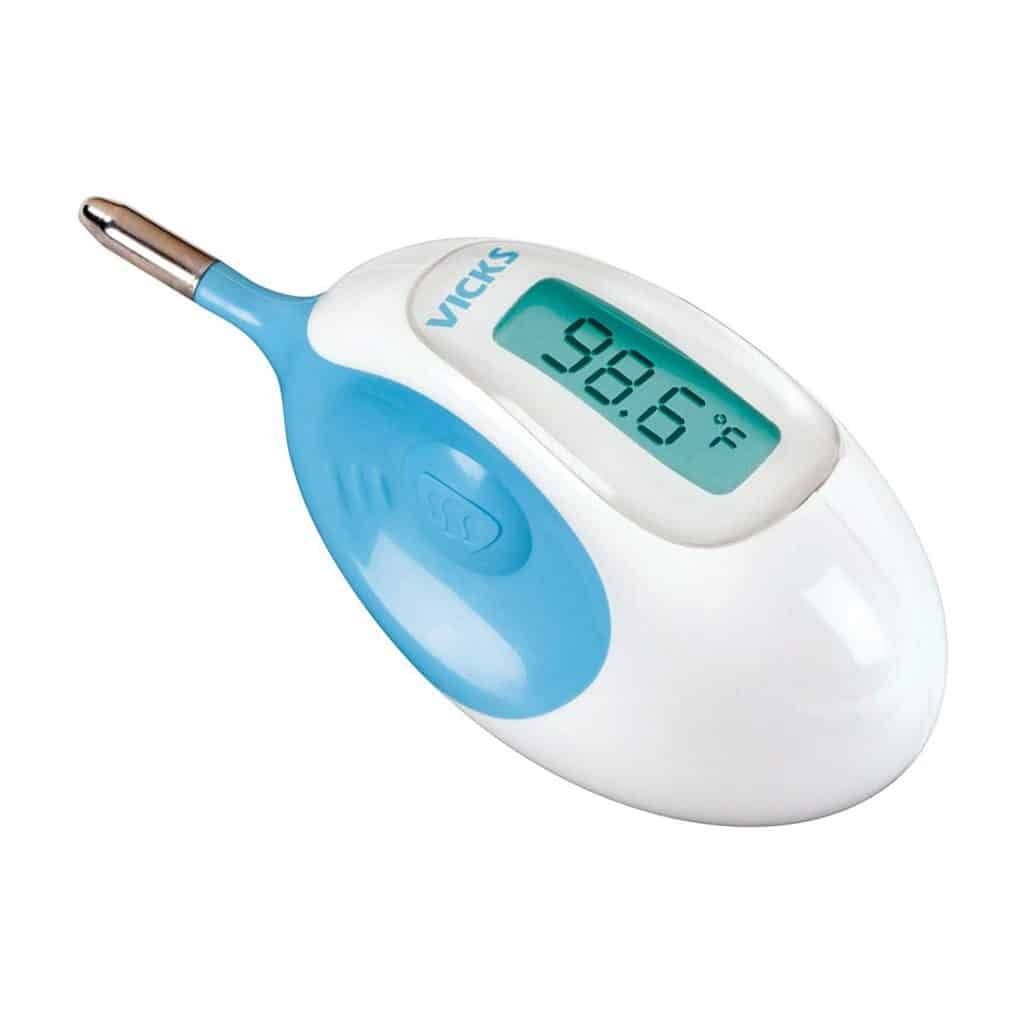 This thermometer is considered to be best for everyone at home with accurate temperature within seconds. It is ergonomically designed, is short, flexible, and has a wide base.
It also features a memory function that lets you see the last reading, has a backlight, is completely easy to clean and waterproof.
That's all folks, these were the 7 best thermometers for babies and are completely safe for parents to use to check the temperature of their little one. However, to prevent colds and flu from reaching the baby, you can also opt to make use of the best baby humidifiers as well. These will help the baby to stay prevented from all colds and influenza as they are busy playing in the comfort of their room.
While all of these listed thermometers are ideal for your baby, you do need to ensure that you wait at least until your little one turns 6 months to use the forehead or ear thermometer. On the other hand, the oral or under the arm thermometer is most accurate and helpful when used on baby's over 4 years of age. This is given their incessant movement and the inability to stay put while measuring the temperature.
Best Baby Thermometers FAQs
1. Are Children at a High Risk for COVID-19 ?
As per the reports by the Centers for Disease Control and Prevention, children are at an equivalent risk with regards to Covid 19 as are adults. An average child is most likely to only experience mild symptoms like cough, cold, flu, and fever. However, with any underlying conditions, the case becomes as bad as it can for any other adult. Hence, consulting a pediatrician should always be a priority.
2. What is a pacifier baby thermometer ?
Pacifier thermometers are shaped like a baby pacifier, however, they are not recommended as baby thermometers. This is because for it to work and give you an accurate reading, the baby will have to hold the pacifier still for at least 3 minutes. This, any parent would know, is an unrealistic expectation from a baby.
3. When should I consult a pediatrician for my baby's fever ?
As per experts, it is advisable to consult a pediatrician if:
A child under 3 months of age runs a rectal temperature of 100.4 F (38 C) or higher
A child between 3-6 months runs a rectal temperature up to 102 F (38.9 C) or higher (this would also typically come with lethargy and irritability)
A child between 6- 24 months runs a rectal temperature higher than 102 F (38.9 C) prolonging for more than a day.