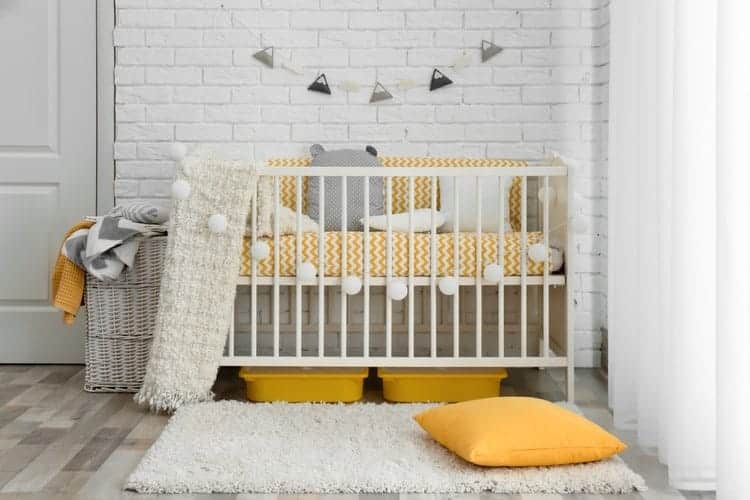 Best mini cribs and gears are no joke. It is only until you don't have a baby of your own that you are fully led to believe that there's only so much space this little tiny burrito is going to occupy. The reality, however, is the stark opposite.
Babies take up a lot of space. Or let us put it this way- the paraphernalia that comes with a baby takes up a lot of space. They have tons of diapers, diapers bag for the diapers, baby humidifiers, baby rash creams, baby clothing, various kinds of baby bags, baby breast milk pump, baby swaddles, baby toys, baby activity centers, baby exersaucers, baby playmates, and on top of all of that – baby crib. Baby cribs, until very late, were available only in a huge size that would take up a lot of space in the baby nursery. New parents would mostly be town about where to place this huge piece of furniture with everything else that is going around a baby already.
However, with the advancement of manufacturing companies and the techniques thereof, we now have a huge range of baby cribs available online. (Thank heaven, right?) Baby cribs save up considerable amounts of space in the baby nursery and most often, also double up as bassinets and toddler beds.
Best Mini Cribs: What Are They?
Before we get to the cheat sheet of the best baby mini cribs, let us address this for expecting parents – What really is a "mini" baby crib?

As the name suggests, a small crib does everything that your regular crib does – however, it does so in a better manner, without taking up too much space in the baby nursery. Mini baby cribs are made essentially to shower you with convenience. Most of them have wheels attached for easy transportation and many can also be folded flat for compact storage.

Most mini cribs are ideal for babies up until their transition stage from a small crib to a bed. But what should be noted here is that mini cribs, unlike most regular cribs, will want you to buy a separate conversion kit to make the transition. Besides, while you can skip the transition kit, you'll definitely (for most mini cribs) need to purchase a mini crib mattress and mini crib sheets
Best Mini Cribs: What To Look For When Choosing The Best Mini Cribs For Babies?
The best way to prepare for your baby's arrival is to choose the perfect mini crib for your little one. But, how to choose one is the crucial question here.
To help you with the hustle-bustle of it all and have the top picks in perspective, we have listed what to look for when choosing a mini crib below.
As per the American Academy of Paediatrics, here are the things you must keep in mind to ensure the safety of the baby:
Make sure that the slats of the crib are not more than 2 3/8 inches apart
The baby mattress must be firm with no spaces left between the mattress and the crib
You must avoid drop-rail baby cribs
Footboards and headboards must be of solid make with no decorative cut-outs which might become a cause of injury
Keep in mind the crib wall must be at least 26 inches above the mattress to help support the lowest position
Make sure to avoid crib bumpers
Try to not add anything else except fitted sheets on your crib mattress. Avoid pillows, sheepskins, stuffed animals, blankets, or any other hazards of suffocation inside the crib
Top 10 Best Mini Cribs To Choose From In 2022!
Without further ado, let us now get to the best mini baby cribs you can buy for your tiny human in 2022-
1. Origami - Best Mini Cribs
Dimensions: 38 5/8" x 25 3/8" x 36"
A mini crib engineered in a humble and cute design, this one had our heart mostly because of their color scheme! The two giants available are mint green and cotton-candy pink, which are just so suitable to match the overall vibe of a calm baby nursery. Besides, this one can also be folded flat for compact storage and has an additional locking wheel mechanism.

You do not need to spend extra bucks on the mattress as the Babyletto Origami Mini Crib comes included with a one-inch mattress pad, the height of which can be adjusted to two different positions.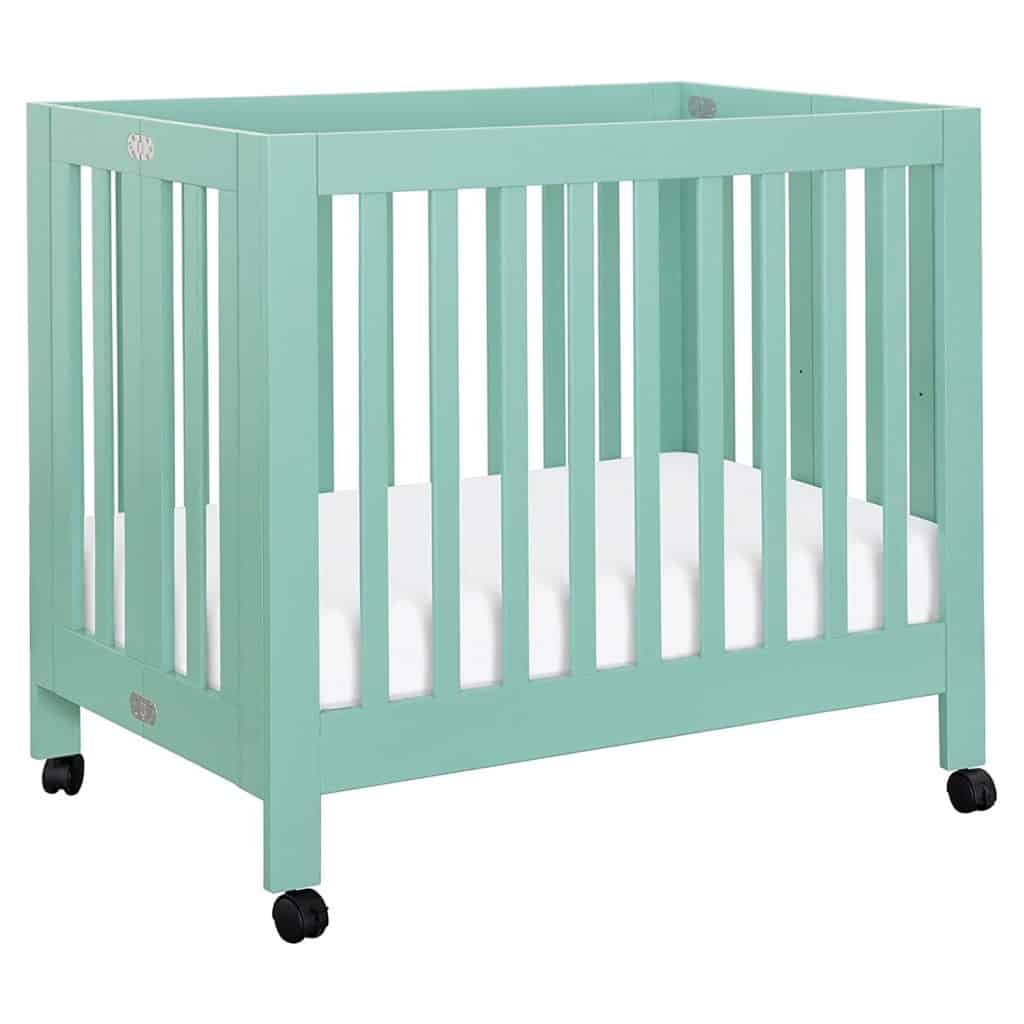 2. DaVinci Kalani 2-in-1 - Best Mini Cribs
Dimensions: 40" x 28 5/8" x 38 1/8"
Made in a sleigh-bed kind of design, this mini crib also doubles up as a very classic-looking piece of decor! The mini crib comes included with a one-inch pad that can be adjusted to two heights; however, you can also always buy another mattress. There is no conversion kit included in the pack but the manufacturer does sell it separately.

As a minor downside, however, there are no wheels attached to this baby mini crib. It is also recommended as a baby guideline, for this mini crib, that it should be stopped using as a crib when a child begins to climb or reaches 35 inches.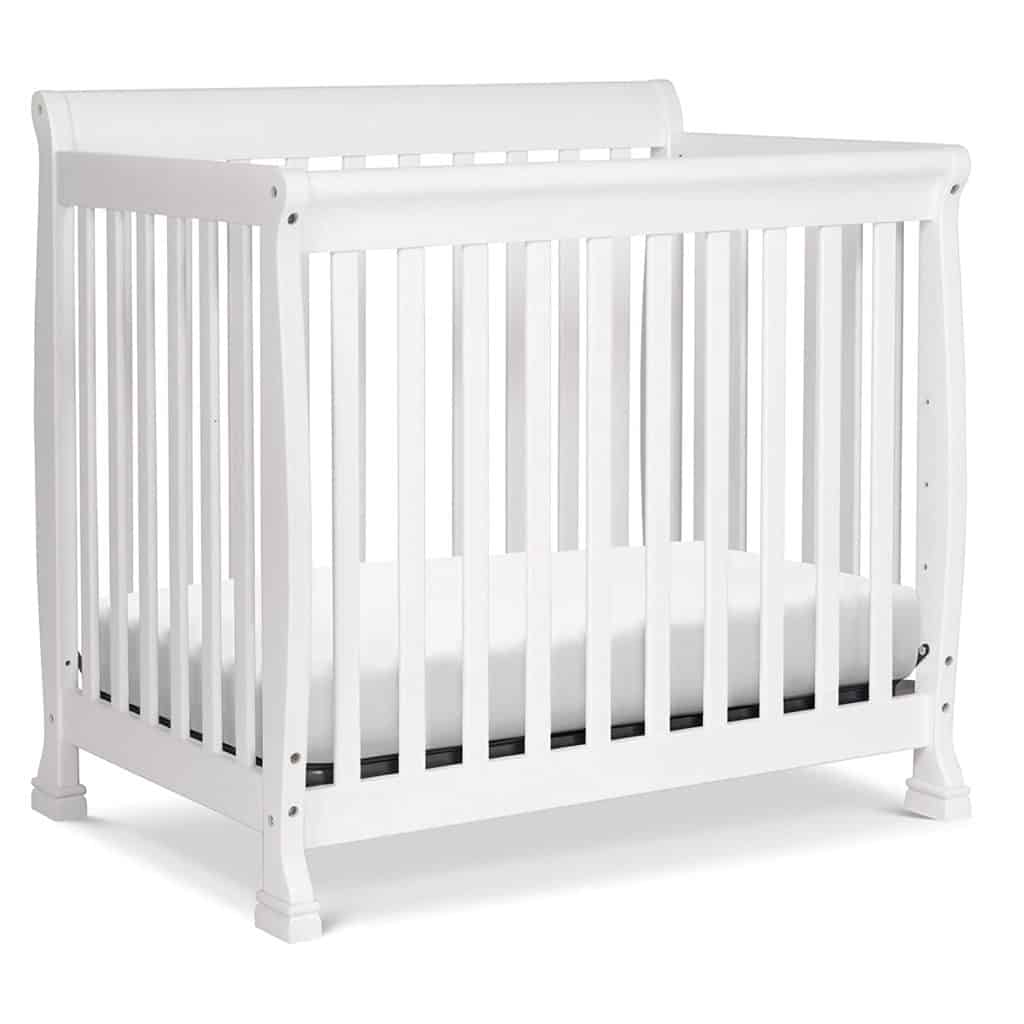 3. Delta Children Portable with Wheels - Best Mini Cribs
Dimensions: 39" x 25" x 37 1/4"
The biggest upside of this crib is right in the name! It is one of the best portable mini cribs available on the market today. The Delta Children crib sports two wheels, two mattress positions, and the frame can be folded flat to as little as 6 inches wide! One of the best, most compactly-storable mini cribs, it also comes with a one-inch mattress pad.
The only part that parents do not like about it is the fact that though there are wheels, the wheels lack a locking mechanism which can cause hazards, especially outdoors.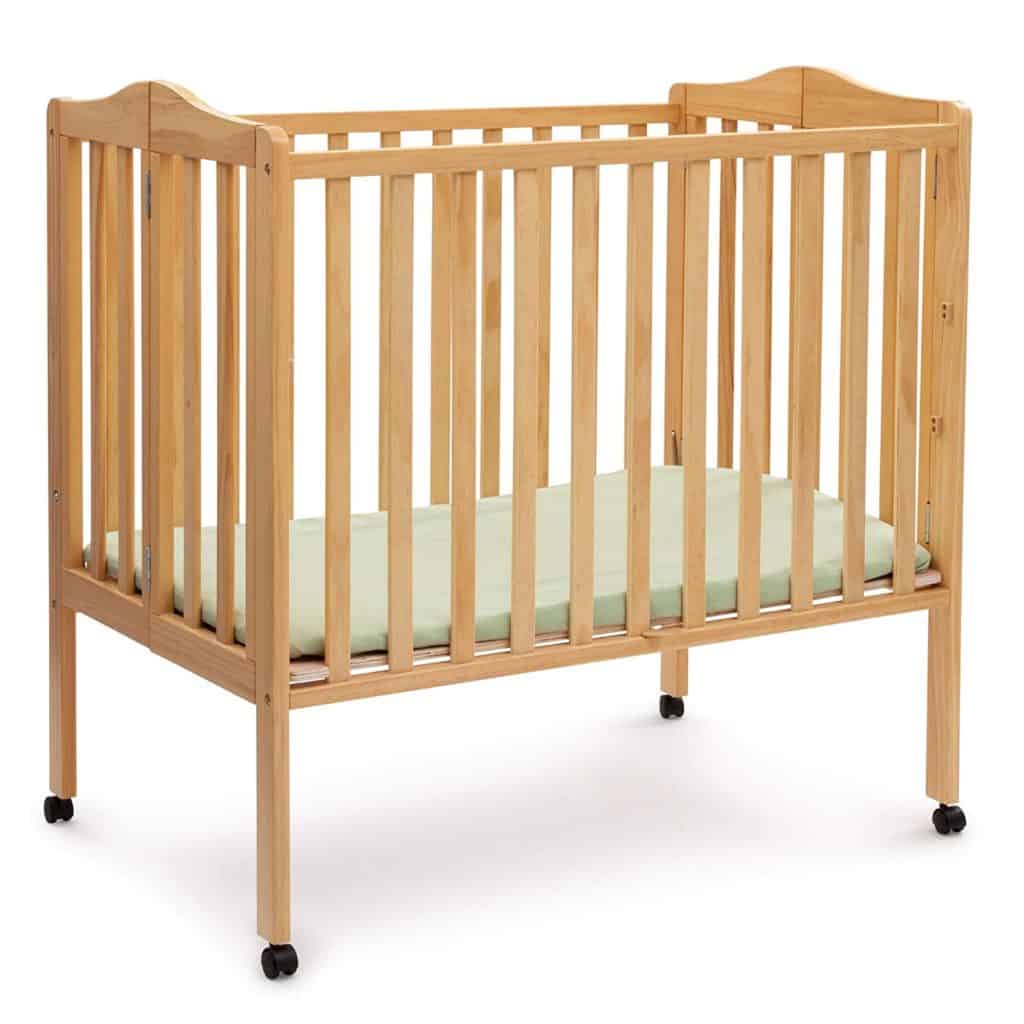 4. Bloom Alma Mini Crib with Wheels - Best Mini Cribs
Dimensions: 37 1/4" x 19 1/2" x 33 1/8"
The Bloom Alma mini crib is a slim-made crib that makes it perfect for smaller baby nurseries. It comes attached with wheels and also a wheel locking mechanism to avoid unsolicited rolling and hazards. Made in a narrow shape, it can also be very easily maneuvered through small doorways. It can be adjusted to two mattress heights and for brownie points, it can be folded up under minutes for compact storage.

A setback, however, is that it does not match the dimensions of other, standard, and typical mini cribs, hence you will need to buy a mattress accordingly. On the bright side again, Bloom Alma sells one separately. Is that extra money worth it, given the already high price? We leave that for you to decide!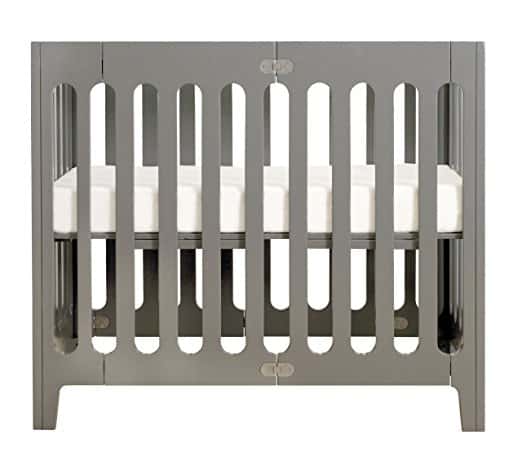 5. Dream On Me 4 in 1 Aden Convertible Cribs - Best Mini Cribs
Dimensions: 39" x 23" x 36"
A mid-range mini crib, this one has a lot of nice things going about it, and let us discuss it all. First of all, addressing the most convenient factor, this mini crib offers four different mattresses (mattress not included) height positions and also lets you convert it into a toddler daybed and a twin-size bed. This means you do not need a conversion kit for the daybed option, it can be converted just on its own! However, for the twin bed option, you will have to separately buy a frame to attach the crib to. This said frame will work as your headboard and the footboard.

The only problem, however, is that there are no attached wheels which makes it really difficult for transportation. The baby weight limit for the Dream On Me 4 in 1 Aden Convertible Mini Crib is set at 40-pounds.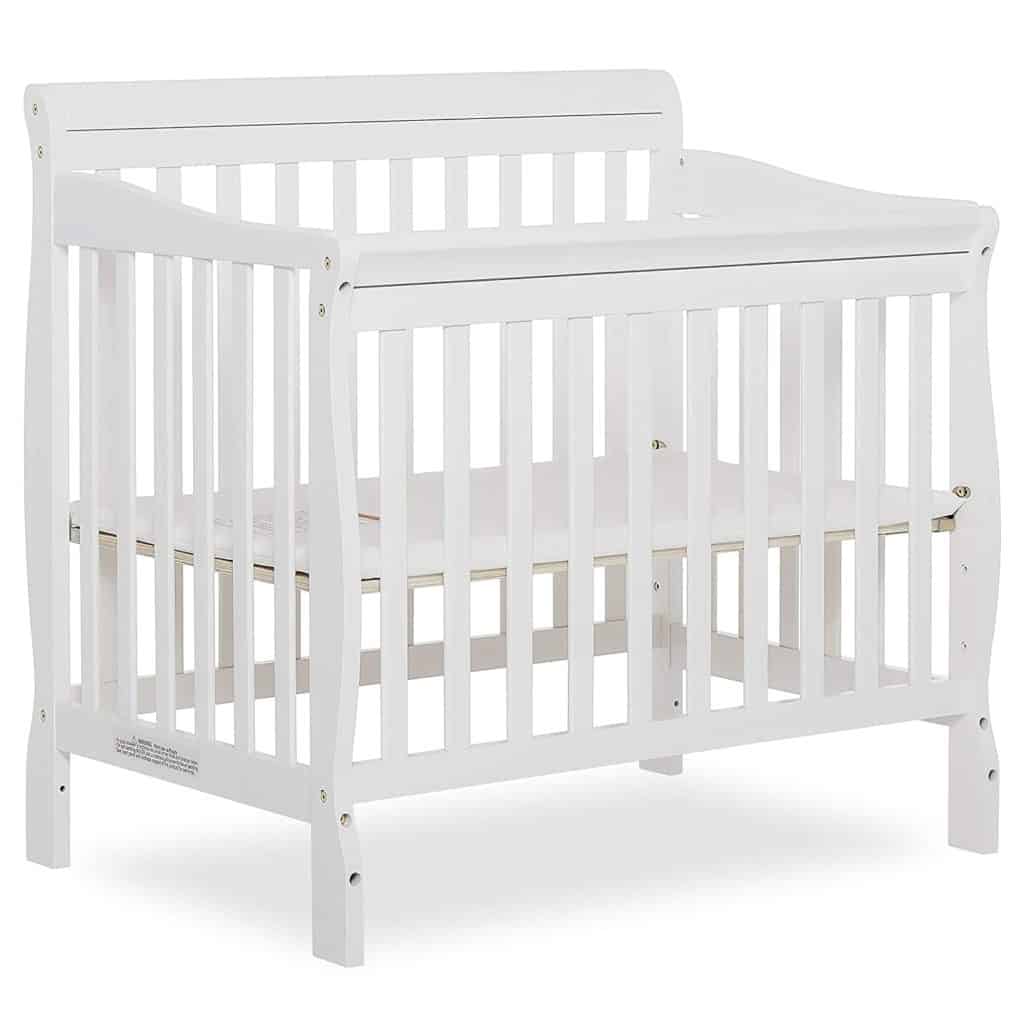 6. DaVinci Emily 2-in-1 - Best Mini Cribs
Dimensions: 39.5" x 28" x 37.9"
Another one by DaVinci on this list, this mini crib also is designed in the shape of a sleigh like the Kalani 2-in-1 Mini Crib. It comes included with a  1" waterproof pad, but you will need to buy the mattress separately. It can also be converted into a twin bed once the little one does not remain so little anymore, however, the conversion kit also needs to be bought separately. The crib can further be adjusted to three different mattress heights.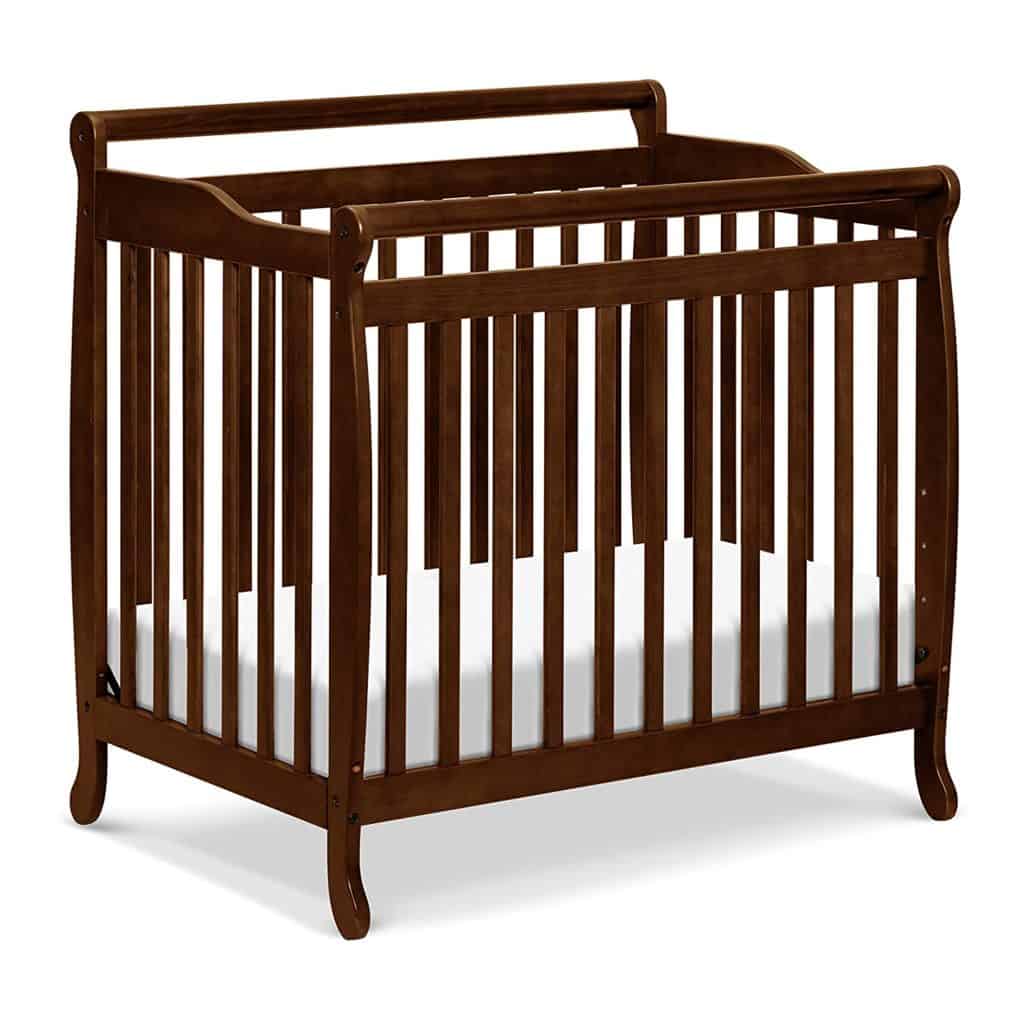 7. Stokke Sleepi Mini - Best Mini Cribs
The special features that come with this mini crib justify the cost of the crib. It is a beautiful, adorable, unique oval-shaped crib that comes with a draping rod for a canopy.
It is durable, has 4 different mattress height options, an open-rod design that allows optimal airflow, and is safe for the little one to sleep in. Adding on, the mini crib has lockable wheels and is super easy to position.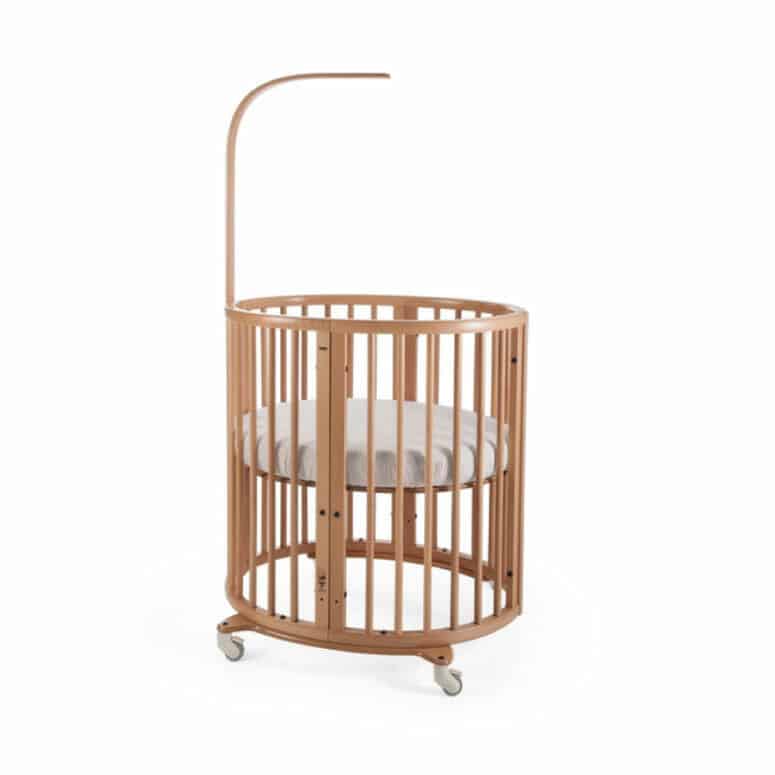 8. Delta Portable Crib - Best Mini Cribs
The Delta mini crib is a travel-friendly pick that comes with wheels and can be easily folded flat 6 inches wide. It also comes with 2 different height options for a mattress and a 1-inch pad for a mattress for the baby.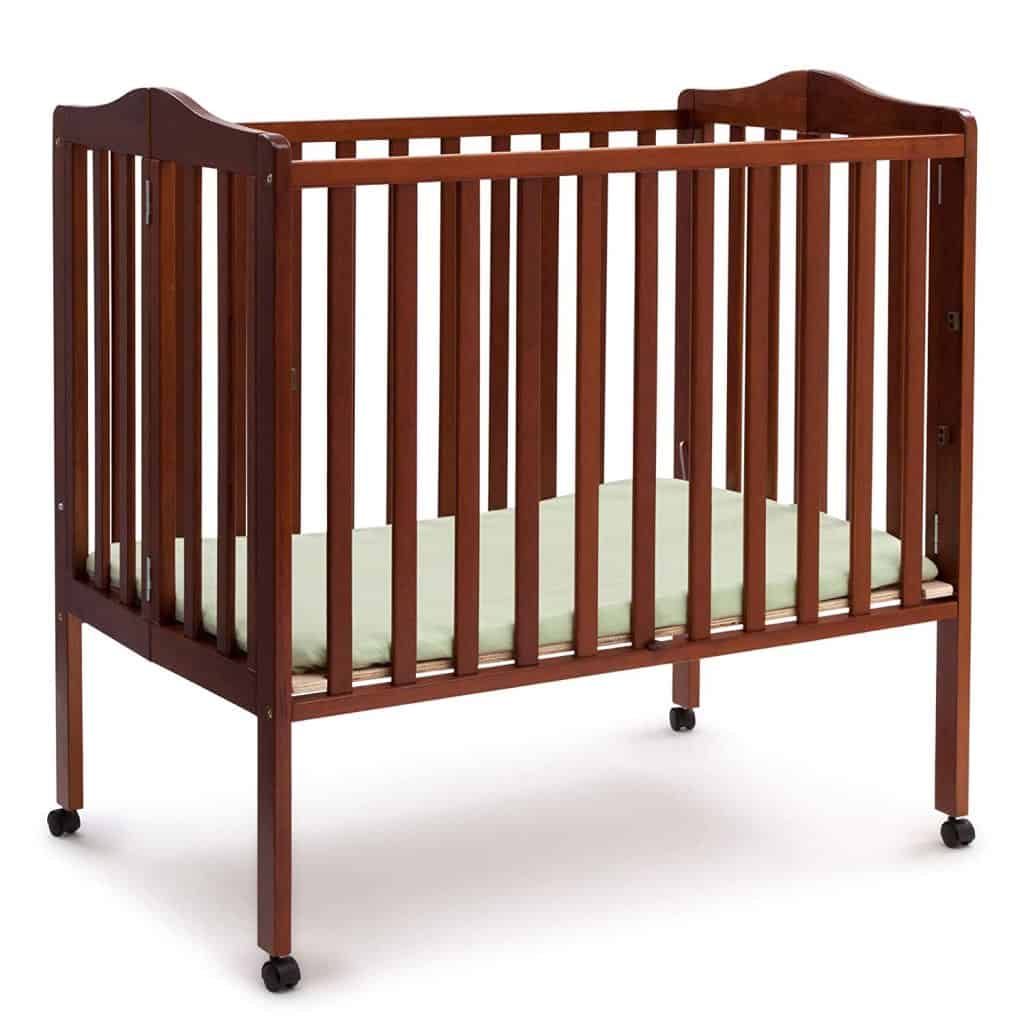 9. DaVinci Kalani 4-in-1 Convertible Crib - Best Mini Cribs For Twins
This mini crib is a simple pick that is also elegant and cute, ticking all the necessary boxes! It has a Greenguard Gold Certification and is made from sustainable New Zealand pine wood.
It comes with a separately sold conversion kit that can be turned into a mini toddler bed, twin-sized bed, as well as, a daybed with four adjustable mattress height options.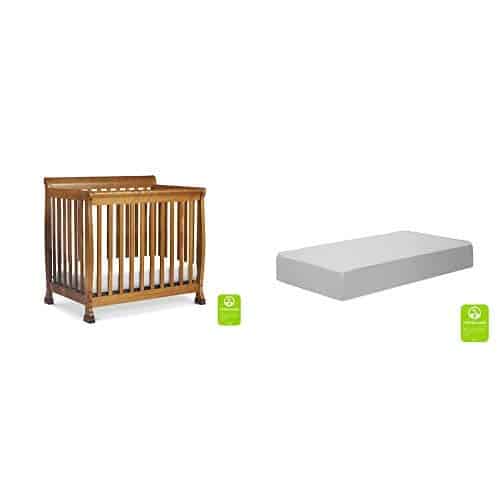 10. Delta Parker Convertible Baby Crib - Best Mini Cribs For Twins
Looking for a mini crib that is multifunctional? You've got it! This mini crib – Delta is a convertible baby crib that is not only a crib but also comes with a mattress and two sheets.
With this, you can also buy additional nursery furniture for you to match with the brand! It has a single-paneled crib side that is rather elegant, has three airy sides, two mattress height options, and can also be converted into a twin-size bed.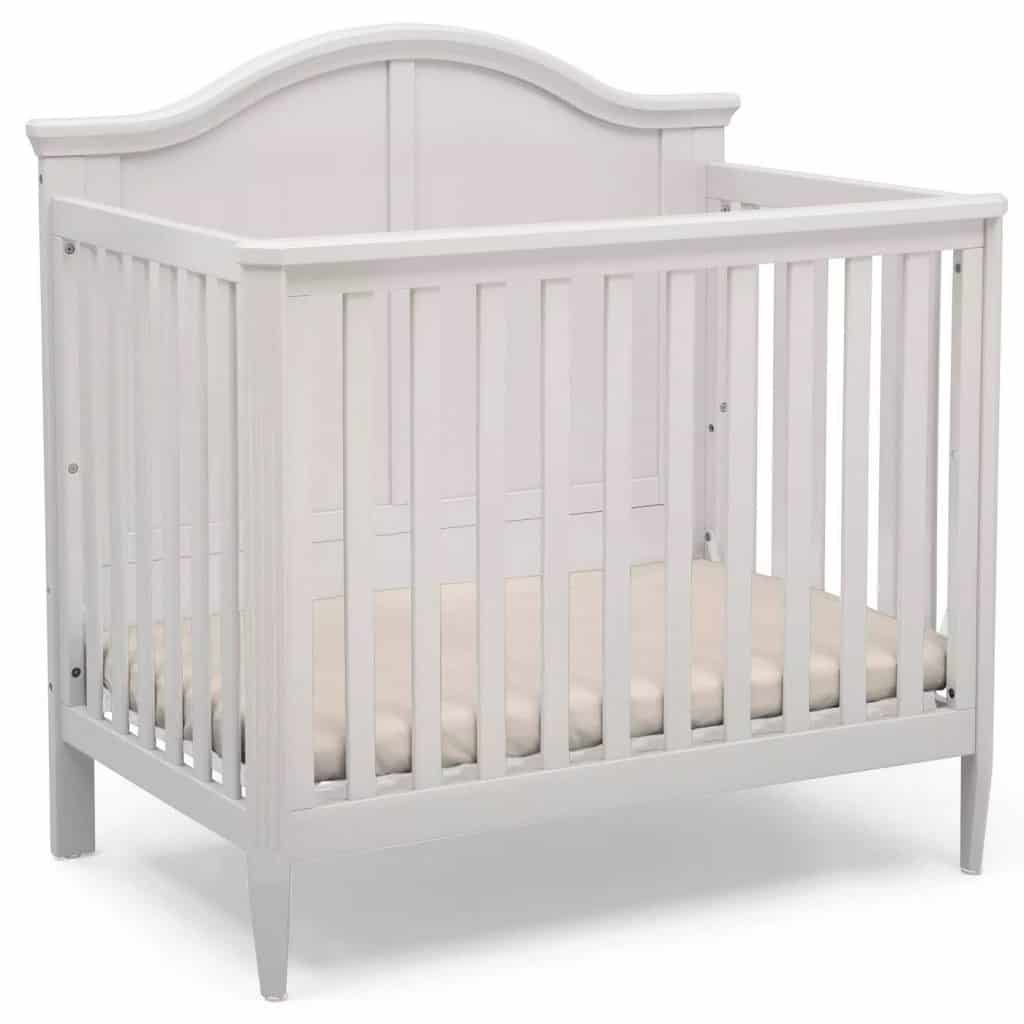 These were our top 10 best mini cribs for the little ones for you to choose from, providing them comfort and warmth. Perhaps, are you looking for baby bassinets too/instead? We've got you. Parenthood bliss has also curated the top 10 best baby bassinets for you to look into.
Best Mini Cribs Final Conclusion
Honestly, most baby mini cribs are very similar to one another, and with so many options available, all you need to do is to figure out, most importantly what size suits you best. This is because as you are investing in a mini crib, you might be looking to save some space, and hence, choosing the right crib should primarily be about size. Other factors like the wheels, the locking mechanism of wheels, the inclusivity/exclusivity of a conversion kit/mattress depend majorly on your individual budget and needs.
That said, there definitely is at least one mini baby crib that ticks all the boxes of what makes a "suitable" mini crib for your baby's nursery!
Best Mini Cribs FAQs:
1. What is the size of a mini crib mattress for a baby's crib?
While the typical, average standard crib mattress is 28-inches wide and 52-inches long, the average, typical size of a mini crib mattress is 24-inches wide and 38-inches long.
2. What is the typical weight limit for a mini crib?
A typical baby mini crib is safe for a baby until they are 35 inches tall and their weight is between 22 to 40 pounds. However, the guidelines for all cribs vary and it is recommended to read them very carefully.
3. Why do babies need a baby crib?
As per The American Academy of Paediatrics "A baby crib is a highly regulated and the safest sleep environment possible." While a baby should always have their own, individual sleeping surface, it is further recommended by TAAP that parents share the room with the baby at least for the first 6 months.