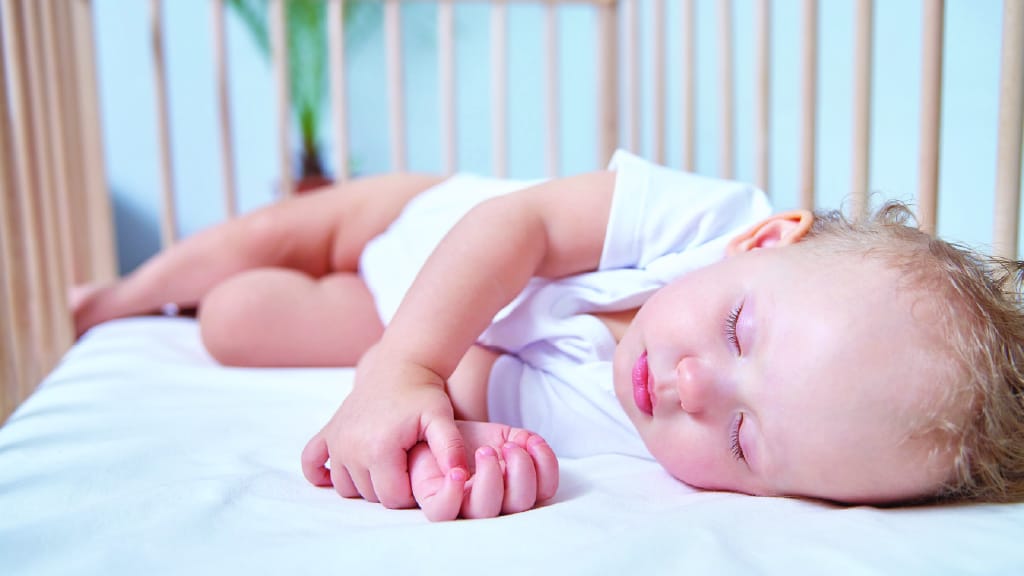 With a baby added to your daily life, your life will be a whole lot messier. Fluids from babies are going to get into places that you didn't even imagine and the mattress is one of those places. Yes, the fluids could soak into the mattress, filling the room with its stink. After you spent an eternity searching for the perfect mattress and spending a load on them, you do not want to see it ruined.
Best Crib Mattress Pads, especially waterproof ones, protect the mattress on the crib so that you can use it even when your baby is a toddler. There are waterproof mattresses available too but with a mattress pad, it becomes even safer to make your baby's bed comfortable and cushy. You needn't use any pillows, blankets, or bumpers saving your baby from the dangers of these items that sometimes lead to sleep-related deaths.
Types of Best Crib Mattress Pads
There are 3 types of mattress pads:
Fitted mattress pads: These pads wrap around the entire crib mattress like a fitted sheet.
Flat pads: These pads lie flat on the mattress with elastic corner straps to hold onto the mattress.
Small pads: These pads cover only a particular portion of the mattress.
All mattress pads are supposed to be used with a fitted sheet lain over them. The flat pads will sometimes shift under the sheet while changing the sheets. Fitted mattress pads lend a snug fit to the mattress all around with ample coverage and no loose ends. But they are not easy to pull off during midnight sheet changes.
You can also opt for waterproof or regular versions of mattress pads. Whatever the type be, you'll want to add two or more of them to the baby registry or purchase a few extras. Here's a list of our top 5 mattress pads segregated according to their unique attribute.
Organic: Naturepedic Organic Waterproof Fitted Crib Pad
Best Bargain: American Baby Company Fitted Waterproof Crib Mattress Crib Cover
Breathable Protection: Lullaby Earth Breeze Air Breathable Mattress Pad
Super Soft: Swaddlez Waterproof Crib Mattress Cover
Spot Coverage: Gerber Water Resistant Utility Protector Pad
Let's take a look at each of these mattress pads and their price to see if they fit your requirements.
1. Naturepedic Organic Waterproof Fitted Crib Pad - $69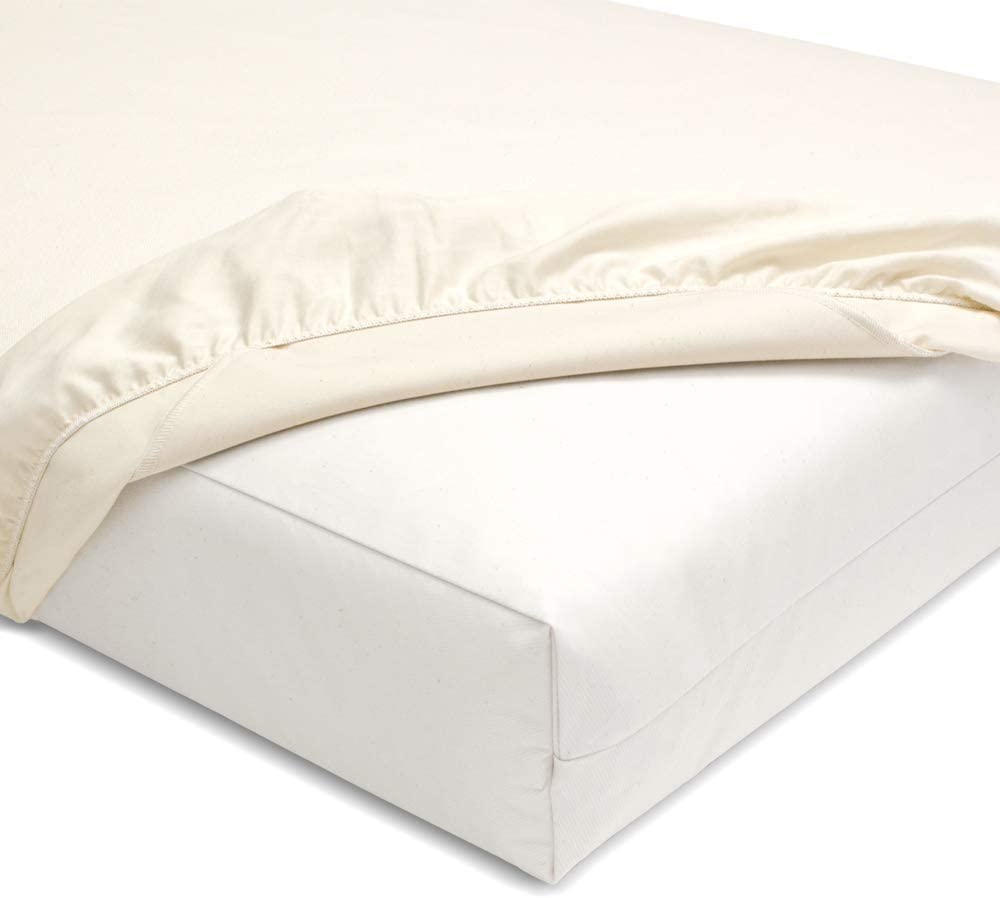 This fitted mattress pad saves you the trouble of bringing any products that smell of plastic into the nursery. Naturepedic Organic crib pad is free of formaldehyde, toxins, and emissions. The bottom of the crib pad is made of a polyurethane layer that acts as a waterproof barrier and is topped with an absorbent cotton muslin that is organic along with some soft cotton flannel. It comes in a rectangular and oval shape for bassinets and cribs. Remember that, Naturepedic Organic crib pads are the priciest oṣn this list.
2. American Baby Company Fitted Waterproof Crib Mattress Crib Cover - $16.99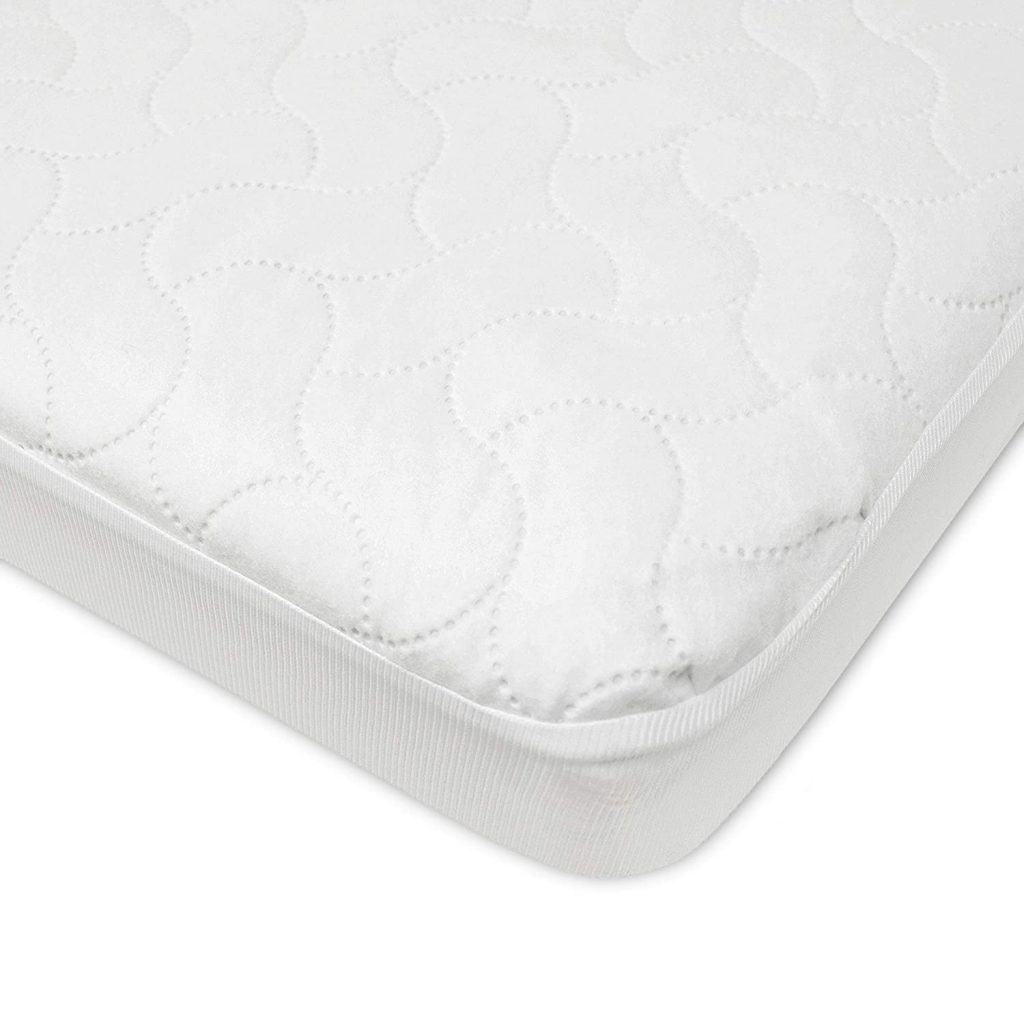 The vinyl coating protects leaks from making their way into the mattress whereas a quilted polyester eliminates all crinkly sounds and makes your baby comfortable enough to move around. The low and stock-up price is a go-getter go for two packs. Be gentle while washing the cover as a high heat setting will melt the vinyl or easily rip it up.
3. Lullaby Earth Breeze Air Breathable Mattress Pad - $59.99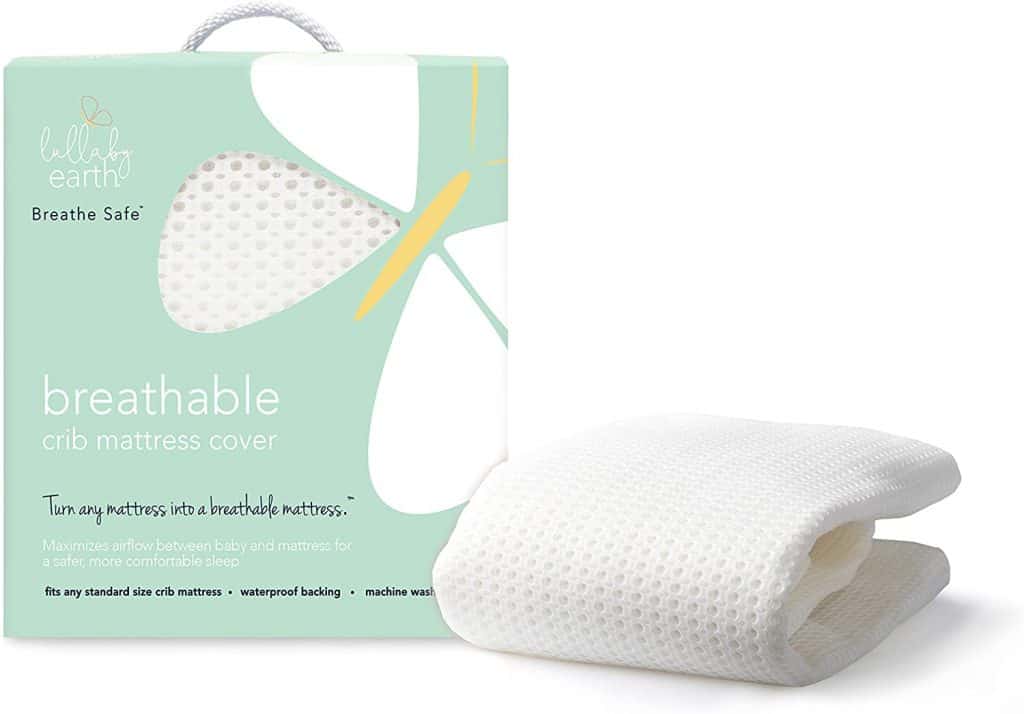 The Lullaby Earth Breathable Mattress Pad not only helps to protect your crib mattress from water but turns all standard-size mattresses into breathable ones. It also maximizes airflow between the mattress and the baby which helps him or her to stay dry and cool while sleeping.
4. Swaddlez Waterproof Crib Mattress Cover - $19.97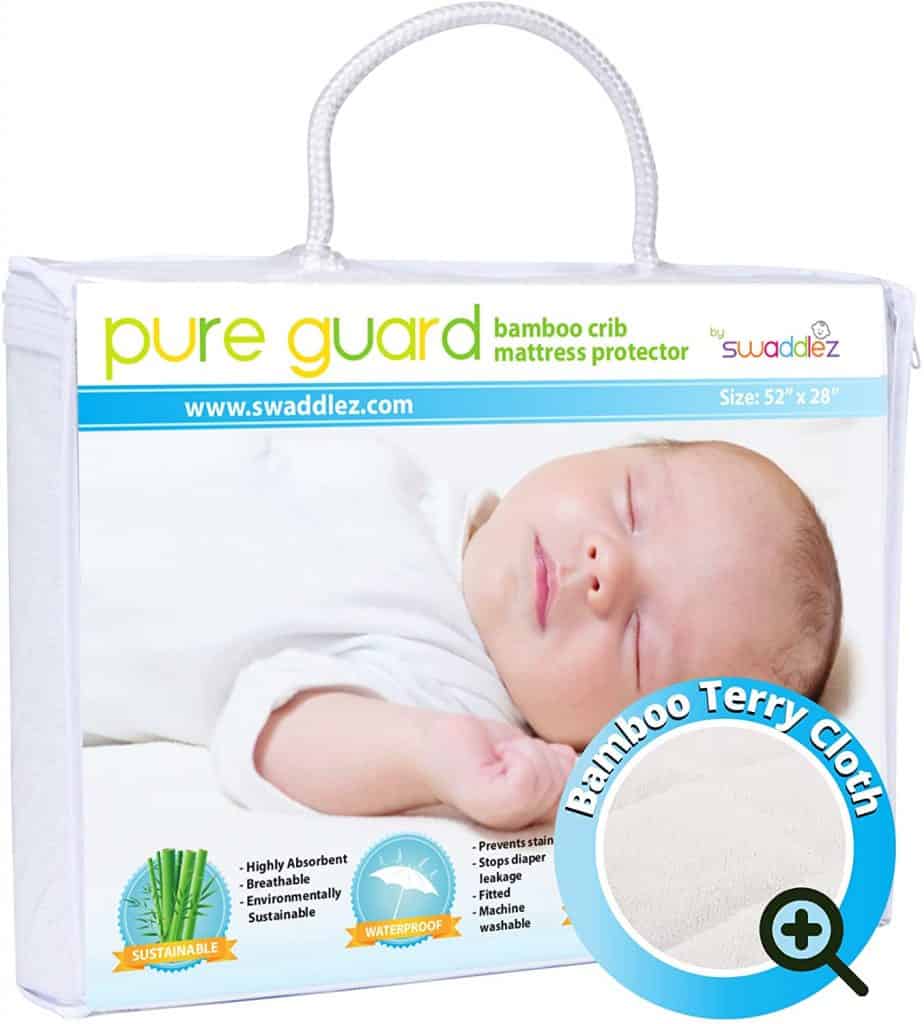 Sawddlez waterproof mattress is made of breathable bamboo fabric that is silky soft and an absolute choice for wicking away wetness. Its bottom layer is waterproof keeping water away from the mattress. The cover is machine washable too making it very easy to clean and dry. Similar to most waterproof mattress pads, you must use a gentle wash cycle with low heat while washing this. They also make a version for mini cribs and playards.
5. Gerber Water Resistant Utility Protector Pad - $11.99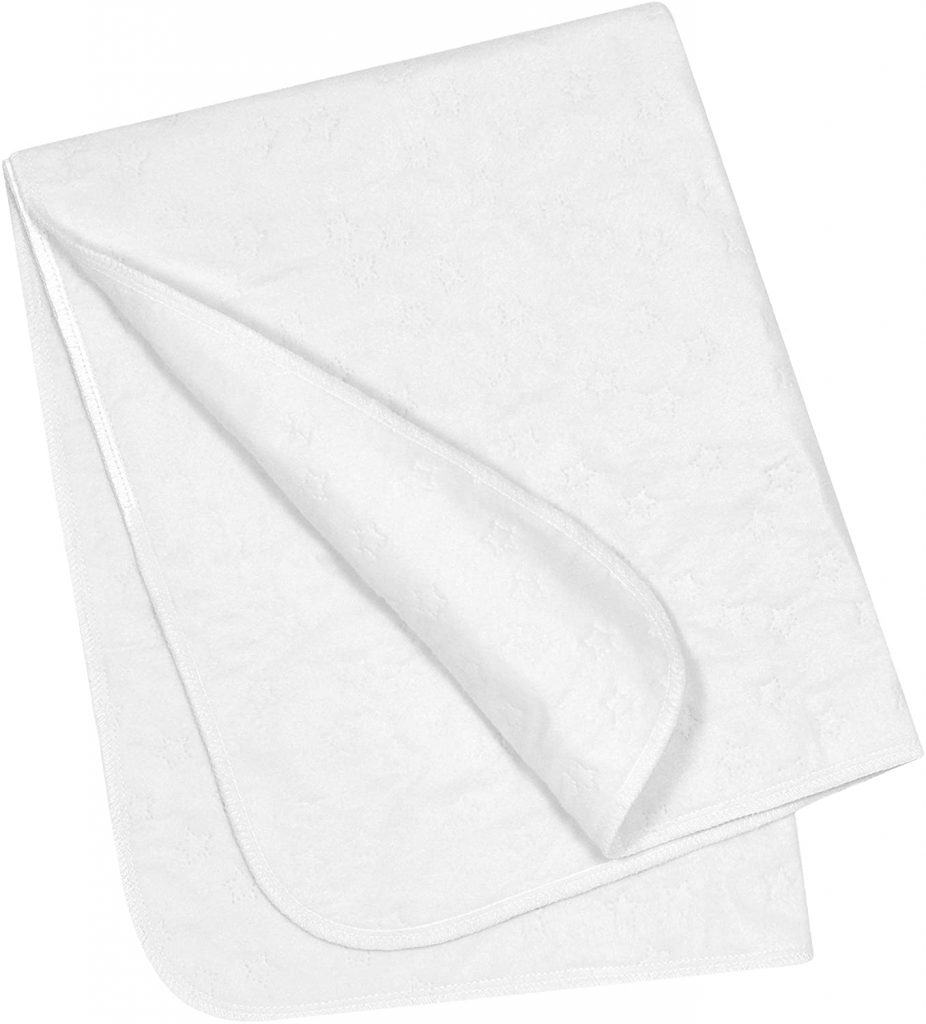 The Gerber Water-resistant protector pad measures 27 inches by 36 inches so they are not meant to cover the entire crib mattress. However, they can act as a shield against any nighttime accidents. They are travel-friendly as you only need to pack a couple of them to put on hotel cribs or for overnights with family and friends. These pads only cover a section of the mattress but are best for young babies who do not move around much.
The mattress pads help young parents to create a comfortable and safe crib for their babies. What's the add-on? It makes cleaning the crib even easier which you are going to appreciate at 2 AM when your little one poopsploded all over. Make sure to get at least two mattress pads so that you are always equipped with a backup.
Best Crib Mattress Pads FAQs
1. Are mattress pads safe for cribs?
It is recommended that infants be kept alone, in their own space inside the crib lying on their back with a tightly fitted sheet and a firm mattress. Avoid using mattress pads made of plastic as they can cling to the baby's face and lead to suffocation. Never allow your baby to sleep or rest on a waterbed.
2. Are crib mattress pads necessary?
If there are no mattress pads to cover up the mattress then the fluids from your baby will ruin the mattress and leave your baby soaked in it till you change them. With the right mattress pad, your little one will stay dry through the entire night. The mattress pads will also protect your baby from mold, moisture, and leaks.
3. How many mattress pads do I need for a crib?
Crib mattress pads can be washed in a machine and dried in the dryer which makes them super easy to clean. Parents should buy two or four crib mattress pads so that they have extras lying around if need be for late-night bedding changes.